60 Catchy Christmas Slogans and Quotes to Ignite the Holiday Spirit
Don't know how to build your activities during the most wonderful time of the year? Draw inspiration from our selection of 60 catchy Christmas slogans, quotes, and taglines.

Shh! Can you hear it? Jingle bells already rock! The frosty Christmas vibe replaces Black Friday and Halloween nice and easy. Everyone is about to gather together with kin and kith to celebrate this season with zeal and merriment.
What are the odds of melancholy knocking at your door just when you least expect it? Well, you know, the end of the year is around the corner, the deadlines are an issue, and you haven't even bought a fluffy Christmas tree yet.
If your marketing campaign isn't ready, and the mood says "Let's drink some mulled wine, watch movies, and buy presents", we've got you covered. Here is a collection of 60 catchy Christmas slogans and festive quotes for every occasion. Feel free to make avail of them when setting up your marketing activities, interacting with customers, or writing a grateful gift card. Cozy up, scan this selection, and take a good note!
Best Christmas shopping quotes
Let's start off with an iconic quote from Charles Dickens, one of the most widely recognized English authors and Christmas symbols of all time: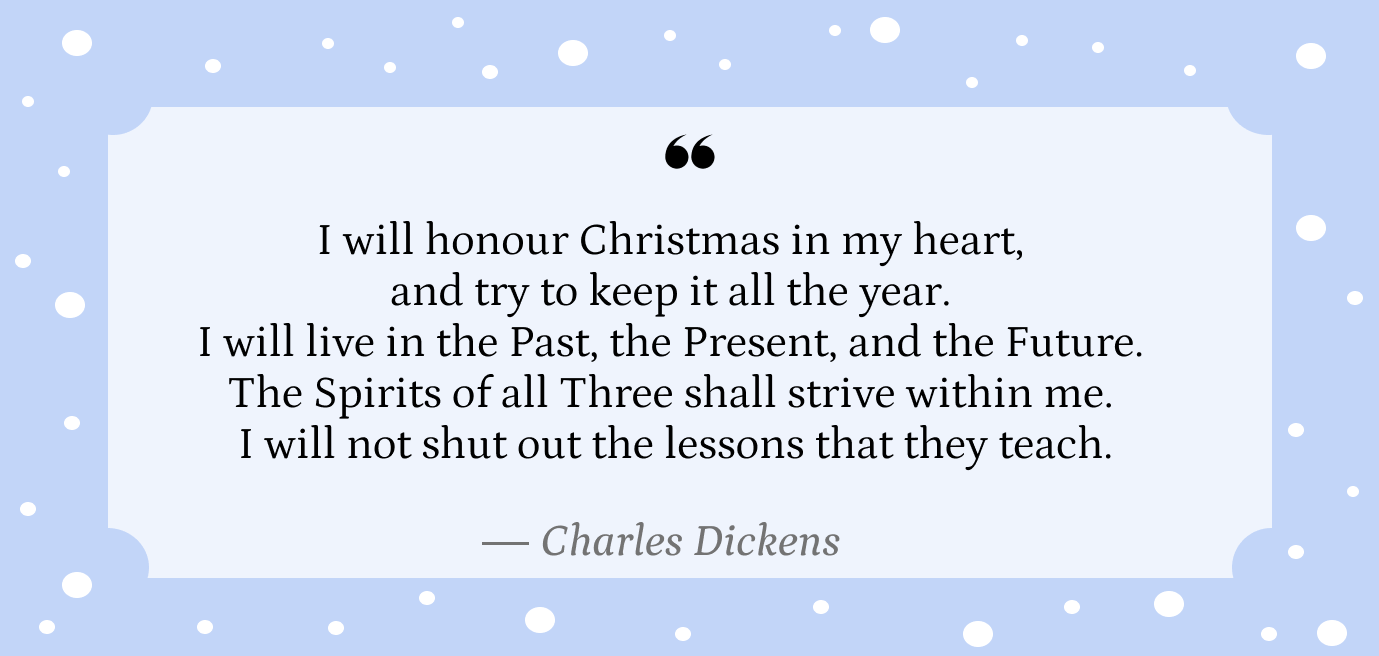 Time to welcome the busiest time of the year! People all across the globe go nuts about shopping in all its aspects. No doubt, it's fun. However, all the spree can be overshadowed by the stress that comes with purchasing bunches of presents and home decorations.
To keep your spirits high and create an inviting atmosphere, we present the best Christmas slogans about shopping. Be careful though! They may set the wheels in motion and you may become pretty unstoppable when hitting the shops.
The best of all gifts around any Christmas tree: the presence of a happy family all wrapped up in each other
— Bill Vaughan
There are 17 more shopping days until Christmas. So, guys, that means 16 more days till we start shopping, right?
— Conan O'Brien
The manner of giving is worth more than the gift.
— Pierre Corneille
One of the nice things about Christmas is that you can make people forget the past with a present.
— Unknown
From a commercial point of view, if Christmas did not exist it would be necessary to invent it.
— Katharine Whitehorn
The magi, as you know, were wise men — wonderfully wise men who brought gifts to the Babe in the manger. They invented the art of giving Christmas presents.
— O. Henry
Christmas is the season when you buy this year's gifts with next year's money.
— Unknown
To perceive Christmas through its wrappings becomes more difficult every year.
— E.B. White
Consumerism is the reason Christmas has morphed into a hollow shopping ritual that leaves too many families with debt hangovers and an empty feeling inside.
— Rachel Campos-Duffy
I love the excess of Christmas. The shopping season that begins in September, the bad pop star recordings of Christmas carols, the decorations that don't know when to come down.
— Mo Rocca
Three phrases that sum up Christmas are: Peace on Earth, Goodwill to Men, and Batteries not Included.
— Unknown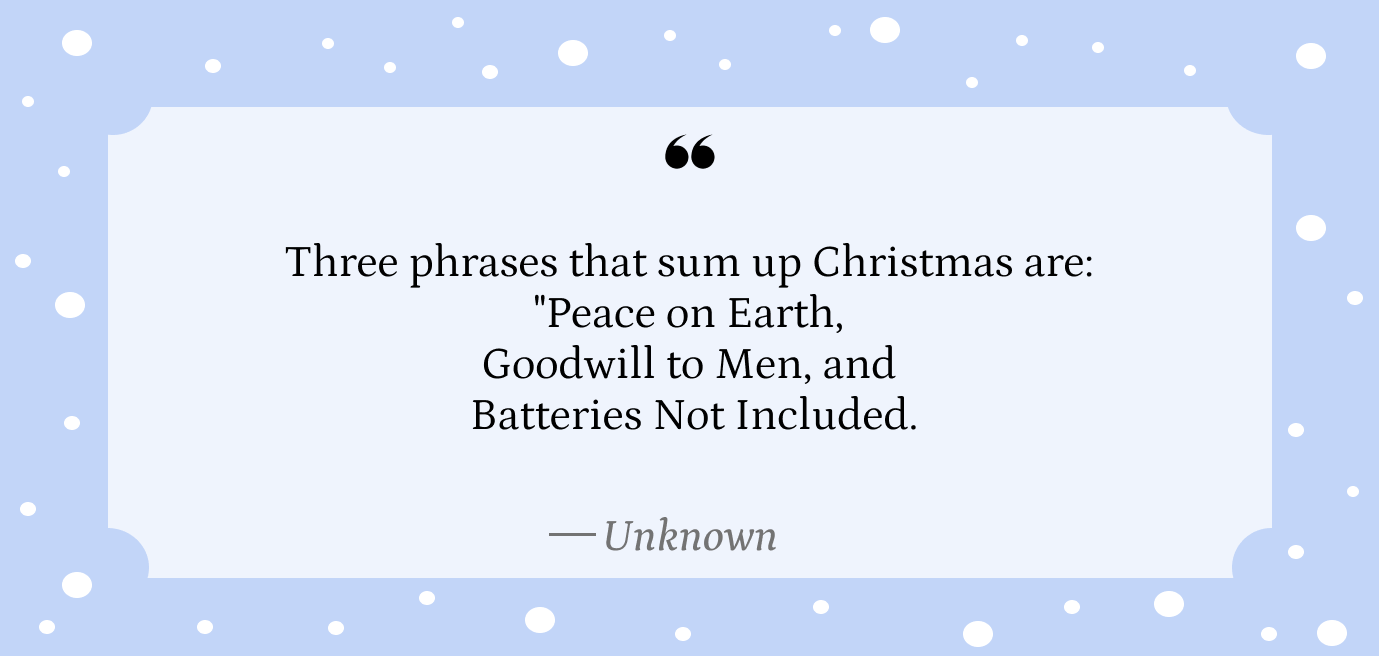 Probably the reason we all go so haywire at Christmas time with the endless unrestrained and often silly buying of gifts is that we don't quite know how to put our love into words.
— Harlan Miller
Wretched excess is an unfortunate human trait that turns a perfectly good idea such as Christmas into a frenzy of last-minute shopping.
— Jon Anderson
Christmas, my child, is love in action. Every time we love, every time we give, it's Christmas.
— Dale Evans
This Christmas let's try to keep things in their proper perspective. After all, credit cards do have their limits.
— Melanie White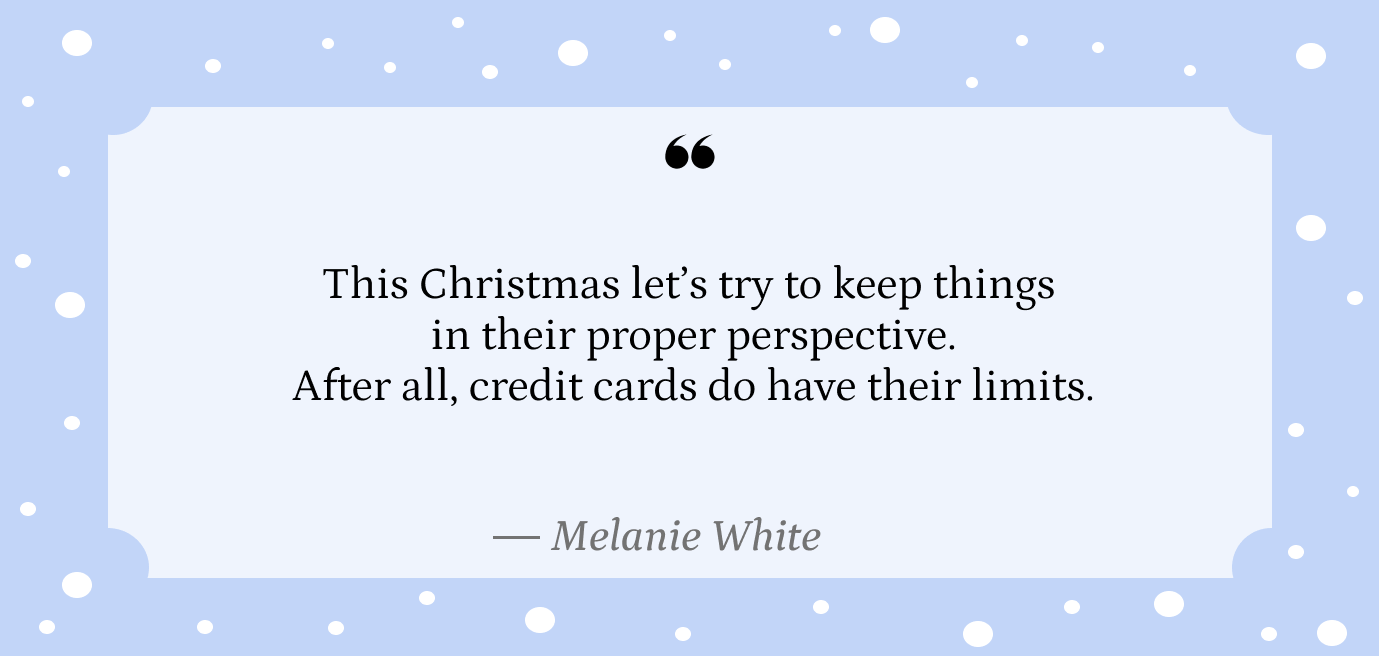 Have you already drawn that Christmassy inspiration? I guess my holiday shopping list is about to grow inevitably 🙂 Ok, let's keep going as all the fun is yet to come.
Funny Christmas taglines
Our world is riddled with seriousness in all its forms as far as the eye could reach. It is observed in both personal and customer communication. But hey, tis' the season to be jolly! So, if not now, when to imbue the conversations with a pinch of laughter? Here is a compilation of giggle-worthy Christmas tagline ideas even a Grinch will laugh at: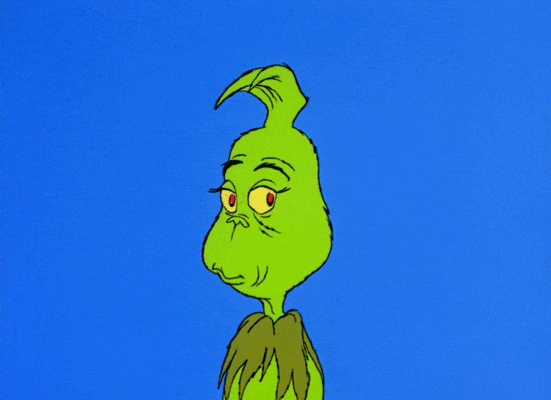 Cheers! Be full of the Christmas spirit!
C'mon! Let's take an elfie as a keepsake
You're just too pud ? to be true
Let it snow all night! I'm having a meltdown! ❄️
Dear Santa! Define "nice"
Having a ho-ho-home mood for this Christmas Eve
Have yourself a delish little Christmas
Don't be so ElFish this time of the year!
It's beginning to cost a lot like Christmas
Don't be a Grinch, smile away to Christmas
HO! HO! HOpe your holidays are filled with fun!
I believe in Santa . . . just beclause
Santa is so jolly because he knows where all the bad girls live.
Sorry Santa, Naughty just feels Better!
All the merry-making doesn't need to end here. If you're a business that wants to sparkle every client's mood, mix these Christmas taglines with funny-themed vector images when sending email blasts and other messages. Segment your customers carefully and know when enough is enough not to throw some of them off balance with all the fun.
Christmas business slogans
The holiday season is ratcheting up, everyone's mood is uplifting, and marketers are kicking off their promo campaigns. You'd rather think of something special to meet customers' eyes, spark their interest, and boost your sales eventually.
First off, come up with the colors for your ads and other festive efforts. Red and green were always official shades in the Christmas color palette. However, the situation has changed and you can use a rainbow of hues now. Just make your message flashy.
Then, you should do your best so that your pitch is memorable. Remember that classic Coca-Cola Christmas ad "Holidays are coming"? The point is to mince the words so that your style is never forgotten (it should heat up your sales, too).
And what about love? There's a place for it in business, too! To get some useful ideas for the day of all beloved, check out our selection of Valentine's slogans. Trust me, you won't be disappointed!          
With that in mind, we've generated one-of-a-kind Christmas slogans for advertising. Add them to your marketing, sales, or support materials and engage with customers better:
Christmas is snapping at our heels! ❄️ Catch our 30% discount before it thaws!
Gimme an S! Gimme an A! Gimme an L! Gimme an E!
It's a Christmas SALE! Sign up with the [promo code] till the end of the month and get a 40% discount for [your special features]
Everyone promotes products, we promote JOY and CHEER! Create your own creative video on how to use [product] and have a free life-long subscription.
Are you ready for a snowy discount day? ⛄️ Watch our Instagram stories, look for a special holiday greeting, and get 20% OFF for any [feature/subscription plan etc.]. Merry Christmas!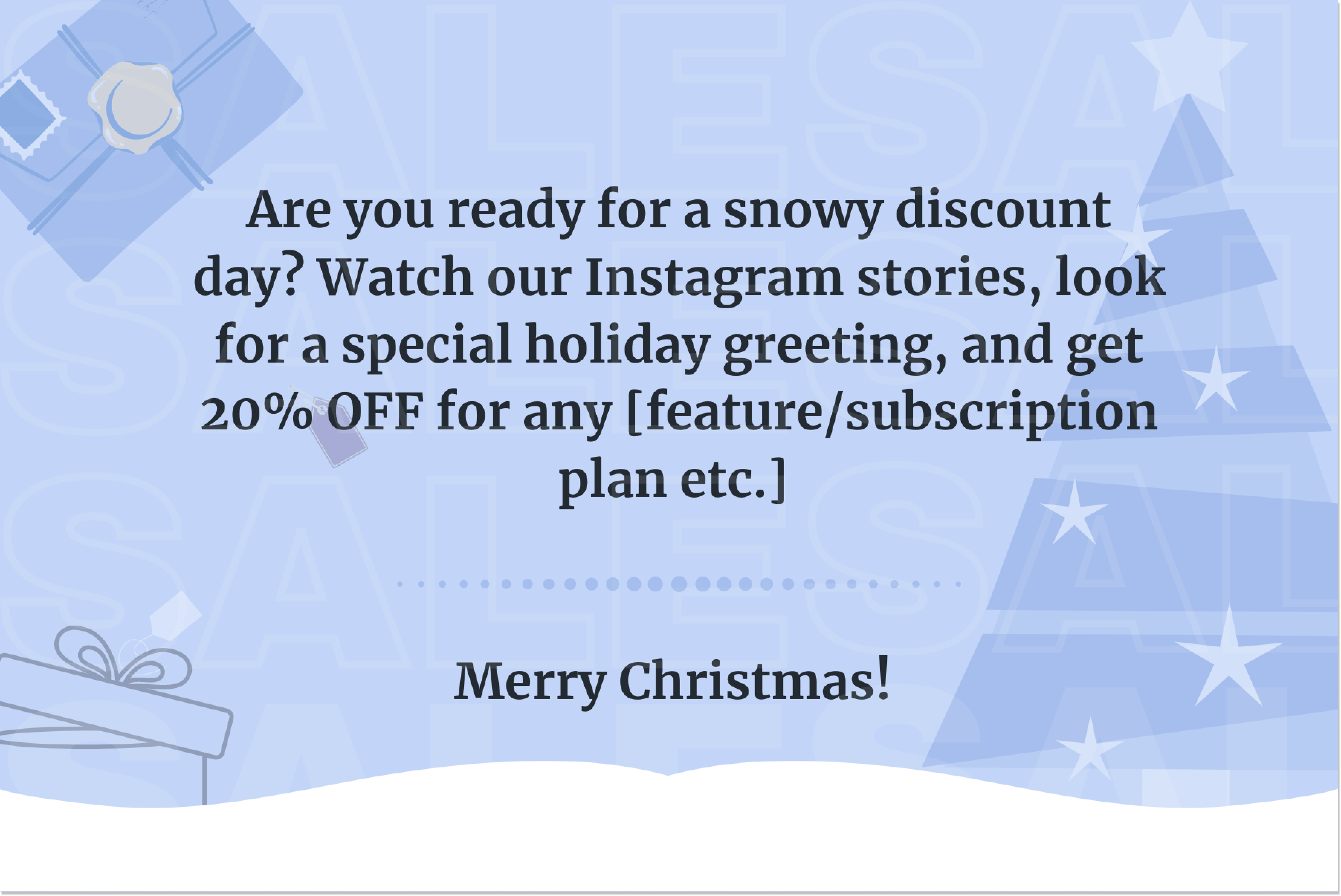 Yay! It's the Xmas Sale! Free shipping to everyone who makes a purchase on our website till midnight. Hurry up!
As it's the most wonderful time of the year, we've decided to favor you with some magic. Add items to the cart, and become a member of our "CUT-IN-HALF" deal. Don't blow your luck!
Fill your Christmas list with these last-minute gifts! Special prices on certain products ONLY this Thursday. Snap it up!
Santa Sale is coming to town! Welcome the greatest clearance of the year on our site.
Thank you for being our loyal customer for the whole year ☺️ We offer you 40% OFF your next purchase as a special treat. Merry Xmas!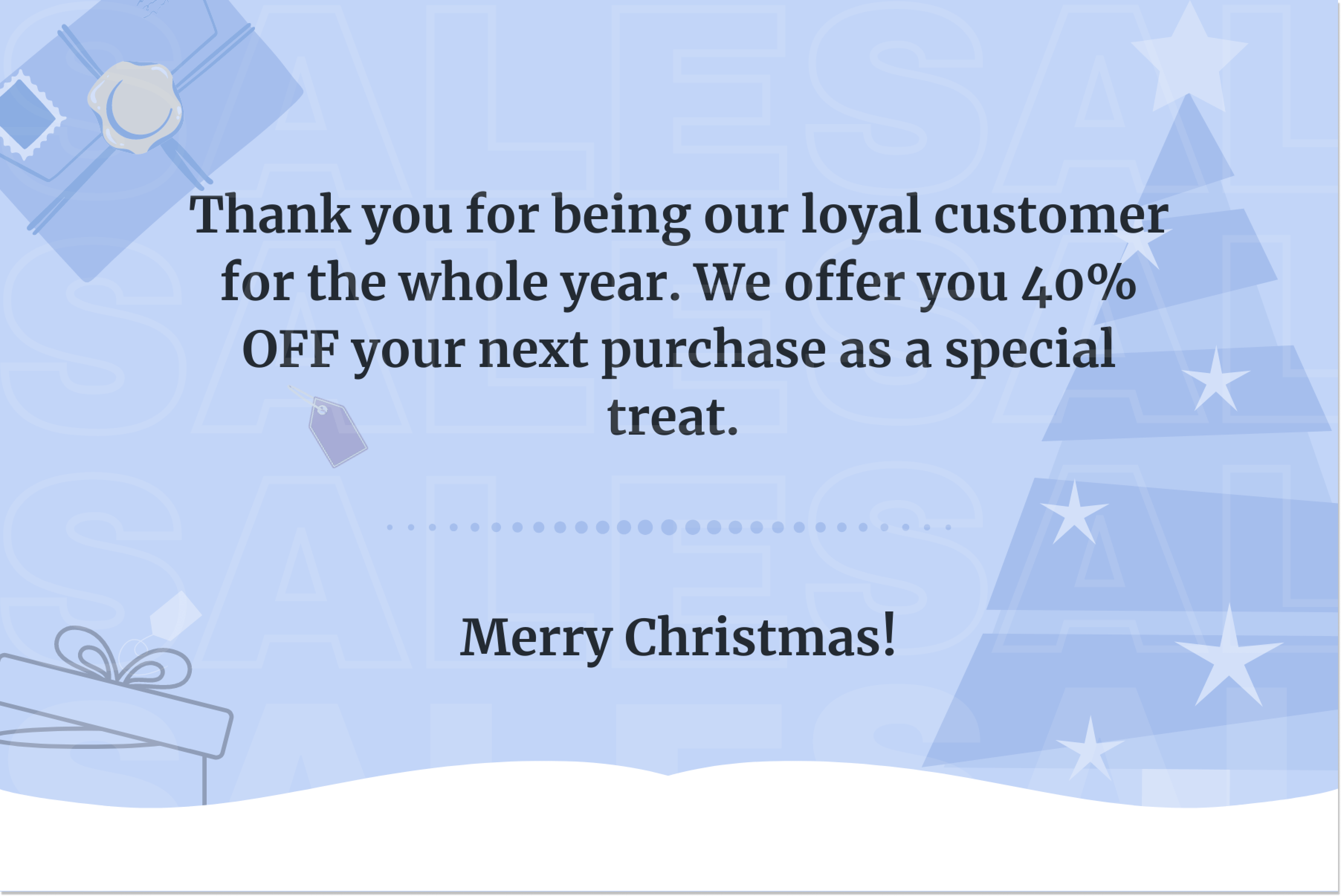 Crave an EARLY Christmas gift? Leave your email here and our elves will send the details on how to catch it!
Rolling out a sack of Christmas cheer for someone who is very dear! Be the first to know about our new feature release [enter your email here].
Rock your savings with the ultimate Christmas deals. 20%, 30%, or 40% OFF your first purchase from our new collection! Chat with us for more details!
Enjoy fantastic discounts even on new arrivals!
This is not an emergency drill. Lay your hands on our HOT Christmas sale till it freezes for good!❄️
Is your Christmas mood nowhere to be seen? We're about to perk you up! Check your email to find your personal deal from us!
This is a Christmas deal last call! Savor an extra 20% OFF on already reduced items with [promo code].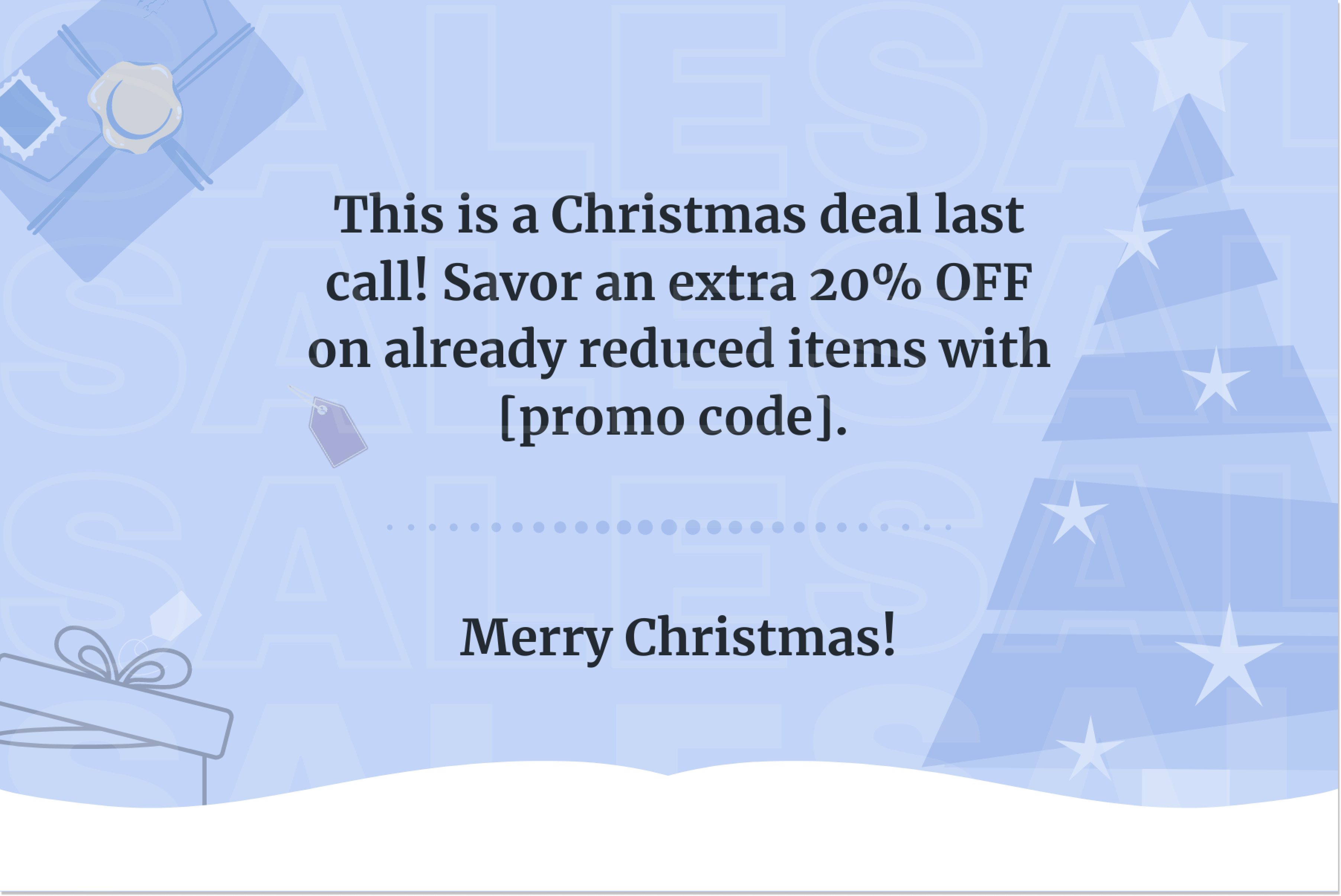 Fill your heart with the Christmas mood and bags with presents for your loved ones! Hurry up to get 70% off for the whole range of our products.
Your smile is our Reason for the Sale season! Christmas is just around the corner and we want to make you happy with our special deal! Enjoy up to 50% off on gift baskets. Do not forget to use the promo code CHRISTMASMILE21
At Christmas, all roads lead home… and our magic sale! Get a 70% discount for the first purchase at our store this week! You just can't miss it!
Complete clearance till the end of the week. Have a cheerful mood and celebrate with us!
Christmas is almost here! Find Santa-worthy and miraculous gifts on our website.
We make all your wishes come true! ✨ Make your order NOW, grab a 30% discount, and enjoy a guaranteed pre-Christmas delivery.
Help us give you a holiday present! Choose any item on our website, and enjoy your 50% deal!
Thanks for the purchase! Our tip-and-run elves are already processing your request.
All we want for Christmas is gladsome cheer! 25 days of deals and fun are starting NOW!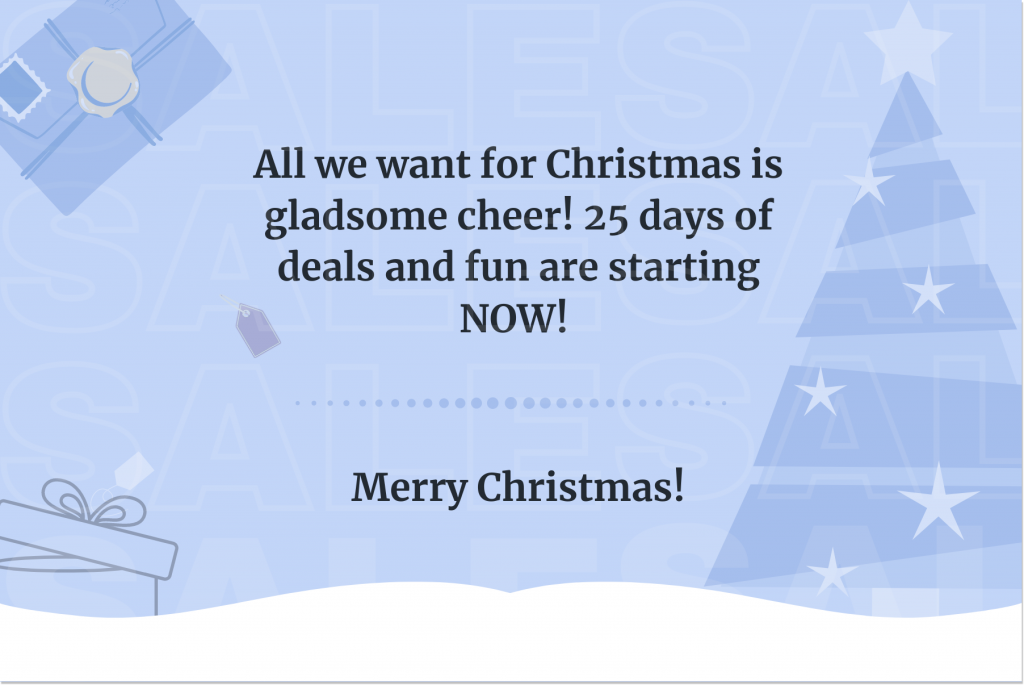 When do you usually strike your marketing activities? As it's obvious from the Google trends diagram, users start googling "Christmas" in early November. This search term showed the highest popularity in December 2017 and 2019 (100 and 99 queries respectively). So, make sure you give a little holiday nudge to your customers with these Christmas marketing slogans at a good hour.
How to nail it on Christmas using HelpCrunch
HelpCrunch is an all-in-one customer communication platform that can help you hit the mark with your Xmas effort. It's feature-packed and involves a wide variety of communication options you might want to give a shot.
All it takes is to decide on the most preferred channel for interacting with your clients, choose the catchy Christmas slogans we've featured, and leverage them in:
Proactive chat messages
The holiday season is the time when most customers seek timely and professional assistance when they land on your website. How can you support them like a pro and let them feel the special Christmas touch of yours? Kill two birds with one stone: show your initiative by setting up festive proactive chat messages.
They are based on customer behavior, so you can target your clients the way you want to. Write a Christmas tagline or slogan, and add it to whatever website's page you like: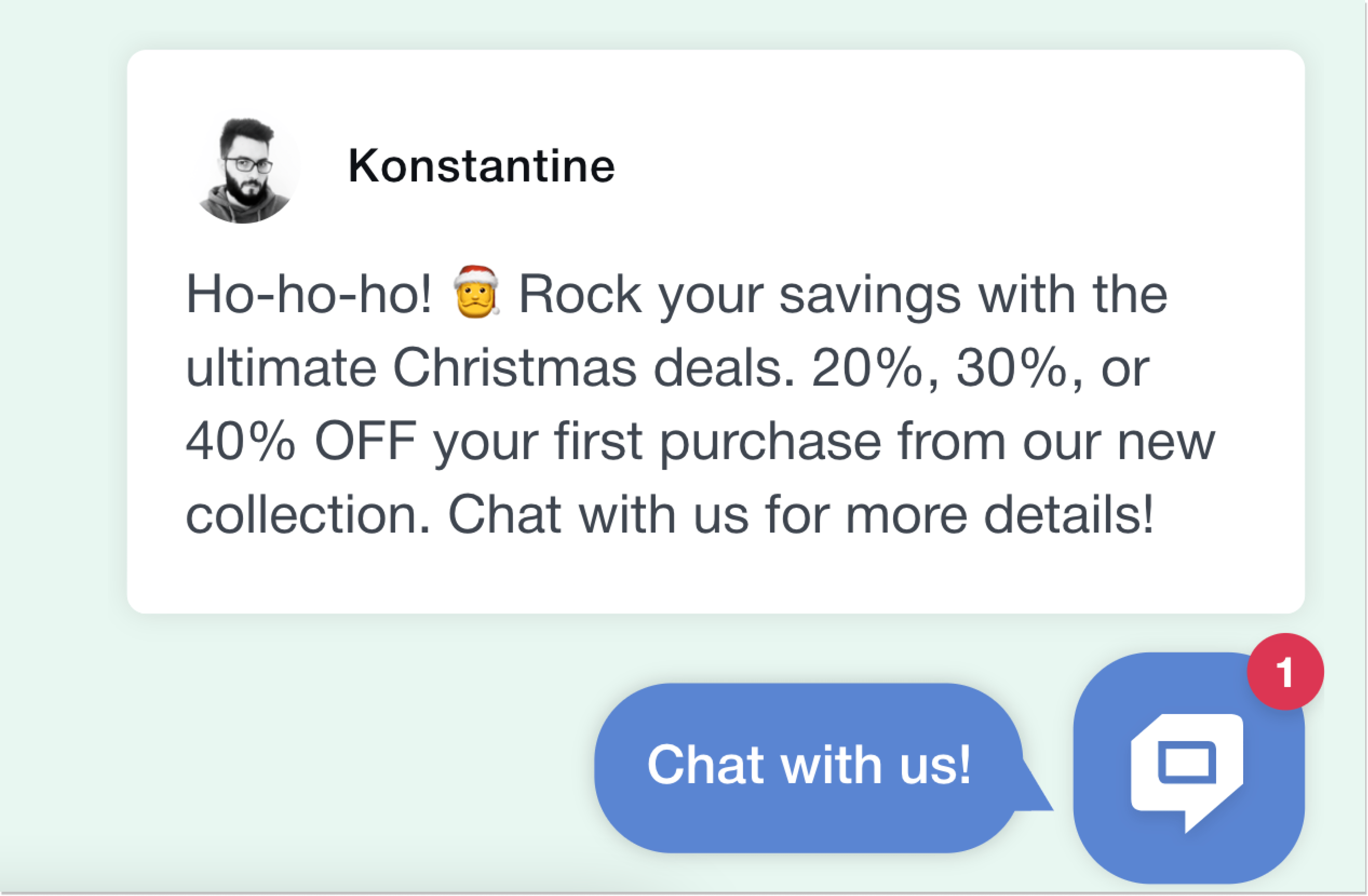 Canned responses
Given that Christmas is the time when the hustle and bustle is a pain in everyone's neck, try to load off your sales, support, or marketing teams a little.
Introduce them to canned responses: handy pre-made messages to save for later and send whenever you need. Fill your Christmas set of saved replies with fun and good nature. These are possible cases when you can use them:
Searching for a new agent
Santa is looking for a free elf to assist you. We'll get back to you as fast as the reindeer dash through the snow.
Asking for customer feedback
Hopefully, our service did wonders to your issue. Fancy leaving your feedback? It's so valuable to us.
Thank you for reaching out
Welcome! You just made Father Christmas happier than ever! He asks how we can help you today?
We were offline
Merry Christmas! We are terribly sorry that you got no answer yesterday. As you know, it's the busiest time of the year, so we recovered our energy to help you today. Let's clarify your issue.
Email messages
I won't tell lies to you: Christmas IS the greatest time to engage with both your prospects and loyal customers. Your email marketing campaigns may involve sale announcements, products your customer viewed, personal discounts, heads-ups, or simple warm wishes.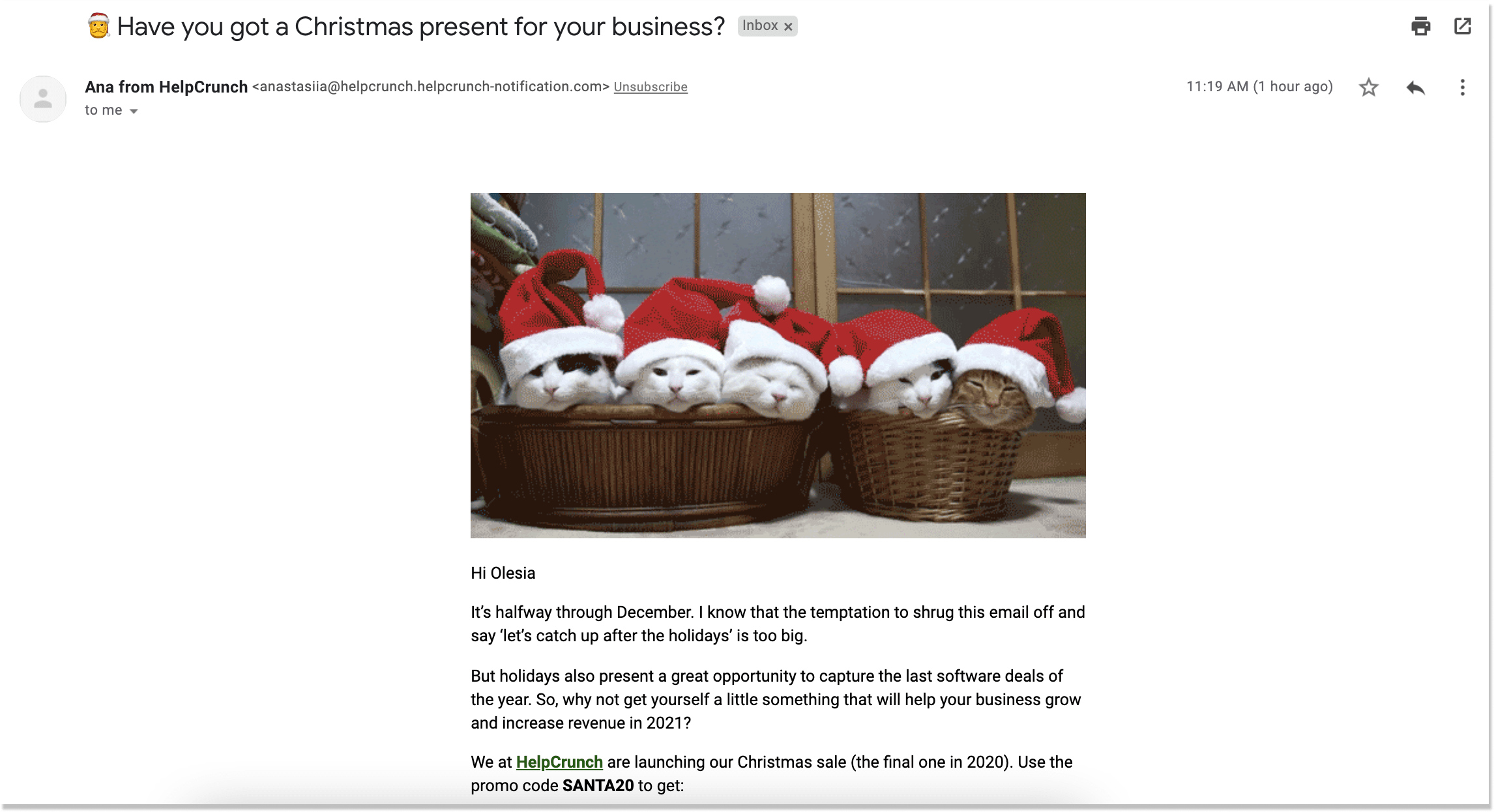 Website popups
Customers can lose the most important thing your business prepared for them: sales and discounts. To grab their attention at all costs, use the intuitive popup builder from HelpCrunch.
It can help you shape your special message the way you like it: create unique headings, come up with catchy Christmas slogans, choose colors, set up animations, and more. They are triggered, so whatever website page you decide to put them on will be perfect.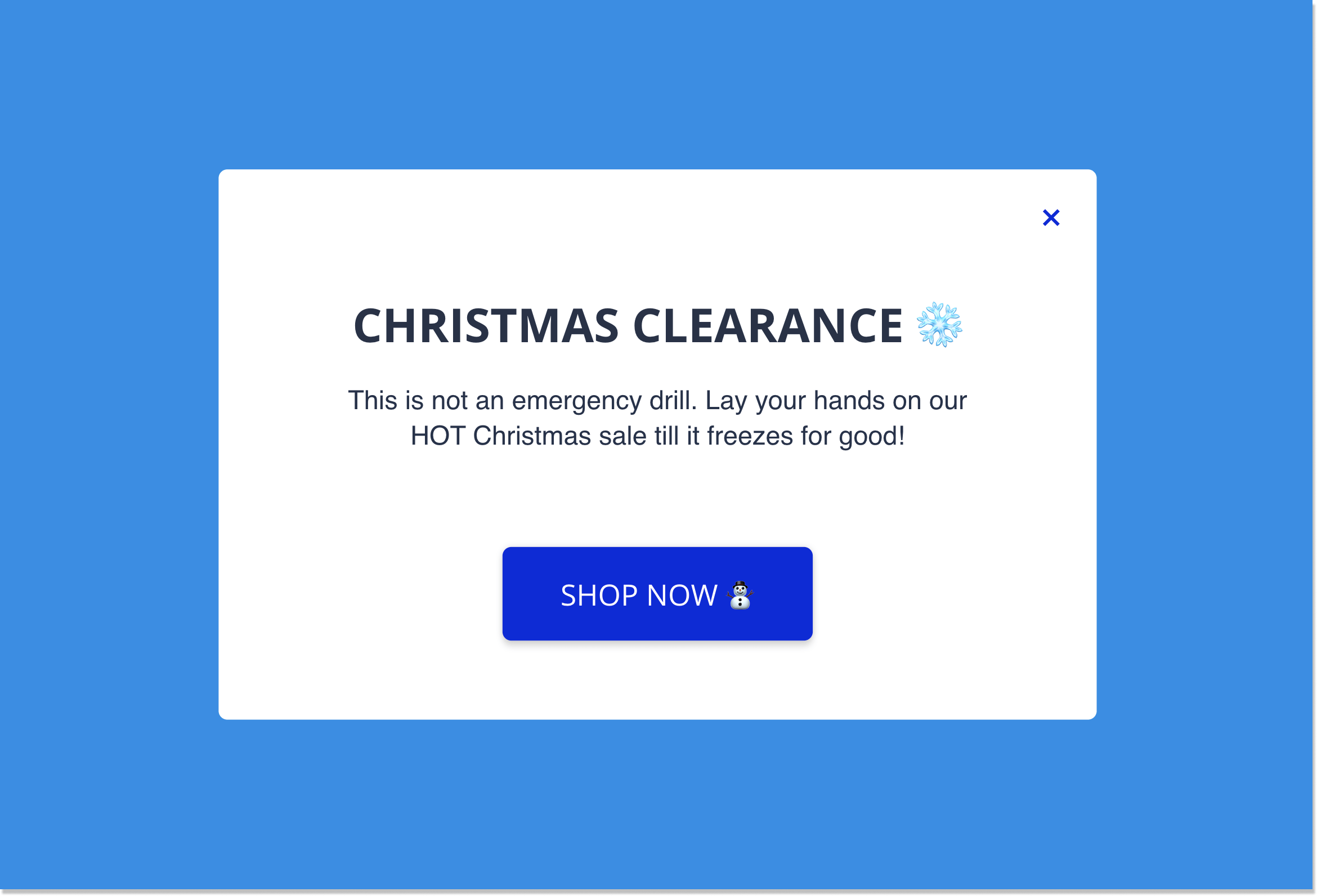 Widget texts
The holidays typically produce an outpour of positive emotions that give people glee. Thanks to the HelpCrunch rich widget customization options, you can make your live chat stand out from the crowd. Replace mundane texts with these themed Christmas taglines: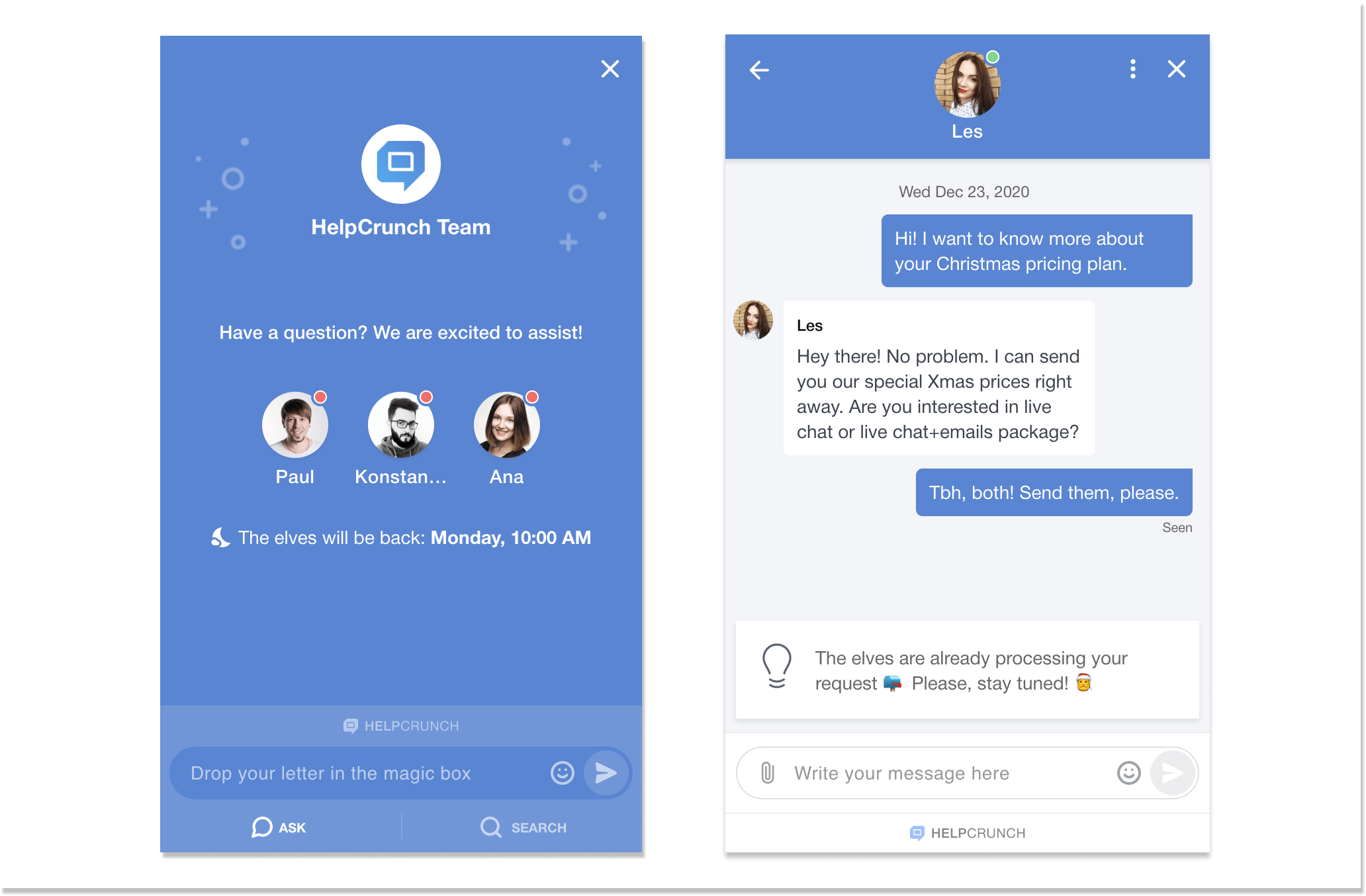 In-app messages
With weeks to go before Christmas, people are highly motivated yet zoned out. Boost customer engagement with targeted push notifications and drive sales on your website or app.
Streamline a client onboarding process, send holiday-themed promotions, or just thank your clients for staying with you no matter what (even when your system experienced glitches). The options are manifold here.
Don't know where to find the right words? Well, just scan our Christmas holiday slogans and shoot your message.
Final words
So, what do you say? Is the Christmas mood on? ? I do hope so!