44 Black Friday Quotes and Slogans to Drive Record Sales (and How to Use Them)
Preparing your business for the biggest sale of the year? Check out these catchy Black Friday and Cyber Monday slogans and feel free to copy any of them for your promo campaigns.

Shopping is a driving force of the economy even though it's not always a force for good (we've read Brave New World, we know what happens with consumerist societies). That's why Black Friday has got a somewhat controversial reputation. Some appreciate it as a great chance to shop for presents or even get good Black Friday software deals. Others feel like it promotes the culture of overconsumption and overproduction.
Love it or hate it, Black Friday isn't going anywhere. Just last year, Cyber Monday online spending alone hit a record $9.4 billion, which is an all-time high in the U.S. This is why businesses can't afford to miss out on such a great opportunity to increase their sales, offer unique services and products, and upsell to their loyal customers. The secret ingredient to success is a mindful approach to your Black Friday slogans and designs.
If you're a marketing manager or a business owner in the middle of preparation for the biggest sale of the year, you've come to the right place. We've prepared 44 hand-picked Black Friday quotes and taglines for every business. Do I need to say that all sayings are up for grabs?
However, copying a few catchy Black Friday phrases is only half the battle. One should know how to apply them correctly. You see, it's very easy to walk into the gray area by being too pushy or get lost in the ocean of similar emails.
Businesses should be creative yet careful with how they're approaching Black Friday. And that's what we want to discuss in the second part of this article. Stay tuned and let's go!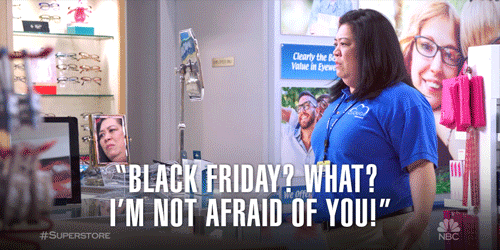 Black Friday quotes: where to start?
Even the most carefully thought-through sales strategy is nothing without catchy Black Friday quotes in your promo materials. You need to capture people's attention and hold onto it till the last minute of your sale.
So, how does one come up with effective sales slogans?
First, you can get inspired by popular shopping quotes. It's also a good idea to check a few sources on the most common expressions marketers prefer to use during the sales season. Start with the following Black Friday quotes, and original ideas won't be long in coming.
Common Black Friday words and terms
The Christmas shopping season has existed long before people started calling it Black Friday. But over the past few decades, these two words have become inseparable from the sales period in people's minds. When someone says 'sales', one thinks 'black friday'. But, what other words are usually associated with the biggest sale of the year?
Recently, the team behind Omnisend has conducted research on popular Black Friday subject lines of their biggest clients. They analyzed the slogans that people use most commonly and generated some interesting findings.
There are the most popular Black Friday words that emails marketers are fond of this holiday season:
Black Friday
Off
Sale
Cyber Monday
Now
Free
Deals
Save
Free shipping
Get
However, the percentage sign ("%") has left all the Black Friday sayings well behind and won first place by the usage frequency. This might mean that people are eager to hear about your discounts right away. So, it's always a good idea to start your Black Friday slogan with a discount amount.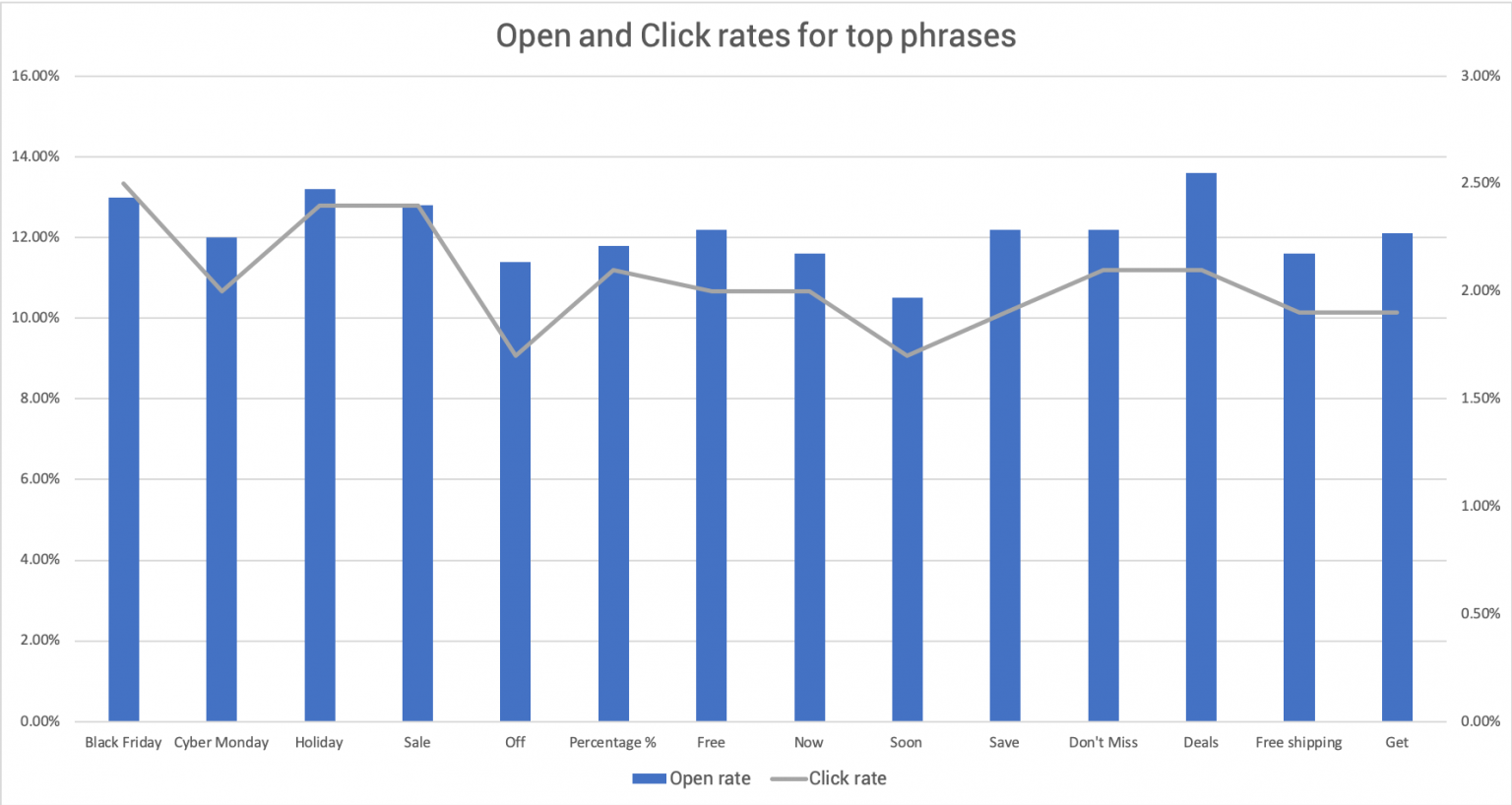 Marketers from Mashable have also conducted their small investigation into the most-tweeted Black Friday words. The outcomes turned out to be more surprising, though. During the biggest sale of the year, people used the following words in their tweets:
Black Friday (duh!)
Coffee
Sale
Deal
Store
Line
Time
The terms 'crowded' 'doorbusters', 'crazy', 'OMG', and 'madhouse' have appeared quite often, too. This is why it's important for businesses to build a strong online strategy for Black Friday (especially, during pandemic times like now). This will allow people to shop freely at their best convenience.
While preparing your promo materials, you might want to avoid constant repetition. Thank God for linguistics and synonyms, though. There are always other creative ways to say 'Black Friday' without actually saying it. In case you strike a writer's block, use close synonyms and expressions like:
Shopping day
Sales period
Discount time
Day after Thanksgiving
Friday after Thanksgiving
Busiest shopping day of the year
Beginning of the Christmas sale
Christmas shopping season
Famous Black Friday shopping quotes
Since shopping occupies such an important place in our everyday lives, it only makes sense that it's also glorified in so many ways. From movies to songs to art in general, pop-culture has produced tons of shopping quotes over the last century. Feel free to draw inspiration from these famous Black Friday sayings:
I love shopping. There is a little bit of magic found in buying something new
一 Rebecca Bloom
Crying is for plain women. Pretty women go shopping
一 Oscar Wilde
If you love it—buy it. Otherwise, someone else will.
― Unknown
The odds of going to the store for a loaf of bread and coming out with only a loaf of bread are three billion to one.
― Erma Bombeck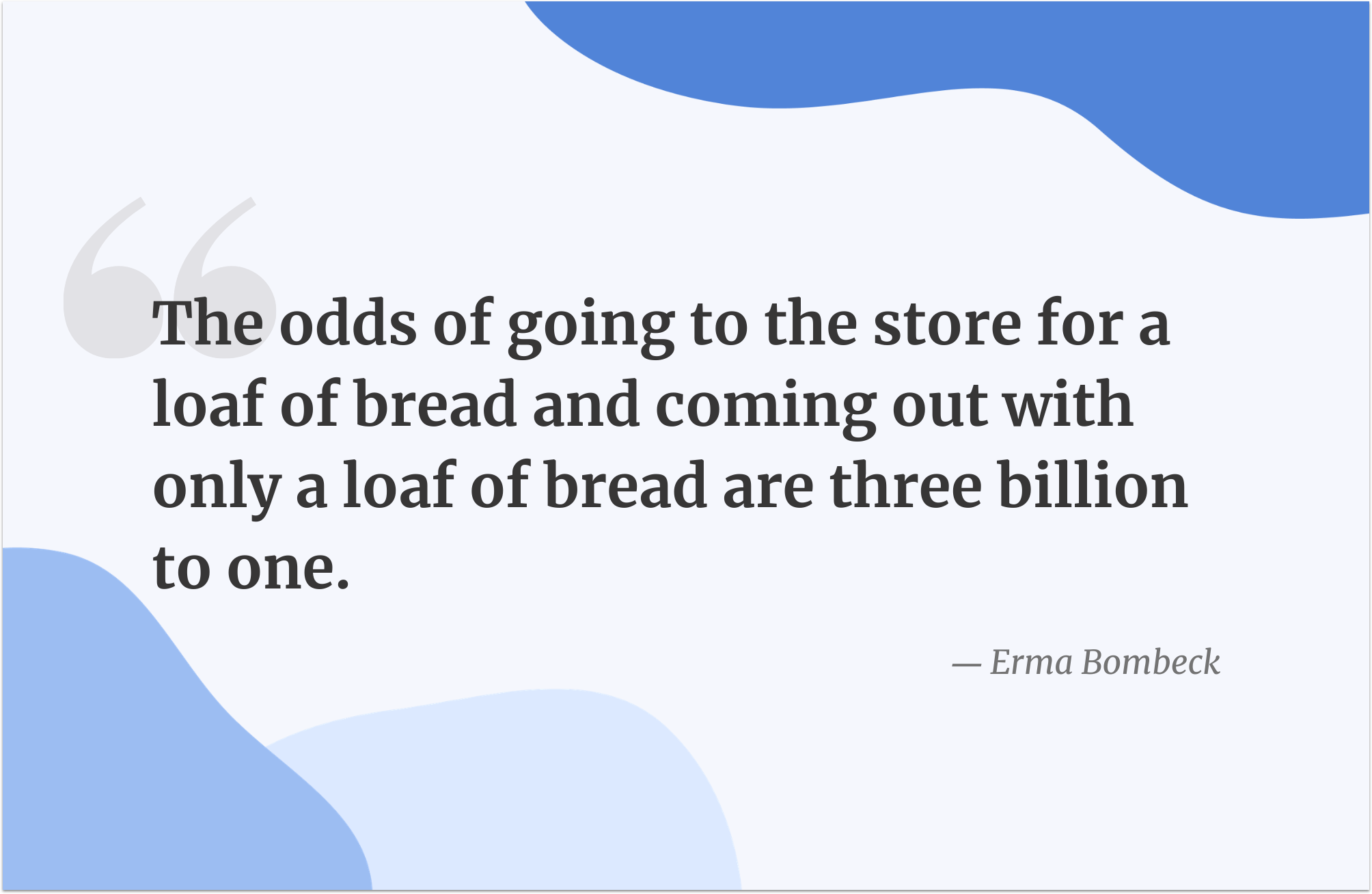 The only consolation I had was buying things. If I bought some pretty thing it cheered me up for a while.
― Iris Murdoch
Shopping is better than sex. At least if you're not satisfied, you can exchange it for something you really like.
― Unknown
Whoever said that money can't buy happiness simply didn't know where to go shopping.
— Bo Derek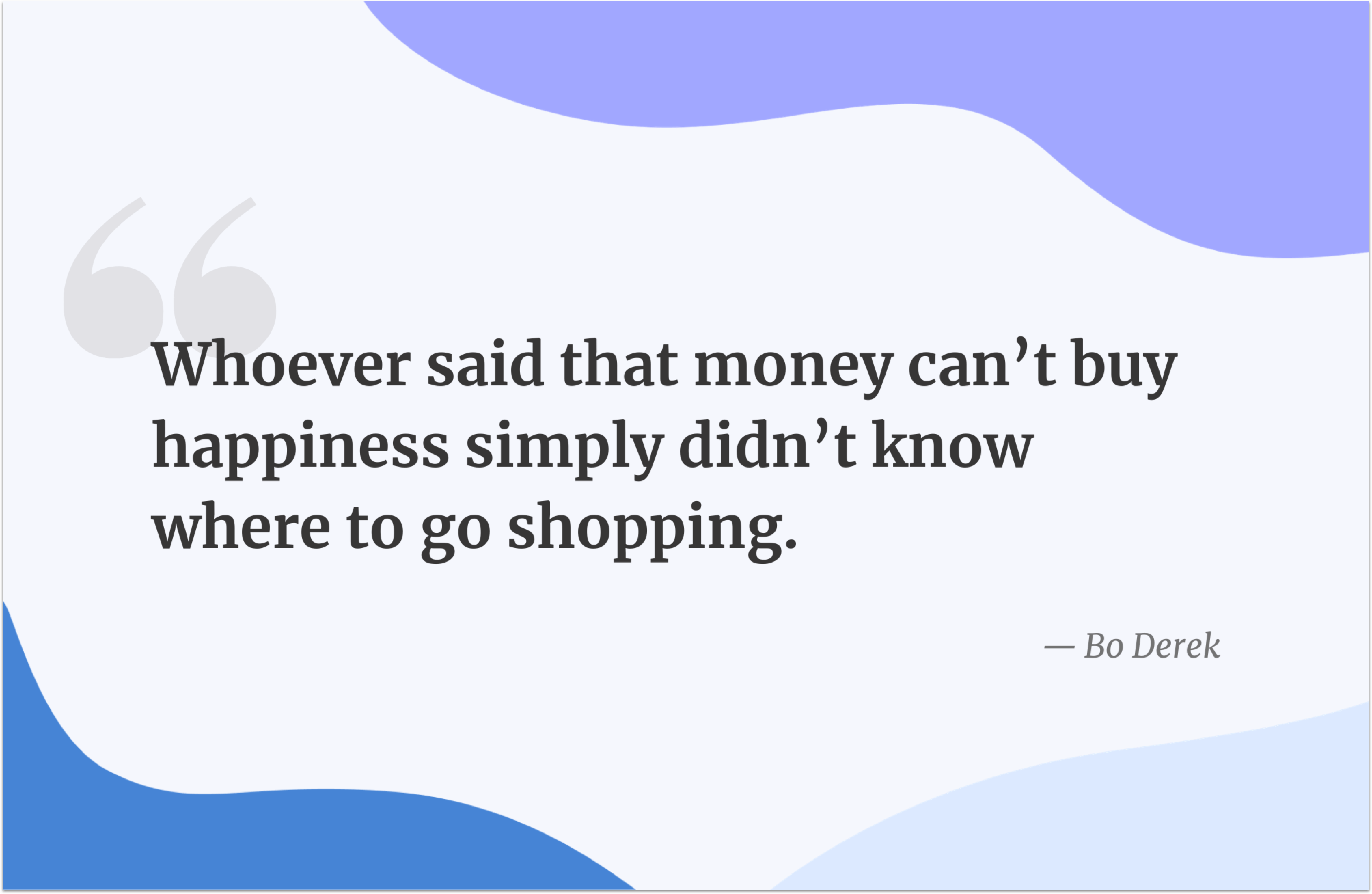 If a man doesn't fit, you can't exchange him seven days later for a gorgeous cashmere sweater.
一 Rebecca Bloomwood
Shopping is my cardio.
— Carrie Bradshaw, Sex and the City
Happiness is not in money but in shopping.
— Marilyn Monroe
A bargain is something you can't use at a price you can't resist.
— Franklin Jones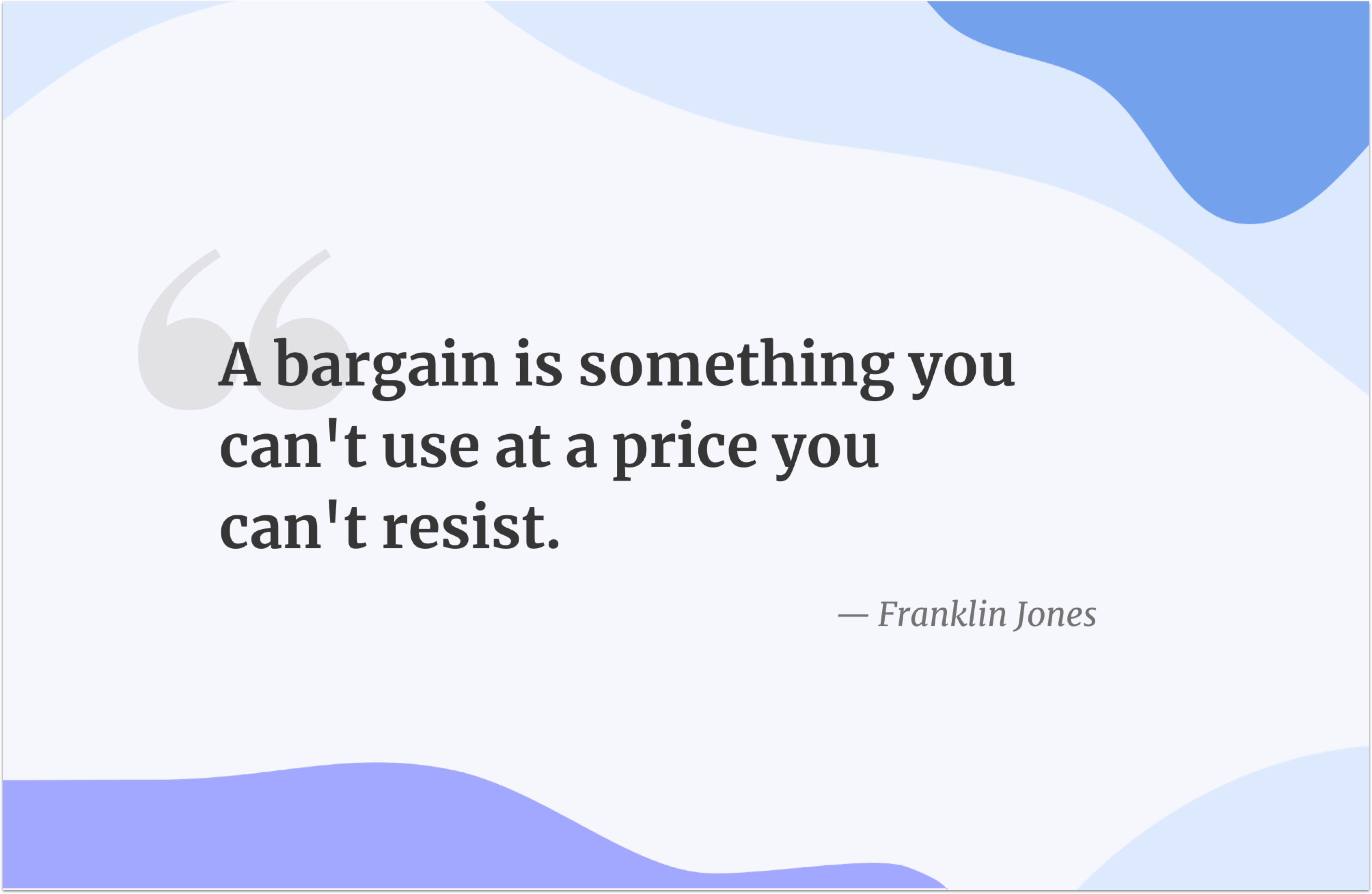 I don't shop because I need something, I just shop for shopping's sake.
— Cat Deeley
I always say shopping is cheaper than a psychiatrist.
— Tammy Faye Bakker
Buy only because something excites you, not just for the simple act of shopping.
― Karl Lagerfeld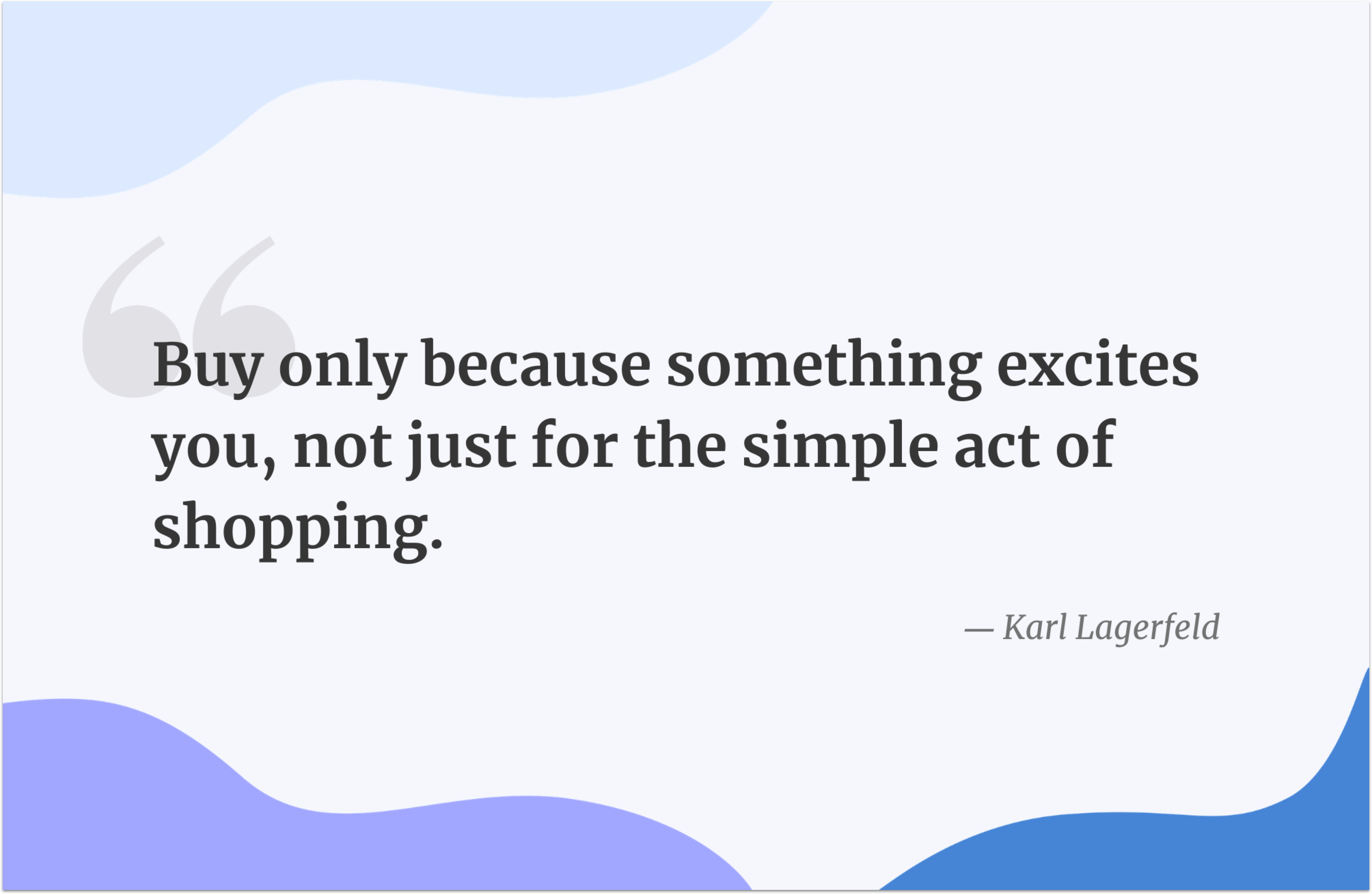 We usually save money to waste it.
― Mokokoma Mokhonoana
If shopping doesn't make you happy, then you're in the wrong shop.
― Unknown
Meditation, yoga, working out and eating well. That's my wellness. And I think occasionally you have to treat yourself, so if you do need to take yourself shopping, go take yourself shopping.
― Cynthia Erivo
If you're a queen, you're powerless, so I'd probably demote myself and go shopping.
‒ Helena Bonham Carter
Do you have anything In this shop as beautiful as she is?
‒ Edward, Pretty Woman
Drawing your inspiration from famous Black Friday shopping quotes can be a good idea. People have already expressed all the worthwhile thoughts, so there's no need to reinvent the wheel.
Black Friday slogans and quotes for your promo campaign
While the above-mentioned Black Friday quotes are quite famous, they're merely a creative basis for your messages. If you want to be creative, you still need some original content. To nudge you in the right direction, we've single-handedly crafted 20 catchy Black Friday slogans. They're 100% original and available for grabs:
Black Friday early SALE! Get up to 50% off any of the products until November 30.
The biggest discounts of the year are finally here. Save up to 50% on your first purchase. You know a good deal when you see one, don't you?
The busiest shopping day of the year is just around the corner, but we're dropping our prices already. Enjoy our 40% discounts on all products in store. Free shipping included!
Celebrate Black Friday with our jaw-dropping discounts. Starting from now, we're offering up to 50% on selected products. The deal ends today at midnight.
What day can be better than Friday? Black Friday! Grab our special promo code BLACKFRIDAY21 and apply it at checkout to get 50% off the entire order.
Black Friday discounts are here now! Get the best deal on any products available on our website with the promo code BLACKFRIDAY21. FREE shipping!
Black Friday SALE is on. Indulge yourself in everything you wanted to buy without spending a fortune. Up to 50% off sitewide.
The biggest sale of the year! Apply the promo code BlackFriday2021 at checkout and get up to 50% off your order.
BLACK FRIDAY SALE!
Shop now and get up to 50% off your first order. The offer is valid till November 30.
It's Black Friday! Don't miss out on your chance to catch the biggest discounts of the year.
Looking forward to Black Friday discounts? No need to wait any longer. Apply the promo code BLACKFRIDAY21 at checkout and get an instant discount right away.
This is the final call before we end our Black Friday sale. Catch our 50% discounts before they run out at midnight.
Glorious Black Friday deals sitewide. Take advantage of online sales and save up to 50% on selected products.
God save the Black Friday sale! It's your time to buy the long-dreamed-of dress or any other item that you can find in our stores. Stop by and get up to 70% for all goods.
Run, girl, run! The best BLACK FRIDAY SALE is yet to come. Use the promo code and get a 50% discount for the whole range of products.
Do you know a better therapy than shopping? We do not know either! So, keep calm and catch our biggest discount of the year!
This is the busiest shopping day of the year and we're dropping our prices like never before. Hunt for Black Friday discounts on our website.
If you're tired of all the Black Friday craze, join us in our little revolt. We're donating 30% of all our income this week to charity. Our company wants to take a step back and reconsider our buying habits.
Get the best deals this Black Friday. No crowds, no shipping delays. Just choose your product and apply the promo code BLACKFRIDAY21.
This is not yet another Black Friday message. We decided to give our entire staff a paid holiday the day after Thanksgiving in protest against overconsumption. Don't you worry though as we'll gladly assist you any other day, and our prices are pretty fair as they are.
Every business chooses a unique approach to Black Friday. Some boycott it altogether while others want to make the best use of it. And if you run out of catchy Black Friday phrases, there's always some room for a nice whole-hearted Thanksgiving greeting.
Cyber Monday quotes for your marketing activities
As a continuation of sorts to Black Friday quotes, Cyber Monday gives another great reason for a promo campaign. Traditionally, the event has been a time for discounts on tech items. So, if you are selling software or gadgets, don't miss out on this chance to increase sales and improve customer relationships.
Since Cyber Monday can bring equally great discounts and sales, here are 5 original slogans for your promo campaign. Let them spark your creativity, or just copy and paste the one you like the most.
Up to 50% off our software this Cyber Monday! The deal you've been waiting for this whole time is finally here. And it's valid for one day only, so you better hurry up.
Cyber Monday has arrived! It's your best chance to try [Product] with a 50% lifetime discount. If not now, then when?
Mondays can be pleasant. Only if they're Cyber Mondays! Get our software with a 50% discount. Valid only today.
Cyber freaks, anybody? We've got a special sale for you! Only on Cyber Monday purchase premium products with a 40% discount. Go to our online store, add the promo code CYBERFREAKS21 and enjoy the shopping!
Cyber Monday is finally here! It's your best chance to try [Product] with a 50% lifetime discount. If not now, then when?
Love may be in the air not only on February 14. You can draw inspiration from our list of soul-stirring Valentine's day slogans. The next time you launch a promo, sprinkle it with some love ❤️
How to get ready for Black Friday with HelpCrunch
HelpCrunch offers a comprehensive set of tools for customer communication. From live chat to email automation to popups, it covers every channel you might need to run your Black Friday promo campaign.
Copy any of the Black Friday phrases from the above and paste them into one or all of the following channels:
Proactive chat messages
One of the least intrusive ways to reach your customers during the biggest sale of the year is proactive chat messages. But this weakness is what makes them so memorable. When everyone around is buzzing with similar Black Friday slogans, you can stand out by being modest.
That's where proactive chats come into play. They're triggered by certain behavior so you can make them as targeted as you need. It's even possible to set up separate proactive chats for each page of your website. And the content should be short and to the point. Just get the message out there.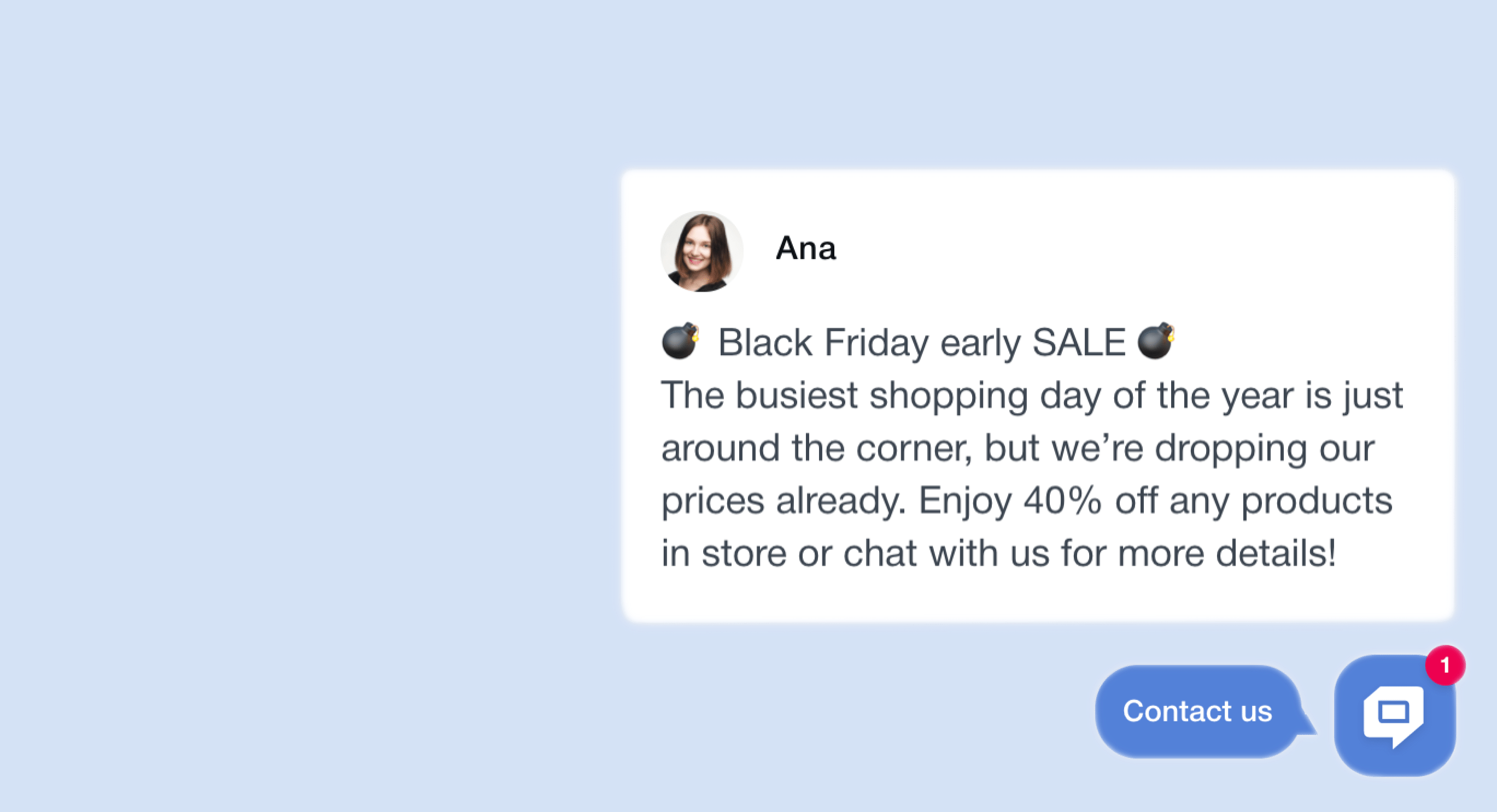 Website popups
If you prefer a more straightforward kind of marketing, set up a few good old popups on your website and grab everyone's attention right away.
HelpCrunch offers popups that can be triggered by the same behavior patterns as proactive chats – e.g. current page, time on page, exit intent. The last one is actually one of the most effective ways to catch hesitating visitors and offer them your Black Friday discounts. The popup will be triggered once a person makes a move towards leaving your website.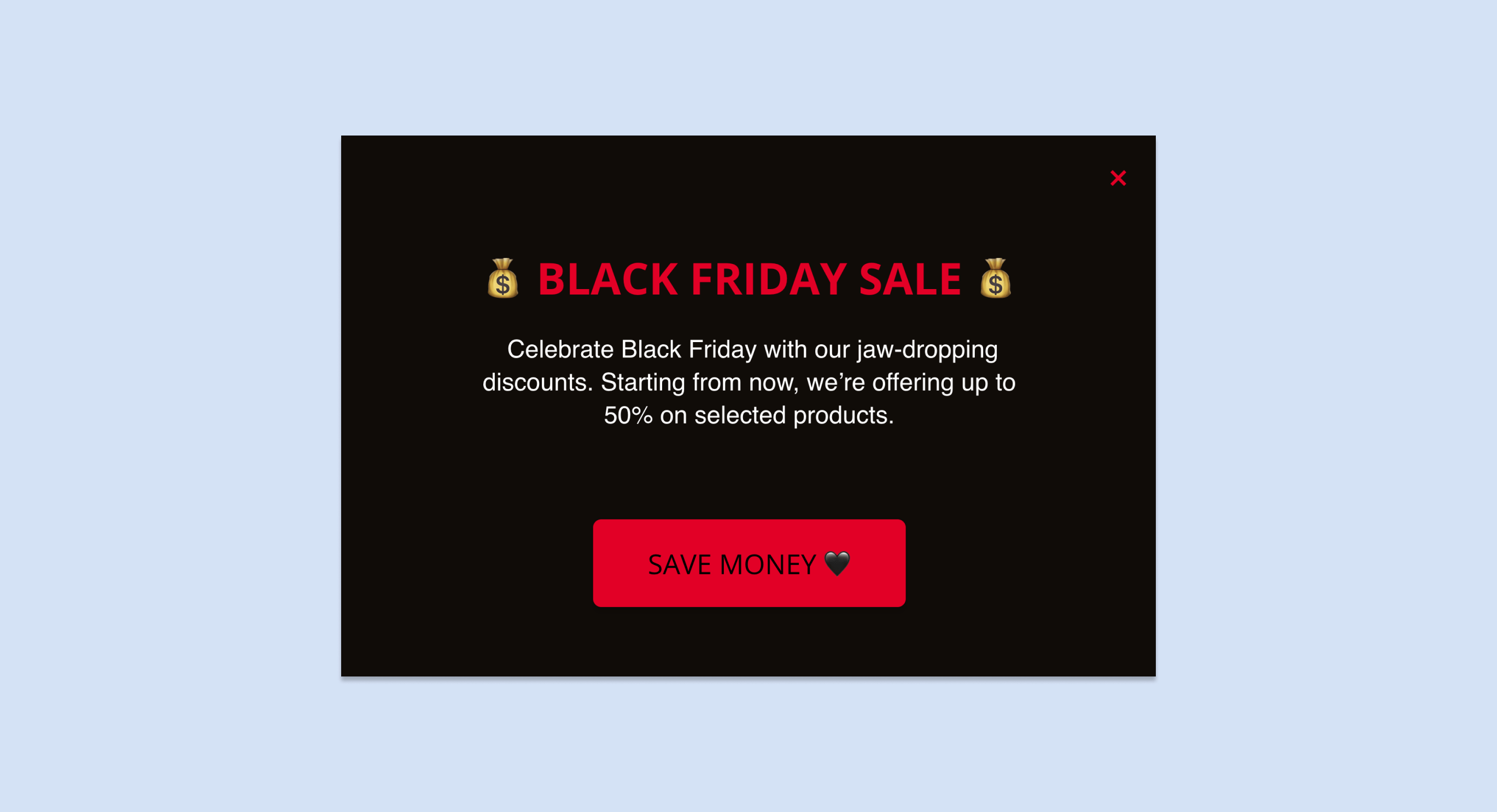 Targeted messages
If you're offering web or mobile applications, there's also an effective way of communication — via the built-in chat. You won't be able to reach your entire contact base (emails are better for this purpose). However, Black Friday in-app messages are great for upselling to your existing clients or engaging with trial users.
You can offer discounts on longer subscription plans or a more advanced set of features to build customer loyalty. And trial users will be more eager to close a deal with you.
Chat widget texts
Live chat is one of the most effective channels for sales. It allows you to reach out to your visitors proactively and communicate with leads in real-time. You won't miss a single person.
So why not customize your live chat widget for special occasions? Just adjust any of the above-mentioned Black Friday shopping quotes and add them to your list of widget texts. Or, get completely creative!