76 Halloween Sales Slogans to Boost Your Performance Amid Holidays
HelpCrunch prepared Halloween marketing slogans for your spooky mood this season! 🎃

What's Halloween season for you? Please, don't say that it's just another excuse to run some sales campaigns and offer discounts to the customers. Because in fact, this holiday carries much more potential than just an opportunity to run a sale.
Sure, Halloween discounts are great, but what about an everlasting impression, customer loyalty, and brand advocacy? Holidays and special occasions can present a great chance to establish stronger communications with clients and create a more positive brand image.
No occasion can be better for building emotional connections with your customers than Halloween with its scary costumes, ancient traditions, and good old trick-or-treating. You can't miss out on such an opportunity.
To give you a little nudge, we've prepared this collection of Halloween marketing and advertising slogans. And it's only the beginning. In this article, you will also find the treats for Halloween sales slogans, proactive chat, and in-app messages as well as holiday widget button text options.
In a nutshell, we present a unified gathering of Halloween slogans to boost your performance amid the holiday season. No need to invent anything yourself — just copy and paste these excerpts into your customer communication tool. Or better yet, sign up for HelpCrunch as we've already added some templates to everyone's accounts (sweet treats for all!).
Halloween marketing slogans
To capture increased users' interest, it's vital that you have catchy Halloween marketing slogans. They serve as an integral part of your brand, designed to evoke positive emotions and be remembered by customers. On top of that, it's something that distinguishes you from competitors.
So, how can a marketer maintain a festive mood in their communication with clients? Just use these Halloween marketing slogans to add a pinch of spookiness to your messages in email, popup, or chat.
We've also prepared 126 unique messages and quotes for Black Friday, slogans for Halloween, Christmas, Valentine's Day, and April Fool's Day 😉 Interested in these tempting treats? 
Halloween greetings
It's Hallo-Scream! Don't be terrified, we don't bite (most of the time).
Evil owns this house. Come in at your own risk.
Hope you have as much fun today as the spiders and bats living in your house. Happy Halloween!
It's Halloween, go totally catty, batty, deadly, ghostly, and scary!
Welcome, dear! May the ghost be with you.
Boo to you from our Crew.
Zombies are meandering the road, so you should be quick with (your question/or pick your option)!
I only spook when spoken to.
This letter is sealed with a vampire kiss and bite.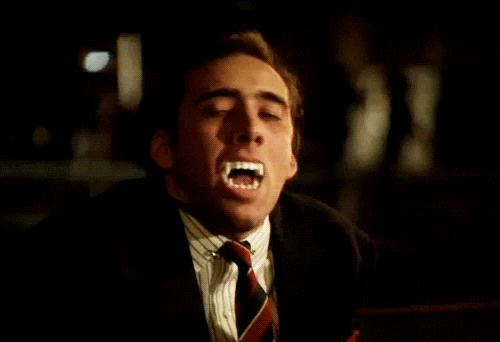 Halloween wishes
Enjoy the scariest night of the year!
Hope your day doesn't suck like a vampire. May you have an amazing day and a freakishly scary Halloween!
Keep calm, trick or treat and carry on.
Wishing you a night full of frights and a bag full of delights. Happy Halloween!
I hope you get lots of trick-or-treaters this year. Unless, of course, you'd prefer to keep all the candy for yourself.
This Fall, may your treats be many and your tricks be few. Hope you have a sweet Halloween.
Halloween advertising slogans
Halloween advertising slogans are usually brief yet memorable phrases. They are not just nice wishes for customers – they are attention-drawers used in advertising campaigns.
Holiday slogans should be captivating, short, and spiced with a pinch of Halloween spirit. They always refer to your company's product or service itself.
For example, Burger King once launched a Halloween advertising campaign that offered free burgers to visitors dressed up as clowns (a little trolling over McDonald's). Their Halloween slogan sounded Come as a clown, eat like a king.
Here are some Halloween advertising slogans to spark your imagination this season. You can take one or a few of them and integrate them into your brand message.
Haunting times have begun
You are now cursed! (to use in retargeting campaigns)
Eat, drink, and be scary!
Zombie-thirsty [smoothies] for crazed customers
Ghosts were individuals as well
Frankenstein [wine] is divine
Halloween is coming! It's time for terrifying treats
Join us for a scary good time
Creeping' it real this Halloween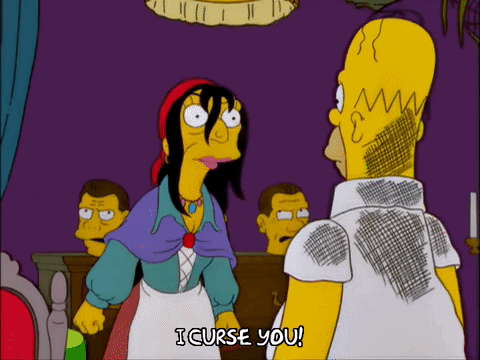 Creative Halloween Sales Slogans
With the holiday snapping at your heels, it's pretty easy to get creepy and lose your creative juices. However, your sales should not (and would not) do that! Here come the bone-chilling Halloween slogans you can leverage in your sales activities. They sell like witchcraft! 🧙‍♀️
Get your brooms ready for the candy-filled Halloween extravaganza! Half of the pastries are 10% off!
Hair-raising Halloween is around the corner! Buy one shampoo and get a conditioner for a present!
We know you're on for the spooktacular Halloween! Say the special code "Halloween" when at our stores, and grab your 30% off the purchase
Have yourself a night of fright with our pack of delights!
Oh, the frightful night! Oh, the scary night! Come and see our massive, fang-tastic discounts!
Are the wicked witches chasing your cravings away? The [X] store is about to replenish them.
Witch parking for all ages is allowed. If you're more than 150 years old, get your free parking lot for life.
Need a monstrous lawn mower? Step by our store this holiday and beware of the brutal Halloween lawn tools (almost 70% off!)
It's all around Halloween parties, pumpkin pies, and apple cider! Fancy a special drink? Come buy it!
Catchy Halloween sale slogans
Why are Halloween sale slogans important, and even crucial? Almost every company throws special deals amid holidays. It's so commonplace that customers don't feel like buying from the first company that offers a discount. People know that they can find holiday special deals almost everywhere, for instance, your rivals most probably have some cut-price products as well.
Halloween sale slogans, in turn, can bulge you from the competition and help customers remember you. So, feel free to make use of the slogans listed below to create a festive, magical atmosphere for your audience.
Fly, slither, or crawl our Halloween offer has something for all!
Terrific! BTW, we're currently having a Monster of a Halloween Sale!
You can use the promo code [Halloween'22] and get up to 21% off your next purchase. It's a scarily good deal if you ask me!
Happy Halloween! Spooky Sale Inside!
Happy Halloween! Enjoy 30% off site-wide!
You should be frightened by our spooktacular 30% discount!
These deals are sweeter than Halloween candy!
The best Knight of the year
The discount worth screaming about
Finding better deals than these? That's just witchful thinking!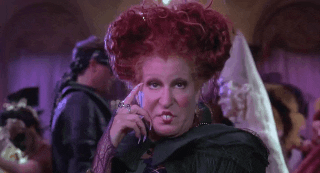 Halloween proactive chat messages
You've probably decorated your website for Halloween already. Marketers and salespeople are fond of Halloween posters, banners, and popups offering special deals. But they often forget about another, less intrusive and more authentic, way to reach out to their customers.
You can always use these templates for proactive chat messages and get in touch with your website visitors on autopilot. We've crafted a few examples for simple greetings as well as for Halloween sale slogans. Just copy and paste them into your customer support tool:
Greeting for repeat website visitors
Back so soon? I am dying to have a great Halloween with you! Let's talk!
It's giving me the creeps to see you back again! Contact our team if you need help.
Are you back for candy? Eat, drink, and drop us a line!
Did the zombies drag you again to us? Hurry up and ask your question!
Is it you [customer's name] or I've seen a ghost? Please, talk to me!
Halloween special deal
If you want a tasty sweet Halloween treat, you'll enjoy our special offer! Extra 20% discounts on everything until October 31.
Are you on the hunt for some terrifyingly nice Halloween deals?
Get 20% off your order with the promo code [HALLOWEEN21]. Happy Haunting!
Wishing you a spooktacular Halloween! Use the promo code [HALLOWEEN21] to get a dreadfully awesome 20% discount on your next order?️
Interested in our special Halloween deal? I could share more spooky details!
Pricing page/checkout assistance
Don't be a scaredy-cat this Halloween! Just contact our support team for more details on our pricing.
Having troubles with our checkout? Knock if you dare ⚰️ Is there anything I can help you with?
Hello, pumpkin! Need assistance with our pricing?
Halloween in-app chat messages
Targeted in-app messages are great for SaaS companies that are running some sort of Halloween special deals and want to announce it to their active users.
They're sent only once to a group of people that you specify with the help of demographic, geographic, or behavioral criteria. They're called targeted because you can go as granular with user segmentation as you wish.
Halloween special offer
Trick or treat? Starting today, you can get a 20% discount on any subscription you choose.
Just sign in to your account and treat yourself to this Halloween Sale!
Early Bird Halloween Sale! The celebration is right around the corner but we're dropping our prices already. Treat yourself with 31% off your order. Contact us for more details!
If you're on the hunt for some amazing Halloween offers, your search stops now. Use the promo code [Halloween'21] and get a momentary discount on your next order from us.
The sale ends on October 31 at midnight. The clock is ticking, the zombies are coming, so hurry up!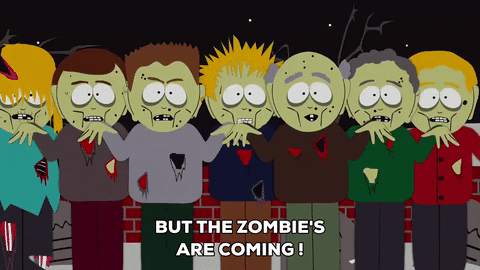 Halloween widget messages
Taking it to the next level would also include changing your live chat widget's texts. If you're using HelpCrunch, just go to Settings -> Website Widgets -> [YOUR WIDGET] and choose the 'Localization' tab.
You can customize your chat's texts a little bit there to make them more Halloween-friendly this time. For instance, it's always a good idea to warn people who are trying to contact you outside your working hours. Something as simple as a short congratulation can make a difference, too.
You can go even further and replace your team members' avatars with spooky avatars. Just download them on Freepic.
Widget button text
Contact us for candies
Park your broom and contact us
Reach us to celebrate Halloween
Your lives will never be the same this season (if you have several)
We only spook when spoken to
Stop in to cast a spell
Offline greeting
Sorry, but we went haunting! Will return at midnight.
Our team is trick-or-treating atm. We'll be back when our baskets are full of candies!
We're not available at the moment, but our team will be back at [Time]. Happy Halloween!
Final words
If you're still not sure how to celebrate the spooky season, you can always start by adding Halloween slogans to your marketing campaign. Or, just start your adventure with HelpCrunch. Then you'll have a convenient way to reach out to your visitors and customers whenever you need to as well as answer any questions they may have.
HelpCrunch offers all the necessary features you might need to congratulate your clients. Just launch a newsletter campaign, customize saved responses, proactive chat, and email messages, or adjust your chat widget with custom colors 🎃 and texts.
The HelpCrunch team once again witches you a scary Halloween 🧙‍♀️ Hope you're staying safe, enjoying the treats and festivities!