A Pro Guide to Self-Service Knowledge Base: Best Practices to Zero in
Care to explore all the secrets of a self-service knowledge base? We spill the beans here.

As we navigate the digital age, the self-service paradigm has become more than just a trend — it has become an expectation. Organizations that recognize the power of a self-service knowledge base and adapt to this evolving landscape will be poised to thrive in a customer-centric world.
However, the question remains unchanged: what is it, and how can businesses turn it to their benefit?
Thanks to all the algorithms, you've landed on the right page! In this article, we'll talk about knowledge bases that assist customers in their self-service, and how to assemble one. Jumping a little ahead, you can do that with HelpCrunch, too! But more on that in a moment.
Unveiling the power of self-service knowledge base
Before we start perusing the whole self-service knowledge base concept, it's paramount to identify its full power. First, this is an online repository of FAQs, articles, and pain points customers may come up with and solve on their own. It usually looks like this – a search box, a strict informational hierarchy, and common customer questions: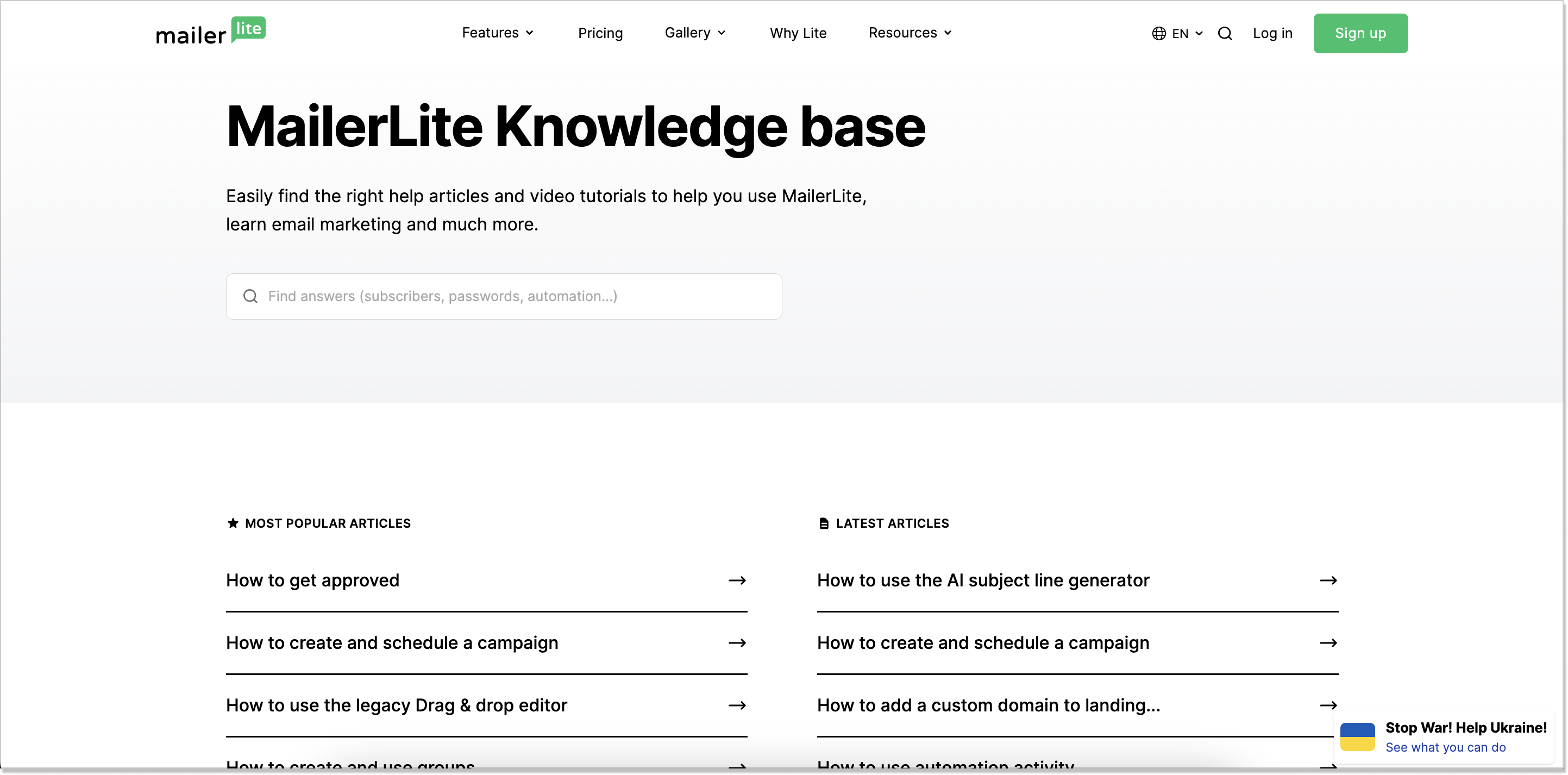 Now, even if you have always entertained the idea of the one and only goal a knowledge base has— a unified reservoir for product- or -service-related questions—, I am here to dispel this myth of yours. 🪄
As the old Chinese proverb goes, "give a man a fish, and you feed him for a day; teach a man to fish, and you feed him for a lifetime." The same principle applies to self-service. Such resources only empower clients by teaching them how to resolve issues on their own, rather than relying solely on support agents.
Let me elaborate on this one.
When a customer searches for answers, time is of the essence. Alright, you have a sonic-fast customer service squad. However, traditional support methods often involve long wait times, labyrinthine phone menus, and delayed email responses. Thus, a human team might not be enough. Here is when a well-oiled help center enters the play. Thanks to it, clients receive a treasure trove of info right at their disposal, without any barriers.
5 undeniable benefits of self-service knowledge bases for businesses
Empowerment at customers' fingertips
Anyway, imagine having a vast repository readily available to you 24/7, empowering you to troubleshoot issues and find solutions on your own terms. That's precisely what self-service knowledge bases offer.
Users gain the power to take control of their queries, giving them a sense of independence and reducing their reliance on support agents. It's like having a personal IT expert available round the clock, guiding you through every step.
By providing prompt answers to customers' queries, an advanced knowledge base fosters a sense of efficiency and reliability. Users appreciate being in control of their support journey and gaining solutions in mere seconds, boosting their overall experience with your brand (I can tell! I love that, too!).
Lightning-fast resolution times
Speaking of the quick answers.
One of the most frustrating aspects of traditional support is waiting in line for your turn. And this happened to me just the other day! I was furious when trying to reach out to Ryanair's service agent via chat and found out they were snowed under tickets. So I was supposed to hang on there and wait till the sun comes down…😳
Feeling no remorse, I closed that chat and went straight to the airline's active knowledge base. Guess what? Luck then kissed me! In just several minutes, I got my list of questions handled, just like that. My upcoming vacation is saved ✈️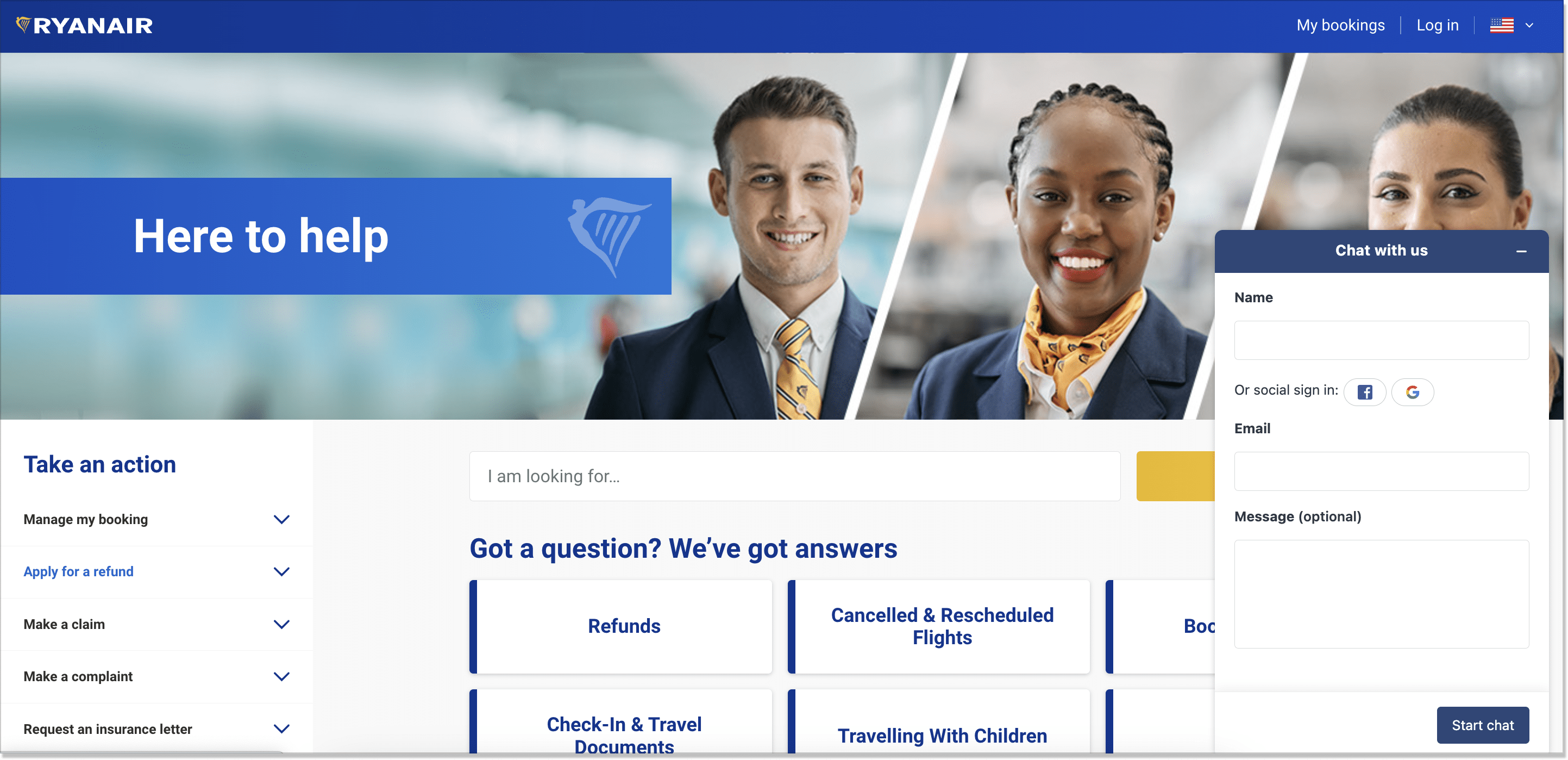 The point is that self-service knowledge bases can help you bid farewell to those long queues and endless hold music (or chat hold-on texts). Simply type in your query, hit enter, and voilà! The answer you seek appears before you, saving you precious time and sparing you from unnecessary frustration. It's like skipping a traffic jam and arriving at your destination in record time.

2. Round-the-clock availability
Problems don't adhere to business hours, so why should your support options? Self-service knowledge bases are always open for business.
Whether it's 3 am or the middle of a long weekend, users can access it and find solutions at their convenience. As if you have a tireless assistant who never clocks out, ensuring your users' needs are met whenever they arise.

3. Cost-effectiveness
Investing in a self-service knowledge base is like making a smart financial move. By giving users the tools to troubleshoot their own issues, you can significantly reduce the strain on your customer service teams.
This means fewer support tickets, fewer man-hours, and ultimately, lower costs. Think of it as a hidden treasure chest that saves you money while ultimately enhancing customer satisfaction.

4. Consistent and accurate information
In the realm of conventional customer support, inconsistencies in information can often lead to confusion and frustration. Self-service knowledge bases offer a way to combat this issue head-on.
With a centralized repository of up-to-date information, you can ensure that all users are accessing the same reliable content. Thanks to it, you have a trustworthy encyclopedia that's constantly updated, providing accurate answers to every user, every time.
Bonus benefit! As AI functionalities are the talk of the town lately, why don't you team them up with your soon-to-be self-service help center? The cooperation is truly efficient in so many different ways:
Advanced search and Natural Language Processing (NLP) can understand user queries better and provide more accurate and relevant search results.
Intelligent content tagging and categorization algorithms can automatically analyze and tag content based on its context and subject matter.
AI-powered content creation and updates tools can assist in creating new knowledge base articles or updating existing ones.
AI-driven virtual assistants and chatbots allow users to interact with the system using natural language. They can answer common questions, guide users through processes, and provide immediate support, enhancing the self-service experience.
Multilingual support with AI translation capabilities can enable the knowledge base to support multiple languages, catering to a diverse global audience and breaking down language barriers.
6 steps to create and maintain knowledge base articles
The theory can only get you so far. Time you shaped an effective knowledge base of your own! Sure thing, we are here to guide you through the process. With that in mind, here is a step-by-step guide on how to do just that without having a nervous breakdown.
Step 1. Define your objectives and scope
Without a specified plan (or goal, for that matter), your help center is useless. Sorry for shooting straight but it's true. Thus, before you embellish your resource center, it's vital to answer these questions:
Which database are you creating: for internal or external use?
How many queries does your customer support team usually process?
What are those queries? What are the pain points your users often come up with?
Does your staff refer to some extra materials/resources when assisting a client?
Do employees possess any significant expertise if they leave a company? What happens to it then?
Pro tip! Create detailed work routine checklists for each and every process within your organization for the cases when a coworker leaves. Such a helpful hack indeed!
Step 2. Collect information and beef up expertise
Now that you are already aware of your roadmap and goals, you'd better dig deeper into what your help hub really needs. Consider talking to subject-matter experts within your niche, holding special panel discussions with your support staff, or interviewing the most active and pleased customers.
What for?
To identify their pain points and timely answers! All in all, you have to make sure your self-service knowledge base comprises the most relatable content and remains user-friendly no matter what.
All of it might be a lot to take in, so let me share some lifehacks with you. Being in the niche for almost 4 years already, I faced lots of customer stories, puzzled out the trickiest questions, and, somehow, stayed in my right mind 🤔
Believe it or not but good, industry-wide self-service customer experience workshops have invested into my expertise big time. Everything from YouTube videos to Coursera/Udemy courses will do. Expand your horizons!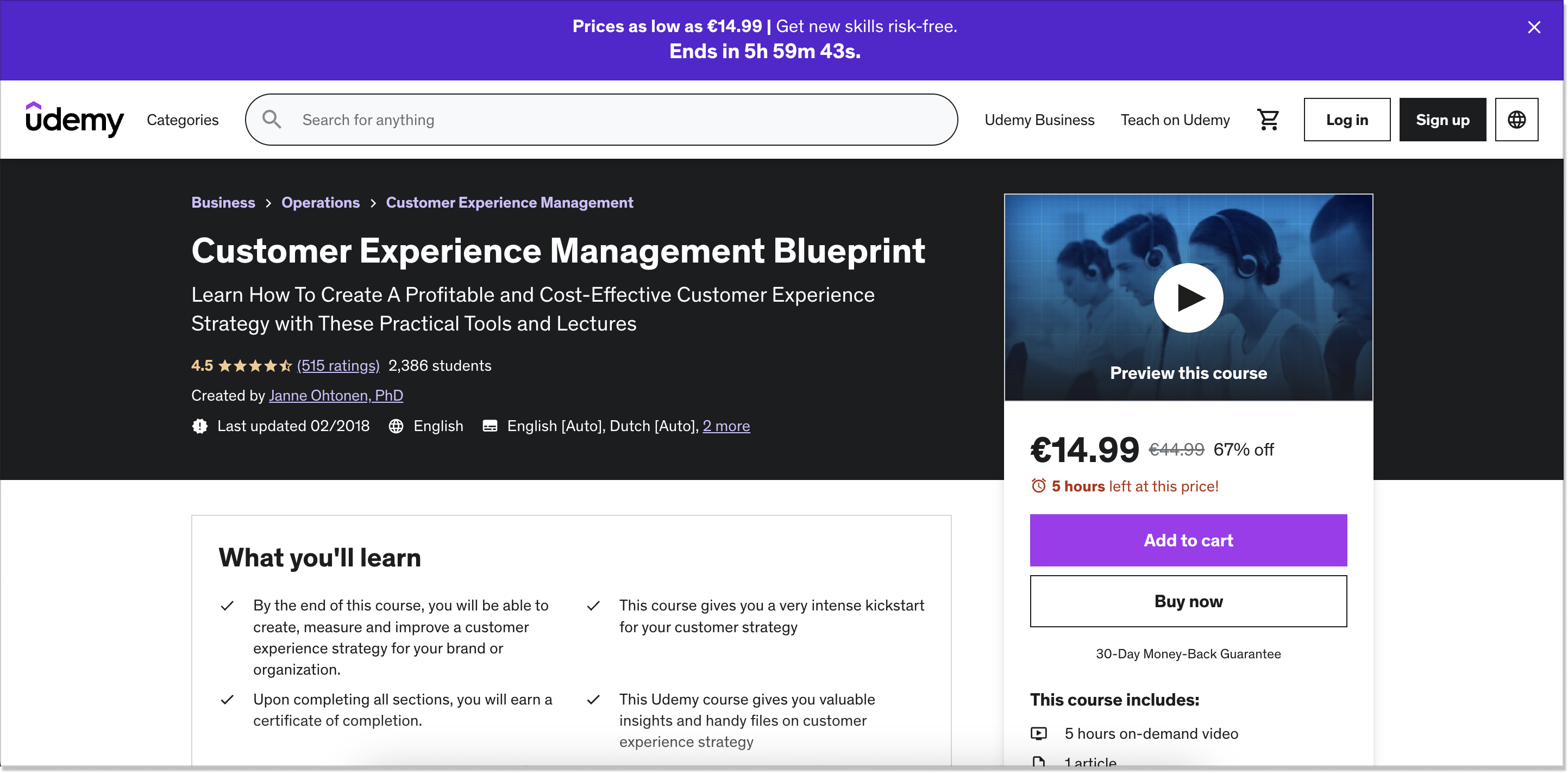 Step 3. Find the right platform for maintaining knowledge base articles
Imagine you are in a boat 🛶 Will you be comfortable setting sail with only one paddle? Or if you had them in spades? Such a philosophy goes for maintaining your pool of info as well. If you do not have a decent technical background for that or adopted too many tools, it will bring chaos into your work routine.
There is a myriad of knowledge base software that can help you create, process, and then keep your content evergreen. Here, you should take the following aspects into consideration:
User-friendliness
Full customization and branding
Abundant scalability
Support system integrations
Analytics and insights
In this context, let me say a few words about HelpCrunch – go-to customer service software. I do not mean to brag, but it also suggests a multilingual help center with an arsenal of tools and a WYSIWYG editor is one of them! With it, you can build a bushy information tree, etc. But if you don't mind, the rest will be our little secret till the next paragraph 😉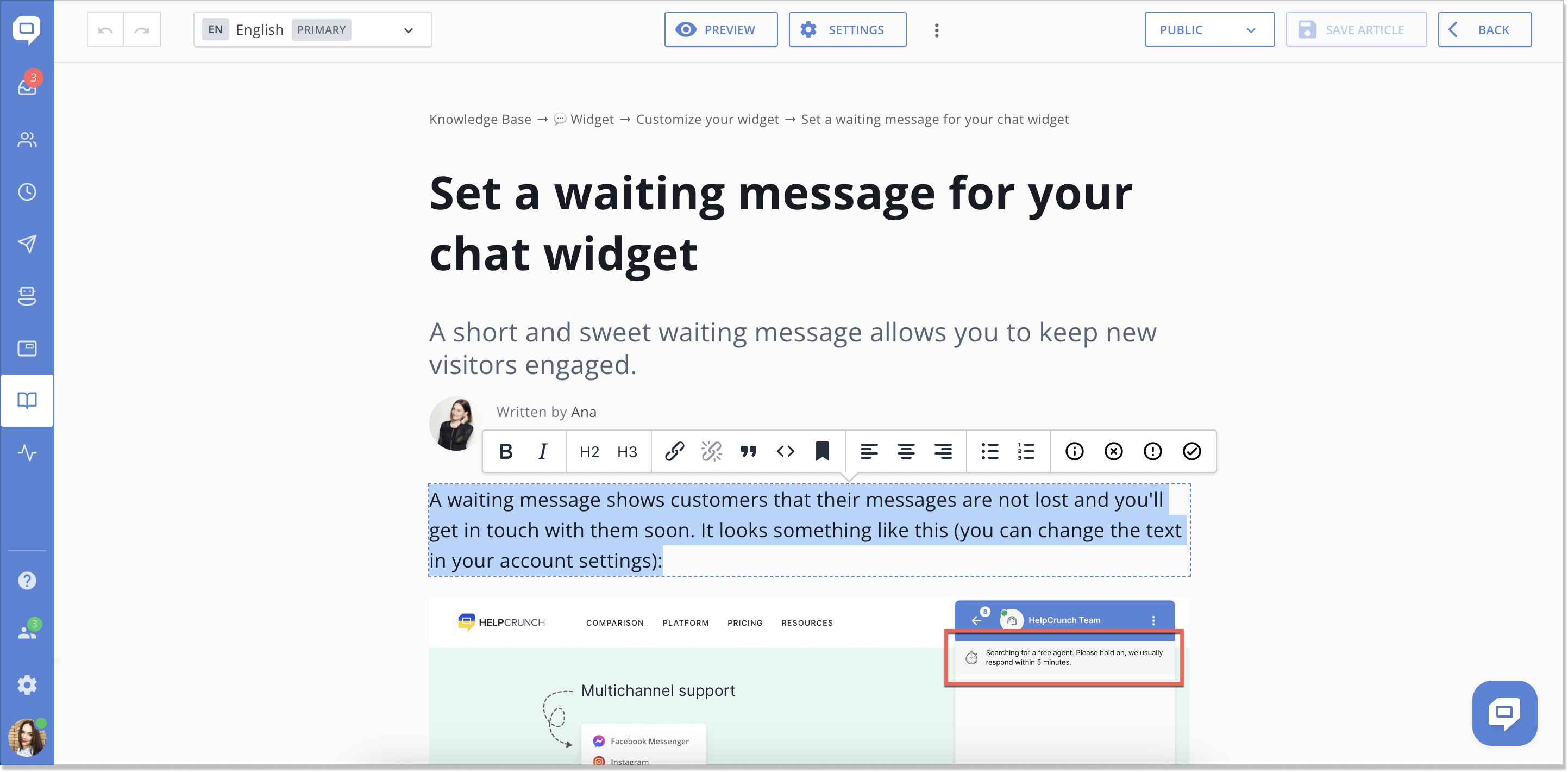 Step 4. Identify the basic components of your knowledge base article
Once you settled down with the platform (I bet you'll make the choice we are all hoping for!), get your ducks in a row with the structure of the self-service knowledge base. Let's briefly comb through the most crucial components so that you get a better idea:
Search bar engine – the rule of thumb is that users enter a knowledge base with a certain keyword/phrase/query in mind. To let them find what they are looking for, include an intuitive, easy-to-spot search engine in your help center. It will help them navigate their issue in the shortest time possible.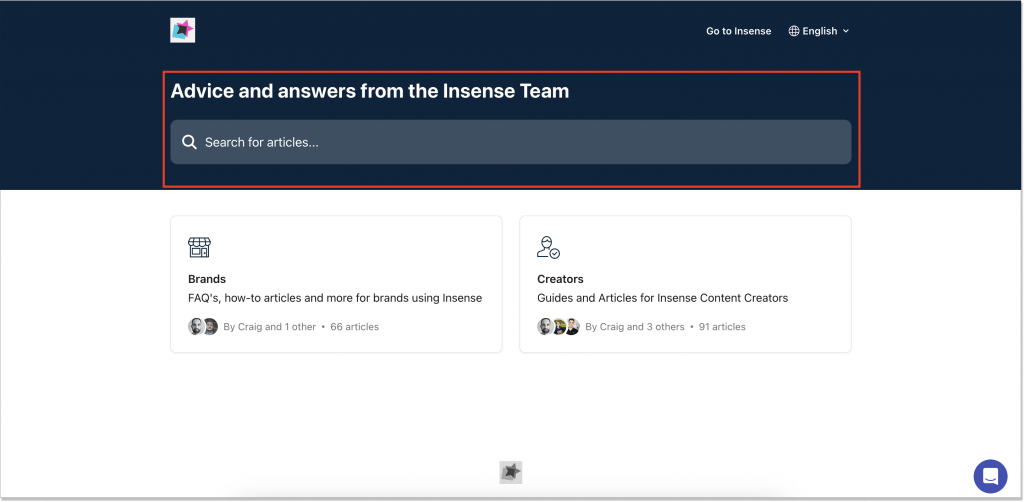 Contact support link – if a user fails to access or find what they've come for, they will say goodbye. Trust me on this one. That is why it's in your best interest to add an alternative Contact us button or link to your resource center. Locate it in a conspicuous place: at the top or bottom of the page and make sure it doesn't interfere with the rest of the content.
Mobile responsiveness – we are in the digital age! Customers often seek answers on the move. Search engines prioritize mobile-friendly websites in their results when users search from mobile devices. Thus, content adapts to fit various screen sizes, making it easier to read, navigate, and interact with the information. This improved experience leads to higher user satisfaction and engagement.
Interlinking between articles – to make an abundant repository, link articles with each other. For instance, if the piece is about setting up an account, include a related article about payment procedures or billing issues.
Step 5. Fill your help hub with content
Writing stuff takes control. And creativity. And control again. Especially when it comes to developing a help hub. No one wants to read dull texts brimming with technical jargon and blunt info. You should compose articles keeping customers in mind! The fruit of your works should keep them well-engaged and highly informed.
Long-read articles, how-to guides, feature documentation, and product tutorials – no matter which of them is on your to-do list, write them, following these simple steps:
Do not shrug off an FAQ section — generally, it serves as a stand-alone unit for customer self-service. However, it can also be a nice contribution to your database. Remember that the commonly asked questions must be quick-to-the-point and do not represent walls of text.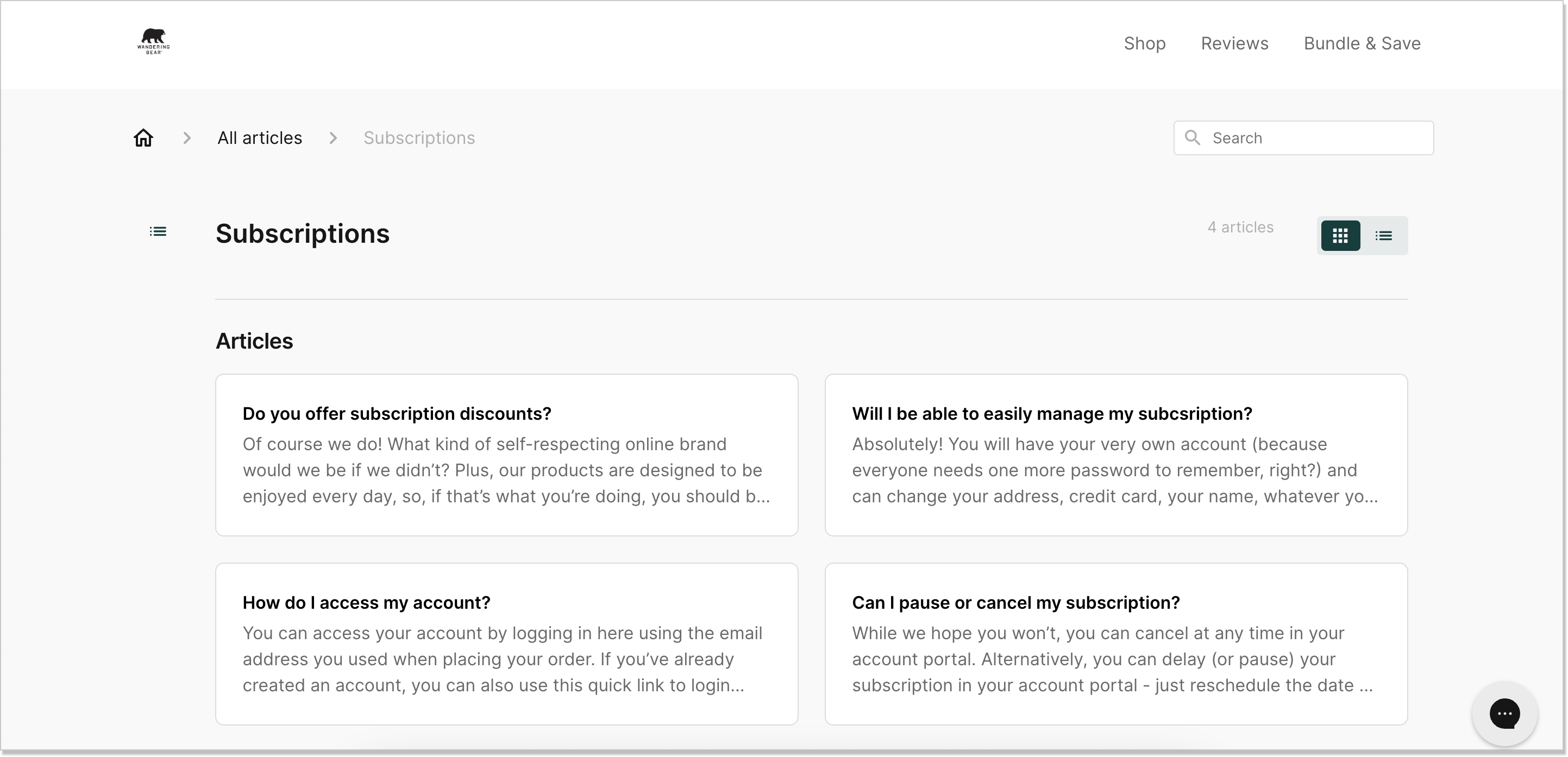 Keep titles short — they should mirror the problem a customer wants to solve. Instead of dimly saying "Kick off with your account", use something like "How to create an account?". The latter provides a much better context.
Use visuals — I know this first-hand that reading a knowledge base article without any pictures and illustrations is hard. Add GIFs, screenshots, or videos pointing at specific procedures your product might have. And update the content religiously!
Step 6. Test and gather customer feedback
Here you have at least two options: 1) to show articles to departments within your organization, and 2) to insert a feedback box at the end of each piece. The former helps you top up the database with troubleshooting material and provides bigger insights, while the latter is all about how your users see it, the opportunity to detect and fill in the gaps.
Realizing the potential of self-service knowledge bases
Finally, we are getting closer to the most engaging part of this blog post! In this paragraph, you will enjoy some examples of how various companies have optimized and maintained their help center for self-service. Dive in!
HelpCrunch
I told you the little secret won't be so little! 😃
Being a perfect customer service platform, HelpCrunch also houses such features as live chat, chatbot, and a shared inbox. And guess what? You can benefit from our multilingual knowledge base as well! It's integrated with the chat widget so that customers can search for answers without jumping between the tabs.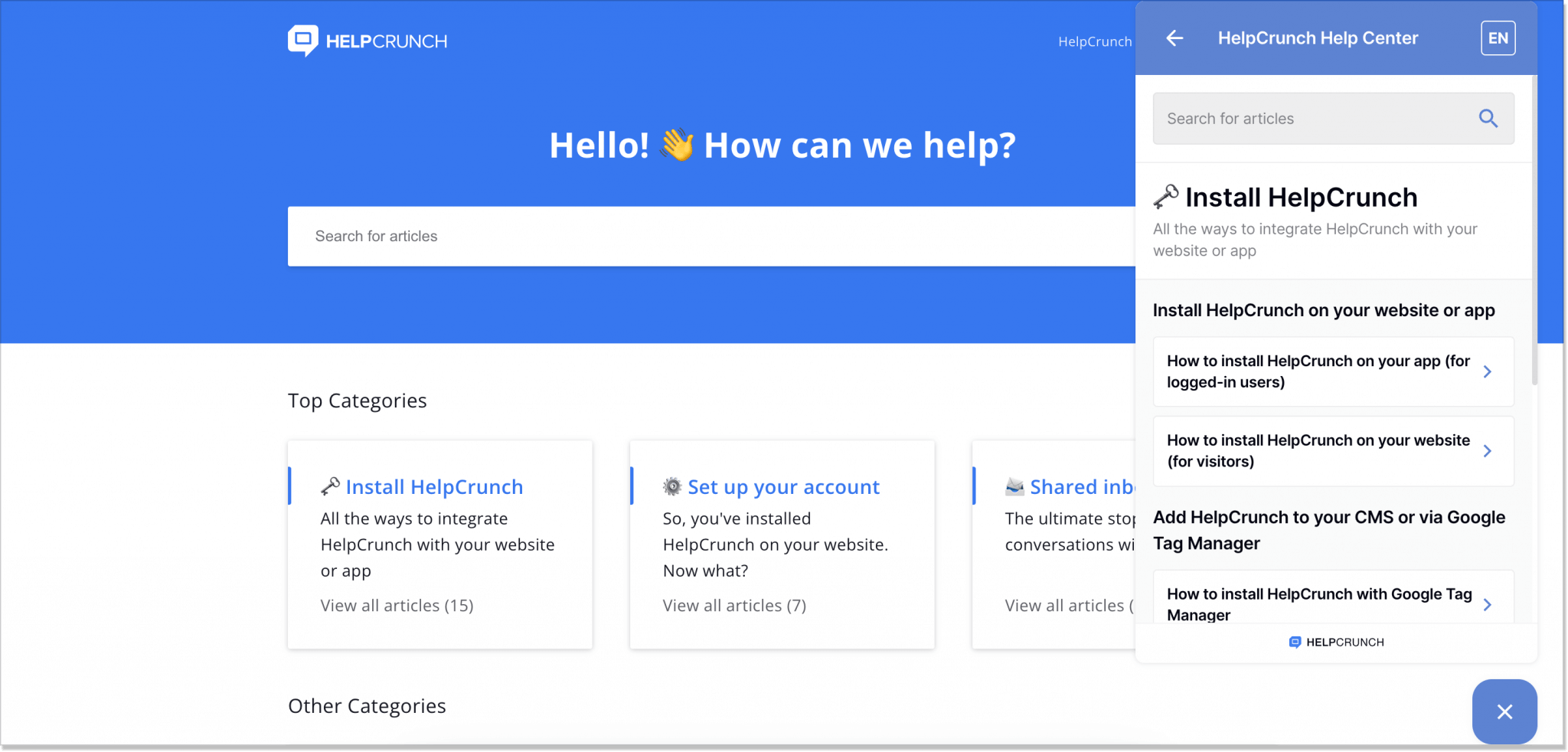 Among the marvelous features this tool comprises, there are:
Chatbot integration for contextual self-service
Useful metrics tracking
SEO-optimization
Full customization
Smart suggestions in a search bar

2. Todoist
On my hunt for perfect case studies, I dug this one from Todoist – a task management system. Look at how its knowledge base topics are optimized. All of the key ones are sorted out in tiles with icons, while the search engine bar lures you to quickly type in a certain query.
If you look inside, the content has a mixture of FAQs and orthodox articles, an easily digestible menu, bulleted lists, categories, and subcategories: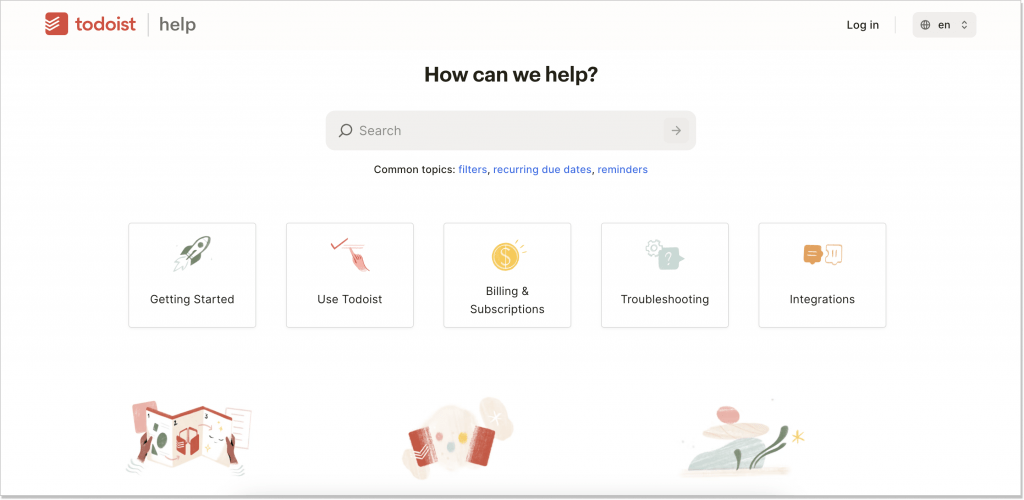 However, this is not the end. What Todoist has done with flying colors is its Inspiration section as part of the main page. It looks like a dedicated blog, though, but totally fits the whole concept!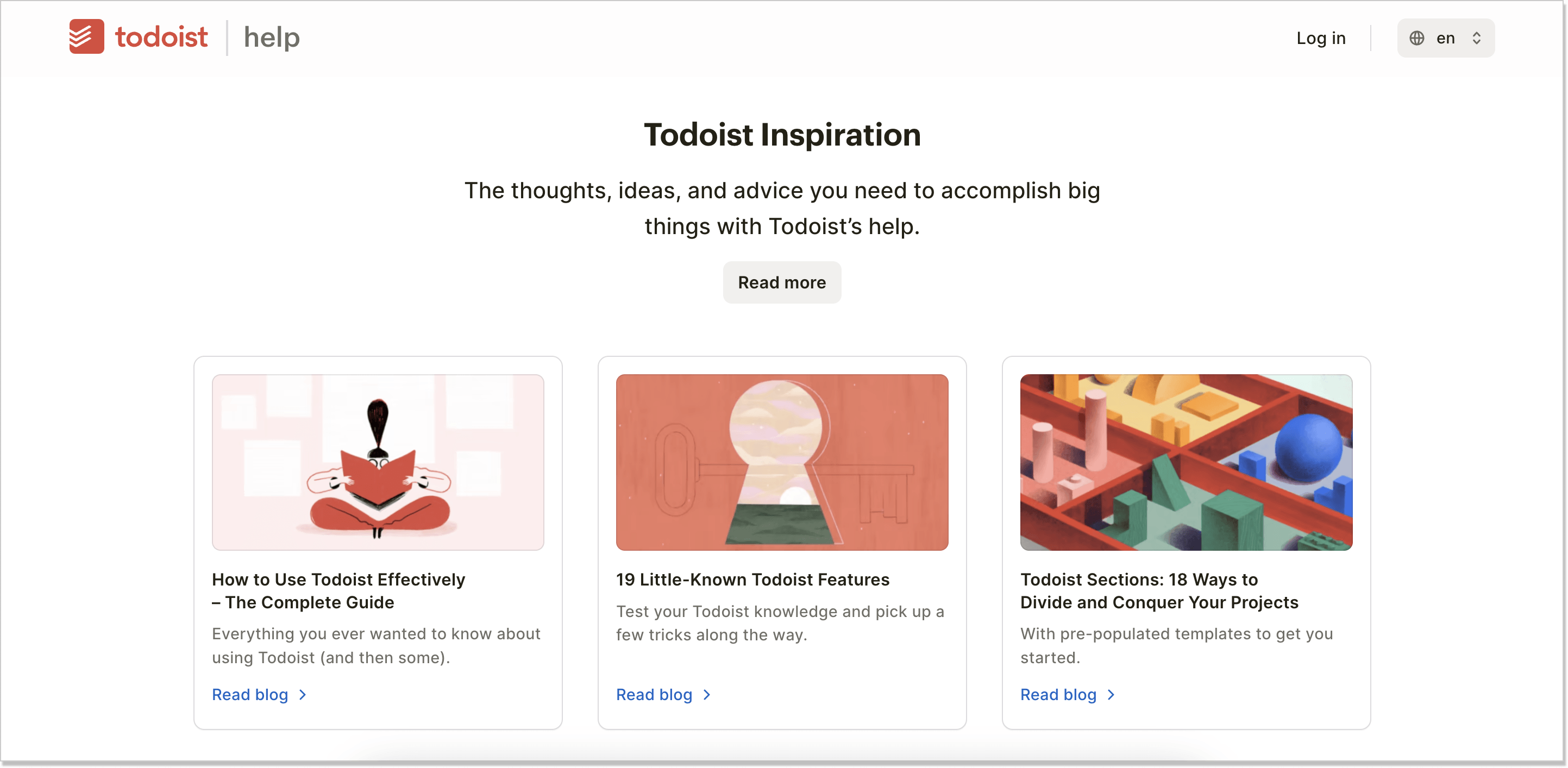 3. Lyft
The next hero is Lyft – a taxi service company. On the face of it, their self-service knowledge hub has nothing special. It has a search bar and popular articles like dozens of other brands. Well, fancy having a closer look?
As a rare case for that matter, Lyft provides a section where articles are divided based on the type of help you need – driving, riding, or only becoming a driver. Such a helpful division helps omit the confusion once a user first lands on the page.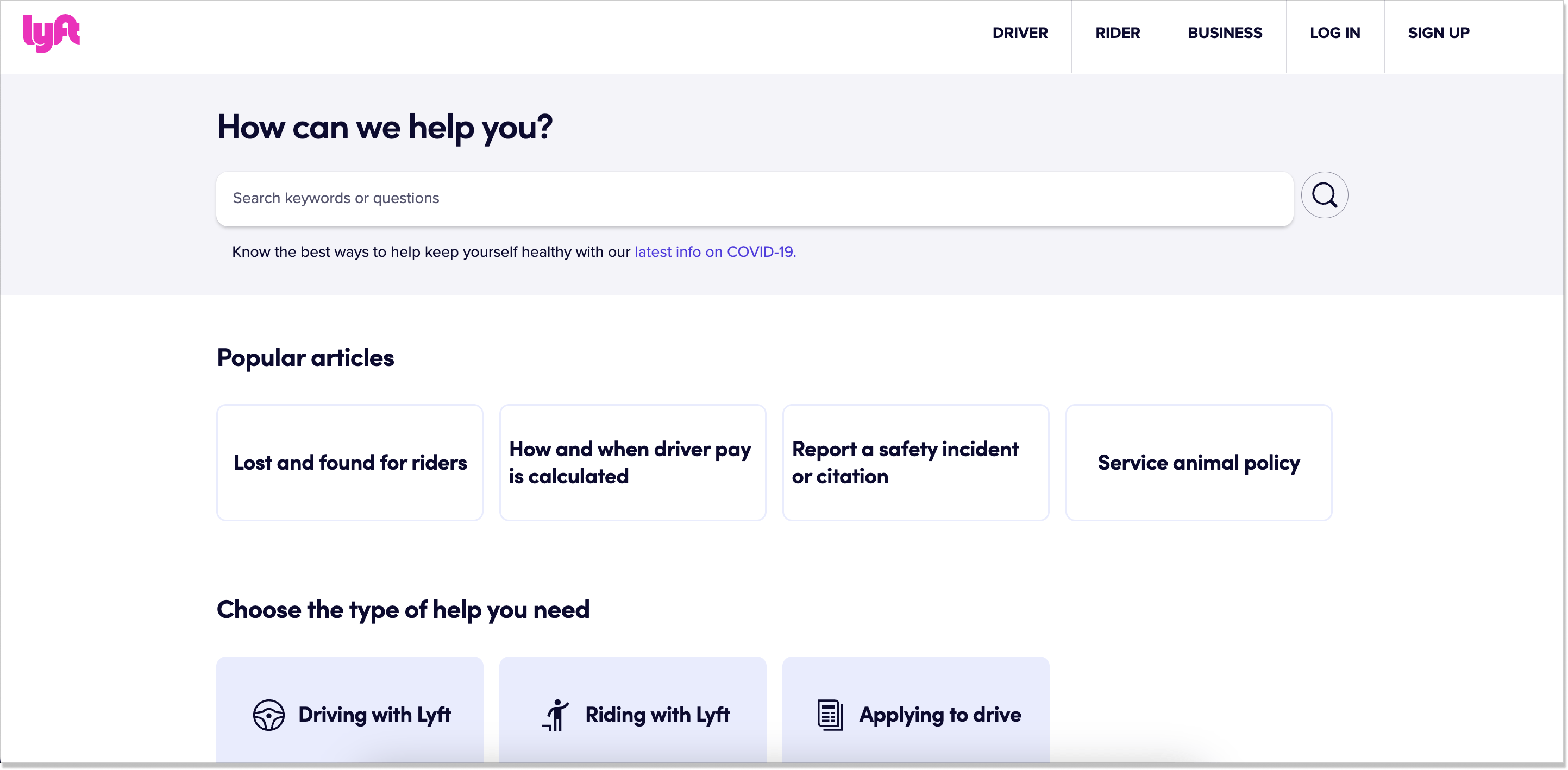 Walking along Lyft's help center, I also noticed how the articles are written and their structure. It's flawless! Here, you won't bump into long-tail titles, or unnecessary language/jargon – everything is laid out in simple terms, maintaining the company's tone of voice.
Besides, do you see these Driver, Rider, and Business sections at the top right corner? These are the ones we mentioned on the main page! They run through the whole help center.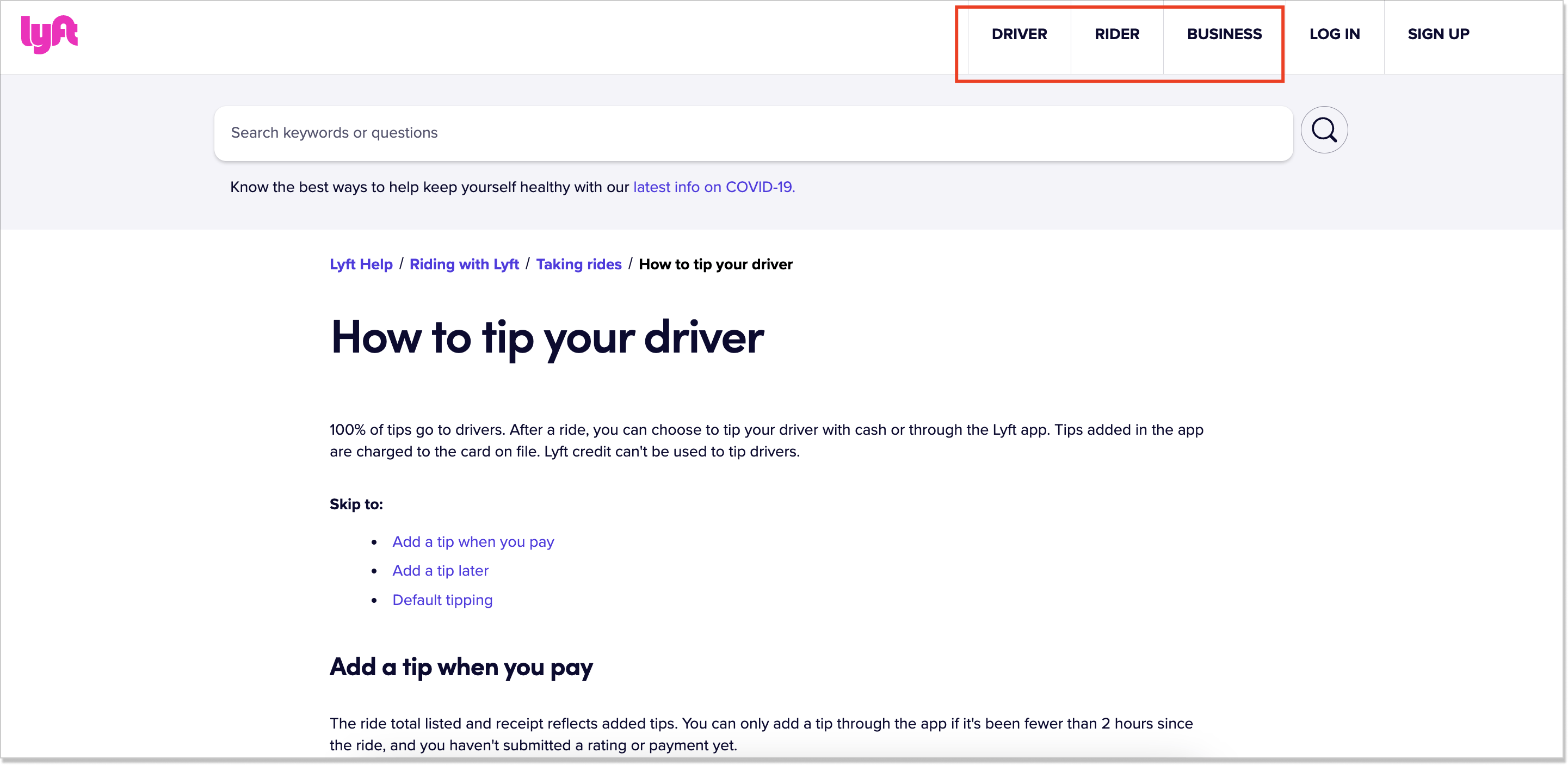 Final take
While we are heaping praises on a self-service knowledge base, it's not black-and-white.
Once you're all set with an online encyclopedia, make sure your team (support, devs, or marketing) has it in their routine and is well aware of its operations. Have a backup plan for the cases when a user can't find the solution on their own or there are some blockers along the way – add a chatbot, a phone number, or an email as an alternative means of contact.
As a farewell message, hear me say it: have decent knowledge base software up your sleeve. For that, you have to do just one thing – sign up for a free 14-day with HelpCrunch to unveil its power (spoiler alert: it's massive!).
FAQs
Is a knowledge base a type of self-service?
Yes, a knowledge base is a type of self-service support. It is designed to empower users, such as customers, employees, or clients, to find answers and solutions to their inquiries independently, without the need for direct assistance from support personnel or customer service representatives.
Information here is organized and presented in a user-friendly manner. Users can access this repository at their convenience and search for specific topics or keywords to find relevant information.
The self-service aspect allows users to navigate through the content on their own terms, seek solutions to their problems, and learn about various aspects of a product, service, or process. By providing self-service support, businesses can enhance customer experience, reduce support ticket volume, and streamline their support operations.
Ultimately, a well-designed repository acts as a valuable self-help resource, empowering users to resolve issues quickly and efficiently, leading to increased customer satisfaction and improved operational efficiency.
What is a self-service knowledge base?
It is an online, centralized library of information, resources, and documentation that a business can and always should keep up-to-date. In simpler terms, it is a user-friendly platform where customers can search for solutions, browse articles, and access guides or tutorials related to a specific product, service, or topic.
This is a database designed to provide self-help support, enabling users to find information quickly and efficiently on their own terms. Among its main functions, there are: a user-friendly interface, search functionality, comprehensive content, multimedia support, and a tree-like structure. If built right, it helps customers find sought-after answers swiftly.
Why should you consider developing a self-service knowledge base for your business?
The market is flooding with brands suggesting a powerful database. However, not all of them leverage them smartly, constantly ignoring the key benefits it brings about. Investing in such type of content will boost customer satisfaction, reduce customer support workload, lead to significant cost savings, and allow you to track user interactions, their behavior, and other patterns.
Besides, this is an ideal chance for your business to stay available 24/7 and cater to clients' needs any time of the day. Should we also highlight the ability of a well-oiled resource center to handle high-volume interactions?
What types of data are provided in a knowledge base?
The types of data provided can vary depending on the nature of the business, product, or service it supports. Here are some common types of data you may find there:
Frequently Asked Questions (FAQ)
Troubleshooting guides
Step-by-step instructions
Product releases and updates
How-to articles and tutorials
Product documentation
Policy and legal regulations
Video tutorials
Best practices and tips
Community forums
Customer support contact information
Decision trees
It isn't necessary to include each and every type of content there. Everything will depend on your business goal and individual customer preferences.