10 Front App Alternatives for Exquisite Team Collaboration
We're all familiar with Front. Haven't you got the feeling there's something more? Spoiler alert: there definitely is! Check out these 10 Front alternatives to make a call.

Are you a true-hearted Front user, but have a feeling you might be missing out on something greater? I mean, it's a perfectly fine solution for customer support, no doubt. However, there are plenty more fish in the sea.
We don't mean to brag, but HelpCrunch has got your back! Yeah, no surprises here. Our today's material deals with the prime Front app alternatives we hand-picked. The key functionalities and pricing – in short, we present the true nature of each solution. Everything that's left for you to do is to pick them wisely, debating with yourself. Off we go!
Front app: a short toolset lead-in
Before we dive deeper into the Front alternatives (I'm buzzing, too!), it would be logical to fill you in on its functionalities first.
As custom has it, Front is a communication hub designed for customer support, sales, and marketing. Their key goal is to put these teams to collaborate and achieve meaningful customer relations. Its main features are as follows:
A one-view dashboard where you can monitor and process the messages from live chat, emails, WhatsApp, SMS, and Facebook Messenger;
In-depth shared inbox collaboration opportunities, such as internal comments instead of Cc'ing, sharing email drafts with colleagues, and sharing thoughts behind-the-scenes;
A smart filter system that you can set up the way you like and omit the mishmash in your inbox;
Message templates so that you don't waste your time typing the same email over and over again;
Rules for routing incoming messages automatically and sorting it out right off the bat;
Email visibility and analytics, thanks to which you can track the visitors' behavior and adjust your strategy, respectively;
Real-time monitoring that looks after your social media and alerts you any time a new comment appears on your account.
PRICING
Front suggests 3 fairly affordable pricing plans: Starter – $19/person/mo, Growth – $49/person/mo, and Scale – $99/person/mo. Letting in on a secret, there are even more transparent prices on the market. So, meet 10 Front app alternatives we've curated especially for you!
10 Front alternatives for sound team collaboration
Even though Front app competitors share many similarities, we still need to get a nearer view. Who knows, maybe you're about to discover a solution that is cut above the rest and ticks all the boxes for your business 🚀
HelpCrunch is a full-cycle customer communication platform where building effective relations with clients isn't just milling the wind. Customer support, sales, and marketing are the top use cases the company suggests.
So many people love this solution for its modern live chat functionalities. It also provides a robust shared inbox where all your conversations queue up:
A consolidated place for all your correspondence – messages from live chat, chatbot, email, and such messengers as Viber, Facebook Messenger, Telegram, Instagram, or WhatsApp (coming!) pop up in chronological order;
Personalized custom inboxes – no limits with standard HelpCrunch inboxes (Open, Pending, All incoming, etc.). Build your own inbox so that it matches the company's competencies;
Gathered customer information – tags, number of conversations, custom data, user actions, devices, and more: gather this info in real time at the click of a button;
Numerous collaboration options – keep your team on the same page by assigning, tagging, and merging conversations. Besides, you can leave private notes for your co-workers right in the chat;
Real-time analytics – always have your finger on the pulse by monitoring teams' productivity with relevant reports and customer satisfaction levels.
Pricing
There are three packages available (if billed monthly) – Basic ($15/mo), Pro ($25/mo), and Enterprise (the price is up for discussion). As compared to the competitors, it isn't daylight robbery, for sure!
Has your heart just skipped a beat? Seems like you wouldn't mind taking the HelpCrunch shared inbox for a ride 😏 Sign up for a free 2-week trial and test some of its other tools like the knowledge base, chatbot, and a popup builder.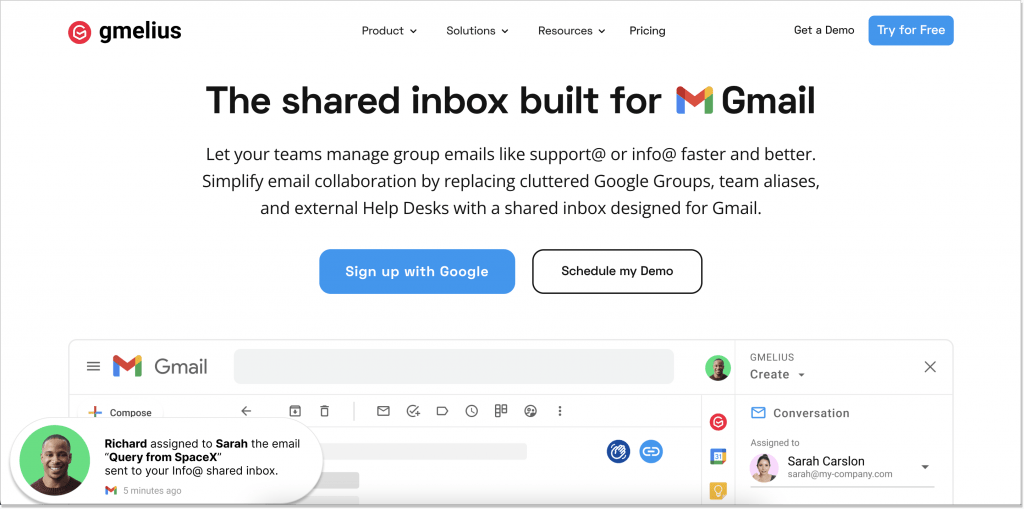 Gmelius is a Front app alternative that looks pretty solid. By the way, the team makes a smart move by providing a Figma-based interactive demo. Let's take a look at its features:
Powerful integrations – seamless linking with your favorite tools (Slack, Google Workspace, Trello, Zapier, etc.);
Increased team collaboration – assign emails to specific teammates or departments and chat with them right next to the email window;
Smart automation – this shared inbox puts the easiness in automatic email replies, meeting invites, and the overall outreach;
Kanban boards – workload distribution via the Kanban principle is available. The deadlines, emails to prioritize, and other stuff is visible.
Pricing
There are four tariffs (if billed monthly) – Starter ($12/mo/user), Plus ($15/mo/user), Growth ($29/mo/user), and Pro ($69/mo/user).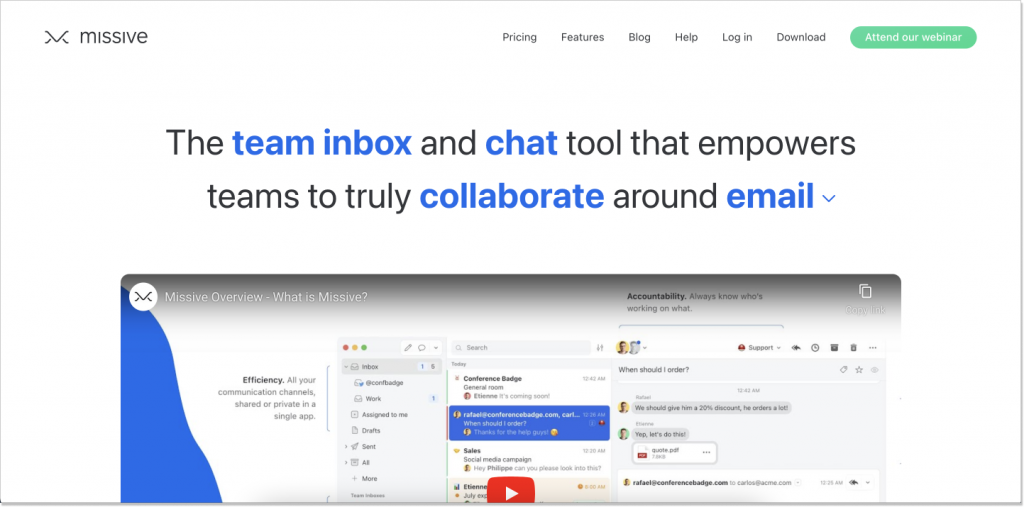 In my humble opinion, Missive is a team inbox and a chat tool that bears the closest resemblance to Front. However, one of the biggest differences is that the former is created specifically as an email client, while the latter is a help desk powered by email functionalities. Let's see some other ways Missive excels:
Packed team inboxes – they work as a setting for your shared inboxes. For instance, you have Careers inbox: there, you will see only messages concerning recruiting, HR activities, etc. No sales letter will come through;
Easy assignment – this Front app competitor allows you to assign conversations to the teams and specific people right inside the application;
Calendar notes – schedule meetings or video calls, make edits, set up reminders for upcoming events, and more. This is where the Front app stands in the background.
Pricing
Missive provides cost-effective pricing tiers: Starter ($14/mo/user), Productive ($18/mo/user), Enterprise ($26/mo/user). And of course, there is a Free plan with up to 3 users and a 15-day chat history. If you aren't satisfied with what Missive has to offer, there is a 30-day money-back guarantee.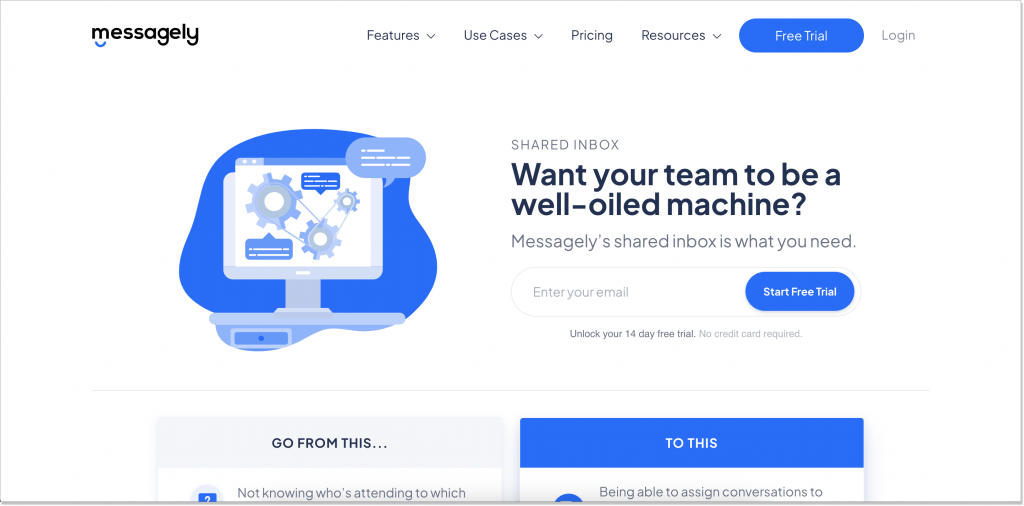 Messagely – a messaging platform (well, the name suggests that) comprises everything from a shared inbox to a live chat, a knowledge base, a chatbot, and targeted messages. So what functionalities does its shared inbox provide?
Tagging colleagues when in the shared inbox, assigning, and merging conversations—waste no time on processing tons of letters;
Replying to live chat messages, emails, and social media comments (that's new) from one dashboard instead of juggling several different tabs;
Seeing customer details once they initiate the dialogue;
Filtering conversations on the go and detecting the ones unassigned;
Chatting with clients using iOS or Android app.
Pricing
The prices start from $29/mo for Basic, $49/mo for Plus, and $79/mo for Pro. Yes, these are not the highest numbers. However, if you're just setting sail, the Pro Plan will cost you $29/mo. From my perspective, a really nice offer for the newbies.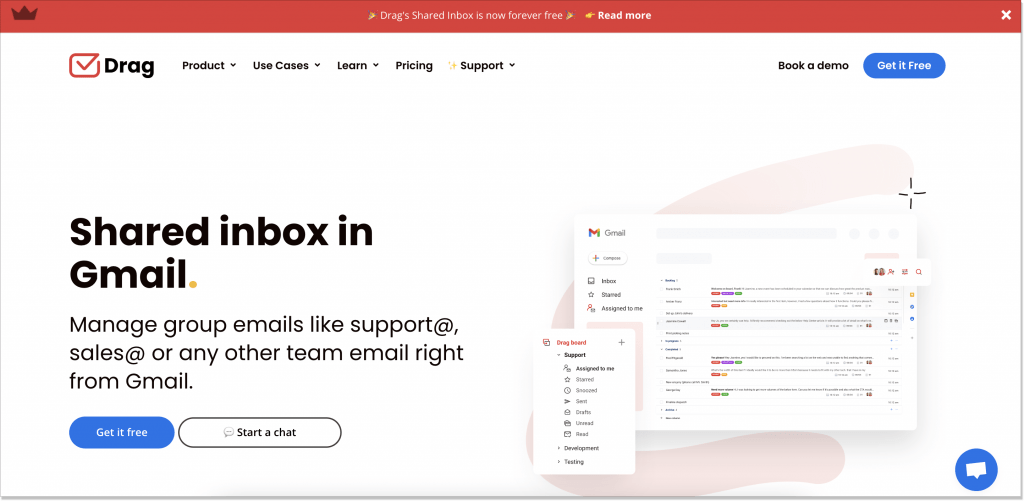 Drag's motto would be less is more. The feature set is predictable and has pretty much everything you need to keep your Gmail team on the same page:
Your shared inbox is always uncluttered thanks to Kanban views, lists, sorting, and filtering;
One email contains as much information as you need to push a customer towards their journey – to-do lists, tags, private notes, necessary files, and more;
A Drag board lets you set up permission levels by dragging emails to specific boards.
Pricing
With a free forever plan for the shared inbox, Drag made a knight move. To upgrade, you'll have to pay $10/user/mo for Starter, $12/user/mo for Plus, and $18/user/mo for Pro.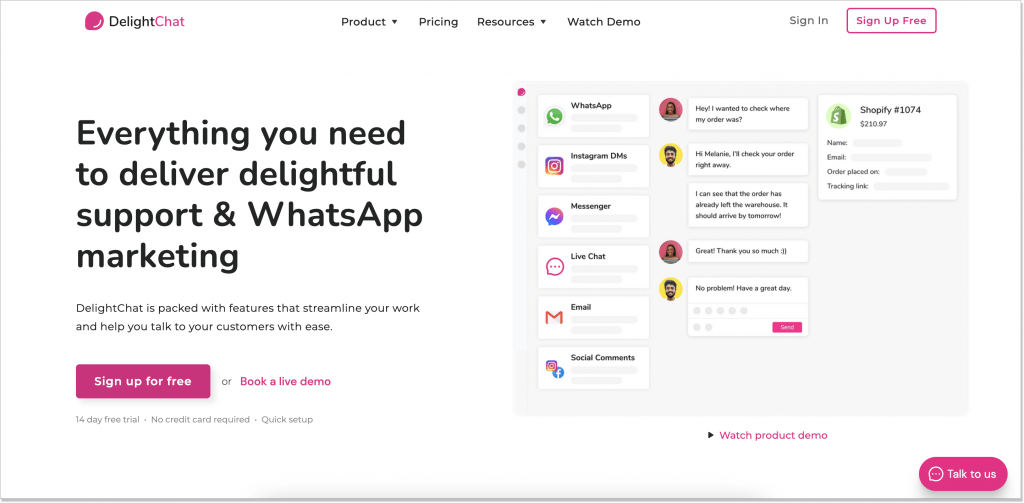 DelightChat provides an omnichannel support inbox that unites WhatsApp, Instagram, Facebook, email, and live chat correspondence. So if you're on the hunt for the best alternative to Intercom, draw a bead on it.
This solution's capabilities include:
Fast replies with templated responses for any channel that save you much time and effort;
Replying to social media mentions and comments or deleting them from the one screen;
Automatic chat assignments to any of your team members for better collaboration;
Tagging a colleague right in the chat as an internal comment.
Pricing
Of all Front alternatives, DelightChat's functionalities are a bit strapped. And the overall solution is costly. The pricing plans are Startup ($49/mo), Scale ($99/mo), and Growth ($299/mo).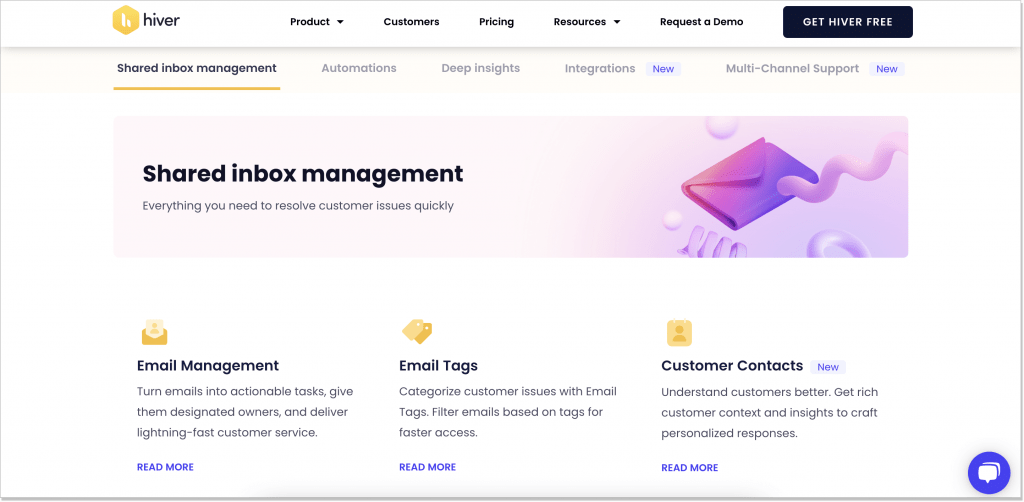 Hiver is a Front alternative designed for relieving the stress of your Gmail. It provides shared inbox management with a wider range of features than those of competitors:
Email delegation – no Cc/forwards, just transform emails into tickets, assign them to responsible colleagues, and help them see what to prioritize next;
Email tags – level up categorization by tagging the messages and make it easier for the team to look up for them;
Shared drafts – avoid multiple edits before sending an email and share it with your co-worker in real time.
Pricing
After a 7-day free trial (could be more), you can upgrade to Lite ($19/user/mo), Pro ($49/user/mo), or Elite ($69/user/mo).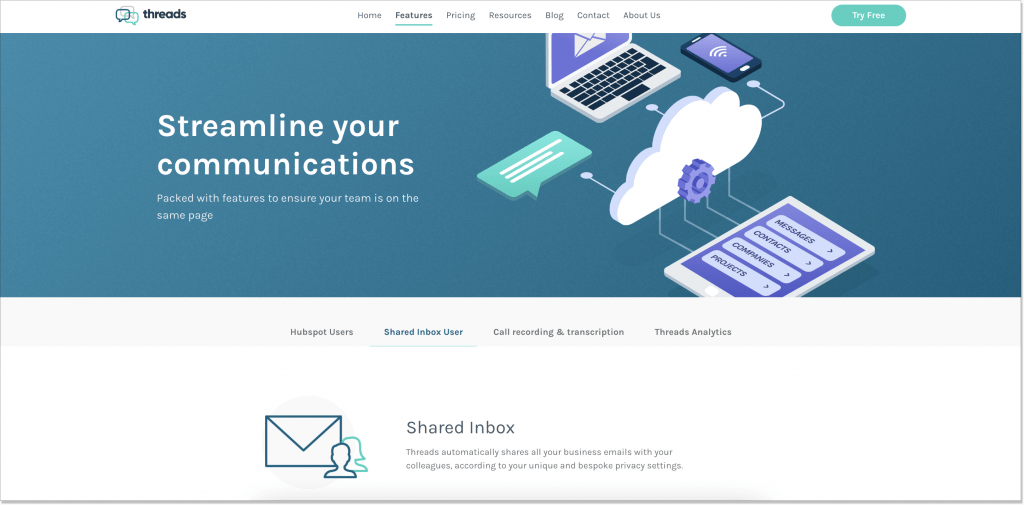 Contrasted with any other Front alternative, Threads looks half-baked. Even though it provides Hubspot CRM integration, I would say that there's still room for improvement:
The shared inbox claims to have intelligent search capabilities for faster customer request investigation;
Compatibility with any email client thanks to a parent server;
Phone call transcription to always stay in the context of your dialogues with customers;
Storage-based pricing is supposed to help you share your inbox with as many people as you like.
Pricing
Nothing fancy here. Threads offers only two pricing options – One-off Historic Migration (from $200/mo) and Ongoing Subscription (from $30/mo). Still, choose wisely.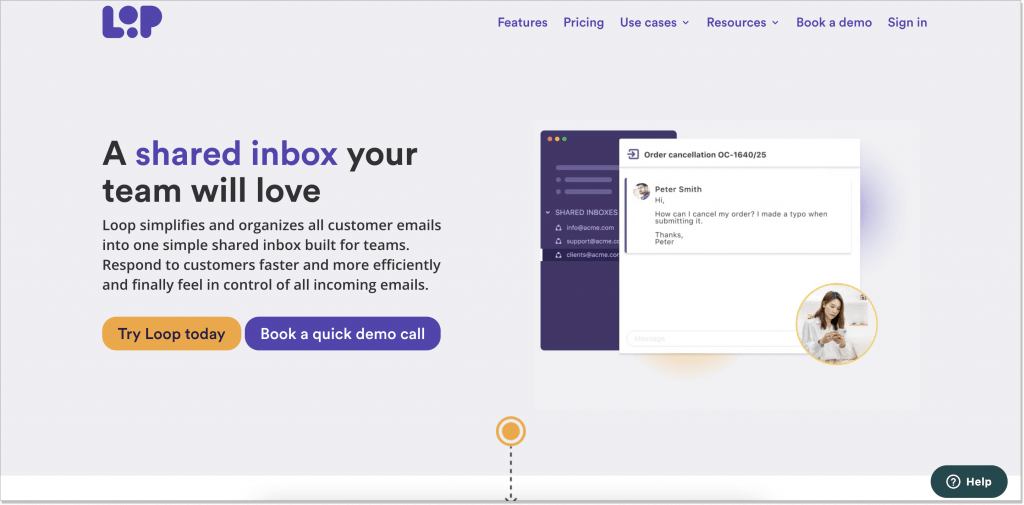 Just like other Front competitors we've described, Loop has everything to get your team together. Let's have a closer look at its specs:
Unified view – in keeping with the best traditions, all messages pile up in one place, so you don't have to switch apps;
Assign & resolve philosophy – each message has a specific owner to avoid misunderstandings;
Templated responses – send pre-written templates to save heaps of time while assisting a customer;
Private notes – Loop lets you leave a private note to your teammate right in the chat window and help them stay in the loop (pun intended).
Pricing
Loop's pricing packages are quite simple: Starter will cost you €10/user/mo, Pro – €20/user/mo, Enterprise – custom plan. A free 14-day trial is available.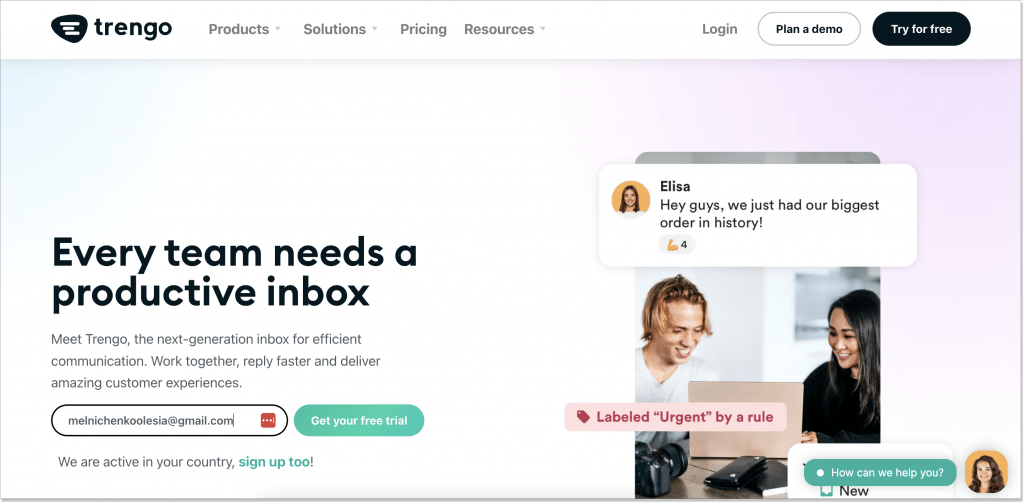 The next-generation inbox for efficient communication – Trengo calls itself. Is that really true, or does Trengo color inside the lines? Find that out based on its features:
Loaded team inbox – all the communication happens in one place, plus, you can automate workflows and route a chat to the right agent;
Team chat – with no additional app, you can easily switch to your general team chat to talk 1-1, schedule a company-wide meeting, etc;
Inbox analytics – react to the team productivity fluctuations and user behavior in time thanks to in-depth insights.
Pricing
If billed monthly, this Front competitor will cost you: $22/agent/mo for Grow, $35/agent/mo for Scale, and $47/agent/mo for Enterprise. A free 2-week trial is at your service.
Front app: all the pros and cons explained
Phew! We've successfully dissected awesome Front competitors. You know the other solutions' carefully guarded secrets – this is the moment of finding ones from Front 😎
| Pros | Cons |
| --- | --- |
| Well-arranged shared inbox with tags and filters | Quite an expensive solution as compared to some competitors |
| Sharing drafts and emails with the team | Not a full-cycle customer support tool, though it has potential |
| Snooze feature helps not to be distracted on minutiae | A bit steep learning curve as you have to set up notifications, inbox, etc, |
| The ability to loop in multiple people for troubleshooting | Not a user-friendly UI |
| | The mobile experience could be smoother |
| | Calendly integration could be better |
Wrap it up
This is basically it for today! We do hope that the best shared inbox app is in this Front alternative list and you won't lose it on the wind. One last thing for you to remember: each option is unique and has its own advantages and drawbacks. If I were you, I would take 2 or 3 solutions for a test drive and only after that jump to any conclusions. So be our guest!