7 Best Shared Inbox Tools for Your Customer Support Team
Powerful shared inbox software can bring your support team peace and order in their communication with clients. Check these top 7 tools and implement effective processes today.

When your support team is larger than one person, you inevitably face the issue of effective co-existing and collaboration. It's much like living in a dorm room or renting an apartment with a roommate. Unless you set some ground rules, sharing common space can lead to constant miscommunication and conflicts.
It's the same with support teams — but with the duty to interact with thousands of strangers. And they are often irritated. And you need to address every issue as fast as possible. Such a party can get out of hand very easily.
That's why your support team's productivity depends on healthy communication and collaboration between its members. And shared inbox software is a perfect way to organize a working space that will make both you and your customers feel at home.
So, what is a shared inbox? And why does a modern support department need it for effective work? Let's find out!
The commonly accepted definition of a shared inbox revolves around team email management.
Since the dawn of customer support, businesses have used email for communicating with customers and answering their questions. Clients will drop a line at email addresses like support@company.com or general@company.com, and someone from a company will get back to them with an answer.
That's how many businesses still operate these days. However, as customers' expectations rise, businesses are forced to come up with more effective processes. Making a client wait for a few days and getting back to them with a generic unhelpful answer is no longer an option. People want to get a prompt response and an omnichannel experience where they don't have to repeat themselves over and over again. And that's where a shared inbox can help.
Shared inbox is a unified dashboard where multiple support reps can access, manage, and answer emails from clients. It allows agents to distribute work fair and square while staying at the top of their game due to various enhancements.
So, can't we just answer those emails from our Gmail account, you might be wondering?
You sure can. But be prepared to deal with a cluttered space, missed-out requests from clients, and duplicate answers from your team. The more people are involved in the process, the more difficult it is to supervise them.
Inbox tools can deal with these frustrating problems in a few different ways:
Effective team communication. Being able to discuss complicated issues on the go without leaving a shared email inbox speeds up every process dramatically and diminishes the need to transfer clients from one department to another.
Better collaboration. From collision detection to tags, private notes, and full communication history — your team will be constantly aware of the request's status.
Optimization of routine processes. Dealing with routine repetitive tasks can kill motivation in an eyeblink. The remedy is a shared inbox where you can snooze conversations, set up reminders, check detailed user information instead of asking for it, and use canned responses for common questions.
Smart automation. Advanced inbox tools also allow support departments to automate ticket routing based on various rules and distribute them equally.
So, this is how a shared inbox helps you mitigate all the distractions and optimize your customer support performance.
Now, there are several aspects that you may want to consider while choosing a shared inbox. Reliability and scalability are a must, but there are also some crucial features that can make your work easier:
| Feature | Why your shared inbox needs it |
| --- | --- |
| Private notes | for communicating every important detail to your colleagues |
| Customer data | tracks personal and behavioral data (e.g. browser language, time zone, recent actions, purchasing history, etc) |
| Canned responses | pre-saved quick answers to common questions |
| Collision detection | shows if a teammate is already handling a ticket to prevent duplicate answers |
| Integration with other channels | connect your shared inbox with a favorite CRM, email marketing tools, outreach software, etc. |
| Statuses | for keeping tabs on the progress of every ticket |
| Automation features | smart ticket routing based on availability, skills, agents' recent activity |
| Analytics | various reports about team performance, customer satisfaction, ticket volume, etc. |
Now, there are hundreds of different shared team email management tools available on the market. Some offer just inbox functionality while others also throw in additional features for all-around customer communication.
We've picked up the 7 most promising and interesting shared inbox solutions that will help you tackle employee burnout and bring harmony to the customer support chaos:
1. HelpCrunch — best shared inbox for omnichannel support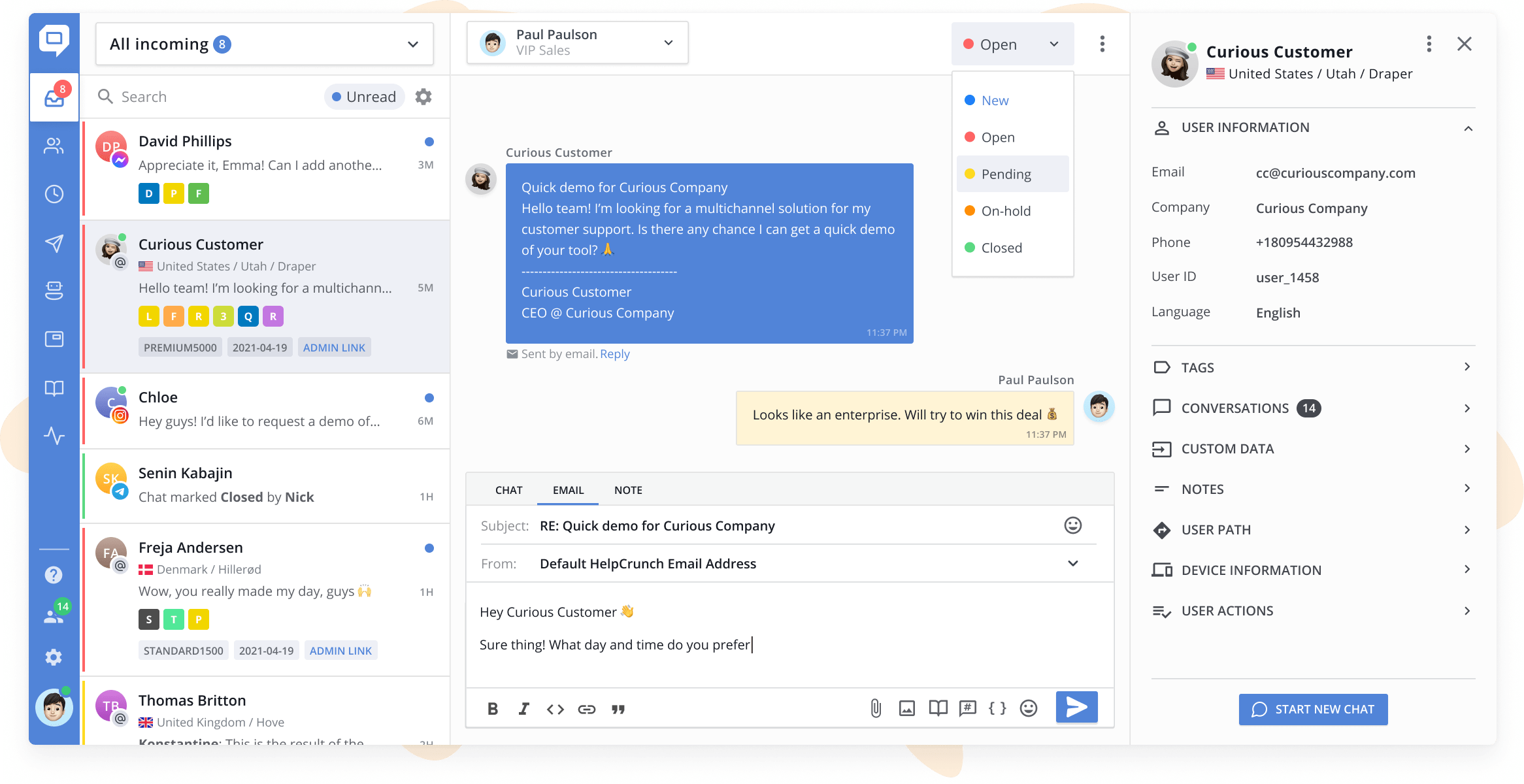 HelpCrunch is an all-in-one customer support tool offering a shared inbox for incoming emails and chats. You can set up email forwarding from your support@ email address to the HelpCrunch shared inbox so that every conversation ends up in a queue in chronological order.
Support agents can sort them out any way they need – e.g. filter unread messages, create custom inboxes based on different criteria, mark customers with tags, assign on the go.
Core group email management features:
Real-time user info, including full communication history and recent actions
Tags, statuses, and private notes for teammates
Departments and the ability to assign and re-assign conversations
Email transcripts for agents and customers
Team productivity reports
On top of email inbox tools, HelpCrunch offers a knowledge base, chatbot, popups, and email marketing features for connecting and engaging with customers throughout their journey.
Pricing:
'Pro' subscriptions start at $25/mo/team member, whereas you can get live chat and knowledge base tools for only $15/mo/team member.
Reviews: 4.7 / 5 ⭐⭐⭐⭐⭐ (based on 159 reviews on G2)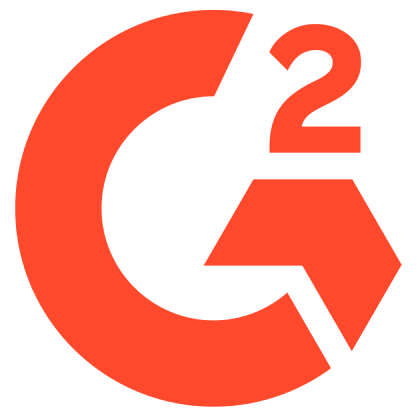 We like the easy-to-use interface, the features that allow us to efficiently handle all customer interaction (chat & email) as well as proactive chats and emails for our onboarding process. A great plus is that their support is great, having extensive documentation and a very responsive and knowledgeable team.
2. Zendesk — feature-rich shared inbox for multi-channel support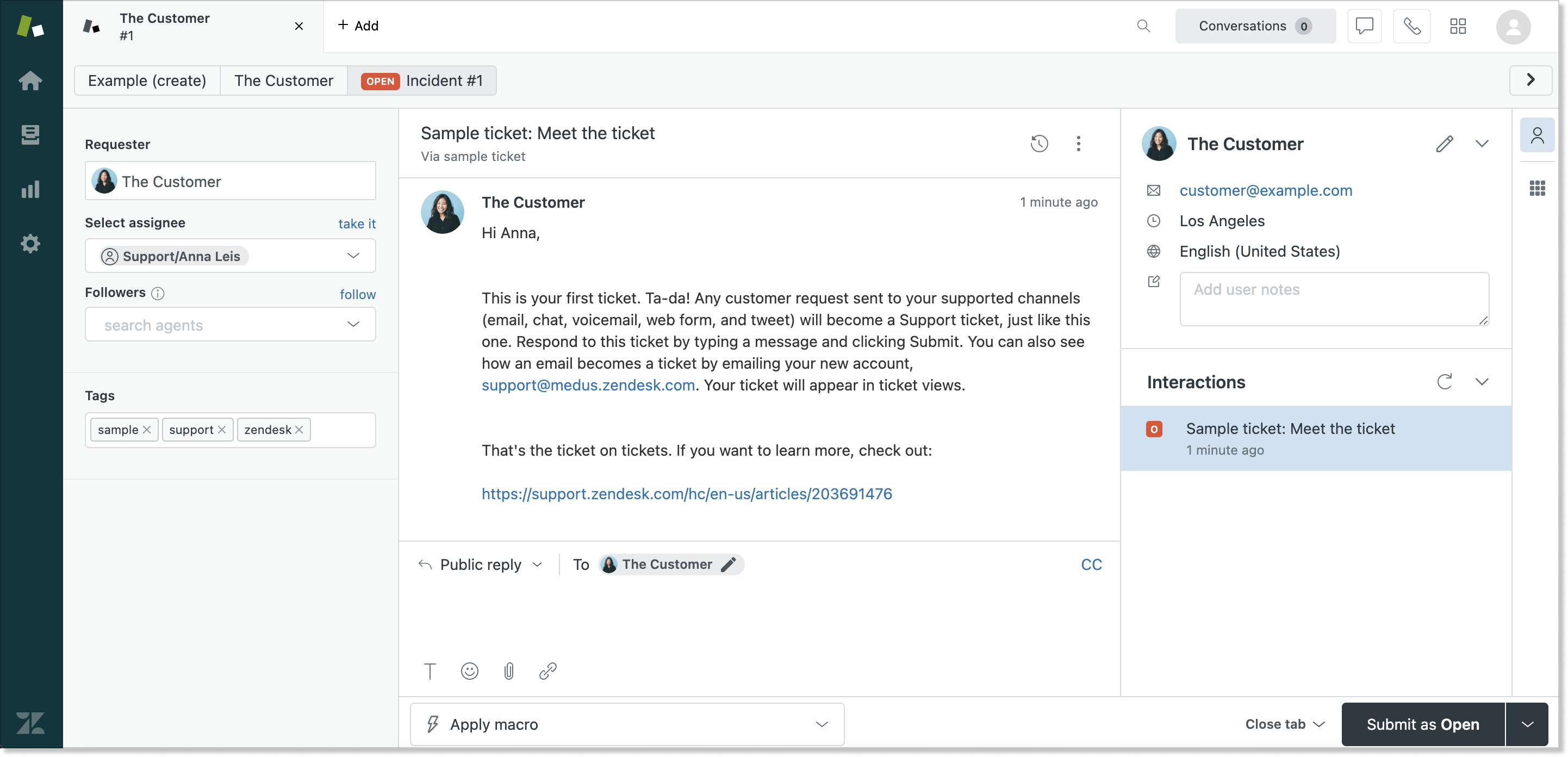 Zendesk has been around for many years now. It's a mature, comprehensive support tool that has been investing a lot of resources in its ticketing features. So basically, if you have any particular support feature in mind, Zendesk probably has it.
The Zendesk Suite subscriptions offer a great number of features. Your shared team inbox will cover not only emails, but also chats, phone calls, messengers, social media, and even a help center for customer self-service. It's a truly multi-channel experience where you can cover every communication channel and cater to your customers' preferences while staying productive. The reports are also one of the most exhaustive if compared to any other Zendesk competitor.
However, if you're only interested in email management, the Foundational Support subscriptions will be a much better fit. They're way more affordable and offer email ticketing with basic features like canned responses, custom inboxes, and user information.
Pricing:
The Zendesk Suite for omnichannel support starts at $59/mo/agent and can reach a couple hundred bucks. The more affordable Foundational Support plan can vary from $25/mo/agent to $125/mo/agent.
Reviews: 4.3 / 5 ⭐⭐⭐⭐ (based on 3,166 reviews on G2)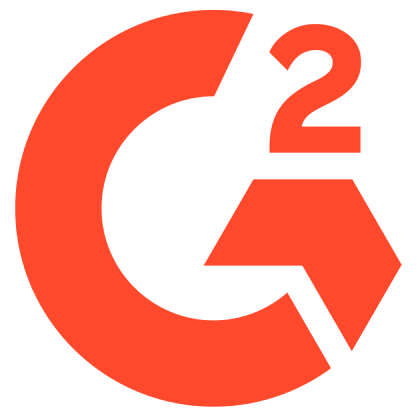 The admin experience is easy and efficient. Viewing, responding, and categorizing tickets is quick and easy. I also enjoy the ease of switching through Zendesk support, Knowledge base, and explore. The ability to create labels, sub-labels, tags, and macros are crucial for our business to sort and filter to create a report.
3. Freshdesk — shared inbox with an extensive free subscription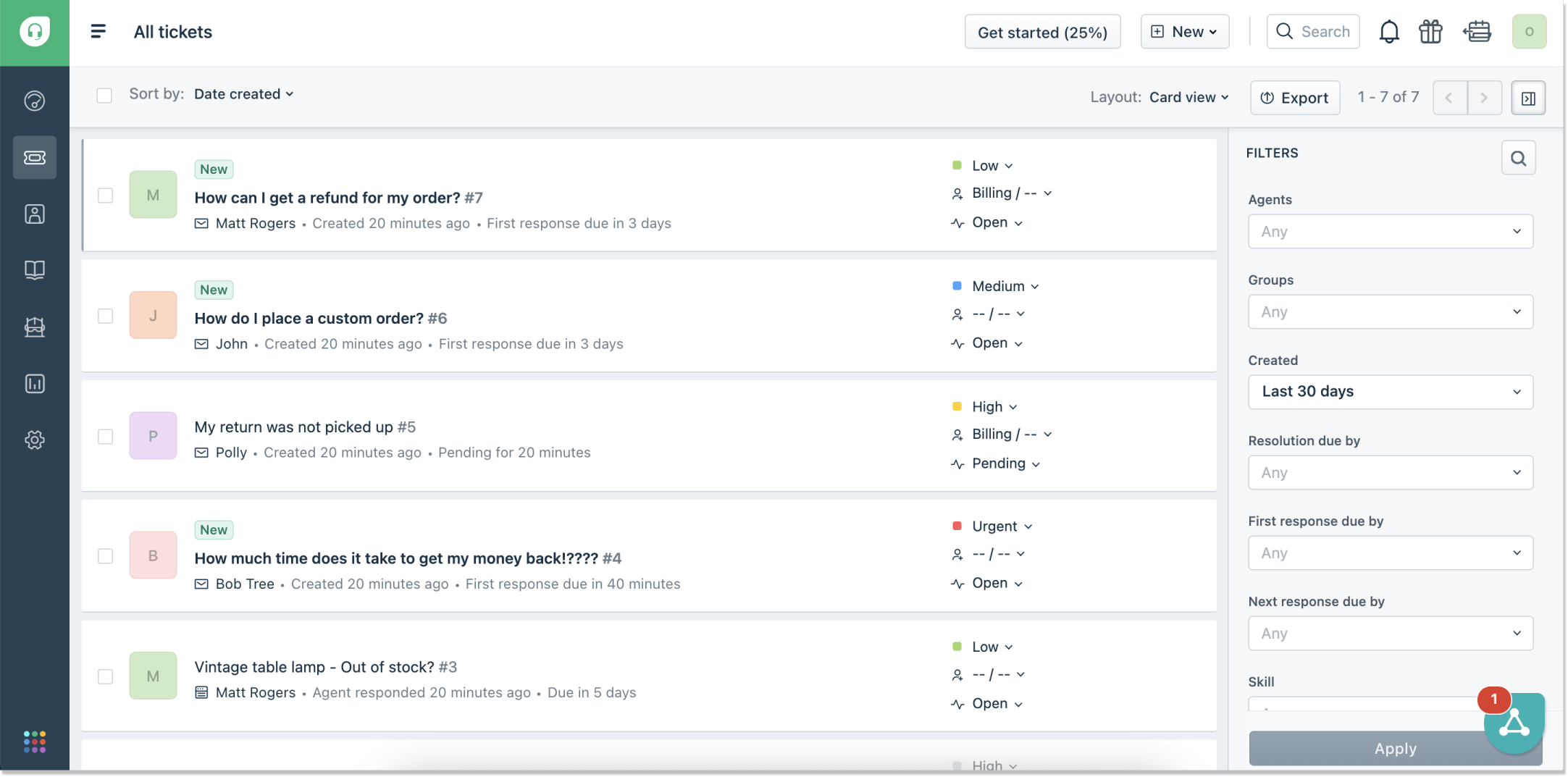 Freshdesk is really similar to Zendesk in terms of design and overall idea behind the product. They also started as a help desk system for email support management but shifted the focus to omnichannel support recently.
All in all, Freshdesk functions as a shared inbox for email and social media ticketing, meaning that all incoming requests from there are converted into tickets and can be further prioritized and distributed. Manual support can be reinforced by a knowledge base which is included in all subscription plans.
Depending on the subscription plan, Freshdesk users will enjoy various automation features, different ticket routing options, collision detection, and custom roles. The more expensive Omnichannel subscriptions can also include various messengers and a chatbot.
Pricing:
If you only need a shared inbox for emails and social media, the Support Desk subscriptions start at $0 and can reach $95/mo/agent. The free version is quite extensive and can be a good fit for a small business. Omnichannel subscriptions start at $35/mo/agent.
Reviews: 4.4 / 5 ⭐⭐⭐⭐ (based on 2,473 reviews on G2)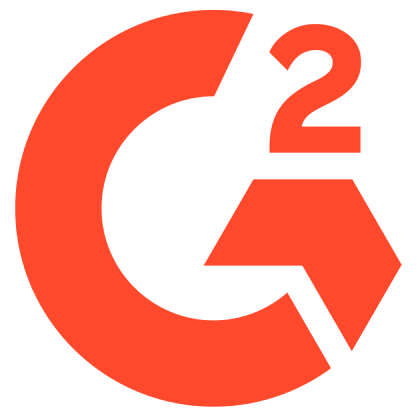 My team managed hundreds of emails a day via outlook like most companies, which is fine if you only need the basics. But to provide a better customer experience, we had to understand what and how we were managing all our communications. We came into contact with Freshdesk and started a test account. We have a complete view into the main queries from customers, agents are using standard replies and standard templates, we can view our SLA's, response time, and much more.
4. Help Scout – best shared inbox tool with a simple interface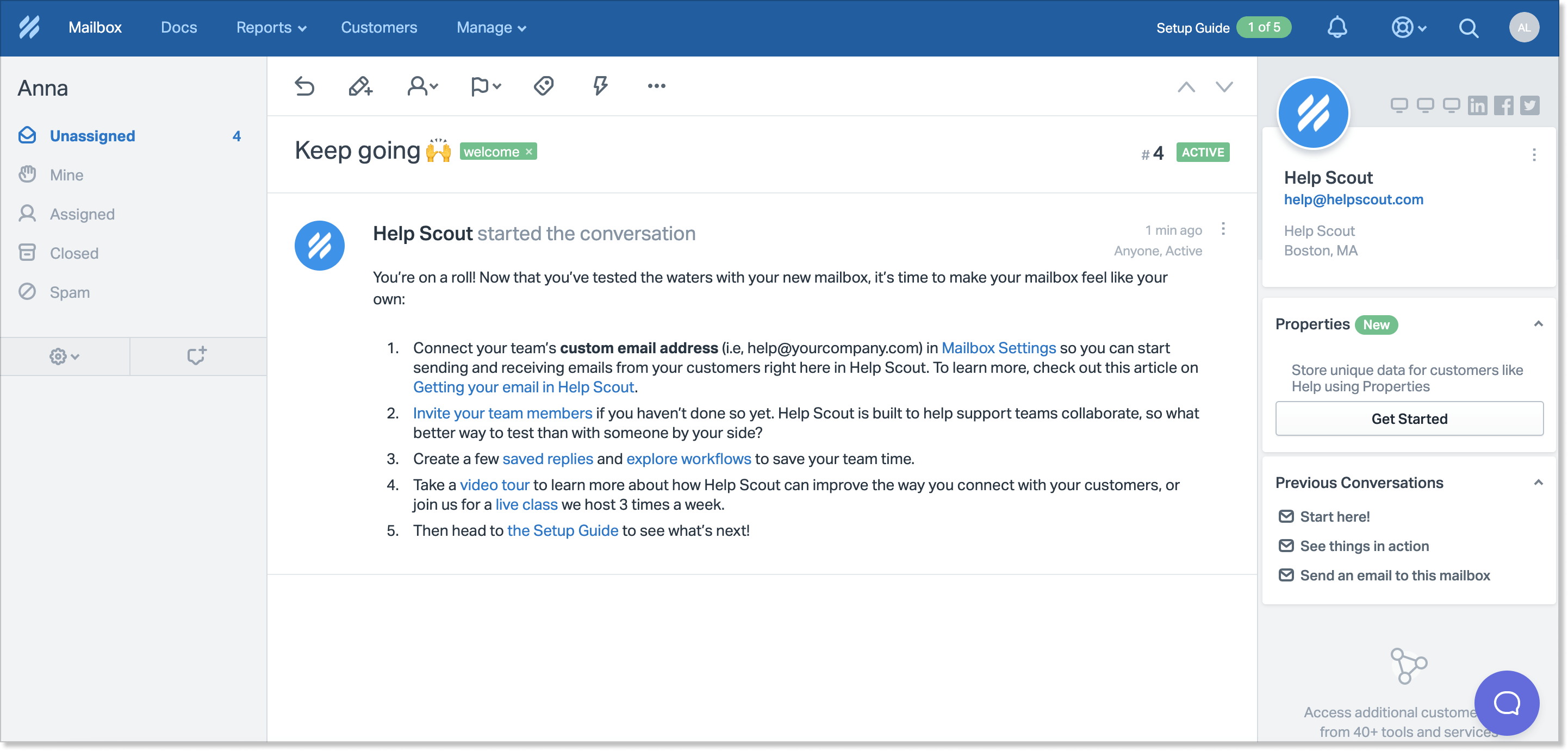 Help Scout is a solid comprehensive shared inbox tool for email and live chat support. Your team can create separate mailboxes and effectively manage incoming emails with the help of the standard features like:
Private notes
Saved replies
Collision detection
Workflow automations
User information
Pricing:
The Standard subscription starts at $25/mo/user. The Plus plan with additional mailboxes and advanced integrations is available for $40/mo/user.
Reviews: 4.3 / 5 ⭐⭐⭐⭐ (based on 240 reviews on G2)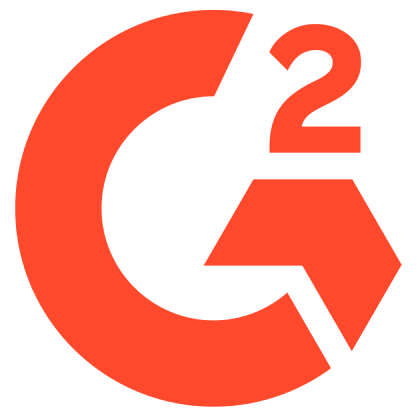 Given that our company was primarily relying on emails to offer support and that we required integration to tools such as our CRM and Jira, HelpScout looked like an excellent product for us and had a competitive price. It is straightforward to set up and use. The UX is excellent, with helpful keyboard shortcuts and workflows to make our team more efficient.
5. Front — pioneer and mature shared inbox software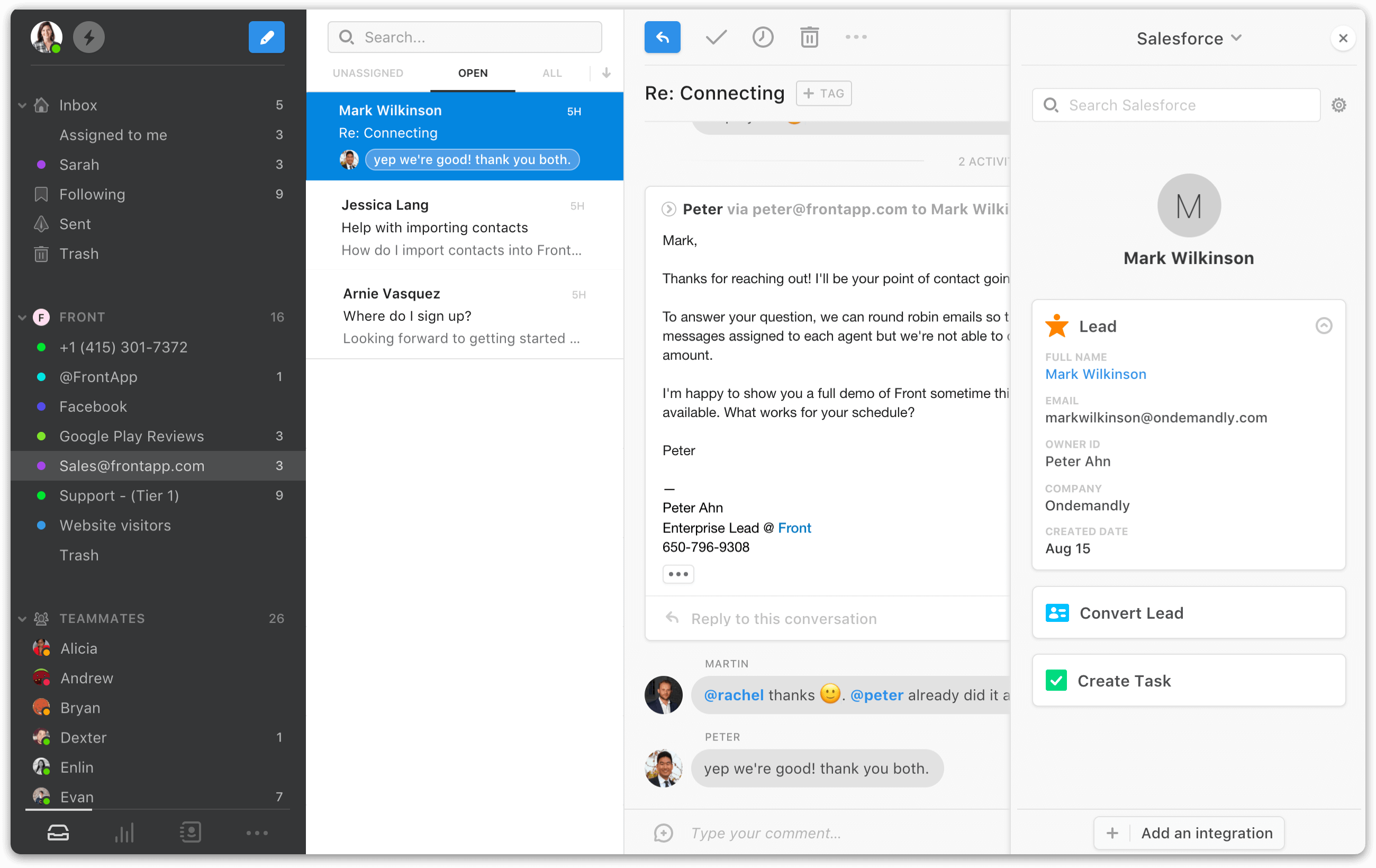 Front has started off as one of the original email inbox tools:
With Front, users got access to a shared email that would treat incoming messages like living documents, appending notes, tagging colleagues and drafting responses without sending any emails.

– Forbes
These days, the company has also transformed into a multichannel support tool covering not only email but also SMS and social media channels.
Inside the Front shared inbox, agents can easily assign tickets, access user information, leave internal comments, and invoke conversations with their teammates on the go. Shared drafts are a great way to collaborate on more complicated issues, while workflow automations allow teams to speed up a lot of routine tasks.
Pricing:
The basic subscription plan starts at $19/mo/user if billed annually.
Reviews: 4.6 / 5 ⭐⭐⭐⭐⭐ (based on 916 reviews on G2)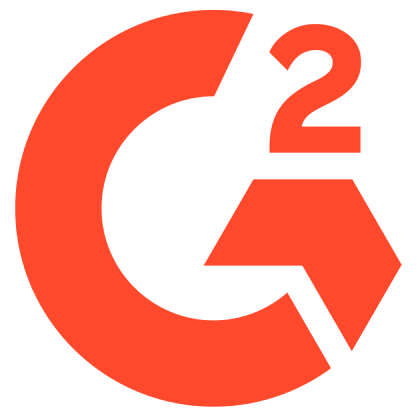 Front is super easy to use and allows teams to work together! We can keep track much easier and best of all, I can have several accounts connected, so I can keep track of everything. The sequences are super useful to send notifications to customers and to capture even new leads. It is very easy to automate. 
6. Hiver — best shared inbox app for Gmail users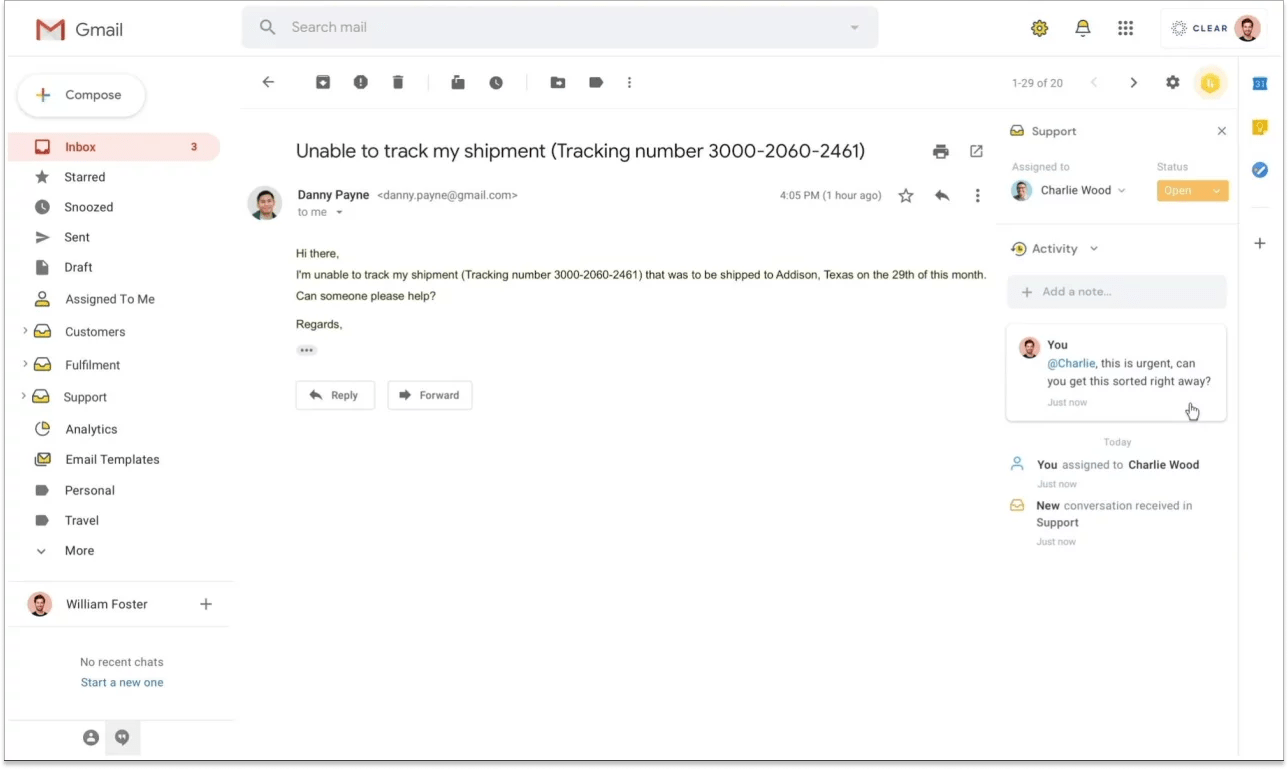 Hiver takes a different approach when it comes to shared inbox customer service. If your team feels more comfortable and confident staying in Gmail instead of switching to a third-party solution, Hiver can be a great choice. It functions as a regular Chrome extension.
The tool's vast toolset can strengthen a regular Gmail account by turning it into a full-scale shared inbox with folders, private notes, and assignment options. Change statuses and enter into discussion with the teammates on the go. There are even some automations and reports available for optimizing your workflows.
All in all, Hiver provides a wide range of features for managing support emails without ever needing to leave Gmail.
Pricing:
The cheapest subscription plan starts at $15/mo/user and includes collision alerts, email templates, and tags. The price for more advanced features can reach $69/mo/user.
Reviews: 4.7 / 5 ⭐⭐⭐⭐⭐ (based on 623 reviews on G2)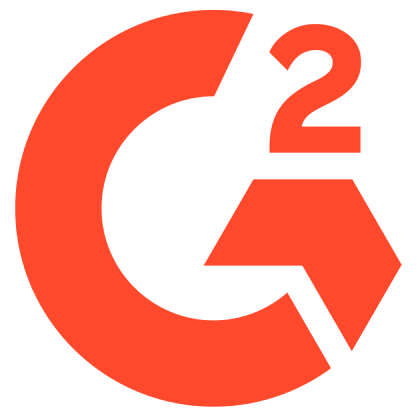 I like the ability to coordinate emails within a large team. We receive emails constantly from clients and our old workflow would require siloed responses. For example, if one team or member was being overwhelmed with emails, it was not easy to balance workloads and help them. With Hiver, teams are able to all work off of a shared inbox, claim/assign email threads, and work more efficiently by balancing workloads and ensuring prompt replies.
7. Helpwise – shared inbox focused on email support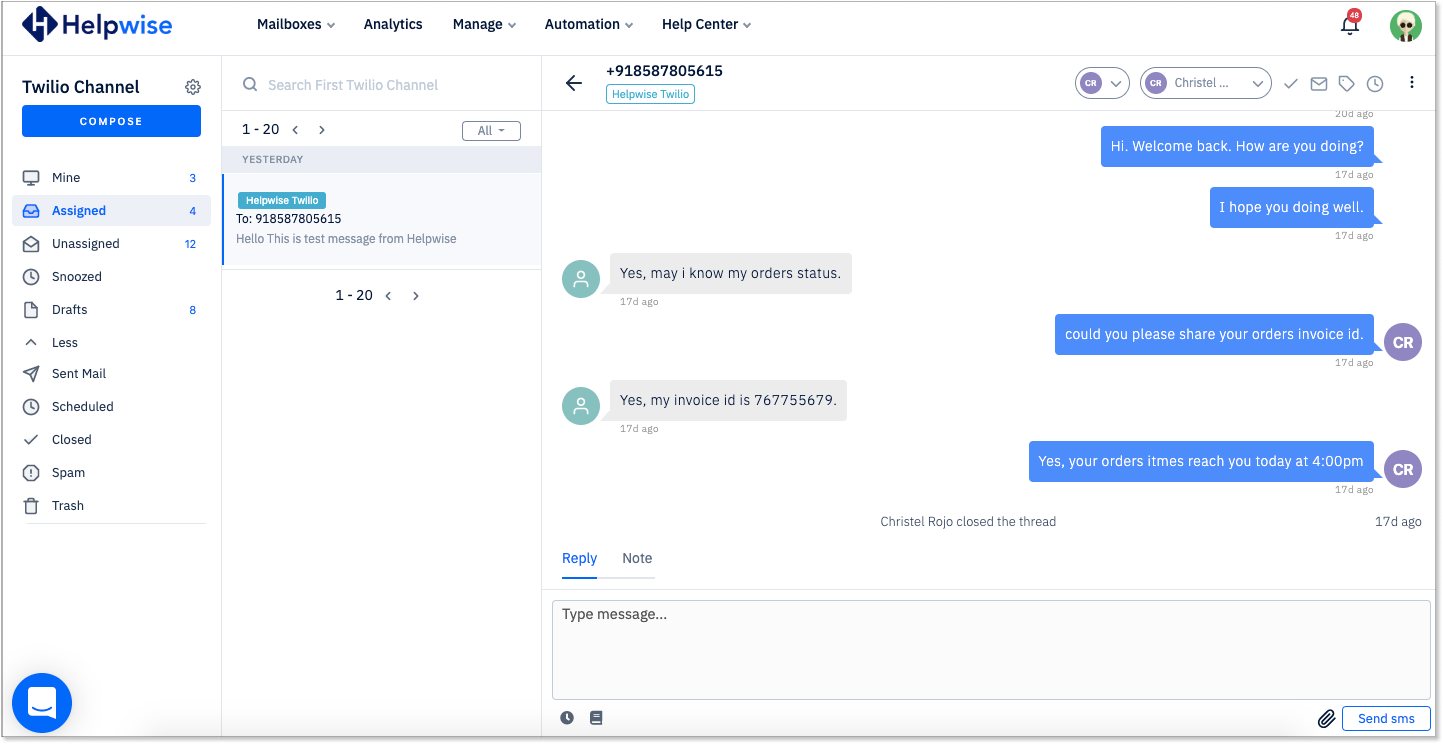 Helpwise offers a rich selection of shared inbox features to every taste. Even though they're email-focused first, you can also use their live chat and knowledge base tools.
Helpwise has native integrations Gmail and Microsoft 365 Team which makes the support process more seamless and efficient. When enabled, it works both ways: brings a ton of useful support features to your email service while transferring your conversations to the Hiver dashboard in real time.
All standard email management features are available at your disposal. Agents can tag, assign, discuss, and use saved replies on the go.
Pricing:
The Standard subscription plan starts at $15/mo/user and includes 5 shared inboxes for email support. Additional channels are available starting at $25/mo/user.
Reviews: 4.9 / 5 ⭐⭐⭐⭐⭐ (based on 38 reviews on G2)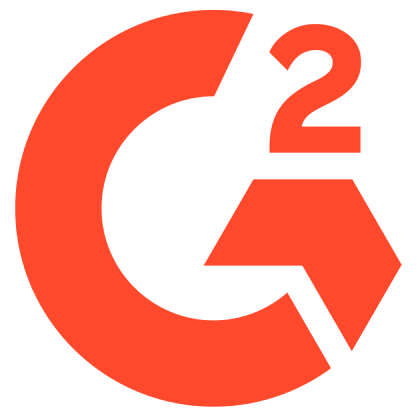 Helpwise allows my team to communicate with inbound inquiries in a collaborative fashion quickly and without any fuss. It is easy enough to configure to 'just work' right away but has powerful features that we can implement at our own pace.
The perfect shared inbox for your business lies somewhere between clients' preferences and your team's wishes. Support agents should have all the necessary tools to mitigate distractions and collaborate on tickets as fast as possible to provide an excellent customer experience.
If you're more accustomed to answering emails from your Gmail account, then Hiver, Helpwise, or Front would be a smooth transition towards more organized processes.
HelpCrunch, Zendesk, Freshdesk, and Help Scout are modern shared inbox tools with a vast choice of support features and additional channels. Choosing one of them would mean you could easily scale any process in the future.
Either way, you should try a shared inbox to see if it will improve your team's productivity. Sign up for HelpCrunch today and try its features for 14 days for free.