How to Build a Five-Star Customer Success Strategy (+5 Real-Life Examples)
Learn more about how to build a customer success strategy and get inspired by these 5 real-life examples.

If you are here, you've already realized that nowadays brands can't rely entirely on their product's quality. A good product itself doesn't mean anything. Imagine, you have a silver fork, but what it matters if there is a plate of soup in front of you.
Companies need to dig deeper and focus on whether the customers accomplish their goals with that product or not.
All this "digging" can be described with one simple (not really) notion: customer success. If clients succeed using your product or service, they continue buying from you. Basically, it's all you need to build a prosperous business.
You can focus on adoption, retention, expansion, or advocacy; or you can focus on the customers' desired outcome and get all of those things.

© Lincoln Murphy, customer success growth expert.
I don't know what the future brings, but it will definitely be difficult to achieve what you want without a concrete plan of action. That's why I am here to give you a starting point. You will learn how to build a customer success strategy in theory and from real-life examples.
What is a customer success strategy?
It's a series of actions and practices aimed at ensuring customers achieve their desired outcomes while using your product or service. It's relationship-focused client management that strives to align client and vendor goals for the mutually beneficial upshot.
If the plan is effective, it usually results in decreased customer churn and rising upsell opportunities.
The point is to note that a customer success strategy is about connecting all the activities of each company department (not just CSM representatives) and utilizing all the available resources to help a client achieve their goals with your product.
Customer support vs customer success
The difference between these two notions has been sparkling discussions in a number of teams. Let's make things clear, at last.
Customer support agents resolve product- or service-related issues. It's more of reactive work. For example, when a user doesn't know how to customize the tool, they turn to customer support. Agents educate customers about how the product functions.
Customer success managers, by contrast, work with users proactively to understand their business goals and inner motivations. They often reach out to clients first and ask questions or offer assistance. They also help users with onboarding and product adoption.
Both teams strive for the same thing: to deliver amazing experiences to their customers. They just have different methods to do that. This graphic perfectly illustrates the differences.
Be not deceived by customer satisfaction either
Customer success and customer satisfaction are different things, although they're closely related. One index can skyrocket, while the other drops down. How come?
Well, customer satisfaction is defined by how well your product or service meets your customer's expectations. But it doesn't guarantee that a user gets the desired outcome with the product.
There could be different scenarios:
1. "Yes, your tool looks amazing, stylish with an intuitive interface but it lacks the functionality I need to achieve my business goals."
2. "I've just installed your tool, it's great! But I am still far from the goals I want to achieve with it"
Technically, these two customers can be classified as satisfied ones, but their degree of success is low. And if you are a B2B company charging recurring subscription fees, these unsuccessful users are the ones that are likely to cancel their subscriptions one day.
Okay, here is a graph to make it simpler.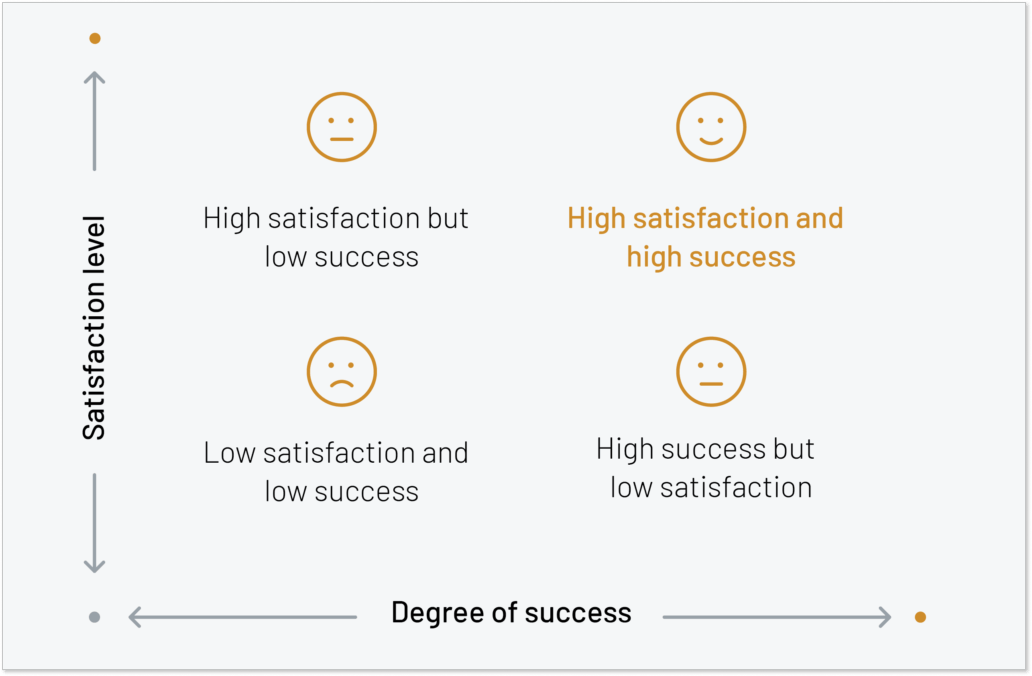 How to build a five-star customer success strategy?
You came here to find a clear answer on how to build a customer success plan. In brief, here is a framework you should start with. It illustrates the whole cycle of customer success strategy. If performed well, each step contributes to the end result, making you and your clients happy. Also, arm yourself with quality software tools that are going to assist you on your way to success.
Surely, every company is different. But this is a general framework of customer success methodology that any business can use. Follow these steps while creating your own strategy.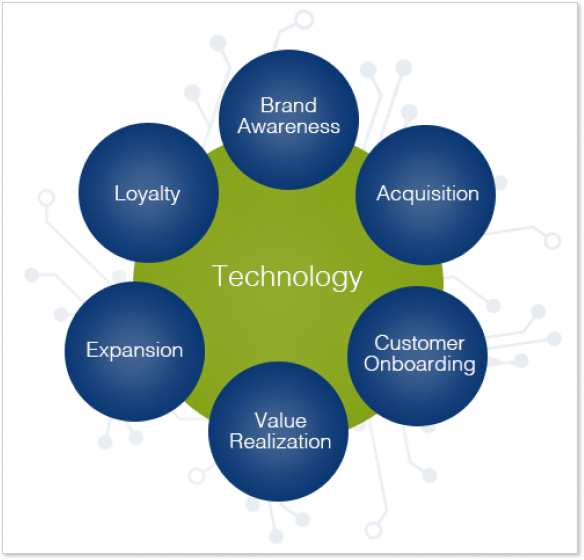 Brand awareness
At this point, begin nurturing and assuring potential customers that your brand is confident and qualified enough to solve their problems. Make a clear statement – on your landing page, blog, and ads – what makes a customer a good fit for your company. Explain in simple words who can benefit from the cooperation and how. By doing so, you will share the content that speaks directly to your target audience.
Customer acquisition
Make sure your sales team is well trained not just on a product but also on how to communicate with your customers. Their task is to define your client's needs and prove that the product can satisfy them (if it can). It's vital to invest in business and relationship training for your sales agents, especially if you sell to company owners or C-level managers directly. This way your team will be able to relate to decision makers' inner motivations and, generally, speak your customers' language.
Customer onboarding
Build a clear documented onboarding process. Walk new clients through the whole stage until they are properly empowered to use your product to the fullest. Ensure that you provide a smooth shift from acquisition to onboarding, namely, internal steps to get started with the tool. It's a good idea to keep your sales team involved during the first part of the onboarding stage since they've already earned the trust of newcomers.
Value realization
This is an a-ha moment for your customers when they test and then realize your value. At this stage, they get what they want out of the partnership. First, exhale with relief. Second, keep polishing your offer. Customers' expectations and needs tend to change, so you should do regular check-ups to ask them what they like and what they don't about your product. And if something pops up, you can quickly fix it.
Expansion offers
As time goes by and customers keep loving your product, it might be a good moment to offer them an upgrade. Again, if you regularly collect users' feedback, you know what features they miss on the current plan and what can boost their growth. But it will work only if they trust you.
Customer Loyalty
This step is a natural result of the job you've accomplished so far. Each stage of the cycle leads to this ultimate goal: growing your loyal customer base. But it's not the end (the circle doesn't have the ending point 🤷🏻‍♀️). To keep users loyal, prioritize any communication that comes from them – a review, a message, or a referral. Also, consider giving them some discounts as part of the loyalty program.
5 customer success strategy examples from real life
In this part, we'll have a look at how world-known companies implement their customer success strategy. Hopefully, it will spark your creativity! 
1. Facebook – proactive customer support
Each time you resolve customer issues before they become problems, you act proactively. While some companies answer questions only when they arise, others try to identify possible road bumps and get rid of them in advance. Usually, the latter win, since clients love them better.
As many as 83% of US adults want a brand to self-diagnose problems related to the product or service and reach customers proactively. If companies do so, consequently, they get 3 main benefits:
High level of customer loyalty
Reduced churn
Decreased number of support calls.
Okay then, so how can you be proactive and how does Facebook do it?
Basically, the social media giant leverages all the essential methods to be proactive. This applies to a regular account as well as Facebook for Business pages.
Asks customers for feedback. I'm sure you've come across a survey from Facebook Inc more than once. They usually ask a specific number of people about their satisfaction with the application and how they can make it better.
Enables users to help themselves. Facebook provides content on its Help Center page that answers frequently asked questions. Help articles walk the user through some of the system's features. The information is updated as changes appear in the app. (There is a separate Help Center page for business users).
Provides tours of new features. When the company rolls out new functionality, it usually enables tours for users to see how the feature works and how they can use it to the fullest in practice.
Allows users to report content independently. It happens that people come across Facebook posts that are abusive or fake. So that the user does not have to waste time searching for how to complain about this content, the developers have added the "Report" button to each post in the feed. By clicking on it, you have several options: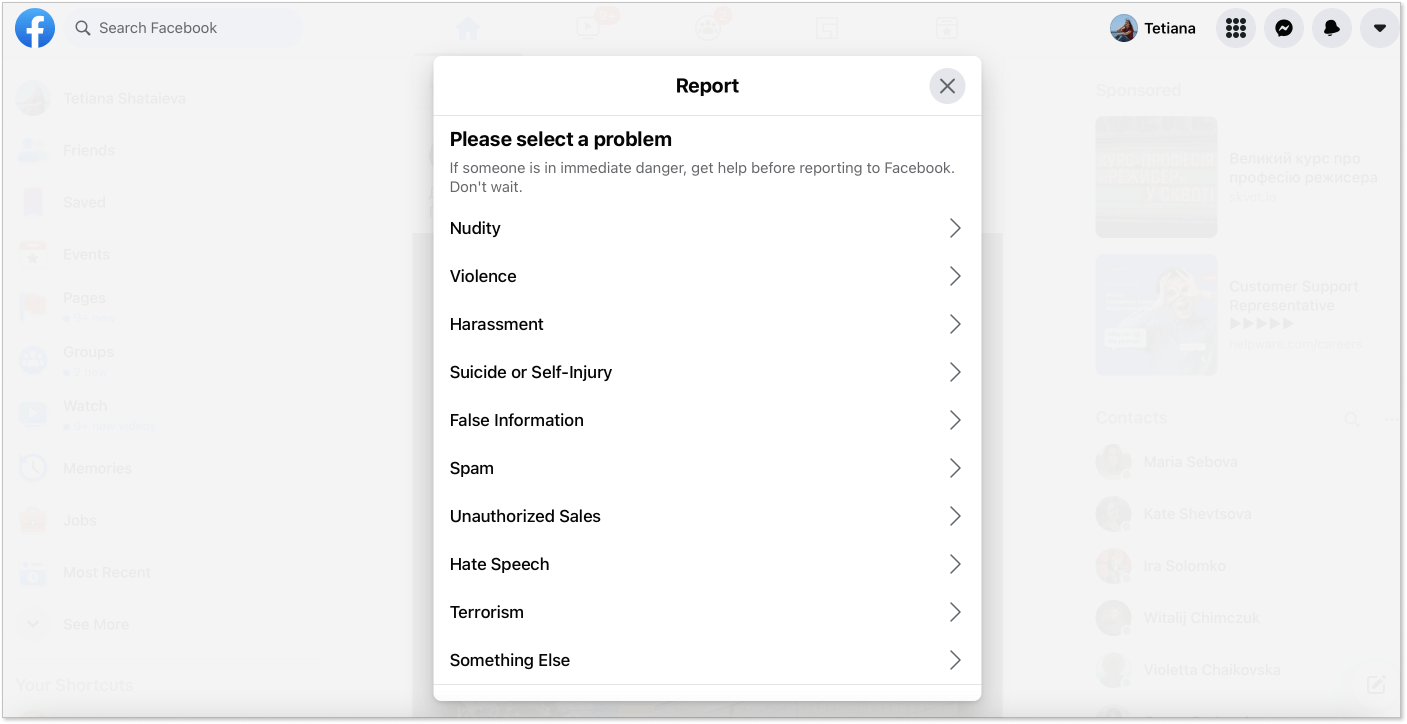 Sends educational newsletters. This is especially true for users of Facebook for Business pages. As soon as I registered my account, I began to receive regular newsletters with instructions on how best to grow my project and how to monetize it on Facebook and Instagram. Also, I sometimes receive invitations to free webinars which is cool.
2. HelpCrunch – make customer onboarding easy
When a new user subscribes to your service or buys your product, it's important to make sure that they know how to use it. Because if they are happy and successful with it, there will be no reason for them to switch brands.
All in all, what do you get with an easy-to-follow onboarding process?
Growing customer loyalty
Increasing revenue from existing users
Happy customers become your referral sources
For SaaS, in particular, it's an important component that directly affects the MRR metric (monthly recurring revenue).
A poor onboarding experience is hard to come back from and is the fastest way to lose a customer. It's critical to actively think about the entire customer journey, define it, map it, document it.

© Paul Philp, a Founder, and CEO of Amity.
We at HelpCrunch, a one-stop customer communication platform, pay a lot of attention to the onboarding process. Basically, the main rule is to stay responsive and don't overwhelm users with complex features from day one. Depending on the customer's savviness, of course, we prefer to introduce things gradually so that everyone feels comfortable.
What steps do we take at HelpCrunch to make onboarding easy-to-follow?
Send a welcome email. Once a new client signs up for a free trial, we send them a welcome message along with the installation instructions. It is vital to continue the communication immediately after the client has clicked the "Buy" or "Sign up" button.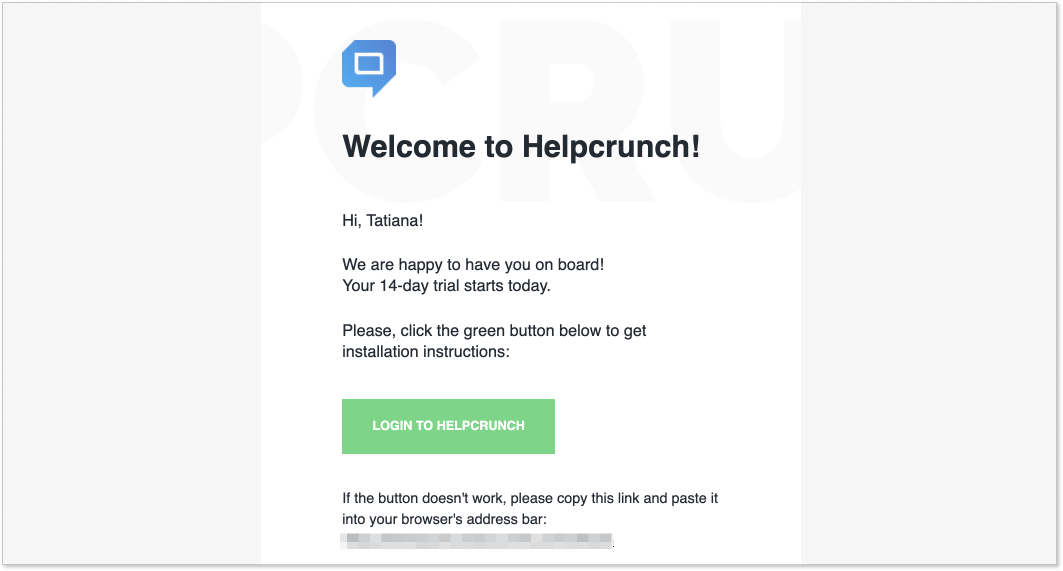 Keep follow-up emails coming. If a new customer doesn't continue with the installation process, we send them another email with a kind reminder. Actually, we have a whole set of template emails that we share with newbies once they register. We do that to make sure that they know how to leverage the tool and be successful with it.
Add helpful instructions to your knowledge base. When customers want to learn how to benefit from the software on their own, they can find the essential information on the knowledge base. "How to install the HelpCrunch widget on your website?", "How to set up an account?", and more. Also, think about creating a guided tutorial that you can share with each new customer.

Use automated messages, popups, and banners. After the user just joins your community, they might not know all your handy features. By adding auto messages, for instance, you can guide users to the functionality they can benefit from. HelpCrunch, for that matter, has just released an updated popup builder, so we added a banner to our website's homepage to make people notice it and learn more if they wish.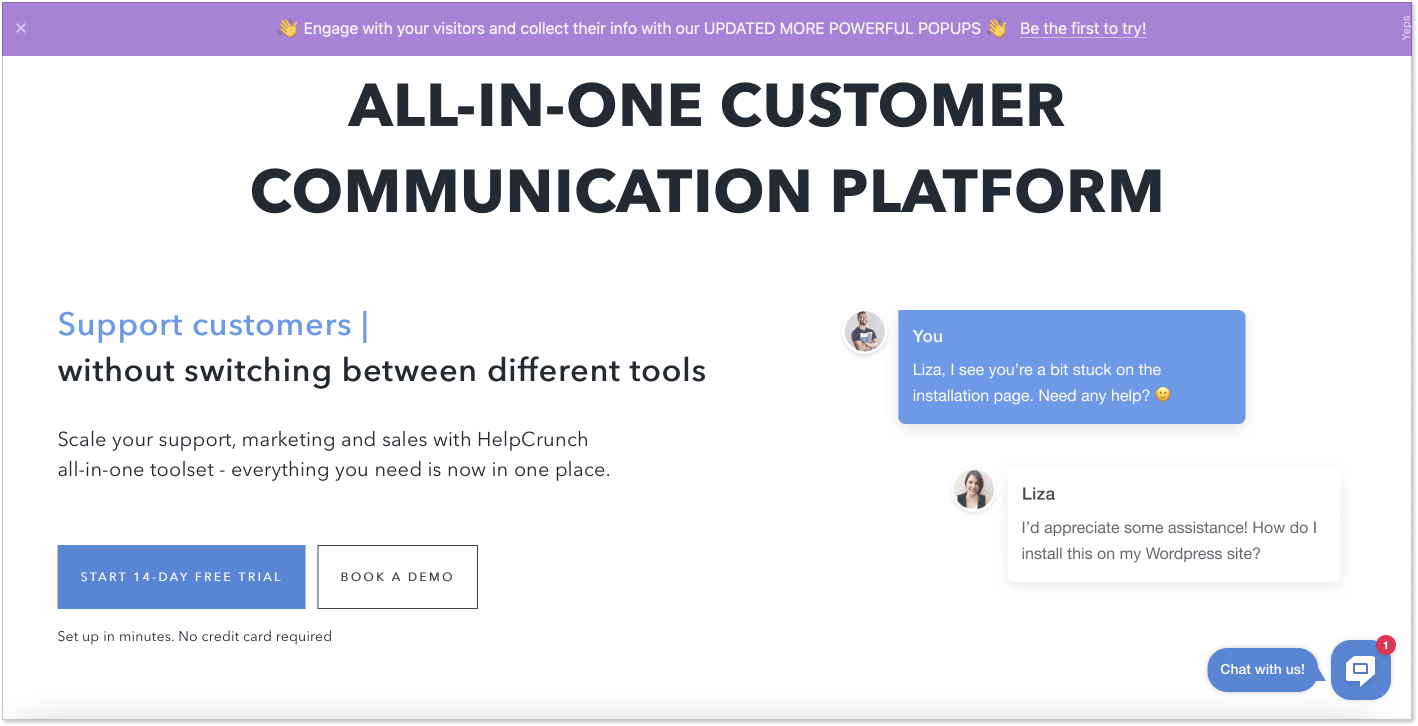 Provide onboarding assistant. Working with small and medium businesses, it's critical for us to assist them during onboarding. So when new customers turn for help, we assign them a special assistant who guides the user through the whole process of the tool installation. In fact, we have a few customer success heroes, specialists who massively contribute to customer loyalty in our company. They are always there for our clients reactively and proactively. And their main task is to ensure our users reach for success with the software.
Free data migration. It's a nice bonus that HelpCrunch customers especially love. We help those clients who switch to us from other customer communication apps (like, Intercom or Zendesk) with data migration free of charge. Because migrating the whole data is always annoying.
3. HubSpot – create free content to educate your customers
If your product or service is somewhat complex, then there is a great risk of misunderstanding. Customers simply won't be able to unlock its value and benefit from it. Unsuccessful customers are unlikely to buy from you again.
The solution is educating users. A study conducted by TSIA (The Technology Services Industry Association) showed that trained customers renew 92% more often than those who weren't educated on the product. Moreover, teaching clients about your product or service usage reduces support requests by 87%.
Customer education is the process that starts before users buy anything from you and continues throughout the whole customer journey. It can take many forms like webinars, online courses, blogs, ebooks, or knowledge bases.
HubSpot company is leveraging the benefits of educational content to the fullest. In 2004, they created a platform of marketing, sales, and customer service that helps brands to write blog posts, create ebooks, and share their content on social media.
The company's theory is that good quality content can help to attract more leads and then convert them into customers. And it's definitely working, I must say. Their total website visits metric exceeds 38.5M, while the current valuation equals US$26.97B.
So, what exactly does HubSpot do? Basically, everything to educate their customers.
Creates a blog with comprehensive articles. On their blog, you will find a bunch of posts on how to create valuable content for users, share it, and benefit from it. Also, all possible materials on customer service and marketing in general. The main idea is to describe the product, methods of use, and its values from all sides.
Builds HubSpot Academy. This resource implies free courses and online training for professionals working in marketing, sales, and customer service. HubSpot Academy educates users on the HubSpot software, so they can market, sell, and grow an inbound business.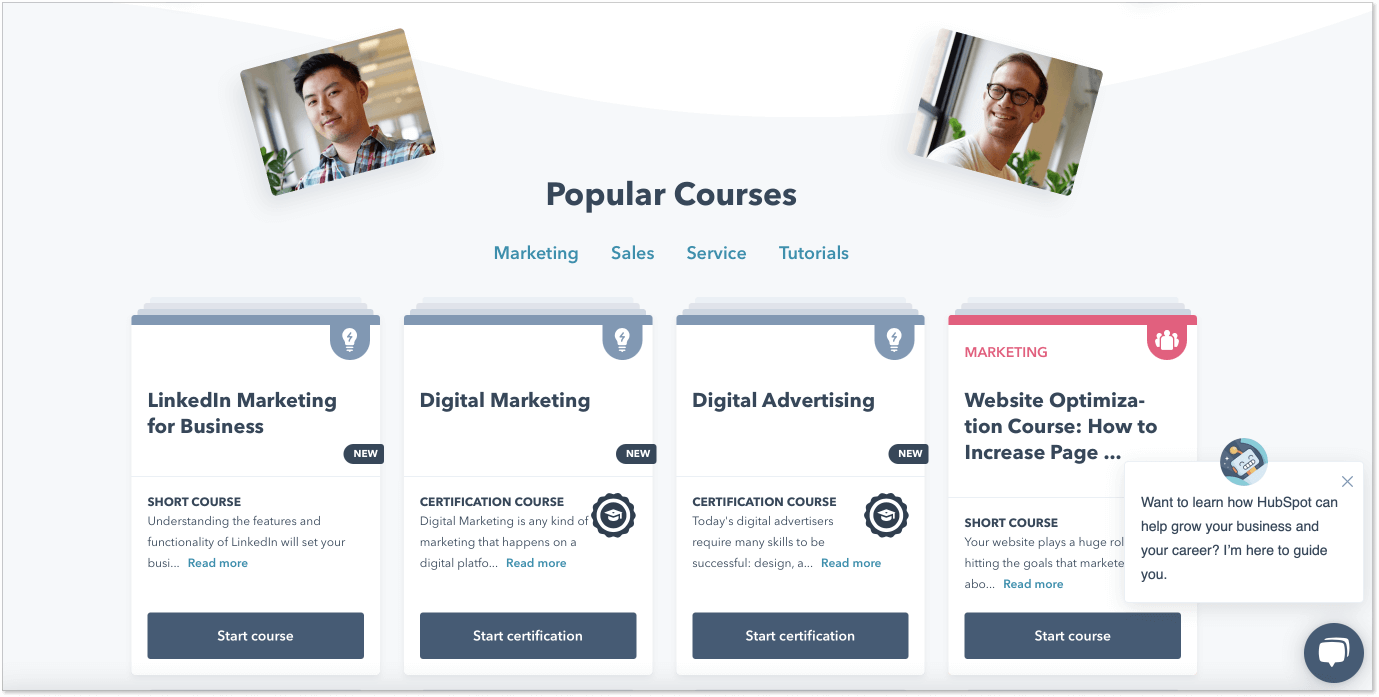 Provides a free ebook library. The team is creating a complete repository of electronic books on more than 40 topics. They range from customer service to public relations, and visual design. In the list, you will also find templates, webinars, and quizzes.
Enables customers to help themselves with a knowledge base. Apart from the all mentioned above, the company also provides a Help Center page (aka, knowledge base) to its users. There you will find answers to the most common questions.
4. Zapier – share customer success stories
Usually, you come across reviews or testimonials about the product. They are useful and informative but rarely can create empathy with a prospect. In contradiction to a case study that has a story-based structure and aims to speak to clients' pain points and emotions.
I bet you've heard of the power of storytelling. Only 5% of the listeners remember a single statistic, while 63% remember the stories.
A case study describes in a narrative way how a customer was able to overcome some issues by using your product or service. Detailing your users' positive experience ensures that prospective and new clients know how they can benefit from your product. This way they learn from the example of your existing customers.
Zapier is a great example of a company that pays attention to case studies. The software that connects apps and automates workflows regularly shows prospects and current users how they can benefit from the tool.
So, what does Zapier do?
Shares customers' stories. If you click Why Zapier? on their landing page, you will immediately see a drop-down list with a Customer stories option. It'll bring to the page containing dozens of stories told by the company's clients.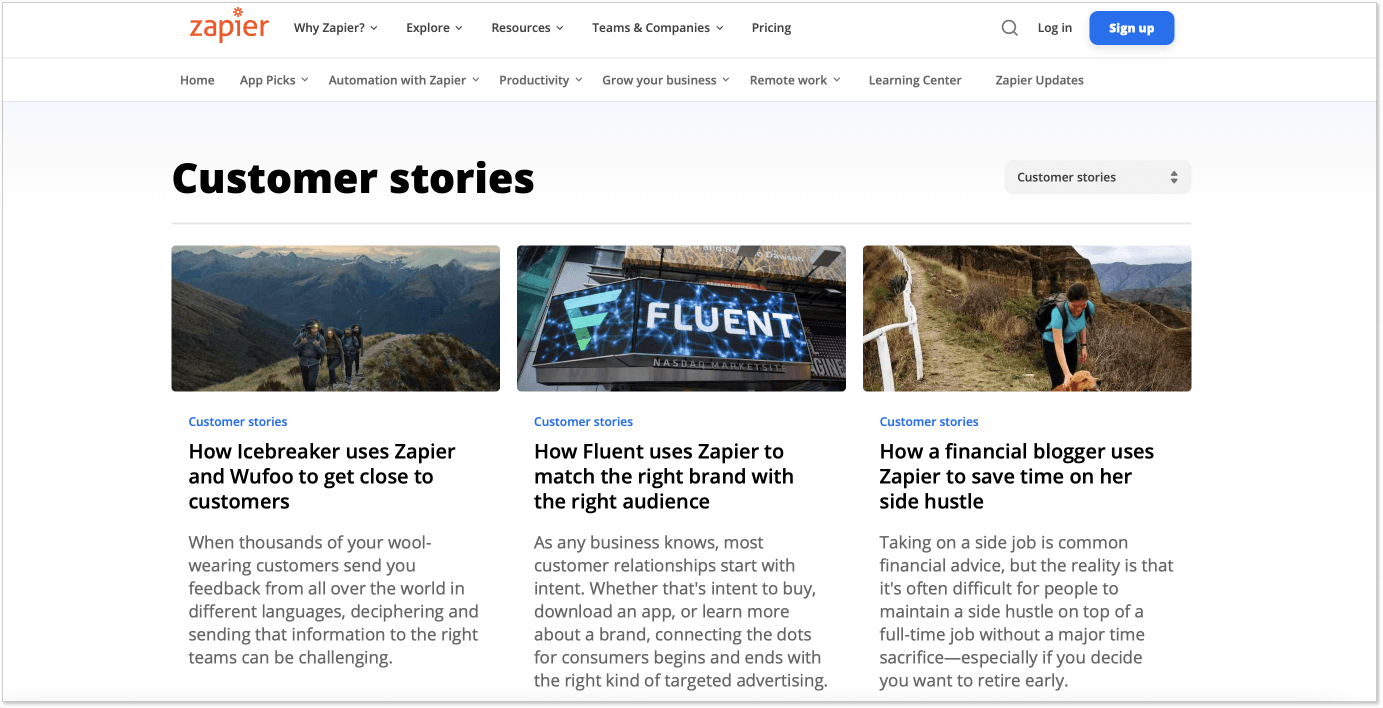 In the title, you can see a clear answer to the question: How did the client benefit from Zapier? Inside the post itself, we dive into a fascinating story. "Not many businesses trace their origin to a chance encounter with a merino sheep farmer. But that's exactly how Icebreaker was born…"
We recommend sharing those stories across your social media channels to let clients learn more about how else your product can be useful to them.
5. Hyatt – gather customer feedback
Basically, there are three ways to learn if customers achieve their desired outcomes while using your product. The first is guessing. The second is asking. The third is watching your clients leave your brand (which obviously means they are not happy with it).
Interestingly, 42% of companies still don't survey their customers or collect feedback. However, it's crucial to keep abreast of changing users' needs. This way you will be able to act accordingly in case customer satisfaction decreases. But there is even more to that.
The main reasons to gather feedback from customers:
To improve customer satisfaction
To make your product meet users' needs better
To show you value clients' opinion
To increase customer retention rate
To help other users collect information about your product or service
To make well-informed business decisions
So, how to collect it, and how does Hyatt Hotels Corporation do it?
Reviews social media. The company encourages customers to share their feedback and experiences with their hotels on Twitter or Instagram using any of two hashtags — #WorldOfHyatt and #WorldOfunderstanding.
Nice move, I must say. While traveling, people already feel like sharing beautiful pictures with their friends on social media. These easy-to-remember hashtags make the process even funnier. Because if something went wrong and the staff forgot to put disposable slippers in the room, you can quickly report it in your post.
It's a pure win-win for the brand and its guests. Customers share pictures and Hyatt gets feedback and publicity. But here you need to be careful, if the client does not like something very much, it can vastly damage the brand reputation. Especially if this client is an influencer.
Collects feedback forms on target pages. There are more chances that customers leave feedback if the process itself is easy to follow. As for Hyatt, they place a special "feedback" button on the reservation page.
Once a user clicks on it, a simple box below pops up where they can leave feedback about their experience with the brand.
Just like that, the company is gathering reviews from customers from multiple sources. It's a great approach to stay on top of users' needs.
Takeaways
Building a customer success strategy is a complex process. It requires the collaboration of all company departments, including marketing, sales, and support teams. Because the effectiveness of the strategy depends mostly on the actions you take at each stage of the customer journey. Sounds frustrating? Well, the game is worth the candle, since if you manage to make your users successful with your product, they will come back for more and stick with your brand.

While you build your way up, choose the right tools for communication with customers. HelpCrunch is an all-in-one solution that implies everything you need for support, marketing, and sales. And the icing on the cake: we offer you an easy onboarding process along with an assistant. They will walk you through the entire process. Give your best shot with a 14-day free trial to see what I mean.