10 Top Customer Success Tools to Grow Your Business
Looking for the best customer success tool might feel like torture. We don't want you to struggle, so we've curated a list of great CS software for big and small businesses. Have a look!

Customer success software is one of the biggest buzzwords in business today. But where does it come from? Before the late 2000s, entrepreneurs didn't care much if clients had desired outcomes while using their product. It was more about one-time deals.
Then the SaaS industry came into place struggling with a retention issue. To keep on customers and ensure renewable subscriptions, companies had to pay more attention to the customers' success with a product. As long as the software stayed relevant to the client's needs, the business was growing.
Even though customer success takes its origin in SaaS, it is not the approach that is exclusively used by subscription-based businesses anymore. Other industries also focus on the success of individual clients to increase retention rates and boost revenue.
So, here are my questions.
How do you know your customers are successful with your product or service?
How can you say they are satisfied or about to leave for a competitor?
How and when to act to avoid losing your clients?
Customer success software is exactly the tool that helps to answer those questions and do so much more.
In this article, I will outline and review the list of top customer success tools so that you can choose the best fit for your business.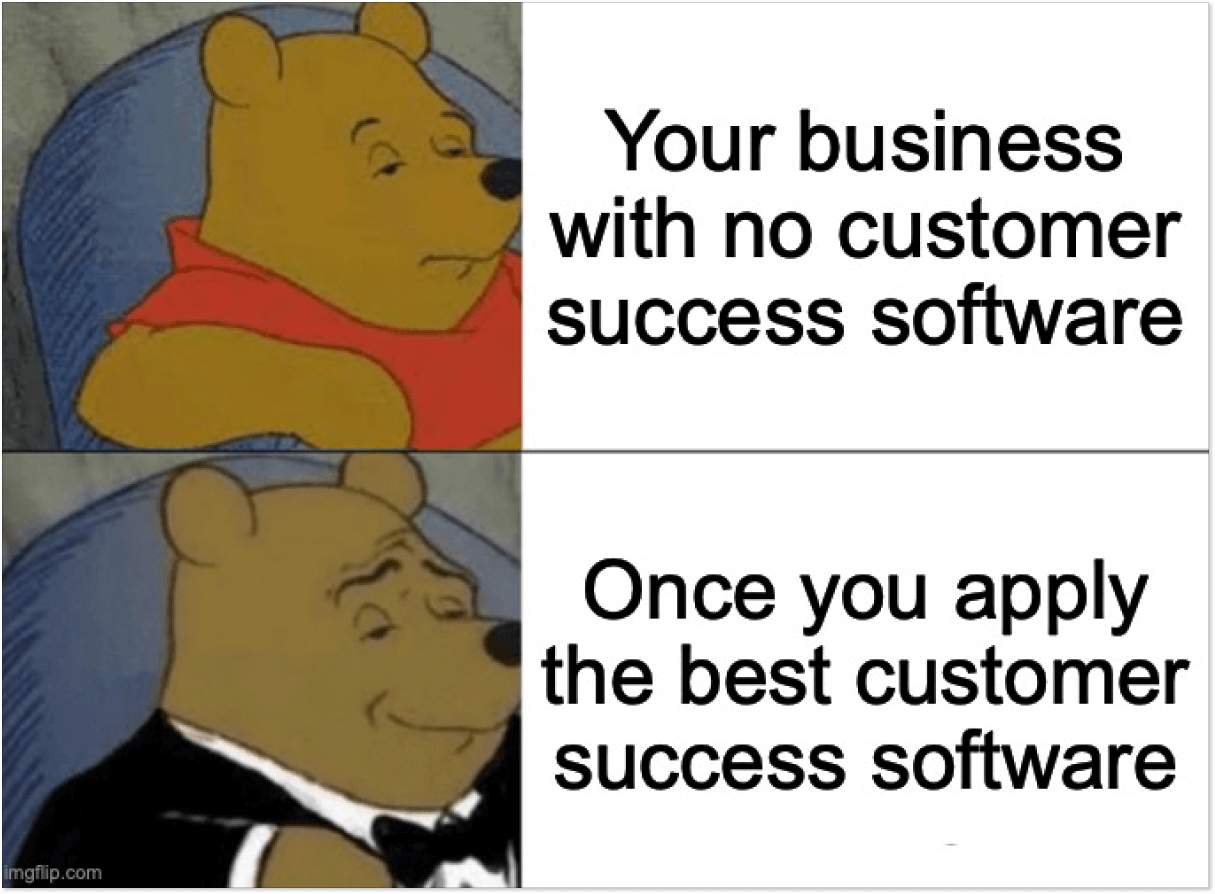 What is customer success software?
Customer success software is a platform that provides a centralized and easily accessible 360-degree view of user data. This data might be collected through the software or third-party tools and then integrated into one dashboard. Usually, customer success features – health scoring, CRM, playbooks, surveys – help to ensure that clients achieve favorable outcomes while using a vendor's product or service.
The data collected through CS software might include but is not limited to satisfaction rates, survey results, product usage tracking, complete users' profiles, and etc. This information allows marketers to monitor and analyze clients' activity as well as health scores.
Why is customer success software important?
In short, customer success tools help businesses proactively identify users that need extra attention in order to avoid drop-off. It allows you to decrease customer churn rate and rock user engagement metrics.
Moreover, you can increase revenue by utilizing features of customer success software that let you spot upsell and cross-sell opportunities.
Best customer success software for a small business
Depending on your company's growth stage, you might need different tools. That's why I decided to break down the list into two main categories. Let's start with the most useful customer success tools for early-stage businesses.
1. HelpCrunch
Features: live chat, chatbot, knowledge base, email marketing, reporting
Pricing: from $15/mo/team member
G2 rating: ⭐⭐⭐⭐⭐ 4.7 / 5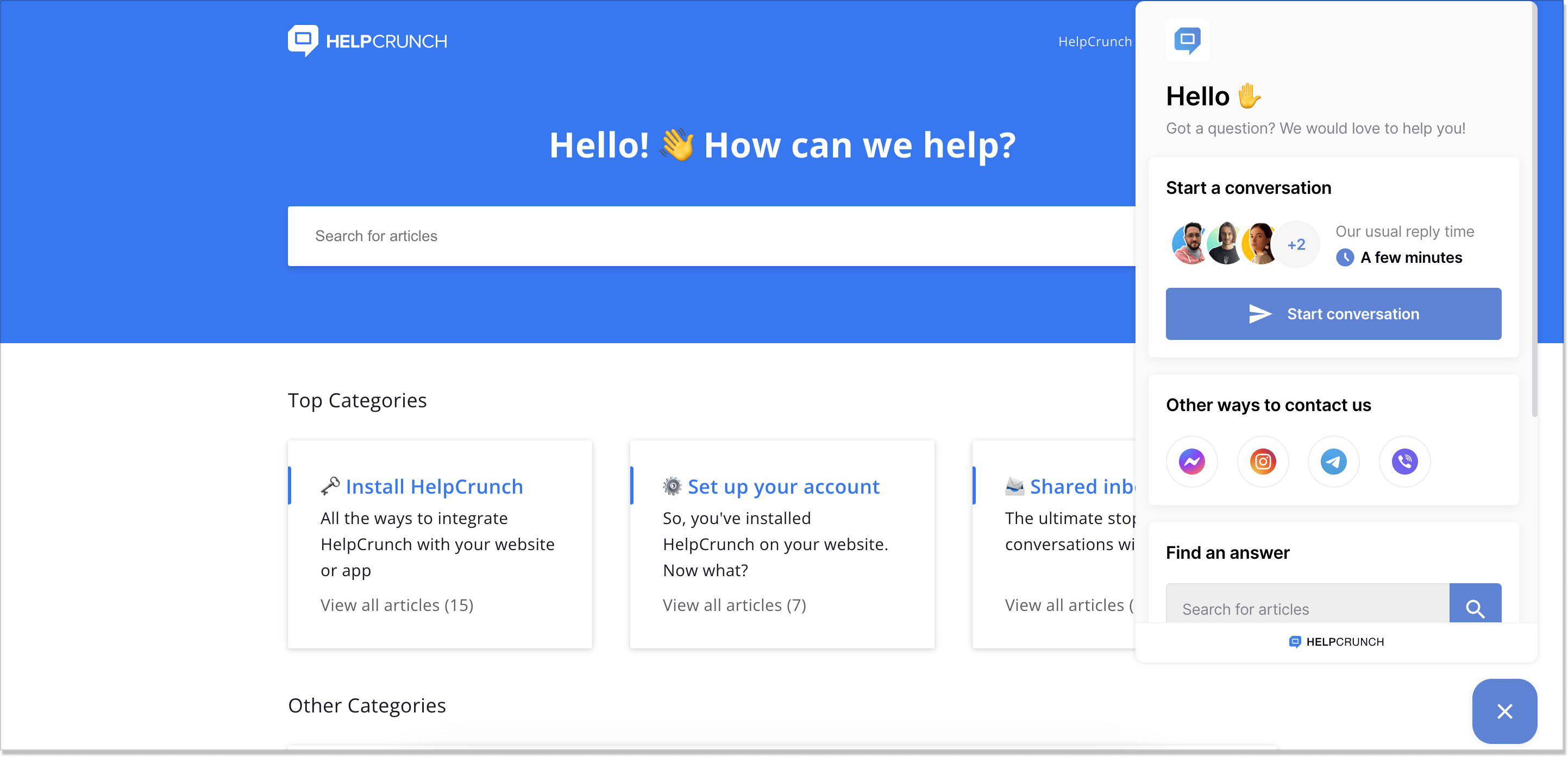 HelpCrunch is a perfect customer success platform for early-stage businesses. It offers fluid live chat with a satisfaction rate feature to ensure that you and your clients are on the same page. In addition, you can utilize a knowledge base option to assist customers 24/7. This seemingly simple feature allows you to educate users on how to get the most from your product or service.
On top of that, the company provides chatbot functionality to speed up your customer service. HelpBot guarantees that no user message is left unanswered 24/7. The bot can share knowledge base articles, images, links, and canned responses to assist your customers in the best way possible. Creating a bot scenario is a breeze, you enter a visual no-code editor and build your bot steps however you like. Also, the software offers a few pre-written chatbot templates that cover the most popular chatbot use cases.
Besides, HelpCrunch gives you email marketing opportunities that make it even easier to stay connected with clients. If a user leaves the live chat window before getting your reply, the answer will be automatically sent to their mailbox. Also, you can send manual or automated email campaigns utilizing pre-made templates within the tool.
In turn, the knowledge base feature is useful for customer education. Most of us refrain from human support unless it's absolutely necessary. So a self-help option can come in handy if you want to share insights about your product usage.
What about data collection and reports? In the dashboard, you have access to performance and satisfaction reports to keep track of your support agents' productivity. Such comprehensive client information as a city, email, spoken language, custom data, device information, user actions, and user path is always at your fingertips.
If you are looking for an effective tool to start working on customer support and then turn it into customer success, HelpCrunch is definitely the right choice.
2. HubSpot Service Hub
Features: live chat, knowledge base, surveys, integratable HubSpot CRM
Price: starts from $50/mo per seat
G2 rating: ⭐⭐⭐⭐ 4.4 / 5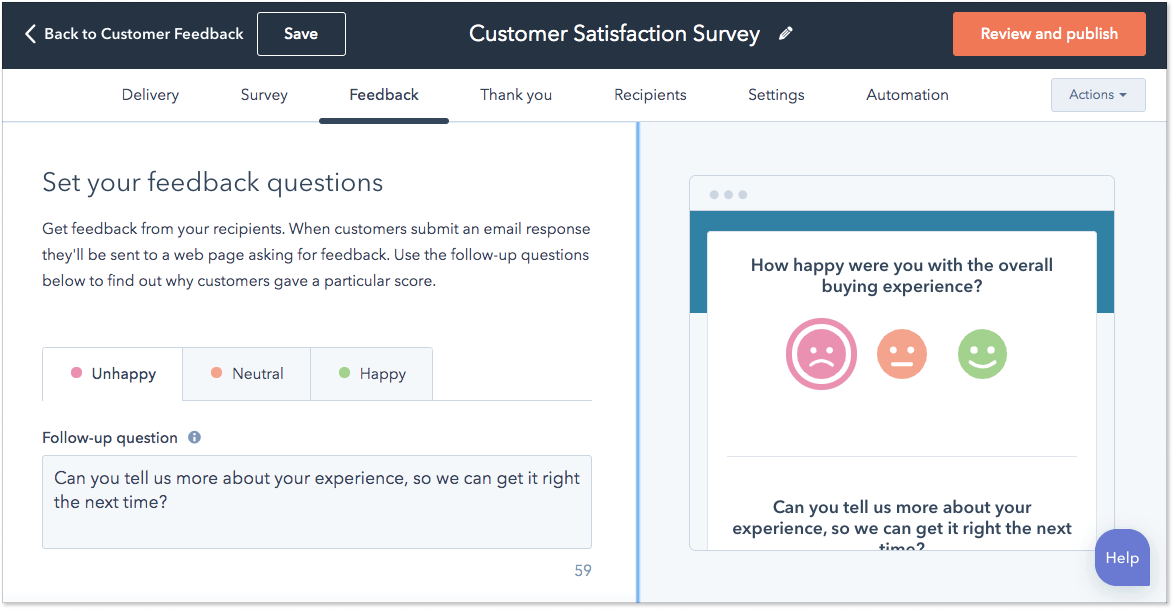 HubSpot Service Hub is a great tool to educate your clients and make sure they know how to use your product to achieve desired outcomes. The tool brings all your customer service data together in one dashboard and enables you to scale through automation and self-service.
To drive proactive support, you can collect customer feedback through NPS, CSAT, CES, and custom surveys. What your clients think about the product is crucial, it's your chance to level up and build a better customer experience.
You might also want to use other helpful tools such as Marketing Hub, HubSpot CRM (it's free!), and Sales Hub. Combined together, they can bring more value.
If you are just starting off and don't require any profound customer success features, you might want to consider this option.
3. Custify
Features: customer 360, health scores, risk alerts, reporting
Price: starts from $199/mo
G2 rating: ⭐⭐⭐⭐⭐ 5 / 5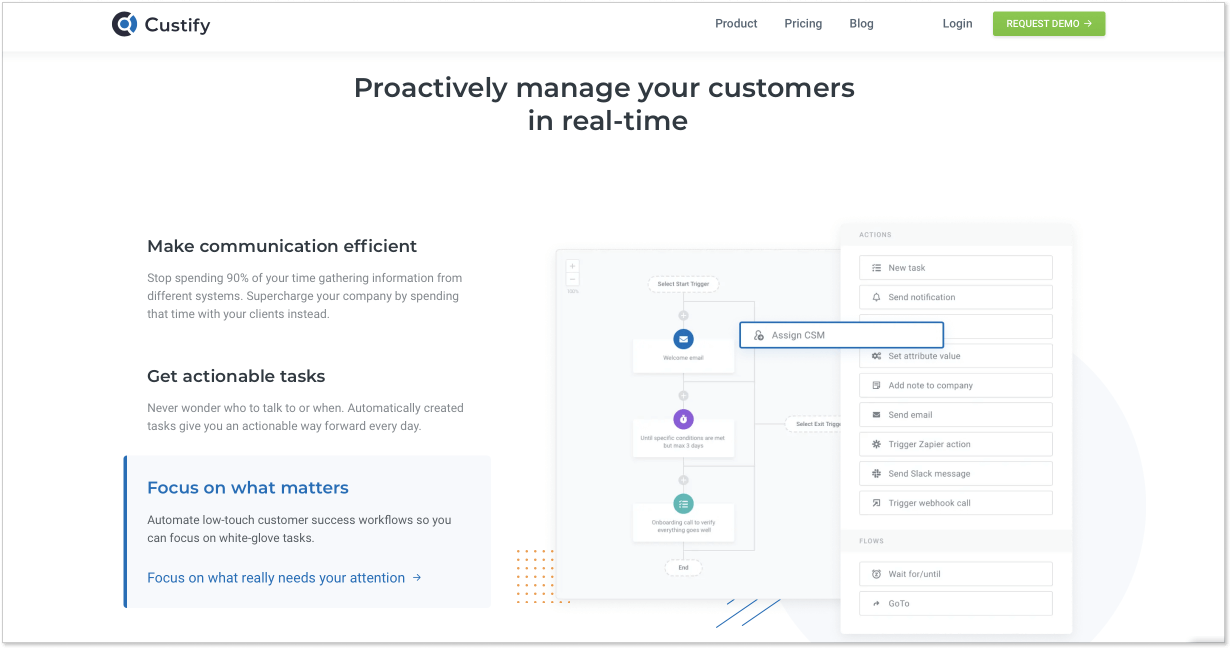 Custify is a customer success tool with all the basic features for product adoption, customer retention, and growth.
A highly praised 360-degree view allows gathering the relevant data from various sources in one place. You can customize this feature according to your needs with your own metrics. Apart from that, your CS team can track customers' product adoption in real-time. You will see if a user has decreased employment or postponed the integration of your service.
Customer health scores are designed to help you avoid customer churn by identifying risks and opportunities ahead of time. By tracking individual health scores, you are able to tailor the actions taken towards each client. Additionally, there is a possibility to identify KPIs that you're not meeting which is useful when looking for ways to improve your product or service.
Custify has recently introduced its new feature – Dashboard and Reports. It suggests overseeing most essential customer success metrics, forecasting future revenue, and monitoring at-risk clients.
If you are a startup working on your first customer success program, you may appreciate this tool.
Customer success software for a growth-stage business
Now let's have a closer look at customer success tools for companies that are up-and-coming, winning the hearts of the growing customer base.
4. Gainsight
Features: health scores, 360-degree customer profiles, NPS surveys, playbooks
Price: get a quote
G2 rating: ⭐⭐⭐⭐ 4.4 / 5
Gainsight is the top-notch customer success software for enterprises with rich analytical functionality. Customer success managers from world-leading companies – Dropbox, WeWork, Singular, and so forth – rely massively on the software.
Basically, the tool looks like a collection of various charts with useful customer data. Thanks to the rich integration capabilities, Gainsight provides detailed reports about the whole customer journey. It brings information from your CRM, ticketing system, product usage input, and more.
One of its principal features is the health score that shows whether customers are healthy or at-risk in terms of their relationships with the brand. In other words, it predicts the likelihood that a customer will grow, renew, or churn. Once you have this information, the CS team can act accordingly.
The playbook is another fundamental function of the software. It offers prescriptive workflows with pre-defined tasks to achieve favorable results. By monitoring trends in customer behavior, you can proactively automate alerts and other activities related to customer risks, and lifecycle events. Utilizing this functionality, you can also discover which actions have the greatest impact on customer success.
If you are an enterprise-size business looking for the best customer success tools, this one is definitely worth your attention.
5. Totango
Features: customer 360, health scores, playbooks
Price: get a quote
G2 rating: ⭐⭐⭐⭐ 4.3 / 5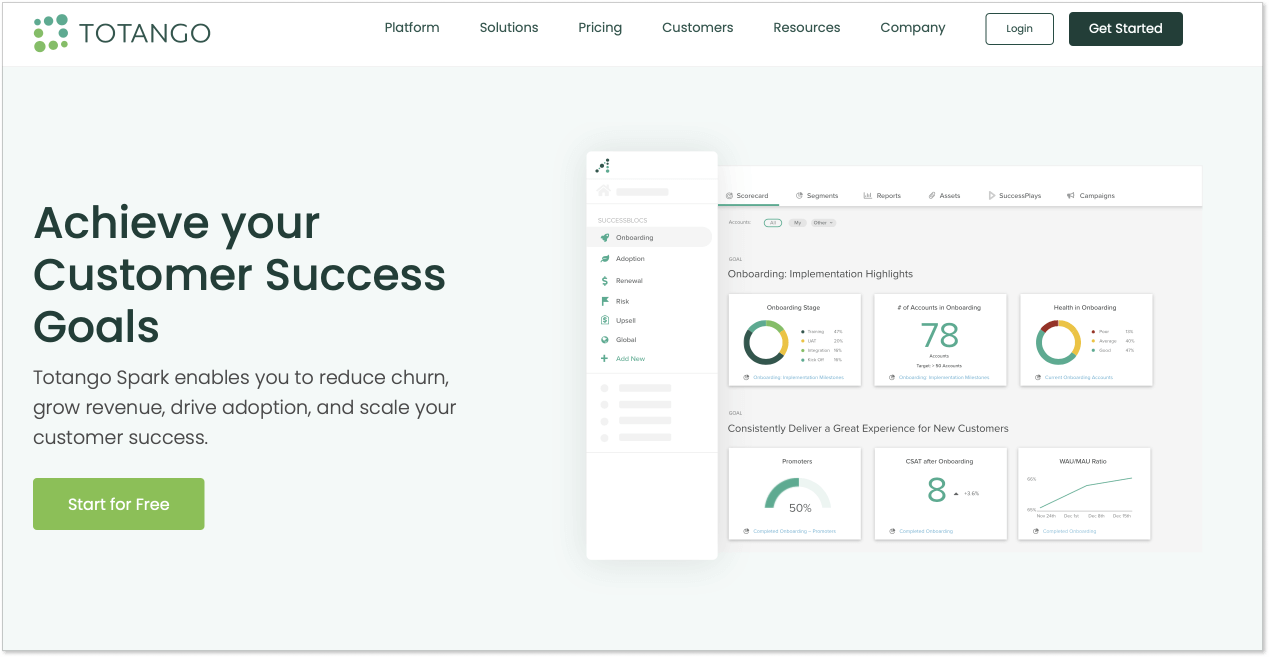 Totango is yet another giant in the customer success industry. It targets enterprise companies with large CS teams and many users to manage. No wonder, Zoom, NTT, WalkMe, and others prefer this product.
Spark, Totango's customer success software, has a bright and simple look which makes it easy to use. Its set of features includes full-circle customer profiles information at every stage of their journey. This data shows where your clients are with health scores, usage, and status at any given moment.
Besides, segment creation functionality enables your team to build very precise lists of customers according to different criteria and characteristics. If your company practices a personalized approach, this feature can come in handy.
In general, Totango Spark is organized around SuccessBLOCs, toolkits of organizations' CS best practices that include the data you need to achieve a particular goal. How does it work? You choose the intent that aligns with your company's needs – maximize upsell, drive adoption, manage onboarding products, etc. – and apply it to get the most value from your intent.
While Gainsight and Totango may have a similar set of features, the latter has a huge undeniable advantage – a free plan for those who just start their customer success journey. The free plan comprises all the core functionality with up to 3 seats.
6. ChurnZero
Features: health scores, command center, playbooks, in-app messaging
Price: get a quote
G2 rating: ⭐⭐⭐⭐ 4.7 / 5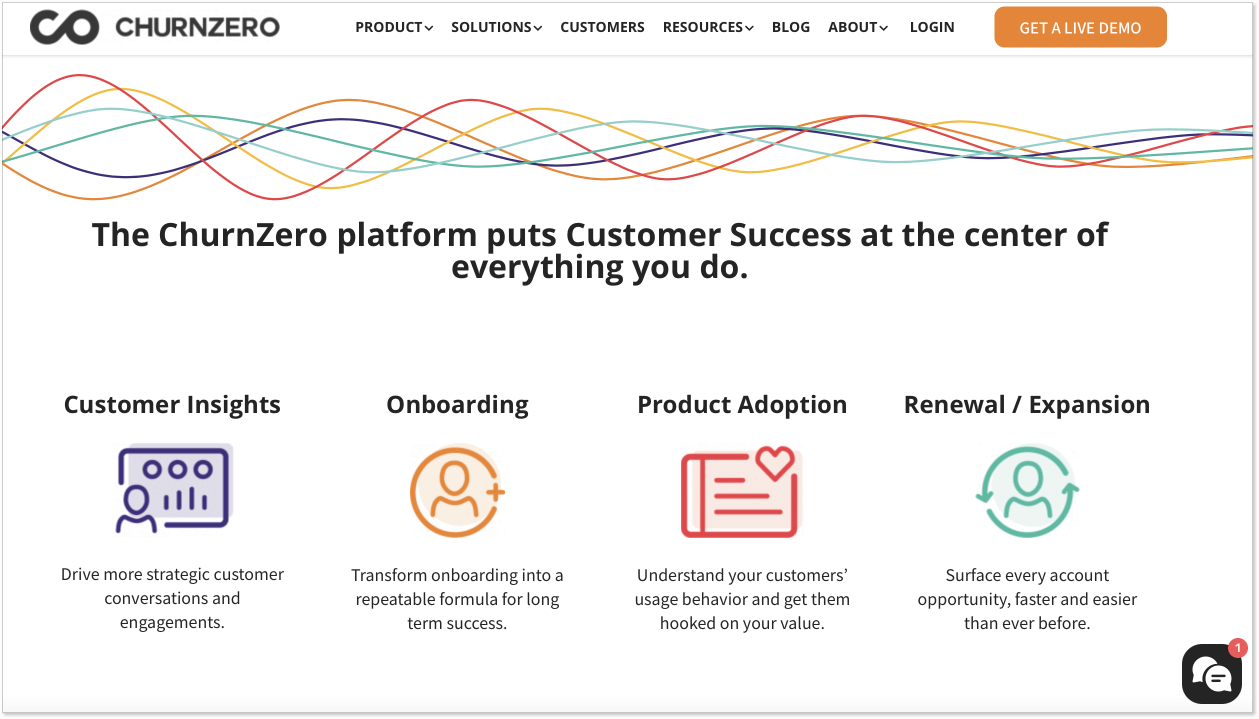 ChurnZero is a customer success software that targets subscription businesses. As the name suggests, it is designed to fight customer churn. The tool has rich integration capabilities with such CRM tools as Salesforce, HubSpot, Freshsales, and others.
The company brings up three main tasks it helps to resolve: understand how your customers use your product, assess customer health and the likelihood to renew, automate and personalize the customer experience.
When opening the app, the first thing you see is the Command Center. There you have an in-depth view of the daily tasks, including to-dos, calendar, and notes. You can view the list of customers you personally manage, their churn score, current issues, and other full-cycle information. Plus, you can plan and take actions towards specific customers if needed from the Center.
What's interesting, the software offers an in-app communication feature. No, it doesn't mean you can chat with your customers, rather send them automated announcements or personalized messages. Using customer data in the tool, you can target specific users at the right time to engage them more effectively.
If you are a SaaS business looking to fight churn, this tool might be a great option.
7. ClientSuccess
Features: health scores, NPS, revenue management
Price: get a quote
G2 rating: ⭐⭐⭐⭐ 4.6 / 5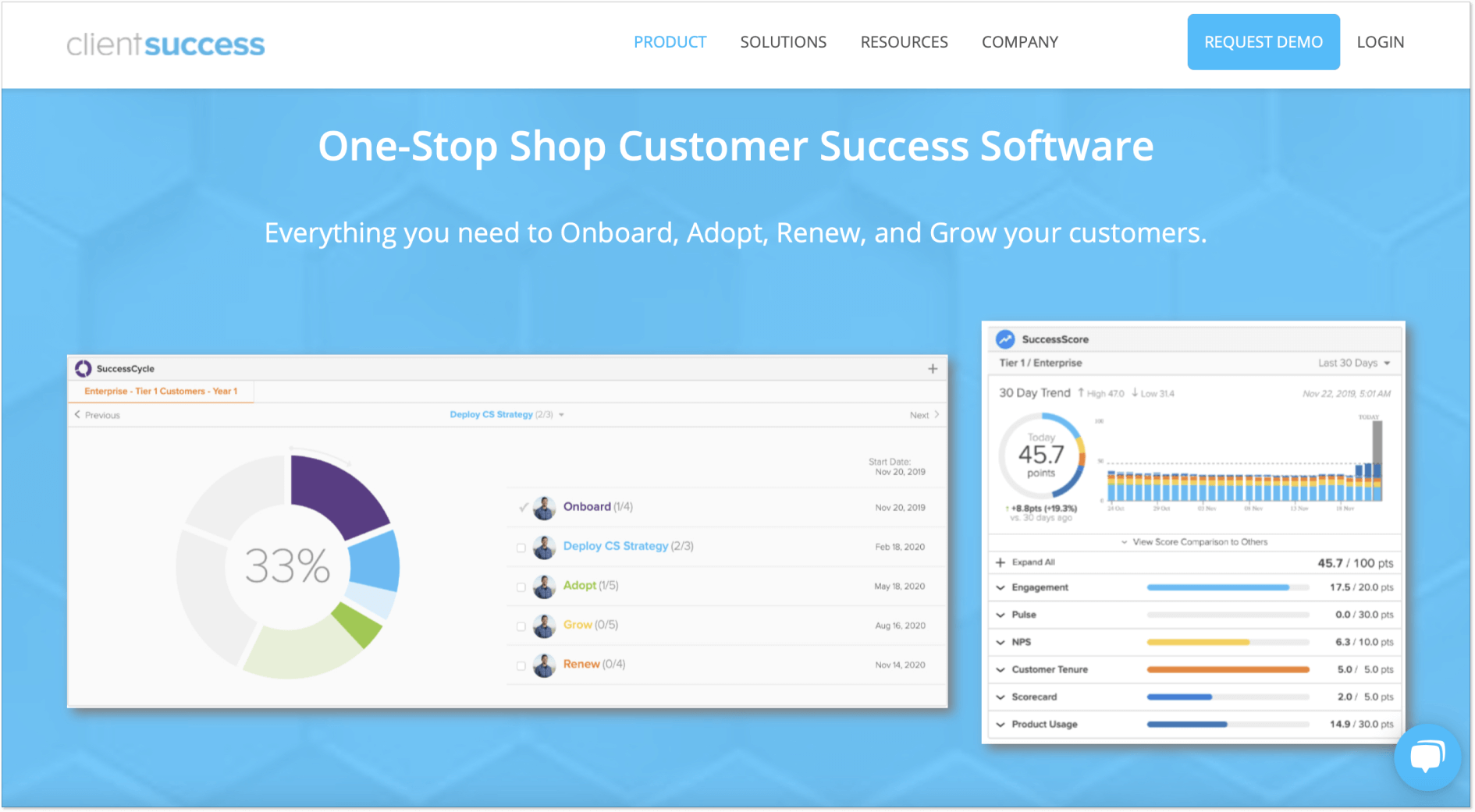 ClientSuccess is a customer success tool created to help you build lasting relationships with clients and grow the customer base.
The software enables you to define the most important metrics that contribute to CS and notify your team about any changes so they can get ahead of potential issues. All these you can do by leveraging the SuccessScore (aka, health scores) feature which offers a detailed assessment of clients' overall health, product usage, engagement, advocacy, and whatnot.
But what users adore the most about the ClientSuccess tool is its ease of use. Almost every review on G2 notes how simple it is to master the software functionality.
However, this advantage has an opposite side – feature limitations. Many users report that the product is lacking in automation, namely, you cannot send an email in bulk to a list of contacts. Also, reporting features and integrations could be better.
Anyways, if you don't need some in-depth customer success tools, for now, this software can be a good match for you.
8. CustomerSuccessBox
Features: health scores, 360-degree customer view, revenue forecasting
Price: starts from $499/mo
G2 rating: ⭐⭐⭐⭐ 4.6 / 5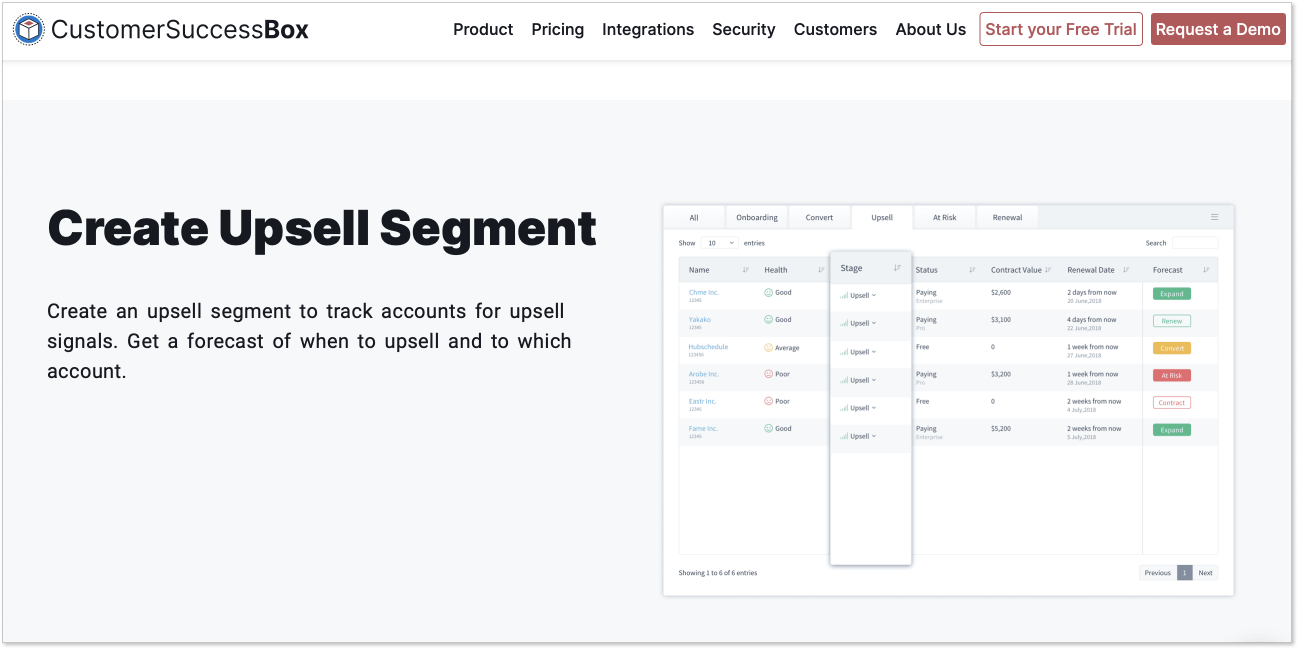 CustomerSuccessBox is another software designed specifically for B2B SaaS companies. The intuitive tool focuses on three main business goals: onboarding, rationing, and upselling.
When onboarding your customers, there is an opportunity to track not just process but also expected product adoption at each stage. Reportedly, the software uses a patent-pending technology that allows doing that.
The tool helps you with reducing churn by utilizing AI-powered Risk Alerts. They point you in the right direction where your attention is needed the most. Hence you'll be alerted, if the users stop logging in, using a particular feature, and if renewal is due or overdue. Those alerts will land in your inbox, Slack, or within CustomerSuccessBox.
Focusing on upselling, the software highlights users who are ready to level up, so your team can reach out and try to close the sale. Moreover, you can create an upsell segment to track accounts that show high engagement levels. This way you are able to get a forecast of when to upsell and to which account.
If your SaaS business is ready to scale up, you might want to have a closer look at CustomerSuccessBox.
9. Amity
Features: health scores, CRM, playbooks, reports
Price: get a quote
G2 rating: ⭐⭐⭐⭐ 4.5 / 5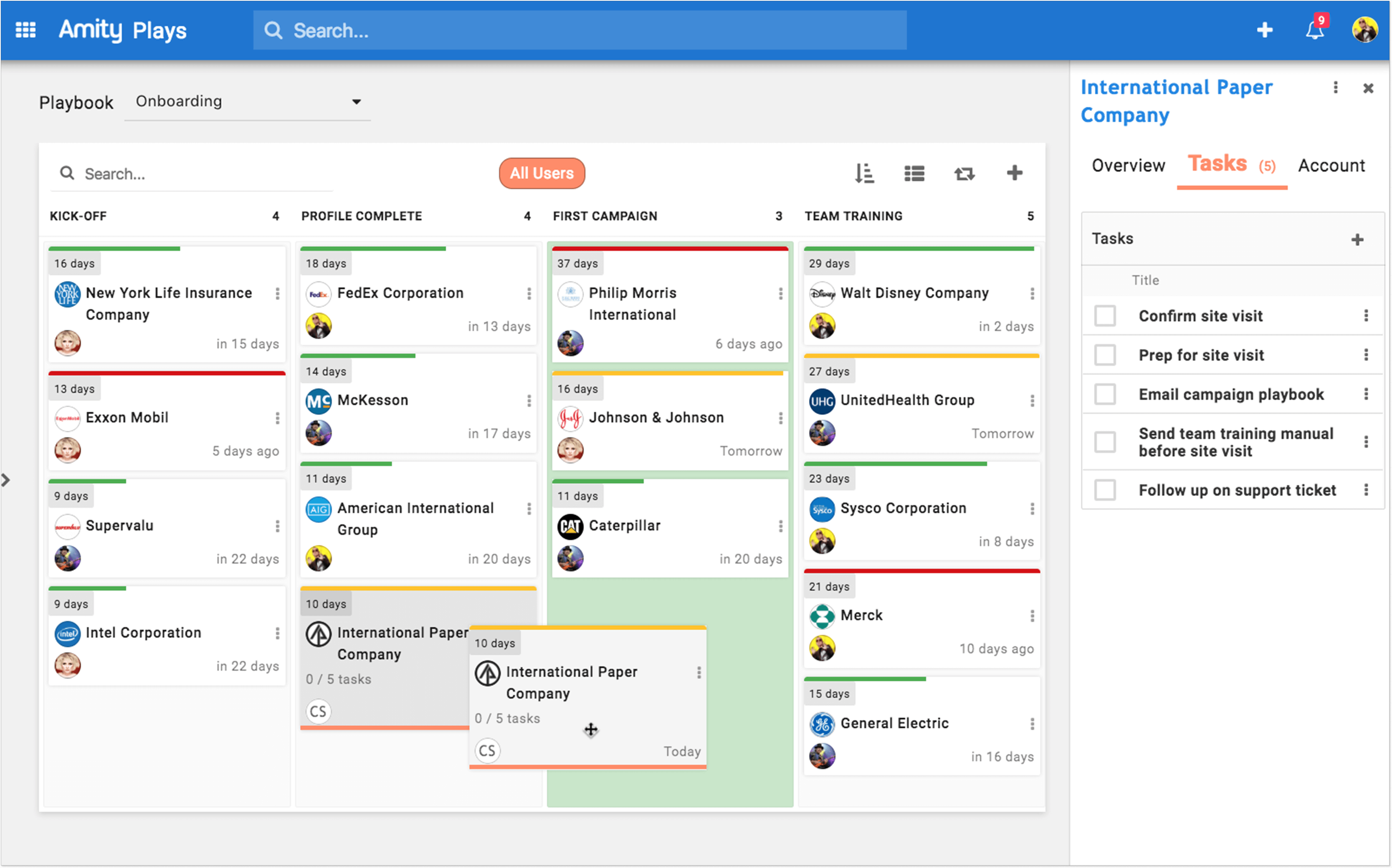 Amity is a powerful software that senses changes in customer health, suggests the right actions, and report on effectiveness. The tool has all the features essential for streamline and CS strategies implementation. Supported by various integrations, Amity offers a unified view of CRM, support, usage, billing, marketing, email, and other data in one place.
Just like other best customer success tools, the software provides features as health score, reporting, segmentation, automation, and whatnot. It offers extensive real-time insights that matter for your business the most.
For timely reaction, you can set up alerts so you don't miss any major changes in your customers' behavior. This is the way to prevent churn. SmartPlaybooks and automatic tasks enable your team to trigger multiple actions when any change occurs in account health or insights are generated.
If you are looking for the right tool for customer success, Amity might be of interest to you.
10. SmartKarrot
Features: 360 customer view, health scoring, survey, playbooks, automated campaigns
Price: get a quote
G2 rating: ⭐⭐⭐⭐ 4.7 / 5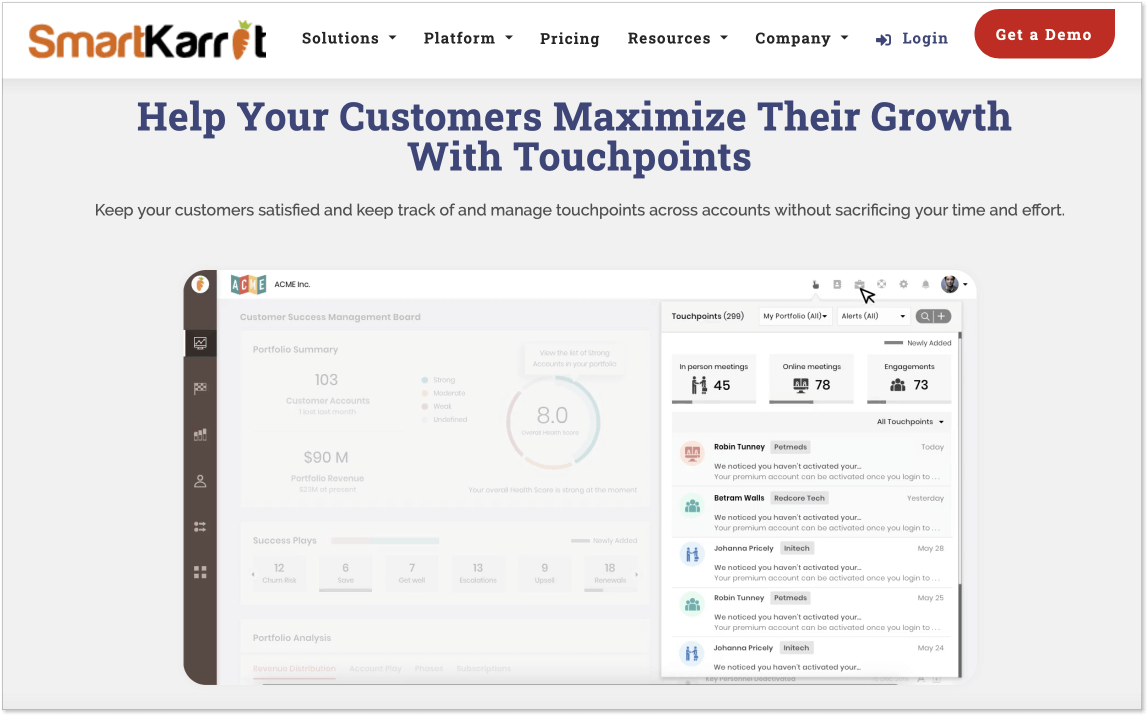 SmartKarrot is a fast-growing customer success tool with a set of cover-all features for business growth.
The product offers powerful functionality including but not limited to onboarding, account intelligence, alerts system, customer health score, automated playbooks, product adoption analytics, feedback, and so on.
In general, the software stands out from the crowd thanks to its predictive insights that come together with actionable step-by-step instructions. Following those steps might help your business increase customer health scoring.
Additionally, leveraging the Tasks & Touchpoints feature, you can monitor all your client tasks from one place. What's great is that your CS team is able to automatically sync email touchpoints instead of adding important conversations to the tool manually.
This tool is one of the best customer success software so if you are growing at the same pace, maybe, you should have a closer look at SmartKarrot.
Conclusion
There are plenty of worthy customer success tools on the market nowadays. Some of them are great for growth-stage businesses with a large user base. Others are good for startups. While the latter may lack some specific customer success functionality, they are great for feedback collection or client education.
If you start working with CS, the HelpCrunch software would be a great first step in this direction. Stay connected with customers through live chat and chatbot, monitor their profiles, keep track of the satisfaction rate, and so much more. Set about your 14-day free trial right now. No credit card is required.