9 Proven Customer Engagement Strategies to Keep Users in the Loop
We've conducted in-depth research to find the best customer engagement strategies that actually work. If you are looking for great ideas on how to keep users intent, this is high time to get inspired!

Customer engagement and customer engagement strategy – these two are quite buzzwords in online business today. But what do they really mean?
For instance, customer engagement defines the quality of a brand's communication with its users across various touchpoints throughout their lifecycle. This is the way to build and strengthen 'human-to-human' connections with clients.
So when we speak about customer engagement strategies, what we mean is a plan of how to create and keep that amazing customer engagement level at your company. And it's not an easy task, as the notion is no longer limited to support, sales, or services.
Nowadays, customer engagement is a continuous process of brands anticipating users' needs and keeping in touch with clients to foster strong lasting relationships, loyalty, and hence, business growth.
Let's have a closer look at how to increase customer engagement starting now 🔍.
What is a customer engagement strategy?
A customer engagement strategy is a plan for delivering connected experiences to your customers instead of single, one-off transactions. Ongoing positive communication will help to convert leads into clients and keep current customers interested in future purchases.
It's also about your ability to attract users' attention and engage into continuous interaction with the brand. To do that, it's often required to rethink your team structure, operations, and technology. If you do things right, your business will always stay informed about customers' changing preferences and evolving needs. 
Being able to engage your customers is also a competitive advantage. Today, when thousands of companies crave your users' attention, you can't neglect the importance of a solid customer engagement strategy. So, what's your customer engagement plan then?
In the next paragraph, we offer you a list of ideas that can enhance your customer engagement rate and make users want to interact with your brand. Sounds tempting? Then off we go!
9 customer engagement strategies to keep users involved
1. State the reason why your business is your mission
"He who has a why to live for can bear almost any how", Friedrich Nietzsche once said. This is the ultimate truth that proves to be right for any part of our lives, including business. In the end, we all seek meaningful connections both with brands and people.
Another reason that made me put this tactic first on the list of customer engagement strategies is Simon Sinek's speech, which literally opened my eyes to how companies inspire customers to buy from them. And it all goes down to a single bottom line, "People don't buy what you do; they buy why you do it". So make sure your customers know your Why and can see it throughout all your business decisions.
In short, almost any message to your customers should have the following structure:
Why? + How? + What?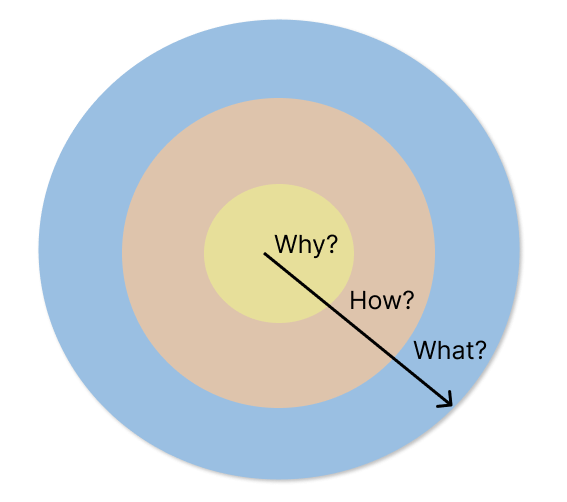 But you don't have to take Simon Sinek's and Friedrich Nietzsche's words at face value. Look at the statistics, 7 out of 10 customers prefer to buy from a brand whose values are aligned with their own.
Action tip: create a website landing page where you clearly state your story, mission, and vision. Make sure that all your business decisions and messages correspond to it.
2. Personalize your service
Personalized customer service is all about engaging clients as individuals rather than customer segments. And truth be told, this approach heavily relies on technology. By leveraging collected data – the user path, conversation history, country, language, and preferences – you can offer customers a personalized approach tailored to their individual needs.
Is it important for clients? More than you know. It's not just important but expected. 76% of customers become frustrated when the interaction with a brand is not personalized. And a frustrated user is hardly the one willing to make a purchase. McKinsey and Company report shows that customers view personalization as the default standard of engagement.
Action tip: one way to provide consistent, personalized customer service is by adopting an omnichannel approach. Omnichannel means that all channels you employ to interact with users are integrated into one platform, where the whole customer data is stored and can be easily applied whenever you need it.
3. Provide written, graphic, and video helpful content
To build an effective customer engagement strategy, you have to go the extra mile and offer them content they find helpful and enjoyable to interact with. One thing you can't go without when talking about customer engagement strategies is the knowledge base, which is a preferred way of assistance for 91% of respondents.
What is the knowledge base? It's a single repository of information about your product, service, and company. Write actionable articles covering the topics customers find challenging and add screenshots to help users quickly grab the best solution. Next time a client googles the answers regarding your offer, they will find your knowledge base content (if it's SEO-optimized 😉) and solve the issue in no time.
Don't stop there. While helpful articles in your knowledge base is a great way to engage customers, there is much more that you can do. For instance, shoot videos! Like it or hate it, video content is 1200% more successful than other content. Besides, almost 93% of brands say they got new customers due to the videos posted on their social media accounts.
Create and post funny yet informative videos on your YouTube channel. That's one more way to increase brand awareness and customer engagement. Here is a quick overview of our company channel on the YouTube platform.
Even though the number of subscribers is relatively small, we got over 1k views for our latest video and a few mentions on other social media channels with the link to our clips.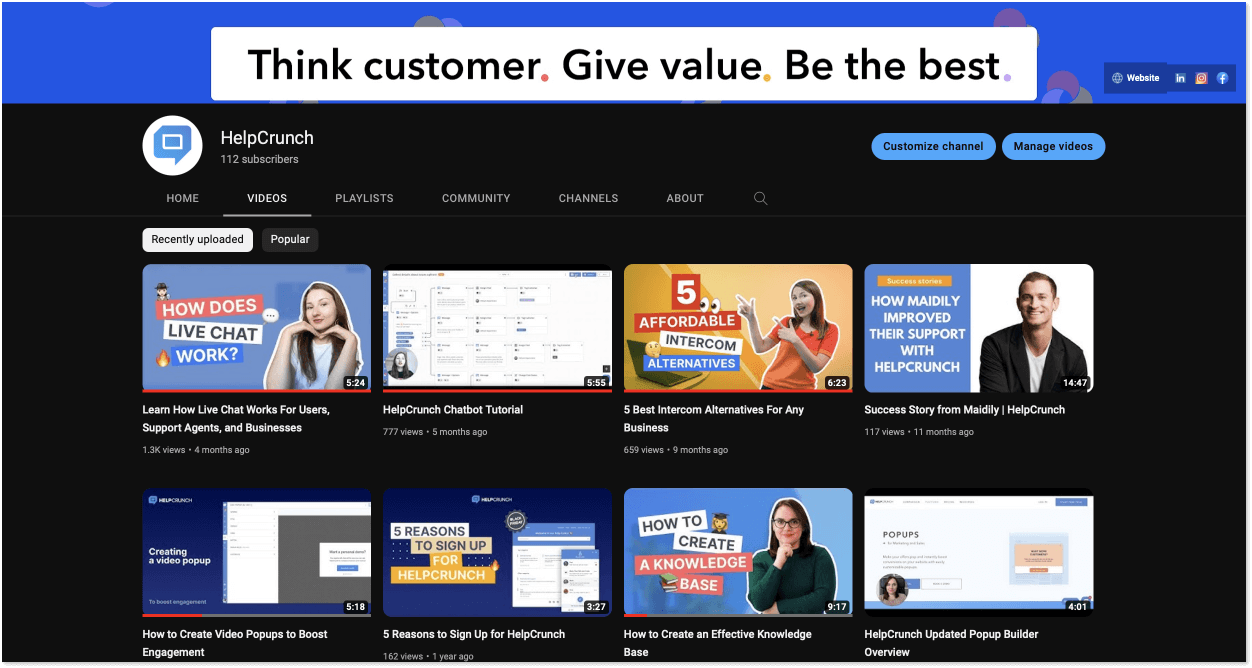 Action tip: Create a knowledge base – you can do this with the HelpCrunch tool – and offer actionable articles to users worldwide. Launch your YouTube channel, optimize content and share it on other communication platforms, including newsletters.
4. Offer free goodies to first-time and loyal customers
According to a 'Predictably Irrational' book by Dan Ariely, people do change their behavioral patterns when something free comes along. A free offer doesn't make us happy just because it costs nothing, but because it's a powerful emotional trigger. Very often, people buy things they don't quite need just to get a second item for free.
Thus, it's another technique to engage customers. And here I am not talking about loyal clients only, but also about first-time buyers. For instance, for the first purchase, you can offer one sample for free. There are many variations of how to fulfill this strategy, so just pick and apply the one that suits your brand better. You can often see this approach at perfume boutiques, when buying a perfume you usually get 1-2 samples of other scents for free. Taxi brands also often provide discounts for first rides.
Speaking of loyalty programs. They are equally important as they keep your satisfied clients in the loop and engaged for the next purchase. What can you offer as part of the loyalty program?
Special gift/decent discount in exchange for reward points
Celebrate customer birthdays/anniversaries with coupons/gift cards
Offer special rewards for referrals
Run bonus points campaigns, etc.
Action tip: engage first-time buyers with special offers like discounts or free samples. Take good care of loyal customers so that they keep favoring your brand in the future.
5. Engage clients on social media
With almost 4 billion social media users worldwide, it's a shame to miss the opportunity to engage users online. Of course, it doesn't mean that you have to create accounts on each and every social media platform, but if you concentrate on those channels that your users prefer the most, tremendous results won't be long in coming.
If you ask me, I'd say Facebook and Instagram are a must-have, at the very least. Moreover, Instagram dominates other social streaming services in terms of engagement, with an 81% engagement rate versus Facebook's 8%. On top of that, 44% of users shop for products on Instagram weekly. As for me, this reason alone is enough to jump on this train and engage customers on social media.
How to engage users on social media? There are a few tactics to make customers interact with your content. Here is just to name a few:
Educational content. It depends on your product, if it's software, for instance, a good idea is to share handy tips and tricks with users to improve their performance. But also, if you are in the teaching industry, educational content is exactly the way to engage customers.
Hilarious videos/posts. Make room for a little laugh. Create funny content and post it online to make customers laugh and share it with their friends. (Watch out for sensitive topics, like religion and international affairs).
Run a contest. It's another great opportunity to increase users' engagement drastically. Ask followers to like, comment, and share your post in exchange for a free product/service or anything they will appreciate.
Action tip: create your brand profile on social media channels your customers prefer the most. Regularly share engaging content to keep your followers involved.
6. Respond to customers quickly and in real-time
Engaging customers means being where they are and replying to their messages fast. But let's start from the beginning. Whatever channels you use to lure users, most probably they eventually lead to your beautiful website.
Once a user finds themselves on your website, they look around and consider what their next step should be – exit or stay. This is a great moment to show them an auto message in a live chat that is usually displayed in the right bottom corner.
"Psst! I see you are scrolling through our pricing, want to get a little discount for first-time buyers only?", such a message can make a user engage in a conversation and just maybe make a purchase.
In terms of fast replies, chatbots could be your best friends if you let them. Set up a bot to reply within seconds, offer a few support case scenarios, and include a Connect to a live agent option in case they need your team to look into the issue.
Action tip: find the best platform for communication with customers that include live chat, chatbot, and a knowledge base at the minimum. Set up proactive messages to engage visitors more effectively and a chatbot to reply simultaneously to users' requests. (hint: HelpCrunch might be just the right tool for you. Find it out during the 2-week free trial)
7. Regular communication is vital
My friend who works as a YouTube consultant always says, "You have to publish videos regularly so that YouTube starts to recognize you as a reliable creator and recommend your videos to users." The same principle applies to any kind of activity, including communication with clients. If you keep doing it regularly, then sooner or later you will be able to enjoy the beautiful results.
Through regular communication with clients, a company is able to gain a better understanding of their preferences, display its commitment, share updates and knowledge, and overall make customers feel valued and appreciated.
While craving the convenience of online purchasing, users yet miss the personal touch of face-to-face contact. Regular blog posts, social media content, and newsletters allow you to bridge this gap, offering your customers the best of both worlds. It also proves that you are a reliable company that stays on track, keeps working, updating, and growing.
One way or another, thanks to regular communication, you remain in the line of sight of customers and increase the level of engagement.
Action tip: keep communicating with clients frequently through emails, social media, and blog posts to educate and learn more about them.
8. Create a community around your brand
"E-commerce has connected us to the entire world transactionally, but not socially, which has left an unfulfilled need. Brands that stand out tap into the communal dynamic", says Jacob Andra, co-founder of SOMA, an online marketplace.
This customer engagement strategy suggests that you need a story and community. When companies build communities, they invite potential customers to become part of something bigger and to have an impact together. That collective impact and shared brand experience make people feel good and willing to engage more.
You can start with something simple like creating a Facebook group and making it vibrant within its subject. Here are a few quick tips on how you can build a community around your brand:
Don't rush. Once the group is created, you won't have many members at first, and it may take the wind from your sail, but don't give up. Remember, persistence is the key.
Start with your coworkers. Let them be the first members of the group, like, comment, and share your posts. And very soon you will see the fruits of your work.
Bring some value. From the very start, you should decide on the main task of your community and build it accordingly. Is it to help current clients with your product? Is it to stop climate change? Is it to attract new leads?
Action tip: create a group on Facebook and start building a community around your brand.
9. Ask for customer feedback
Finally, it's time for the last but not the least idea on the customer engagement strategies list. Collecting customer feedback is important for many reasons, and increasing user engagement is one of them. Listening to what clients have to say about your product makes them feel involved and important.
I know, you might disagree that collecting feedback increases customer engagement, as most users just ignore those feedback surveys. But, part of the customers will definitely interact with your questionnaire and share their opinion with pleasure. So, the game is definitely worth the candle.
And if one method doesn't seem to work, try another one! There are a few ways to make clients share their feedback with you:
In-app survey
Live chat survey
Email
One-on-one interviews
Social media survey
Bonus customer engagement strategy: monitor the metrics
Today, we create businesses in conditions of intense competition, and the only way to shine through is to improve customer engagement year-on-year. You can do so by measuring performance metrics and acting on them.
Let's go through a few customer engagement metrics you should keep an eye on:
NPS. It shows you how likely a customer is to recommend your product to their friends and family.
CSAT. In this survey, the customer is asked how satisfied they are with the latest interaction (live chat conversation/purchase) they had with the company.
CLV. It is the overall contribution to a company during the lifetime of a customer.
Customer Churn. It is the percentage of customers that stopped using your company's product or service during a certain time frame.
Customer Retention. It measures what percentage of your existing customers continue to do business with you over a given period of time.
Customer Engagement Score. It is used to measure the engagement of your customer base.
Social media engagement. Monitor reports on your social media apps.
3 examples of how top brands engage their clients
It's always a great idea to learn from the best. Let's go quickly through a few little tricks that help worldwide-known brands keep clients engaged the whole way through.
Netflix
An American streaming and production company knows it all about customer engagement. The number of Netflix subscribers was on the rise in the past few years. Just between 2018 and 2020, the streaming giant managed to add nearly 85 million new members. And even though they marked a 200,000 subscribers decline in 2022, the number of paying users is still impressive, 221.64 million.
So how do they engage customers? The giant heavily relies on customer data to learn the preferences and make the best recommendations that users can't resist. They learn everything about your behavior: when you pause, what day you use it, what device you use, the rating, searches, and whatnot.
Apart from that, Netflix adopted a function that automatically starts a new episode once the previous one ends. Yep, that's how you watch the whole season in just one night 😴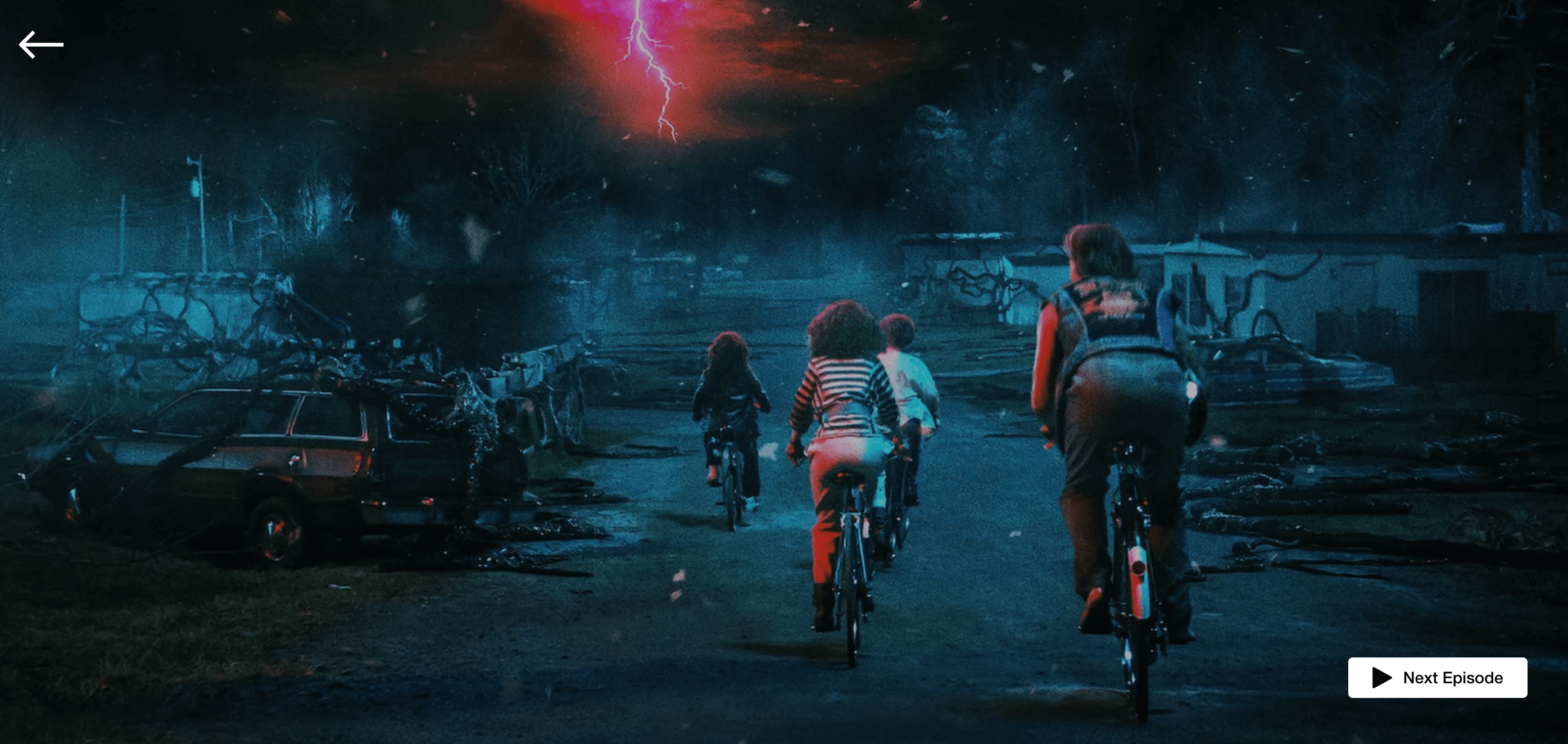 Uber Eats
I hope you are not hungry because I am about to drop a few words about Uber Eats 😋. What can be better than personalized messages that make users hungry for your product? Hence, the company decided to use push notifications to keep customers engaged. They send dynamic personalized messages, encouraging users to make an order from the restaurants specific to the customer's location.
Uber Eats also leverages behavior-triggering messaging to remind you of missed special deals and entice users to re-engage this way. Well, now I am hungry!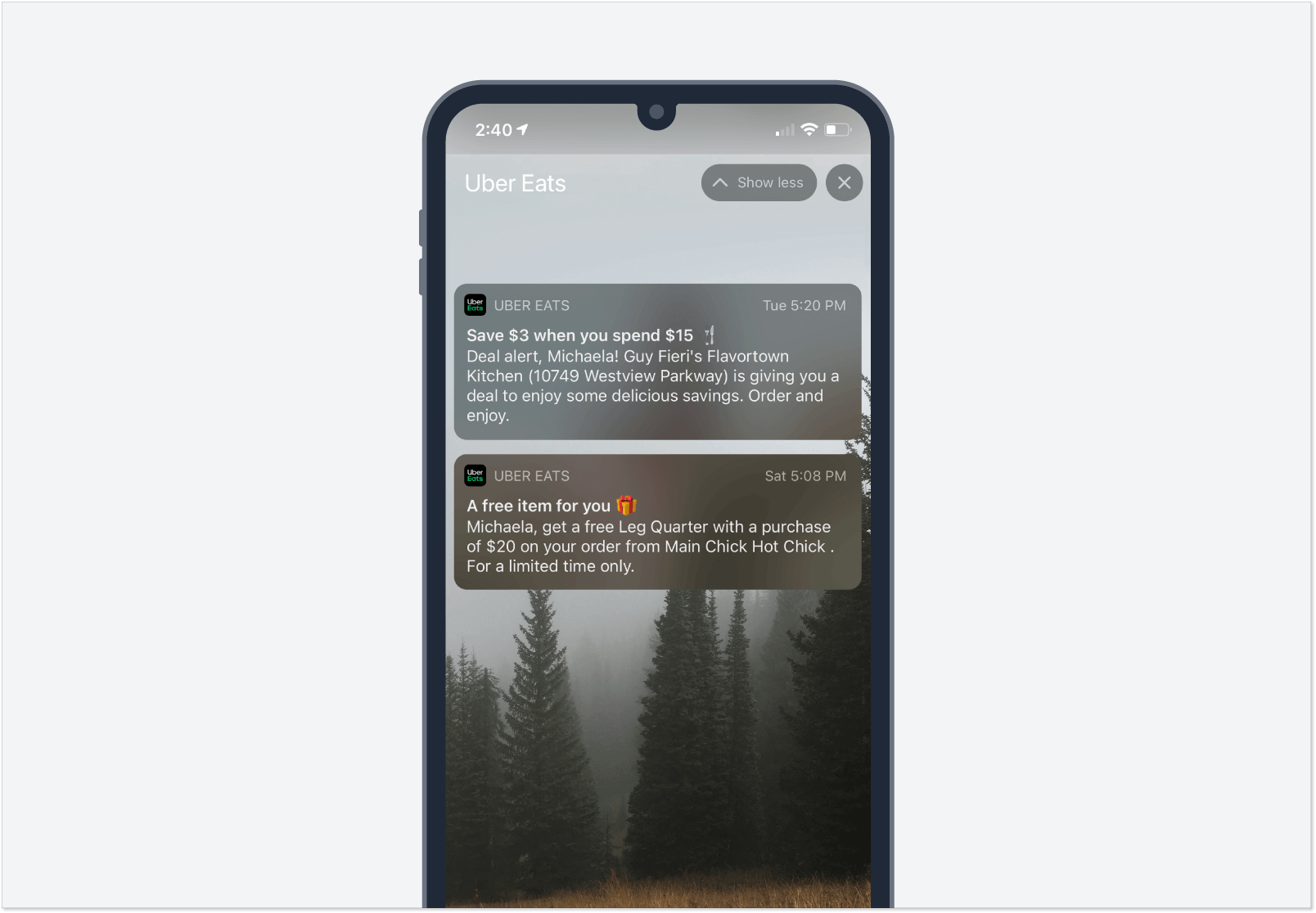 Sephora
Among other tactics, Sephora is using feedback collection as another opportunity to engage clients. After any interaction with a brand – chatbot conversation, live chat support – customers are prompted with a quick survey question to gauge how customers feel after their interaction.
It's crucial to send surveys right after the communication via the same channel. Truth be told, if you chat with a client on live chat and then send a feedback request via email, chances are you will never get a response.
Sephora's strategy goes further. First, they ask a user if they are satisfied with the interaction. Second, they want customers to share alternative methods of contacting Sephora they'd prefer.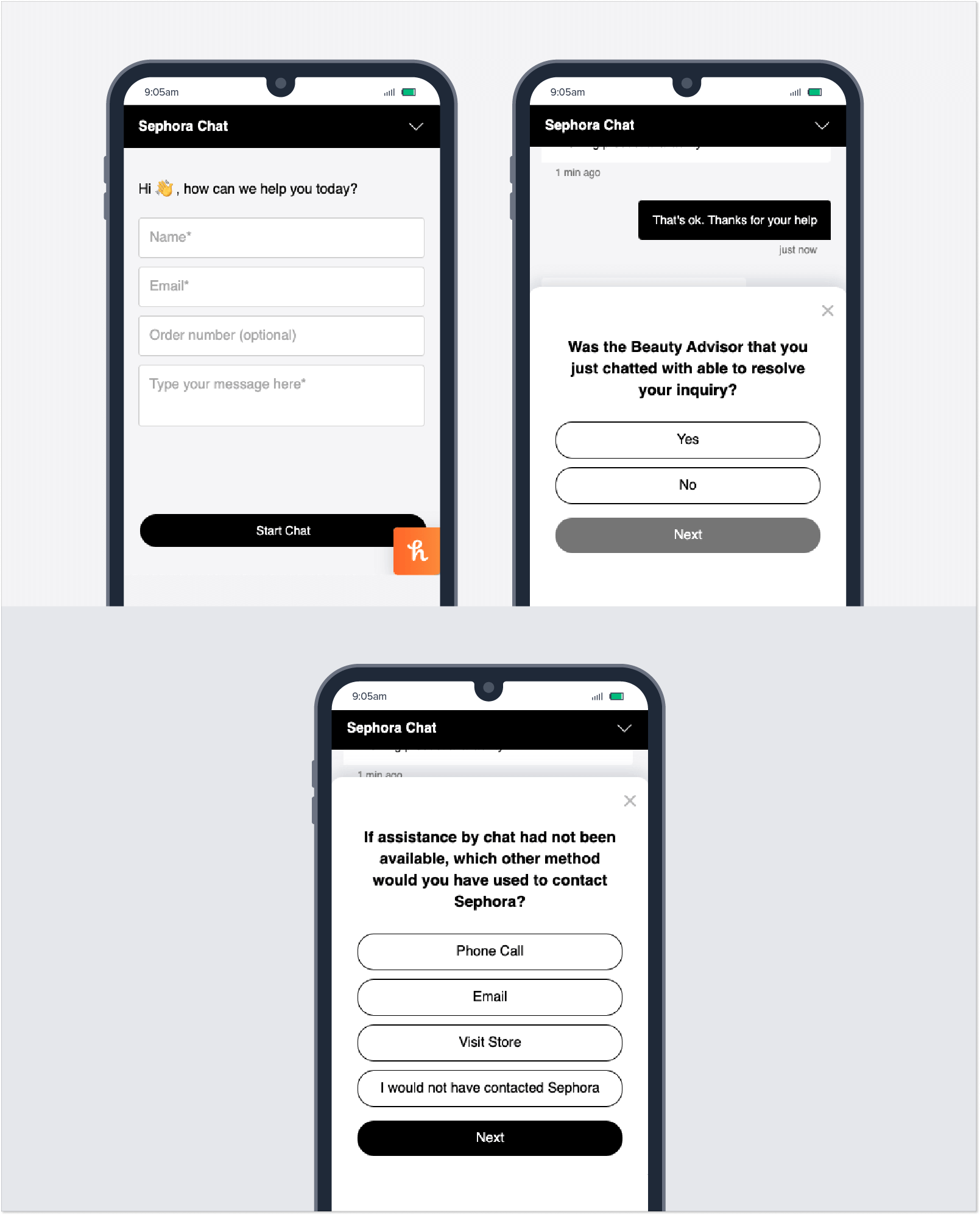 Windup
When building a customer engagement strategy, it's important to synchronize all your communication channels under one roof to ensure consistency. Once you have the customer data you need in one place, you can personalize interactions with clients and create messages they won't be able to ignore.
If you are now looking for the right tool for customer engagement, then HelpCrunch can be a great choice. It's an omnichannel platform that encompasses live chat, chatbot, knowledge base, popup editor, and more. With a strong tech background, you can increase customer engagement with ease.