Top 18 Chatbot Use Cases to Improve Your Business Performance
In this article, we introduce the most common chatbot use cases for businesses that you can adopt today. More leads, customers, and sales. Jump in!

Chatbots become regular virtual assistant tools that businesses across a variety of industries adopt. And you can't surprise your customers with a bot on your website or app anymore, but you surely can make them 'aw' with what your bot can do.
The question remains, "What is the best use of chatbots for business?" and most importantly, "How can you benefit from it?".
Simply put, there are hundreds of chatbot use cases that allow you to do practically anything you can imagine from answering FAQs to closing sales deals to chatting about the sense of living. But the most common is online customer service chatbot use case. In this article, we will focus mainly on that one.
So, how to work with the list introduced below? We suggest you go through each paragraph and focus on those that describe specific use cases that perfectly meet your current business needs. At the end of the piece, we will give a hint of what your next step should be 😉
To make things nice and clear, we decided to break down all the best chatbot use cases into two parts: main use cases and advanced ones. Usually, the capabilities of the tool depend on the types of chatbots, where rule-based bots perform basic and most common tasks, while AI and hybrid can be trusted with more complex processes.
Have a look and let's get started!
Main chatbot use cases
In this part, we will explore common use cases of chatbots. I bet, you are familiar with most of them, so now it's time to decide which you'd like to adopt at your company.
Because like it or not, a chatbot is the most rapidly expanding brand communication medium with a 24.9% growth. By integrating this solution into your business model now, you will not only benefit in many ways but also be much more prepared for the future in customer service.
In the majority of the examples below, I used a HelpCrunch chatbot builder which allowed me to easily design bot scripts and launch them immediately.
1. Around-the-clock support
This is the main chatbot use case as well as the first benefit of bots for consumers.
One of the reasons why businesses go for a chatbot solution is plain simple – they need some(one)thing to reply to users 24/7. This is not necessarily about solving issues (which of course is always desirable) but actually, letting visitors know that their question has been taken into account and would be answered ASAP.
Surely, an offline form can also do the trick and collect users' questions while you are out of the office. But what makes a chatbot special is a unique human-like conversation. It actually speaks to a visitor, asks questions, and reassures them that the issue will be solved shortly!
Here is an example of such a use case, isn't it cute?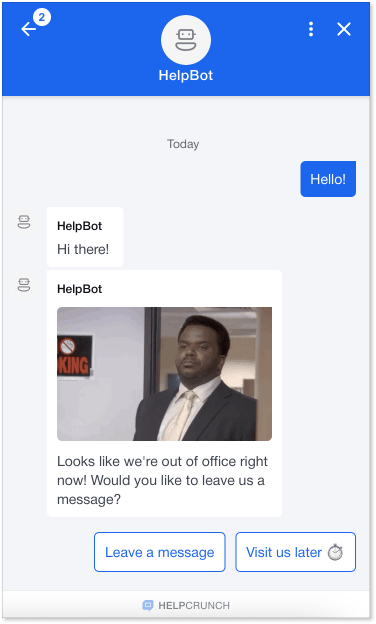 2. Speeding up customer service
The next example in our list of use cases for chatbots is speed 🏎️! This paragraph perfectly complements the previous one. Even when your team is online, it doesn't mean that they can reply to customer queries instantly. There can be lots of reasons for this from high ticket volume to simple human factors.
And while being online 24/7 is important, replying quickly is another thing that visitors appreciate. In fact, 90% of customers rate an "immediate" response as essential or very important when they have a customer service question. 60% of customers define "immediate" as 10 minutes or less.
Chatbots can solve this problem once and for all. The tool will reply to users immediately and provide them with the necessary information. 68% of visitors enjoy the speed at which chatbots answer. 
Check out the example below to see how HelpBot replies to customers.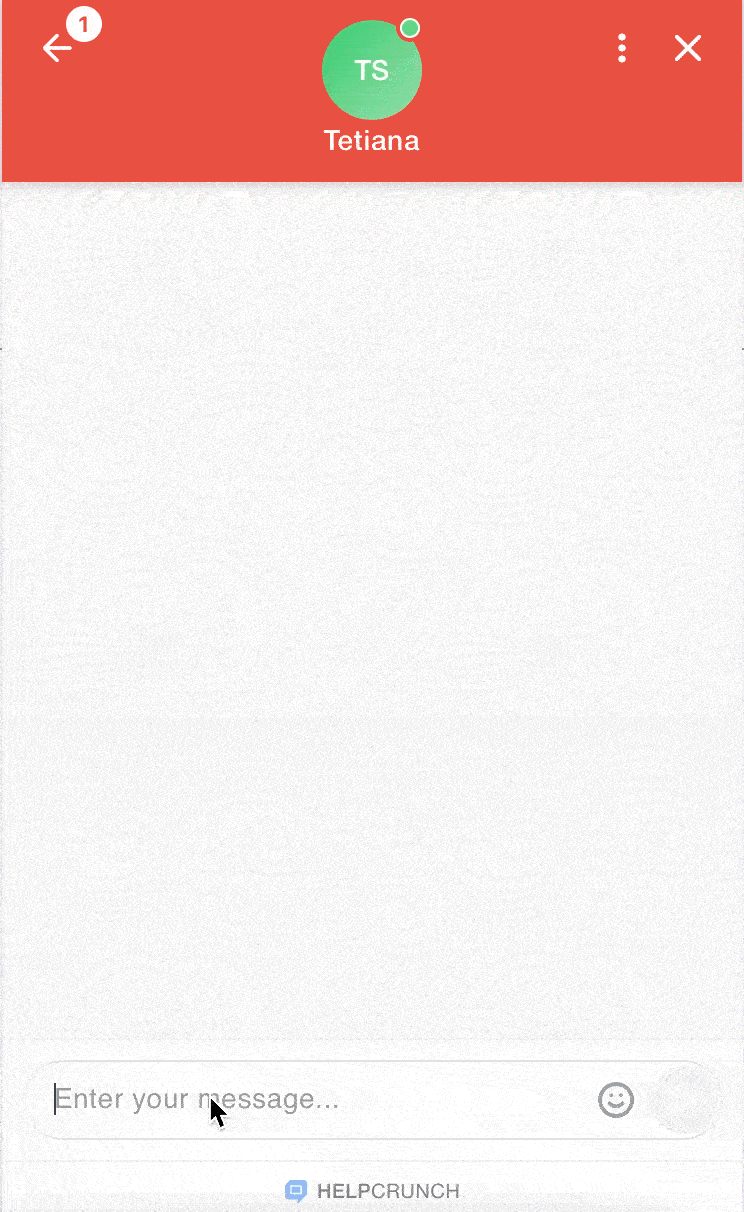 3. Answering FAQs
Another reason why companies adopt chatbot solutions is their capability to answer repetitive questions. If a bot could handle a part of your support team's tasks, they would be able to focus on more important queries and optimize their time.
So how many tasks can a bot actually solve successfully? Some studies suggest that chatbots can handle up to 69% of conversations. While this number might seem impossible, it certainly shows that these tools can give you a hand in a day-to-day job.
If you're eager to start right away, then here is a quick list of actions:
Collect all the frequently asked questions you get from users
Write simple short answers to each of these questions
Include links, images, gifs, and emojis to make answers more human and interactive
You are all set to launch your bot!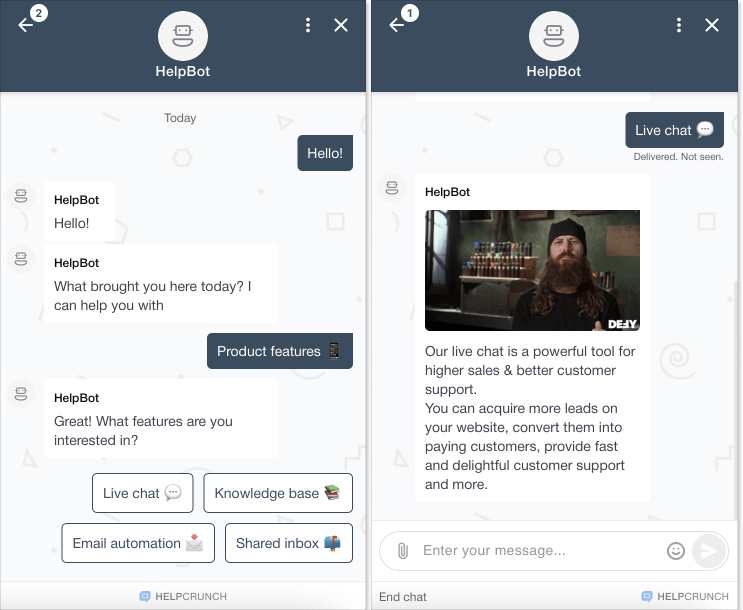 4. Engaging customers
Chatbots can be good customer engagement tools, as they are always there to chat and reply quickly to user queries. On top of that, they have up to a 40% response rate which is not bad.
Some bots can also greet visitors when they are scrolling through certain web pages. Imagine a user is looking at your product catalog and feels lost in the variety of options, it might be a good moment to send a "Hiya! Just remember, I am always ready to help :)" message.
Other scenarios might include a pricing page when a prospective client struggles to choose the best subscription plan for their specific case. A helping 'robotic' hand 🦾 can turn things in your favor and bring a new client.
Chatbots often send welcome messages once visitors land at a homepage or click a "chat with us" button. Check out this example from Santander bank below where the bot greets visitors and encourages them to start a conversation: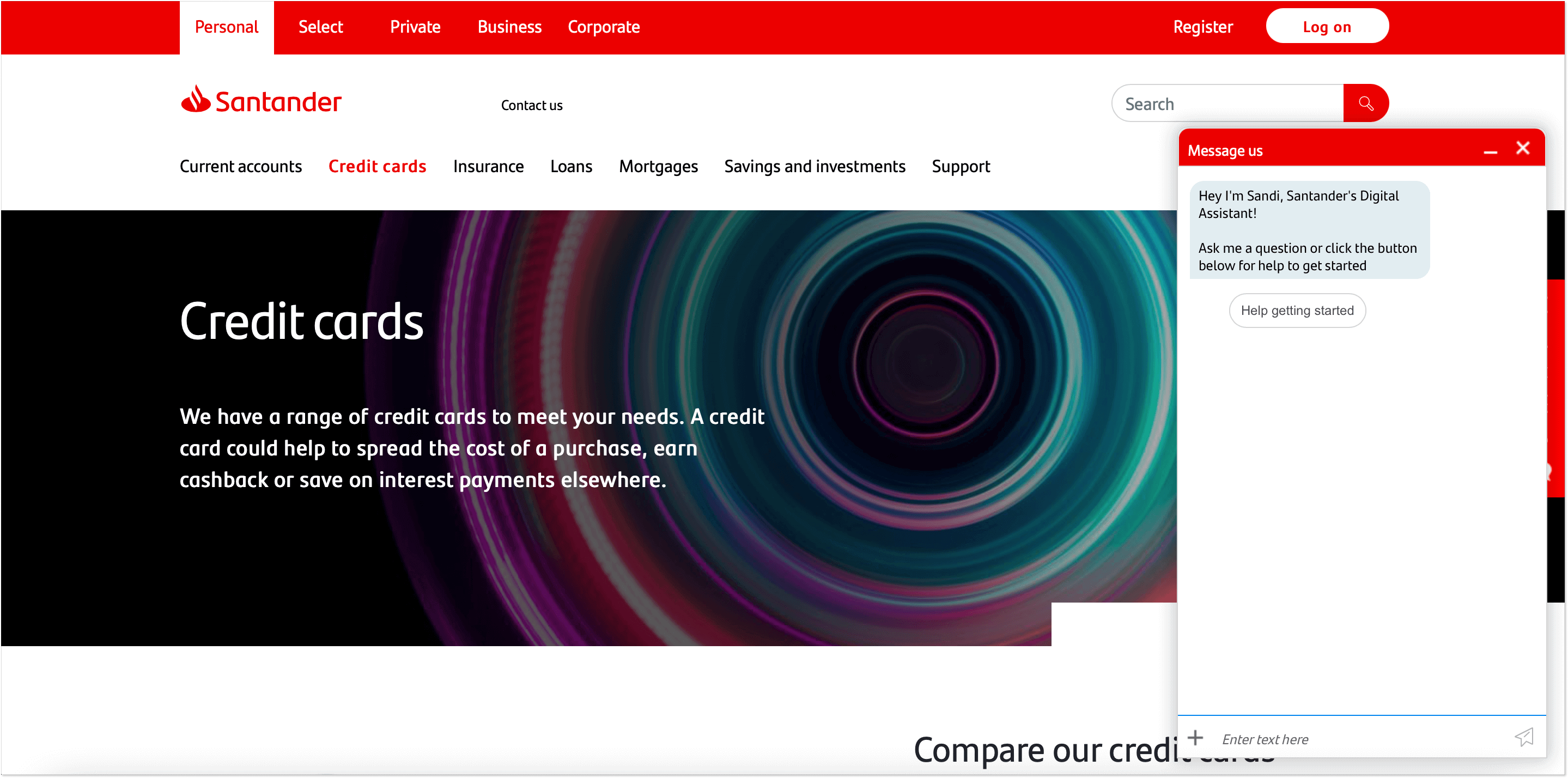 5. Qualifying leads
But most importantly, what every business strives for is to get more leads. Chatbots can help you with this task by simply asking prospective visitors a certain number of questions.
Depending on the answers, the bot will either add another lead to your database or save your managers' time chatting with someone who is not interested in a purchase.
Just recently we discussed this chatbot use case in our team and came to the conclusion that chatbots are much more effective for lead qualification than any other tools. In a conversational manner, they collect user details and pass them to live agents. Later you can follow up and schedule a demo/complete a sale process with this particular user.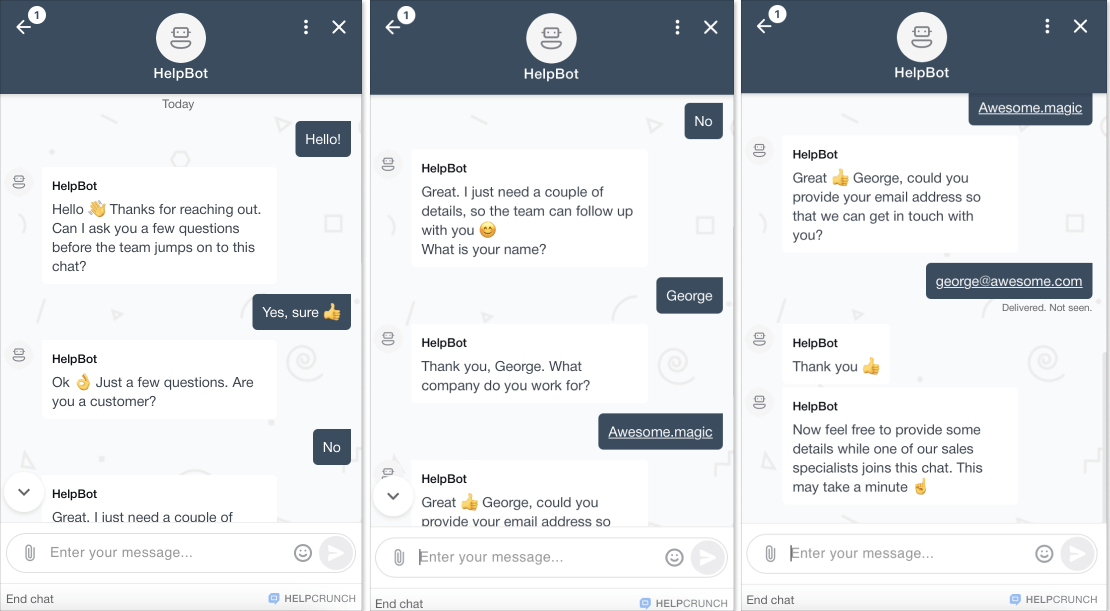 6. Collecting feedback from users
Customer feedback is a major driver of growth and improvement for any business. It highlights all the good and bad about your offer and user experience, that's why it's so vital to keep tracking it.
And yet, collecting feedback is usually a challenge because customers are not particularly responsive when you email them with a feedback request or a tedious online form.
One more way to ease this process is by asking for feedback via a chatbot. It's quick, casual, and feels like a part of a conversation. In fact, 36% of customers are willing to share their customer service experience, so give them an opportunity to do so with a chatbot.
The major benefit of the feedback collection chatbot use case is that the users aren't asked for their opinion out of the blue, but when they are already engaged in a conversation with your brand.
Another benefit is that chatbots can always offer attention to users no matter the time or day. In other words, it means greater accessibility to your feedback process. Imagine, a furious user who just wants to tell you everything that they think of you (well, it happens to every brand), just let them speak to your chatbot.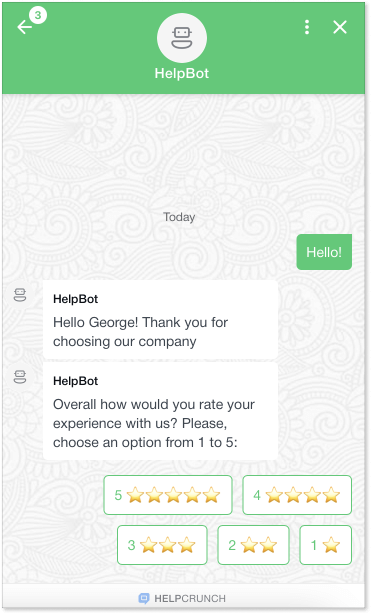 7. Sharing knowledge base articles
If you have already created a single repository of all important information about your company and the product, also known as the knowledge base, then make sure to use it when writing a chatbot conversation template.
Visitors usually turn to chatbots for help, and they might not be aware of your knowledge hub. So when they start asking questions like "how to make a refund" or "how do I change the password", let the chatbot guide them to appropriate helpful articles.
Or, you can just set up the tool to offer users this option from the very beginning of the conversation. And once they land at your knowledge base, they can search for the necessary article themselves by typing in keywords in the search bar.
Simply put, these are two self-service tools that enhance each other performance when working together.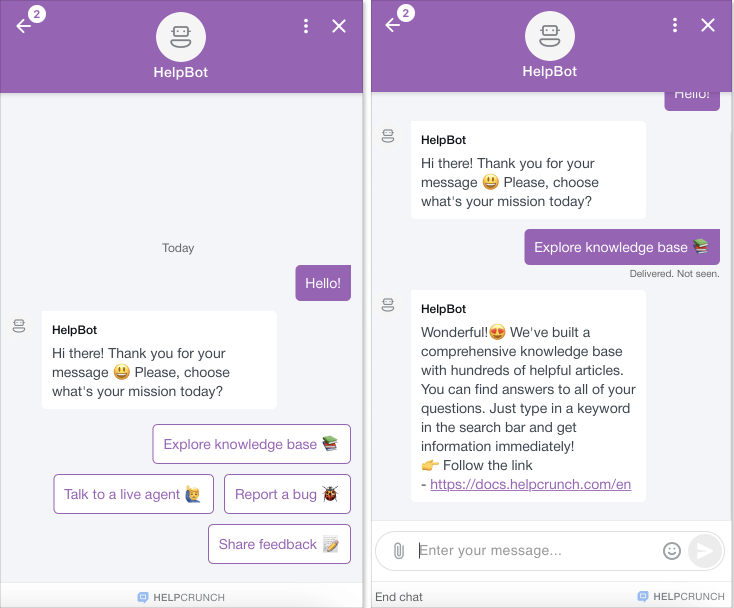 8. Offering a special discount
Let's talk sales finally! Chatbots are here not only to answer visitors' questions but also to help you increase your profit. One way they can do this is by offering special discounts to users. It might be particularly useful during the holiday season when all brands announce irresistible deals to clients.
If it's a proactive bot – the one that starts a conversation first – the tool can greet a newly arrived visitor on your website and let them know about the discount. Or, if you prefer your bot to suggest a special deal when a user is already willing to speak with your brand, then encourage prospective customers to use a promo code after they start a conversation first.
Wondering if a discount offer is such a strong sales booster? Then trust me, it is. In fact, 93% of U.S. shoppers cite discounts and offers as important factors when deciding whether to purchase from a retailer or brand.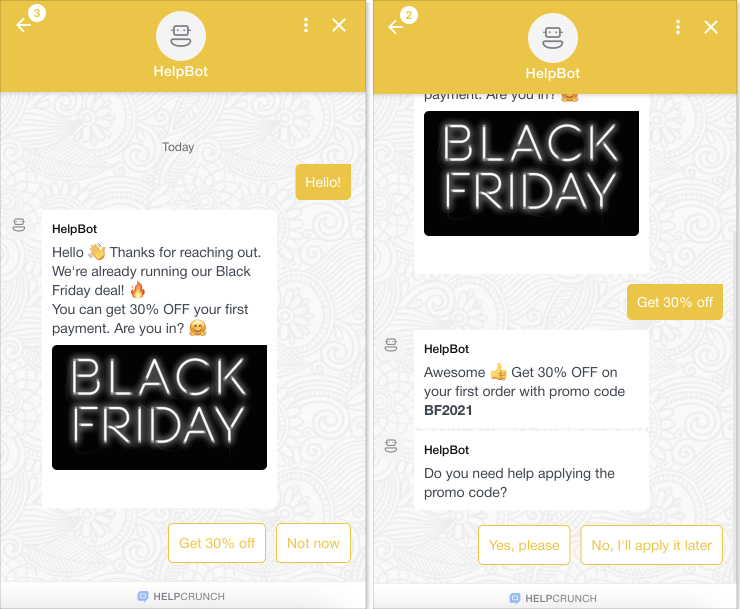 9. Directing users to the right live agents
Depending on the issue, a chatbot can serve as the first point of contact and help you route customer queries to the right departments. It's especially useful for companies that have two or more separate teams that communicate with clients directly but focus on different areas of the issues.
For instance, if a user has a technical problem, then connecting them to a tech support team right away could save you and your customers time. If a question is about the pricing plan – the sales department would jump on it to advise and try to close the deal.
In this chatbot usage, the tool will greet a visitor and offer a number of options, asking what department they want to contact. Think of it like your register desk 🙂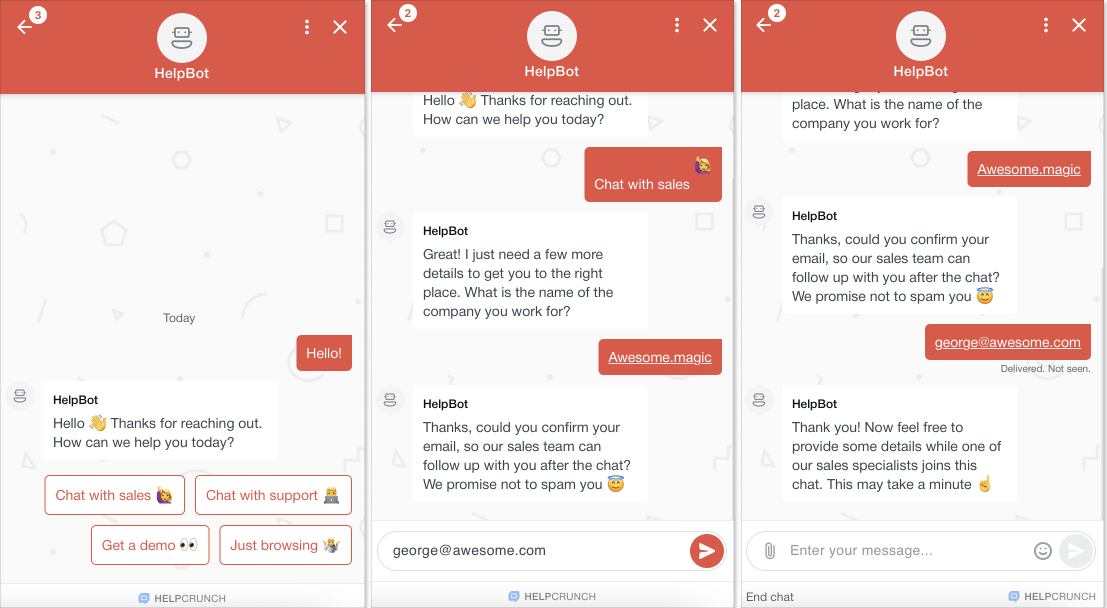 10. Product recommendations
Another way to use chatbots is to adjust them to make product recommendations. Of course, the capabilities of the tool depend a lot on the type of chatbot you choose, if it's rule-based, AI, or hybrid. I must say rule-based bots are much more affordable and easy to build. And, as of now, only 23% of customer service companies are using AI chatbots.
So let me show you a quick example of how decision-tree chatbots can make product recommendations and help users choose the right offer!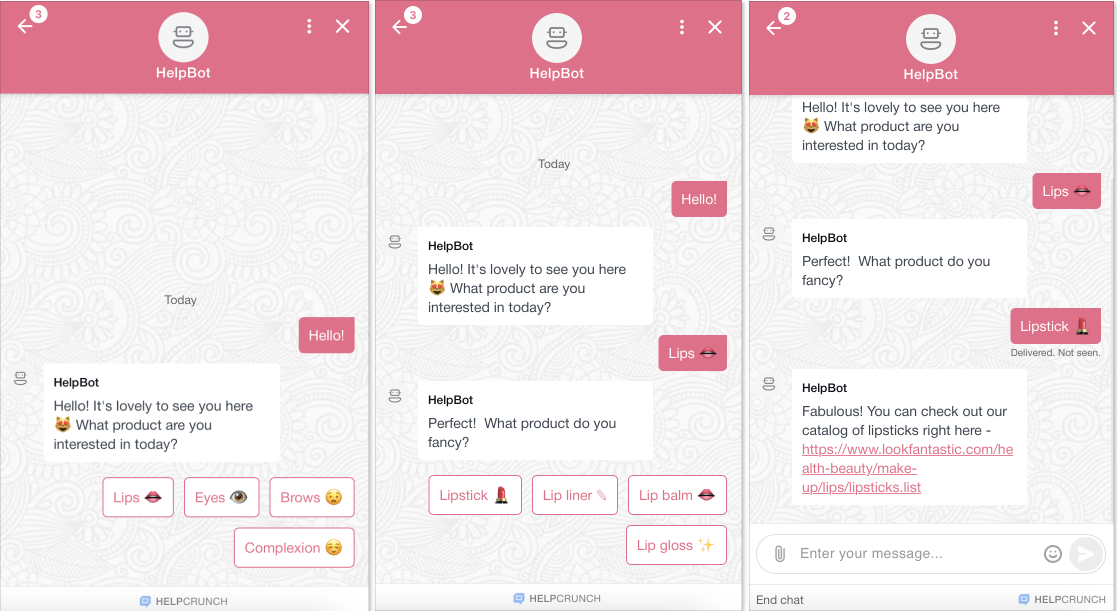 If you want your bot to provide more specific recommendations, then add more messages to your bot script, where the tool asks users to choose a brand, color, and texture. After that, the bot can make a personalized recommendation to this specific customer. Isn't it cool? 😎
11. Support inside the mobile app
Automated customer support in a mobile application is another chatbot scenario that you might want to check out. If your company offers the app, then a virtual assistant there can really come in handy.
And customers really do use apps to contact the brand, in fact, 82% of respondents do that. Obviously, not all of them use native brands' apps, some prefer social media applications to reach out to customer service (more on that in a moment).
For those, who decide to build a chatbot with the HelpCrunch platform, here is an example of how you can add your bot to iOS and Android mobile applications. Have a look, it's easy and doesn't require any additional programming.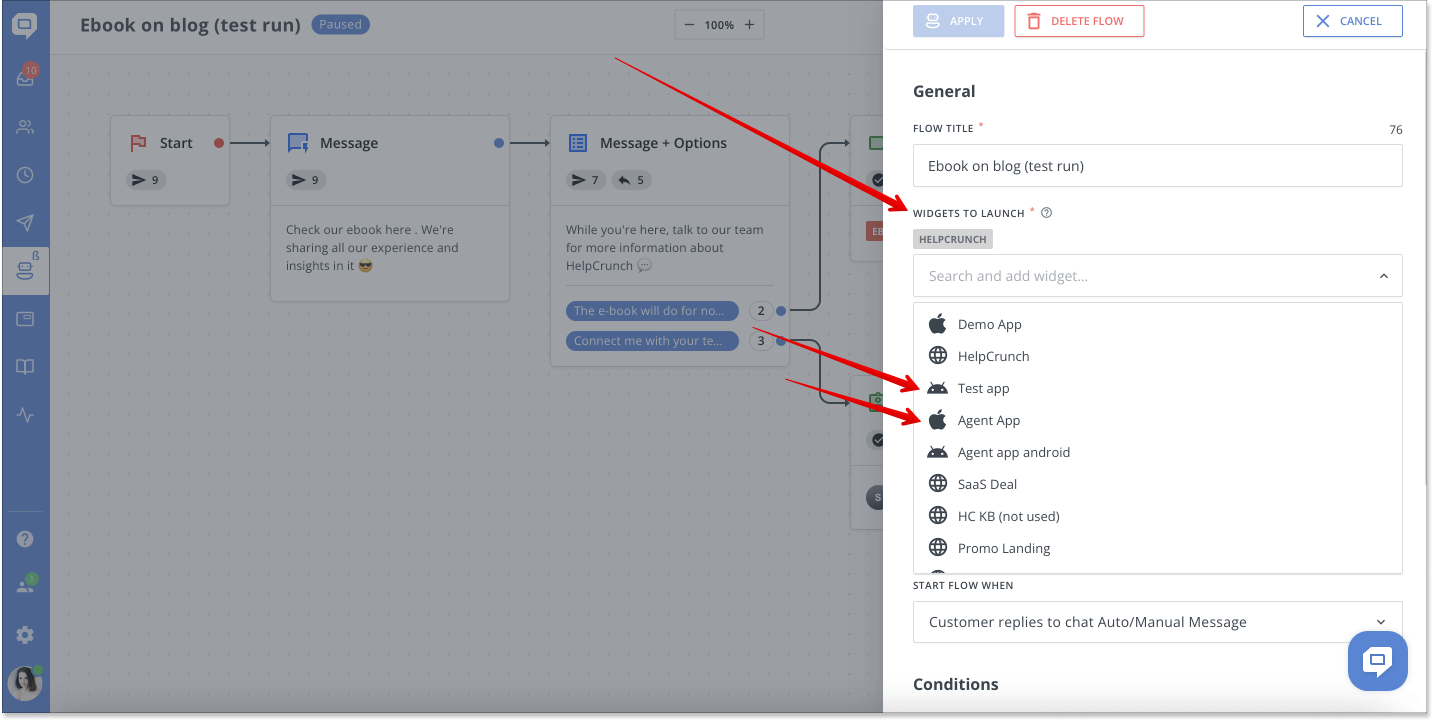 In turn, HelpCrunch chatbot in a mobile app can:
Request user data
Provide options to choose from
Assign/reassign chats
Tag users
Qualify leads
Collect data about issues upfront and much more.
12. Communicating with customers on social media
Recent research showed that 31% of customers turn to social media to make pre-sales inquiries. The question is 'will you be there to quickly respond to your visitors' messages?' A chatbot can easily solve this problem and recommend the right solution or collect details for further follow-up.
Another study also proves that users spend more money – from 20 to 40% – with companies that respond to customer service requests on social media. So here we can make just one conclusion, adding a chatbot to your social media accounts can be as effective (if not more) as adding it to your website.
Here is an example of a chatbot in Facebook Messenger: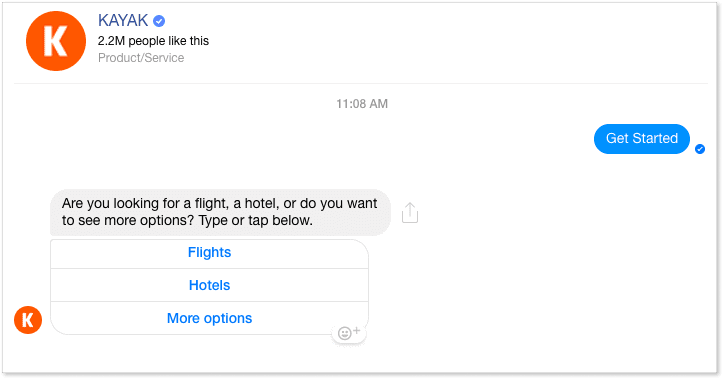 Advanced chatbots use cases
Even though these are hardly must-have chatbot features and rather suit big companies with a wide range of needs, we still couldn't avoid mentioning them in our article as well.
So, what about advanced uses of chatbots?
13. Booking appointments
This use case can be beneficial for those who want their bot to schedule demo calls, beauty visits, doctor appointments, or make reservations. So if you are doing a lot of booking/scheduling when interacting with users, think about taking this repetitive work from your support team's shoulders and placing it on the chatbot's.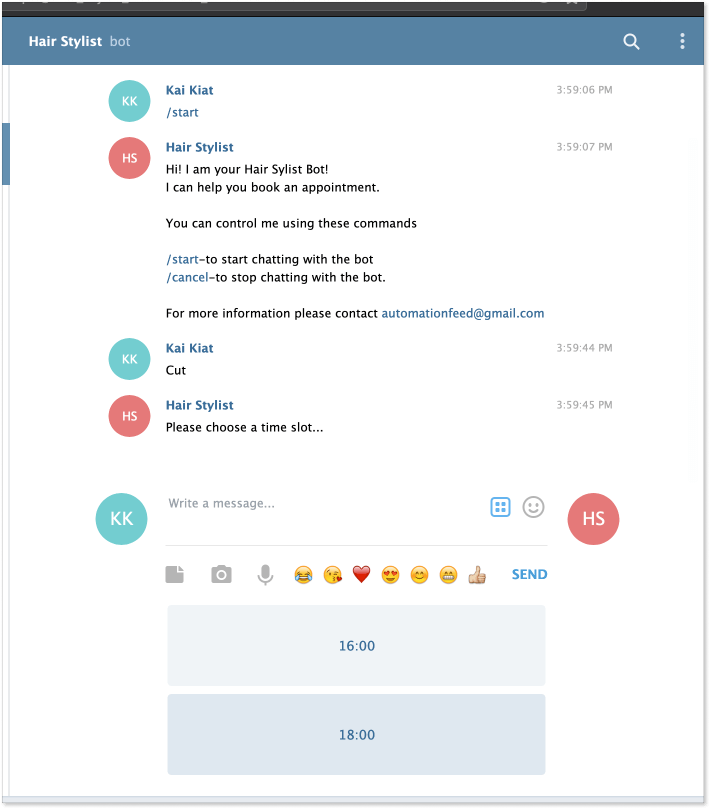 14. Delivery tracking
Here we come to talk about another chatbot practice that allows customers to track their ordered delivery progress independently with the help of a bot.
If you have ever ordered anything online and waited impatiently for the product to arrive on time, then you know how important the delivery tracking feature is. Of course, users can do that elsewhere, but chatbots make the whole experience more interactive and fun.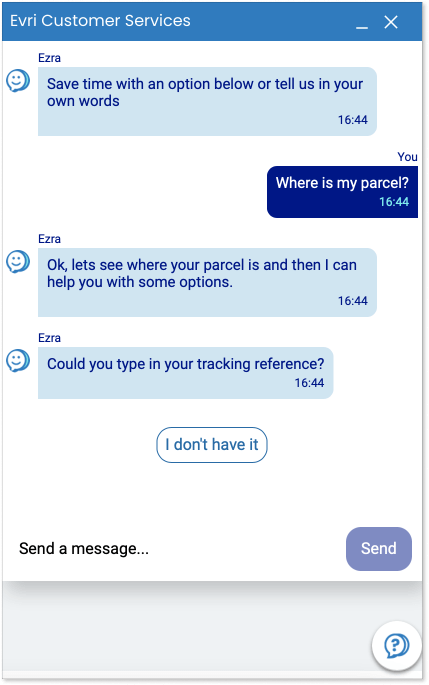 15. Refunding and returning
Some smart chatbots can handle the full returns and refund processes including the issue qualification, logistics, and tracking. If you work in a sector where refunds/returns often happen, this feature can save your customer services team valuable time and let them focus their efforts on more important tasks.
Look at the example below. Lufthansa chatbot can help customers with a number of queries, including refund requests:
16. Placing orders online
AI chatbots can help your customers place orders and process payments. It's a valuable functionality that can boost sales and improve the overall customer experience.
For example, in 2017, Starbucks introduced its virtual assistant that can process incoming orders through a new messaging interface in the Starbucks app. The chatbot is capable of confirming the user's order, and location, and helping to process the payment, as well.
17. Upselling
Another chatbot application can automate your upselling process. Just set up your smart bot to offer similar or complementary products when a customer is completing the purchase. If they feel like adding items to their order, the bot will use this opportunity and upsell.
The major difference between a chatbot's upselling attempt and a live agent's is that in a first-case scenario, a client doesn't feel any pressure. They can take their time to think and make a decision.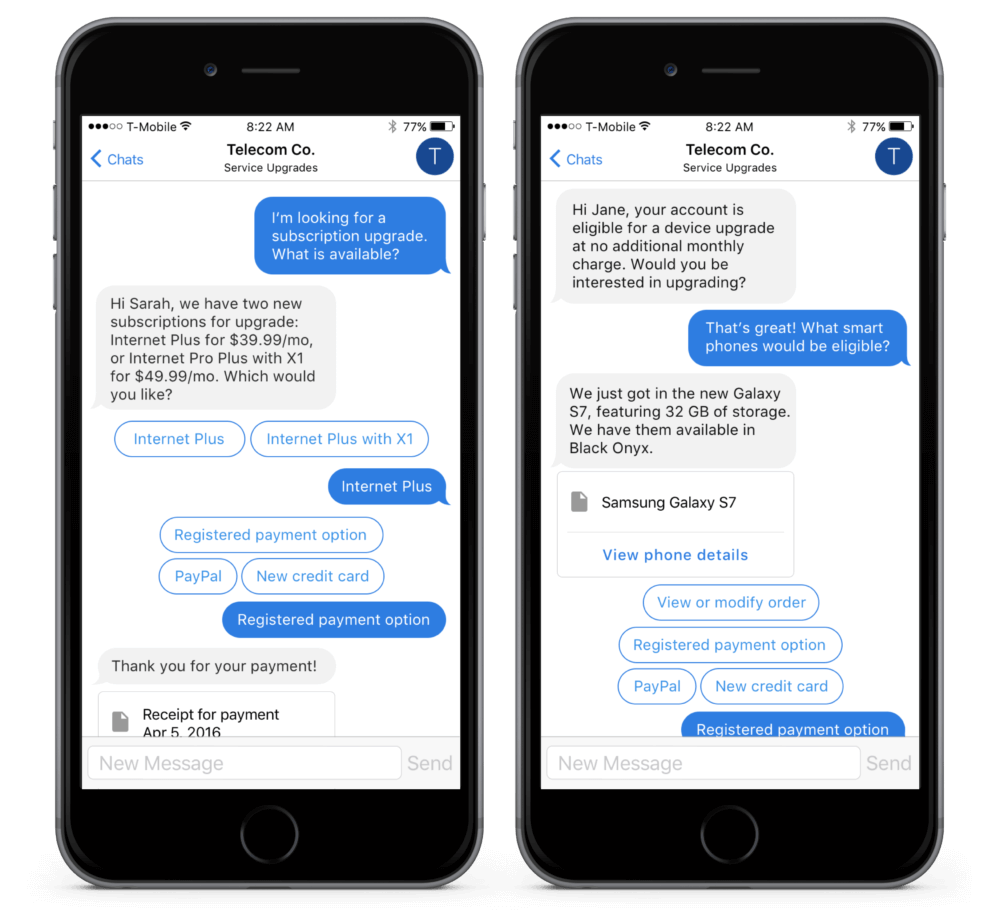 18. Re-engaging customers with abandoned carts
When shopping, users tend to leave after adding a few items to their basket, and it's one of the most painful feelings of all. A new sale is almost in your pocket, and yet a user slipped through your fingers. In fact, about 70% of shoppers abandon their carts.
A chatbot can prevent it from happening (or, at least, try to do so) by reminding visitors about the products in the cart and offering a discount coupon. It is an effective way to reach those who have expressed an interest in your company or brand.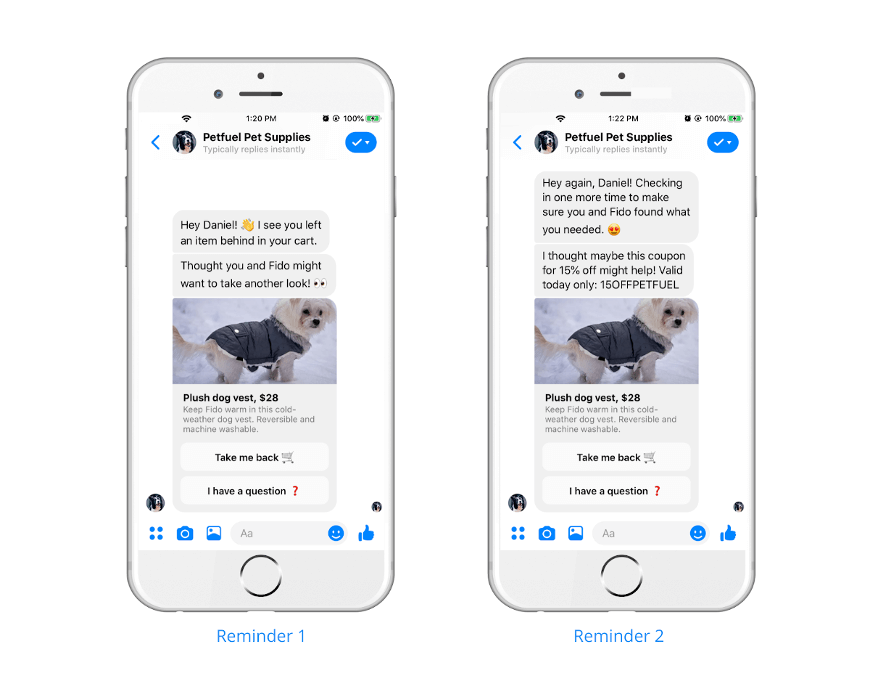 The bottom line
Basically, the number of chatbot use cases is infinite. Depending on your business industry, needs, and tool features, you can always experiment and come up with innovative chatbot ideas. In this article, we introduced the most common chatbot use cases.
Well, it's time to keep my promise and reveal what your next step should be. If you are ready to begin your chatbot adventure and offer better customer service, take a HelpCrunch platform for a spin. The tool offers more than just a chatbot, but also live chat, knowledge base, and social media integrations – all you need for high-quality customer support under one roof. Two weeks of free usage. No credit card details are required.