First, let's start with a backgrounder. In 2022, we successfully launched the omnichannel widget with your favorite social media channels inside – Instagram, Viber, Telegram, and Facebook Messenger. Your website visitors can now choose their preferred way of contacting you.
After that, we gave it one hundred and ten percent so that our customers could experience the updated, ultracool, and more intuitive…HelpCrunch Widget: Remastered! 👏
What's changed in the HelpCrunch chat widget?
Widget overall appearance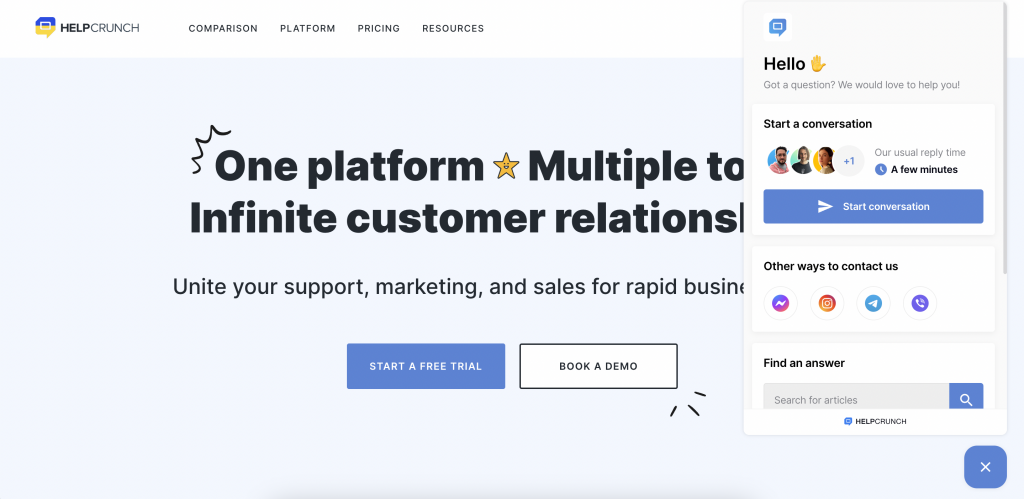 Before we dive deeper into this 2023 upgrade, just look at our improved widget's appearance. It's more user-friendly, easy-to-navigate, and faster. We tried to keep up with the times and bring you an awesome means of communication with your website visitors.
To play around with the refreshed widget, go to Settings → Channels → Website widgets → widget customization. Tell us what you think of the remastered design!
Start screen
One thing to note: this is not something we've created from scratch. In the 3rd version of the HelpCrunch widget, we added the Start screen to the widget customization routine and rethought its overall layout.
You can still choose what elements (aka modules and blocks) to show on it online and offline: new/current conversations, knowledge base, and messengers.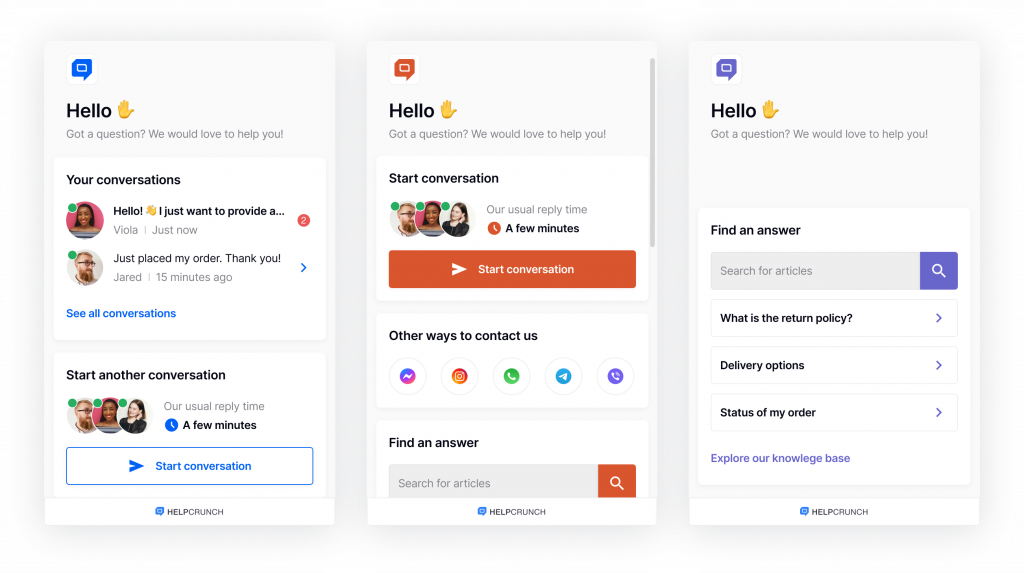 All the blocks can be easily turned on/off and shuffled in the Widget widgets → Widget customization → Start screen. This way, you can decide what element you would like to see on the start screen this very moment: all three of them, just the knowledge base, or messengers and the chat window – the possibilities are miscellaneous!
Widget button
We've also changed the way our widget button is shown. As of now, the chat widget is hovering over the widget button. Plus, you can notice its refreshed style: it's up-to-date and seems more in line with the HelpCrunch remastered identity.
Knowledge base field
Now, you are able to start a new conversation with a customer from the knowledge base search results in the chat widget.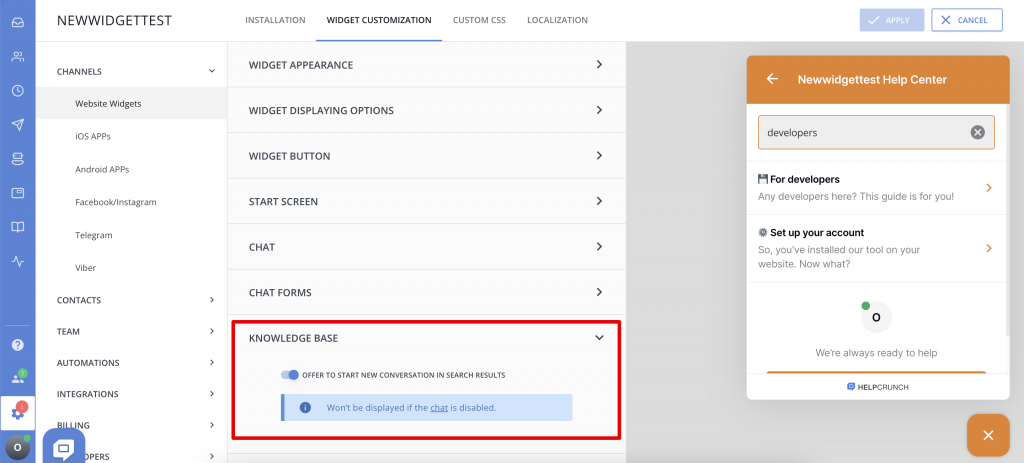 How to update your existing widget to the remastered one?
Note! If you registered to HelpCrunch after February 2, 2023, you have access to the remastered widget ONLY.
If you're an already existing HelpCrunch user, we recommend you update your widget as soon as possible because the outdated version will lose its functionality and support soon. All your settings, chats, and customer data will sync with the current updated version.
The whole trick is in changing the old code snippet of the chat widget to the new one. This can be done in several simple steps:
Log into your HelpCrunch account;
Find Settings → Channels → Website widgets and choose the widget you would like to refresh.
In the Installation section, choose your installation guide and copy the code snippet from the HTML box.
Remove the old code snippet from your website and paste the one you've just copied.
You're all set! Enjoy the newly updated HelpCrunch widget on your website.
Read Also
Give a warm welcome to our first AI-powered feature, the AI Editor for Inbox. This tool will allow you to speed up communication with users and make it more enjoyable. Experience the power of the AI Editor at no additional cost.
WhatsApp gets finally integrated with HelpCrunch! Connect your business phone number to HelpCrunch and handle all the correspondence in a dedicated inbox. Check out the step-by-step instructions on how you can implement it!
Would you like to have more power over your department performance? With the newly launched HelpCrunch Department reports, you can do that hands down. Dive in to unveil every inch of this feature.