Have you noticed and tried the biggest addition to HelpCrunch yet? Yeah, I'm talking about that little 'book' icon in the main menu.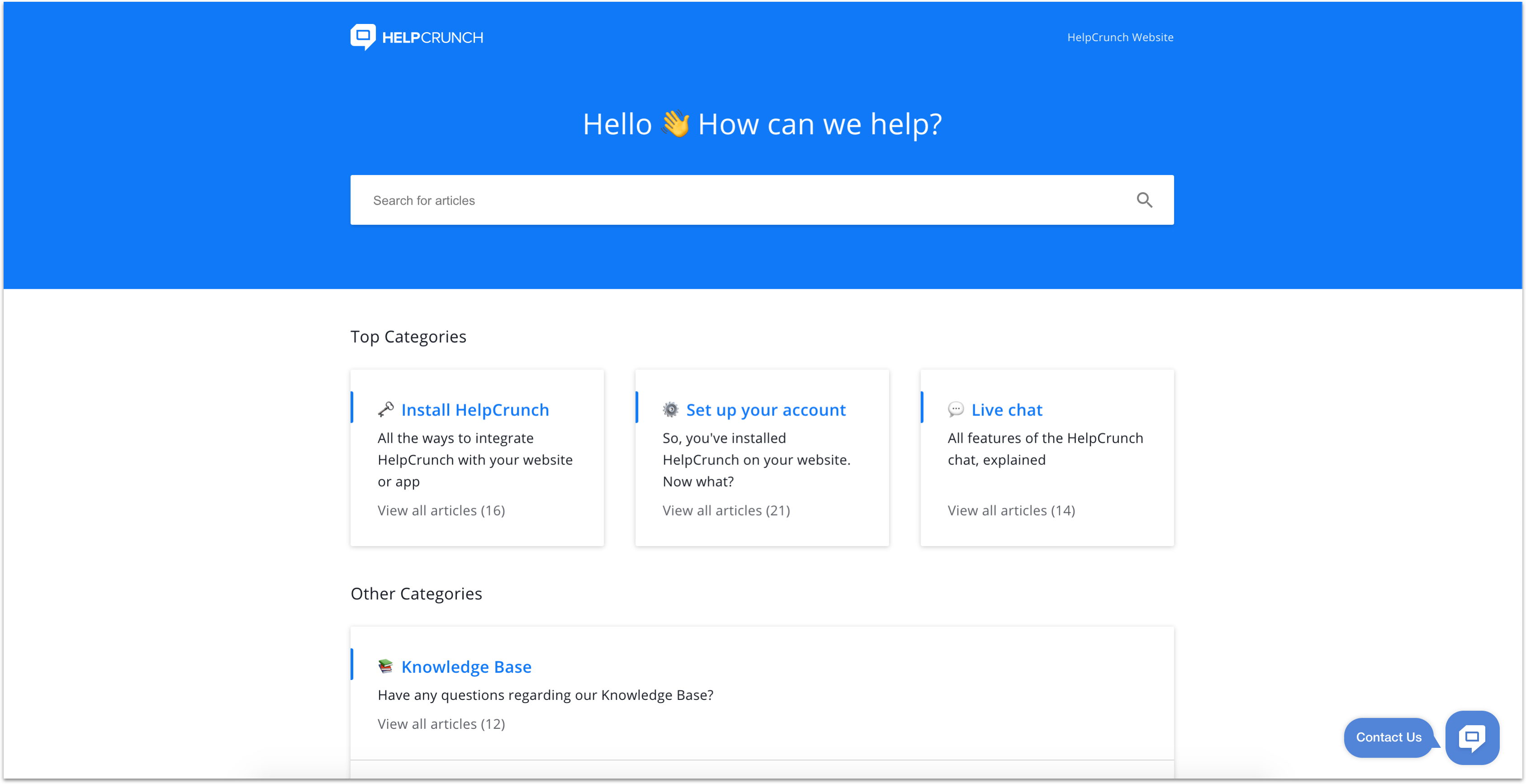 (What you see in this image is our own Knowledge Base portal. We're still in the middle of transferring it from the old system we had been using up until now. So, we're kind of in the same boat here.)
But that is not the only news of course, we have some awesome stuff to share with you. Take a look at some of the latest news and updates to HelpCrunch:
Knowledge Base
Since the release, we haven't stopped working on our Knowledge Base, adding new features to it, and collecting your feedback in between.
1. Knowledge Base reports
You can now see how your Knowledge Base articles perform and satisfy customers' needs. There are two types of reports available at the moment:
'Articles to review' — basically, all the articles that got rated as 'unsatisfactory' by your readers. This way, you'll know which of them need some improvement.
'Failed searches' — a list of terms that your customers tried to search and didn't find any results for. This will give you some ideas for new articles.
We've also added 7 smaller updates based on your requests (which are all great by the way and we thank every single one of you for sharing your feedback):
2. The 'Back' button
You can now exit the text editor by simply clicking the 'Back' button. It wasn't there before, but now it is. And it's all very convenient.
3. Deleting images from the Knowledge Base settings
We've expanded some of our Knowledge Base settings. You can now delete any images you've uploaded as your logo, favicon, header, or social image by simply clicking the corresponding icon. The icon becomes visible on mouse hover.
4. Embedding videos
One video is worth a thousand words. We've added the ability to embed YouTube and Vimeo videos on your Knowledge Base articles. You can do so by simply inserting their links or codes.
The cool part is, you will instantly see the embedded video as it is in both the text editor and in the article preview. True WYSIWYG (What You See is What You Get) experience in editing articles!
5. Code samples, tables
You can enhance your Knowledge Base article with elements like code snippets and tables to make them more structured and digestible.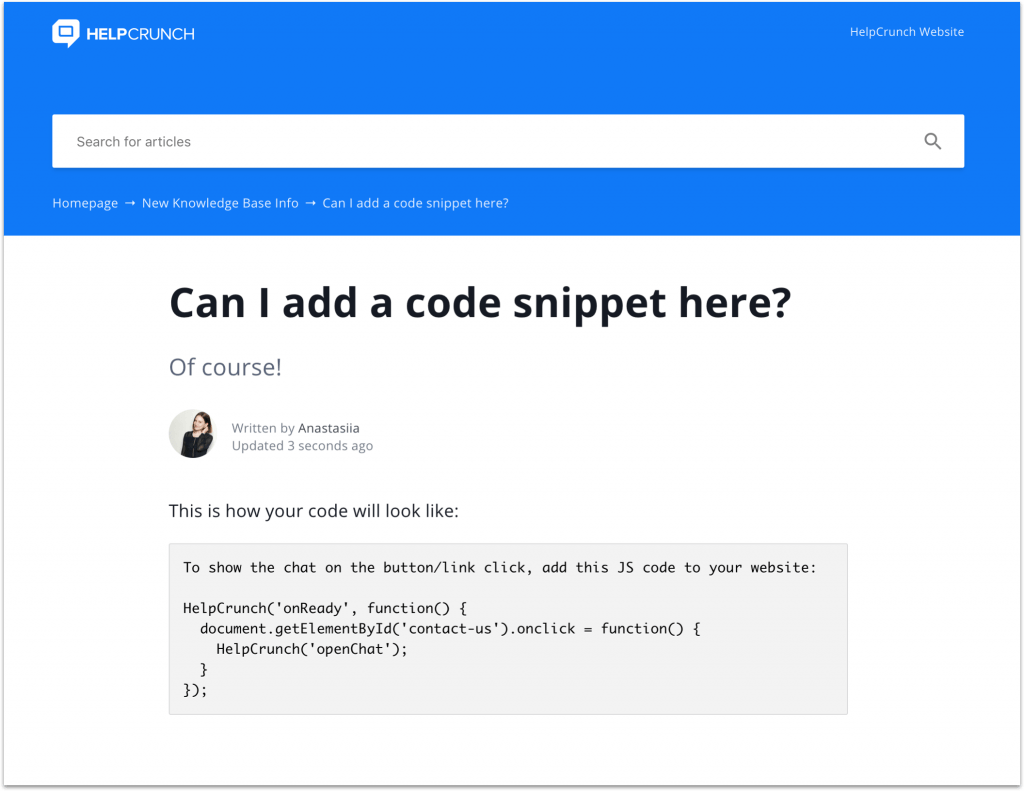 6. Searching for articles in the Knowledge Base dashboard
Upon the very first version of our Knowledge Base, visitors and readers could easily find an article they need with the help of the quick search. You can do so, too. We've added the quick search field to your Knowledge Base dashboard, so now you can simply type a couple of keywords and find a required article.

Chat widget
We've always prided ourselves in chat customization options we offer. But we also keep challenging ourselves and pushing the limits.
Recently, we've added yet another chat button customization feature. You can upload any image you want (such as your agent avatar or favorite customer service meme) instead of our standard icons.
Moreover, you can automatically show agents' avatars instead of a chat button for all open conversations. If you choose to turn this option on, your customer will see the avatar of the agent they had their last conversation with.
If new visitors have no open conversations at all, they'll simply see your standard widget button. You can enable this option by checking the field called 'Agent avatars in conversations' in Settings -> Website Widgets -> 'Your widget' -> Widget customization.
Agent chat
1. Message sneak peek
We've updated our typing insight with the 'message sneak peek' feature — and your live chat agents will definitely appreciate and enjoy it.
They can see what your customers are typing in real time before they'll even send their message. This will save your team a lot of time and allow them to prepare their answers faster.
Your live chat team can enable this feature in the 'My Account' settings. Just remember to use it carefully so that your customers don't bust you on spying on them 😉 If you respond before they even click the 'send' button, it may seem scary and confusing. Write your responses in advance, but send them as your conversation goes (meanwhile, you can respond to another chat)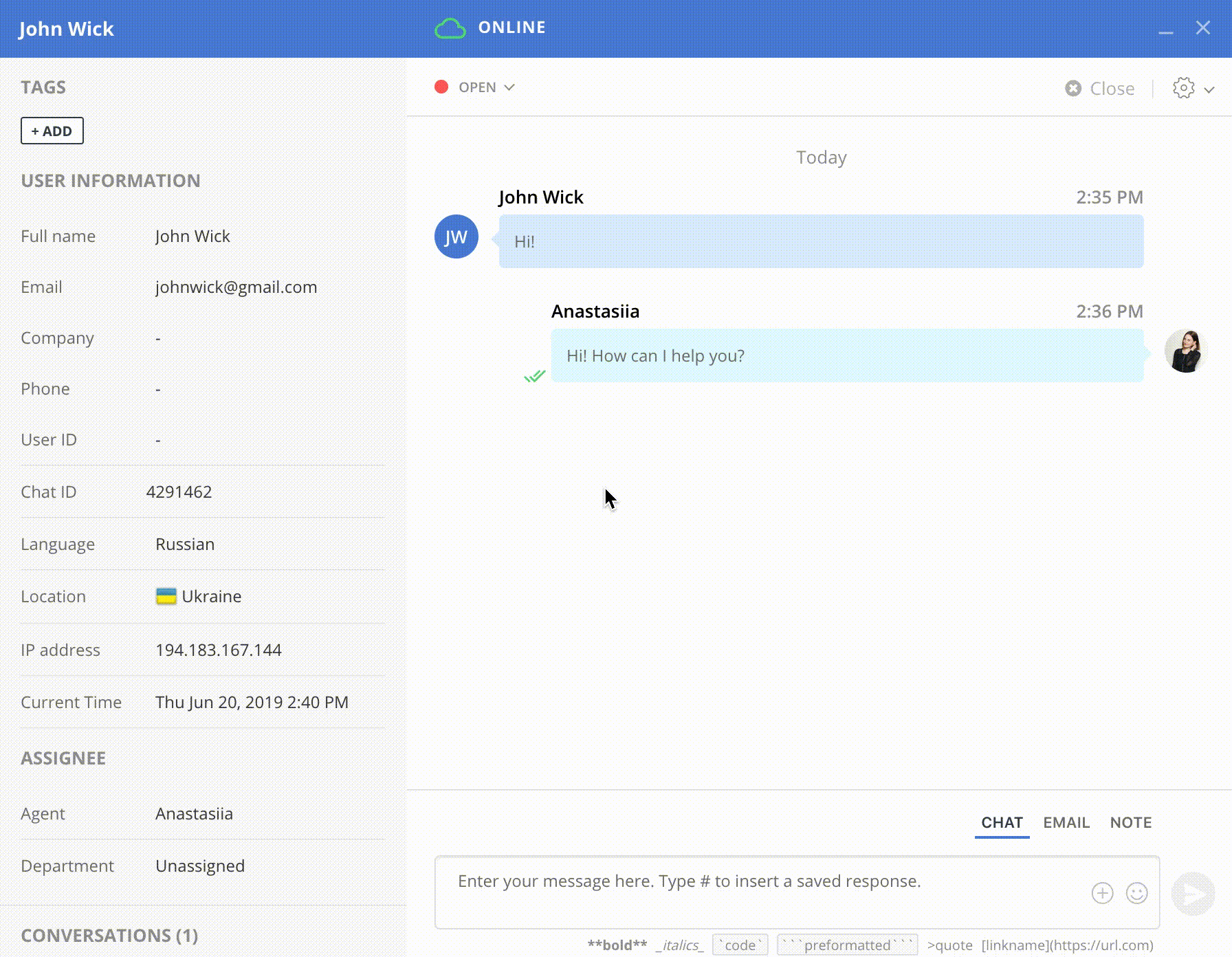 2. Chat note editor
Your chat notes can now look as beautiful as spring flowers ?
We've created a chat notes editor and now you can highlight your chat notes content in bold or italics, underline some parts of it as well as add lists and emojis.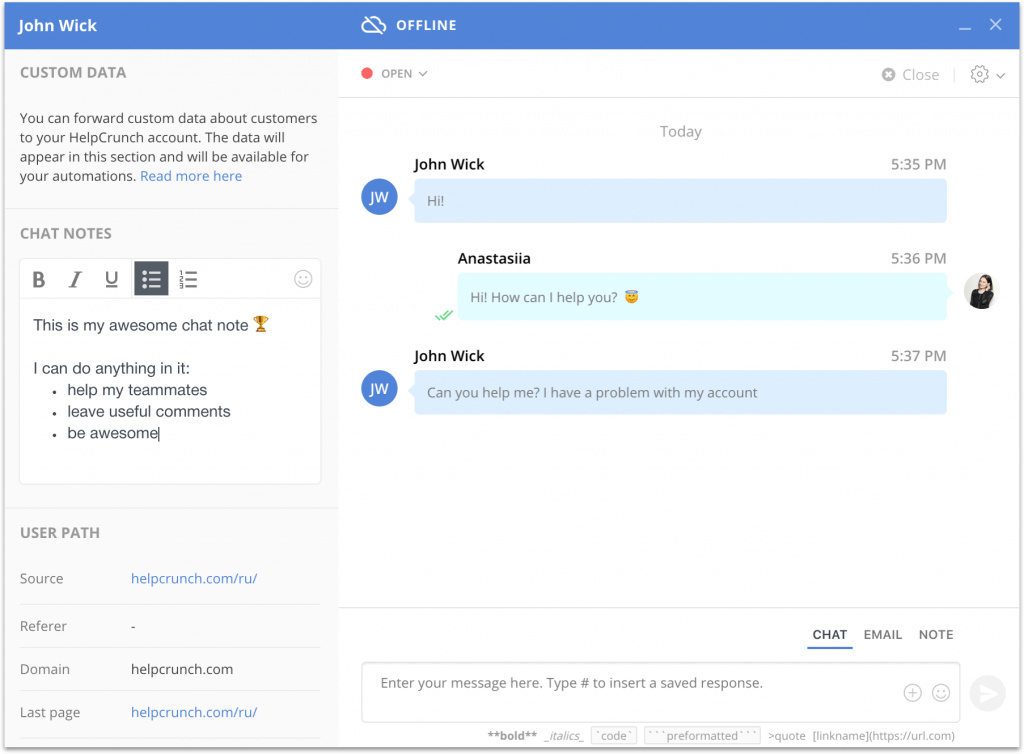 3. Online indicator for transferring chats from one agent to another.
Now, when you're transferring a chat from one agent to another, you'll see which members of your team are online at the moment. This is way faster than constantly asking in Slack who's available and can take in a conversation.
4. Copying User ID and Chat ID
You can now copy User ID and Chat ID in a single click. The 'copy' icon will appear near the corresponding field on mouse hover.
Service
1. 'Is unknown' criteria for advanced search
This is one of my favorites (except for the whole Knowledge Base deal of course). So, we've added this new option to all of the boolean criteria which is called 'is unknown'.
QUICK NOTE
A boolean data type is a data type that has one of two possible values (usually denoted true and false), intended to represent the two truth values of logic.
With its help, you can still include all the contacts that don't belong to either of the two categories (true/false) to your manual or auto message campaigns.
Let's say you want to find all the contacts that had any previous chats with you. For this, you need to choose the 'Has communication -> is true' criteria. Alternatively, if you need to exclude them from your search, then choose the 'Has communication -> is false' criteria.
But what if there are contacts that don't have this data specified for them at all? If you want to identify those contacts, your criteria should be 'Has communication -> is unknown'.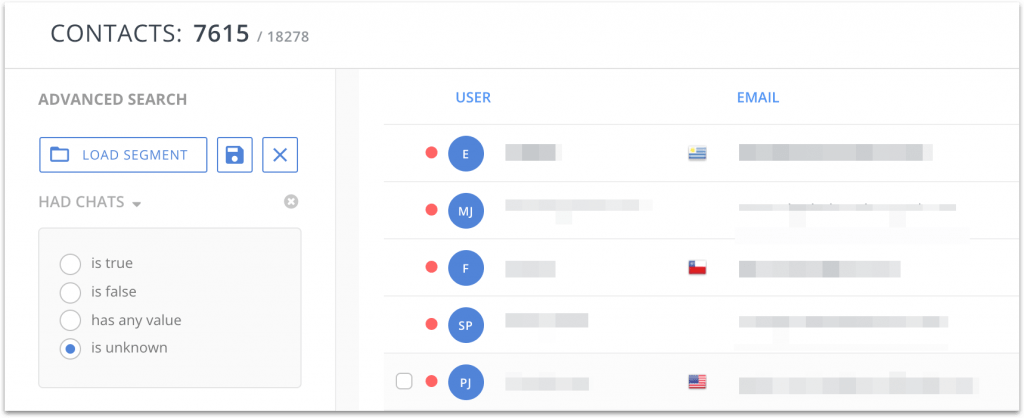 These criteria are applicable in all tables — Contacts, Manual Messages, and Auto Messages.
2. New media uploader
HelpCrunch users can drag and drop any image or gif with the help of our new powerful media uploader. It allows you to crop images on the fly, uploading images right from your mobile phone as well as from Facebook, Instagram, Google Drive and so on.
3. Last message on mouse hover
So, it was like this, If you'd enabled the 'last message' column in All Chats or My Chats, you could only see the first 30 something characters of it. Now, it's possible to preview the entire message by hovering your mouse over it.
Settings
1. Choosing which chats are 'My chats'
Each of your support agents can choose which chats are going to land in their 'My chats' section — those they're assigned to, those with their messages in them, or both. This option is available in the 'My Account' settings.
2. Sending chat transcript to your customers automatically
If you think that all of your customers should receive detailed chat transcripts at the end of each conversation, nothing can be easier. Just enable this option by checking the corresponding checkbox in Settings -> Messages & Email.
But remember that when you do, ALL of your customers will ALWAYS receive chat transcripts when their chats are closed.
3. Disabling chat sounds
Annoyed with the sound you hear whenever someone leaves you a message? Just disable it in Settings -> Website Widget -> 'Your widget' -> Widget customization. You'll find the checkbox at the bottom of the 'Chat appearance' section.
Auto Messages (and Popups)
When setting up a new proactive chat or a popup, you can use the new 'does not contain' rule for string data. When choosing such criteria, you will then need to manually type the words or numbers that you want to exclude from your rules.QUICK NOTE
A string is traditionally a sequence of characters, either as a literal constant or as some kind of variable.
Let's say you want to hide your proactive chat from all the blog pages you have. In this case, your rule should be 'Current page URL -> Does not contain -> https:/yourwebsite.com/blog'.
We've also added OS, Platform and Rating rules to popups.
API
First of all, we fully support a SPA (single page app) in our JS API now.
Secondly, our REST API now offers the ability to pull user info in bulk, which will come in handy if you need to update customer data from your third-party database/CRM on a regular basis.
Bottom line
You might have noticed that we've put all our efforts to build our brand new Knowledge Base. It was our top priority for the last couple of months. And we're still collecting your feedback about it for further improvements. So go ahead and share it!
Now, what do you think about our latest updates? Which update have you been waiting for the most?
Read Also
HelpCrunch and Viber integration is finally up and running! See how to set everything up and provide your clients with yet another communication channel they enjoy.
Learn how to create a custom email domain with HelpCrunch and start communicating with customers showing your one-of-a-kind brand's voice.
Create your own HelpCrunch chatbot to improve automation, boost sales, and speed up customer support. Use a simple code-free editor and start enjoying the benefits of a chatbot today.