Zendesk Pricing, Finally Explained
Zendesk pricing is super complicated with its plans and overpriced hidden features. We decided to figure it out once and for all.

Zendesk is a veteran in the field of customer service software. Founded over 10 years ago, it used to be one of the best solutions for support ticketing. It's still a choice of some huge enterprises but it is not that good for small and medium-sized businesses.
So, what's the problem with Zendesk? In short, it's old-tech, too expensive, and has poor customer support. Those entrepreneurs who realize this, start searching for other solutions. Consequently, the interest in Zendesk has been steadily falling since 2020.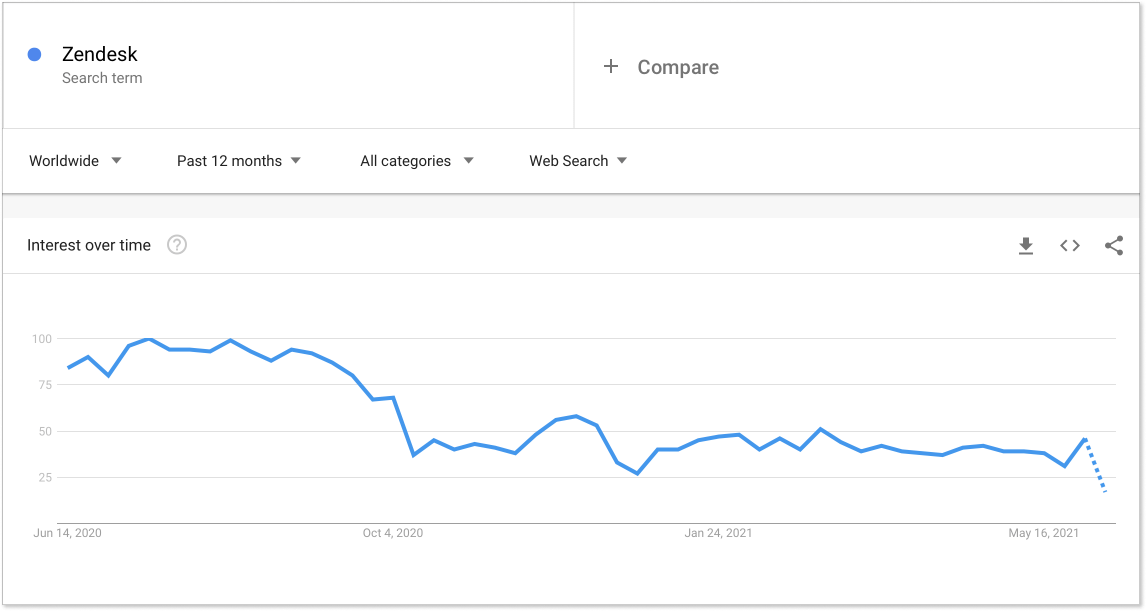 As of today, the market offers plenty of Zendesk alternatives with a much more fluent interface and lower prices. For instance, the HelpCruch pricing plans start from just $15/mo for live chat, knowledge base, and, of course, full customization.
Zendesk features
The top Zendesk feature is the ticketing system, built to help enterprises handle numerous tickets for inquiries. It's a pretty helpful tool for brands with many communication channels like email, phone, social media, or chat. Each customer request creates a ticket and enters a queue.
I bet you can guess the next feature. Take a hint. What's the most essential function for customer service? Live chat that enables real-time talks with users. Zendesk thought alike and acquired Zopim live chat software in 2014.
Even though ticketing and messaging are top Zendesk features, it offers a number of other functionalities:
Knowledge base
Phone support
Community forums
Answer Bot and other add-ons
What do the reviews say?
In my attempt to be objective, I went through dozens of Zendesk reviews on G2 and Capterra. What I learned is that people certainly love the platform's ticketing system and how easy it is to classify, assign, and search for tickets. Also, users definitely appreciate the integration of Zendesk with multiple communication platforms and its feature-rich functionality.
But what do most users complain about? Here are my main insights.
Old-tech. Built many years ago, the tool keeps working on the same old software developments. That's why Zendesk's user interface might look a bit creaky and outdated.
Too expensive. The basic subscription plan for an all-in-one suite starts from $49 per agent/month. No doubt, Zendesk offers rich functionality that huge companies can benefit from. But for SMB the prices are just too high.
Poor customer support. Surprisingly, Zendesk receives the lowest rate for support. How come? It's supposed to be their superpower. And still, customers massively complain about not being able to get assistance immediately. Instead, they have to wait days if not months. Maybe, it should not surprise us. After all, for huge companies like Zendesk with thousands of users, customers often become numbers.
Too complex to use. Operating the tool requires you to constantly open new windows tabs and move from one to another. Currently, if one needs to open Chat, they have to navigate away from Zendesk Support to open the Chat Application and so forth. Setting up and mastering the tool is also a challenge for people who don't have significant experience with similar platforms.
While it's great to have access to the rich functionality, above all, the customer communication platform should be comprehensible and easy to use. The tool is supposed to help in your work, not complicate it.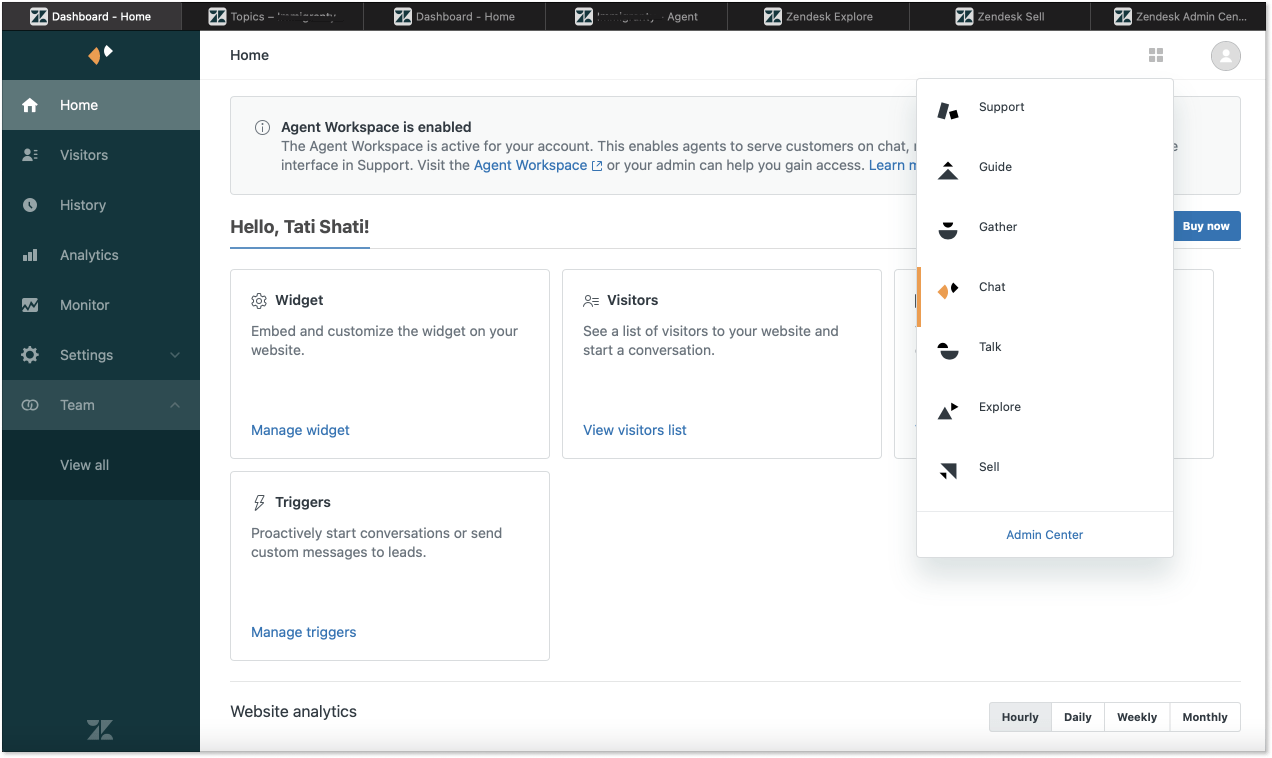 Zendesk pricing plans
Until February 2021, the company provided about 20 subscription options, including the opportunity to buy each product (chat, knowledge base, phone support, and whatnot) separately or in a mixed package. There were at least eight plans within the "Support" section. Needless to say how overwhelmed customers felt about it.
Moreover, the company has quite an irritating tendency of hiding the most essential functionality under more expensive plans. They lure customers with supposedly low prices and then it turns out that 'operating hours', 'widget unbranding', or 'customer satisfaction rate' are nowhere to find. TechCrunch even hinted that the platform is using a 'bait and switch' tactic.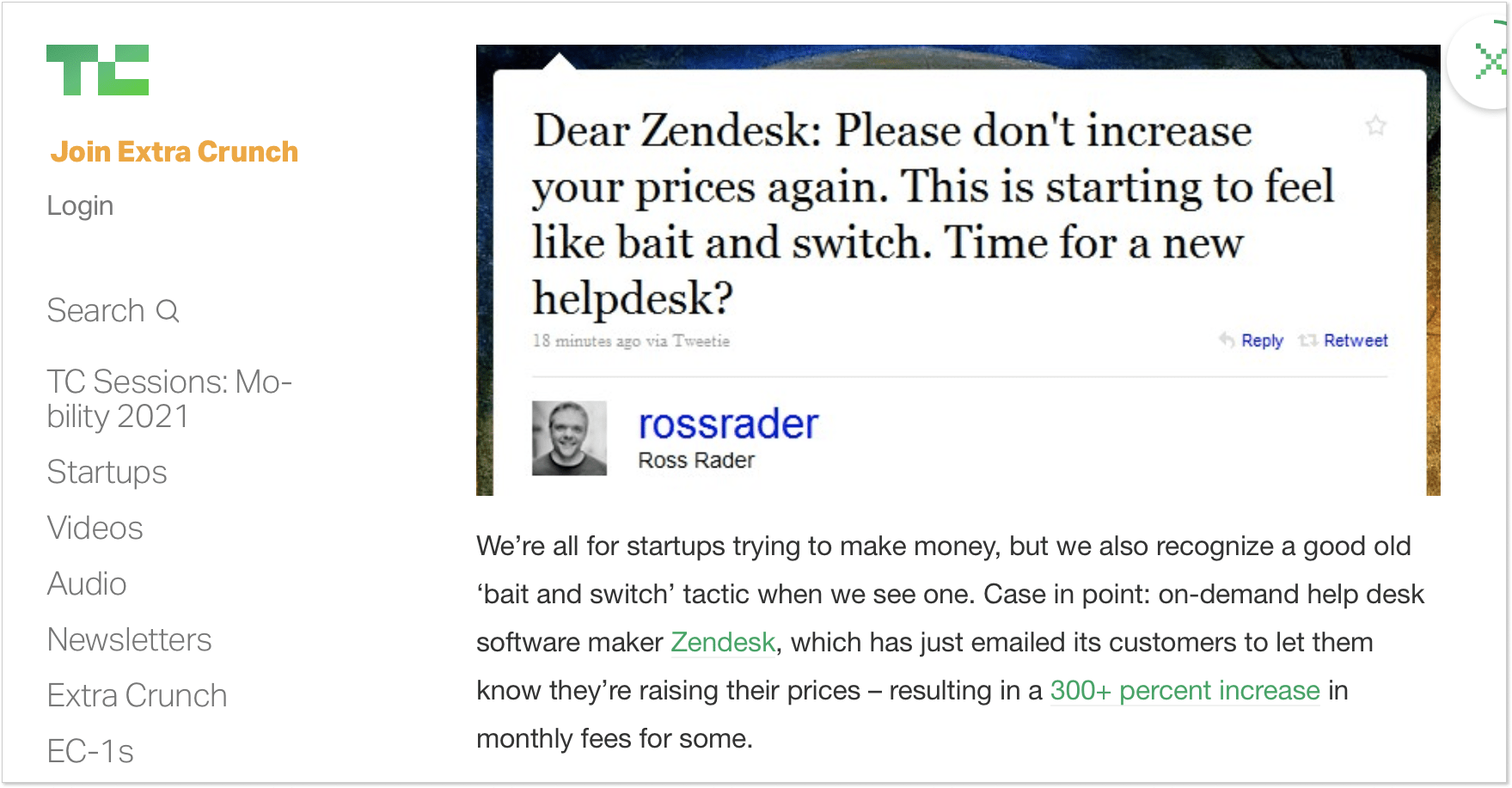 Just a few months ago Zendesk announced their 'radically simple' solution – Zendesk Suite. As for now, there are just 5 plans for service, 3 – for support, and 4 – for sales, and you won't find any information on the website about subscriptions for separate products. All features are now included in the Suite plans for new customers.
It might sound like good news for bigger companies but not for aspiring entrepreneurs. Before the Zendesk pricing update, users could subscribe to Light Chat Plan and use a simple live chat tool free of charge. Since February 2021, it's no longer offered.
So, if you are just building your way up in a business world, it's hardly the right tool for you at the moment. After all, Zendesk pricing starts from $25 to $249 per agent/mo if billed monthly. Does it fit in your budget?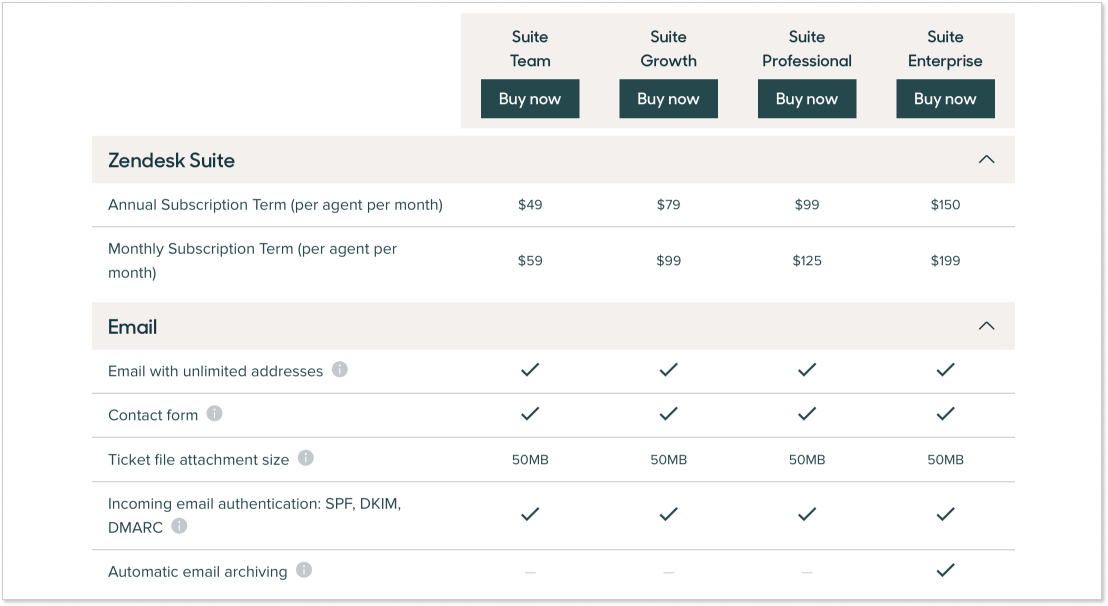 The company also offers a sales solution that enables email marketing and CRM features. Zendesk Sell pricing starts from $25 to $249 per user if billed monthly.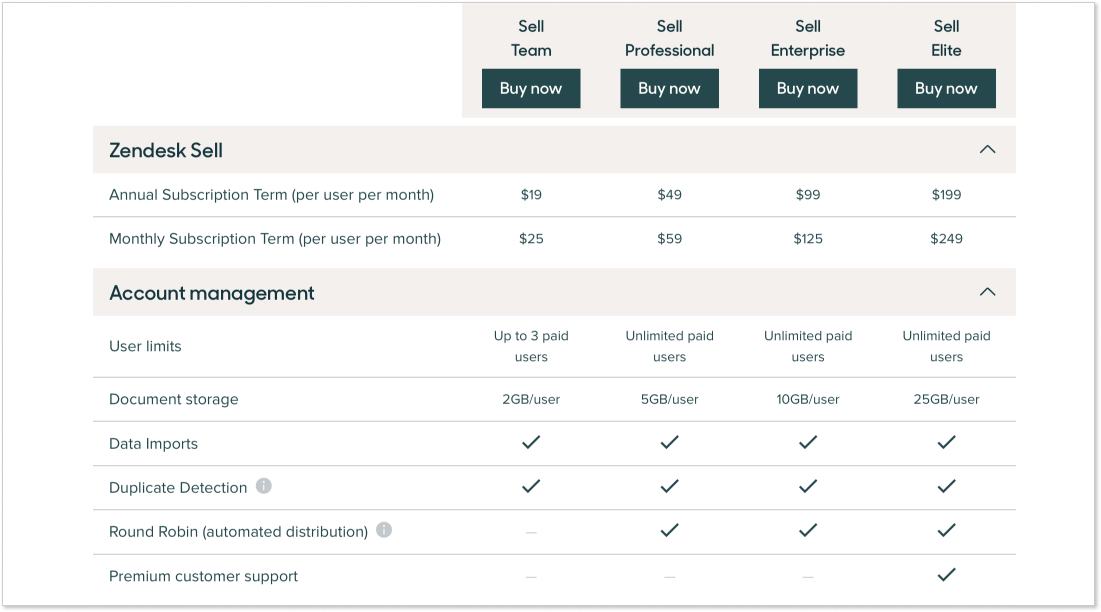 Zendesk pricing examples
I guess the best way to make Zendesk pricing clear is to break it down into three plain examples.
1. Basic email customer support solution for a small business
Setup:
A small company doesn't have a full-time agent to provide live customer support yet. So, their goal, for now, is to find a simple solution that allows email ticketing and web widget.
Zendesk solution: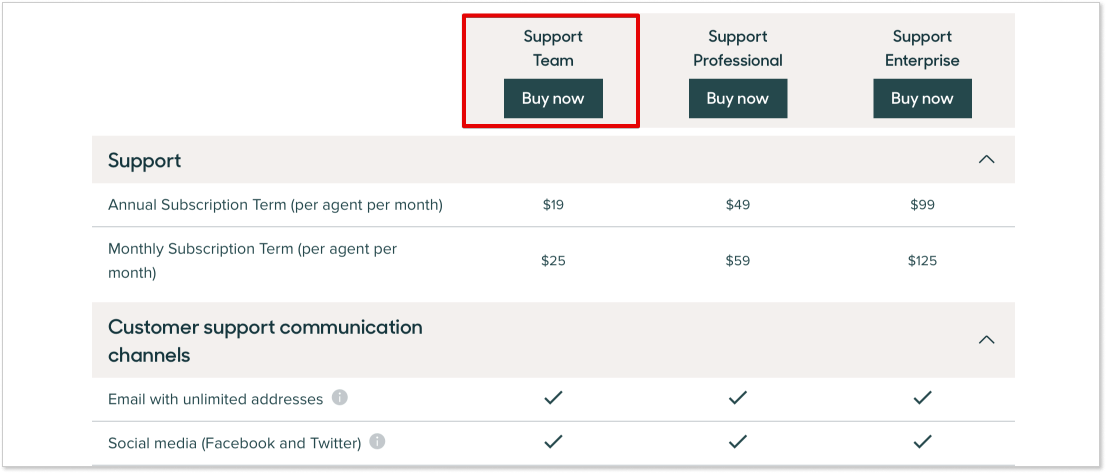 Zendesk Foundational Support plan starts from $25 if billed monthly. It encompasses email ticketing, web widget, and Facebook integration. Unfortunately, no live chat or such an effective customer self-service tool like knowledge base included.
Honestly, offering email support only is not the way prosperous people do business today (say hi to 2007s!). Email response takes hours or even days. Now, customers demand fast real-time assistance, namely, live chat support. It's easy to imagine that in a few months, the business owner would have to switch to a more expensive plan with live chat and knowledge base at the very least.
Final price:
$25 if billed monthly for email, widget, and social media integration.
2. Basic customer support solution for a small business
Setup:
A small company with 2 customer support agents. The business owner is just sowing the seeds of their future success. All they need right now is a simple live chat to communicate in person with leads and current customers.
Zendesk solution: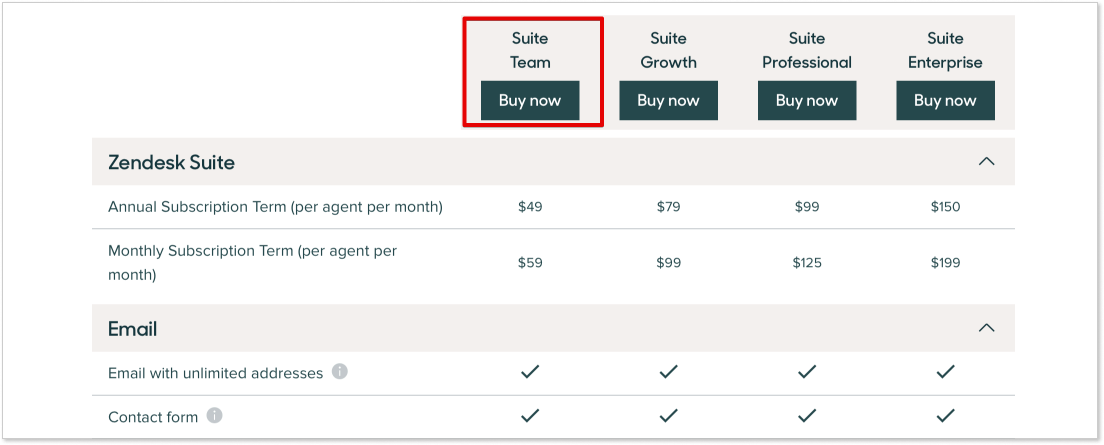 Zendesk plan that includes a live chat starts with the 'Suite Team' package. It includes other essential features like knowledge base, automated answers, and performance reporting. Although, you won't have rich customization options and a way to set up operating hours.
And, don't forget about the business owner who also should be able to enter the agents' desk, assign tickets or even answer some requests. It means the company would have to pay for three agents' seats.
Final price:
$177/mo if billed monthly for live chat and knowledge base.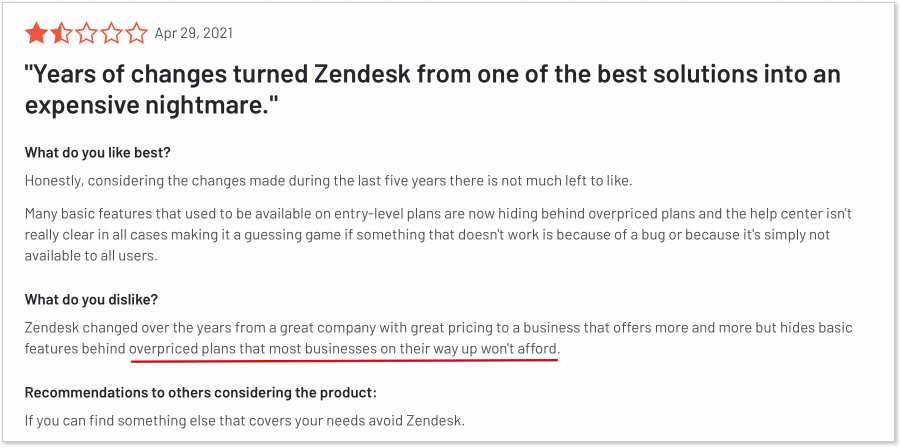 3. Basic solution for customer support in a medium-sized business
Setup:
A medium-sized business with 5 support representatives. The company needs three departments – sales, support, and billing. Also, they are looking for a tool with a knowledge base feature available in the 5 most popular languages. The owner aims to create a community around their brand as another self-service option for customers.
Zendesk solution:

In this case, the best solution is the 'Suite Growth' or 'Suite Professional' plan. These subscription plans include all core features the entrepreneur is looking for with unlimited departments and a multilingual knowledge base.
However, there is a catch. Even by paying $125 per agent/mo if billed monthly, the entrepreneur still won't be able to remove Zendesk branding from their widget or archive emails automatically.
Final price:
$495/mo if billed monthly for live chat, knowledge base, and customer satisfaction rating.
$625/mo if billed monthly for live chat, knowledge base, and community forums.
4. Premium all-in-one solution for marketing, support, and sales
Setup:
A prosperous enterprise with 10 agents needs a one-stop communication tool with email marketing, support, and sales features.
Zendesk solution:

To be honest, the first three plans lack some essential features. Only within the 'Suite Enterprise' business owners can remove Zendesk branding from their widget.
All in all, by giving up roughly $200 per agent/mo monthly, you get the core elements needed for customer support. The only problem, these features are slightly overpriced. You can definitely get the most essential functionality at lower costs. (I'll get back to it in a moment).
Meanwhile, if you are looking for a sales solution that goes with email marketing software, you might want to consider 'Sell Enterprise', or 'Sell Elite' that includes premium customer support and advanced sales insight reports.

Final price:
$1,990 if billed monthly for live chat, knowledge base, and widget unbranding.
$1,250 if billed monthly for 'Sell Enterprise' with unlimited paid users, personalized emails, and activity reports.
$2,490 if billed monthly for 'Sell Elite' for a sales solution with premium customer support and advanced reporting.
Is it just me or you, too, feel like those prices for just ten agents are ridiculously high?
Zendesk alternatives
When looking at Zendesk pricing plans, all these options seem somewhat expensive for startups and other companies that just pave their way up. At the initial stages, it is important to rationally distribute the budget in order for the company to keep growing.
Fortunately, there are more than a few Zendesk competitors that are ready to offer the same core features – live chat, knowledge base, email marketing software – at much lower prices.
HelpCrunch — a one-stop customer communication tool
In terms of functionality, HelpCrunch is a simple, affordable, and efficient Zendesk alternative on the market today.
The platform offers all core elements needed to make customers happy, including a chatbot feature!
Live chat that you can customize any way you want even within the 'Standard' plan. In addition, it has a bunch of features like automated messages, pre-chat forms, and chat ratings.
Help desk that enables email forwarding, tagging, and live reporting.
Chatbot for customer support automation. It can easily answer FAQs, qualify leads, tag users or assign chats. The bot builder is a well-thought visual editor which makes chatbot creation a breeze.
Knowledge base for customer self-service with a WYSIWYG ('what you see is what you get') editor and built-in SEO features.
Email marketing with automated trigger-based and manual campaigns, follow-ups, and a powerful editor.
Pop-ups for effective marketing and sales strategy. It'll help you engage more leads.
There are just four HelpCrunch pricing plans, and EACH of them includes unlimited contacts, full customization, and 'operating hours'. No additional charges apply.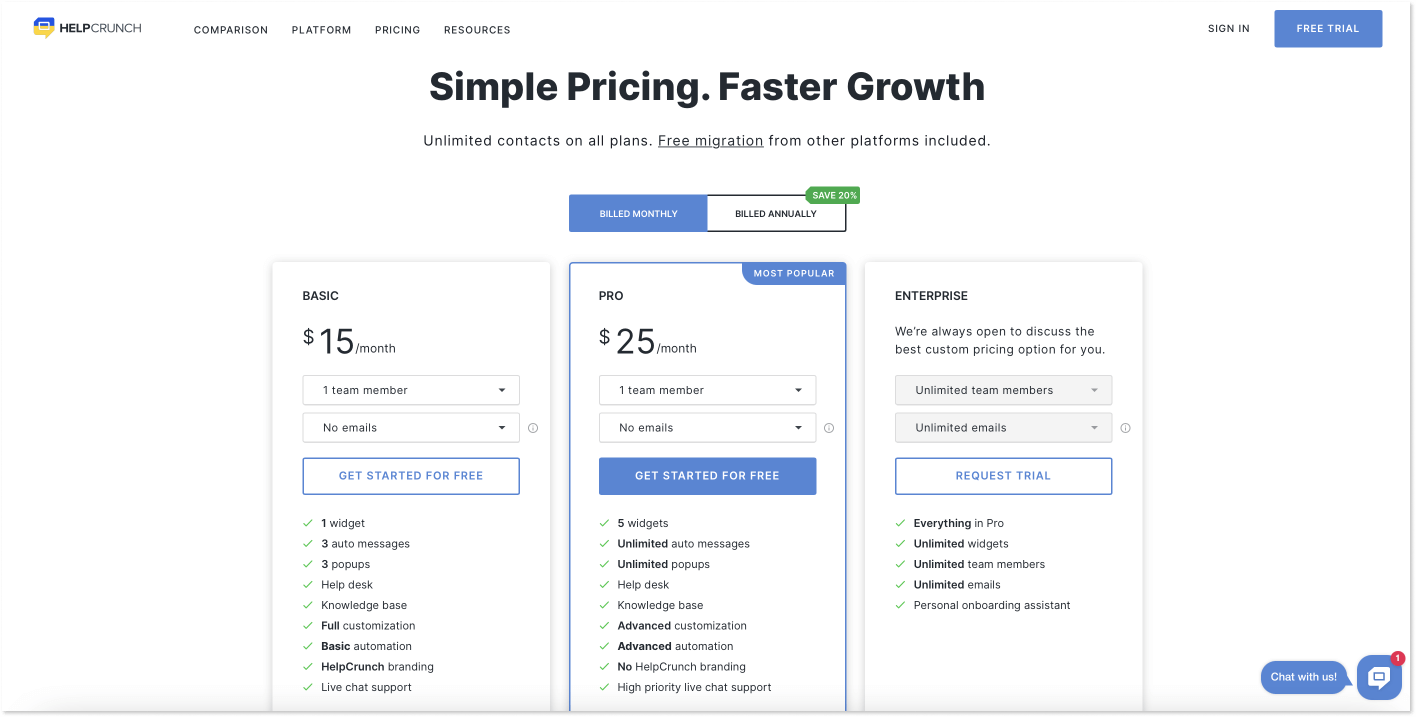 The 'Basic' pricing plan is only $15/mo/team member if billed monthly. For this price, you'll get a live chat, knowledge base, help desk, unlimited contacts, and full customization.
If you're looking for a premium one-stop solution for marketing, support, and sales, which also includes a chatbot, it's better to go with the 'Pro' subscription, which costs $25/mo/team member if billed monthly. For those who need email marketing functionality, there is an opportunity to buy emails.
Thus, a 10-members team will cost only $250/mo in total. It's a good deal compared to those $1,250/mo for Zendesk.
Also, there are other competitors of Zendesk like Intercom or Freshdesk, for instance. Each platform has its pros and cons. Think twice and then choose the best solution that suits your current needs.
Bottom line
Zendesk pricing plans are somewhat complicated, and choosing the right one for your business might be a big challenge. Paying the invoices is even bigger. Despite that, Zendesk is a great tool. But so is HelpCrunch.
The only difference is that with HelpCrunch, you don't have to overpay for the must-have customer support features. That is why before jumping into anything with Zendesk, just sign up for a free 14-day trial and give it a try.