8 Supreme Tidio Alternatives for Better Customer Service in 2023
There are many Tidio alternatives on the market today. But how do you choose the best one? Think about your current business needs and then dive right into the article. We've conducted deep research to help you make the right choice!

No competition, no progress. We are lucky to live in times when the market is wide and there is no problem in finding a product perfectly tailored to your today's needs. So if you are dissatisfied with anything, don't endure, just research the options and choose the most suitable solution. This article was written just to help you with this task.
We will talk about Tidio alternatives, the best tools for customer service with live chat software. There could be numerous reasons that brought you here but I hope my carefully prepared list of solutions would help you make the right choice.
Let's get cracking!
What is Tidio?
Tidio is an affordable customer service solution with chatbots. The platform focuses on e-commerce businesses and helps them provide better support. Apart from the chatbot, it has many other features like live chat, shared inbox, integration with Shopify, social media support, and whatnot.
With Tidio, you can integrate your live chat, email inbox, Messenger, and Instagram into one multichannel communicator and manage all conversations from one place. That's basically what customer service tools are built to do.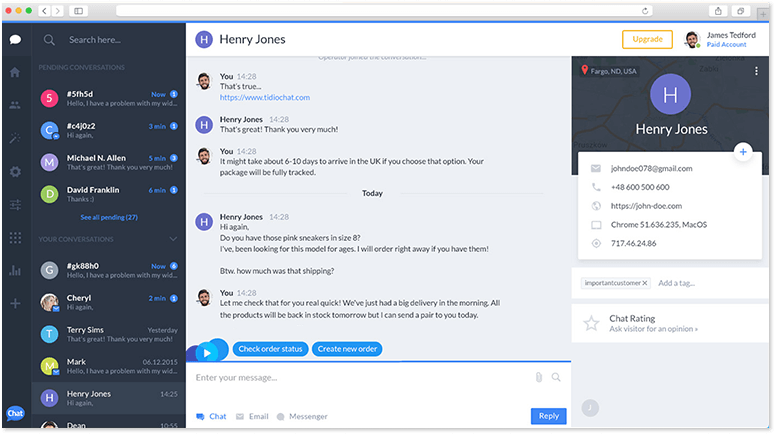 Here are a few main features of Tidio:
The live chat widget is supported on all devices. It includes pre-chat surveys, conversation rating, event tracking, widget customization, and more.
Tidio offers 20+ chatbot templates to automate customer service conversations on the topics like discounts, shipping, orders, etc.
The email inbox function means that you can integrate all your email inboxes with the platform and manage them from one place.
Real-time monitoring is another feature that can help with customer engagement. It allows you to see what your website visitors are looking for, so you can reach them at the right moment.
The pricing is one more reason to love Tidio. The platform offers a free plan that includes 3 agents, 100 unique reachable visitors per month, and unlimited chats. Choose Chatbots plan if you want to have unlimited visitors and active chatbots, it will cost you $39/mo per 3 seats.
Even the tool reviews on G2 (4.7) and Capterra (4.8) are amazing!
Why look for the Tidio alternative then?
A logical question considering all the advantages the software offers. And yet there is a clear answer to it…
Firstly, Tidio doesn't provide a knowledge base feature and it's a huge drawback especially nowadays when customer self-service is getting more popular than ever.
Secondly, some people point out poor widget customization opportunities.
Last but not least, it doesn't look like the tool is growing or developing in any way. As one of the users mentions on G2, "The updates to the functionality are also quite rare, and it seems that they're not really sure where they're going with the tool – the introduction of the email marketing (which feels more like a redundant leftover than a feature, honestly) kinda confirmed that for me."
So here we are. Diving right into the Tidio alternative tools 🙂
8 best Tidio chat alternatives to boost your performance
HelpCrunch – the best all-in-one customer communication platform for SMB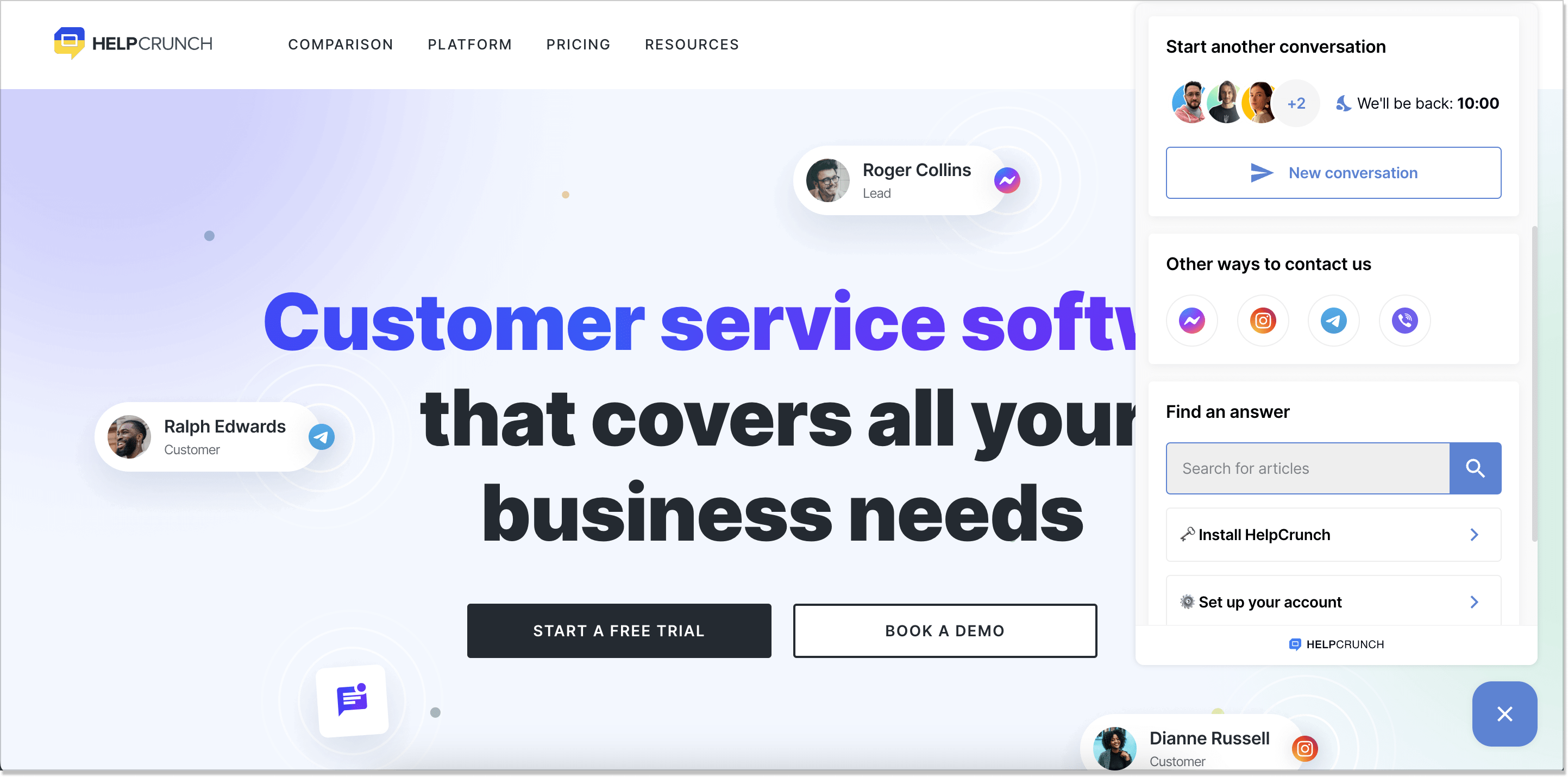 HelpCrunch is the best Tidio alternative for those who require four main tools: live chat, chatbot, knowledge base, and email automation. On top of that, within the platform, you get a popup builder that comes in handy if you are looking to improve your customer engagement.
Live chat provides all the useful opportunities like auto messages, tags, saved responses, offline and pre-chat forms, etc. It also allows you to monitor user path, actions, device information, and conversations in the right sidebar. What's especially cool, you can easily switch between chat, email, and private notes right in the dashboard.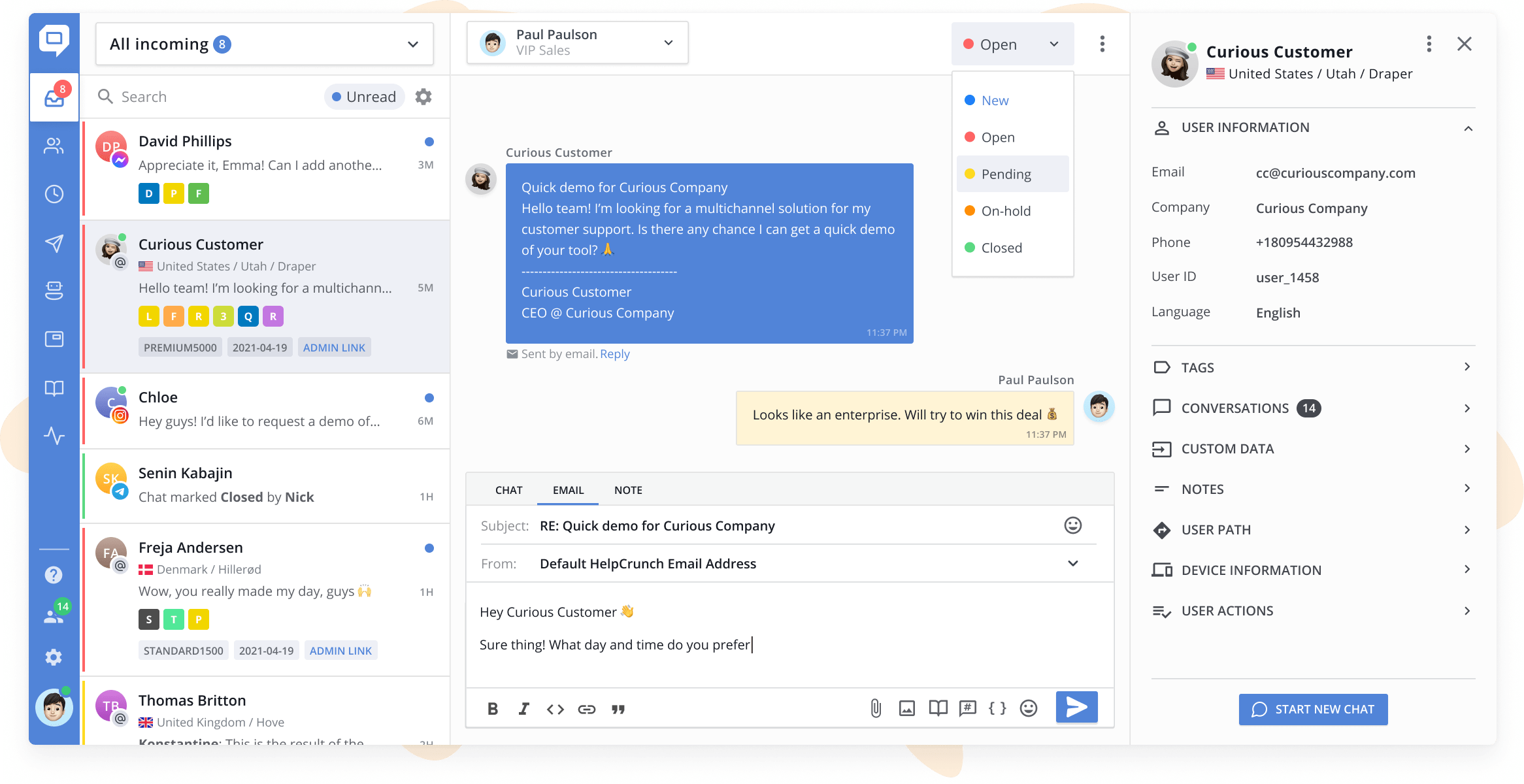 You probably know everything about the chatbot benefits. It's one of the greatest tools to automate your customer support and decrease the waiting time for users. The HelpCrunch chatbot can answer visitors' inquiries, share helpful articles, links, images, and canned responses to handle repetitive questions. On top of that, the feature allows businesses to qualify leads and collect contact information automatically. Thanks to a visual no-code editor, you will be able to set up and launch the bot fast and easy.
The knowledge base is another legit feature of HelpCrunch. It's a self-service tool that helps customers find the answers they need completely by themselves. There are even more benefits to consider like an easy-to-use editor or SEO optimization feature. With HelpCrunch, you can integrate your knowledge base into the live chat widget and allow customers to switch between chat and help center with ease.
In turn, email marketing functionality makes it really simple for support agents to launch email campaigns, prepare beautiful newsletters, and send email follow-ups. Sounds tempting, right?
Price
You can provide great online customer service to your clients using HelpCrunch for just $15/mo per seat.
What is one reason to choose HelpCrunch over Tidio?
Unlike Tidio, HelpCrunch offers a smooth-running knowledge base tool where you can publish articles, add videos, images, GIFs, and so on. Besides, it is the best Intercom alternative, if you happen to be in search of one (you know where to look at). HelpCrunch also allows for articles' metadata optimization to help you boost your performance in Google search. This feature alone can help you provide more effective support and noticeably decrease the number of repetitive questions.
Olark – a simple live chat solution with useful add-ons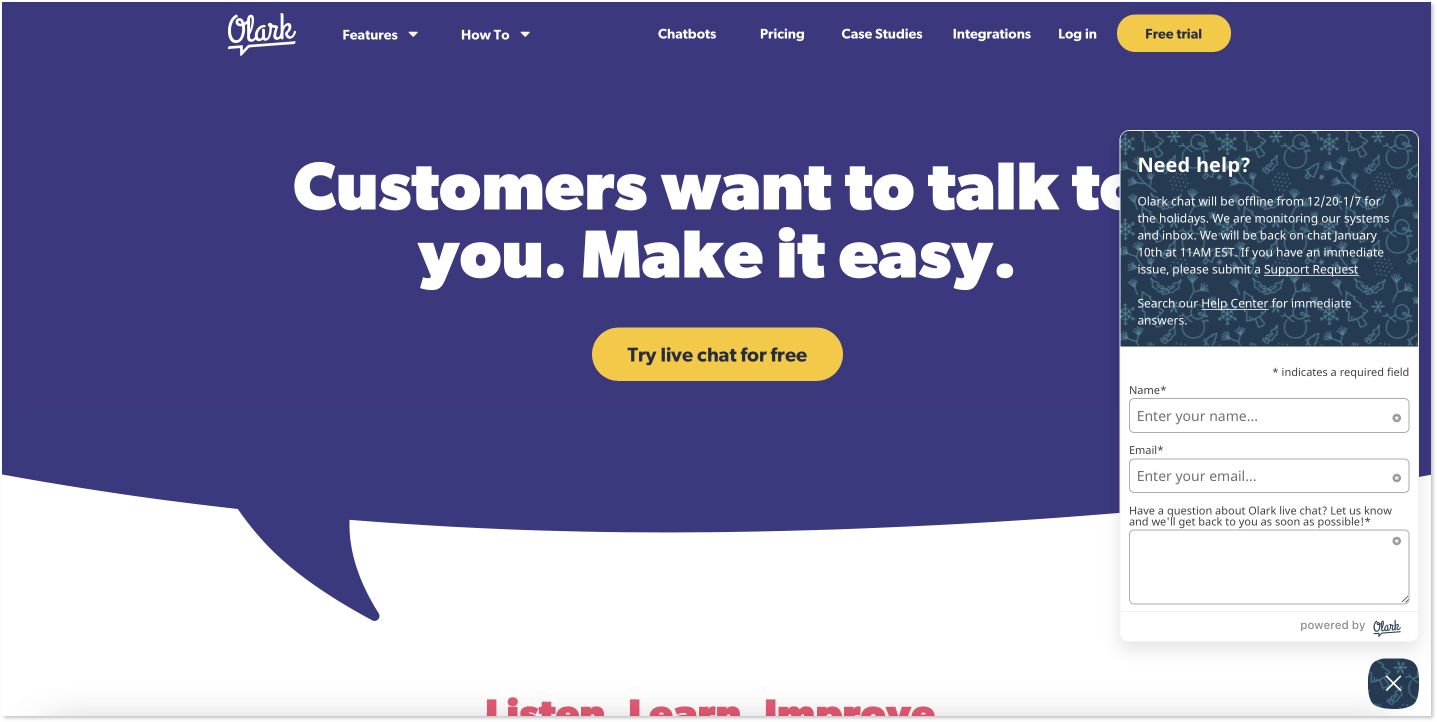 Olark is a straightforward Tidio chat alternative for your website. Even though it's not your most feature-packed tool, you will be quite satisfied with the platform if live chat is all you need.
As the main function, the live chat feature includes some general functionality like customization options, automated messages, forms, and reports. You can also integrate your Olark software with HubSpot, Zendesk, Salesforce, etc. Unfortunately, there's no way to change widget wallpaper, upload your company logo, or do anything else to make it look like a true part of your brand.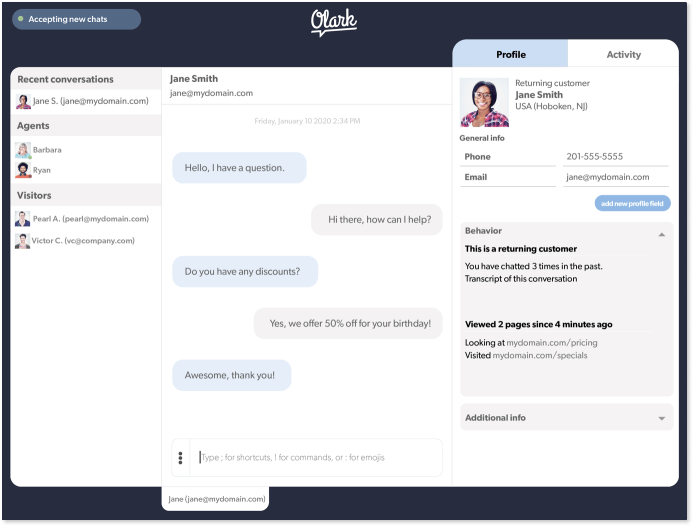 The platform also provides PowerUps – features that must be paid separately. Among them, you can find visitor cobrowsing, visitor insights, and live chat translation. While the rest is clear, visitor insights may bring some questions. What is it about? Well, it gives you access to general data of your customers collected from public social profiles and company websites.
It should be noted that Olark also has a chatbot function but it's available only for Pro plan users.
Price
The pricing plan starts from $29/mo per seat. Visitor cobrowsing will cost you $99/mo. The price for the visitor insights feature is around $59-99/mo. Live chat translation – $29/month.
What is one reason to choose Olark over Tidio?
Choose Olark if you need a reliable live chat solution and nothing more. Unlike Tidio, Olark doesn't have any limits to how many visitors you can reach. You pay $29/mo per seat and get all the basic features. On top of that, you can buy an add-on to get access to live chat translation and visitor cobrowsing that are not available within Tidio's offer.
Zendesk – a solid customer service tool with robust ticketing functionality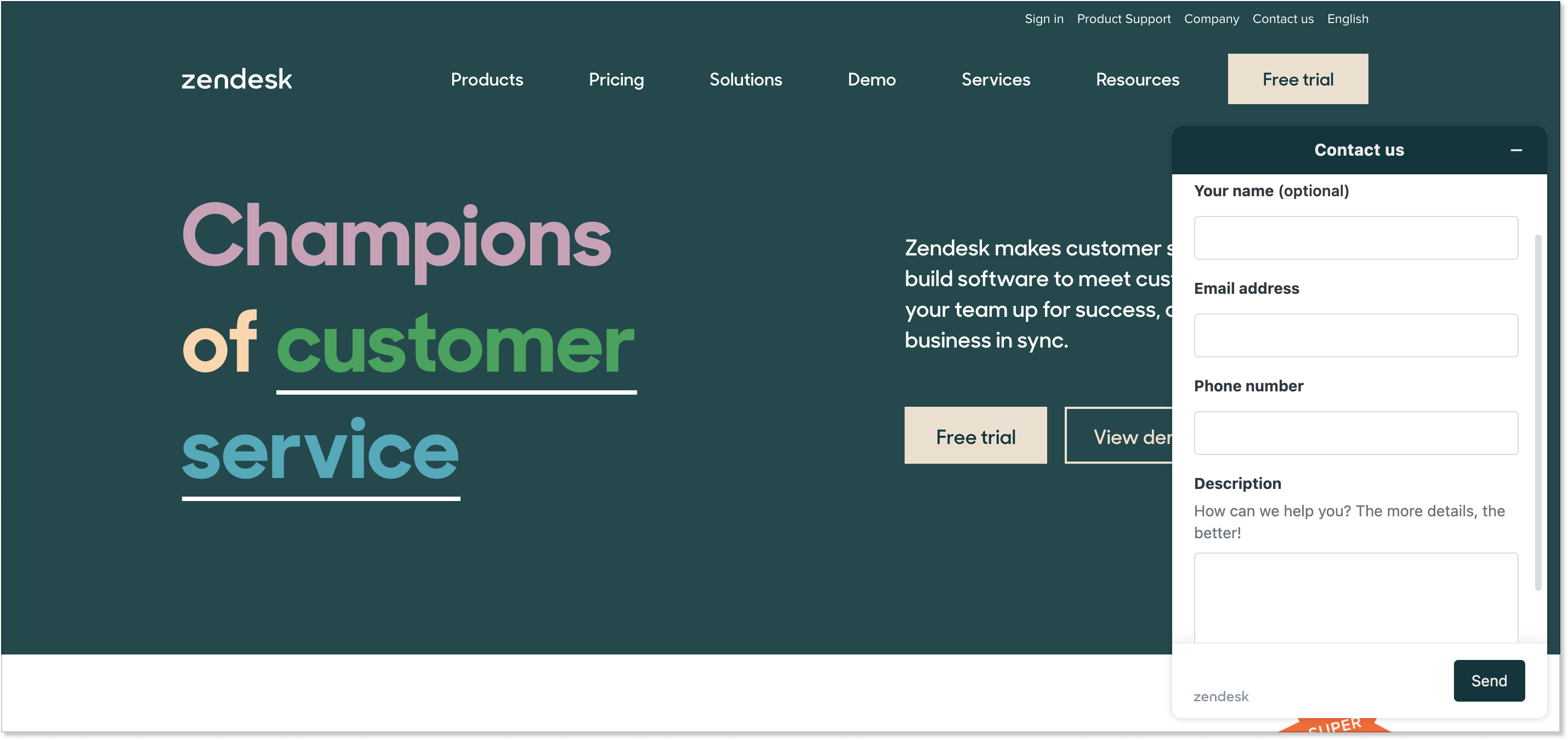 Zendesk is a profound Tidio alternative that caters to all types of industries. It comes with an endless list of features that you might never even need like host mapping, phone support software, or audit logs.
So let's focus on Zendesk functions that matter the most for online customer service – ticketing system, live chat, knowledge base, email marketing, and chatbot.
The platform provides a smooth ticketing feature that large teams will appreciate. Each email or message that customers submit creates a ticket and enters the queue. After that, a client immediately gets a notification to confirm their request has been received by your support team. On top of that, such tools as time tracking, routing, CSAT ratings, and so on, help your agents provide decent, well-oiled, and effective assistance.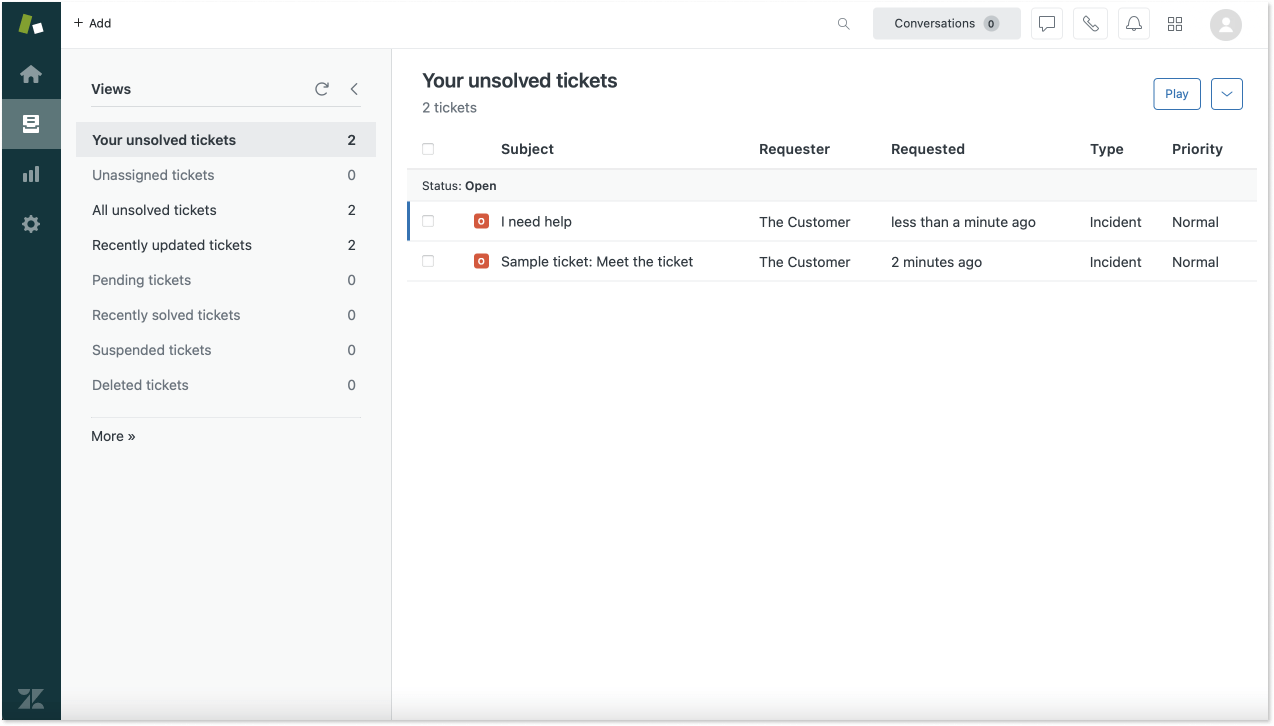 As for the live chat, it has pretty limited customization options and an outdated interface yet solid functionality. Businesses can greatly benefit from Answer Bot, an AI-powered tool that is able to answer common questions, suggest knowledge base articles, and connect with an agent when needed.
The platform provides all possible integrations you can imagine with other tools, including social media like WhatsApp and Facebook.
Price
Sounds like perfect feature-rich software that you can apply and rest assured that everything is under control. But what's the cost? The most affordable plan that includes live chat will cost you $59/mo per agent. Is it a fair price? It's up to you to decide.
What is one reason to choose Zendesk over Tidio?
If you have a large team, Zendesk is definitely your best shot as it offers a mature ticketing system to handle a big number of incoming requests. Also, choose the tool if you still provide phone support.
tawk.to – a free live chat solution for any business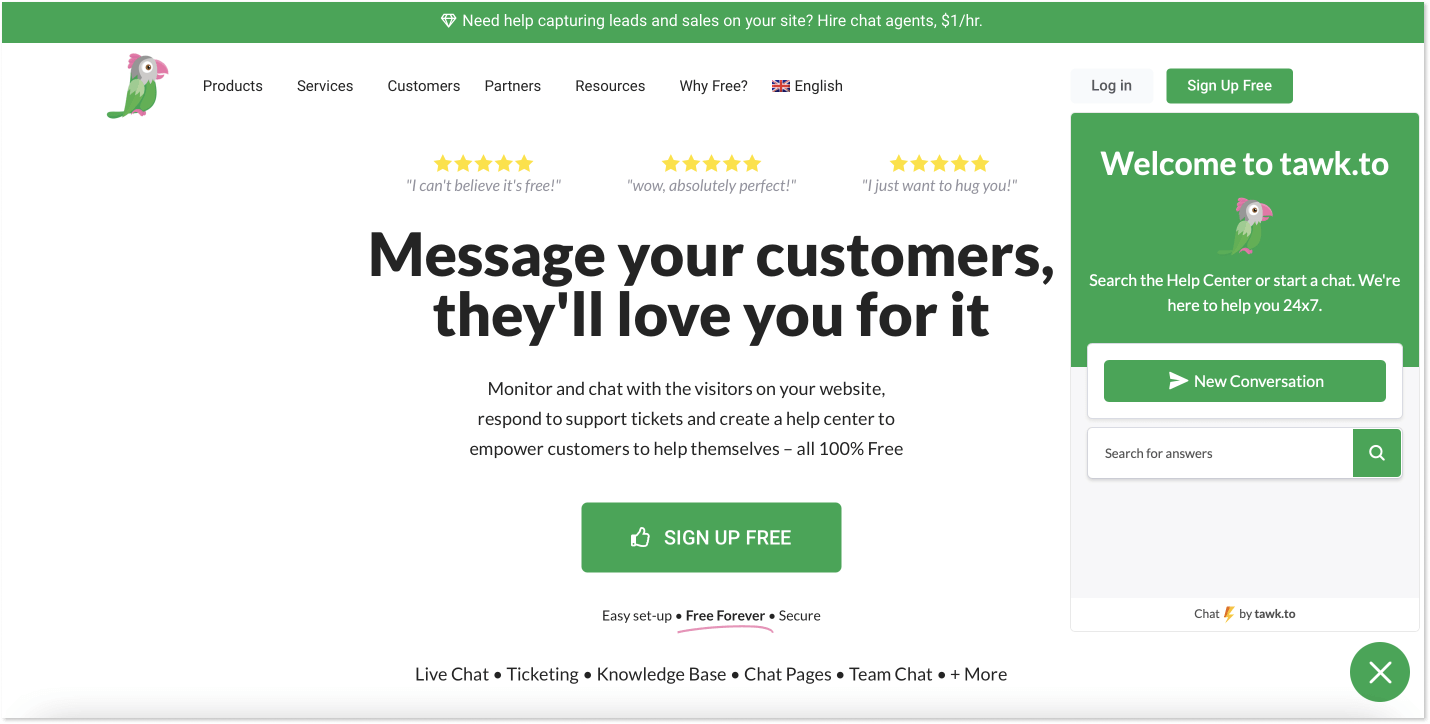 tawk.to is a forever free live chat software solution compatible with a website and mobile app. The company sets no limits to the number of agents, chat volumes, or sites you can add widgets to. Their feature pack includes live chat, knowledge base, ticketing, and chat pages.
How can it be for free, you may ask? The company generates revenue by providing Hired Agent services, which means that you can hire tawk.to agents to chat with your customers. But if you prefer to support your customers by yourself then the platform is free.
The live chat is easy to set up and use. It provides the standard options like canned responses, tags, desktop notifications, and reporting.
With real-time monitoring, you can see which pages your visitors are on at the moment, how often they visit your site and view their entire customer journey.
The chat pages function is quite a unique feature of tawk.to that allows you to turn links into real-time conversations. How come? Let's say you don't have a website to place a live chat widget on, yet you want to offer live communication to your clients. Just create a profile page or chat page and add links to it anywhere you want. (Generally, pages refer to tawk.to hosted pages – e.g. https://tawk.to/businessname)
Here is a quick example of a chat page to give you a hint.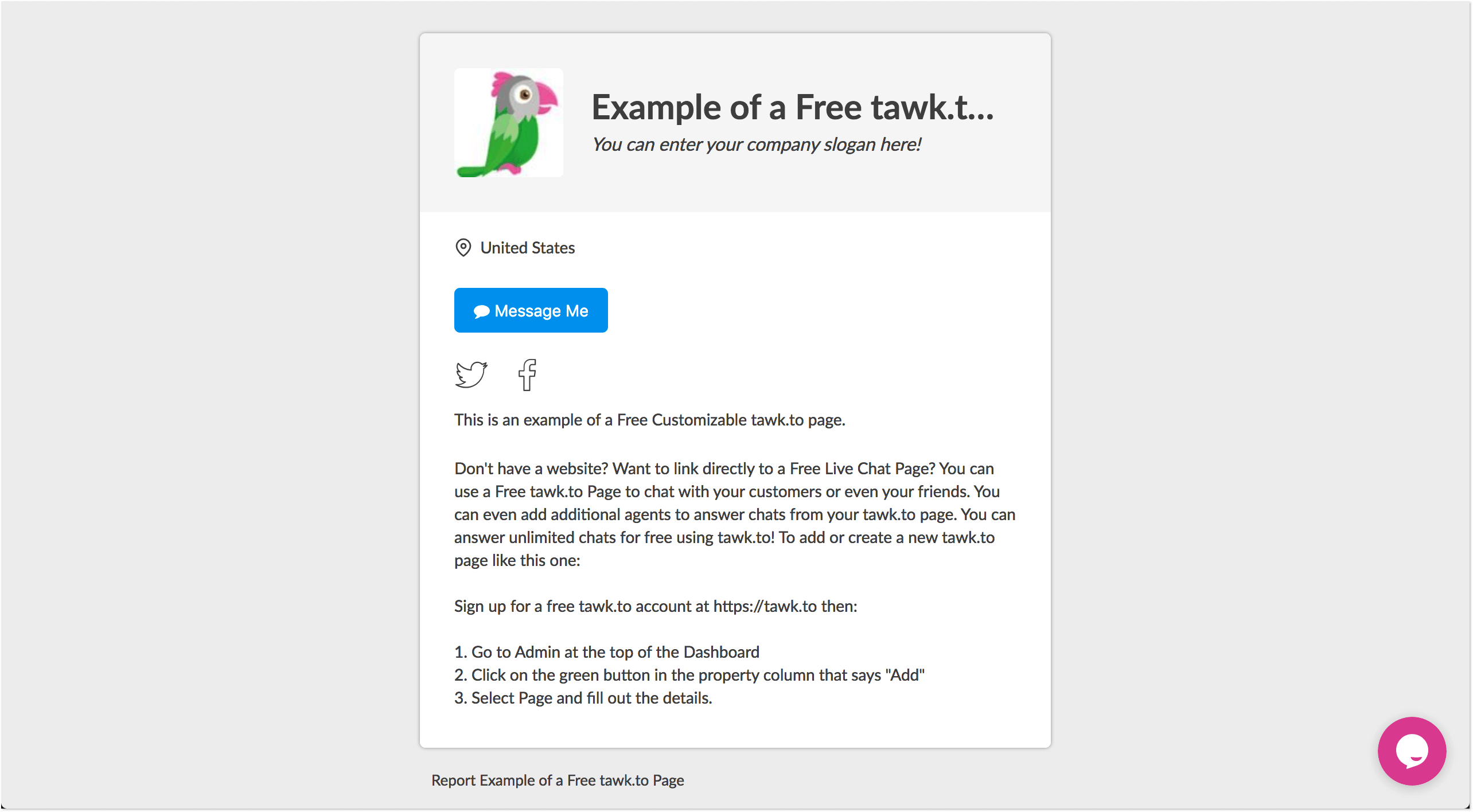 As for the knowledge base, it has a clean and simple user interface. The tool pack includes built-in translation functionality, a block-based text editor, and metadata customization.
While it sounds like a jackpot platform that offers everything for free, it lacks an email automation feature. It means that you won't be able to send newsletters or launch email campaigns within the tool.
Price
tawk.to live chat software is completely free. But if you need help with chat support and want to hire agents from tawk.to, it will cost you $1 per hour.
What is one reason to choose tawk.to over Tidio?
It's simple. Tidio is completely free of charge and has no limits in terms of monthly visitors reached. However, its functionality may often seem too limited for robust customer service.
Crisp – a live chat with a free plan to communicate with customers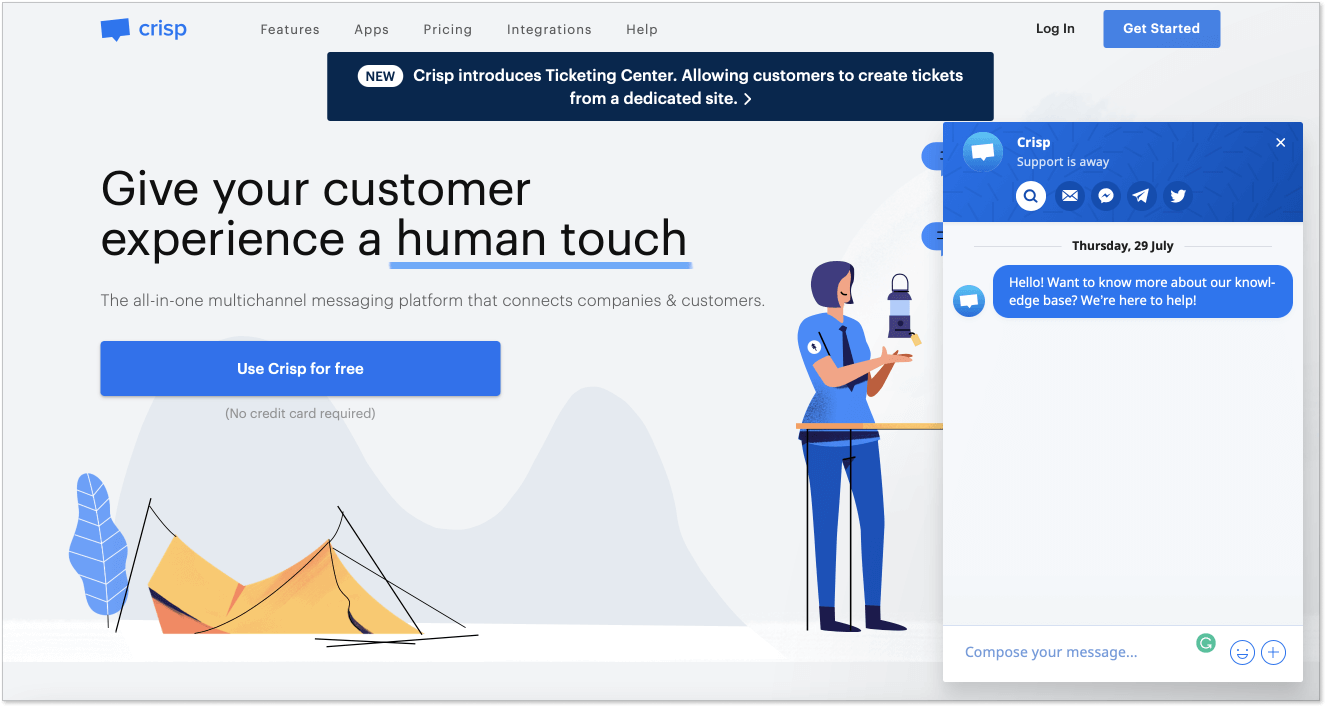 Crisp is another live chat software that offers a free plan but with limited functionality. It's a good Tidio alternative for startups that need a live chat, knowledge base, chatbot, and ticketing system.
The Crisp chat allows you to do many things. Just like HelpCrunch, it offers an integrated knowledge base that you can add to the live chat widget. Also, you can share files, add videos and GIFs, and invite customers to play a CrispyBird game right in the widget while they are waiting for a reply.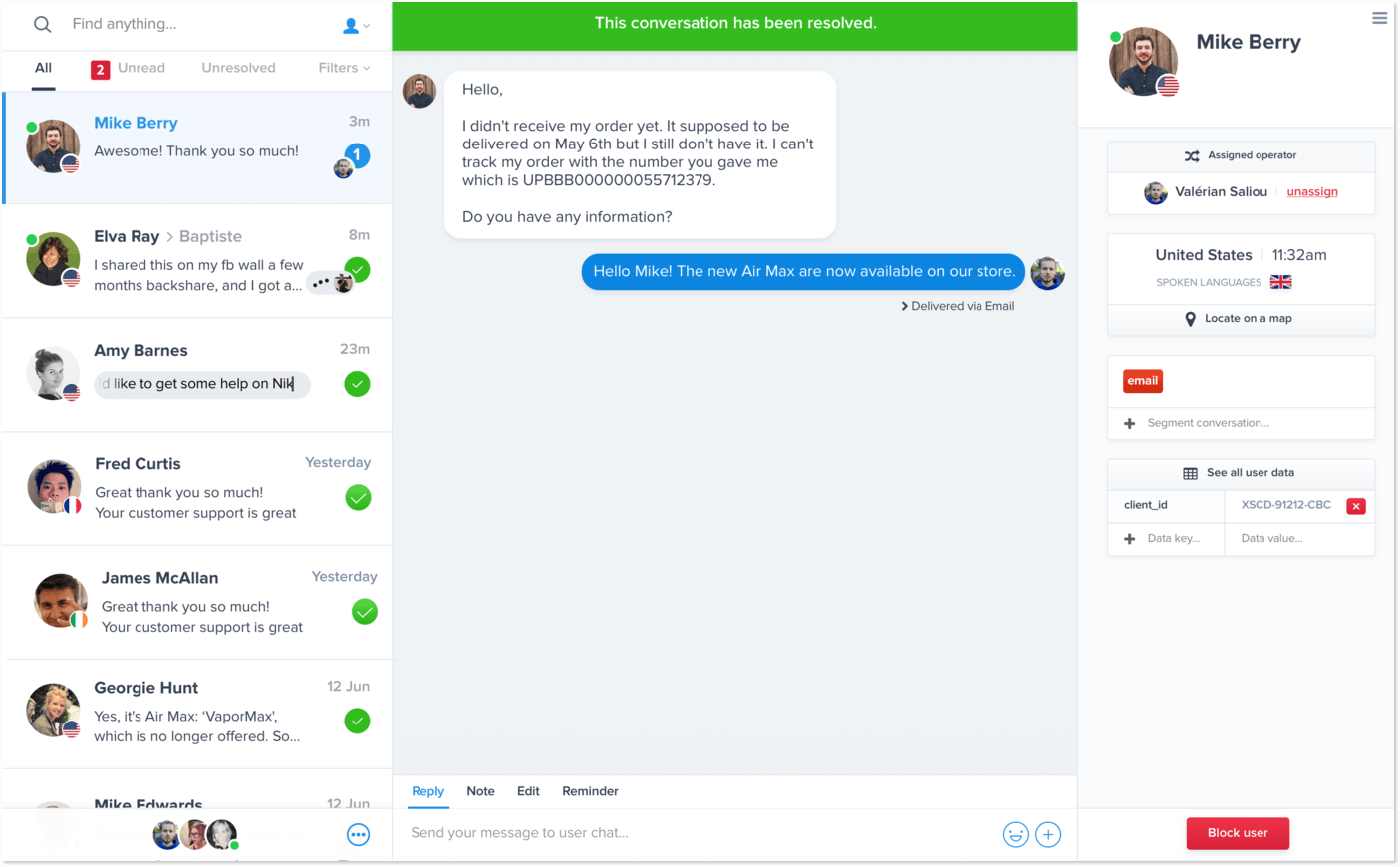 Another live chat feature that you might appreciate if you have clients across different countries is real-time chat translation. It means that you can reply to customers in your language and it will be automatically translated into their native one. Isn't it cool?
On the other side of the coin, it's a limited option! Translated characters are limited to 1,000,000 for paid Unlimited plans, and 100,000 for trial Unlimited plans (per month). You can learn more about it here.
Looking for a chatbot solution? The platform offers it as one of their main features. With a chatbot, you can qualify leads, create your own scenarios, route conversations, suggest appropriate knowledge base articles to answer customers' questions. So this tool can definitely help you in handling a massive number of user inquiries.
Price
Crisp offers a free plan with basic features like live chat, team inbox, and a contact form. That's it. The plan includes two operators only. Paid subscription with canned responses, private notes, emails will cost you $25/mo per website and includes 4 seats. If you want a knowledge base and chatbot with unlimited seats, get ready to pay $95 monthly.
What is one reason to choose Crisp over Tidio?
If you have a big support team looking for a live chat, chatbot, knowledge base, and ticketing, Crisp can be a good deal for you. Pay just about a hundred dollars per month and get unlimited seats with all the essential features included.
LiveChat – an old live chat software with a solid live chat tool and separately paid knowledge base and chatbot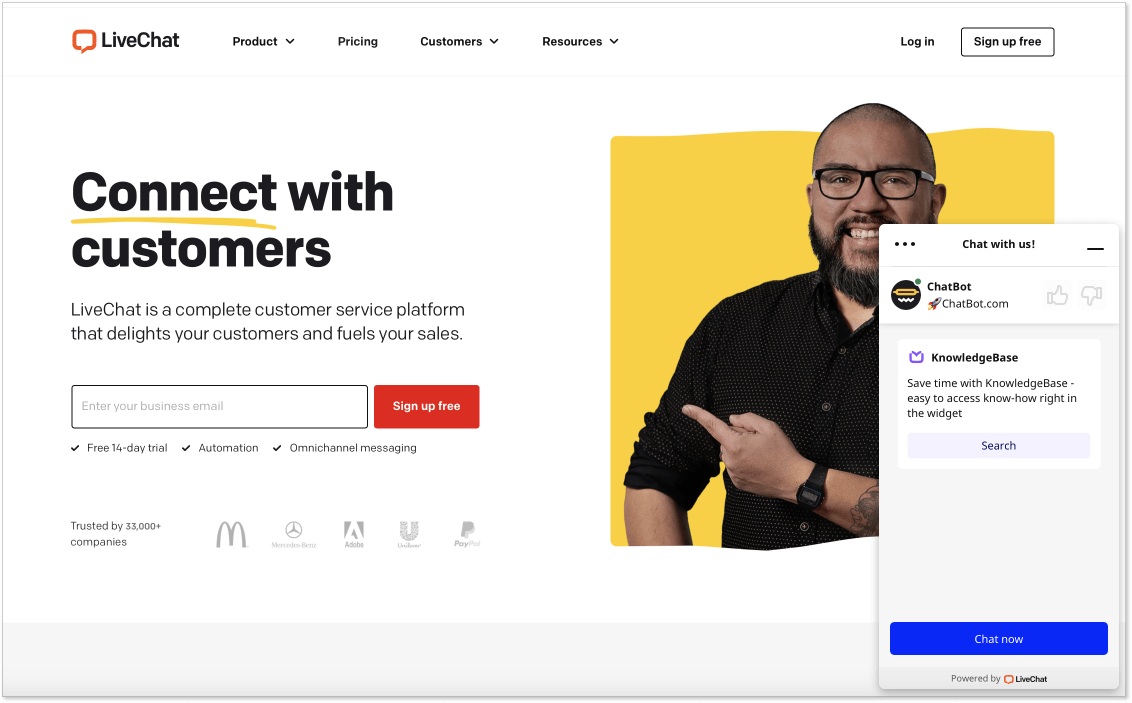 LiveChat is one of the oldest live chat solutions out there which makes it a reliable and robust choice to make. The main purpose of the platform is the same as described above, to provide a single place where agents can handle all communication with customers. With features like live chat, detailed reports, and integrations with over 170 other tools, you can provide effective customer service.
The live chat is pretty common and offers the usual functionality such as canned responses, tags, archives, file sharing, and whatnot. You can also create and integrate your knowledge base into the live chat widget, but keep in mind that the self-service option comes separately.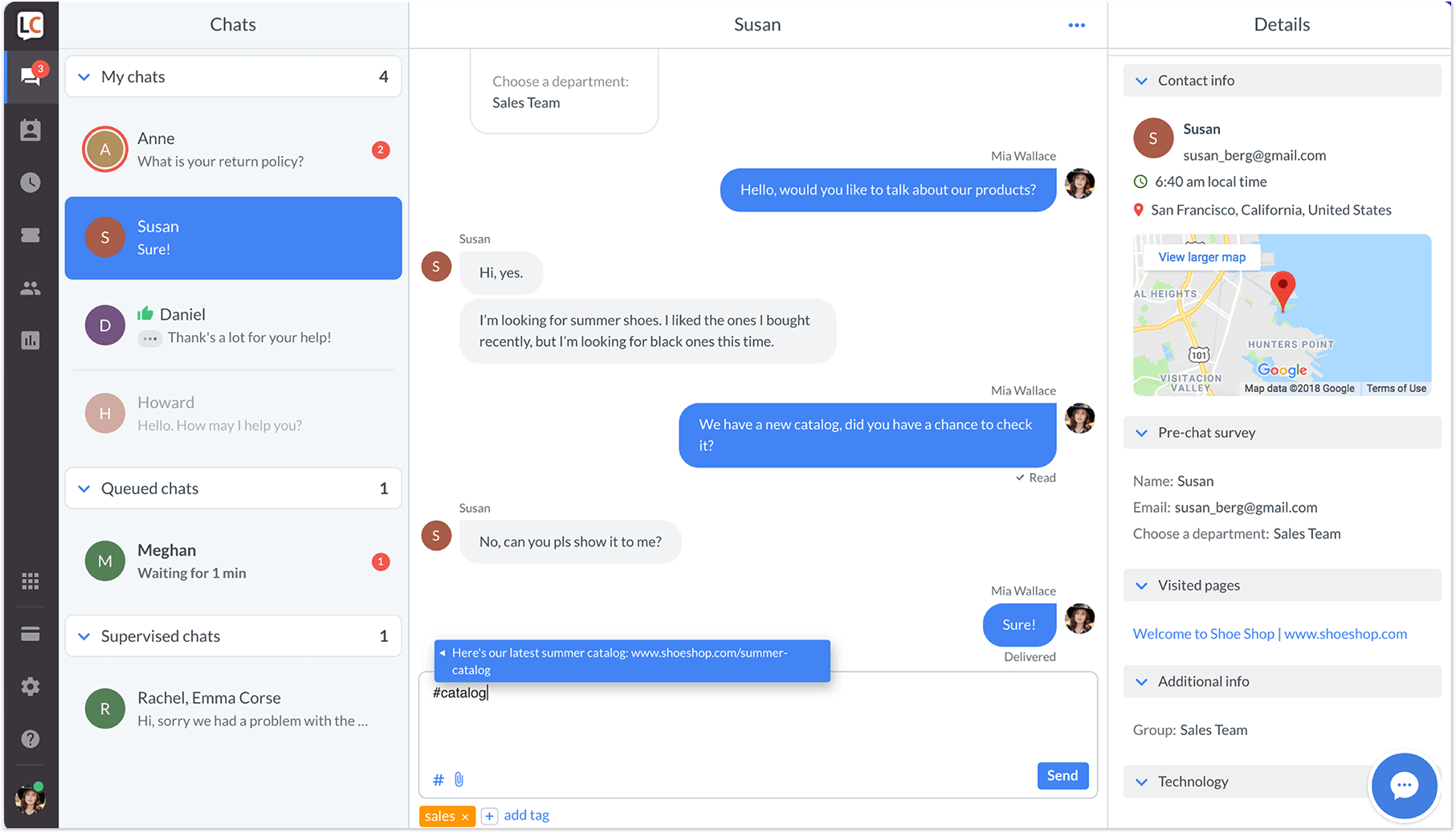 If you are in retail, you can leverage video experience and screen-sharing options that are available right in the widget. Start a video call immediately to demonstrate the product to your customers.
Another tool that many businesses can find useful is a sales tracker. It lets you calculate the ROI of your chat. So, if a chat leads to a sale, the tracker will add the order value and order ID information to the chat. Later on, you will be able to find this data in the reports.
Price
The cheapest plan costs $19/mo per agent and includes a live chat, ticketing system, 60-day chat history, and basic customization. The Business plan that encompasses practically all useful functionality will cost you $59/mo per seat.
Such an add-on as the knowledge base is available at $39/mo. The price for a separate chatbot feature starts from $50/mo.
What is one reason to choose LiveChat over Tidio?
LiveChat is a great alternative to Tidio because it has much more credibility as it was launched 19 years ago. The platform proved to be a reliable live chat solution for years. Besides, it offers a smooth-running ticketing system to handle conversations with clients.
Help Scout – a one-stop customer service solution with profound workflows
Help Scout is another one-stop customer communication tool that can be a great alternative to Tidio for small and medium-sized businesses. It provides a live chat, knowledge base, and workflows.
Live chat embraces a standard pack of options, namely, canned responses, tags, private team notes, targeted messages based on visitors' data. Just like HelpCrunch, it offers a knowledge base integration. This way you can give your customers an option to use self-service or talk to a real agent.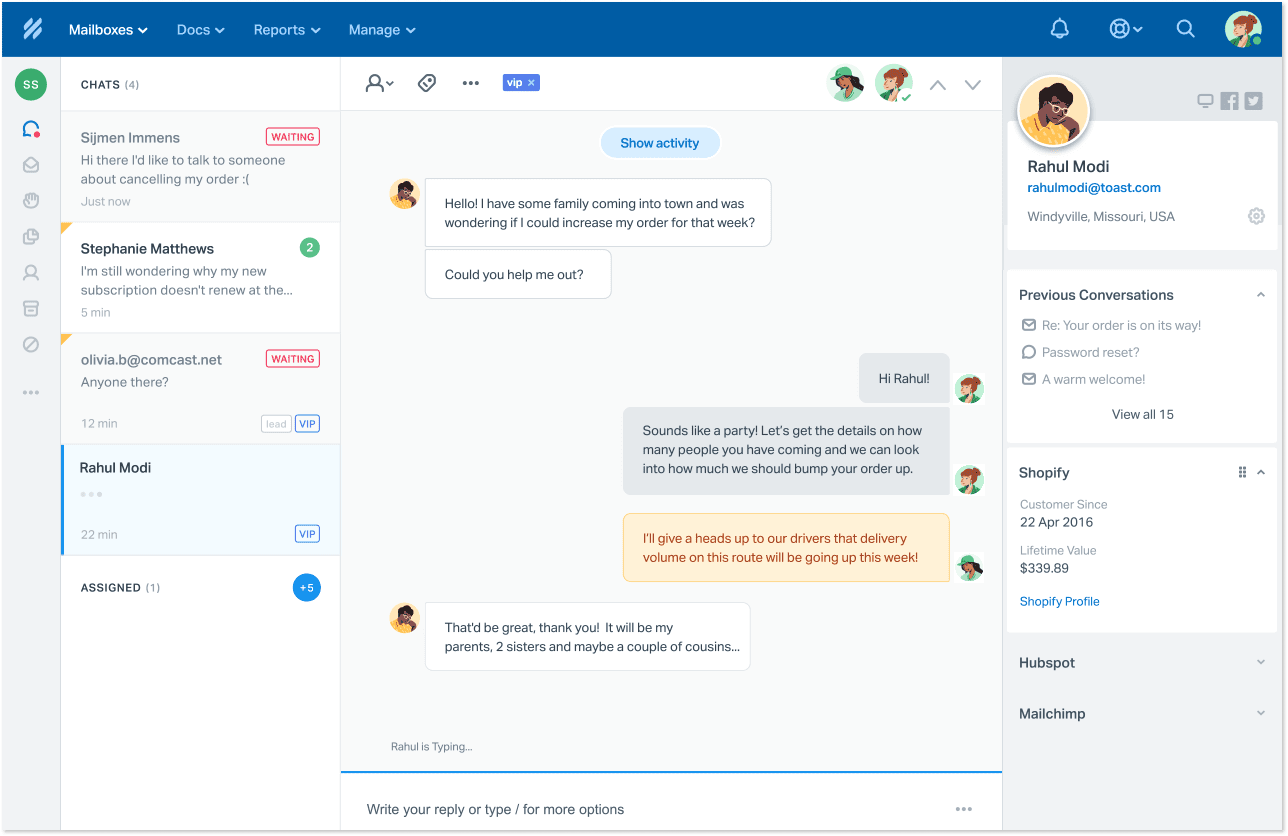 There is this feature called Beacon that is basically a live chat widget that can be set up in three different ways – self-service, neutral, and ask first. (I wonder why they decided to give their widget a particular name). Anyways, just know that Beacon is a live chat window.
Help Scout's knowledge base allows for customization, SEO optimization, and more. With the tool, you can create multiple knowledge bases for all of your products and manage them from one login.
The workflows feature is built to automate repetitive tasks. Each workflow allows you to set up a rule: if one event happens, what action should happen next. A simple example is when a user spends 5 seconds on the page, a chat window with a proactive message can pop up. You can also add multiple conditions to a single workflow which is great especially if we are talking about complex processes like payments/refunds, etc.
Price
The pricing starts from $25/mo per seat. It includes 2 mailboxes and 1 help page.
What is one reason to choose Help Scout over Tidio?
I'd say that the main reason is a knowledge base feature and the opportunity to integrate it into the live chat widget. Next time users visit your page they can choose how to get help: through personal communication with an agent or a knowledge base.
Gorgias – great customer service software for e-commerce businesses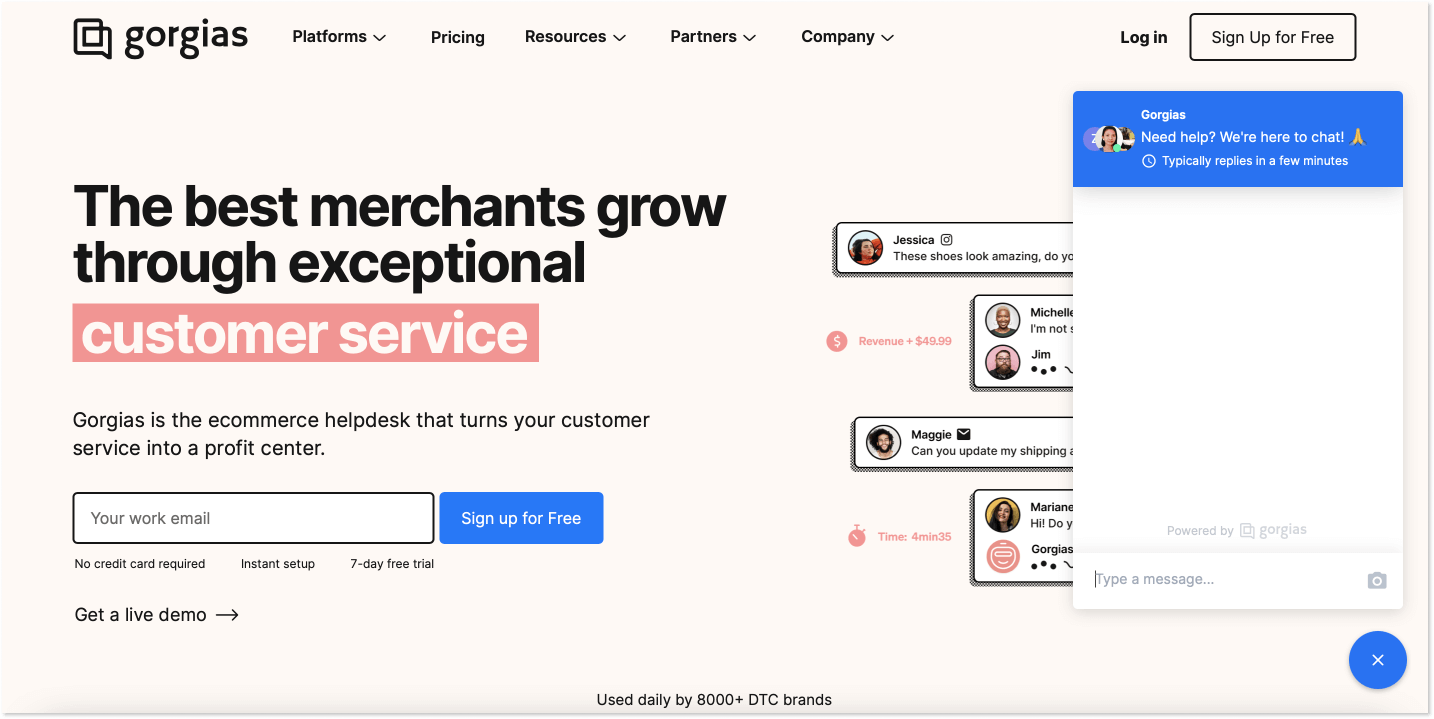 Gorgias is a customer service software focused on e-commerce stores. The platform offers full integration with Shopify, BigCommerce & WooCommerce. It's packed with features that can take an amount of workload off your support agents like live chat, Facebook and Instagram integrations, macros, autoresponder, and intent detection.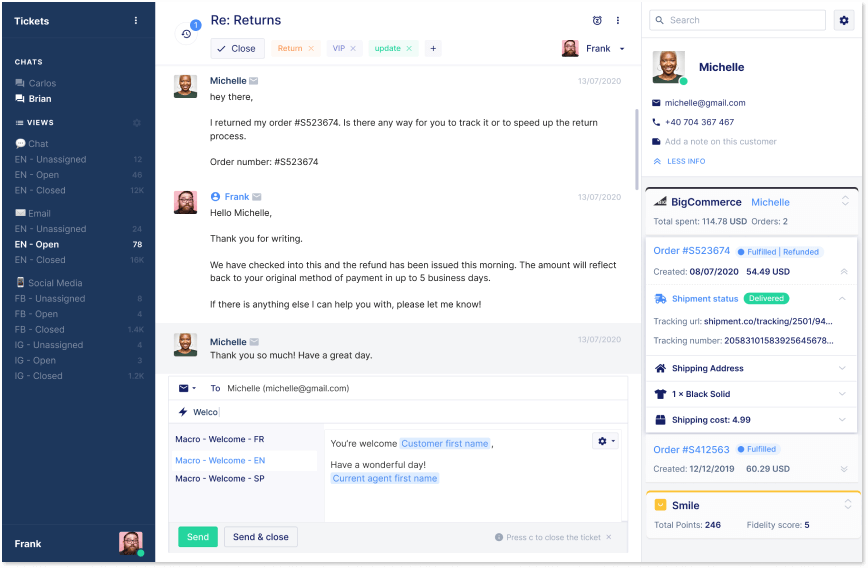 The software offers a robust integration with Shopify which makes it a very good choice for merchants. Once integrated, you can perform Shopify actions such as editing, duplicating, canceling orders, refunding – all from one screen. What's also important, you get complete information on the customer like order history.
Macros allow you to automate common questions. Create template answers and save them as a macro to reuse it later. This way users will get instant replies to questions such as "Where is my order?", "How to cancel the order?" and whatnot.
Along with that, any saved response that you create on the platform can have Shopify data variables: the order number, tracking link, and more. The only downside is that Gorgias is pretty challenging to master, you might need some time to learn the peculiarities.
Price
I won't hide, Gorgias is extremely expensive. The most affordable plan starts from $60/mo and includes just 350 tickets monthly. The advance plan costs $750/mo with a cap of 5,000 tickets per month.
What is one reason to choose Gorgias over Tidio?
The tool is created specifically for the e-commerce industry and integrates with other e-commerce platforms like no other. Take Shopify, for instance. Thanks to their deep integration not only does Gorgias allow you to pull customer data into your helpdesk but it also makes it possible to edit shipping information, adjust refund orders and tags, and create helpful macros.
Wrap up
While Tidio is a great solution, there are other options that might meet your needs better at the moment. For example, HelpCrunch, Help Scout, or LiveChat are good Tidio alternatives if you look for a live chat, knowledge base, and ticketing system.
Crisp and tawk.to might be of interest for aspiring companies which are looking for free solutions. Olark offers a strong live chat tool with PowerUps. Zendesk has a well-oiled ticketing system for huge teams. Gorgias is built for e-commerce businesses and provides deep integration with other platforms.
Since you are here, I invite you to give HelpCrunch, an all-in-one customer communication platform, a try. Sign up for a 14-day free trial today and see if it's a good match for your business. No strings attached.