10 Key Benefits of Live Chat in Higher Education
If you wonder how a college can benefit from utilizing a live chat solution at its website, then this is the right place. I've conducted a list of the top ten assets you can start enjoying today.

I remember the times when our English teacher forbade us from using online translators. She believed that by searching definitions in a physical dictionary, we will remember the material better. To be honest, it only led to losing huge amounts of time and didn't help much with memorizing.
Now, fortunately, students and teachers are free to use not only online dictionaries but also hold all their communication in a live chat. It partly comes from the needs of distance learning. At the same time students who visit campuses on a daily basis also prefer to communicate via chat apps. It's fast, habitual, and extremely convenient.
And while the tech progress allows for applying a live chat solution with ease, many higher education institutions still don't realize its full potential. No doubt, it will change soon as the demand for messaging has been steadily growing for years. Today, about 75% of respondents prefer live chat over any other channel.
So, what's a live chat, and why do people love it?
Live chat is a communication app that allows you to engage with your website visitors instantly via messaging. Basically, it means that anyone who enters your page with a question doesn't need to look for an email address or phone number in a Contact details section anymore. They just click on a widget icon and immediately get in touch with the right person through chat.
All in all, what would you get from utilizing a live chat solution in higher education? I decided to break down the answer into three main sections: benefits for future students, benefits for current scholars, and benefits for university staff.
Let's dive right in.
For soon-to-be students
Recall the times when you were an aspiring student yourself. Like all of us, you've probably had a head full of doubts, uncertainties, and questions. Being in such a state, a person needs a caring consultant who is able to calmly answer all the questions without that eyes rolling and irritated gaze.
By leveraging a live chat widget, you get…
1. Proactive website visitors engagement
Hundreds, maybe thousands, of users stop by your website every day. How many of them send you emails or give calls to clarify things? No matter what number you name, I can guarantee that with proactive chat you'll get much more interactions with future scholars.
Approximately, 30% of users engage via proactive chat, generating more revenue. There are universities globally that are already relishing the advantages. For example, Newcastle University offers a proactive chatbot to engage visitors in a conversation.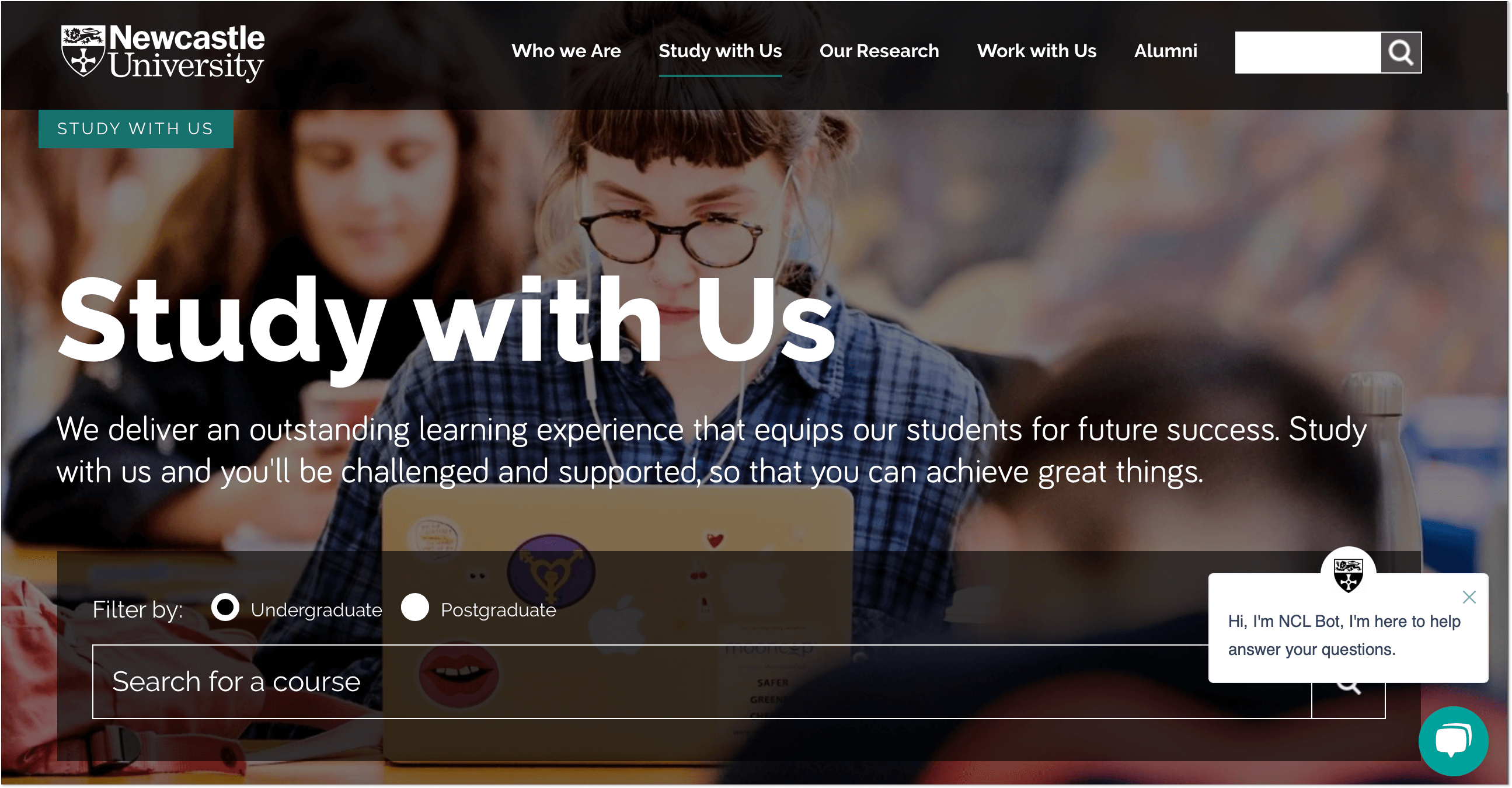 For example, the HelpCrunch live chat offers customizable proactive messaging that helps increase your website conversion rates by as much as 78%. It's simple, if you initiate a conversation there are more chances that visitors engage in it. Basically, this is the way to convert visitors into students.
Some other universities enable future students to chat with current ones right from the website. It can give more comfort and confidence to a newbie if a fellow scholar shares their own experience. Allow your website visitors to ask student ambassadors any questions they have as it can play a vital role in the decision-making process.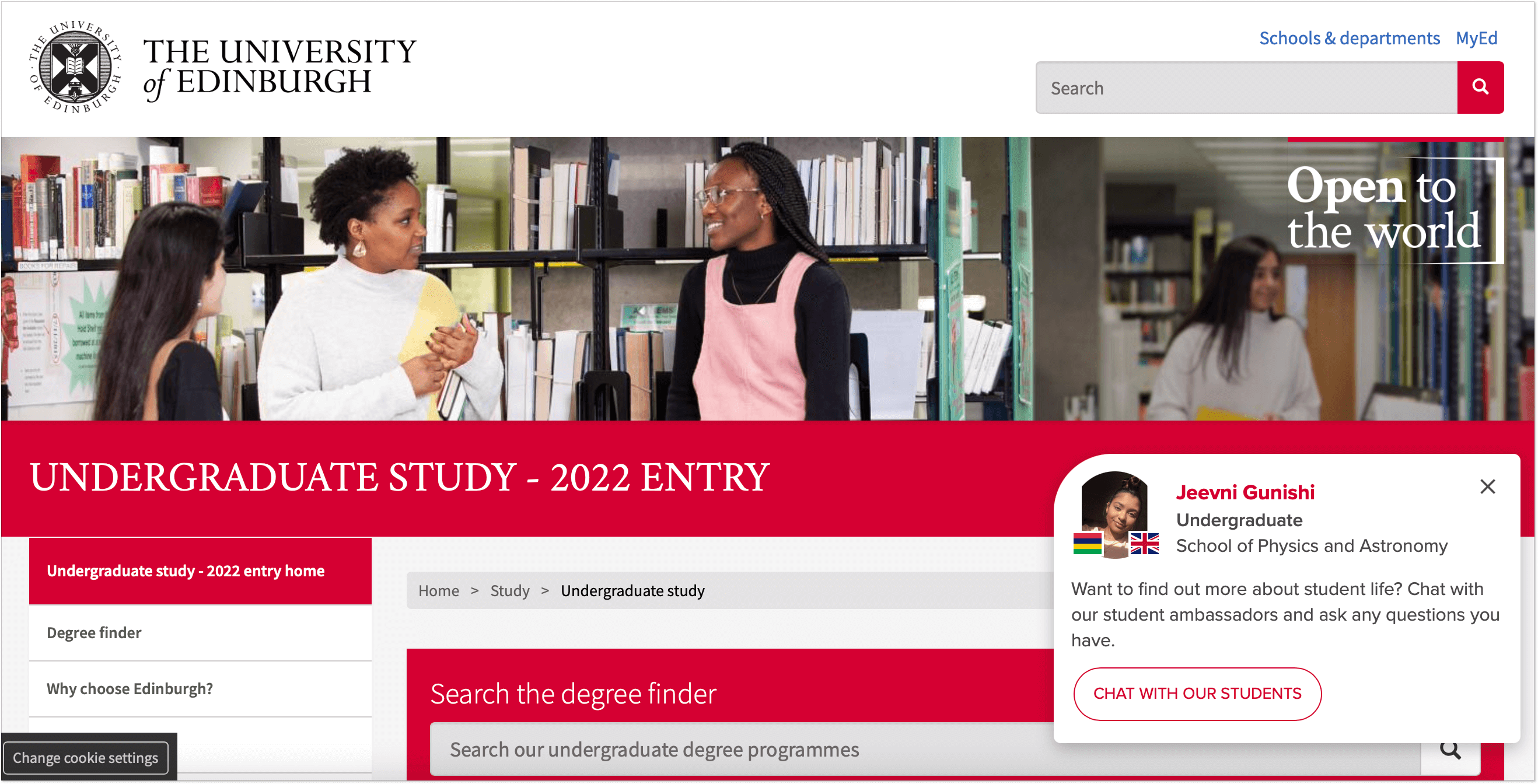 2. Deeper connection with enrollees
Direct communication always pays off. You can never build a bond via emails as tight as you can do with a live chat. It feels almost like talking to a person next to you owing to instant replies and support staff's avatars.
But it's just the tip of the iceberg, though. For example, the HelpCrunch live chat tool provides an automatic transcript saving feature. It can come in handy when you deal with returning visitors. This way any staff member can hop on and off the conversation and assist a future student without asking them to repeat the whole story from the beginning.
3. Inclusivity through multilingual support
I know what it means to be a foreign student abroad. It often happens that you feel not included when everyone around speaks another language or shares jokes you can't relate to. But not being able to get fast assistance in your mother tongue hits even more.
You can easily fix this problem with multilingual support. HelpCrunch provides the opportunity to localize the chat widget in several languages including German, Russian, Spanish, etc. Moreover, you can set localizations programmatically via our JavaScript API.
Where do your foreign students usually come from? Make sure to localize your widget in their native languages. Even if your secretary doesn't speak it, no problem. They can always use online translators or switch to English at some point, but at least you will greet novices in their mother tongue. And it can make all the difference when compared to other universities.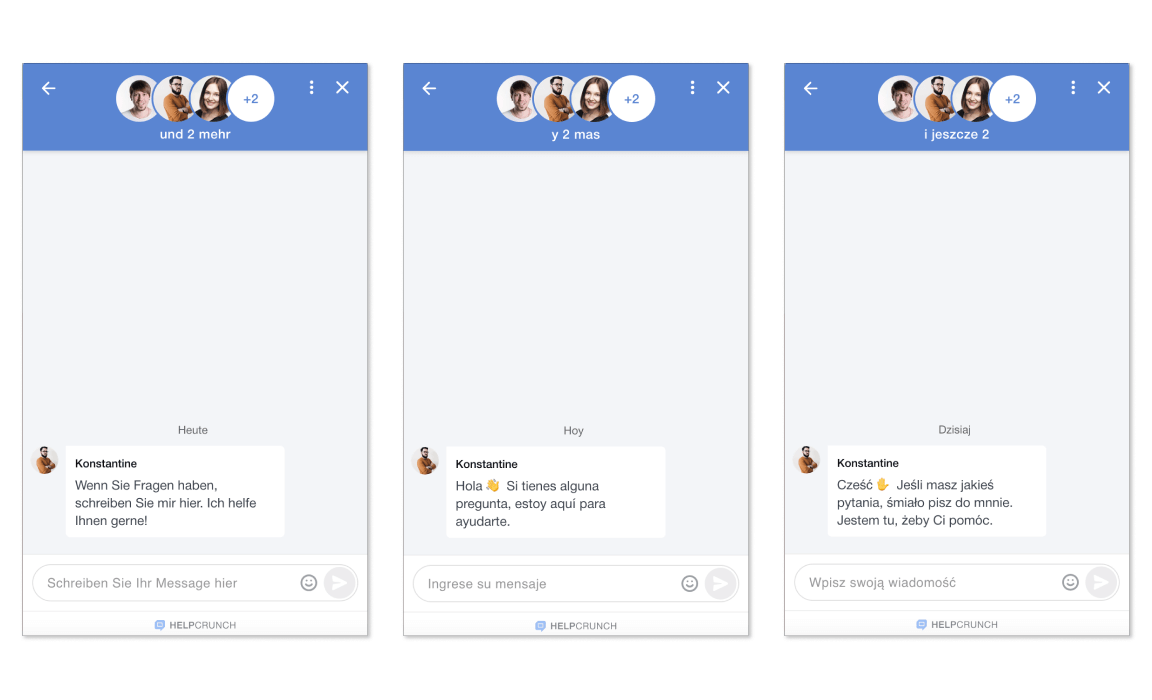 4. Self-service opportunity for future students
What about those who feel insecure asking their questions directly? There is a solution for them too – a knowledge base, namely, a self-service feature. You can perceive it as a quick library with all the necessary information for incoming students.
Prepare and add help articles that answer the most common questions to your knowledge base.
"How do I apply?"
"How much will a degree cost?"
"What financial aid is available?" and more.
When on your website, newcomers will be able to find the needed information by themselves at any time from any device. Since recently, the HelpCrunch software allows you to add a knowledge base option to your mobile application as well. Users can access it by clicking on the widget.
What's more, you can offer both features within the widget at the same time – live chat and a knowledge base – or just one of them to your visitors.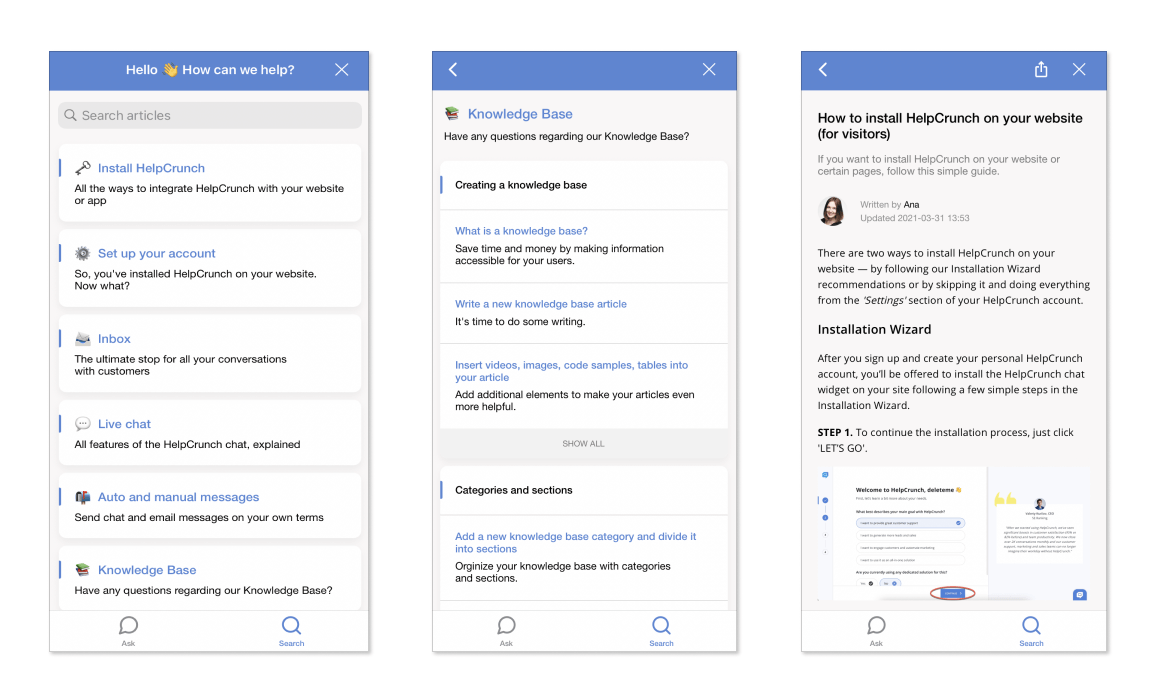 For current students
These are the students that have already chosen you. But history knows many cases when students left for other colleges because they felt bad about the one they were enrolled in. Live chat can assist you here as well.
5. Scholars satisfaction measurement with chat rating
If you want to know if students are satisfied with your assistance, just ask them. Usually, after each live chat interaction, a visitor receives a question something like "How satisfied are you with the chat support?" They can choose one of a few options: Great, Average, and Poor.
The HelpCrunch live chat is one of those apps that enables chat rating. Based on the visitors' assessment data, the tool prepares a satisfaction report which allows you to keep track of how satisfied your students and their parents are. The moment you see unfavorable changes, you are able to act accordingly and work on your overall customer service in higher education.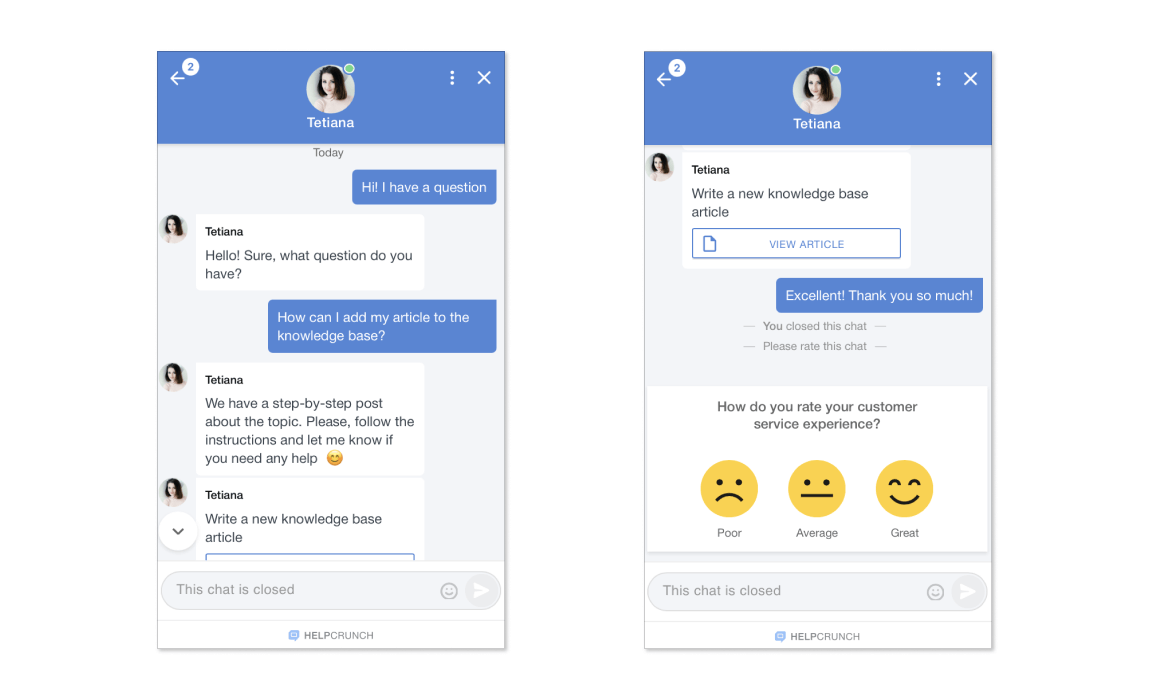 Psst, a little secret here. The HelpCrunch team works on one more functionality to learn students' satisfaction – NPS (Net Promoter Score) surveys. This metric is usually used to measure the users' loyalty to a brand. It gauges how willing a family is to recommend your school. The feature might be used for improving student retention rates and avoiding churn. Subscribe to our Newsletter at the bottom of the article, so you don't miss the release date!
6. Live chat with an academic counselor
Aside from usual day-to-day support, live chat enables you to do much more for your students. For instance, allow them to talk to a college counselor online like East Los Angeles College does. Even those who attend your college for quite a while still have questions regarding educational and career decisions. Solving those issues at academic counselor sessions via live chat is a convenient way for local scholars as well as foreigners.
This way you help your students to find the needed answers from a competent person fast from anywhere. Add live chat sessions with a counselor to your schedule and let learners know when they can turn for assistance.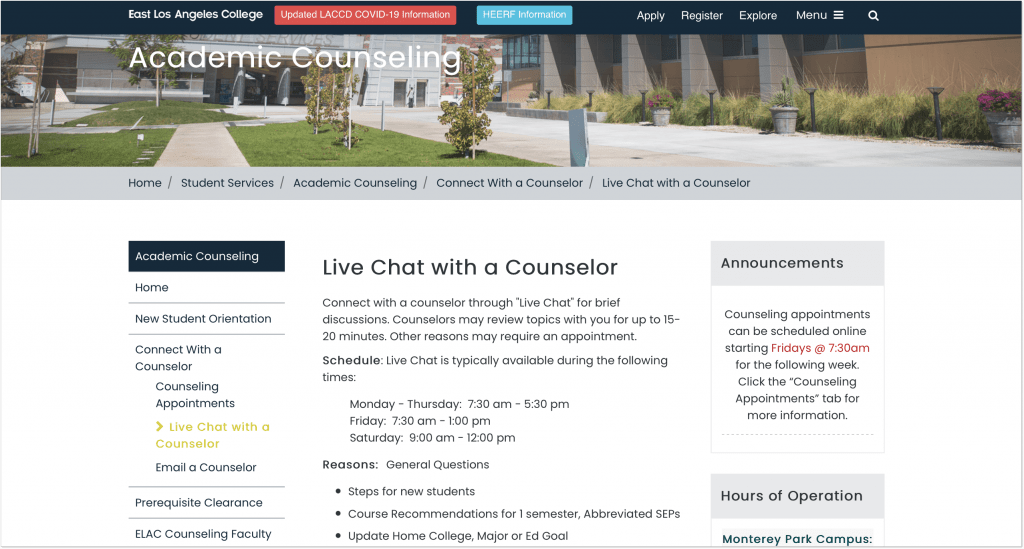 7. Availability around the clock
Your working hours may not suit your students' availability, especially if during the day they are busy with classes. But it's not a problem if you have good live chat software. The HelpCrunch app, for instance, enables you to set offline forms when you are out of the office. What does it mean? If a student wants to chat after hours, they will have to fill a short form stating their name, email address, and the question itself.
And when you are back at work, you can jump on the question and send a reply which will be automatically resent to the student's mailbox. This way you don't have to worry about the staff losing a query or a student missing your follow-up.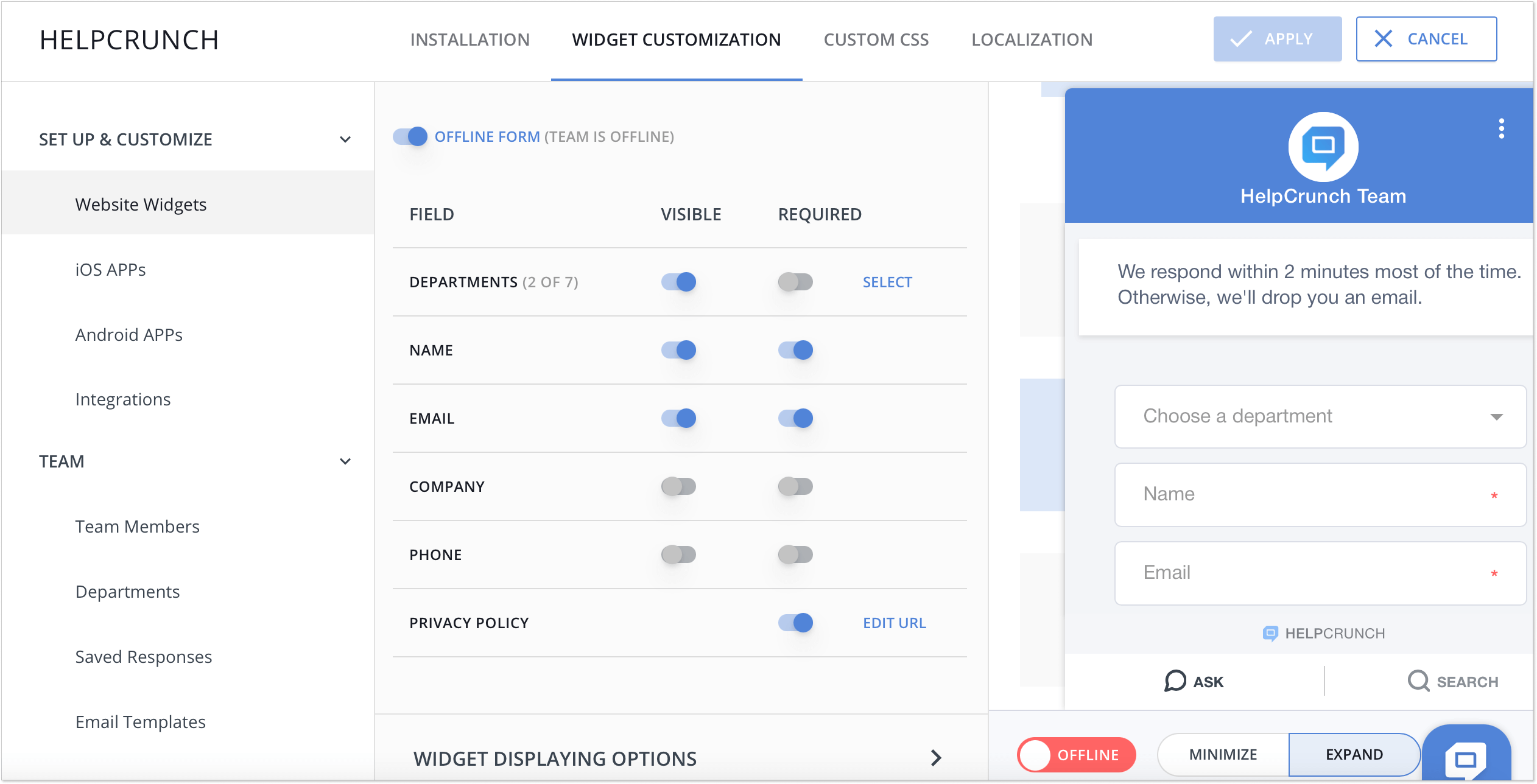 For college employees
University staff can also benefit vastly from a live chat as it simplifies the whole communication process with students and colleagues.
8. A simple way for teacher/student communication
Today teachers often turn to digital tools to connect with their students. Yes, face-to-face communication might be more effective but it's not always possible. As the class grows bigger in numbers, teachers might lack the time for proper interaction with each student in the classroom.
But even more importantly, some scholars might be just too shy of asking their questions in person. This once again brings us back to the matter of diversity and inclusion. How to ensure that everyone feels a part of the community? To provide a secure and trustable way of communication. Those who don't feel comfortable discussing something with a teacher in person can reach out to the college personnel via a live chat.
9. Fast technical issue reporting
When a system lag occurs, teaching staff usually have to send an email to the IT department first, creating a ticket. After that specialists might need some extra information to determine the issue's severity and only then tackle the problem itself. In general, it can take up to several days to resolve the problem.
Some minor bugs, as well as serious ones, can be fixed faster if you enable a speedy way of communication between a staff member and an IT department. Utilize a live chat solution, and allow support reps to respond to queries and chat with staff members instantly.
For instance, the HelpCrunch tool provides a tagging feature. So in case of major issues, agents can create tags which helps a lot in keeping track of the repair progress status.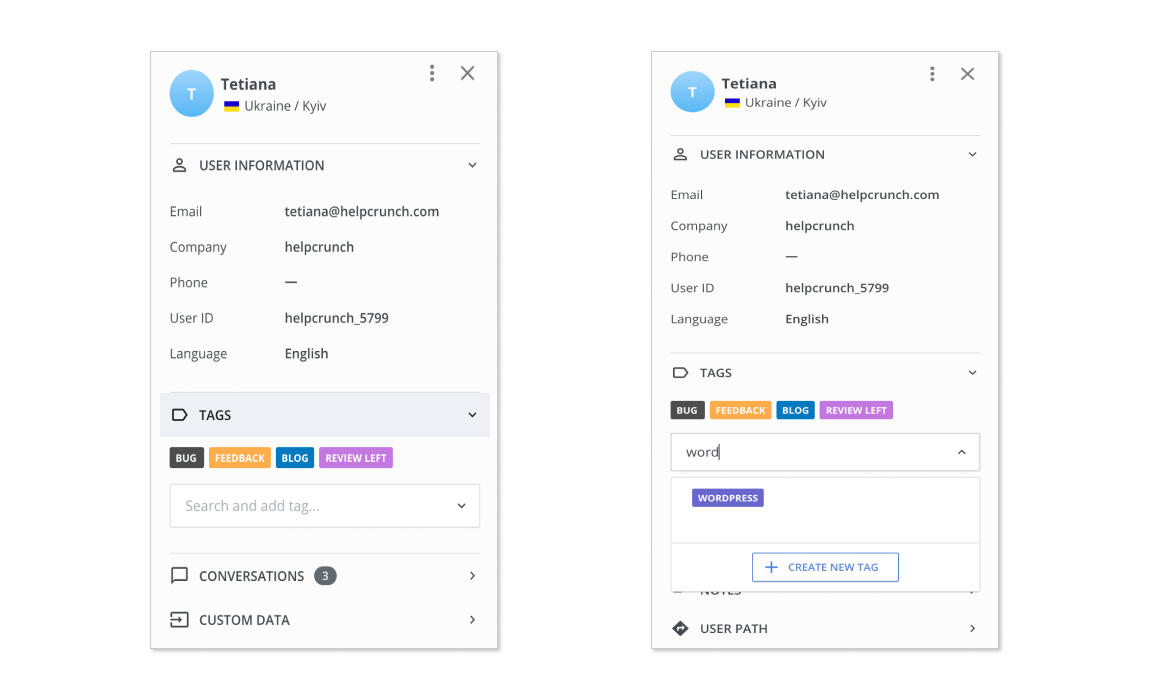 10. Improved university staff satisfaction rate
I experienced it on my own skin. When you come to the dean's office and ask your 1001 question about the scholarship or exam details, the secretary looks at you with ill-concealed anger. Why spoil the nervous system of your staff and students at one?
You can notably decrease the number of requests (in person, by phone, and email) by adding live chat and knowledge base features to your website widget. Part of the visitors will turn to the help articles, another part will text you their doubts in a chat window without the need to send an email, call or come to the secretary once again.
On top of that, the HelpCrunch tool provides a canned responses feature to speed up your student support even more. These are predetermined answers to the most common questions. Imagine a novice texting you "What are the fees for an undergraduate Management degree?" And the assistant on the other side of the screen just types the word "fees" and a saved reply to this question auto-fills immediately. The only thing left for the agent to do is to press a Send button.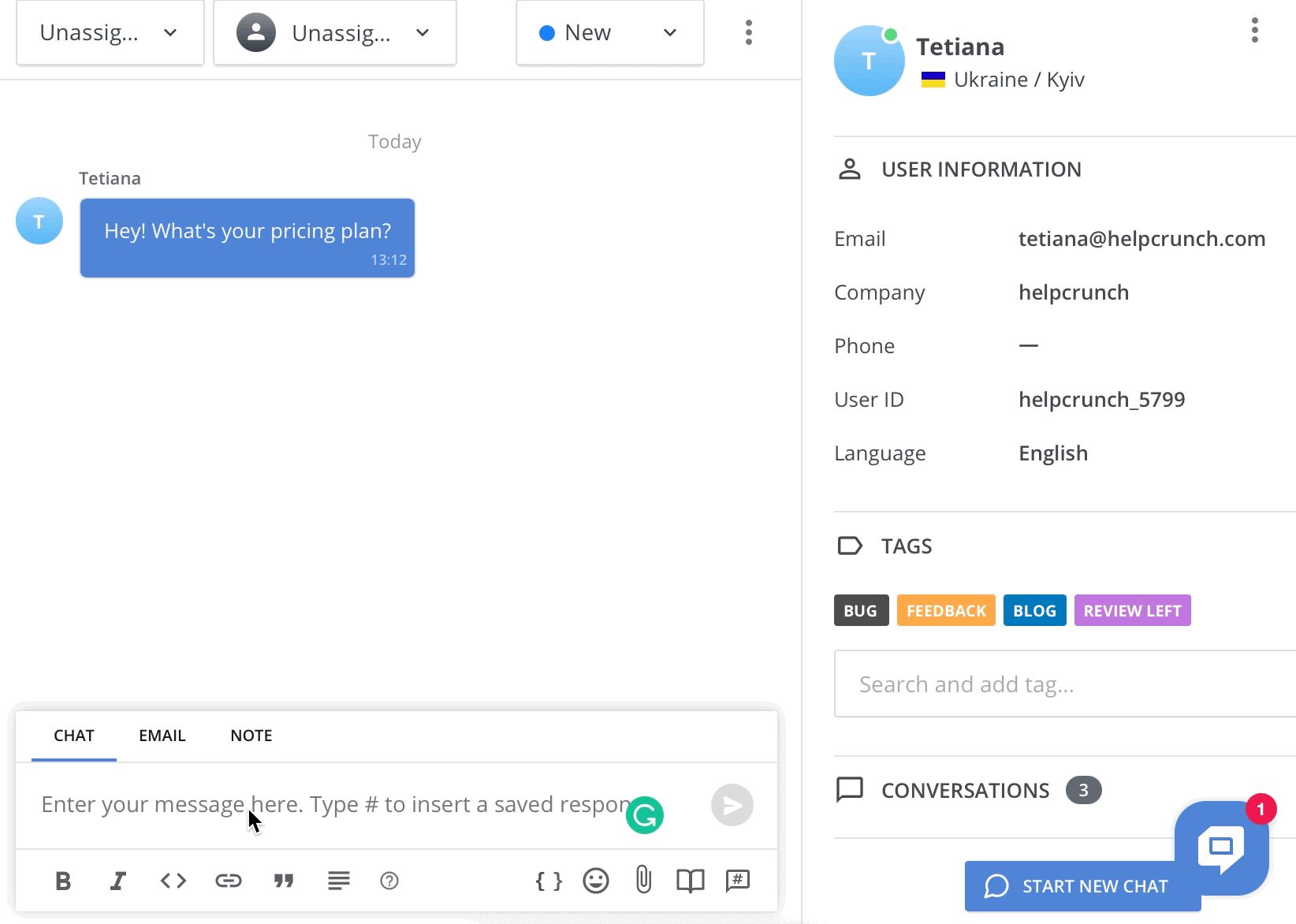 Considering the number of repeating queries university staff get on a daily basis, this feature can become a saver.
Bottom line
As a higher education institution, you can definitely benefit from applying a live chat tool to your website. Future students will appreciate the improvement a lot along with current scholars and university staff.
By leveraging HelpCrunch live chat software, you can attract more students, improve retention rate and prevent churn. The good thing, you are able to install it in minutes without any programming skills and relish the advantages now. Start your free 14-day trial today. No credit card is required.