10 Full-Throated Examples of Knowledge Management Systems You'll Want to Reproduce
Knowledge is power! We show all the knowledge management system examples there are on the market today, how you can harmonize information across your company and bring power to your customers.

Wherever you look, you will have to possess certain knowledge. In school, at home, or at work. By the way, in the business world, the know-how becomes even a greater necessity.
Judge for yourself: every time a new colleague arrives, there is a need for a smooth onboarding process. When a customer knocks at your door with a question in mind, you have to deliver flawless assistance and troubleshoot the issue. The list is endless.
This is the case when all the company's knowledge just needs to be a solid structure that you can manage, analyze, and improve. With that in mind, this post covers knowledge management system examples you would like to adopt for your brand.
10 exploit-worthy examples of knowledge management systems
As a quick introduction, knowledge management is the process of sharing, applying, and processing certain information. A knowledge management system can be everything from a well-packed resource center, a company's wiki, an FAQ section, training programs, case studies, to name just a few.
Below, you will find 10 knowledge management examples that could inspire you to shape an ideal information hierarchy for your company. They are all diverse yet similar, showing how knowledge can be masterfully framed.
1. HelpCrunch – a full-fledged system for managing knowledge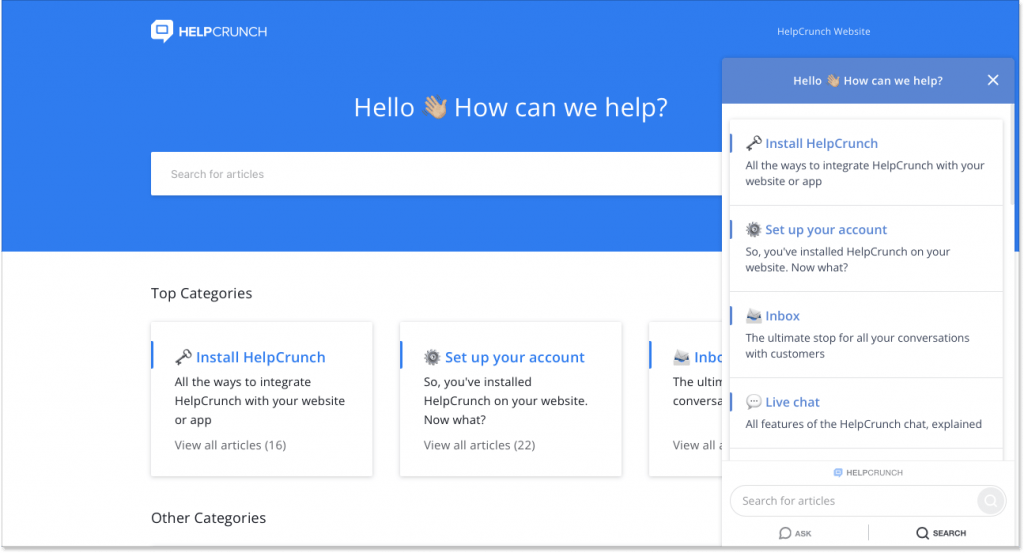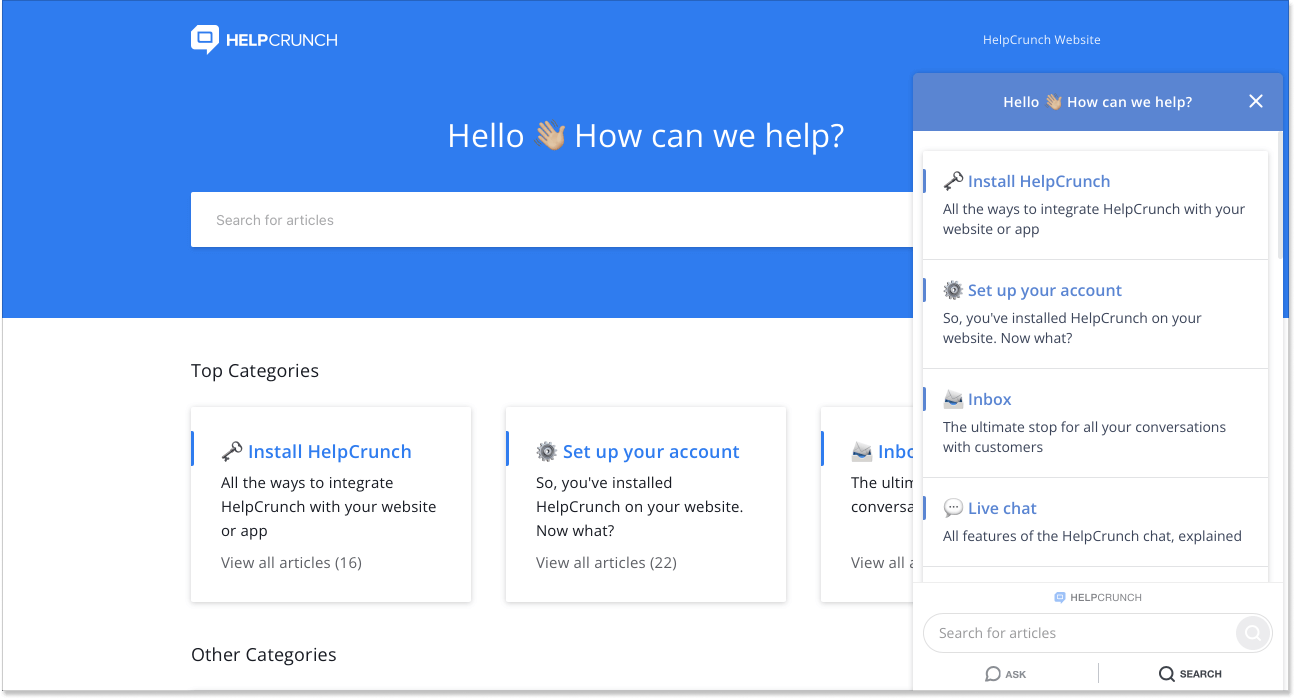 Being a one-stop customer communication platform, HelpCrunch has developed a steady toolset that helps take the brand's marketing, support, and sales up a notch. It offers everything for pleasing and effective customer interaction, from a sleek live chat and email marketing to a unified help desk and a hassle-free popup builder.
Next to the HelpCrunch's flagship feature stands also its SEO-friendly resource hub. This knowledge management system example is all about full customization, a rich WYSIWYG text editor, and even an access control option. The latter allows you to set restrictions on some of your articles by a password or trusted IPs.
But that's just the tip of the iceberg. HelpCrunch has integrated the knowledge base into the chart widget, taking away customers' headaches of searching for information. Thank God, you can now sleep peacefully at night, knowing that your clients will get all the answers on their own!
As for the money matters, HelpCrunch is one of the most affordable solutions on the market. The pricing starts from $12/month if billed annually (knowledge base comes in both Basic and Pro plans).
Intrigued? Well, there is only one way to see if HelpCrunch checks all the boxes for your business – sign up for a free 14-day trial. Test its robust knowledge management system as well as other worthwhile functionalities, no strings attached.
2. Salesforce – a library-like example of a KMS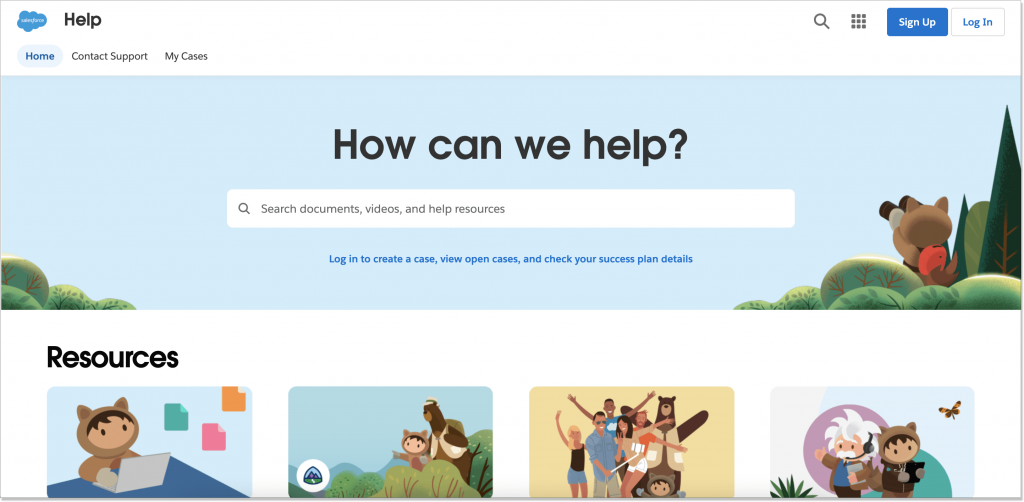 The world-known customer relationship management software, Salesforce, has a really decent example of a knowledge management system. Just like this company has a literally sardined feature set, its help center reminds me of a real-life library.
What catches the eyes at first is Salesforce's mascot and themed illustrations. It only makes the knowledge hub memorable. And of course, I can't but highlight a clear structure this example has. The intuitive search bar, trending topics, a separate video section are just a few points that make this knowledge management system example a pro.
Despite the fact that Salesforce has developed a laudable knowledge base, its pricing is still a drawback (not to mention it's multi-layered). For instance, the Service Cloud Pricing starts from $25/month per user and goes up to $300/month per user. Is it really worth the shot?
3. Document360 – a profound system example for customers & employees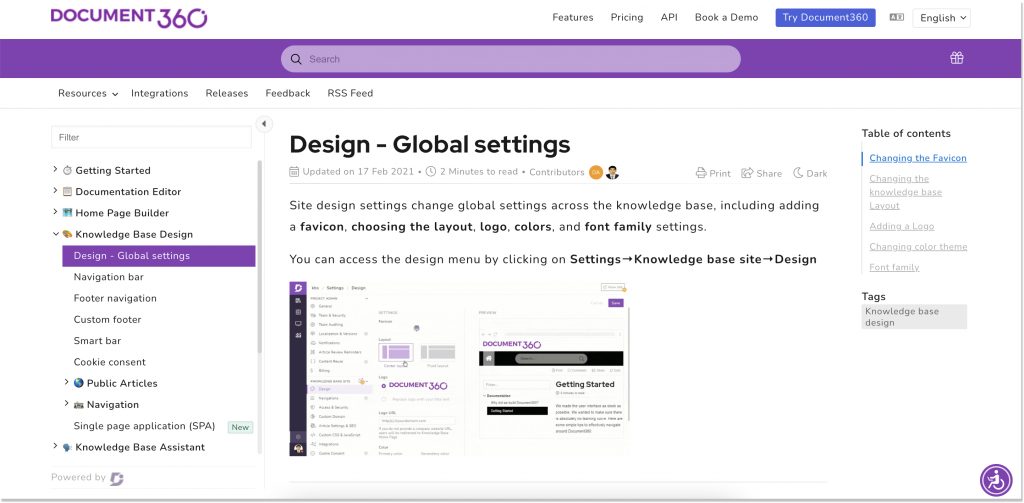 Of all knowledge management system examples, Document360 proves to be in the 'well-designed' team. With this software, you can create a knowledge base portal (for editors & reviewers) or even an entire site (for customers & employees).
Unlike Salesforce, Document360 involves visual materials into their resource center, which only makes this example of more value. Sure thing, you can develop an ample range of technical documentation, product help docs, user guides, and a lot more.
Among other functionalities this knowledge management system sample provides, there are:
WYSIWYG and markdown editor
Homepage Builder
Article Administration
Team Management
Speaking of the financial side, Document360 isn't the most low-cost option. The pricing starts from $99/month per project and can reach up to $499/month. But of course, you can go for a free trial and see if this software fits your goals.
4. Slack – a decent example of how to organize company's knowledge
Among the examples of knowledge management systems, there is one from Slack. What I like about it, is its straightforwardness and simplicity. That doesn't mean it's mediocre. It may not have a bunch of images and other visual elements in the articles, but the structured content is definitely winning here.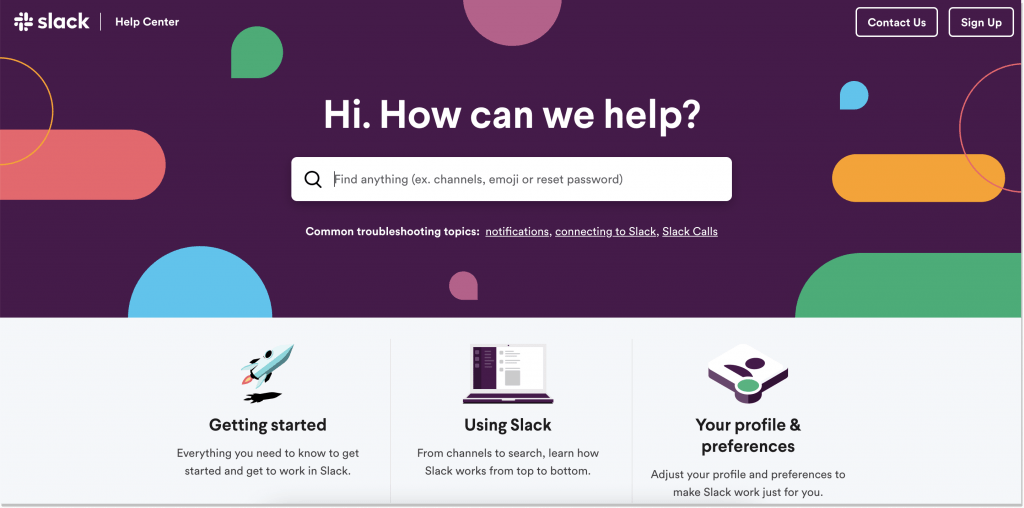 With Slack, there is an opportunity to shape a company's wiki or a powerful knowledge base. Its functionalities include file sharing, keyword research, content validation, mobile access, accessibility (content links, previews, sharing), reporting, etc.
To make your knowledge-managing experience even more rewarding, you can take advantage of some third-party integrations with Slack. These can be Confluence or Google Drive to store company materials, templates, and other docs.
Among other knowledge management system examples, this one seems kind of limited, but a good fit for a small wiki or a company's help center.
5. Evernote – a plain inspiration for knowledge structure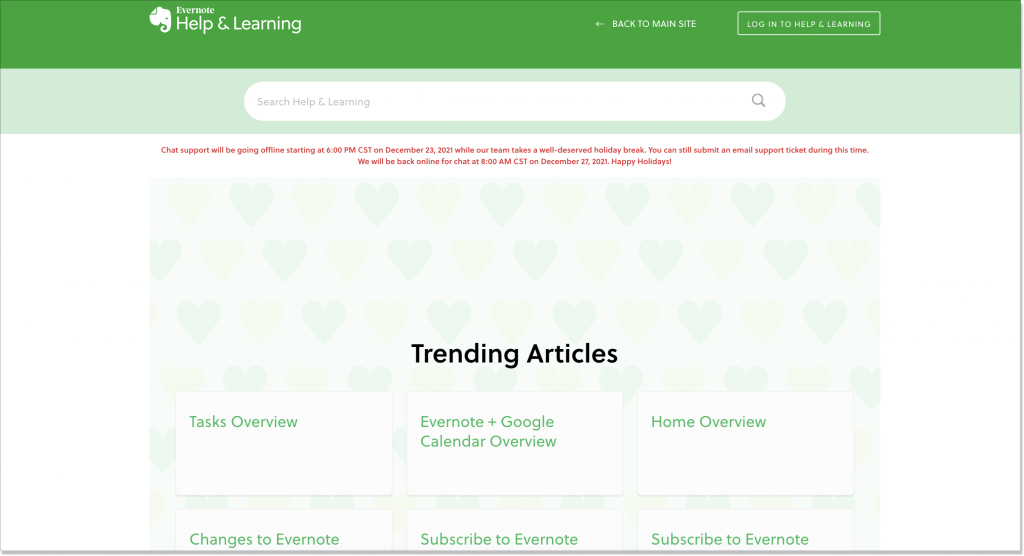 Just like Slack, Evernote is often thought of as one of the simple examples of a knowledge management system. Thanks to the search bar located in the middle of the page, Evernote's help center is accessible and scannable.
There is nothing special about Evernote's help center layout. But when you look a little closer, you'll see that its main principle is minimalism. Two key categories – Trending Articles and Browse Help Topics – make it clear what the behind-the-scenes of this example look like.
You can get started with the tool for free, or choose one of the two plans available here: Personal or Professional. Besides, they have the Evernote Teams plan for bigger organizations.
6. Yotpo – a rather precise sample of a knowledge management center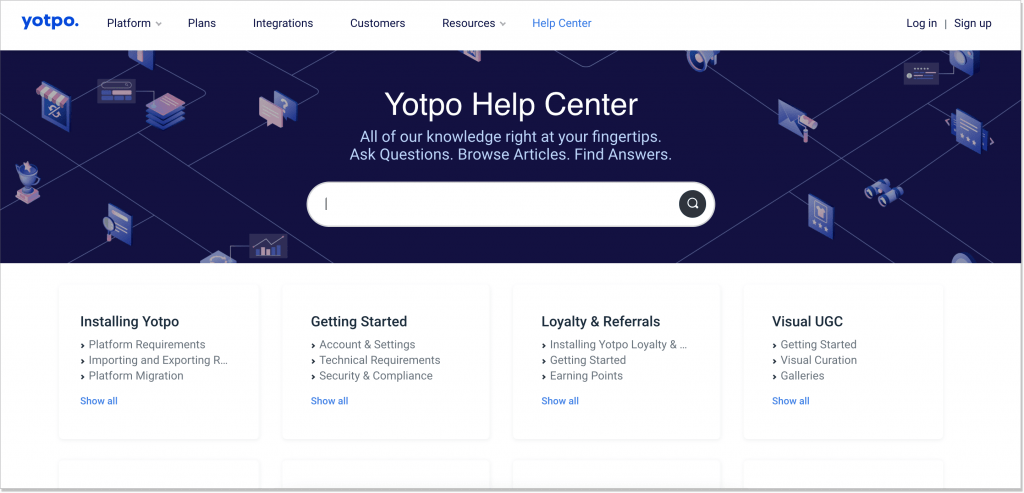 Yotpo is an eCommerce marketing platform providing online businesses with user-generated content such as reviews, referrals, loyalty programs, and community QA. Of all examples of knowledge management systems we've discussed here, this one makes it all right with its level of detail.
What I like about Yotpo's sample is that you see the articles covered in each section straight off. This way, all the guesswork is taken out, and you can easily find the content you need. The overall layout and design are pretty simple, which makes this example a bit habitual.
However, there is one gap (well, from where I am standing). If each article had at least several images, graphs, or other visuals, this sample would definitely beat other examples of knowledge management. You can't understand how something works "by touch", can you?
7. Workable – a vibrant KMS example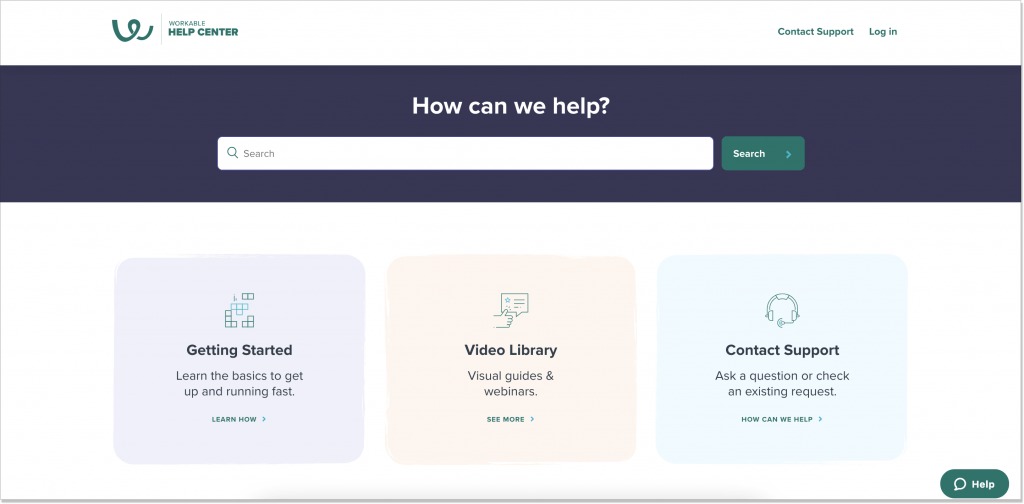 This knowledge management system example has all the chances to be my second favorite after HelpCrunch (that's a given). Let me give reasons why.
First, Workable has done a nice job adding graphic elements to each article category. Such a trick just makes their help center less mundane. Plus, look at the small CTAs "Learn how", "See more", and "How can we help" located on three main categories. This smart move can help you communicate to a user you have more quality stuff out there.
Second, I would like to highlight the video library section. If I were to choose, I would definitely watch some of these clips and get a better understanding of how the product operates. Take a good note!
Third, I just love the color scheme. Those shades of purple, lilac, sand, and grass green hit off perfectly.
8. Optimizely – a minimalistic example of a KMS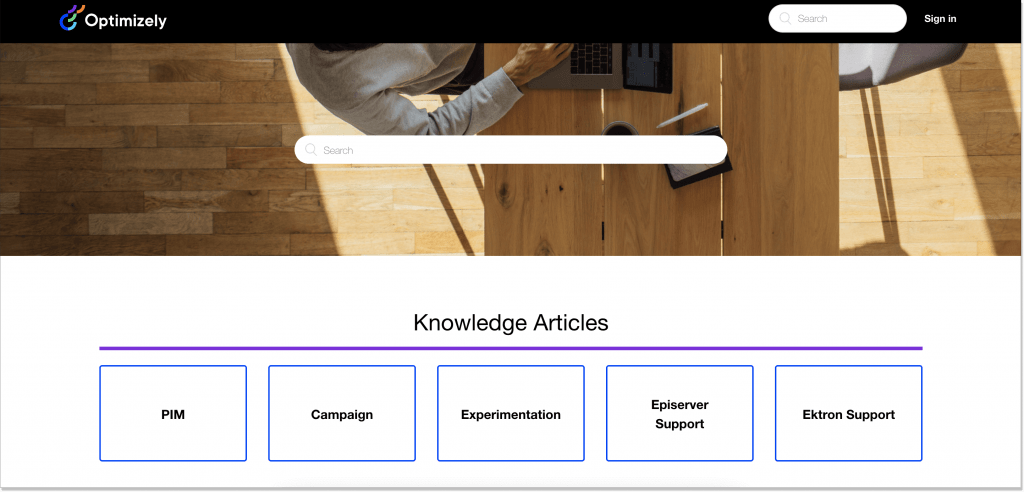 If you're a fan of old-school, minimalistic stuff, a knowledge management system example from Optimizely would be just the thing for you. This digital experience platform didn't bank on an eye-catching style, but on what's inside.
The whole help center involves just 5 categories, each of them has numerous subcategories and articles. Such an example would be of use for those who want their knowledge management resource to be packed with info.
I don't know about you, but the example of Optimizely is a bit hard to digest. Loads of articles, walls of text, and a few images – this solution definitely needs some improvement.
Other than that, this example of a knowledge management system is profound and in-depth, just like an ordinary library. It shows exactly how you can arrange large amounts of information in a digital format.
9. Nuclino – a system for perfect knowledge collaboration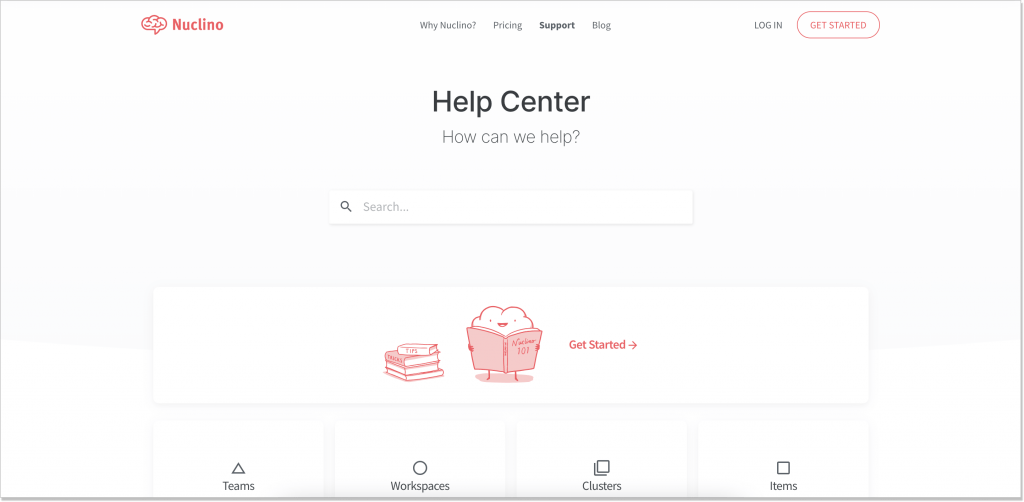 Nuclino represents a unified workspace meant for team collaboration and knowledge sharing. Unlike many other knowledge management tools that are packed with complicated features, Nuclino offers a rather clean and transparent interface.
Just like HelpCrunch, this solution wins with its ease of use and a full-fledged customization process. So yeah, even not-so-tech-savvy users are able to get the hang of it in no time.
Among other specs this knowledge management example provides are Kanban board layout, nested lists, and a mindmap-style graph. It's a great choice for such activities as sprint planning, project collaboration, to name just a few.
And the most intricate part – money. You can, of course, get started for free. But you'll only have access to limited features. To upgrade to a Standard plan, you will have to pay $6/month per user if billed monthly. A 14-day free trial is on, in keeping with the best traditions.
10. Papyrs – a good example of a company's wiki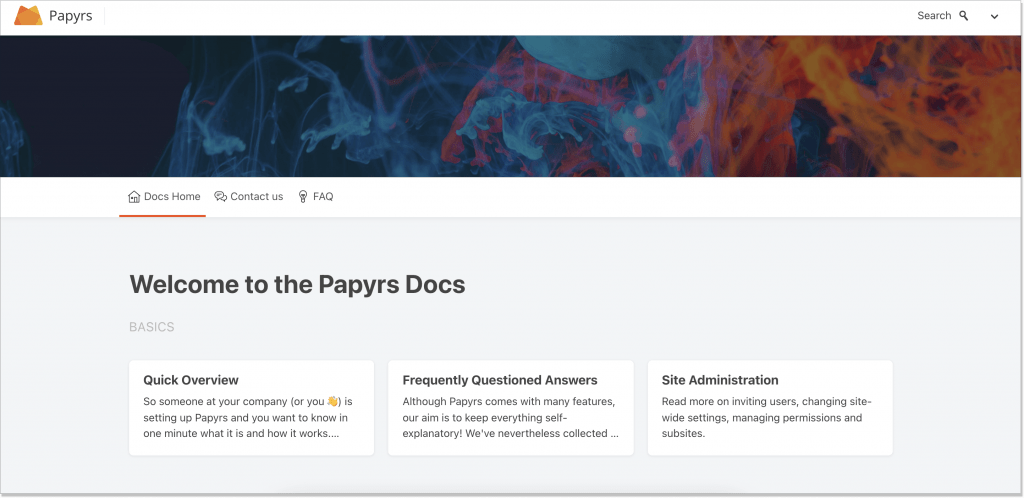 If you always wanted to create an intranet for your large squad, Papyrs might check all the boxes for you. It's the solution that helps you shape an internal wiki and a tailored knowledge base leaving all the difficulties behind.
Papyrs is a multi-purposed example of the knowledge management system that covers everything from a drag-and-drop editor, powerful search, version history, user permissions to comments, custom branding, and a lot more.
When you enter one of the articles, you see a convenient Table of contents on your right. This way, you can scan the content and jump to a certain paragraph without reading the whole piece.
Speaking of the price, only a personal wiki is free. Team wiki will cost you $99/month, Company wiki – $386/month, and Company Intranet – $999/month, if billed monthly. Sure thing, you can always sign up for a free trial, but be ready to splurge for more.
Wrap it up
This is it. These are our knowledge management system examples. But don't spread yourself too thin. Remember to always draw an analogy between solutions alike, find out about their bright sides and drawbacks.
When done right, a knowledge management system can augment customer satisfaction and even decrease custom support expenses. Maybe, this is your ideal chance to start off on the right foot?