Top 5 Help Scout Alternatives That You Can Afford
Looking for the best Help Scout alternative? We've got your back. Here is a comprehensive overview of 5 customer communication software that might be of interest to you.

Supporting clients is always a challenge. The first thing you need is a reliable tool that can help you get from point A to point B on your business success map. Just like the car, the tool has to be safe to ride, easy to drive, and comfortable to feel inside.
Yep, Help Scout is one of those tools but not without its shortcomings. That's why we decided to conduct in-depth research to help you pick the best Help Scout alternative. Get ready for the ride, it might be a tough choice to make!
Help Scout – a simple software for customer support to grow your business
Help Scout offers an unembellished help desk tool where you can manage all conversations with customers. The software supports chat and email channels only. Each query transforms into a ticket and lands in a shared mailbox. In the dashboard, reps can make use of collaboration features like private notes or collision detection among many other things.
Help Scout features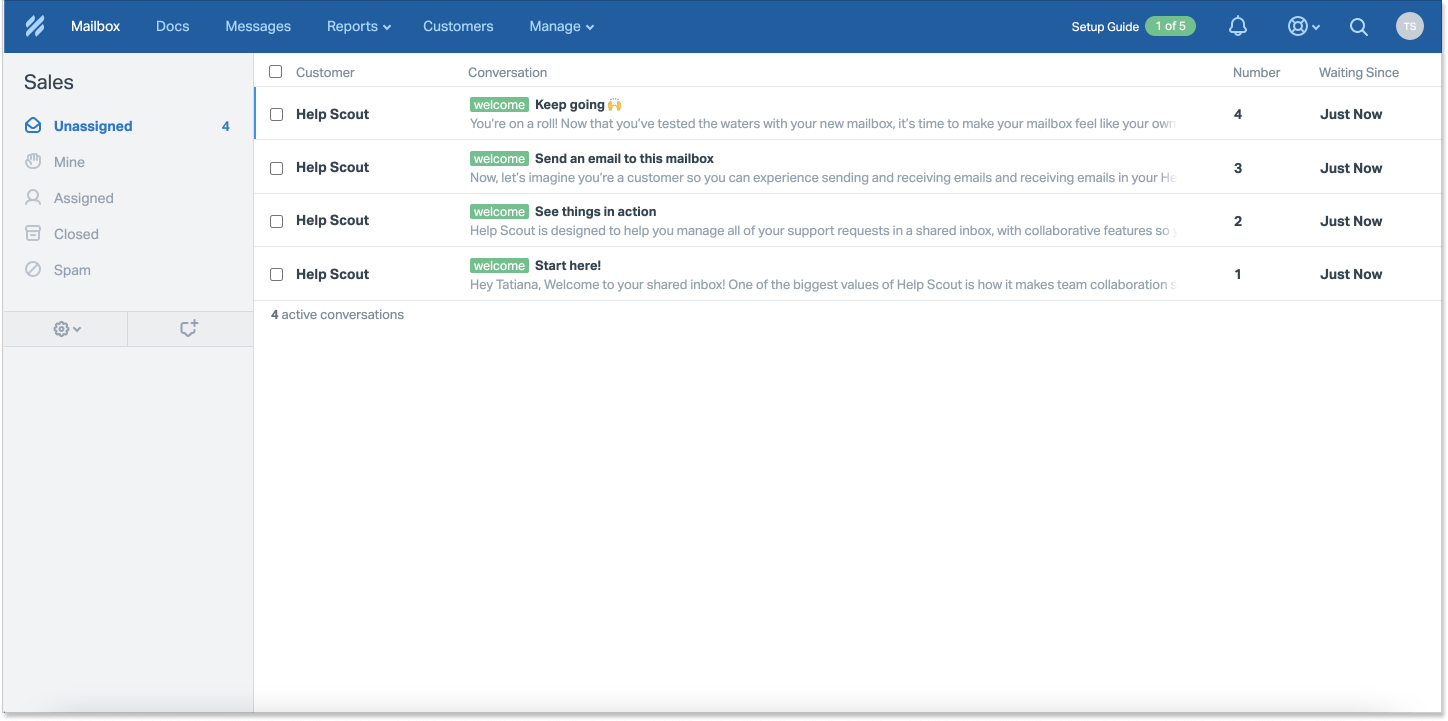 The most prominent features of Help Scout are:
Shared inbox where you can create multiple inboxes for different email addresses, teams, and brands.
Knowledge base provides its users with a simple editor and built-in SEO settings.
Beacon (not Bacon 🥓). It's the Help Scout tool that looks a lot like a live chat window but, for the most part, functions as a knowledge base assistant.
Trigger-based messages are sent based on the conditions you set. Select an action (what you want to happen if the condition is met), then select a condition (for instance, a pricing page is scrolled for 15 seconds), and let the system do the job.
The most affordable plan by Help Scout starts from $25/mo per seat if billed monthly. The Pro plan will cost you $40/mo per user.
Why look into the Help Scout alternatives?
With all those great features, it looks like there is no reason to switch to a Help Scout alternative. Or is there? We've researched users' feedback on G2 and found out what customers don't like about the tool:
The absence of a 'unified inbox' that allows to see requests assigned to multiple teams across multiple mailboxes
The reporting views are not divided by inboxes
The tool tends to have a frequent outage
The team is not particularly interested in feature requests from end-users
Pre-sales support is extremely poor
Generally, customers insist that Help Scout is good but too plain. So as you grow you might need a more reliable solution.
What tools are the best Help Scout alternatives?
When selecting the software for this list, we paid special attention to must-have features like live chat and shared inbox with must-have help desk features. Only the tools that cover these essentials were qualified for the article. Additional functionality – a chatbot or social media integrations – is supplementary.
There are 5 main Help Scout alternatives on the market today:
HelpCrunch – affordable full-house tool for support, marketing, and sales
Crisp – a tool for multichannel customer support
Kayako – help desk software for communication with customers
Freshdesk – ticketing-oriented customer support tool
Drift – the tool with a laser focus on sales and marketing
To help you make the right decision fast, here is a quick comparison table of all Help Scout alternatives from this article.
Platform
Main features
Prices start at
Advanced subscription
plan
G2 rating
Help Scout
Live chat
Shared inbox
Knowledge base
Reporting
$25/mo per seat
$40/mo per seat
4.3 / 5 ⭐⭐⭐⭐
HelpCrunch
Live chat
Shared inbox
Knowledge base
Chatbot
Reporting
Email marketing
Auto messages
Popup builder
$15/mo per seat
$25/mo per seat
4.7 / 5 ⭐⭐⭐⭐⭐
Crisp
Live chat
Shared inbox
Knowledge base
Chatbot
CRM
Status page
$25/mo per seat
$95/mo per seat
4.4 / 5⭐⭐⭐⭐
Kayako
Live chat
Shared inbox
Knowledge base
Social media support
Time Tracker
Single View
$30/mo per seat
$60/mo per seat
4.1 / 5⭐⭐⭐⭐
Freshdesk
Live chat
Knowledge base
Shared inbox
Social support
Live chat
Call center software
$18/mo per seat
$71/mo per seat
4.4 / 5⭐⭐⭐⭐
Drift
Live chat
Shared Inbox
Knowledge base
Chatbot
Email automation
Virtual Selling Assistant
Quotation based
Quotation based
4.3 / 5⭐⭐⭐⭐
1. HelpCrunch – affordable full-house tool for support, marketing, and sales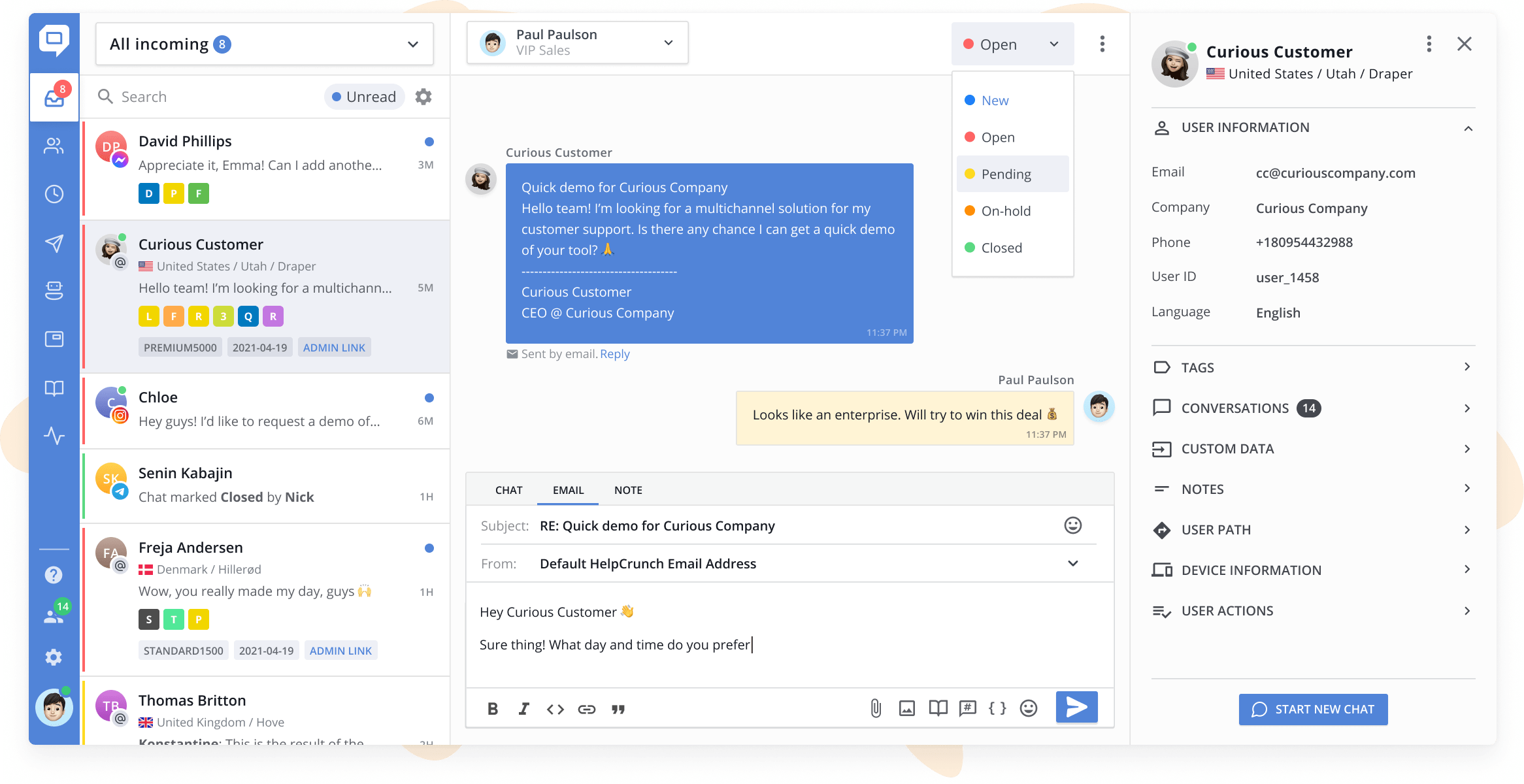 The HelpCrunch platform is surely the strongest among Help Scout alternatives. It's a one-stop tool that covers everything and more – live chat, shared inbox, auto messages, chatbot, popup builder, knowledge base, and in-app messaging. Thanks to mobile SDKs for iOS and Android, you can cater to customers' needs on the go inside your mobile app.
HelpCrunch features
Live chat from HelpCrunch is not just a tool for support in real-time, it also embraces functionality for lead generation and customer engagement. How? Thanks to proactive messages you can initiate conversations with users. Leveraging offline and pre-chat forms allows for automatic data collection from visitors. On top of that, here you have limitless customization options for the shape and color of your widget that contribute to your brand image.
With a shared inbox, you get a unified place for chat and email communication. Each chat and email gets delivered to the HelpCrunch inbox. Agents can use canned responses and private notes to enhance productivity. In the far right column, you have access to user information. Thanks to in-app messenger, you can talk to the HelpCrunch support team right from your agent's dashboard.
The HelpCrunch knowledge base tool is a single repository for all helpful articles about a product or service. Just write a post and publish it on your Doc page. Don't forget to put up SEO settings if you want it to be crawled by Google search. The best part is that you can effortlessly consolidate live chat and your knowledge base in one widget. On this wise, users will be able to find the information on their own even when your team is offline.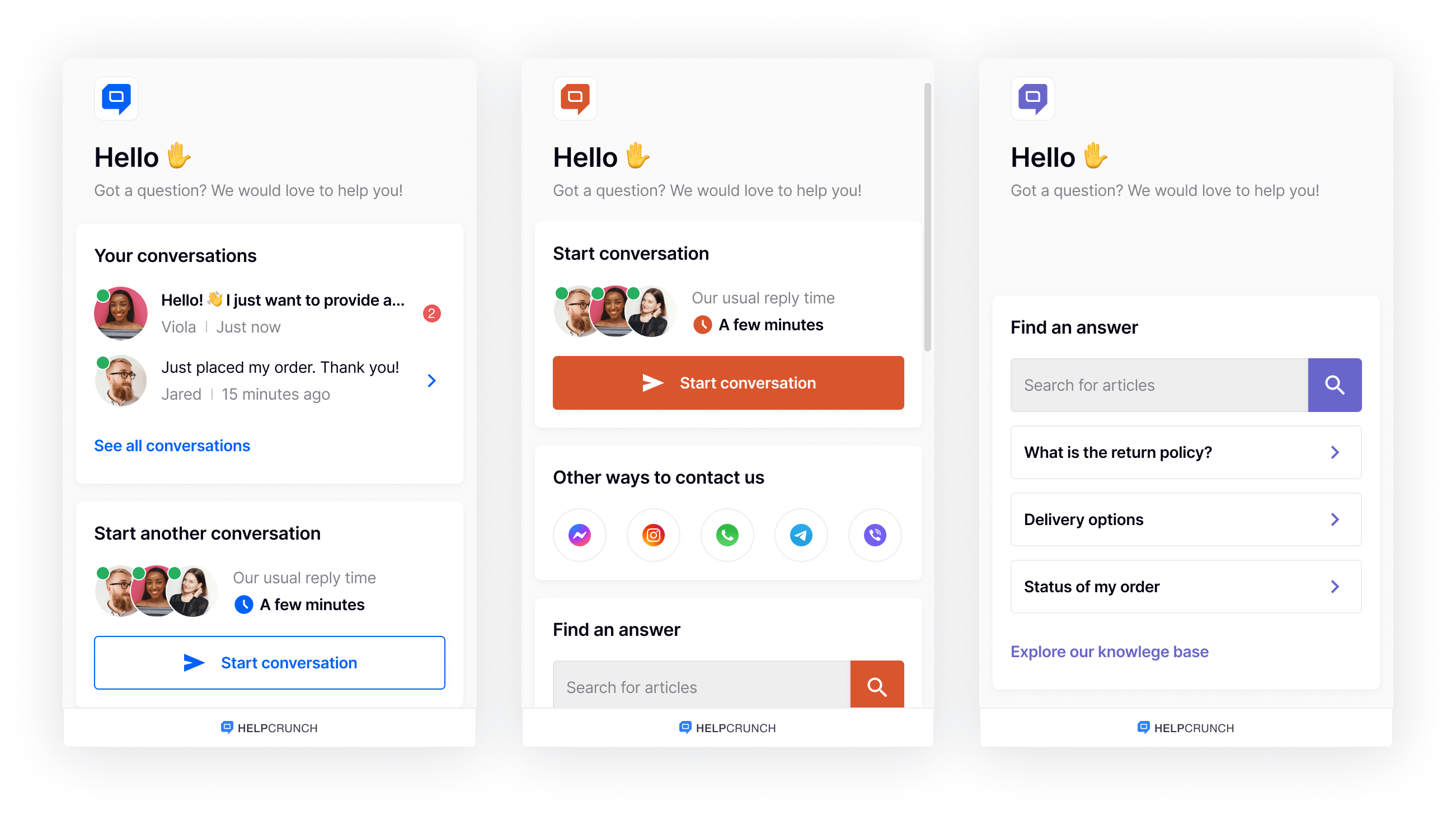 In essence, HelpCrunch email automation makes your email marketing more facile and smart. It means that you can send newsletters to customers and provide email support all in one tool. Set up email marketing campaigns, target selected user groups, monitor open and response rates to improve your performance. Moreover, agents can send emails to customers in their dashboard by switching between channels.
There is one more feature that HelpCrunch offers and Help Scout doesn't – popup builder, which can increase your conversion rate by almost 10%. Build popups for your website based on visitors' personal information and behavior. Easily change the popup design, add animations, images and set up display rules. It'll help with collecting users' information or announcing special deals.
HelpCrunch pricing
The platform is super budget-friendly even if you compare it to Help Scout. The prices start from $15/mo per user and include live chat, popups, knowledge base, and auto messages. The premium plan with all the features including chatbot will cost you $25/mo per user. If you wish, you can purchase any number of emails depending on the volume of your mailings.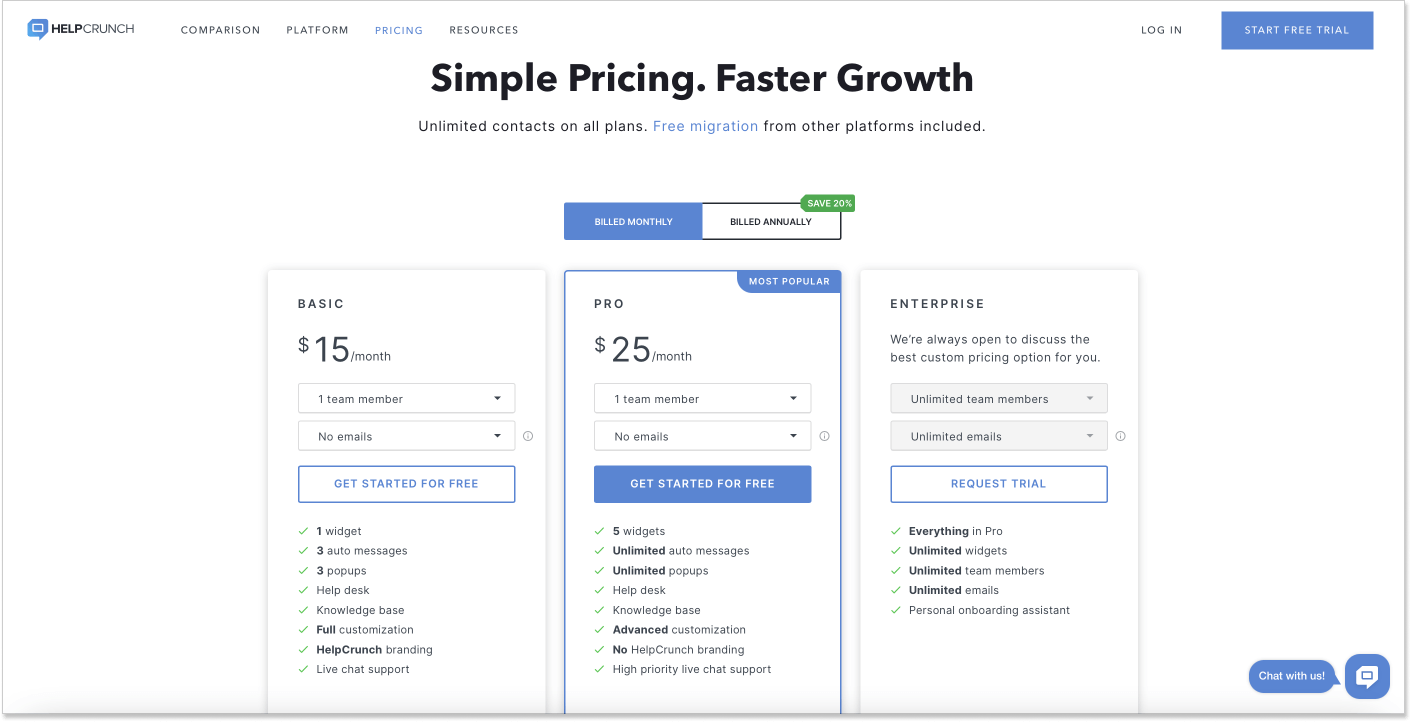 HelpCrunch vs Help Scout
If you are ready to switch from ticket-oriented to an all-in-one omnichannel platform, then HelpCrunch is a great Help Scout alternative. Its' chat as a ticket model allows you to manage every incoming query within the same dashboard. The email marketing functionality gives more opportunities for communication with customers. On top of that, HelpCrunch offers friendly and responsive customer support that many users mention in their G2 reviews.
Besides, lowering a monthly check while getting even more value can never hurt anybody.
2. Crisp – a tool for multichannel customer support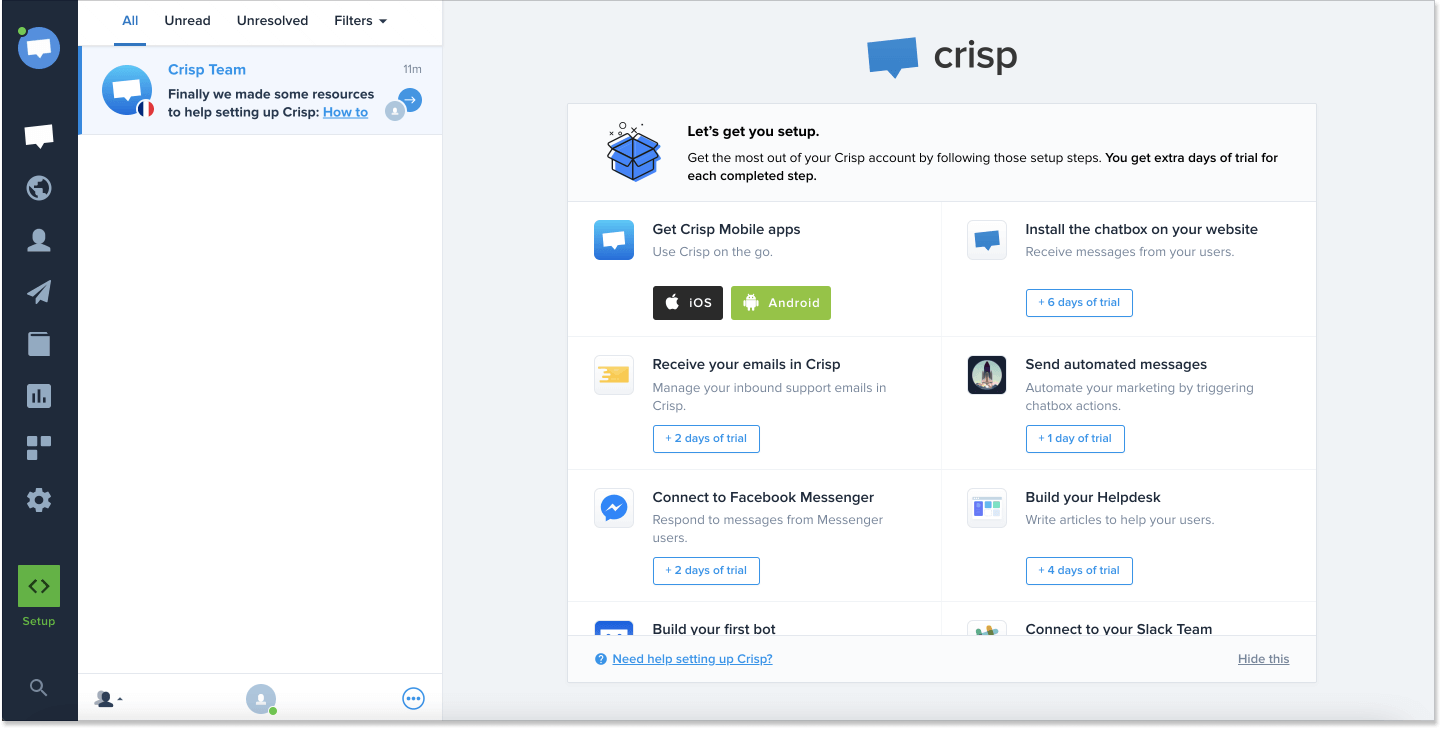 Crisp is a modern customer support tool that perfectly suits small and medium businesses. It certainly offers more features than some other Help Scout alternatives but at the same time, the price is still affordable.
Crisp features
Shared inbox by Crisp empowers customer support agents to manage all the communications via chat, email, and social media in a single dashboard. They have internal notes, saved responses, and autoresponders. Also, the tool provides your team with advanced reporting capabilities, including users ratings.
A chatbot is a pretty popular feature that many companies use right now. The Crisp chatbot builder allows for creating workflows through a no-code editor. Come up with a scenario and publish it to provide personalized support to customers. The chatbot can proceed with lead qualification, meetings booking, and scaling conversations.
Crisp allows users to see a Visitors Live map that shows how many and from where people are scrolling your website at the moment. This way you can easily monitor how the number of leads is growing and ​​what time they are more active.
Additionally, like many other customer support tools, Crisp offers a customizable live chat widget, a knowledge base that can be integrated into the live chat, and a standard ticketing system.
Crisp pricing
If you have no more than two agents and need just a live chat feature, then you can go with the forever free 'Basic' plan.
For social media integration, canned responses, private notes, and unlimited history consider a 'Pro' plan for $25/mo per website (includes up to 4 seats). It's recommended for early-stage startups.
In case you want it all – knowledge base, chatbot, video chat, and whatnot – and money is not a problem, jump for an 'Unlimited' plan that costs $95/mo per website.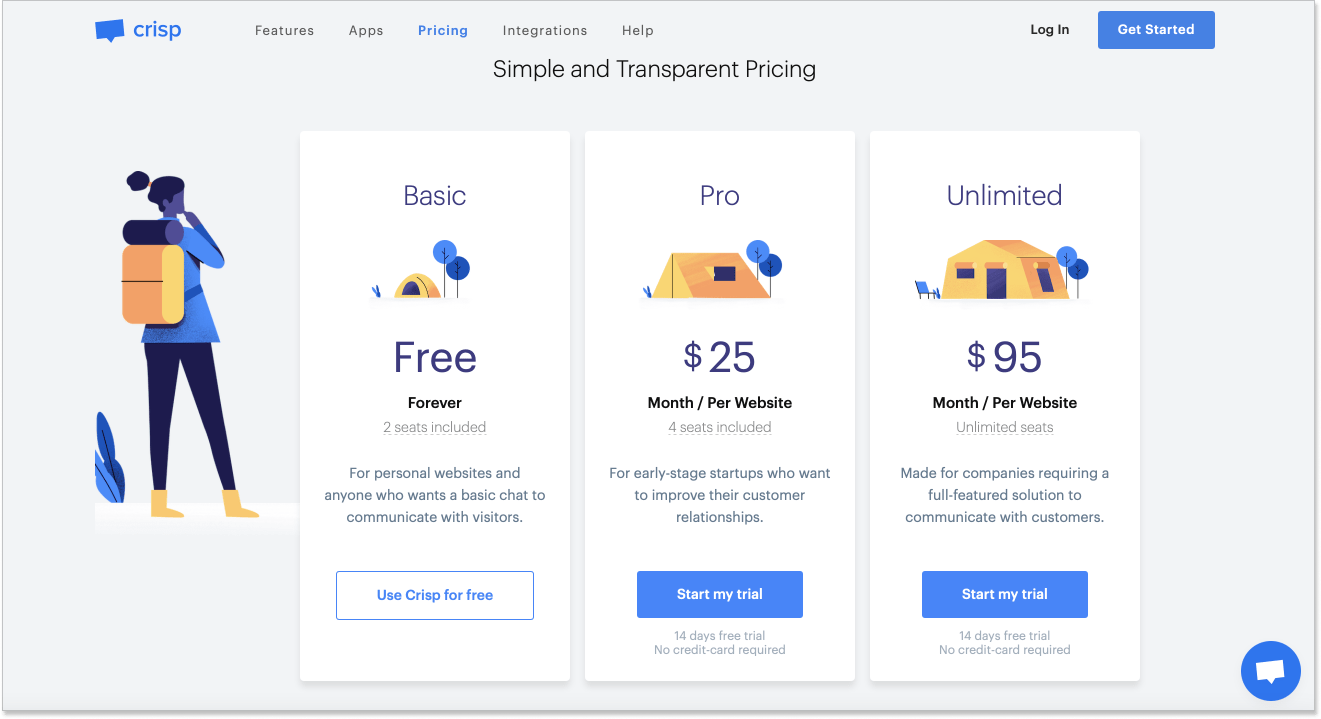 Crisp vs Help Scout
If you are looking for a startup-friendly multichannel support tool that among others allows for social media integration and chatbot builder, then Crisp is the right choice among other Help Scout competitors. What I really don't like about Crisp is that their knowledge base is only accessible within the most expensive plan.
3. Kayako – help desk software for communication with customers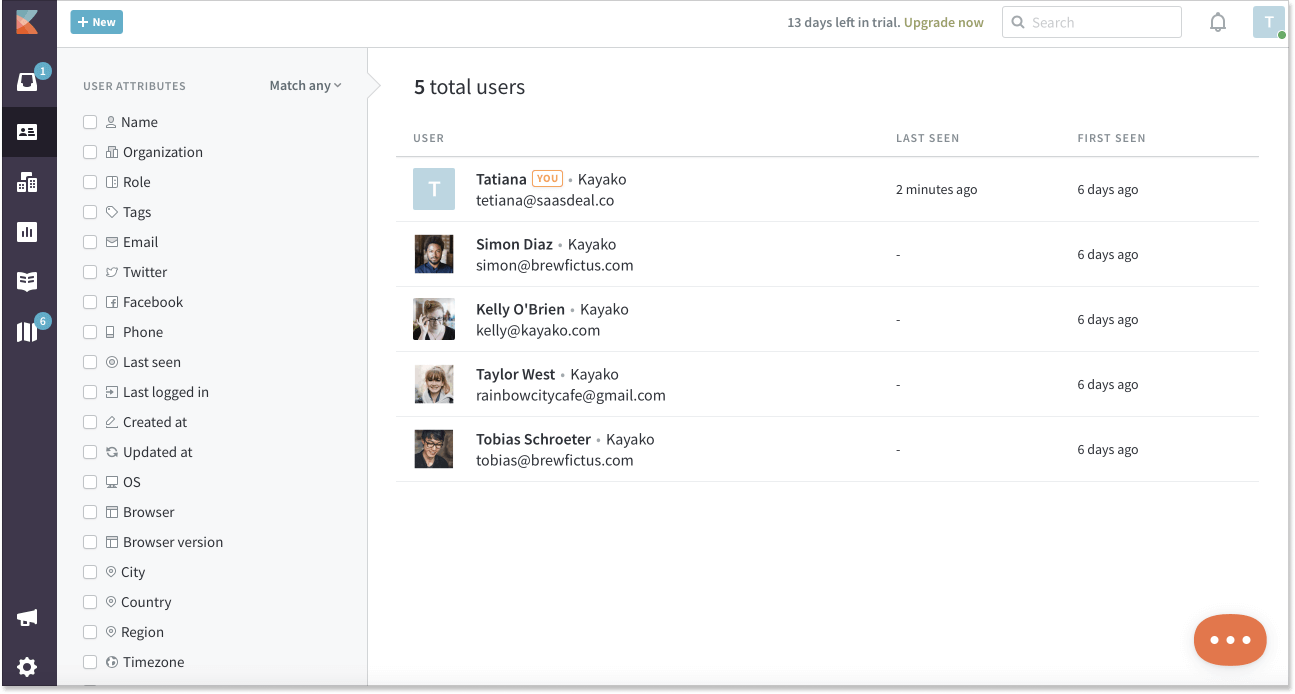 Kayako is another candidate on the list of Help Scout alternatives. It offers functionality for customer support, including live chat, knowledge base, and social media integrations.
Kayako features
The live chat by Kayako is pretty basic covering simple customization opportunities and proactive messages. Like HelpCrunch, it can also be integrated with mobile apps through mobile SDKs.
As for the help desk, it looks like the unified inbox for email, chat, and social media messages. Customer success managers can leverage private notes visible only to agents, and macros (aka, saved responses).
The knowledge base by Kayako allows you to publish helpful articles, add videos to them, and customize the look of the help center. You can also turn on commenting and allow users to ask questions or share opinions. It's a nice opportunity to engage with readers. Unfortunately, the knowledge base by Kayako is not SEO-friendly.
What makes the tool quite special is the SingleView dash that displays the whole customer journey, interactions, and activities that any user has with your brand. It can be helpful for the quick support and personalized service.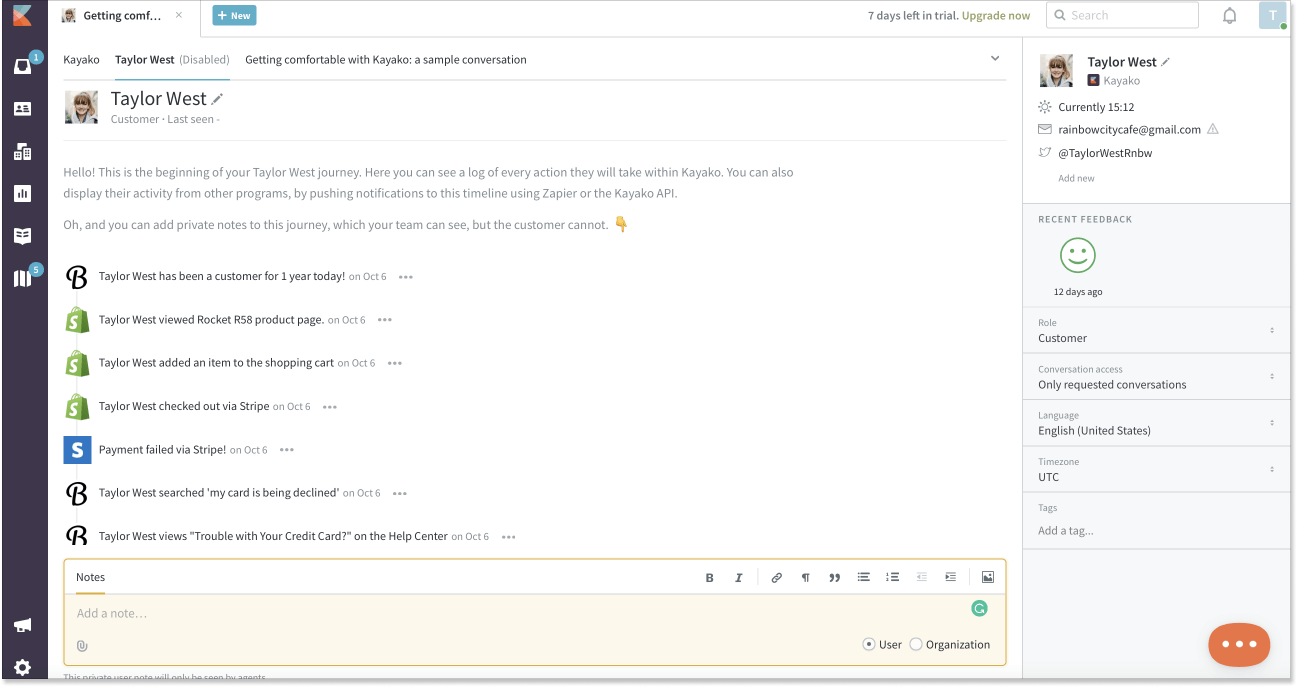 Here I'd ask all haters of micromanagement to close their eyes. There is this Kayako tool – Time Tracker – that allows managers to see how much time workers spend on particular tasks. As for me, it's not an all-important feature since the main indicator here is customer satisfaction rate. If reps close tickets fast with a 3-star rating, then what's the point?
Kayako pricing
The low-bottom plan starts from $30/mo per user if paid annually. This subscription plan includes essential features like live chat, social media integration, and a knowledge base. For an internal help center, advanced design options for a knowledge base, or more profound reporting, you will need to pay $59-60 per user/mo.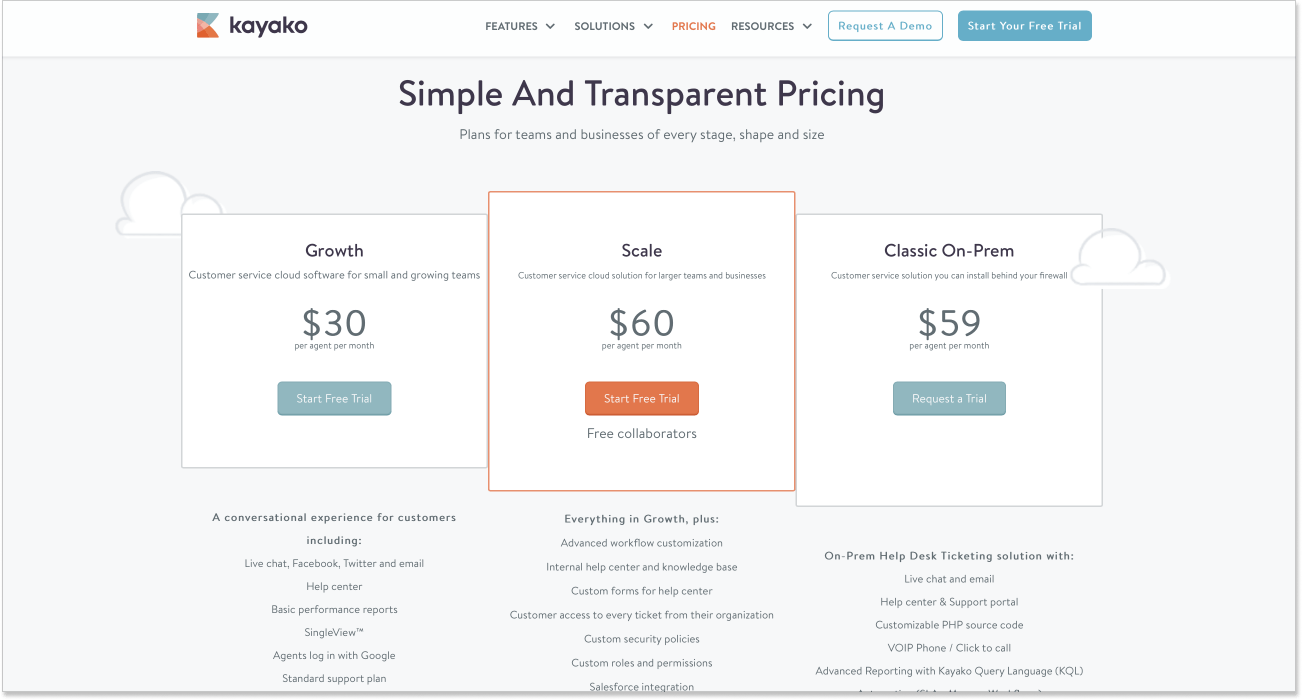 Kayako vs Help Scout
If you are looking for mature ticketing software with social media integrations, Kayako is your go-to Help Scout competitor. However, on the other hand, users complain a lot about its' customer support service. So before signing up, try to get in touch with the CSM and make sure you won't be on your own after the switch.
4. Freshdesk – ticketing-oriented customer support tool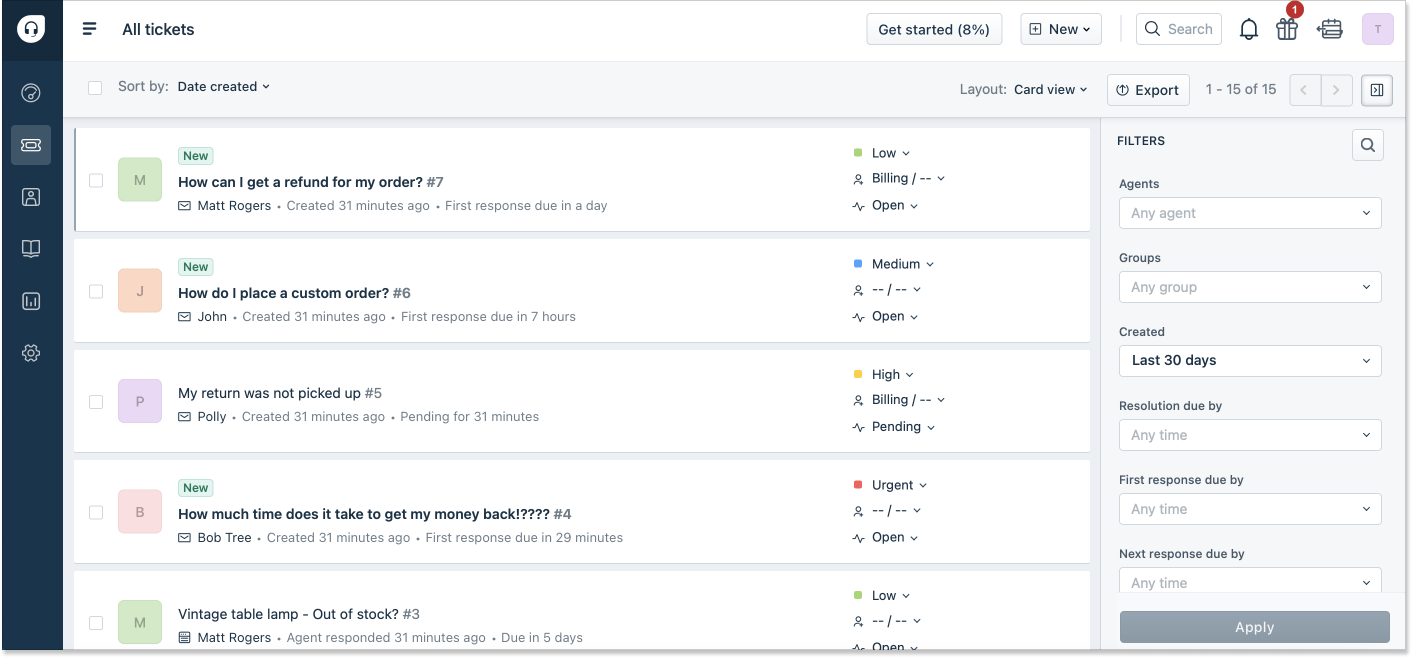 Freshdesk is a cloud-based customer support software. Thanks to its rich functionality that includes live chat, email, phone, and social media, you can assist customers through their preferred method of communication.
Freshdesk features
With the ticketing tool by Freshdesk, you can create multiple shared inboxes to support users. Each incoming email automatically converts into a ticket. From there, you are able to split, merge, split, and get notifications when specified events occur.
Freshdesk offers a multilingual knowledge base tool for customer self-service. Just create articles and publish them divided by categories.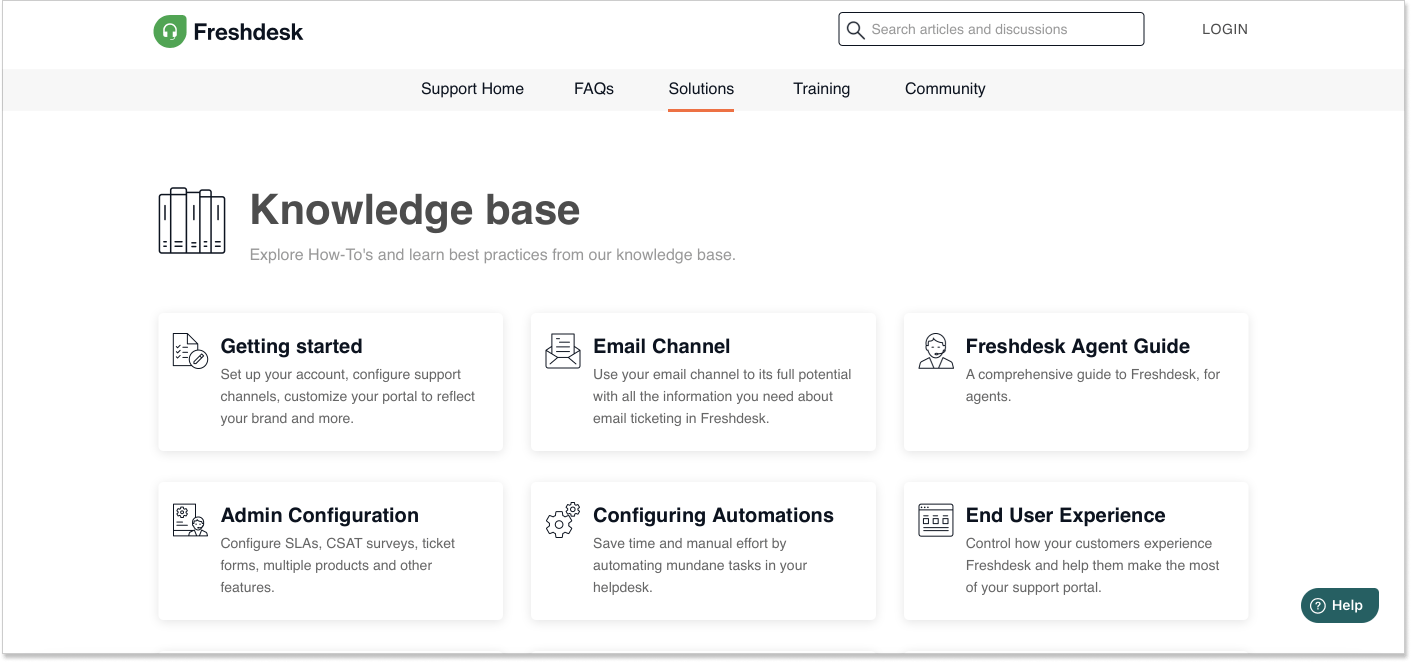 For an additional cost, you can upgrade the knowledge base with Freshdesk Answer Bot (Fredi). It's designed to suggest relevant articles to users when they turn for help.
The social support feature means that you can manage your Twitter and Facebook requests right in the Freshdesk tool.
Freshdesk pricing
The company offers a free plan that encompasses email and social ticketing together with the knowledge base. For more features, you will have to pay at least $18/mo per user.
If you decide to go with the 'Omnichannel' plan, you will get an all-in-one set of features including email, social, chat, and phone support. Pricing starts at $35/agent/month. It also includes Answer Bot and chatbot builder.
To get even more functionality like an omnichannel knowledge base and co-browsing support feature, you will have to pay $71/mo per user.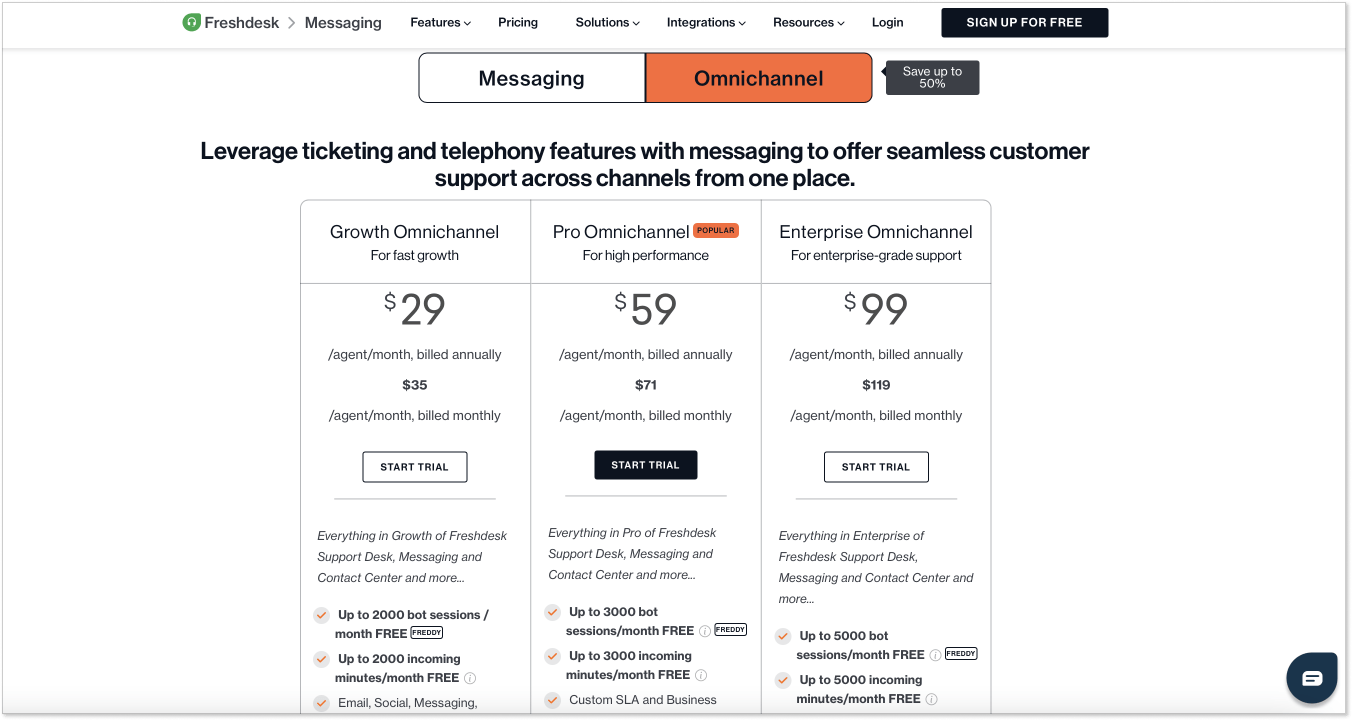 Freshdesk vs Help Scout
If you are tired of Help Scout's frequent glitches and lack of continuity, Freshdesk can be your savior. Established in 2010, Freshdesk is a time-tested platform that offers a unified inbox and ticketing approach for companies to support users. Its set of features is constantly evolving, so you can definitely benefit from switching to the Freshdesk.
5. Drift – the tool with a laser focus on sales and marketing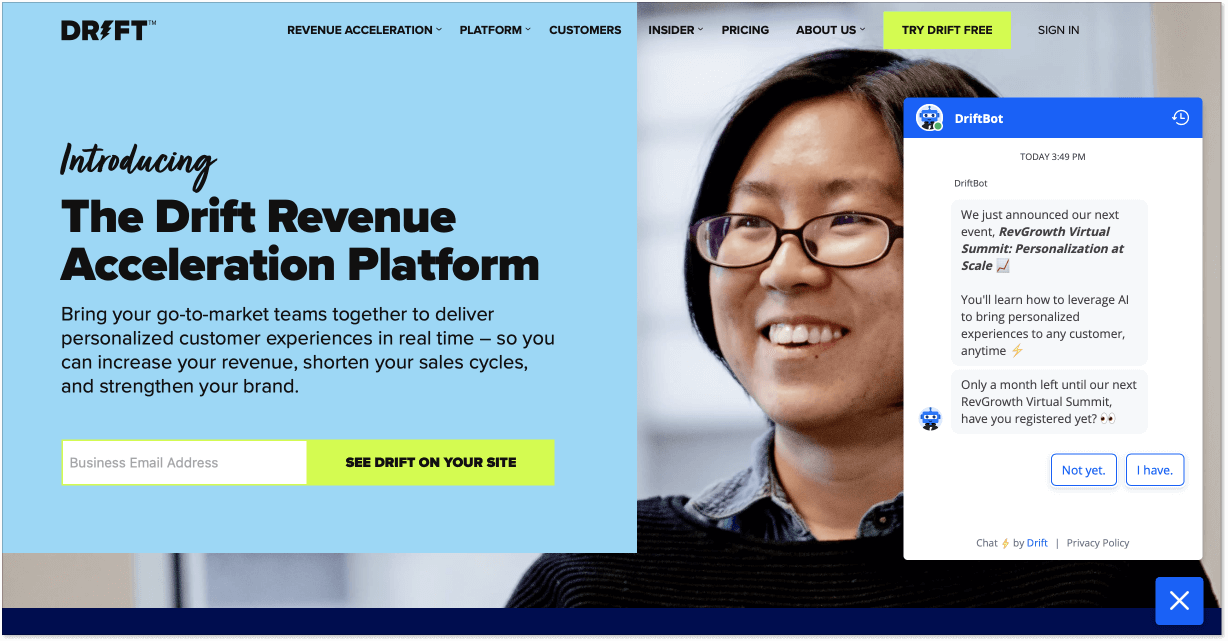 Yep, Drift differs a lot from the rest of the Help Scout alternatives. How? It's just their selling point focuses not on support but rather on sales. It highlights that they can help you accelerate revenue thanks to a personalized customer experience. Hence, their list of features includes tools like Virtual Selling Assistant, Drift Prospector, Drift Intel, and more.
Drift features
Live chat software by Drift provides the usual pack of functionalities like saved responses, chat ratings, internal notes, and analytics. What's special is their Live View feature that allows you to see who is viewing your website. It can be a great moment to start a conversation with the visitor.
Drift Intel helps you to recognize qualified leads and start a personalized chat immediately. It means that all of your website visitors can get individual greeting messages instead of the same one-size-fits-all greetings. It can lead to higher engagement and better conversion rates.
Virtual Selling Assistant caters to clients as your personal concierge, answering questions, qualifying leads, scheduling appointments, and the like. The software uses patented AI, which learns from the conversations your agents hold with customers.
Drift Prospector by Drift automatically prioritizes the most promising accounts for sales purposes. The tool collects the buying signals among your contacts and accounts to build an engagement score that shows your sales reps what accounts they should focus on when outreaching.
Drift pricing
Focusing on sales features, Drift doesn't make it any easier for customers to learn their tariff plans. In the Pricing section at the Drift website, you won't actually see any prices. To discover how much you have to pay for the product, you need to schedule a demo first and answer a bunch of questions about your company name, size, etc.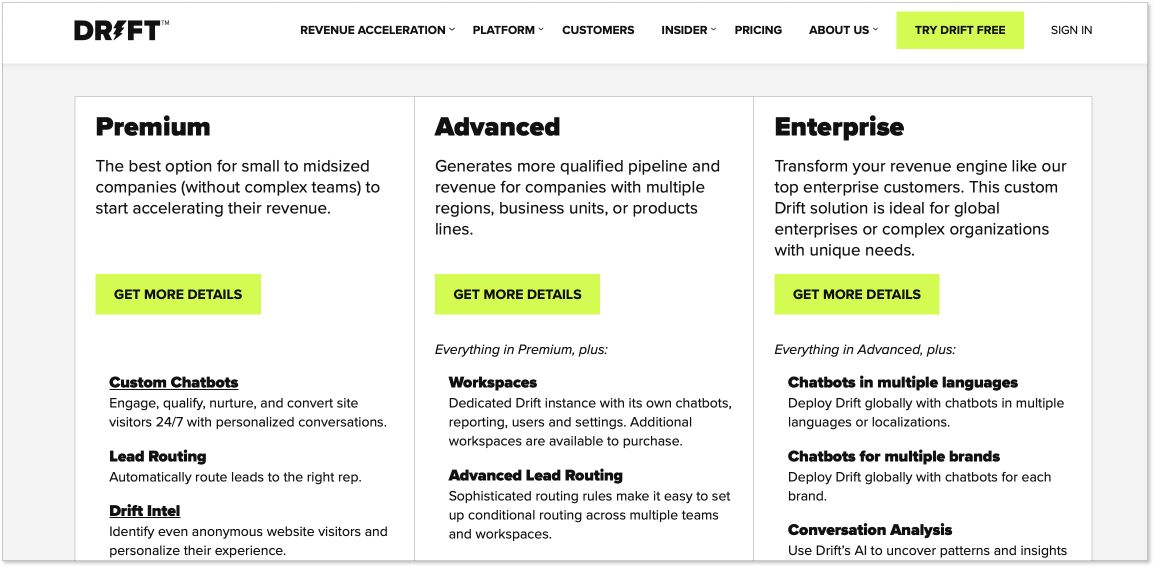 Drift vs Help Scout
If you look to switch from the usual support approach to a more sales-focused strategy then perhaps you should consider Drift. The tool has definitely more sales-oriented functionality that can be useful for company revenue growth. However, since Drift doesn't showcase any prices it's difficult to say how budget-friendly it is.
Wrap up
There are oodles of great live chat software solutions available on the market. And when we speak of picking the Help Scout alternative, you need to keep your eyes on the price. However, while choosing an affordable tool, make sure it provides essential features like live chat, shared inbox, and, preferably, a knowledge base for customer self-service support.
Liked one of those platforms listed above? Then sign up for a free trial and see if it's the right fit. For instance, start with testing HelpCrunch. It's budget-friendly, provides key functionality for support, and offers the best customer service that clients can rely on.