Top 7 Ecommerce Customer Service Best Practices to Shine Through
These golden tips can help you boost your customer service in ecommerce. Pick the tactics you like the most and apply them. Who knows, a positive change may be just around the corner.

Nowadays, it takes more than just a great idea, some capital, and time to get a new e-commerce business off the ground. Even if you just sell stationery products or étuis for digital devices, great customer service has to be a part of your company's DNA from day one.
And yet it's often overlooked as we keep our eyes glued to the sales numbers, assuming that good customer service embraces no more than a reply. Truth be told, it's much more. In the long run, it can be the difference between a million-dollar exit or just a small business keeping the lights on.
Great ecommerce customer support can also generate more marketing and sales opportunities. Hence, being quick, helpful, and empathetic to your clients is paramount for your business growth.
We want to help with this task! Let's start with the definition of ecommerce customer service and why it actually matters, then step right into the best practices you can adopt at your company today.
What is ecommerce customer service?
Ecommerce customer service is the support a company provides to its users along all stages of the buying process to ensure easy access to any information needed for decision-making or problem-solving. A great business offers assistance across various customer communication channels which include email, live chat, social media, knowledge base, phone, etc.
In 2021, retail e-commerce sales reached an estimated $5.2 trillion worldwide, which is approximately 20% higher than in 2020. So if you want to jump on this forward-rushing train and succeed, it's important to shine through. Because the sales numbers are growing, and so is the competition.
Why does e-commerce customer service matter?
Customer service in ecommerce plays a significant role, maybe even more crucial than in offline commerce.
Think for yourself: if you like a certain scratch map in a brick-and-mortar gift shop, then you are unlikely to go and check this product in 5 other shops for the sake of interest. At the same time, surfing online allows users to move from your website to competitors in the blink of an eye in search of better offers, discounts, more profound product descriptions, or responsive support.
As many as 96% of respondents say that the level of customer service is an important indicator of whether to stay loyal to a brand. On top of that, 90% of Americans name user support as one of the crucial factors in a decision-making process.
In short, customer service can become your competitive advantage in the ecommerce industry. It's a clear opportunity to stick out and increase sales.
7 ecommerce customer service best practices to follow
In this paragraph, we are sharing some of the best customer service tips you can apply at your company today. But keep in mind that this is not the limit. You can, and you should go an extra mile for your clients to keep them satisfied and willing to return for more.
Okay then, let's dive right into ecommerce customer service best practices 🤿:
1. Make reaching you a breeze
When a user thinks, "How do I contact this company?", you are already losing points. At this precise moment, a person can click another tab and get blown away by irresistible offers from your competition. Or, simply receive a message from a friend and forget about your product altogether.
Whether your leads use a website or social media to research and purchase a product, it should be a one-click task for them to contact your support representatives. Speaking of website surfing, the simplest way to get in touch with your customers and vice versa is live chat. I honestly believe it's one of the greatest innovations in e-commerce customer service, as rising a query there is even easier than doing it in an offline store.
Intuitive and fast. Of course, it can be an advantage only if you do your part right and reply to users immediately (more on that in a bit 🤫), offering practical knowledge and a sincere desire to help.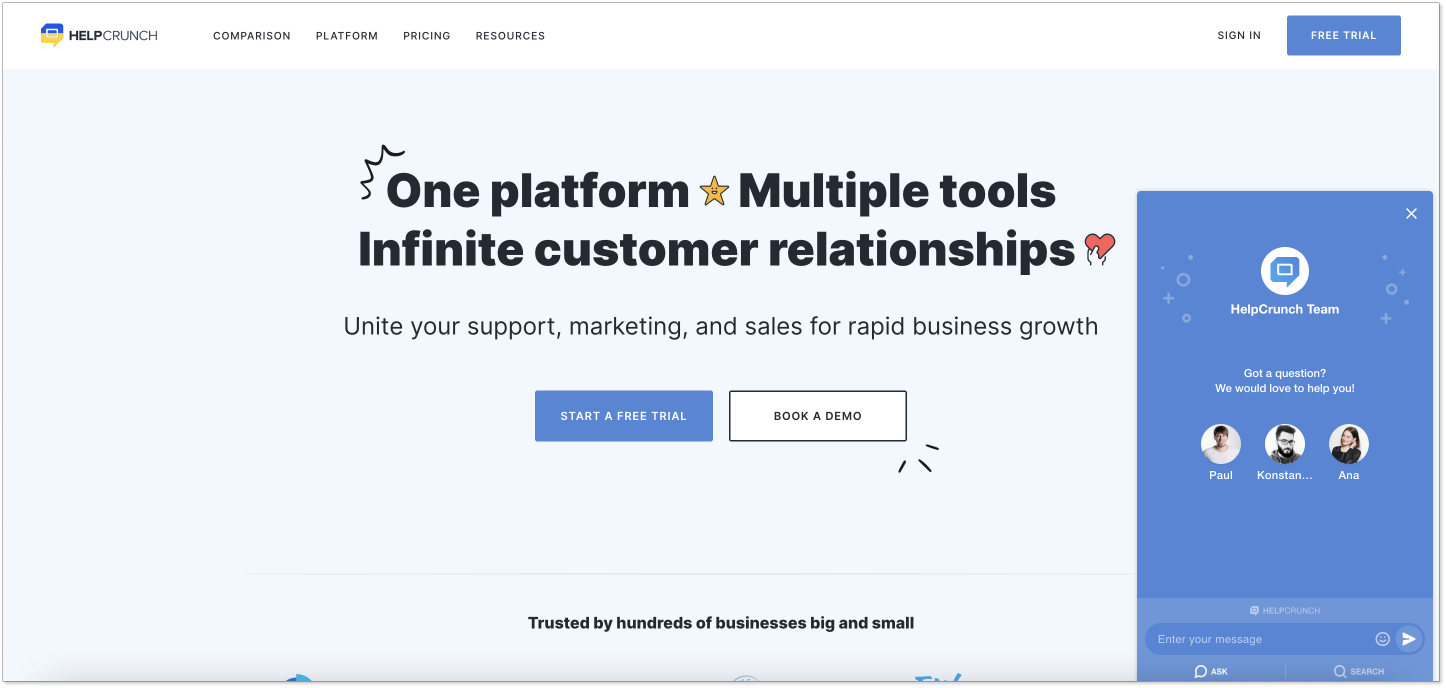 If you are wondering what channels exactly you should use in customer service, here is a little hint:
Digital self-service is preferred ​​by 60% of US consumers for simple inquiries
Online chat is a go-to channel of communication for 42% of customers
Email is the way to reach a company for 23% of respondents
Social media or forums choose 16% of users.
Note! If you are wondering how to get this popular live chat tool, I am happy to introduce you to HelpCrunch. It's a customer communication platform with a live chat, chatbot, knowledge base, shared inbox, and email automation features to make your customer service great and easy. Register for a 14-day free trial to check out its capabilities.
2. Keep all data organized
Providing support across numerous communication channels can be a challenge when it comes to data synchronization. You surely can't name your customer service a good one, if each time a user texts you, you start with asking all the same questions as, "What's your name?", "What's your email address?", "Are you our customer?", and whatnot.
The good news is that software for communication with users has your back. These tools are created for omnichannel customer service. Generally, it allows you to provide support via numerous channels and keep all conversations and customer information organized in one place.
For example, HelpCrunch platform with a shared inbox enables you to manage chats with clients in one place, while having a clear look at all important background information about a certain user.
In the left column, you have all users' queries from across live chat, email, and social media channels, the middle column represents the current conversation between a customer and an agent, and the right column provides the contact details, chat history, user path, and other milestones regarding this particular customer.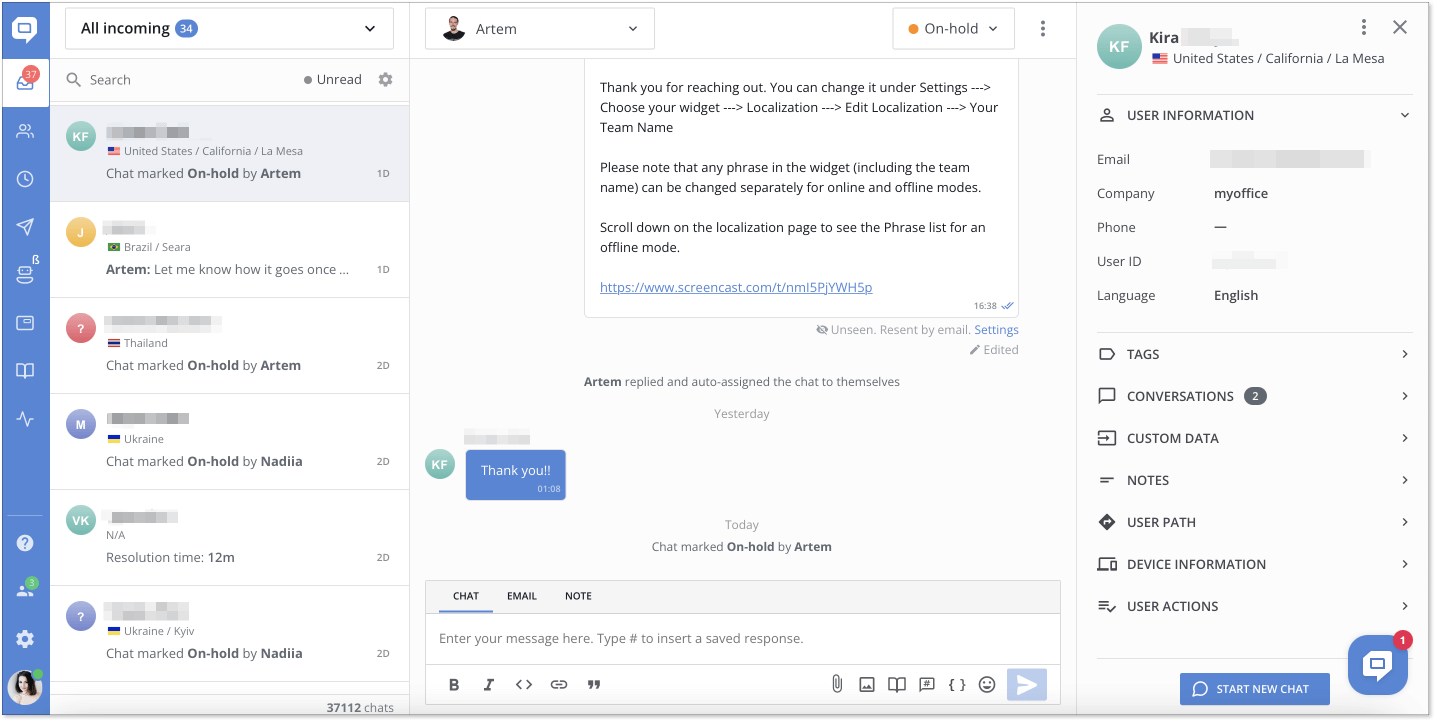 3. Ensure self-service
As we've mentioned earlier, online self-service is a cherry-picked channel for 6 out of 10 US consumers when looking for answers to simple questions. It's in the very people's nature to choose the avenue that requires the least amount of effort, especially for non-urgent issues.
Self-service means that customers solve their queries on their own without any interference from your side. These channels include bots (text/voice), videos, forums, FAQs, and a knowledge base. Basically, it can be any website (even your blog), tool, or software that provides helpful information on your product or service to assist users.
Consumers not just prefer it, but 88% of them in the US expect brands to have an online self-service support portal. And 79% of users actually reach out to self-service tools to fix their problems.
Among all the variety of online self-service channels, people favor the knowledge base the most. Enough to say that in 2018, the usage rate of the knowledge base was 81% and has been growing ever since.
So what is a knowledge base? It's an organized storage of information about your product that provides step-by-step articles, videos, infographics, and any other helpful materials.
Usually, a user just types the keywords in the search box, and the necessary documentation is provided immediately to help solve the issue. 91% of respondents confirm that they would use the knowledge base if it was available. So why not seize the opportunity in e-commerce customer service? Moreover, it allows you to keep serving clients even after hours 24/7.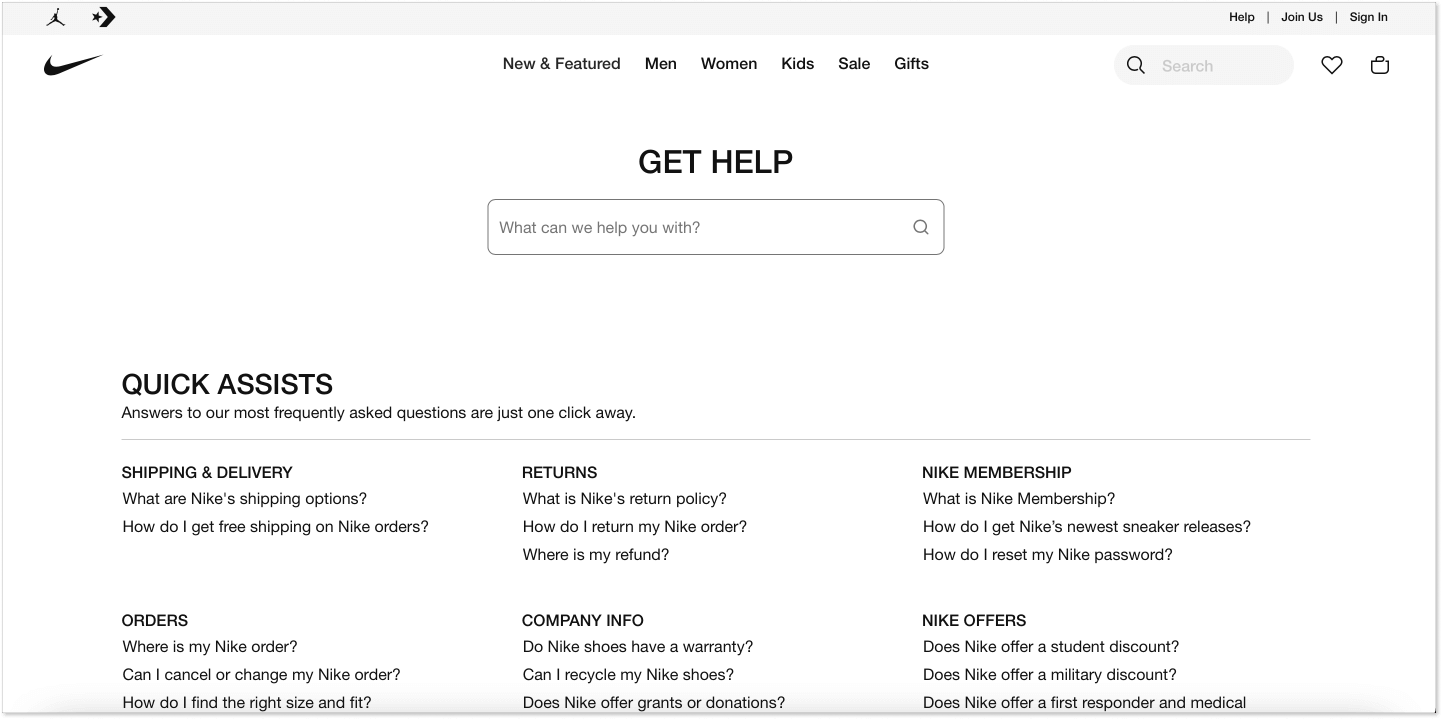 4. Personalize your approach
In ecommerce customer service, people ask for help not only to check their delivery status or exchange items but also to get personalized assistance. Will this body cream fit dry skin? Is this mattress good for older people? What tripods can you recommend for Fujifilm X-T4? And a good support representative won't have the same suggestion (like the most expensive model) to every customer, but instead, they'll try to step into users' shoes to provide the best recommendation.
As a result, brands can see an increase in sales, as 44% of consumers are likely to repeat purchases after a personalized shopping experience. That's just how it works, happy customers tend to return and bring friends along.
According to Salesforce research, 66% of consumers expect companies to understand their unique needs and expectations. So if you are acting like a robot, you are unlikely to close the deal.
When communicating with a consumer, ask them questions, be attentive to details, and try to understand their inner motivation. For example, if a person wants to buy a watch, you can ask them, what outfit they usually prefer with the product, how often and where they plan to wear it, whether they ever had other watches, and whether they were satisfied. Sure, no need to exaggerate, but if a client wants you to treat them as someone special, give them that feeling.
Remember, it's not just a transaction, but an experience. Good or bad? Largely depends on the ecommerce customer support you offer.
Look at the quick example below, where an agent asks all necessary questions about the dress to help their customer. While searching for the right product, the customer representative is asking how the client is doing, and then shares their reciprocal excitement about the upcoming summer season. This little detail makes the conversation more personal and human-like.
5. Collect feedback and share it with your audience
Have you ever bought anything online without reading at least one review about the brand or product? I can't recall a single time. No matter what I am purchasing, lipstick, a book, or a mattress, diving into the users' reviews on different platforms is my routine task. Only after that do I make a decision if the product is worth buying, and honestly, this tactic justifies itself.
And it's not just me! 95% of customers read reviews before making a purchase, so it's crucial you have some feedback (preferably, a good one) on various platforms like Facebook, Google, or Amazon Customer Reviews. If you have a rating already, what's your score? About 50% of consumers won't consider the brand if its rating is below 4*.
The main challenge here is to get those reviews. Unfortunately, no one wants to do an extra job, so if a sweater I bought is great, I'd never go to the website to share my feedback. At the same time, try to throw some awful product my way, and I am there, writing negative reviews and trying to warn users of this shifty brand. Indeed, customers are 21% more likely to leave feedback after a bad experience.
So it's crucial to reach out to clients yourself and ask to rate the product or service. Such quick surveys are a great way to grow the number of reviews. For third-party feedback platforms, you can encourage users to write reviews for a little reward like a 10% discount or bonus samples. But be cautious with this practice not to make it look like a bribe.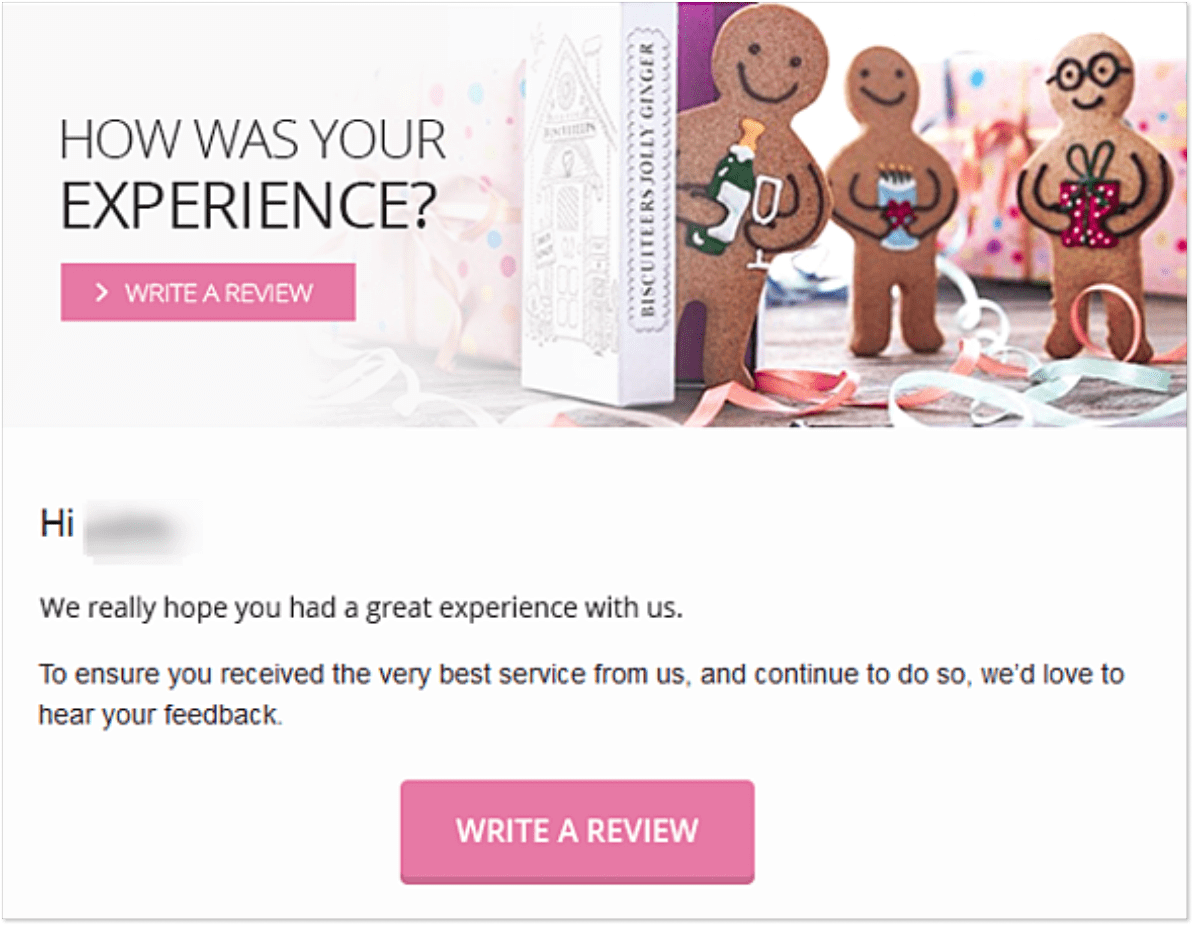 Afterward, share positive feedback and popular use cases online with your leads and customers. 49% of users trust reviews as much as they trust their recommendations from families and friends.
6. Reduce first response time
The first response time (FRT) is the average time between the moment a user raised a question and the moment they received the first reply from a company. Considering the enormous, ever-growing competition in ecommerce market, a quick reply may become a major contributor to a company's ability to gain more customers.
In sum, 66% of consumers say that valuing their time is the most crucial thing a company can do to provide excellent service. The question left hanging: what's the actual time frame in which you must respond to keep your customers happy?
It varies by the channel you use. For example, the benchmark for live chat is less than 1 minute 36 seconds, for email – 24 hours, for social media – 60 minutes, and for phone support – 3 minutes.
The next step is to ensure your support agents deliver on the expected result. This includes establishing benchmarks, providing training, and motivating employees to work harder to reach the desired outcome.
Besides, you can improve your first response time metric by launching a chatbot. This software is created specifically to automate routine tasks and deal with repetitive questions.
Chatbots are machines that reply to your customers' queries as fast as you want them to. Just set up the reply time for your bot and see how your FRT metric is improving! Besides, they are operating around the clock with no coffee breaks 🙂
7. Keep track of metrics and constantly optimize them
Just like measuring sales volumes, keeping track of customer service metrics is equally important. They demonstrate how well you are doing and if any improvements should be provided. Perhaps, your customers don't feel comfortable with the support channels you are offering, or maybe personalization is far from satisfactory. Spotting the problem immediately gives you some extra time to come up with a solution (before sales drop sharply 📉).
In short, businesses that sell online can't afford to be ignorant about their customer service performance. Hence, start with the evaluation of your support team job on live chat. Monitor the chat volume, average resolution time, and how users access assistance.
You can easily track these metrics by leveraging good customer communication software. While the support team is focusing on user assistance, reports are generated automatically.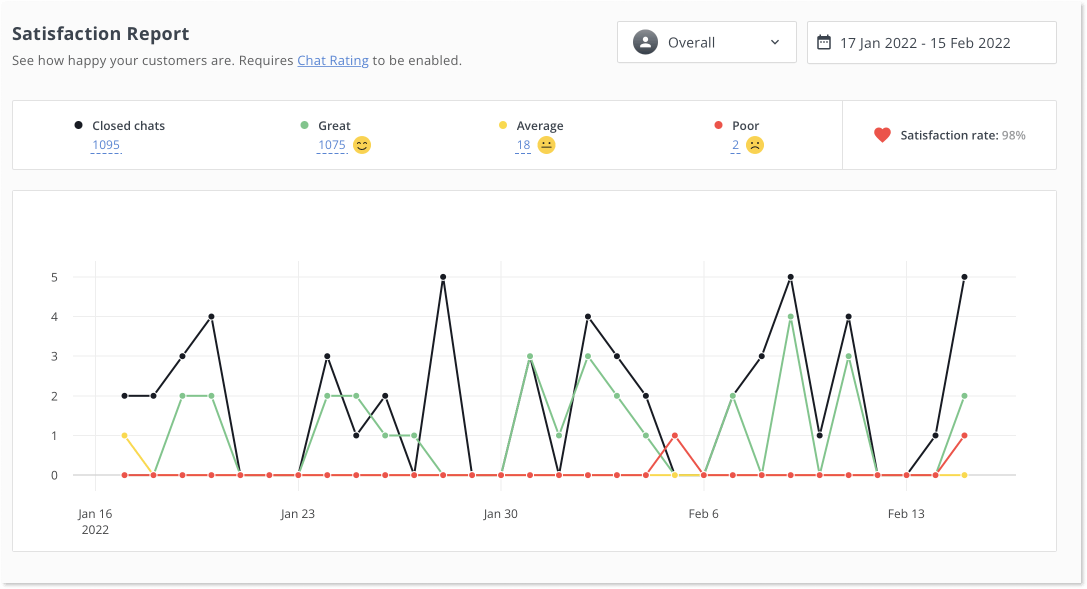 There are more aspects that you can measure and optimize in ecommerce customer service. Some of them include:
Customer Satisfaction (CSAT)
Customer Effort Score (CES)
Net Promoter Score (NPS)
First response time
Average resolution time
Customer ticket volume
Read more about what customer service metrics to gauge in 2023 and how to calculate them.
Mic drop
With the development of information technologies and growing competition in ecommerce, users' expectations of brands have been rising enormously. Thus, every business, big and small, tries to stand out from the crowd with exceptional product quality, attractive prices, user-friendly websites, amazing marketing strategies, and so on.
Customer service is yet another opportunity to show that your business is worth dealing with. Demonstrate to customers that you care how they feel during and after the purchase. Prove that they are more to you than just money bags. We hope that the tips we shared in our article will help you to create a great impression on your clients and build strong customer relationships.