It's that time of the year already – time for our traditional roundup of HelpCrunch most recent updates! This is the moment where we take a deep breath and tell you all about the updates and improvements we've pulled off during the last 80 days.
And the first update is the Android app release. You can now download the HelpCrunch Android app and communicate with your customers whenever you want from wherever you want. Just in case, here is the link to download the iOS app. And that's just us warming up.
I guess, you've come here to talk business, so let's talk business – here's a quick look at the huge amount of work the HelpCrunch team has done improving our tool.
Improvements to manual and automated messages
Let's start with the most exciting news, which is a higher speed of sending emails. We improved it drastically and now it's a question of minutes to message tens of thousands of recipients. Additionally, if there are more than 20K subscribers on your mailing list, we will automatically notify you when a mailout is completed.
But the major change to HelpCrunch's manual and auto messages is our brand new metrics system: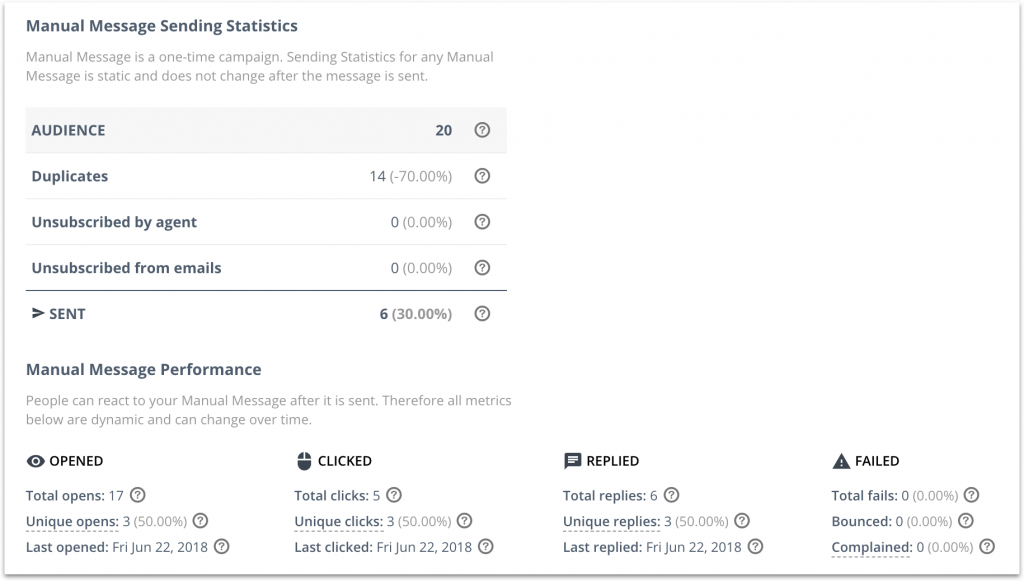 You can now see the percentage numbers alongside the 'Opened' and 'Replied' metrics in the campaigns preview.
You can track your proactive chat auto messages performance with the help of new extended metrics. They are dynamic and will reflect the recent changes any time someone new opens or replies to your email.
The new auto messages metrics for both targeted chat and emails allow you to track such numbers as Duplicates, Unsubscribed from emails, and Unsubscribed by agent.
We've added more detailed metrics for tracking your chat and email performance – like Duplicates, Unsubscribed, Opened, Clicked, Replied, Bounced and Complained.
Now, we also have a couple of minor improvements here that we want to share with you, so keep reading.
1. No two newsletters look the same, because each company wants to preserve its unique design to the tiniest details. That's why we've added an ability to align the 'Unsubscribe' link according to your needs. You can now change it in the Settings→ Messages & Email.

2. The thing about proactive chats is that it's crucial you send them to the right audience. You can't just randomly target all the visitors on any page of your website. Now, we've added a new setting where you can choose the targeted audience of your auto message – visitors only, authenticated users only, or visitors and authenticated users.

New chat settings
Apart from all the improvements we've made in the messages department, we've also added a lot of useful settings to our chat functionality. But I'd like to start with the one that will be especially notable for your customers.
People get distracted and sometimes, they start typing something in the chat window and then switch to other pages or accidentally close the tab. That's why we've added auto saving of the text in a client chat. Any message they've already typed in will stay there for 24 hours, so they can come back and continue from where they left off.
That's something your clients can definitely enjoy, but we also have a lot of stuff for your support team on the table:
Setting up agents' accounts:
We've added the ability to upload agents' avatars from Settings→ Agents, which is convenient for admins who do the initial setup of the accounts.
You can now manually turn the operating hours on/off. Just go to Settings→Team→Operating hours and check the 'Allow manual switching' checkbox.
Support agents can now set up their preferred keyboard combination for sending messages in a chat – each individually for themselves.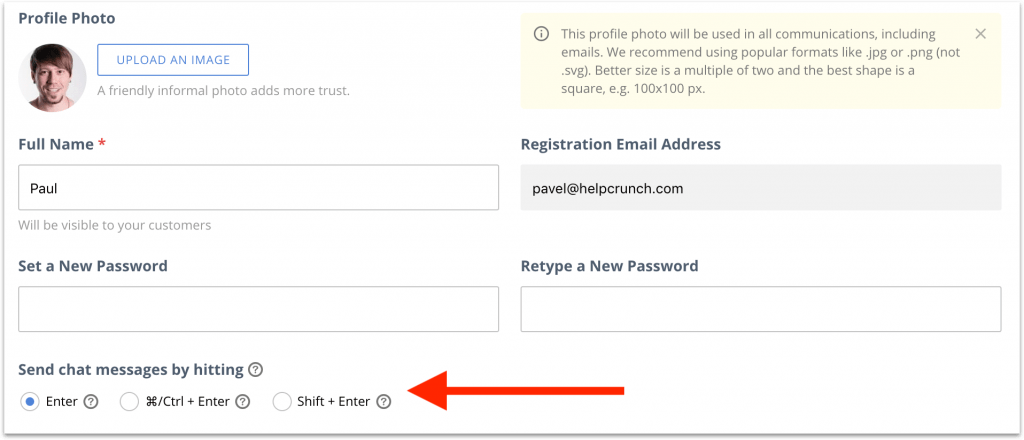 Setting up what will be sent to your customers:
While setting up a Chat rating message that will be sent to your customers at the end of a conversation, you can now preview how exactly it will look like in a chat window. Plus from now on you сan decide who you want to show the chat rating message – visitors, authenticated users or both.
If you always wanted to send emojis to your users via chat or in emails, then it's your moment of glory (and you and me have somewhat similar ideas about customer communication). We've added an ability to use Emoji in Subject lines for both chats and auto/manual emails.

We have a nice and useful option called (a long name is coming) 'Resend chat message via email if it stays unseen for a certain period of time in the chat' which takes all the unread messages including those auto ones from a chat and sends them to a customer via email. But sometimes, you don't want to send automated messages. That's why we've added new options to both targeted chat auto messages and manual chat messages that prevent it from happening. You just need to check a corresponding box next time you're setting up your auto message.
Advanced search within contacts and auto/manual messages:
We've enhanced our advanced search capabilities within Contacts and Auto/Manual Messages by adding the 'is not' option. For instance, it allows you to exclude certain emails from your search.
Also, you can now do the advanced search by Statuses (like pending, on hold, resolved, etc) and Tags.
Mobile chat button:
If you want your chat button to look different for those who visit your website from their mobile phones, we got you. Now you can set up a chat button for the mobile version of your website separately (or even hide it completely from mobile users).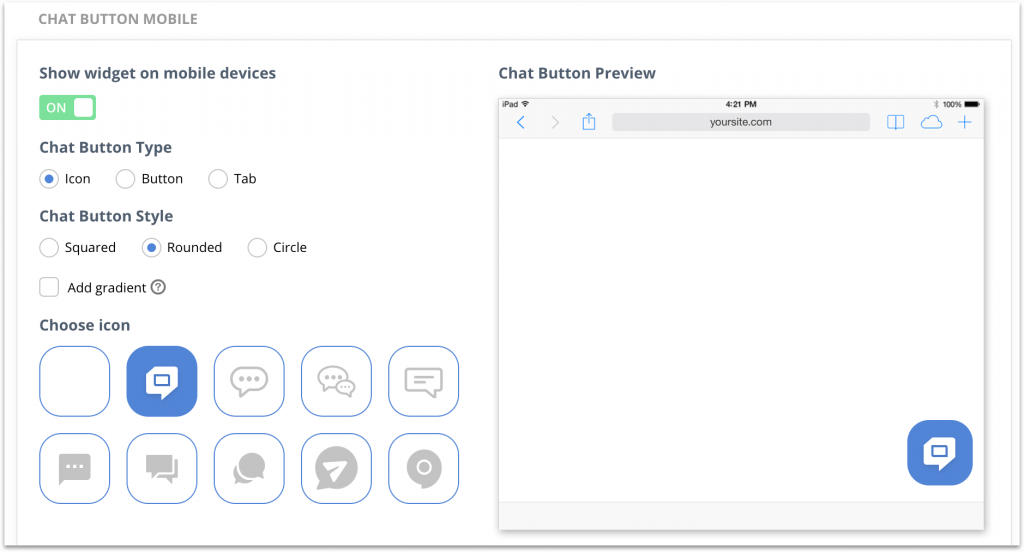 Other:
In the All Chats sections, you can now choose to display columns with a Source page and a Referrer page. A source page is the first page of your website on which a particular customer has landed, while a referrer page is the one they've come from to your website in the first place.
We've added a brand new Ticketing section to our settings, where you can find your default support email address. Additionally, you can set up an email forwarding from your existing support email address(es) so that emails sent to them will be automatically forwarded to your HelpCrunch account and appear there as new chats.
…and one, but very handy, update to our JS API
Owners of HelpCrunch accounts can now set up an advanced user authentication mode by generating a secure signature on their backend. Read more in our docs.
After you set up your secret, all user data that is forwarded to HelpCrunch will be signed with it. Use it if you want to be in control of the data that you pass to or receive from the chat widget.
Bottom line
These days, I feel like an article, even the one about company's updates, is not good enough until you add something about the GDPR to it. Well, yes, we've rolled out 13 new features to the HelpCrunch functionality to be 100% GDPR-compliant. For instance, we clean all our databases by deleting all anonymous visitors after 9 months. There you go, now it's perfect.
So what do you think, which of these updates will you use the most in your workflow? Just leave your thoughts in the comments.
Read Also
HelpCrunch and Viber integration is finally up and running! See how to set everything up and provide your clients with yet another communication channel they enjoy.
Learn how to create a custom email domain with HelpCrunch and start communicating with customers showing your one-of-a-kind brand's voice.
Create your own HelpCrunch chatbot to improve automation, boost sales, and speed up customer support. Use a simple code-free editor and start enjoying the benefits of a chatbot today.