How to Create Live Chat Survey Questions to Improve Customer Service
A post-chat survey can help you get real-time feedback from your customers. Read our guide to ask the right questions that users want to answer and improve your customer experience.

In a world where customer experience is everything, brands must continually strive to make their services as customer centric as they can be.
Walker's report "Customer 2020" predicted that by 2022, price and product would be overtaken in importance. The key brand differentiator would be customer experience.
It appears that this prediction was accurate. Many customers now make their decisions based on the quality of service they receive, even if this means paying more. In particular, if the experience feels personalized to the individual then they are less likely to leave the site or store empty-handed. Ultimately, this creates loyal customers and elevates your brand visibility.
Failing to invest in creating a good customer experience is a mistake modern businesses cannot afford to make.
Meaningful customer engagement is therefore essential for success. You want to grab users' attention and essentially hold their hand throughout the buying process. A great way to achieve this is via live chat. Live chat offers a fast and convenient channel for customers to communicate with a brand representative and have their issues addressed – ideally avoiding the wait times and bureaucracy sometimes associated with phone and email.

It is not enough to simply add a live chat function to your website and call it a day. To go the extra mile, you need to check in with customers again after each point of contact with your services, making sure to use the best mediums of communication for each situation. This is because if there is an issue with the customer service they have received online, users should be able to voice this as soon as possible. This is where the post-chat survey comes into play.
What is a chat survey?
A post-chat survey is used when you have a live chat feature on your website for customers to communicate directly with agents. After the agents close the conversation, you can use a bot to immediately administer a quick questionnaire.
This is an opportunity to gauge a user's overall experience with the channel. Feedback collected will be useful in improving your services in the future. At the same time as gathering valuable data, the post-chat survey makes customers feel heard. Demonstrating a willingness to take on users' opinions decreases frustration and increases brand loyalty.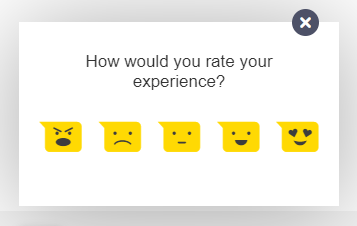 The benefits of post-chat surveys
Real-time customer feedback
As the survey appears in the chat window immediately after the conversation ends, the interaction will be fresh in the customer's mind. In-the-moment feedback is not always easy to come upon. Positive or negative, these comments are a reflection of customer experience and satisfaction. They are worth your attention.
Improve agent performance
An alarming number of customers report receiving an incorrect answer from a customer service agent. Naturally, this poor customer experience leads to less trust in the brand. A post-chat survey can help solve this. After a negative interaction, customers can let you know that their issue still needs attention.
Furthermore, this data can be used to identify any changes that need to be made. Are there gaps in your agents' knowledge? Are some performing better than others? Would they perhaps benefit from a refresher course in live chat etiquette?
Analyze customer behavior and purchasing habits
The right questions in a post-chat survey can unlock a wealth of knowledge about your consumers. From their buying habits to their expectations for customer service, understanding their behavior can only be an advantage. This kind of information is especially relevant when considering the kinds of products, services, and enhancements they may be willing to pay for.
You can also use this data to segment customers into categories based on similar behaviors. This allows you to personalize your interactions with different types of customers. For example, you may want to send a different automated follow up to different types of customers.
Determine areas of growth
Are customers happy with your response time? Can they easily access the live chat function on the site? Are your welcome messages engaging?
A post-chat survey is a useful tool for getting these answers directly from users. They can identify weak points in the product, service, or overall website experience – problems that may not be obvious from the brand's perspective. By taking on their feedback, the quality of service can be brought into perfect alignment with the customers' needs.
Your end-goal here should be a live chat experience with all human agents, bots, and channels working in harmony to deliver results.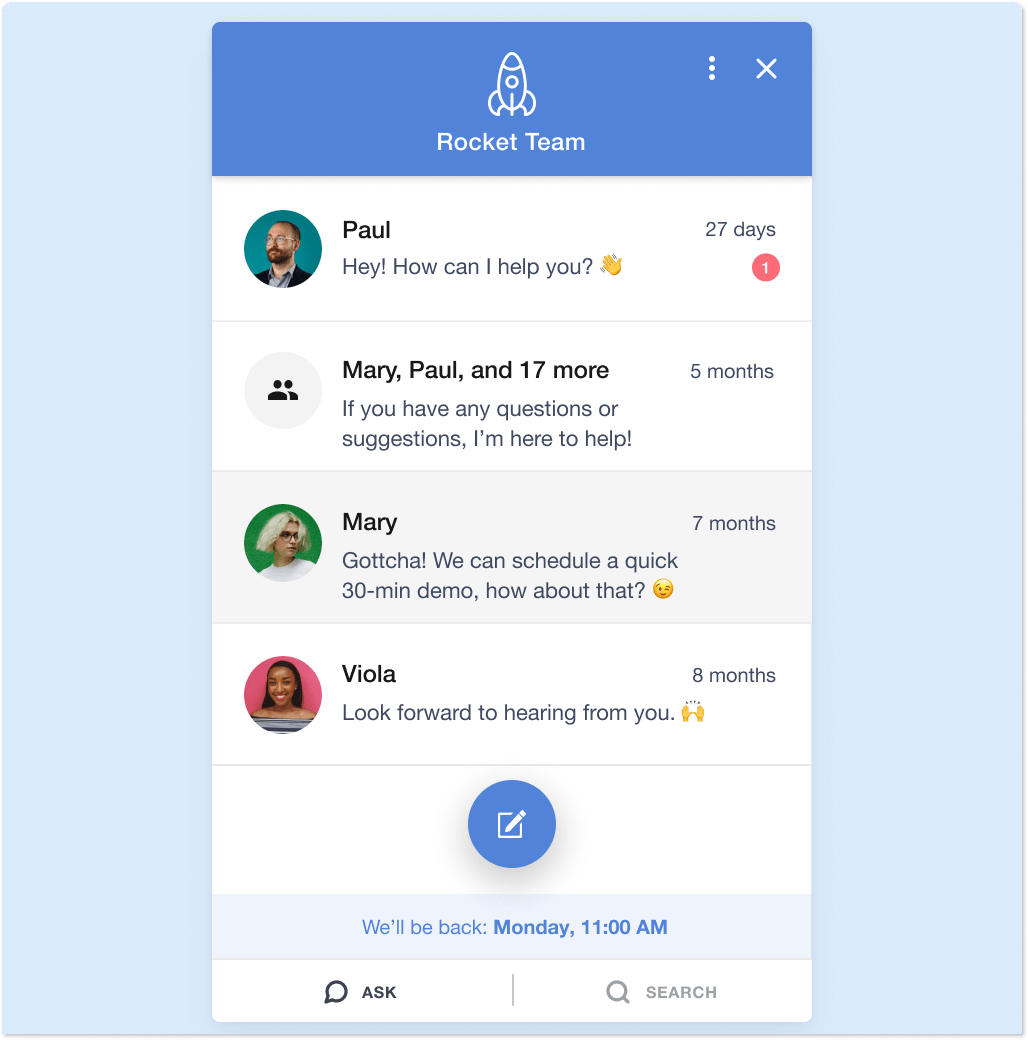 4 Secrets to creating successful live chat survey questions
1. Only ask questions that are relevant to meeting your goals
Before you start crafting your post-chat survey questions, make sure you already have clearly established goals in mind – look at the benefits listed above for ideas. 
Once you've determined your specific objectives, you can decide which live chat survey questions are relevant to your purposes. Not only does this help to ensure valid, useful feedback for future decision-making; it also demonstrates your respect for customers' time.
Examples of possible goals:
Do you want to measure the performance of your customer service team?
Do you want to identify ways to improve your product or service?
Do you want to collect information about your customers' interests?
2. Make it short, clear, and concise
A recent report found that the average time spent on a website during a conversion session is 15 minutes and 5 seconds. You don't want your customers spending all of that time answering your post-chat survey, you want them to make a purchase.
With the above in mind, be sure to limit yourself to between two and five questions. A short, actionable survey is more likely to have a high response rate and lower cart abandonment.
Remember, you need your respondents to finish the questionnaire. Valuing their time as well as their opinions helps to ensure the quality and quantity of results.
3. Choose the perfect survey type
There are multiple types of questions to consider:
Question Type
Benefit
Drawback
Example
Yes/No
As the simplest type of question, yes/no questions receive incredibly high response rates. The results are easy to interpret and measure.
As there are only two options to select from, you cannot tell the reasoning behind a respondent's decision.
Were you satisfied with the service you received?
Multiple Choice Questions
Allows slightly more feedback from customers, as they can choose the most relevant option from a list of possible responses. Scales from 1-10 or 1-5 are also useful. You could even use emojis, or varying smiley faces, to keep things quick and engaging.
Customers may feel that multiple choice questions put words in their mouths. The closest option may not reflect what they wanted to say.
How would you rate your experience?Excellent, Good,
Average,
Bad,
Very bad.
Close-ended Questions
Close ended questions can be answered in one word, so they are quicker, easier, and will yield higher response rates.
Less insight into what prompts a customer's response, and less specific individual feedback.
Which service do you use most often?
Open-ended Questions
Open-ended questions require multiple word answers. This gives customers an opportunity to express their opinions and raise concerns.
Respondents are less likely to take the time to type a wordier response.
What did you like or dislike about our website?
Think about situations where each type of question might be appropriate.
Pay particular attention to the difference between open and close-ended questions. "How do you create an electronic signature" is an open-question, requiring a more detailed answer. "Do you know how to create electronic signatures?" is a closed question, which can be answered 'yes' or 'no'.
Sticking to close-ended questions can keep your customers' attention and ensure that they complete the survey. For example, rather than "how did you feel about your customer experience?", opt for "did you experience good customer service?"
4. Ask for additional feedback
To get the best of both worlds, consider finishing on an open-ended question. Keep it optional, so that respondents can skip and still submit the survey. A text box paired with "do you have any additional comments?" strikes the right tone, and allows customers to express themselves further if they wish.
How to evaluate your chat survey performance?
Gathering data is a pointless exercise if you don't pay attention to what it's telling you, so make sure you don't skip this final, most important, step. What story is the data telling you? Which metrics matter most?
There are two key metrics that are most helpful in measuring survey data:
1. CSAT (Customer Satisfaction Score)

This is essentially a loyalty metric. CSAT measures customer satisfaction with the product, service, or interaction. Respondents rate their satisfaction from 1-5, where 1 = very unsatisfied and 5 = very satisfied
From this data, you can calculate the percentage of satisfied customers:
(Number of satisfied customers (4 and 5)/ Number of survey responses) x 100 = % of satisfied customers
2. NPS (Net Promoter Score)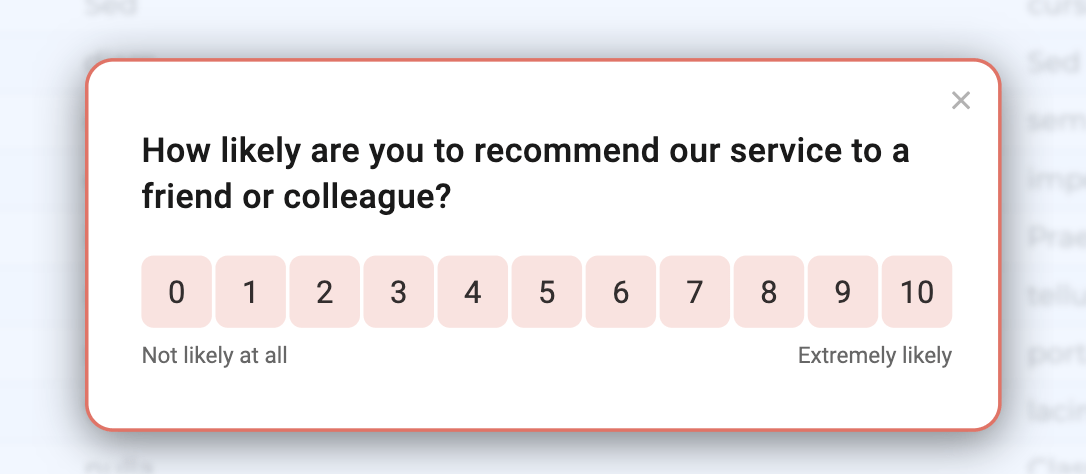 NPS is a measure of a customer's willingness to promote your brand to others.
A typical example: "on a scale of 0-10, how likely are you to recommend us to a friend or colleague?"
From here you can effectively divide respondents into categories:
Detractors (0-6) – Unhappy customers, as such unlikely to engage with your brand again
Passives (7-8)– Happy with your service, but perhaps not to the extent of actively recommending you to others
Promoters (9-10) – The most likely to recommend your services to others and help expand your customer base. You need only look at positive review examples for customer service to know that the endorsement of your most loyal customers is an invaluable asset.
Final thoughts
Even as the customer experience moves across various online channels, successful brands know how to make their audiences feel listened to.
Asking live-chat survey questions is just one way to make sure you're touching base with your users at every opportunity, and looking for ways to improve the services and experiences you offer. Keep your survey short, actionable, and relevant to your goals. You are not collecting data for the sake of it – you are using CSAT and NPS as tools to better understand your customers' needs and expectations.