Getting to the Heart of Knowledge-Centered Service
Are you wondering what knowledge-centered service is? Don't take wild guesses! Here is a complete guide on implementing such a support system. Improve customer service teams' productivity and do so much more!

Customer service is steadily turning from a subordinate division into one of the key forces in client-facing businesses. The availability and quality of customer service have become one of the decisive factors in customer engagement and loyalty – the staggering 94% of buyers will continue to make purchases from companies offering "very good" customer service.
In such conditions, the demand for strong customer service and the requirements for its quality become higher, calling for more effective solutions. One of the methodologies designed to improve customer satisfaction and balance the load on support teams is knowledge-centered service, KCS for short.
What is knowledge-centered service aka knowledge-centered support?
Knowledge-centered service (KCS) is a methodology of providing real-time customer support while at the same time creating and updating documentation. KCS is one of the components of a knowledge-based system where documentation is among the core assets of the company.
In knowledge-centered support, for any customer request, an agent first looks up the knowledge base to see if the case has already been documented. If so, the agent provides the solution according to the documentation.
It may happen that the documentation has become a bit out of date and needs amendments. In this case, the agent updates the document to sync it with the real state of things. If no documentation is found, they try to resolve the customer's issue using common practices and create documentation in the process. This way, whenever the next customer contacts the company with a similar issue, the solution is already documented.
How customer support teams benefit from using KCS
The knowledge-centered service methodology can change the support teams' ways of working fundamentally. Its main benefit is that it makes knowledge much more available and accessible for anyone who needs it. Information is no longer locked in the memory of more experienced employees, instead, it becomes a public asset. The practical benefits of the KCS approach are multiple.
Faster issue resolution
When there is a knowledge base article on the customer's case, it can be resolved 40% faster than when there is no knowledge base entry to refer to. The reason is simple – in common cases, it only takes the agent to look up the article in the knowledge base to present a solution to the customer. Moreover, the same logic works for complex, uncommon cases, too – when the team can deal with simple cases quickly, they have more time and attention to devote to complex requests. As a result, the solution is found quicker.
You may argue that writing a good knowledge base article takes time, too. True, however, it is not a waste of time but an investment. When you build a detailed, searchable, and actionable knowledge base article using advanced software, such as HelpCrunch's knowledge base tool, you create something that will ease the work of many of your colleagues and help them provide solutions quickly saving much more time than you spent initially.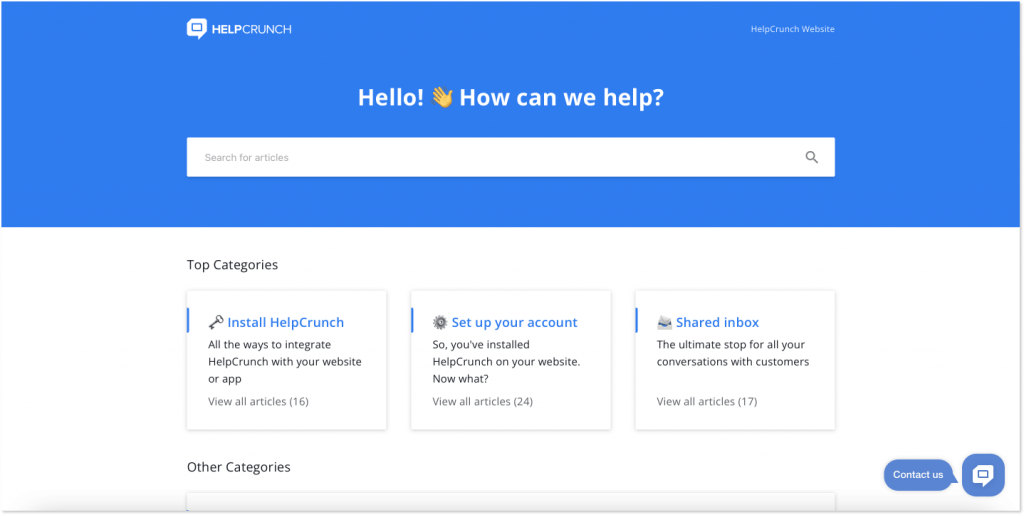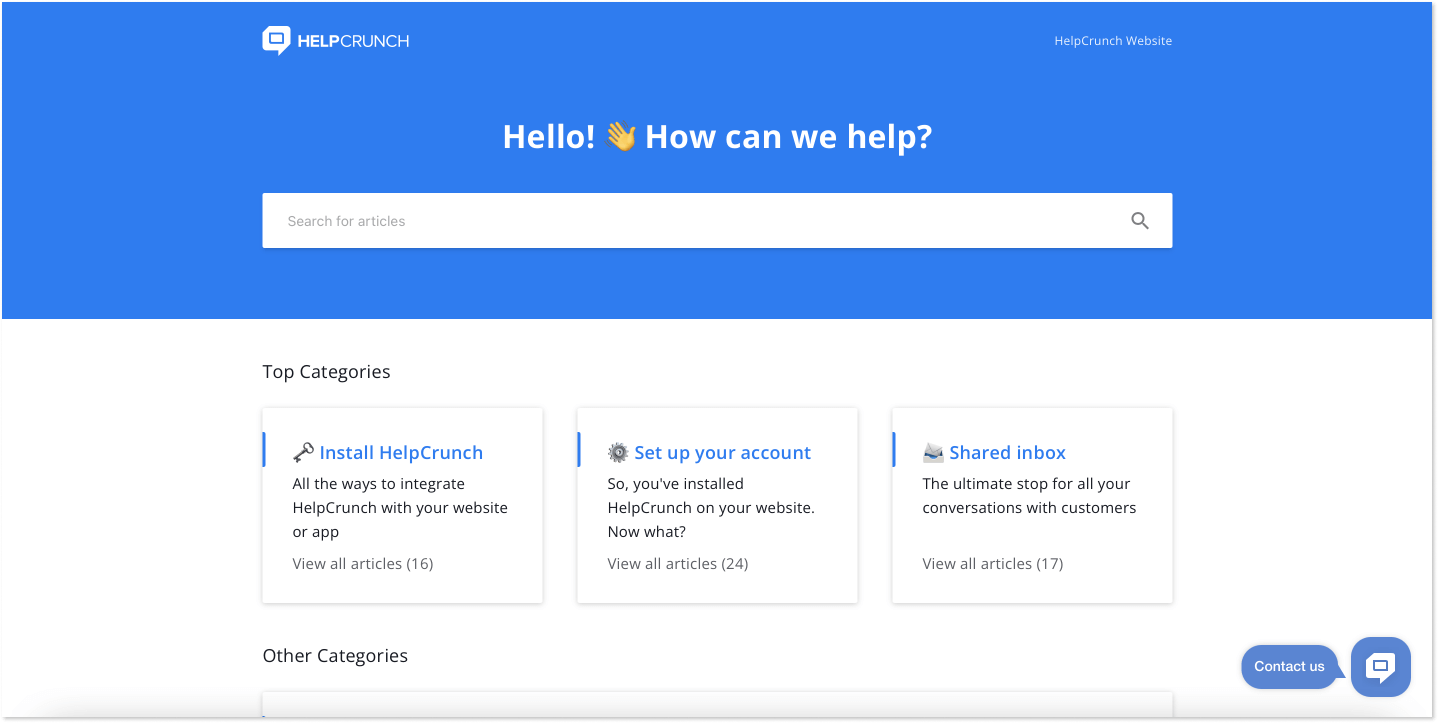 Before we continue, I'd recommend you sign up for a 14-day free trial with HelpCrunch (no strings attached). Take its knowledge base, live chat, or chatbot for a quick test drive. And who knows, maybe other features will come in handy, too. Consider this a good omen!
More efficient resource usage
A well-maintained knowledge base means a true quantum leap in the way support teams' resources are used. When the information is up-to-date and easily searchable, the time required to find a solution is reduced to the absolute minimum.
Even if the customer's case does not have a ready-made solution in the company's knowledge base, it would surely have enough information for the agent to troubleshoot the issue and suggest a way to solve it.
With a user-friendly keyword search, agents have convenient access to all the "wisdom" of the company stored in the organized knowledge base articles. This way, in a support system based on KCS principles, the agents' time and resources are used in the most optimal way possible.
Moreover, you can use the platform's built-in monitoring tools to track the knowledge base metrics and see which articles get the most and the fewest views. This information may suggest ways of improvement, so that useful content is not lost, for example, because of an incorrect keyword.
For instance, there is a vivid example of the knowledge base reports section presented by HelpCrunch. Here, you can see how your content makes progress, check the articles to review, and take steps if need be.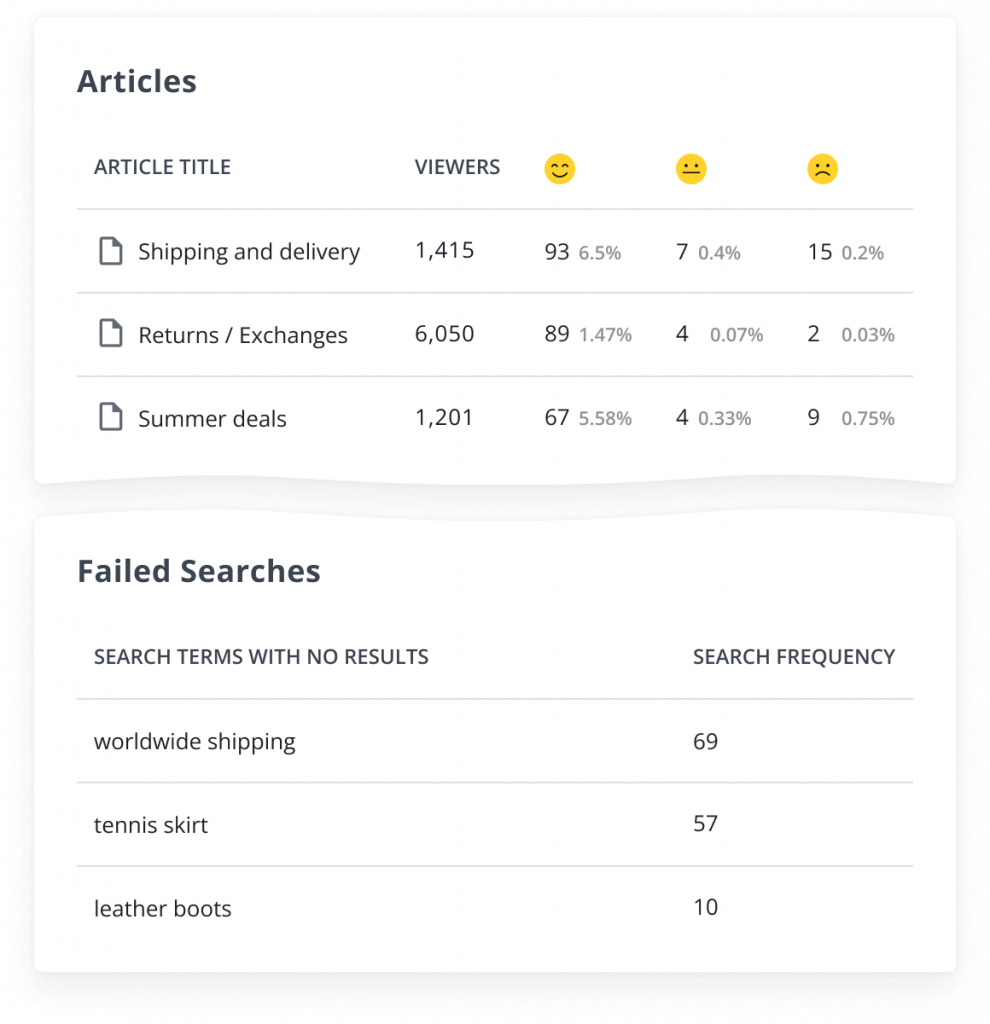 Consistency across support teams
If you have ever worked in support, you have surely heard customers say: "But your colleague told me differently." These cases form a rather unprofessional impression and make customers doubt if the support agents really know what they are doing.
In the majority of cases, the reason is not a lack of professionalism but simple miscommunication. For example, a special offer is announced, but the conditions are not shared with the support team in time. Or a workaround for a bug is introduced but not presented to the team at the front line.
The KCS methodology has all such cases covered. Whenever a new bug is discovered and resolved, it is also documented for whoever needs to deal with it in the future. Any special conditions and terms are immediately added to the common resource base and shared with everyone concerned.
This way, the company gets one unified voice and image, no matter which department or person the customer contacts. The information is always consistent and relevant, contributing to the creation of positive customer experiences.
Better employee onboarding
An efficient knowledge base can be used in onboarding new employees, too. It contains all the information newcomers need to get started on their job. With a full-featured platform belonging to one of the knowledge management system types, new employees get all the information they need from a single source.
There is no need to use different accounts and logins for separate information resources, get used to different controls and interfaces. New employees only need to learn a single system of navigation and control, which they will also use in their real-life work with customers. As a result, training takes a shorter time and allows newcomers to be better prepared to handle customer issues.
One of my favorite examples here would be the one from Notion: this is how tribe knowledge could be presented to a new hire, taking all the guesswork out:
Higher customer and employee satisfaction
Knowledge-centered service represents a totally different approach to information collection, storage, and access, which raises the satisfaction of its users, both outside the company and within it. The KCS methodology allows organizing knowledge in a way that creates top experiences both for customers and support agents.
A well-maintained knowledge base is perfectly suited for self-paced browsing. As a result, customers can use it to troubleshoot their issues independently, which is a powerful satisfaction boost. In fact, 67% of customers prefer self-service over contacting a support agent, which is another proof of the value of good knowledge management.
Increase in website traffic
By offering customers to use your self-service resources, you are guiding them to your website. In many cases, knowledge base articles contain links to other pages on your website, thus encouraging customers to browse even more.
As a result, your website traffic increases. You not only get more visitors but have a chance to improve the conversion rate, as some of your customers redirected from your knowledge base might decide to subscribe to your newsletter or browse your product catalog.
How to build a knowledge-centered service in 7 steps
To set up a knowledge-centered service, you need to make this methodology the core of your knowledge management. According to the definition of knowledge management, it is the process of defining, creating, sharing, and structuring the information of an organization. When you integrate it with customer service, you will get a knowledge-centered service system. Read on for practical tips and recommendations.
Choose the right tools
Nowadays, the configuration and deployment of any software system start with choosing the tools. When you are embarking on a KCS journey, your primary tool will be a knowledge base platform.
A self-service center is the core of any KCS system; it is going to become both the source of information for your agents and customers and the repository of new knowledge obtained in the support process.
Thus, it is imperative to build your knowledge base on a reliable, scalable, and high-performance platform that can store all the information you need and grow together with your business. There are many lucrative options for that on the market. But why search till the crack of doom? I have a pretty nice solution. HelpCrunch is an example of such a platform that can help you build an effective, easily searchable, and customizable knowledge base.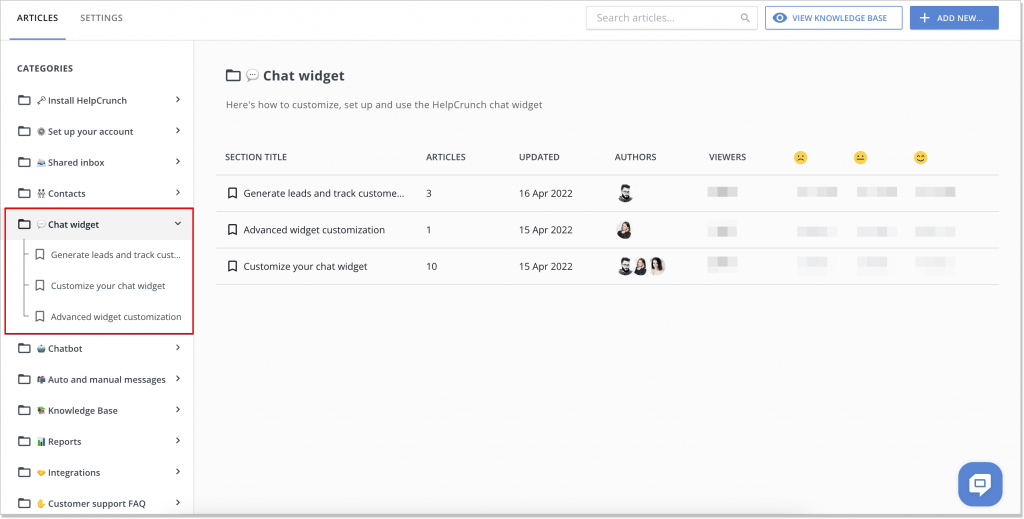 Capture knowledge in the process
This is the very essence of knowledge-centered support – documenting any new solutions or information that the agents come across while working with customers.
If you have a customer with a non-standard issue, and you manage to resolve it – write down what you did. Chances are that more customers come with the same issue, and your entry to the knowledge base will make your colleagues' lives easier – and yours, too.
Besides, you can find valuable knowledge in conversations with customers, in their feedback on your product or service – and turn it into content that can be used by others. For example, if customers complain that a certain procedure is not documented, fill the gap, and the level of satisfaction will increase.
Moreover, you can gain insights from the feedback on your knowledge base itself. For example, if your information resources are powered with ServiceNow, you can obtain customer comments on your KB articles suggesting how the content can be improved.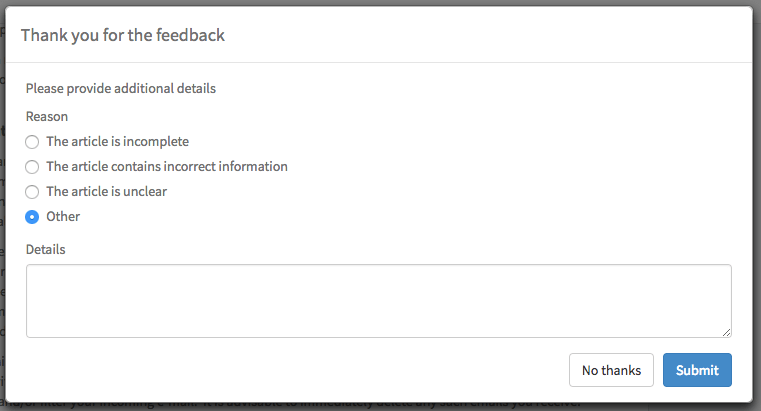 Use templates
In a knowledge base, templates are true silver bullets. Their benefits are multiple, both for knowledge creators and users:
Unified structure streamlining the process of article creation
Consistency creating a better user experience
Searchability simplifying the browsing process
If you look up the most popular examples of knowledge management systems, you will find that many of them support both default and custom templates making content creation more straightforward.
For instance, check the article template you can create with the template builder tool from the Microsoft knowledge management system: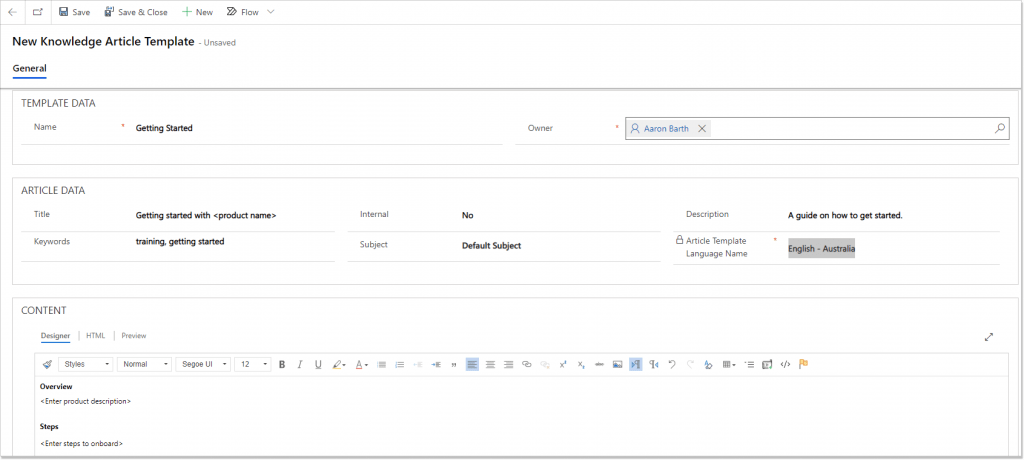 Involve technical writers and editors
While the information captured by the support agents is valuable and useful, it may be sometimes too raw to be included in the knowledge base as is. Engage a technical writer or an editor to review the content submitted by the agents for any errors, typos, or inconsistencies.
Besides, it is always wise to look at any piece of text with a fresh set of eyes. The author knows what they are talking about, therefore, for them, some things may be self-evident or redundant.
For another person, though, more detailed explanations may be necessary. So, run all knowledge base articles by your technical writing team to achieve maximum clarity and user-friendliness.
Practice knowledge reuse
If we wanted to define knowledge base, we would call it a centralized self-service collection where the information about a product, service, specific topics, or the company as a whole is stored, organized, and shared. Yes, the main purpose of a company's knowledge is to be shared and reused, this is why you take such pains to capture and store it.
For your agents, make sure the knowledge base is always available and accessible. They should be able to look up solutions and instructions whenever necessary.
For customers, include links to your external knowledge base where appropriate – in newsletters, chatbot scripts, email communications, or instant messages. This way, customers will get carefully prepared and verified information, which improves their trust.
See, for example, how Amazon Alexa announces its new features in an email newsletter. A brief description is accompanied by a Learn more link to the corresponding knowledge bases article.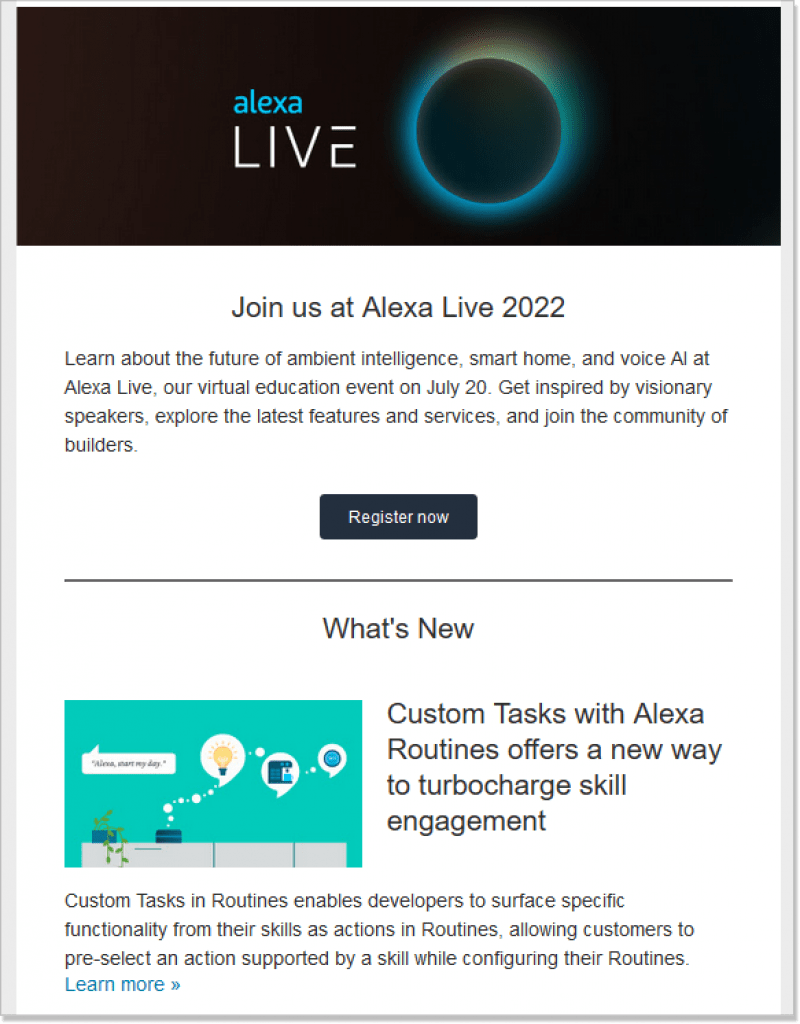 Update and improve your knowledge base
Everything changes, your product or service being no exception. As your business grows and evolves, the information that you collected becomes obsolete. A workaround becomes unnecessary with a product update, a feature is deprecated, a new UI is introduced with a different flow.
All these changes need to be reflected in the knowledge base to keep it a useful service tool. A resource containing outdated information will be of no help to both customers and agents, thus, make sure the content is as accurate as possible.
For example, Figma marks its knowledge base articles on features in beta releases accordingly, thus informing its users that some of the functionality is new and still in the testing phase.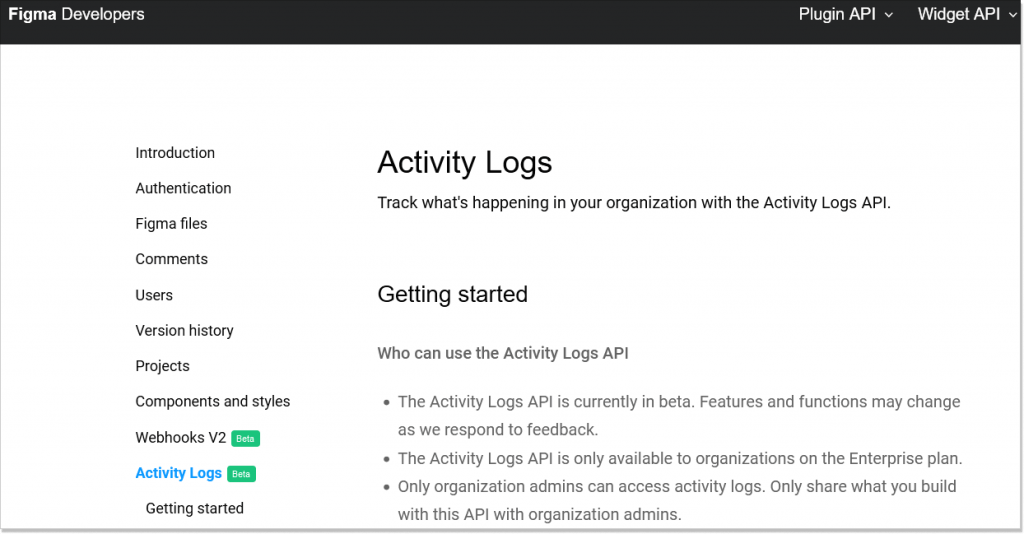 Train your agents to use the knowledge base
Even the most perfect knowledge base is useless if people don't know how to use it. Make agent training a part of your knowledge-centered service methodology to educate your support teams to look up articles as the first step toward resolving a customer issue.
Similarly, train your agents to log non-standard solutions they find and turn them into knowledge base articles. Simultaneously, they can help to keep them up to date by marking outdated content and suggesting improvements. This way, the information resources remain a valuable tool for the support teams.
Make knowledge your power
Knowledge shared is knowledge squared – this saying will never lose its significance. When so much depends on information, it is critical that it is shared as quickly as possible. This is why the knowledge-centered service approach has proven to be so effective.
Hope our little guide helps you build a knowledge management system that is perfect for your business.