How to Collect In-App Feedback: Methods and Best Practices
We've created a list of the best methods, practices, and tools to collect in-app feedback.

Let's be honest, our job, as marketers, managers, and developers, will never end because we have to constantly think about how to surprise a customer more. How to make their experience more pleasant, outstanding, and memorable? This is the moment for me to repeat my favorite line again: "There is no such thing as a final idea".
You might think that you've already created the best mobile app, added the most important features, and built the most fabulous marketing strategy that lures more users into your 'net' every day, and yet it's no time to chill out. Very soon people will expect new updates and improvements from you.
Why? While you were working on your product, your competitors were creating their own apps, hoping it could beat all the rest. And believe me, at some point, they will come up with an original idea that customers will love, so to stay in the game you have to keep experimenting and looking for new ways to stand out.
How to do so? The answer is simple. Regularly talk to your customers about what they feel, think, hate, and love about your product. You might be happy or upset to hear their opinions, but never stop asking.
When collecting user feedback you might encounter a challenge of how to make users talk to you. How to make them honestly share their thoughts?
One of the most effective methods is in-app feedback collection because it catches a user at the moment when they are the most engaged with your app. In this article, we will share what in-app feedback means, explore the ways to collect it, and go through the best practices.
Avast ye!
What is in-app feedback?
In-app feedback is a method of collecting users' thoughts and opinions about your product from within the app while they are still using it directly. It's a powerful strategy that can give you more relevant insights into what people really think of your app and how you can improve it.
This type of feedback is usually collected through a pop-up window, push notification, or a feedback form within the app. However, there are other methods you can use to explore users' opinions. We will show you a few techniques, and you can choose the one that suits you best.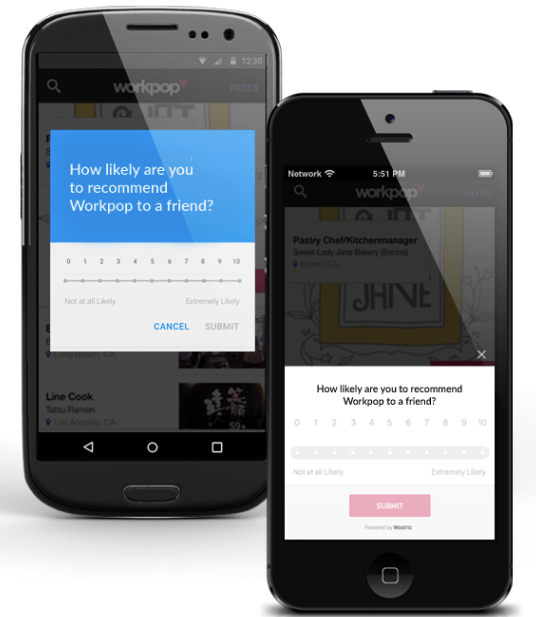 What is the importance of app feedback?
In general, we can break all the reasons for feedback collection down to two main points: competitiveness and analysis of the efforts.
First, competitiveness means that by collecting user feedback we are able to generate new ideas and constantly improve the product to stay competitive. We touched upon this in the intro part of this piece 😉
Second, analysis of the efforts answers the question if your ideas work as expected and if users like them. No doubt you do your best to please your customers, make them happy and satisfy every need to keep the loyalty rate high. But can you be sure that your efforts bring desired results? If you don't ask, it's hard to tell. User feedback in turn is very helpful information that you can use to adjust your product to fit customers' needs more accurately.
Speaking of in-app feedback, you get even more benefits, here just to name a few:
Higher response rate. Since you're catching users right at the moment when they are already engaged, it typically leads to better response rates.
More accurate feedback. Immediate feedback is usually 40% more accurate than opinions collected 24 or more hours later.
Automatic collection. What's beautiful about in-app feedback is that you don't have to send manual messages every time to collect opinions. Instead, you just set up the rules and triggers and get feedback on autopilot.
More love from users. 77% of respondents claim that they view brands more favorably if they ask and apply customer feedback.
Product improvement. This is the most important one, as it helps specify the areas of improvement and a potential future product development plan. Users share their pain points guiding you in the right direction.
What to know before collecting in-app feedback?
You rolled up your sleeves and are ready to set to work. Great! But let's go through some of the key points to check before jumping into feedback collection methods and best practices.
✅ Specify the goal
Don't start surveying customers until you know a specific goal for doing this. Yes, it's nice to ask if they are happy with your app, if they want to recommend it to their friends, if the new feature is useful, and if the customer service is helpful. But, you can't make them answer every possible question simultaneously, instead, it's important to define a particular business goal for the moment and then set up the survey.
This way, it will be much easier for you to come up with the right question and pick up the best tool and method.
✅ Choose the right method
Once you specified your WHY to ask and WHAT to ask your customers in the app, it's time to choose a proper method for feedback collection.
Worry not, we will talk more about the methods in a second 😉
✅ Be ready to experiment
In case your response rate is low and users don't interact much with your in-app survey, just try changing the method/question/approach. Staying open to experiments will allow you to find a perfect formula for your business and get to know your customers' opinions in the end.
✅ Define your budget
After you define your needs it's time to consider the costs that you are ready to dedicate to the in-app feedback tool. It has to represent a great money-value balance.
To give you a feeling of what the price can be, it usually ranged from $19/mo to $800/mo.
✅ Ensure it has the must-have capabilities
A great feedback tool should include at least the following:
The method you want to use for feedback collection in your app
Easy integration with your application
Customizable design so that you can adjust it to your app outlook
User-friendly interface and survey editor.
How to collect feedback in-app?
We've already discussed the importance of feedback collection in app and things to consider before surveying customers, so let's finally move on to the methods, aka answer the question 'How on earth to collect users' opinions?' 🤩
In-app surveys
This is the first and most popular method which implies sending quick surveys to customers inside the app. Usually, the surveys are targeted and triggered by specific user details or actions. It can be questions about the level of satisfaction, usage convenience, or effectiveness of the features.
Surveys can be implemented seamlessly into the app's interface, allowing users to provide feedback without interrupting their use of the app. It's essential to keep surveys short and to the point to maximize user participation. More on the best practices in a bit 🤫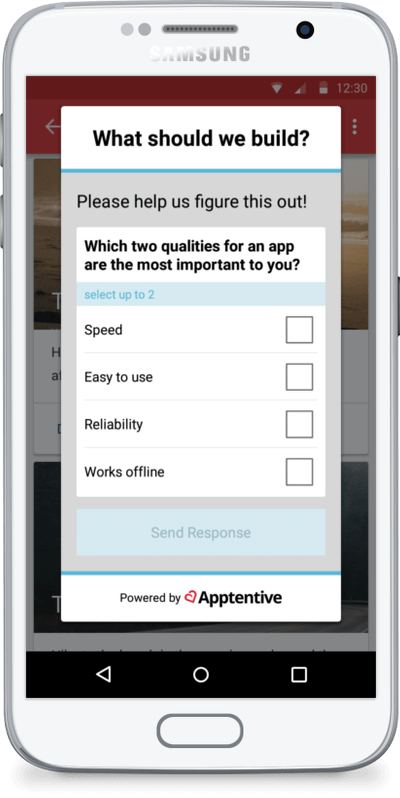 In-app feedback tools that can be used for this method: Apptentive, Survicate, Zonka Feedback, Qualtrics, SurveyMonkey, etc.
App rating prompts
This is another popular way of collecting in-app feedback – by asking users to rate the app. Users can rate apps on various app stores such as App Store and Google Play, using a rating scale typically ranging from 1 to 5 stars ⭐.
The higher the rating, the better the app is perceived by potential users. It gives customers an impression of what an app might look like and if it's worth downloading it or not. At the same time a low rating can discourage people from using the product, so keep one's eyes peeled because it's a double-edged sword!
Some useful tools for this method: AppFollow, AppRadar, and Appbot.
In-app Net Promoter Score
Probably, you are already familiar with this one, if not then let me make a quick intro here… In-app Net Promoter Score (NPS) is a customer satisfaction metric that measures how likely a user is to recommend a company's product or service to others. In the context of mobile applications, in-app NPS is a survey that is integrated directly into the app and presented to users at specific points during their interaction with the app.
The purpose of in-app NPS is to gather feedback from users and identify areas for improvement. Typically, the survey consists of a single question: "How likely are you to recommend our app to a friend or colleague?" Respondents are then asked to rate their likelihood on a scale of 0-10.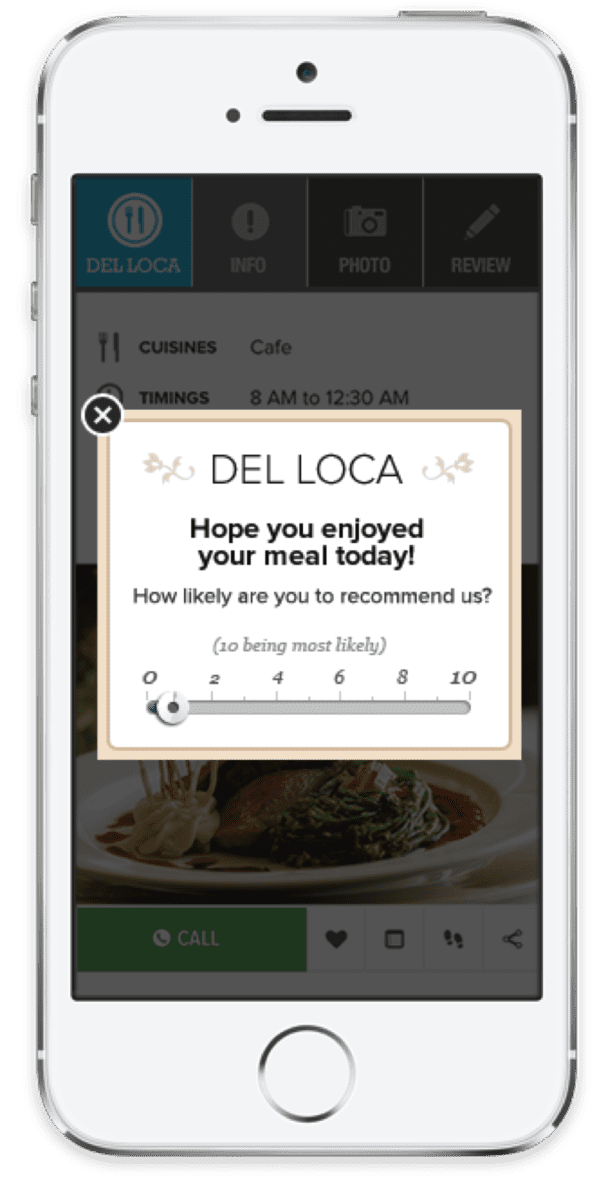 In-app feedback tools that can be used for this method: Delighted, Wootric, AskNicely, and Hotjar.
In-app feedback popups
Last but not least method is in-app feedback popups which are also great to gather feedback from your users. They provide a quick and easy way for customers to share their thoughts on your app or described feature/process.
Just like any other popup, these should also be unobtrusive and enable users to dismiss it quickly if they don't want to provide feedback. Additionally, the popup should be designed in such a way that doesn't interrupt the user's workflow.
This can be as simple as a text box or a series of multiple-choice questions. Make sure to also include a way for users to contact you directly if they have any additional comments or concerns.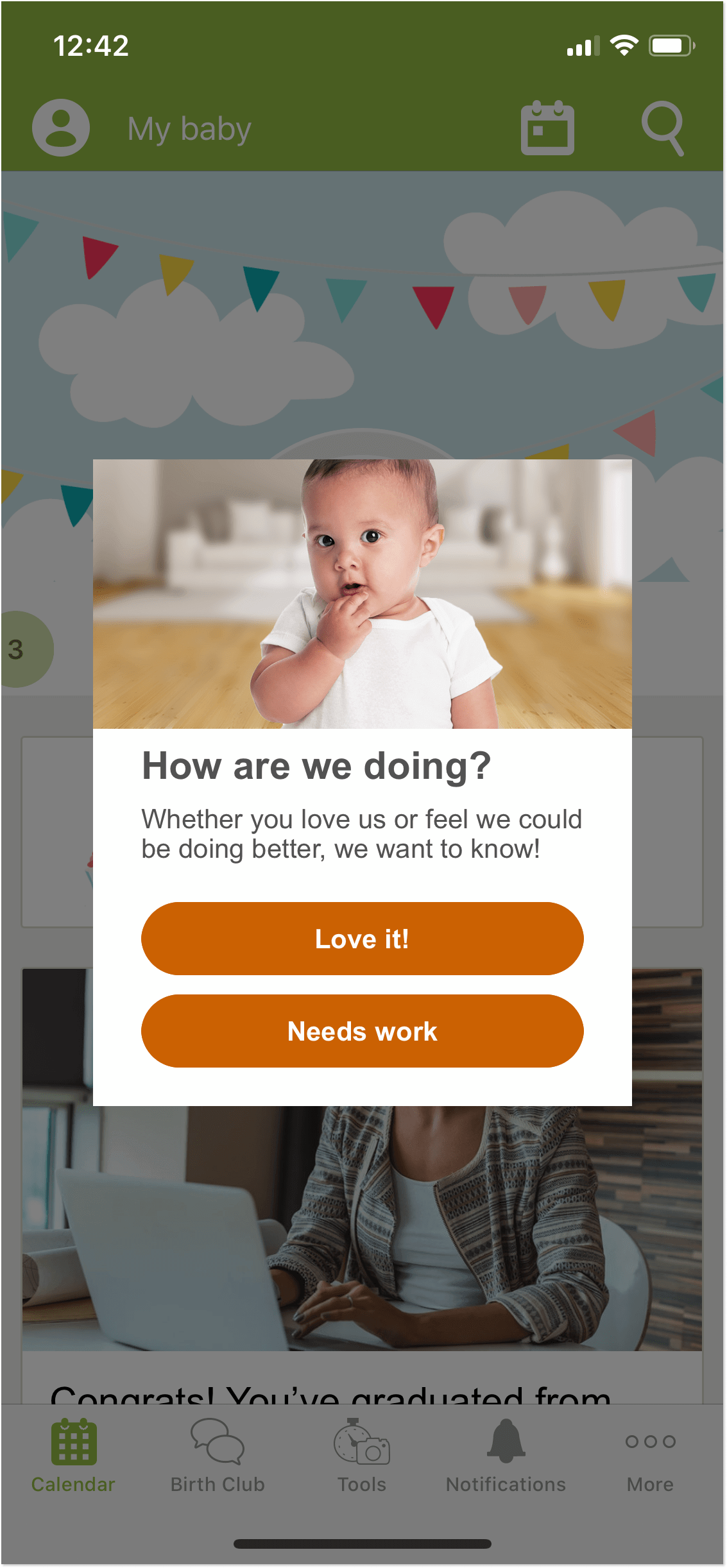 In-app feedback tools that can be used for this method: Instabug, Apptentive, Survicate, and Qualaroo.
Best practices for in-app feedback
Okay, now you know the methods for in-app feedback collection, what about tips and tricks to create effective surveys? Here are some best practices for collecting and using in-app feedback effectively 👇.
Make it easy to leave feedback
First and foremost, it should be easy for users to share feedback. Say, a client doesn't like some of your app's features and wants to tell you about it, if they can't find an easy way to share the feedback, they will most probably go to social media, like Twitter, and post their negative review for everyone to see. You definitely don't want this, which takes us back to the name of this paragraph.
One way to make it easy is to provide a clear call-to-action in your app, such as a dedicated feedback button, widget, popup, or any other method we described above. This will help customers users quickly find the feedback form and encourage them to share their thoughts.
Apart from finding a feedback button, there is another important aspect – length and clarity. Customers are more likely to complete a form if it is easy to fill out and doesn't take up too much of their time. Only ask for essential information and provide clear instructions on what type of feedback you're looking for.
Wait before asking for feedback
When it comes to collecting feedback from customers, timing is crucial. It's important to wait until the right moment to ask for feedback to ensure that you receive accurate and valuable responses.
If you ask for feedback too soon, customers may not have had enough time to form an opinion or experience the full benefits of your product or service. Moreover, showing a rating prompt on launch is 50% more likely to result in the app being closed than if it's shown at any other point in the app.
On the other hand, if you wait too long, they may have forgotten important details or lost interest in providing feedback altogether. So be smart and brave to experiment!
General advice, take into account the milestones that customers achieve with your platform. So, it might be a good idea to display the feedback survey after a user successfully completed a task in your app 💁‍♀️.
Let your first question be a smiley scale
When collecting feedback from customers, the first question you ask is crucial. It sets the tone for the entire survey and can greatly impact the quality and quantity of responses you receive. One of the most effective ways to get quick responses is to use a smiley scale.
It's a simple and easy-to-answer question that allows customers to rate their experience using a series of smiley faces. The scale typically ranges from a very angry face to a very happy face, with several intermediate faces in between.
Using it as your first feedback question can help put customers at ease and encourage them to participate in the survey. It's also a great way to get a quick snapshot of overall customer satisfaction. Have a look at the chat smiley scale powered by HelpCrunch customer support software which is displayed right after the end of the conversation. It's easy for users to quickly say how happy they are with the service.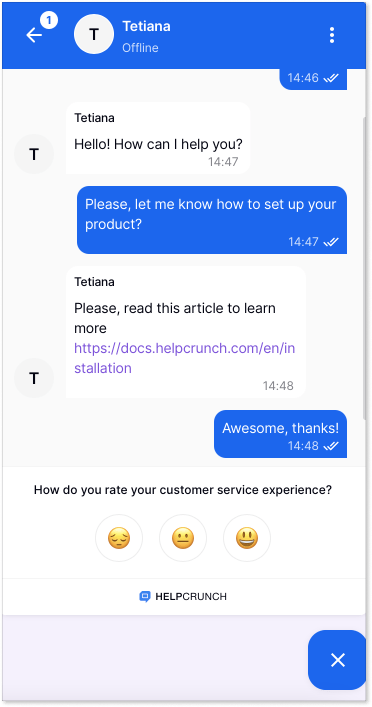 By the way! If you are looking for not just an in-app user survey but also a customer support platform, then HelpCrunch might be a great shot. It embraces live chat, chatbot, knowledge base, popups, shared inbox, and also allows for in-app customer service experience surveys which are sent automatically when a user ends chat. Try it for free!
Pay attention to the survey design
Designing an effective in-app feedback survey requires careful planning and execution. Let's quickly go through the most important points:
Keep it short and straightforward. Users are more likely to complete a survey that is easy to answer and takes only a few minutes. Thus, limit the number of questions to the most critical ones.
Ask the right questions. Ensure that the questions are clear, specific, and relevant to the user's experience and your business goals. Asking open-ended questions can give you more information, but they are usually time-consuming for users to answer.
Visually appealing and easy to use. Make sure to use the right color pallet for your survey that corresponds with your app design, so it looks like an integral part of the brand. Also, add visuals, like images or emojis to make it more entertaining for users to rate their experience.
Respond to feedback and create a follow-up plan
When customers provide feedback, it is important to respond in a timely and effective manner. This shows that you value their opinions and are committed to addressing their concerns.
First, make sure to acknowledge the feedback. This can be done by thanking the client for their input and letting them know that their feedback has been received.
Second, it's also important to address any specific concerns or issues that the customer has raised. This may involve providing additional information or taking specific action to address their issues.
Another important aspect is following up with the customer to ensure that their concerns have been solved and that they are satisfied with the outcome. This can help to build trust and loyalty with customers, and can also provide valuable insights into areas where your business can improve.
In-app feedback tools: top 5 recommendations
We've already mentioned briefly a few tools that you can leverage to launch in-app user feedback surveys. Now, let's have a closer look at a few of them. Ready, steady,…!
1. Apptentive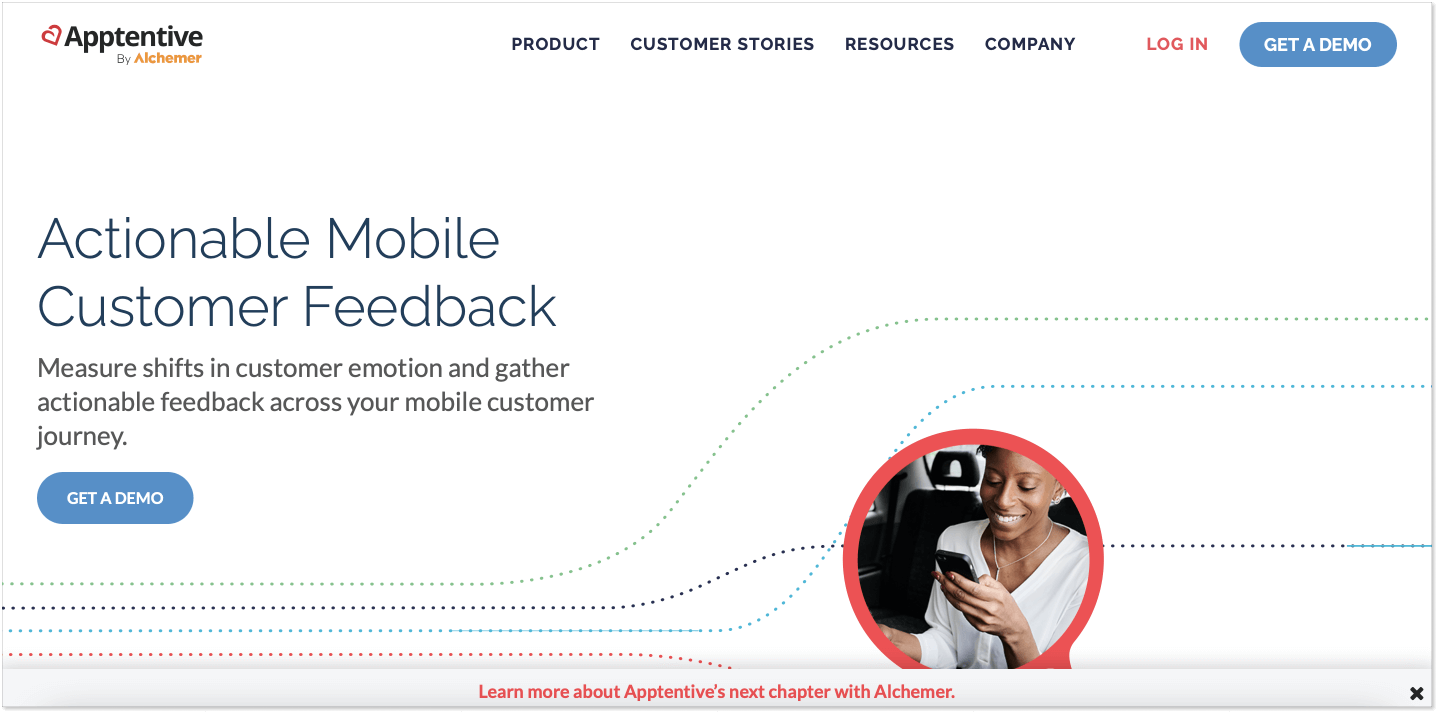 Apptentive is a highly-regarded feedback tool in the app development industry. One of the standout features of the platform is its ability to provide detailed insight into user behavior, making the feedback more detailed and valuable for your business.
Why is it good for in-app user feedback? It allows you to easily design multiple in-app survey types, set up precise targeting, perform advanced user sentiment analysis, send in-app rating prompts, and more.
Price: Upon request.
2. Instabug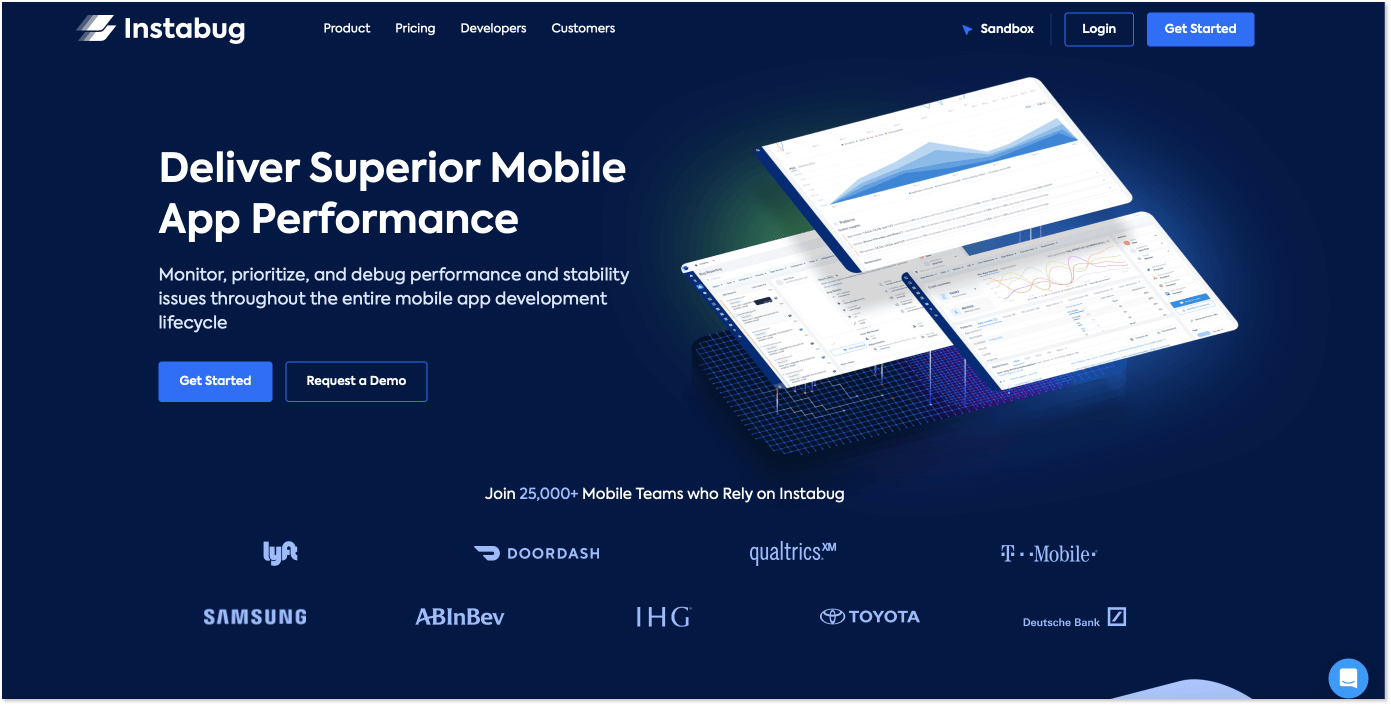 Instabug offers a wide range of services including the ability to conduct surveys to gauge user opinions. Additionally, if your app is in the production or beta stage, Instabug can provide you with valuable insights based on feedback from regular users, stakeholders, and other relevant parties. By tailoring survey questions to your specific needs, you can determine areas where your app may be lacking or where competitors may have an advantage.
Why is it good for in-app user feedback? It allows you to create in-app surveys, use advanced targeting options, launch surveys during testing to spot bugs and issues, enable users to attach screenshots and voice notes to the surveys, and more.
Price: starts from $240/mo.
3. UserVoice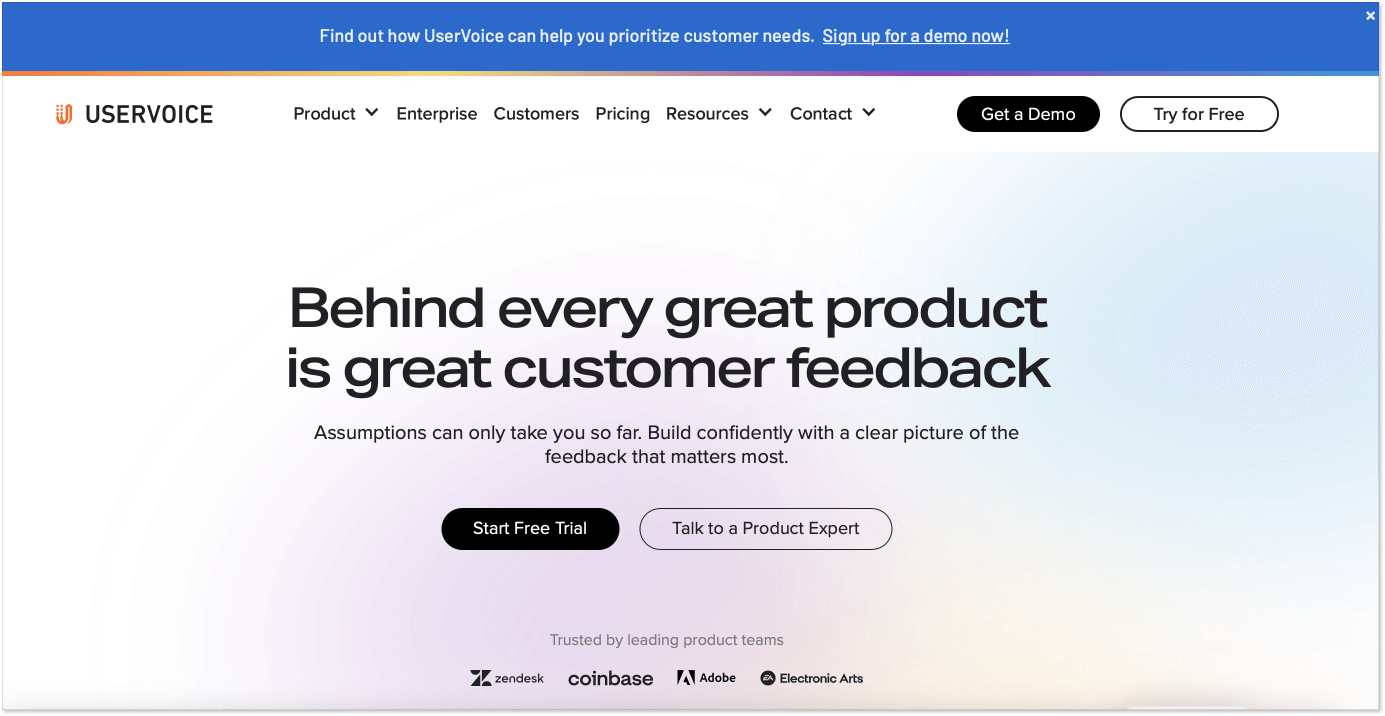 UserVoice, founded by Richard White along with Lance Ivy and Marcus Nelson in 2008, is an organization that specializes in product feedback management. The company has an in-built system that gives real-time feedback to its clients, with data that includes user activity before, during, and after the feedback.
Speaking of which… This feature is called FullStore connector. This connector provides a detailed insight into what the user was experiencing prior to leaving feedback. It allows you to view session replays and visualize the user's in-app experience.
Why is it good for in-app user feedback? It allows you to add the feedback widget to your mobile app, launch in-app NPS surveys, create a feedback portal where users can post their thoughts, and upvote the ideas of others.
Price: starts at $799/mo
4. Survicate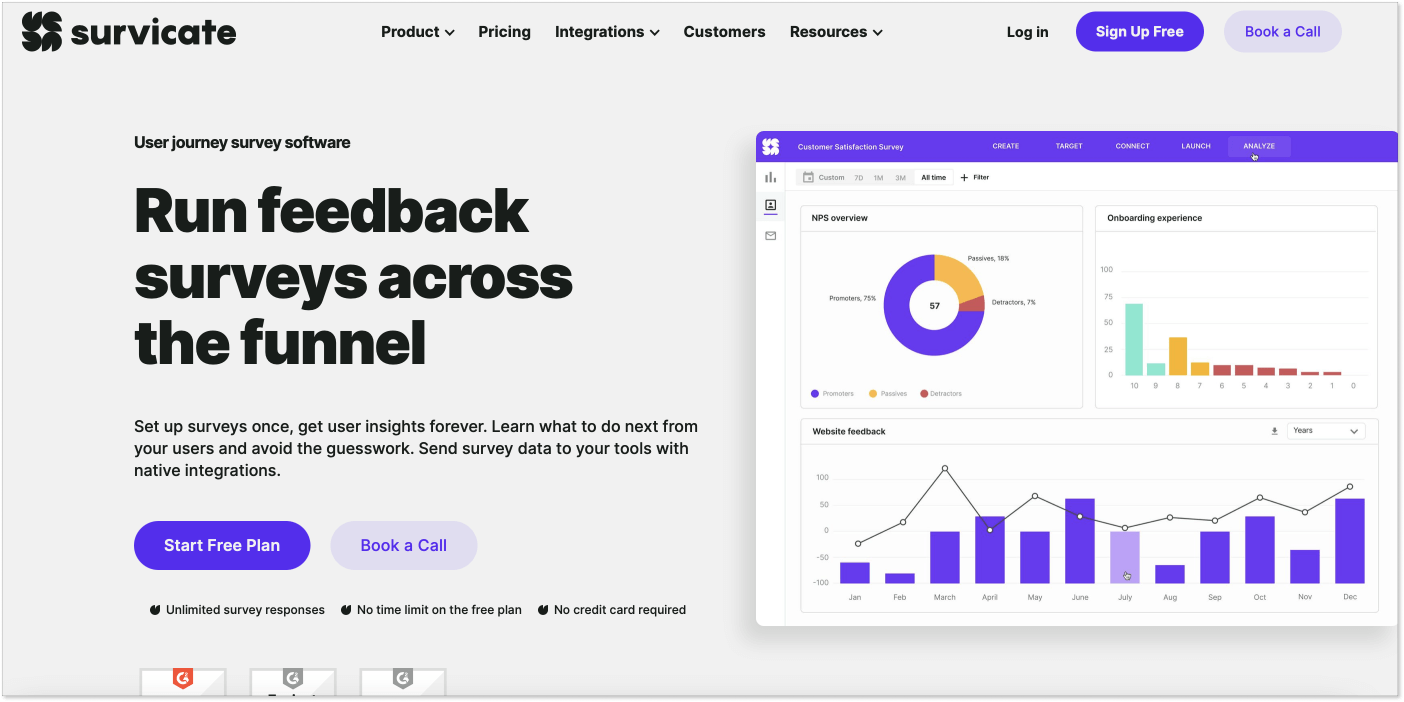 Survicate is a tool that has been serving the app market since 2013 with the aim of making feedback collection convenient for app users. With Survicate, you can collect feedback in various forms such as stars, emoticons, surveys, etc. What's more, it provides you with the flexibility to target specific users within a single app and gather relevant feedback.
Why is it good for in-app user feedback? It offers a no-code visual editor for in-app feedback survey creation, provides pre-built templates and wide customization, allows adding a feedback button to your app, supports precise targeting, and more.
Price: Free plan with basic features; paid plans start at $99/month.
5. SurveyMonkey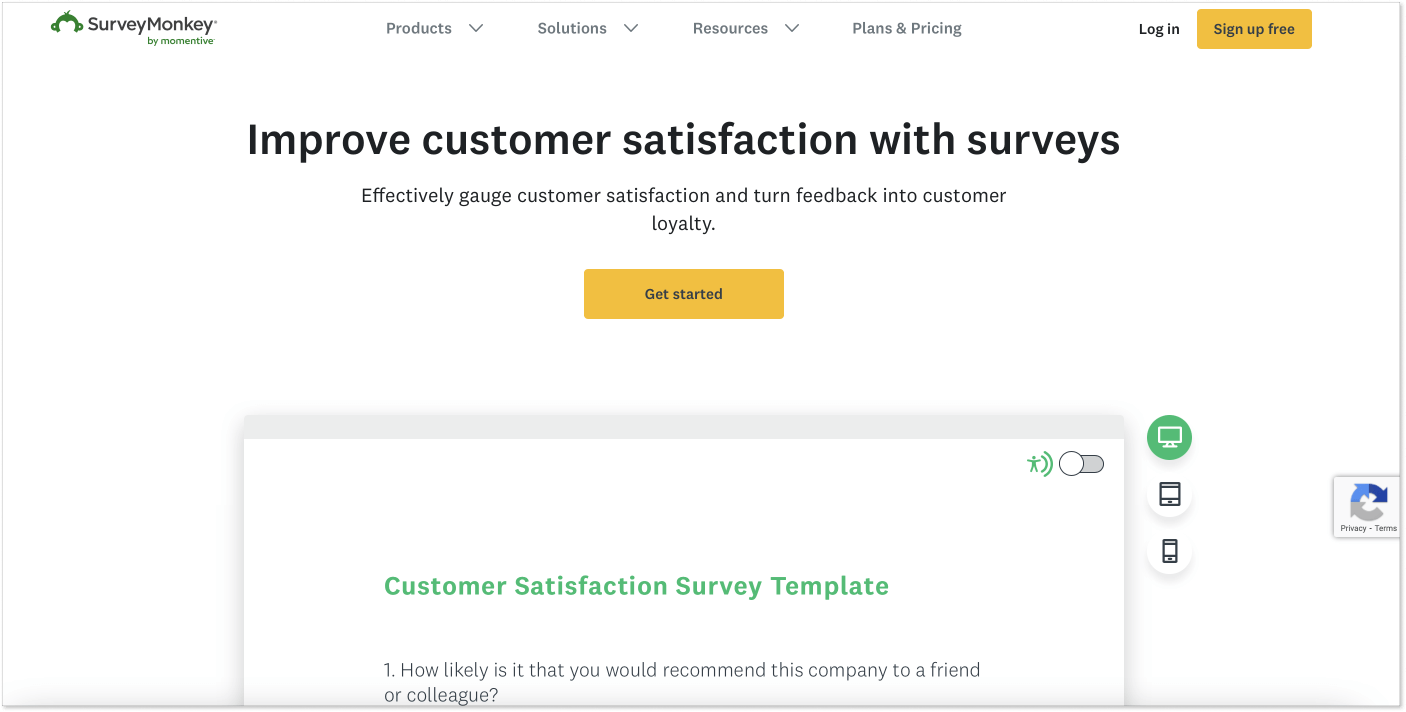 Since 1999, SurveyMonkey has been providing survey solutions to various businesses. Whether you need to collect business data, demographic data, or customer feedback, SurveyMonkey has got you covered. Recently, they have expanded their services to include the app development market.
Now, with the release of their new SDK, SurveyMonkey is available for app integration. This means that you can easily integrate SurveyMonkey into your mobile apps to collect feedback and ratings, among other information.
Why is it good for in-app user feedback? It allows for creating in-app surveys, quizzes, and polls, including interactive elements to your surveys (like, question randomization, a progress bar, etc.), launching in-app rating prompts, NPS scores, and more.
Price: starts at €30/user/month.
Wrap up
Gathering in-app user feedback is much more effective than any other form of feedback collection like emails or messages on social media. If you are ready to hear what people really think about your product/service, you will definitely find our article useful.
And after collecting the thoughts and concerns of your users, remember to actually listen to them! In-app feedback is only useful if you take the time to read and act on the information provided. Let's get cracking, toots!