Make Sure Your Customer Service Workflow isn't a Mess [+ 6 Templates]
What is a customer service workflow? Is it something you have to stick to? Or you can just let it go? Definitely not let it go! Find out all the details here + 6 ready-made templates.

Imagine your bog-standard day. You get up, brush your teeth, have breakfast, commute to work, etc. Or when you press an elevator button, wait for it a minute, and then go up or down in it. What I am hinting at here is that everything we do on a daily basis needs a certain sequence, that is – a workflow.
Just as we have it in our casual lives, so too the business environment has it on different levels. If a goal is set, you'll have to go through some tasks to achieve it, no matter what. And customer service is no exception.
See what customer service workflows are there and how an agent should complete them to hit the mark.
What is a customer service workflow, really?
A customer service workflow is a sequence of activities a customer service agent is required to perform throughout the customer journey with a brand (and make it successful). The end of the workflow is usually associated with a plausible outcome (either good or bad). To omit unnecessary gaps in business processes, one would want to use it for clarity and a systematic approach.
A basic best-case scenario for this can look something like this:
Customer complains →
→ Agent receives their complaint and comes up with a solution →
→ Customer gets the answer and asks for more details →
→ Agent checks the info and gets back →
→ Issue is handled →
→ Customer is satisfied.
Are you conscious of these customer service workflow examples?
As you see, a customer service workflow isn't yet another buzzword. It helps you and your clients build a seamless experience every step of the way. And not to jump off the deep end, here are 6 customer service workflows. Does your business go with the flow (pun totally intended)?
1. Customer onboarding workflow
As the age-old proverb goes, As you name the boat, so shall it float. When we take it to a customer service realm, greeting and leading the customer from day one properly is equally important both for an online and a brick-and-mortar store. If you do that right, you got yourself a loyal customer. If you drop the ball, well – be ready to kiss a client goodbye.
So, it's in your best interest to catch up with them early on so as not to cry over them later on. And yeah, don't forget about word of mouth.
Once a customer lands on your website, explores it, and hits that coveted Buy now/Sign up/Become a member button, it's a trigger for you to take action. Here is an approximate customer service workflow process for SaaS onboarding: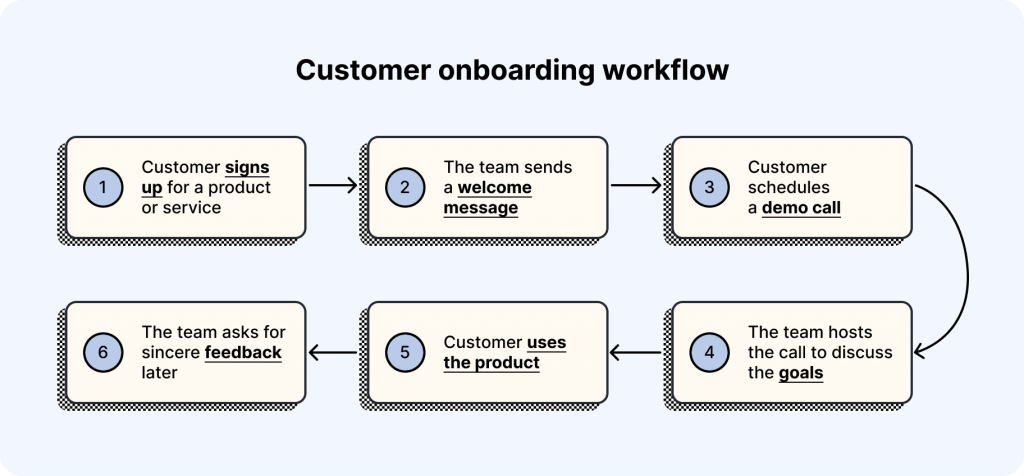 Customer signs up for a product or service →
→ The team gets the details and sends a heartwarming welcome message with further useful resources
→ Customer wants more details and schedules a demo call →
→ The team hosts the call and shows a customer around the product or service and discusses all the goals →
→ Customer uses the product →
→ The team asks for sincere feedback later.
Note! This is just a likely workflow that you can tailor to your brand. Instead of sending a series of welcome letters, you could provide video training, a call with a manager, knowledge base articles where clients can find the info to get the ball rolling, etc. The sky is the limit.
2. Customer order/billing workflow
Once you hear that cha-ching sound and see a new order/subscription/insert your option, don't celebrate just yet. I mean there is a drop of excitement but a customer will surely need confirmation of their payment. And you as a business should think of a smooth customer support workflow for that matter.
There is a customer order workflow as we see it below: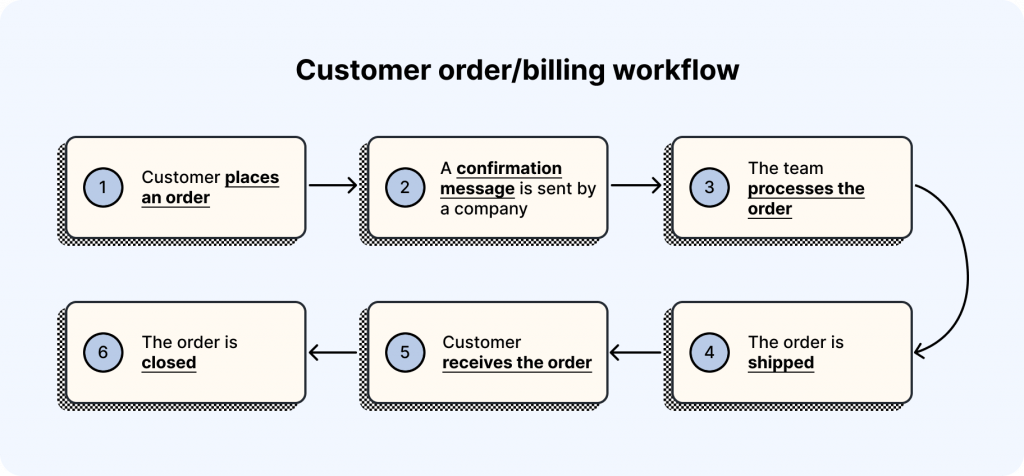 Customer places an order →
→ The company sends a pre-made confirmation message →
→ The team/warehouse processes the order →
→ The order is shipped →
→ Customer receives the order →
→ The order is closed.

Money likes count. To avoid all the mishaps connected to finance, consider keeping track of every transaction you receive from a client. For that, you can take advantage of such tools as Stripe, Wise, PayPal, to name just a few.
We at HelpCrunch have this dedicated Slack channel where we get every single billing notification. This way, our customer care team has the broad picture and reacts proactively to a failed payment, billing info added, or subscription cancellation.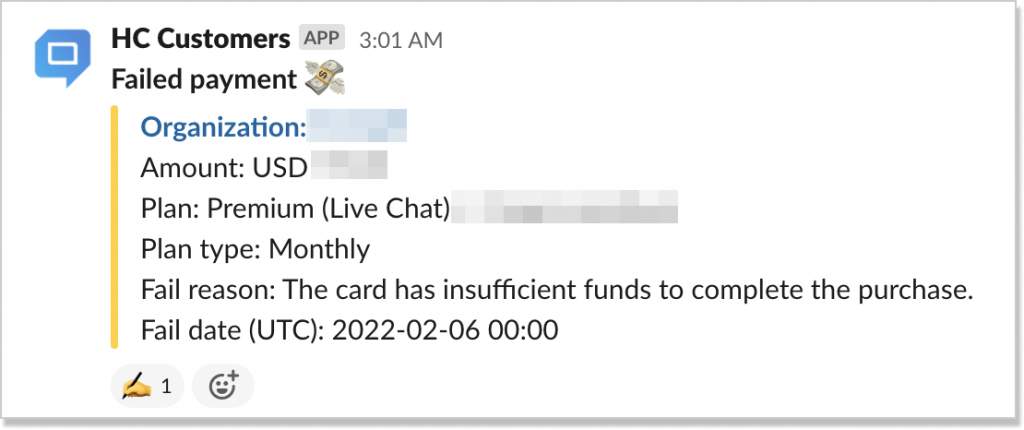 3. Customer complaint handling
We gotta face it: no one is perfect. If you read the room right, you know deep-deep down your product or service may have flaws. Sometimes critical, sometimes mild ones. Anyway, it doesn't change the fact that when it's time to deal with customer complaints, you have to do your best for their success.
To make you act right about that, see if you follow his script (or there's a need to spiff up your routine a little):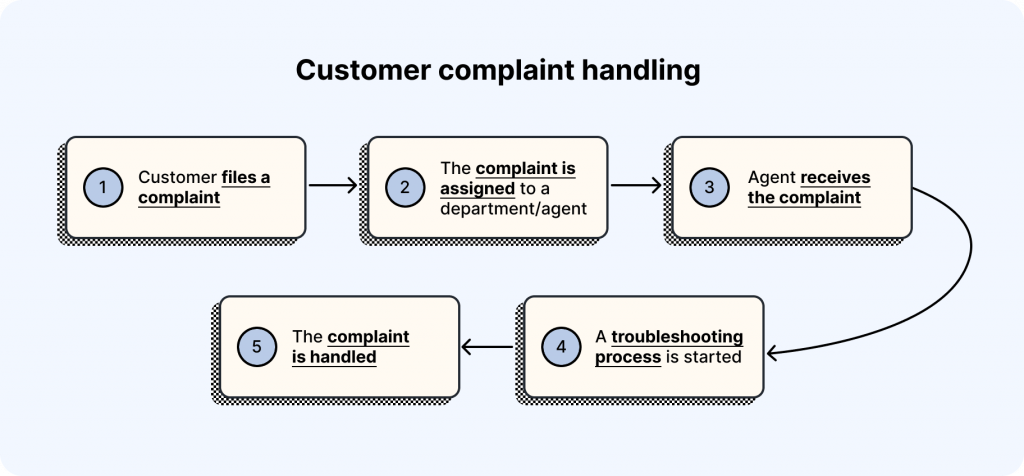 Customer files a complaint →
→ The system assigns the complaint to an appropriate department/agent →
→ Agent receives the complaint →
→ Agent and the customer start a troubleshooting process →
→ The complaint is handled.
Now, let me elaborate more on the troubleshooting interaction here. The way you treat a client has a gigantic impact on your future relationship with them. So, grab a pen and a piece of paper. Here's a quick checklist of what to do during a customer complaint handling workflow. Tick a box any time the expression relates to your business:
Listen to a customer or read what they write closely. Make notes throughout the whole conversation because you don't want to lose chunks of info and beat yourself up later.
Apologize for any inconvenience your business may have caused. Owning your mistakes goes a long way. But even if you're not in the wrong here, say something comforting – it's better than nothing.
Ask questions to summarize the complaint. This way, you can see if there's something you blundered away. If everything seems OK, discuss further steps with your team.
Explain all the actions to be taken to handle the complaint. Mention only real timescales so as not to bamboozle a customer. Provide customers with your colleagues' names who will be dealing with the complaint (if needed).
Follow up after the complaint is put out. Check with the client if everything's alright, send them a thank you email.
4. Technical issue handling
Again, any product or service may seem perfect at a first glance. But what doesn't kill us, makes us stronger. So does any technical problem a customer may face while dealing with your product.
A technical issue is closely connected to the overall customer experience. With clients getting more tech-savvy these days, you should hold the bar high, too. To be up in arms, have a certain customer service workflow to get your head around a tech issue.
Let me give you two examples depending on who detected a problem: 1) a business or 2) a customer.
Issue found by a business →
→ The ticket is created →
→ The devs team looks it up, debugs it →
→ The fix is rolled out →
→ The business informs a customer the bug is successfully fixed.
Issue found by a customer →
→ Customer informs the business →
→ Support team assigns the ticket to the devs →
→ The devs assess the timescale →
→ Support team informs a customer when the issue will be resolved →
→ The issue is fixed →
→ Support team follow-ups with the customer to tell them everything is OK →
→ The ticket is closed.
5. Customer self-service workflow
Do I have to highlight the importance of customer self-service today? Clients want answers, and they want them NOW. It doesn't matter when they reach out to your business, you have to provide them with a solution. And will you have one?
If your brand has a self-service portal on the website, you're saved. It's the cleverest alternative to human assistance and here is why:
An online knowledge base is available 24/7
Your support team is backed up while they sleep
A customer can find and read the answer without waiting for an answer when the pigs fly
You can integrate a knowledge base into the chat widget so that customers don't have to switch tabs
So, here is how a customer workflow for self-service works: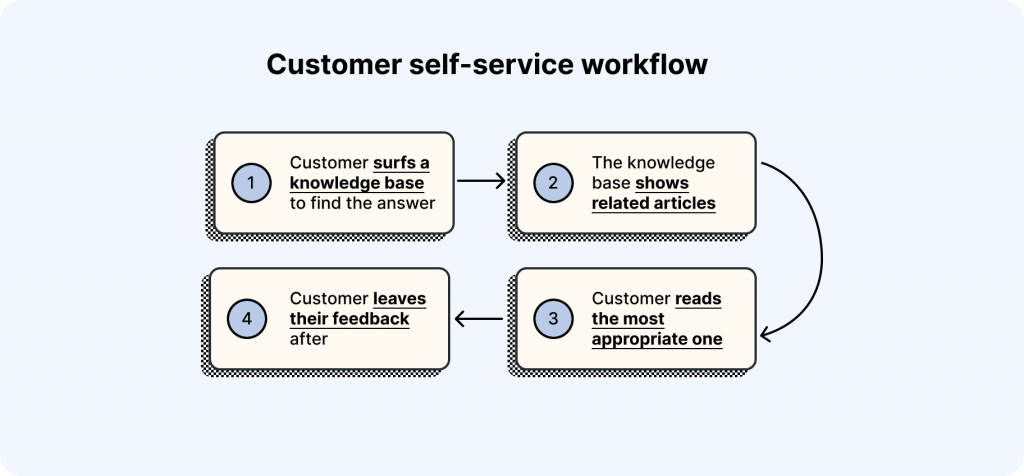 Customer surfs a knowledge base to handle an issue →
→ The knowledge base provides them with several related articles →
→ Customer chooses and reads the most appropriate one →
→ Customer leaves their feedback after.
Remember that it's not always about texts in an online resource. Now there is a gazillion opportunities to jazz up your knowledge base content. Make it an FAQ portal, add explanatory videos, or even provide a library-like hub: it's your call.
6. Customer feedback loop
Well, we are getting to the juiciest part – what customers really think of your business. The thing is that customer feedback can not be neglected much as one would like to. Think of it as bricks: they're piling up building a strong (or not really) brand image. That's why every self-respecting company should sift through their customer feedback meticulously.
You're good to go if a customer review is all nice and friendly. Congrats! But what are your actions in case that review leaves much to be desired? First off, there is a customer workflow for this kind of activity: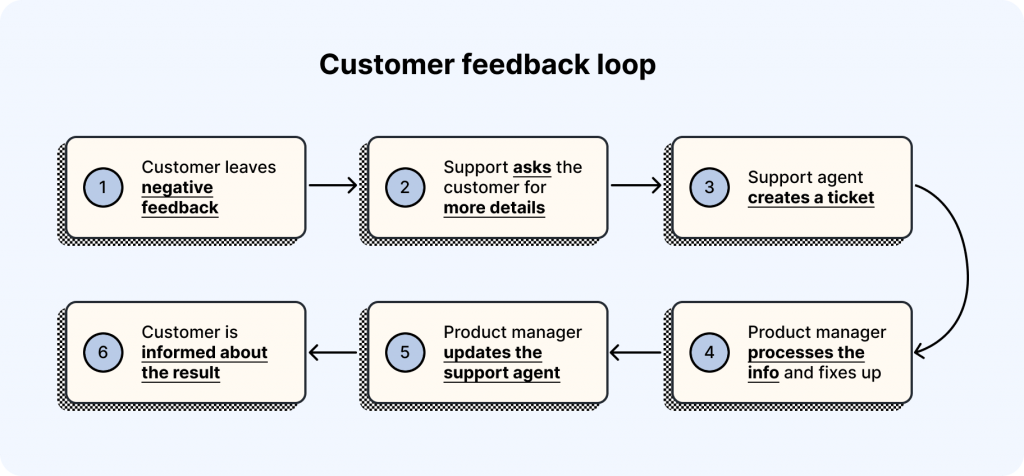 Customer leaves feedback * IF it's NOT GOOD * →
→ Support agent reaches out to a customer asking for more details →
→ Support agent opens a ticket →
→ Product manager processes the info and fixes the issues (if needed) →
→ Product manager updates the support agent →
→ Support agent informs the customer their comment is taken care of.

Our customer support heroes at HelpCrunch take every single customer feedback seriously. And if you don't do the same – start! Register on review platforms and process your clients' reviews systematically. It's the only way to grow your business.
After all the stages are completed, think of some possible gaps in your business. What are your weak points? Does your support team perform well? Do you carry out a performance review from time to time? Those are the questions to think about.
Sum it up
One thing to add: creating a successful customer service workflow isn't a one-day job. It should be on your agenda constantly. Once it's built, don't stop! Improve each stage and enhance your brand's identity.
What about taking crucial steps right now? Go for an all-around communication platform, such as HelpCrunch, and shape your workflows with customers in mind. Signing up for a free trial is all it takes.