How to Handle Customer Complaints Without Going Ballistic
Always wanted to become a guru in solving customer complaints? You got it! In our fresh material, we explained what they are and how you can fight them back like a pro. Besides, there are some experts' thoughts on that matter inside. Read it!

Here you are. Assisting your customers, being nice and friendly. However, life is not all beer and skittles. ​​Especially if you're holding a position in customer service. Whether you like it or not, you are going to face customer complaints at some point.
"Duh! I don't need special knowledge for dealing with them" one might think. Duh! Sure you do. Any business should take negative feedback as a challenge and be bold to win it. As soon as you know the ropes, you will notice how your perception of complaints alters.
To lessen the sting, so to speak, we've gathered the most common examples and the ways to handle them without going ballistic. Have fun!
What is a customer complaint?
A customer complaint is an aftermath of a client's dissatisfaction with a product or service. There can be several reasons for that: 1) a client set inflated expectations once they signed up for a product or service, and 2) you might be doing something wrong (no one is immune to that, you know).
There is also a situation called a service recovery paradox. According to it, a complaint is seen as a golden opportunity for a client to view your business in a better light after it's resolved than before they faced the issue. Being able to handle every complaint is the key to achieving this result.
Customer complaint cheat sheet
There are many types of customer complaints. All of them have their own solutions. Before we get down to business (spoiler alert: to the helpful examples of customer complaints and solutions), there is a handy checklist you have to follow once you receive a not-so-nice letter from a customer.
Admit the customer complaint
Say you are taking all the necessary measures
File down a complaint and analyze
Resolve the issue
Follow up with a client to ensure you checked all the boxes
How to handle customer complaints without a hitch
Nobody likes to face customer service complaints. Entry-level businessmen might take everything a client says (mostly, unflattering things) very much to heart. As a result: a gappy business strategy, unsatisfied clients, and endless therapy sessions…
Sometimes, though, you just have to rip off that Band-Aid. And breathe a sigh of relief. Look at some widespread scenarios any customer service agent has ever dealt with. We also surveyed experts from a variety of industries, you'll see what they think of that, too. Each complaint comes with a likely solution so that you are always ready for good fortune!
1. 'I've been waiting for your reply for ages!'
Show me a customer who enjoys listening to on-hold music or staring at a chat window for ages. As a side note, the research has shown that 75% of clients expect to be assisted within 5 minutes after contacting a support specialist. No more, no less. However, the faster the support is, the better.
A quick solution
Vannak Lach, Founder of SpaceMazing, speaks really clearly about such a customer complaint: "Apologize for the delay in answering and ask them detailed questions about the issues, assuring them that we will address their worries. If we discover that the client is at fault after investigating the difficulties, we don't blame them; instead, we tell them what they should do about it. Always be grateful for their patience and time spent waiting for our response." Can't but agree.
To provide you with even better relevance, here is a sample answer you can use every time there is a customer breathing down your neck:
Hi [customer's name]
Terribly sorry to keep you waiting! It's our priority to assist and do things as fast as possible. But we have no in-house robots (we wish!). That's why fixing takes longer than we would expect. Bright side, your issue will be taken care of [period of time]. Could you kindly bear with us for just another minute? Thanks for your patience!
If a customer is waiting for too long, their discontent won't grow smaller. The first thing you need to undertake to solve the given customer complaint in the upshot is to find a reason.
Test yourself: do you lack customer service automation? Or maybe your team doesn't know how to handle customer complaints in large numbers? If any of these questions end up with a Yes, we've got a solution 👇
Consider installing a live chat on your website to unburden your team. They will be able to handle multiple conversations simultaneously making your customer's experience more seamless. Besides, you can always expand your squad so that it will be easier for you and your clientele: no more long waiting times.
2. 'Your competitor promised they would provide that'
*The rolling eyes emoji* I understand this is not the most stimulating thing you want to hear from a customer. On the bright side, you're being compared not for a reason. Remember, a client has come to you eventually, meaning you still have that competition strength! All philosophy aside, what should you do when you face this customer complaint?
A quick solution
Say "we'll outdo it, stay tuned". Why not? Don't lose a customer over competition and something it might have promised. Instead, take it as a lesson and a learning possibility. Besides, you can always research the market to figure out what's so special about your competitors.
P.S. There is also a tiny little opportunity to copy-cat something other brands alike provide their audience with. Eavesdrop, peek, make some tweaks so that the result matches your company's identity and vision, and you're all set. But play by the rules! Plagiarism is nothing good.
3. 'It turns out you don't have a product I ordered. I have already paid for it.'
Oops! A customer has made their purchase, but the product is out of stock or service is not available at the moment. It's tough luck, yet it's not the end of the world.
The fact that a client has chosen your brand over the competition means they saw a climate of trust. If such a scenario happens with a repetitive client, be sure: they are loyal indeed. And you don't want to jeopardize customer loyalty, do you?
Loyal customers do complain. Even more than the new ones. Read on to find out how to handle customer complaints about an unavailable product or service.
A quick solution
The least you could do in this context is be as honest as possible. At the end of the day, clients are the driving force behind your business. It's your job to make things flawless for them.
However, only the sky is the limit. Go for a proactive approach, that is, anticipate all the mishaps that could happen along the way and give a quick heads-up. If a client has already reached out, promise they will be the first to know the product or service is available again. Better yet, you can initiate a refund and offer some freebie for the next purchase.
To make it up to a customer, say something like We are sorry to inform you that the product is unavailable right now, but you'll be the first to know once it is in stock. Don't forget to add Thanks for choosing us! or We are excited to have you as our client! What's more important, highlight the time period you will inform a client that the product or service they are looking for is in place.
4. 'I couldn't find relevant information on your website'
How many times have you heard these customer complaints? And how many times have you skipped a "taking actions" phase? No need to answer.
Customers prefer web self-service nowadays, that's true. However, not many companies can boast about such opportunities for their clients.
A quick solution
Given that clients prefer finding all the information by themselves using FAQ sections, knowledge bases, different portals, etc. now, why don't you take the chance and create your own knowledge management system?
When designed well, a resource center for self-service can become the best way to handle one of the most common complaints. Besides, you can top it up with helpful features, such as integrating it in a chat widget for a better customer experience.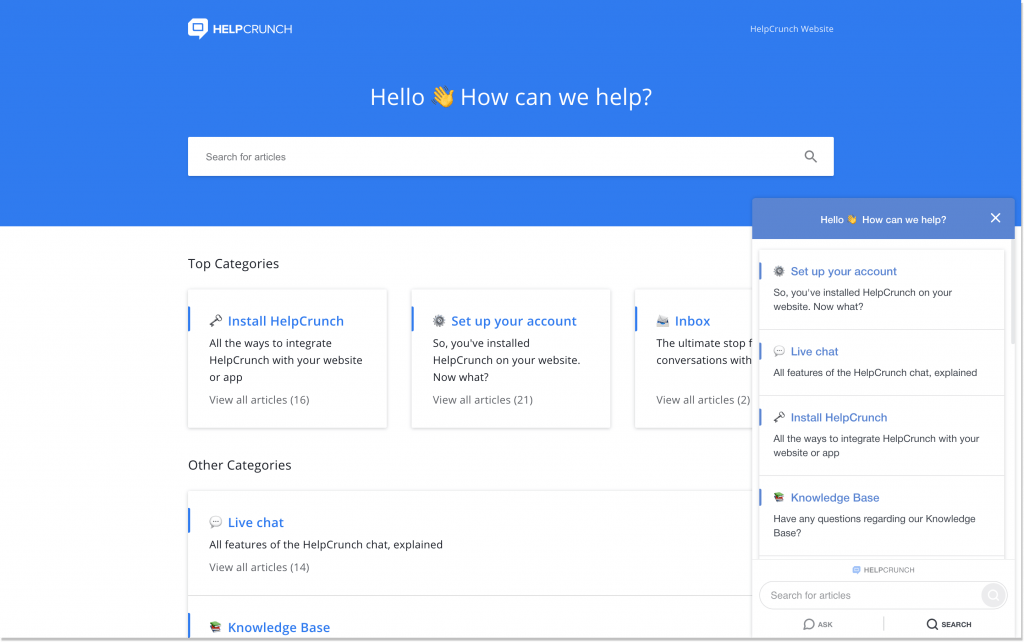 5. 'You keep bouncing me from a rep to a rep. Nonsense!'
70% of customers are annoyed after they hear "I need to transfer you to another manager". No wonder. Such a tendency is true both for online and offline support.

This scenario happened to one of my friends the other day. She called a gym to extend her membership but was asked to wait for a manager. After 5 min of on-hold music, my acquaintance knew something was wrong.

When suddenly, a man on the other end said "Sorry to keep you waiting, you will be redirected to another department for further assistance" – and off he went. 7 minutes later, she finally managed to speak to somebody but all she had to say to them is "Do you really expect me to talk to someone after I spent 10 min being transferred from one manager to another?" And so she decided she didn't need to lose weight and, more importantly, time by New Year and hung up 😑
How to end up dealing with customer complaints alike? Follow my lead.
A quick solution
One of the easiest ways to solve this customer complaint is by reviewing your whole flow to see where this transfer could have been omitted. Check if there are some gaps in customer communication, the number of service agents is enough (or exceeds).
Plus, instead of having dozens of departments with profile experts, try to improve your service agents' expertise. Spare no money for their training so as they know the product like the back of their hand. This way, they will be able to help a customer in any situation.
No matter the case, a client should always see your sincere willingness to lend a helping hand JUST for them. If there is a real need to transfer them to provide more quality help, inform them about that in a smart way. Plus, promise they won't have to explain their issue all over again. Some quick helpful phrases to ace that are:
Sorry for transferring you to my colleague! But they know for sure how to handle your issue as fast as possible.
Your question seems to be of interest to another department. Do you mind if I loop my colleague in?
We will have to transfer your ticket to our [department]. But be sure you won't need to repeat yourself, the guys are aware of your issue and will come up with a solution right off the bat.
6. 'Are your customer service guys amateurs? Your support is meh'
68% of clients claim the key to a great customer experience is a polite and professional customer care department. I don't mean to brag, but we at HelpCrunch are constantly receiving flattering feedback from clients about our customer service squad. And this can't be more exciting!
When your customer service team is empathetic, it helps you build a better reputation for your brand. Only the bitter truth is that when a client is already desperate and calls you "amateurs" (or pick another word), there is not much to do. Still, it's worth a try.
A quick solution
You know what they say, practice makes perfect. In order to leapfrog competitors and show customers you are ready to go the extra mile for them, polish your hiring routine.
Consider people with strong soft skills (but don't shrug off hard ones, too), provide them with empathy training, watch themed TedTalks, or host workshop days. Trust me, all these actions will only make you and your team stronger.
Teach your team some diplomacy when interacting with clients who treat you disrespectfully. Stand up and be ready to fight back (finding the right balance, of course). Look at several shrewd reply ideas you might use when handling the given customer complaint:
Oh, must be Mercury retrograde 🤷‍♀️ All jokes aside, this is terrible news. Please, be sure that our company only consists of qualified professionals who know their stuff. Besides, we are constantly training our service agents so that they deliver the greatest customer experience ever. Could you kindly provide some specific examples of why our customer care is amateur?
Thank you for informing us about such a situation. But are we talking about the same department? Let me assure you that we hire no one but experts, meticulously shaping the hiring process. To prevent such scenarios down the road, could you please fill in this feedback form? We are eager to improve!
Thanks for the information! We take customer satisfaction seriously and are really concerned about such feedback. To help you settle the complaint, we will take all the necessary measures and inform you as soon as the issue is resolved.
Luke Genoyer, Marketing Director from United World Telecom, is actually on the same page with me. He says, "some customers just aren't worth it. We'll turn away customers who are abusive and unnecessarily rude to employees. No amount of money makes it OK for someone to disrespect the people in your company." Perfectly put!
7. 'My order/refund is being on hold for a gazillion days. That's lame!'
Of all types of customer complaints, this one happens all the time, both online and offline. I am not talking about such situations when it's totally your fault, so you just have no choice but to refund a client.
What I am talking about is when a customer requires their money back for a trifle/because they are in a bad mood/they used your product or service and don't need it any longer. Here is when you should get a grip and finally deal with complaints.
A quick solution
First and foremost, have a sound refund/return policy on your website in the Terms of Use. Specify all the intricacies, deadlines, conditions so that customers have no questions left after they read it. Second of all, include quick company policy notes with each order/interaction. If need be, you can point out the documented material and let off the hook, so to say.
Brent Thurman, the owner of Bear River Mutual Insurance, has a really all-time valuable opinion on that matter. According to him, "customers who are upset want. to. be. heard. I've found that if we don't handle it correctly, their venting ends up on Google reviews or somewhere else…We had a client who was furious that we didn't add rental car coverage onto her vehicle because the rest of her vehicles had it. 
On the surface, it appeared that we had messed up, but after researching further we had notes and a recorded call with her specifically asking for us to not include it on this particular vehicle. The documentation saved a relationship and was an easy way to defuse the situation without any hard feelings."
Bonus: how to cope with the Persisting Complainer
There is a kind of customers who is always complaining about everything and never happy. They are like the quintessence of all customer complaints we've discussed today. Here is a quick crash course on how to deal with customer complaints without going nuts.
The Chronic Complainer is hard to please. The first thing they might want is your heartfelt apology. Just listen to what they say carefully, provide a sympathetic ear, and say you're really sorry.
By the way, don't be sarcastic in your sympathy. A customer will notice even the slightest hint.
While it is fine weather, mend your sails. The saying is about preparing oneself for something you know is coming beforehand. This is exactly handy in a customer complaint resolution process. Write down all the queries the Chronic Complainer expresses, and be ready to answer back any time.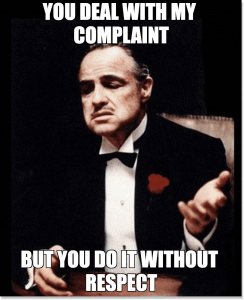 Sum it up
Obviously, you can't throw any customer in the same barrel. Every situation is one-of-a-kind, with fine similarities.
However, there is a one-size-fits-all recipe on how to resolve customer complaints: act in a sympathetic and apologetic manner and tell you will do your best to tame the issue a client is facing. This way, you will turn a minus into a plus.
Moreover, consider adding customer service automation to your workflow. Live chat or chatbot could become an ideal solution. With that in mind, have a look at HelpCrunch – a one-stop customer communication platform. Sign up for a free trial and give its features a try.