Top 10 Customer Engagement Software
We've collected 10 customer engagement solutions that cover every communication channel — from live chat to email to in-app messages and surveys. You won't have to worry about your customer engagement rates ever again.

If for some reason, you had decided to sit down and count how many touchpoints you'd had with each of your customers, you'd be astonished. They see your Facebook and Google ads, speak with customer support, discover your product through tooltips, receive tons of emails on every step of their journey, and these are only the most obvious things. What's even more stunning is that every single communication contributes to the overall customer engagement level and you can't do without any of them.
That's why customer engagement software vendors should provide you with all the necessary tools to manage all those channels effectively and stay in touch with your clients at all times. According to Astute, customer engagement software should, at the very least, cover CRM systems, web chat, social media, marketing personalization, and customer self-service.
How to choose customer engagement software
So, how does one choose something so many-sided and complicated? Let's talk about the main criteria of customer engagement tools and then move right to the top 10 platforms that live up to them as closely as possible.
So, what are the essential features that any customer engagement management system can't manage without?
Omnichannel communication. A decent customer engagement system should cover all the most popular communication channels like live chat, email, social media, and in-app notifications.
Customer segmentation. The success of any engagement campaign depends on how thoroughly you can segment your audience and create granular personalized campaigns for each segment.
Customer engagement automation. Automations are crucial for customer engagement, so choose software that will have automated messages, triggers, chatbots, workflow automations, etc.
Third-party integrations. The success of any marketing or sales campaign is impossible if you're not able to integrate your favorite tools with each other.
Full disclosure, though. There's no such thing as all-in-one customer engagement software because the range of tasks it should've covered is just unimaginable.
At the end of the day, you'll end up juggling with several customer engagement tools if you want to provide a seamless experience. But it's worth the effort, too. A well-developed user engagement strategy is the only way to ensure product adoption and battle customer churn.
Now that we've sorted this out, let's take a look at customer engagement software vendors that your business might need.
TL;DR
HelpCrunch, Zendesk, and Intercom are perfect customer engagement software for all-in-one customer service, marketing, and sales. Drift, Influ2, or Proof are customer engagement software for account-based marketing. Appcues is great for setting up in-app notifications. SurveySparrow is customer engagement software for creating in-app surveys. SendX is affordable customer engagement software for email marketing. HubSpot is an undeniable CRM software leader.
Customer engagement software: for omnichannel support, marketing, and sales
Features: live chat, chatbot, in-app messaging, integrated knowledge base, popups, email marketing
Pricing: $15—25/mo per team member
G2 rating: 4.8 / 5 ⭐⭐⭐⭐⭐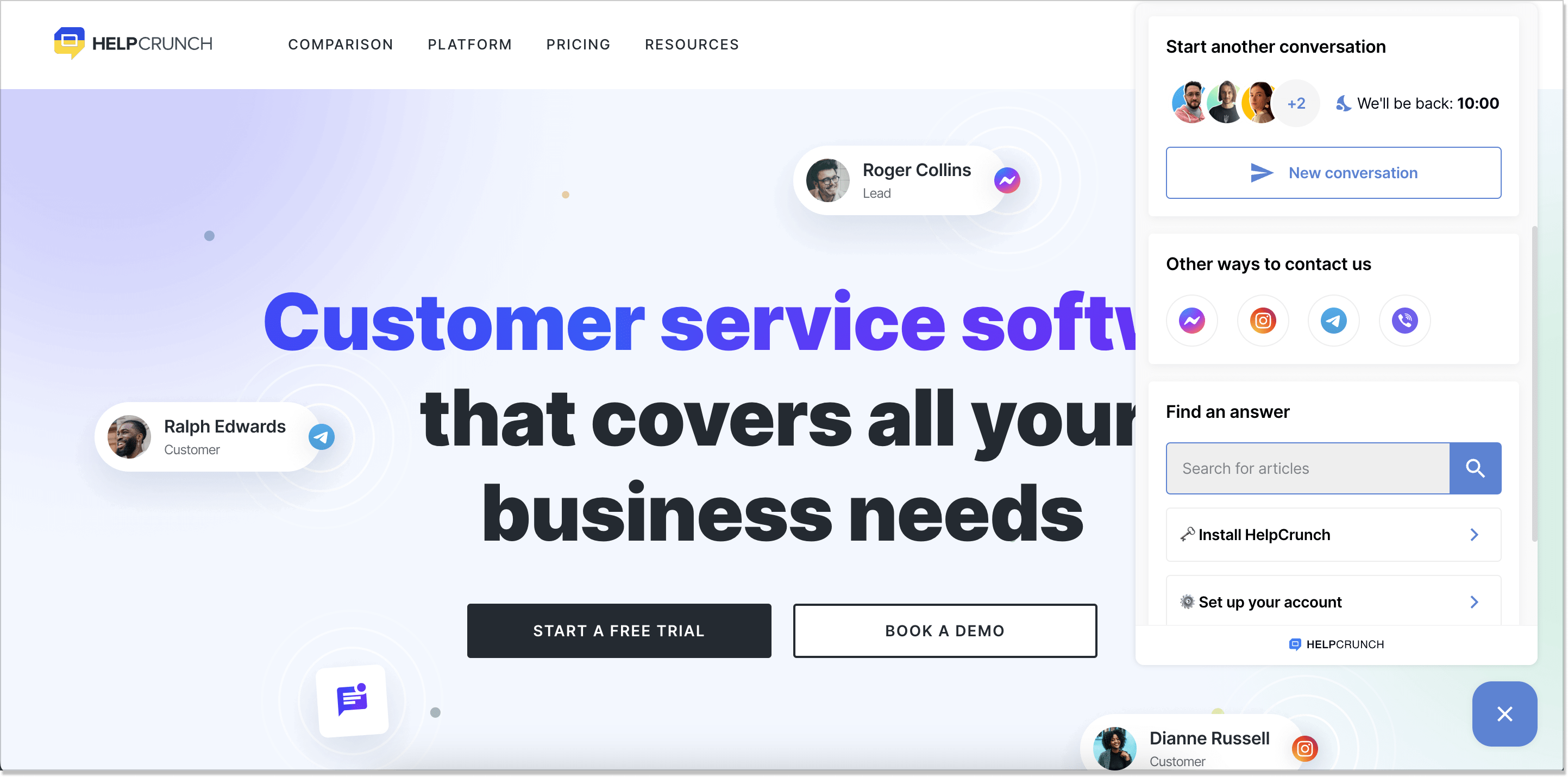 HelpCrunch is an omnichannel customer engagement platform for customer service, marketing, and sales. The basic subscription plan for $15/mo offers a web chat with proactive chat messages, a self-service knowledge base, and popups for a website. Ticketing features like departments, tags, and live customer data will help your team manage all communications in a more structured and convenient way.
You can integrate the chat widget with your software or mobile app and send in-app messages to your clients with its help. This is a great way to engage with your active users, announce company news and features as well as onboard new sign-ups. Proactive chat messages are perfect for reaching out to visitors proactively. Just set the desired triggers, and the tool will do the rest.
The 'Pro' subscription for $25/mo offers all of the above-mentioned features plus a chatbot tool and unlimited auto messages and popups. The HelpCrunch chatbot allows companies to handle repetitive questions from users, qualify leads, collect contact details, and, in general, automate the customer support routine. You can use one of the pre-written chatbot templates or create your own bot scenario from scratch. No programming skills are needed. It's a visual chatbot editor where you just build steps and place them wherever you see fit.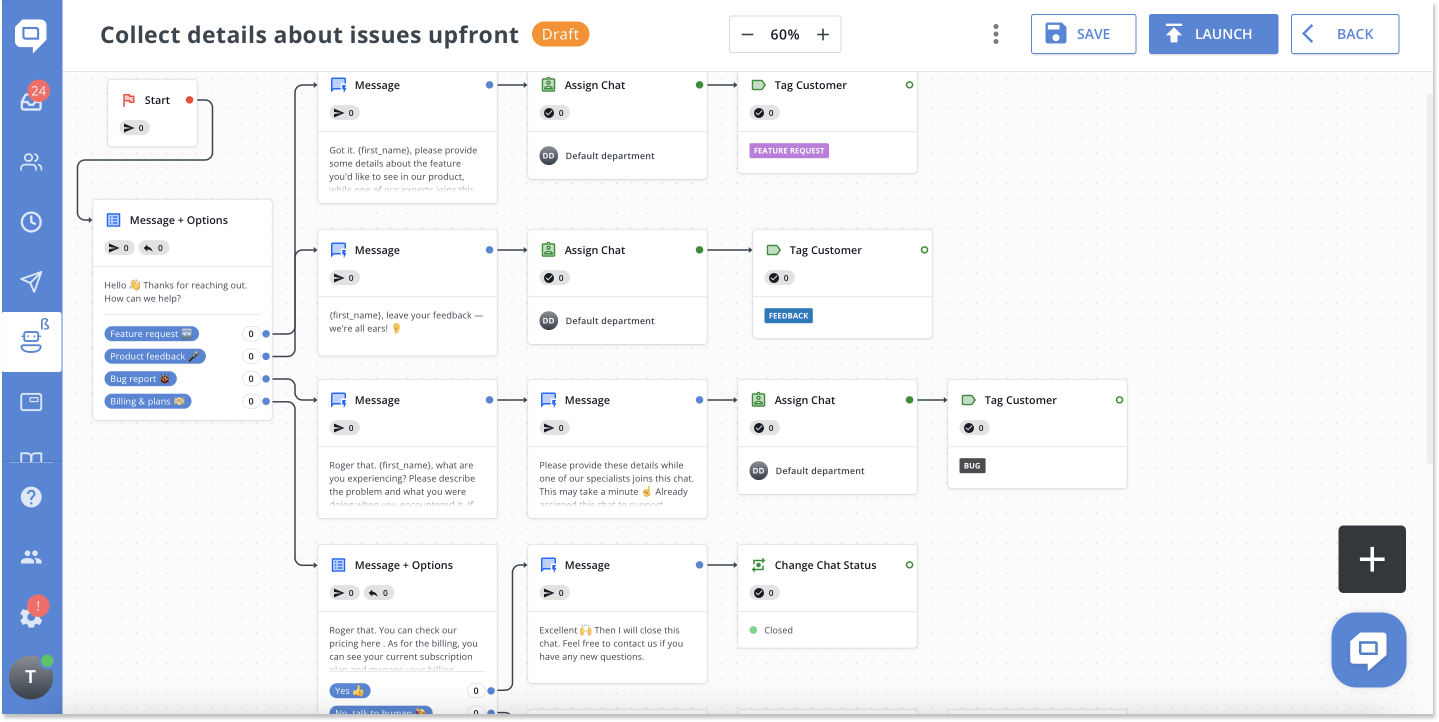 If you'd like to, you can also buy an email marketing functionality as an addition to your 'Basic, 'Pro', or 'Enterprise' subscription plan. Thus, you will be able to create automated email sequences based on user info and behavior as well as send manual one-off blasts to various segments of customers. The segmentation feature allows you to create dynamic groups of customers based on any data you need.
Customer engagement software: for omnichannel support
Features: live chat, ticketing, knowledge base, cloud call center
Pricing: $109—179/mo per agent
G2 rating: 4.2 / 5 ⭐⭐⭐⭐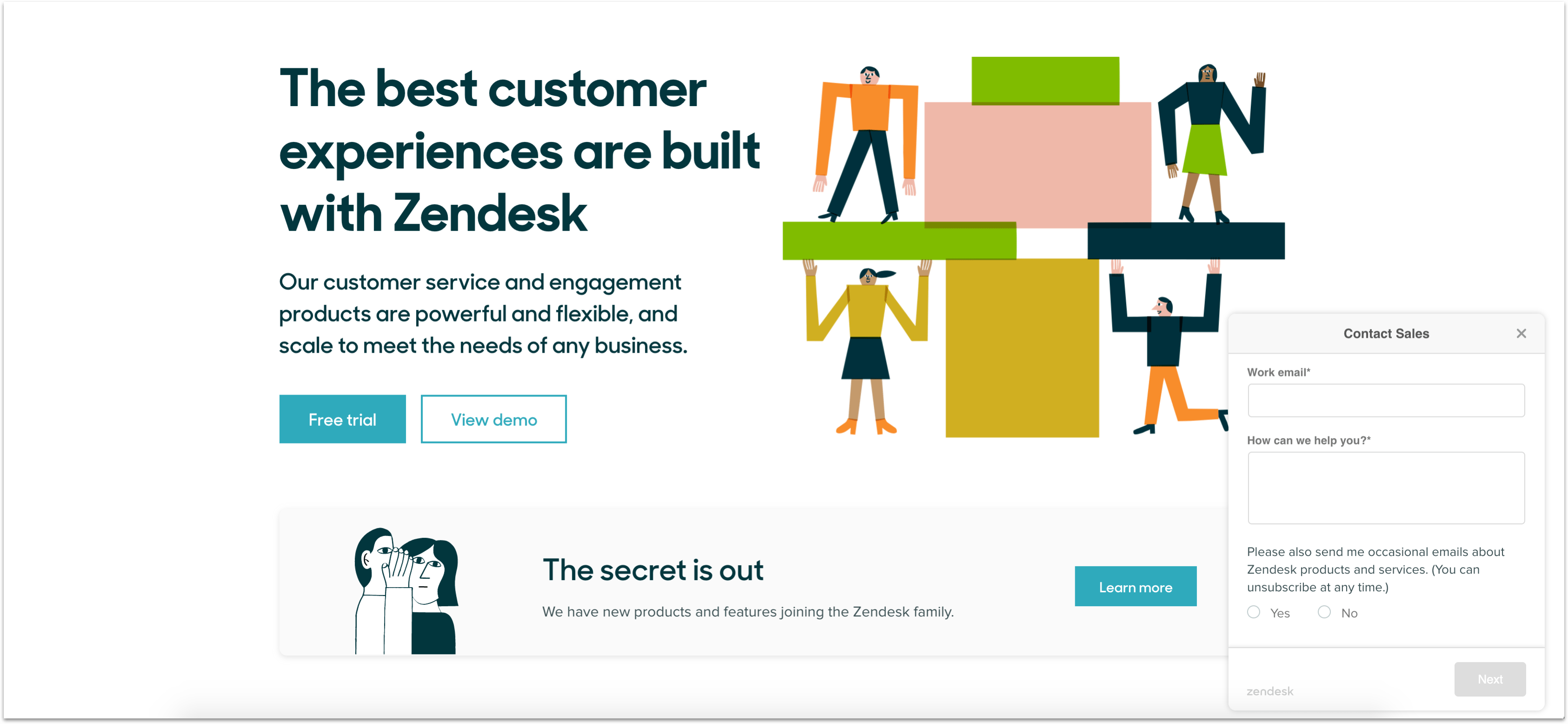 Zendesk is a customer engagement platform with a focus on customer service. Their main area of expertise is the ticketing system with various advanced help desk features and detailed reports. The tool encompasses such communication channels as chats, emails, phone calls, and social media in one dashboard.
Once a customer leaves a message via ticket form or chat, it lands in your dashboard, where agents can effectively manage it with. The analytics offered by the tool are as detailed and extensive as it gets.
You can reach out to customers proactively via triggered chat messages. However, it's impossible to integrate the Zendesk chat with mobile apps and use it for communicating with your users there. Moreover, there's no email marketing functionality included.
It's nice that companies can sign up for separate Zendesk products instead of buying the whole suite at once. What's even better is that most of those products have free versions for startups and small businesses. However, if you're looking for omnichannel customer engagement software, the Zendesk Suite is the only choice.
Customer engagement software: for omnichannel service, chatbots, and product tours
Features: live chat, in-app messaging, knowledge base, email marketing, chatbots, product tours, mobile push notifications
Pricing: $38—153/mo, plus payments for active contact
G2 rating: 4.3 / 5 ⭐⭐⭐⭐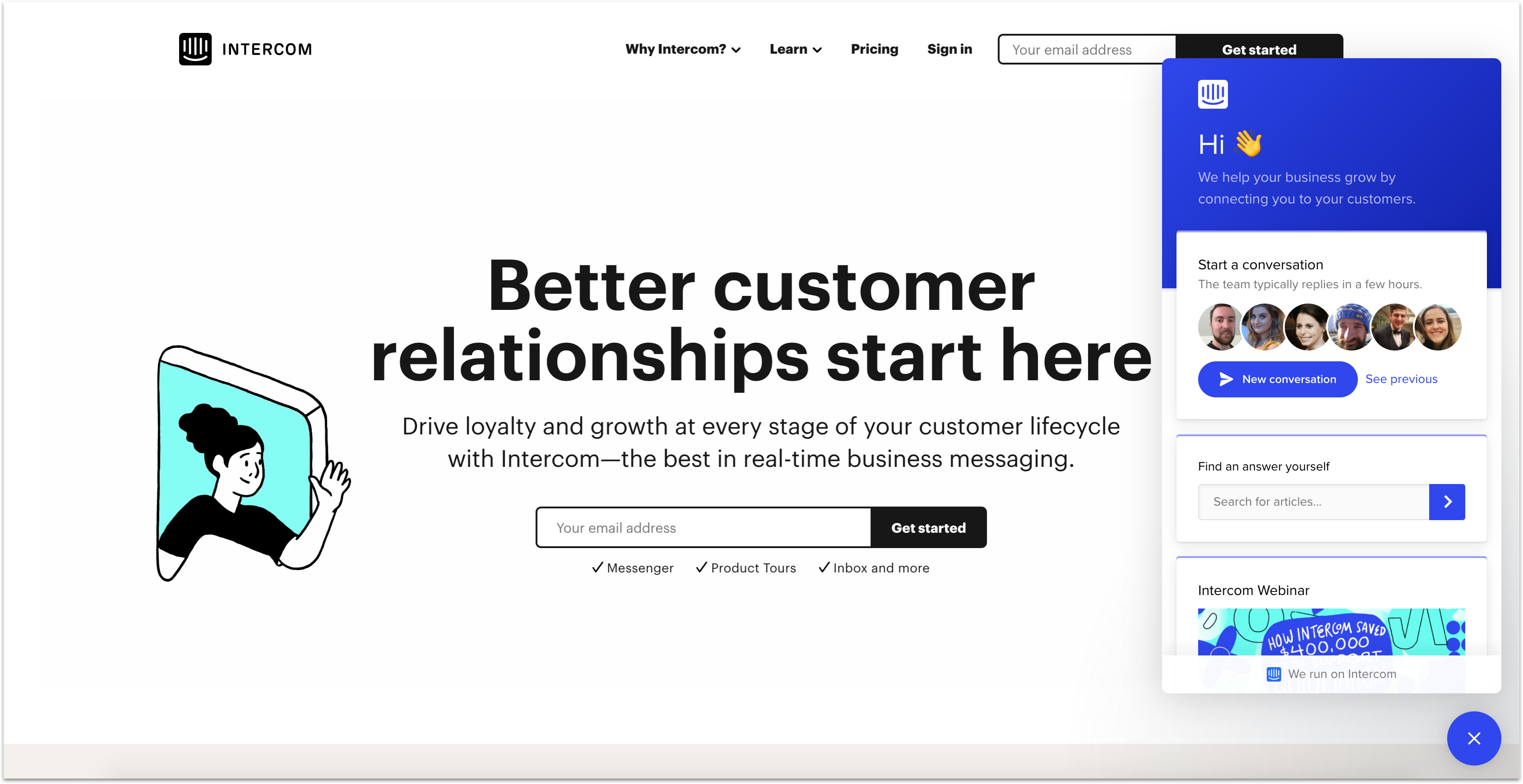 Intercom is a customer engagement system famous for its Business Messenger, chatbots, and product tours. All of them are quite well-developed and work great in a bundle. However, be aware of the cost for all these features since the tool is not the most affordable in its class.
The Business Messenger is something like a live chat widget but with way more integrations. For instance, you can purchase the chatbot to engage customers proactively. The bot will ask pre-qualifying questions 24/7 and help your team sort out requests more efficiently.
The tool offers detailed customer segmentation for chat, email, or push notifications. Product tours are great for onboarding new customers in a more compelling and interactive way. You can integrate them with your product and guide customers with timely in-app notifications.
The email marketing feature is quite advanced allowing you to set up automated sequences and A/B test them in action. It's also possible to integrate Intercom with your mobile app and engage with users via push notifications.
Customer engagement software: for account-based marketing
Features: live chat, in-app messaging, knowledge base, email marketing, chatbots, account-based marketing, video calls
Pricing: $0—1,500/mo
G2 rating: 4.4 / 5 ⭐⭐⭐⭐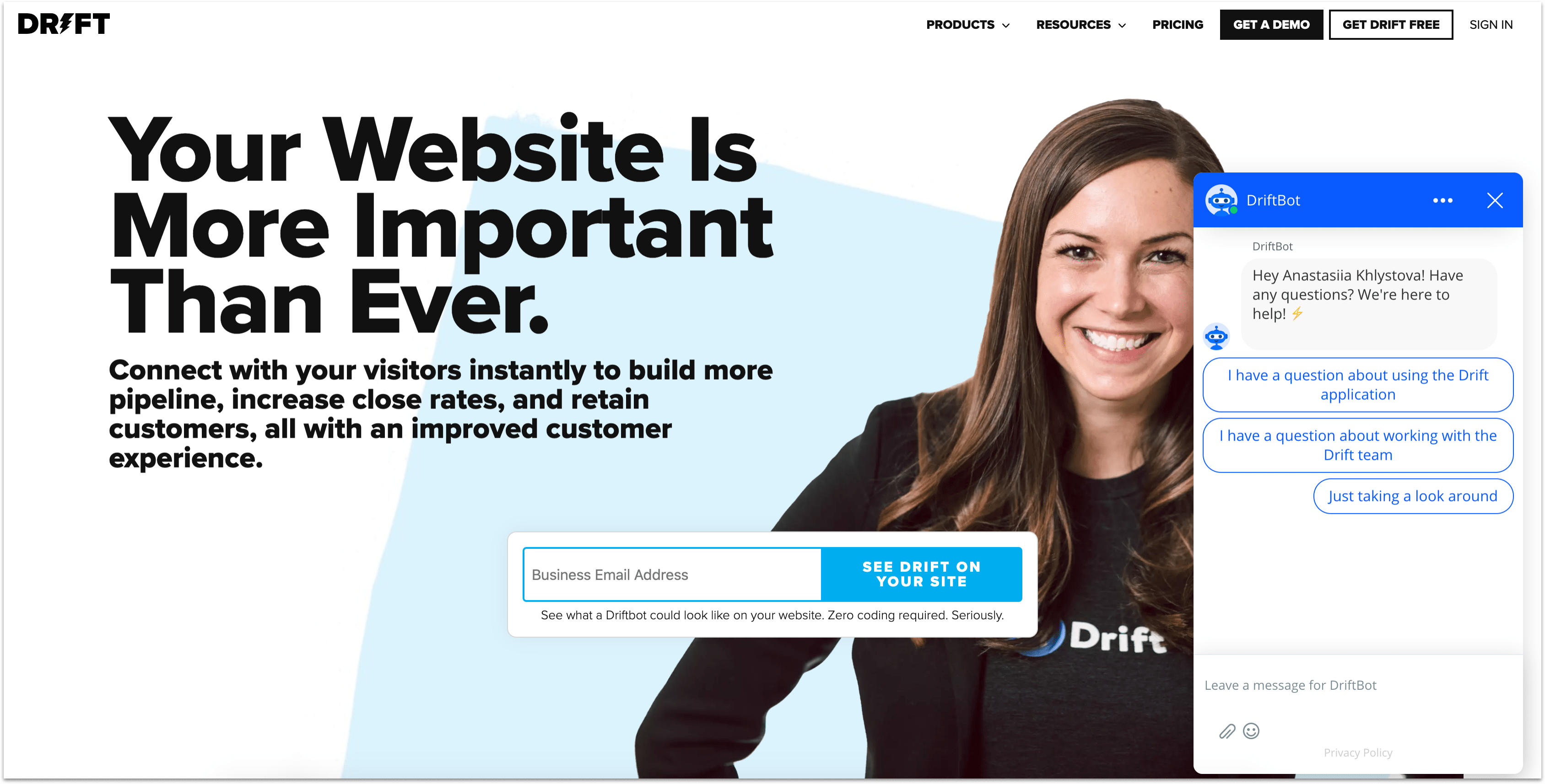 As all-in-one customer engagement software, Drift offers live chat, knowledge base, and email marketing. Those are all great features, but they're not what makes Drift special. The tool is famous for its advanced chatbots and account-based marketing tools.
With ABM campaigns, you can target specific companies and people within those companies right on your website. Personalize chatbot messages with companies' names and size, route them automatically to the right department, and book demos with the built-in calendar.
The tool is extremely rich with other unusual customer engagement features. For instance, the Drift Intel is even able to identify your anonymous visitors to help you target them on the go. Personalized Playbooks allow you to greet new visitors by name once they land on your website. The Calendar for booking demos and meetings is built into the chat widget. And chat agents can quickly switch from chatting to a call and talk with customers in real time.
Customer engagement software: for account-based advertising
Features: Account-based advertising
Pricing: The pricing is not disclosed
G2 rating: 4.9 / 5 ⭐⭐⭐⭐⭐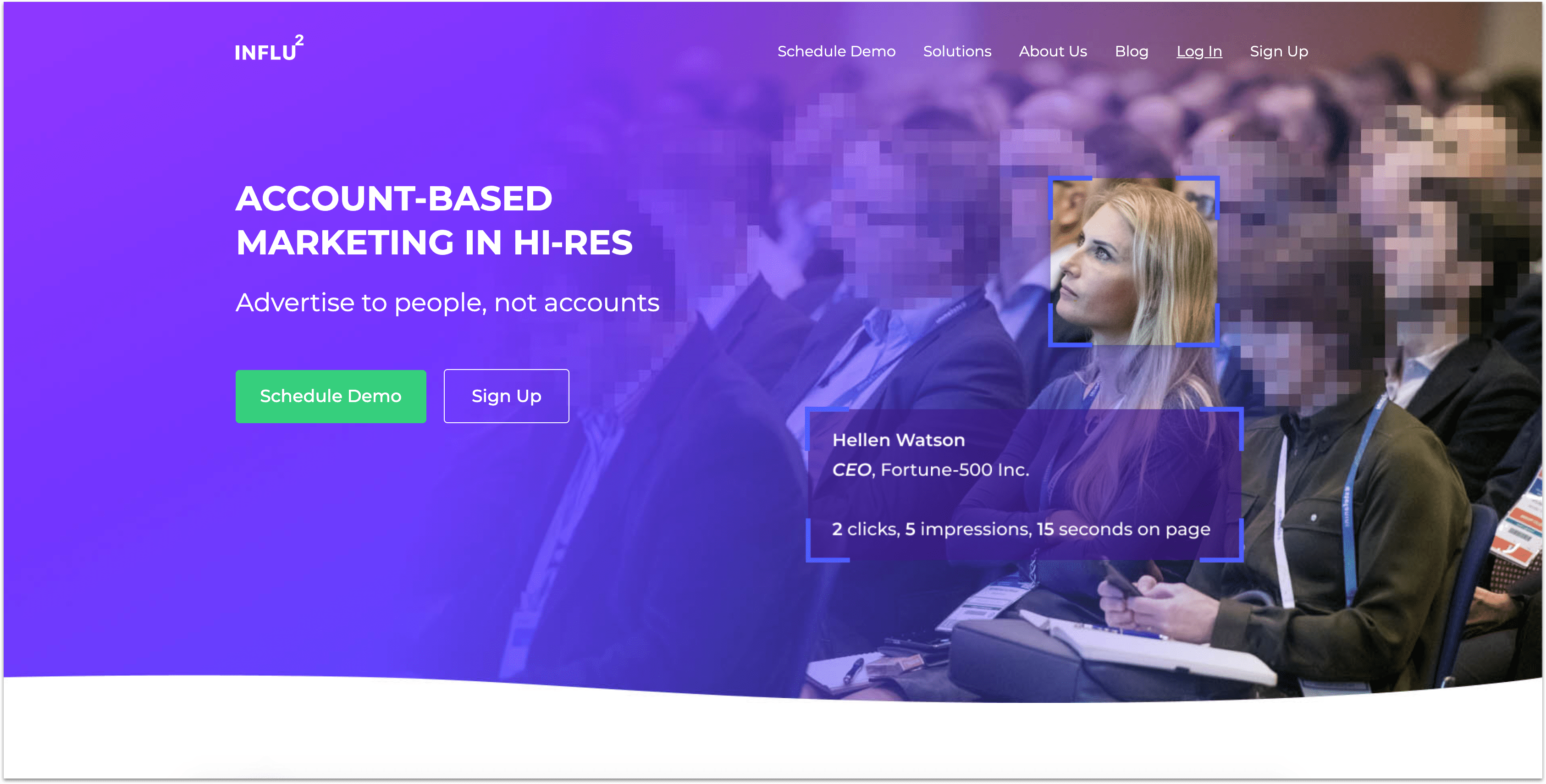 With the Influ2 customer engagement solution, you can set up targeted ads for specific people. The platform lays somewhere on the intersection of account-based and person-based (as they call it themselves) marketing.
Basically, you need to upload the list of your target audience, and the tool will allow you to create and show your ads to specific people (aka decision-makers). It's possible to advertise on any popular social media like Facebook, Twitter, LinkedIn, YouTube, etc. And the detailed reports will show you a drill-down overview of who clicked your ad, how many times, and when.
By integrating Influ2 with your CRM, it's easy to keep track of visitors' engagement and follow up on them via email as fast as possible.
Customer engagement software: for marketing personalization
Features: personalized website content, dynamic social proof signs
Pricing: 'Experiences' for $599—$1799/mo and 'Pulse' for $29—$299/mo, depends on the number of unique visitors
G2 rating: 4.7 / 5 ⭐⭐⭐⭐⭐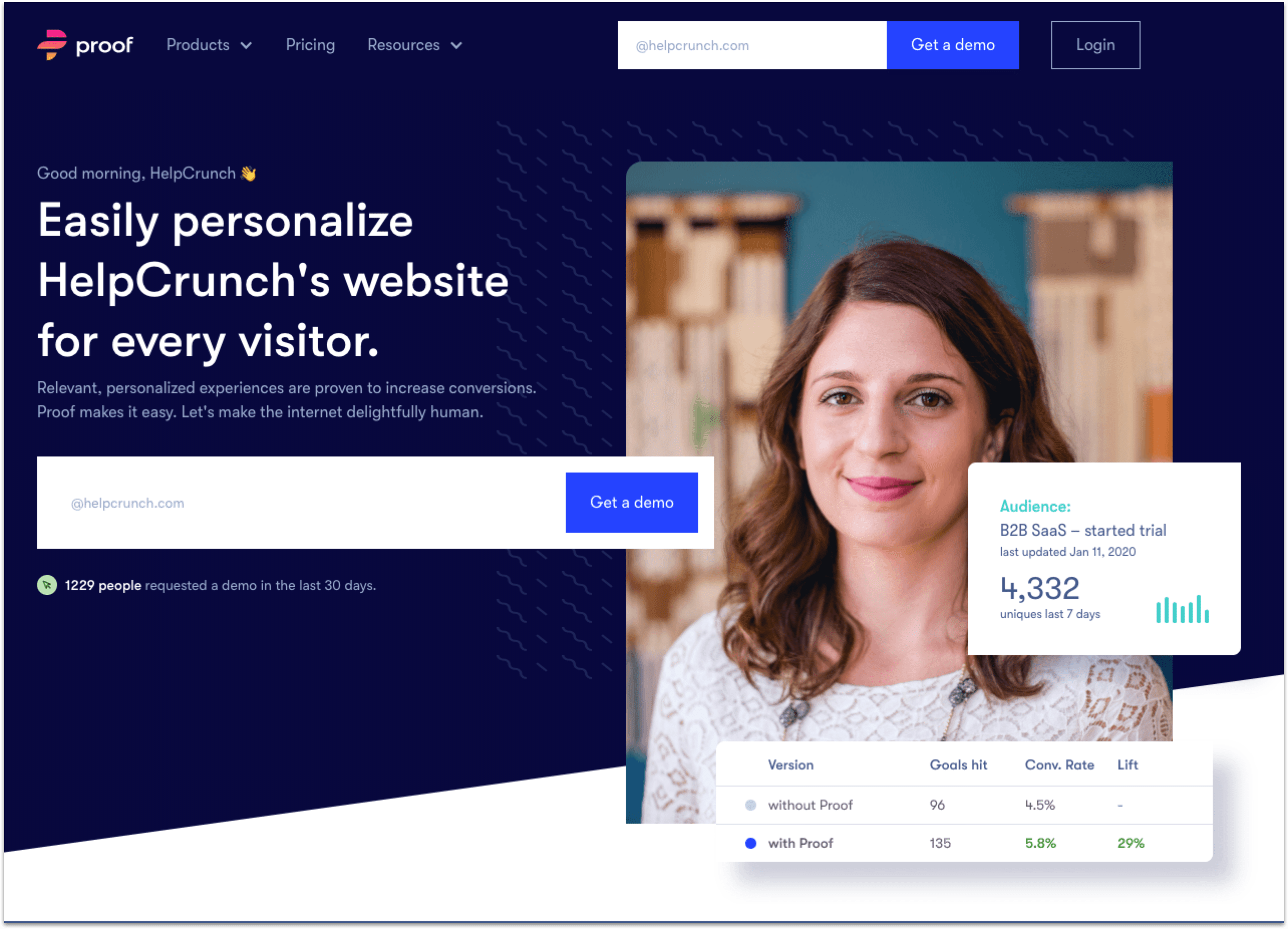 Proof is a website engagement tool that will help you create personalized customer experience on your site for each visitor. The corresponding product is called "Experiences", and it dynamically adapts your website content and design for each user.
What it means is that you can show your visitors different texts, images, and CTAs based on their goals. It's even possible to personalize your website with companies' names and corresponding use cases. This is done with the help of certain segments that you need to set up in the tool. Those segments can be event-, trait-, or behavior-based.
The other product offered by Proof is called "Pulse," and it allows businesses to add different signs of social proof like the number of people currently viewing a website or a live feed of visitors and their actions on your website.
Customer engagement software: for in-app messaging
Customer engagement features: in-app messaging, in-app feedback and Net Promoter Score surveys, product tours
Pricing: $249 — $1399/mo, depends on the number of unique visitors
G2 rating: 4.7 / 5 ⭐⭐⭐⭐⭐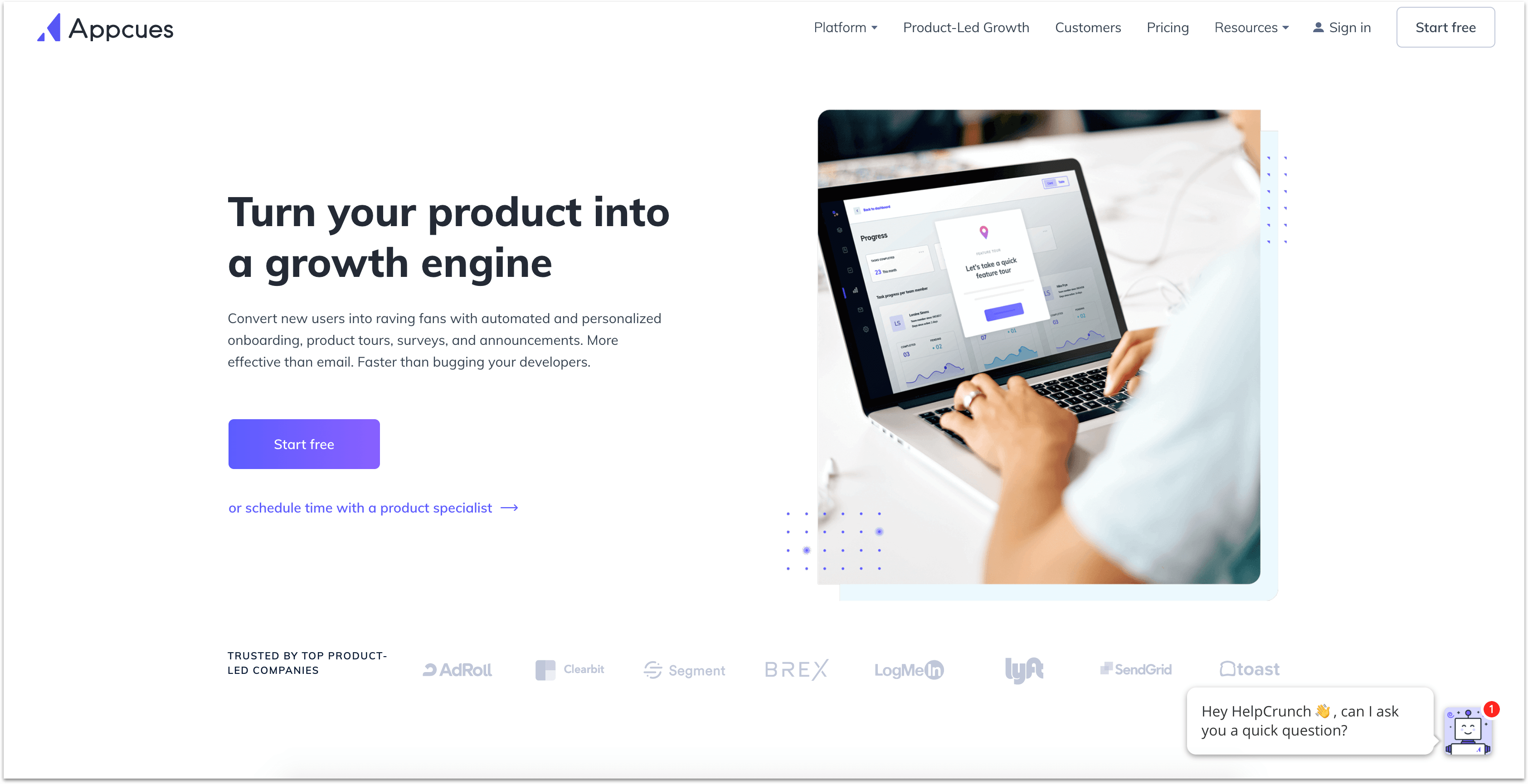 Appcues is customer engagement management software for sending automated and personalized onboarding checklists, welcome messages, product tours, NPS and feedback surveys, tooltips, announcements, and whatnot. The tool offers a great variety of templates and customization options to integrate their in-app notifications with your product as seamlessly as possible.
There are several use cases the tool covers — from user onboarding to feature adoption to feedback collection. Depending on your use case, you can choose different UI patterns for messages that you're going to send to your customers.
The tool allows you to segment your audience and make your targeting as granular as possible. Alternatively, you can manually specify any triggers that will activate your in-app messages from the number of behavior- and data-based criteria. To try your hypothesis and find the most effective strategies, you can A/B test every campaign.
Once you integrate Appcues with your favorite CRM or analytics, you'll be able to transfer data and create more personalized messages.
Customer engagement software: for interactive in-app surveys
Customer engagement features: in-app feedback surveys, offline surveys, Net Promoter Score surveys
Pricing: free — $599/mo, if billed quarterly
G2 rating: 4.5 / 5 ⭐⭐⭐⭐⭐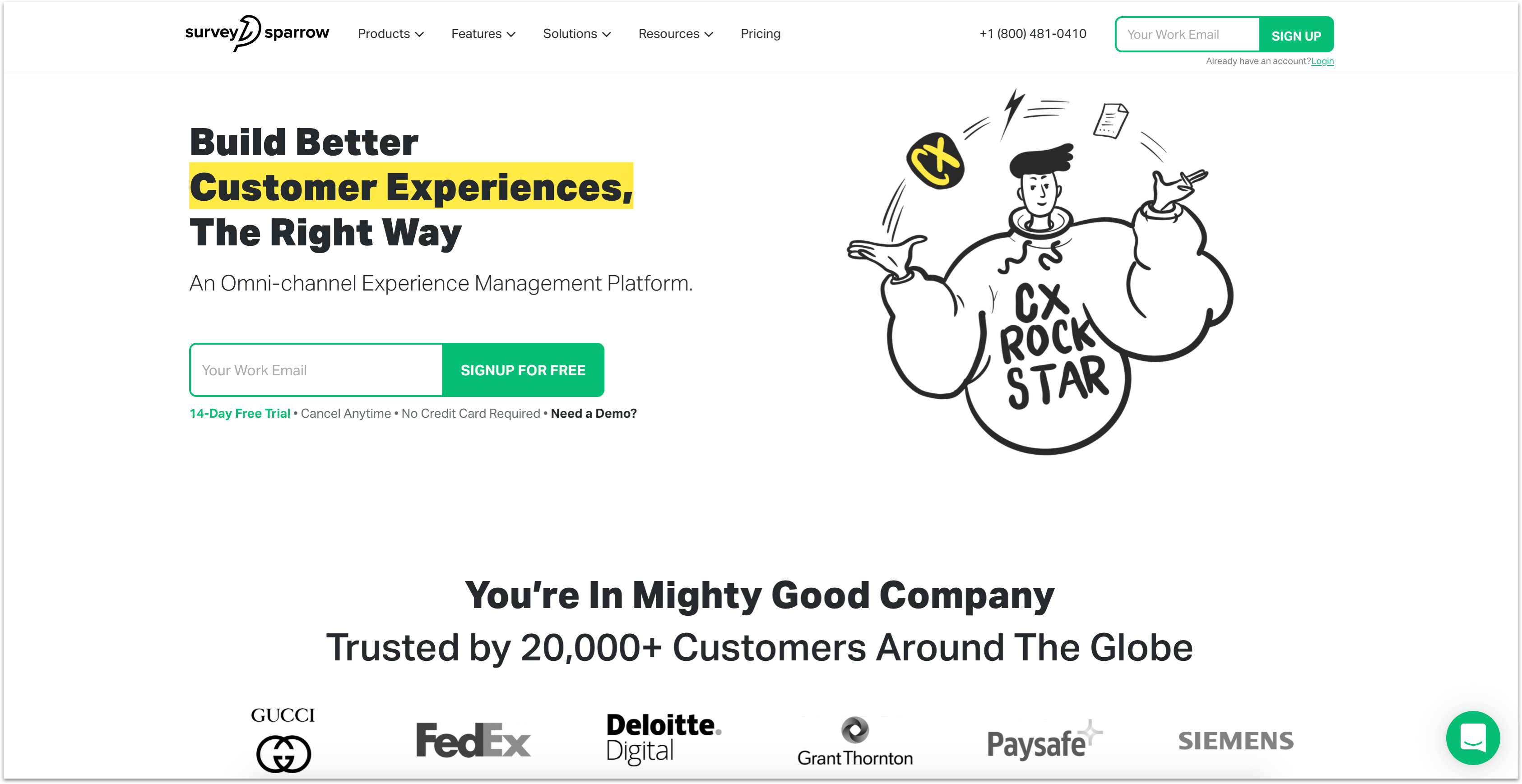 SurveySparrow stands out from its competitors with its unbelievable choice of survey forms and patterns. As a customer engagement system, the tool allows you to collect feedback from your users in the most interactive way you can think of — embedded, conversational, video quizzes, etc.
For instance, if you want to engage with your customers to collect their thoughts on your product, there are several ways to do so with SurveySparrow. You can go with a simple survey form, or you can choose a conversational way. The latter will be way more interactive offering your customers various question types like ranking options in order, drag and dropping several options, choosing from a drop-down menu, etc. It's even possible to collect feedback offline.
There's another option that can drive user engagement, and that is video surveys. Display a video on your survey's background showing customers your product overview or just putting a smile on their faces. It's a nice way to collect feedback in an unorthodox way.
Customer engagement software: for affordable email marketing
Customer engagement features: email marketing, web push notifications, web forms
Pricing: $9.99 — $79.99/mo, depends on the number of subscribers
G2 rating: 4.6 / 5 ⭐⭐⭐⭐⭐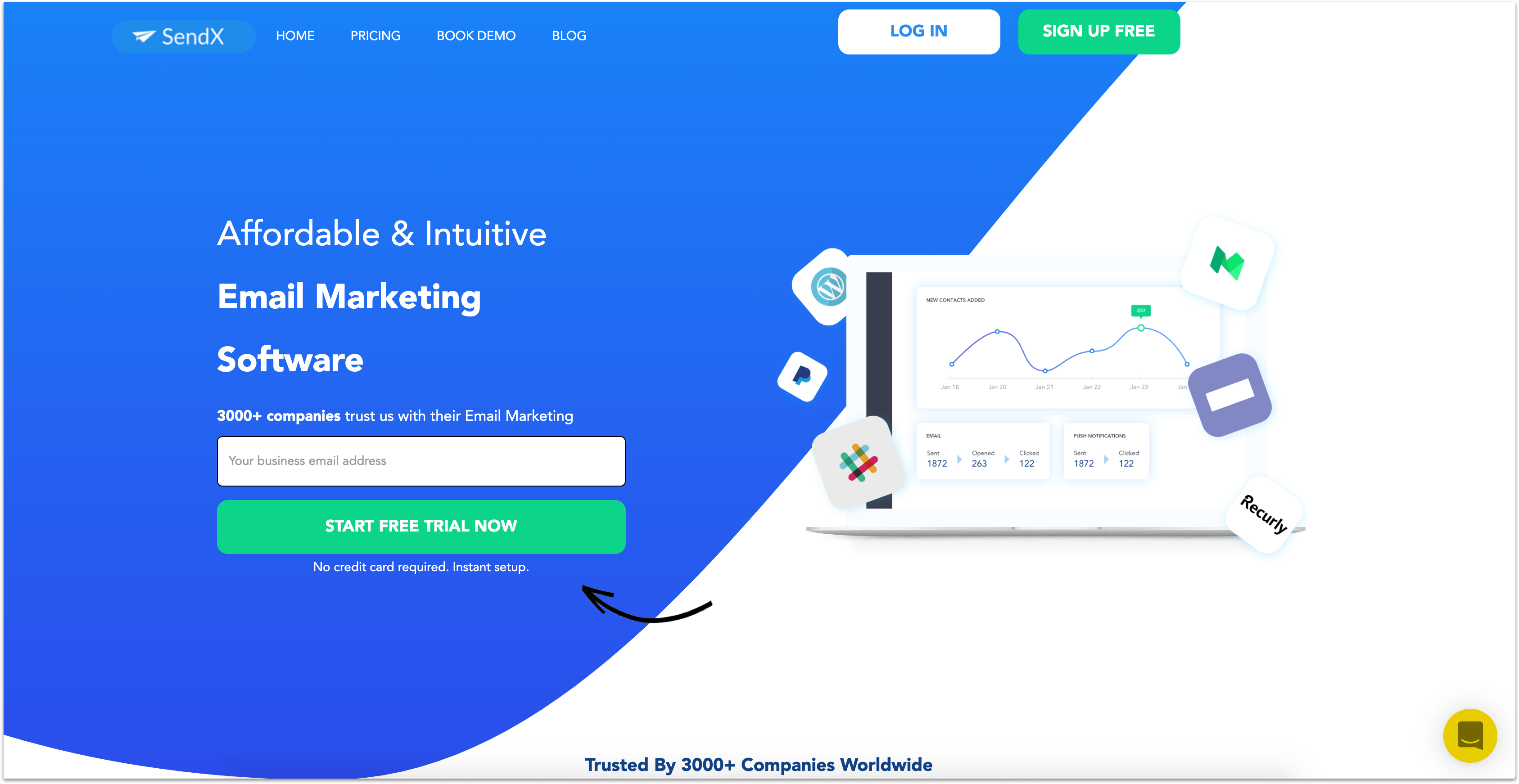 SendX is customer engagement tool for automated and manual email marketing campaigns. Emails are one of the universally acknowledged channels for user engagement, which is why choosing the right email marketing platform is crucial for any business.
The pricing depends only on the number of subscribers you have, so you get unlimited emails on all subscription plans. Once you sign up for the tools, you can create drip campaigns and send one-off newsletters to your user base. For automated trigger-based email sequences, it's possible to segment users based on certain conditions. Moreover, SendX allows triggering email and web push notifications to website visitors after they perform certain actions.
The tool has additional features for customer engagement like landing pages templates with email popups and forms.
Customer engagement software: for reliable CRM
Customer engagement features: CRM, live chat, email marketing
Pricing: Free
G2 rating: 4.3 / 5 ⭐⭐⭐⭐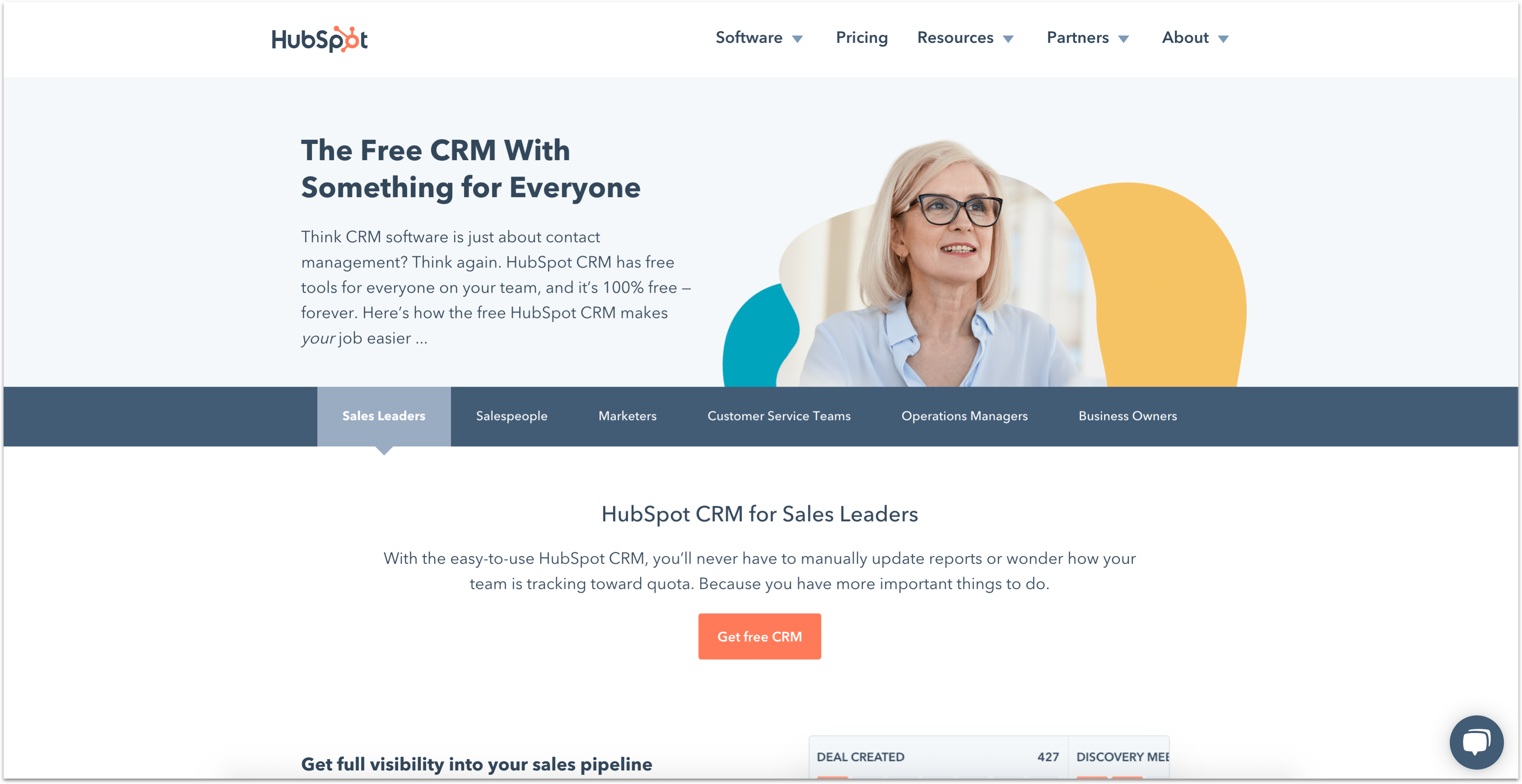 Over the past years, Hubspot has grown from a simple CRM system to all-in-one customer communication tool offering live chat, chatbots, landing page builders, email marketing, and whatnot. All in all, it's possible to use their products in a bundle. But I'd like to concentrate on their flagship product — their customer relationship management system.
It's impossible to imagine any customer engagement strategy without a decent CRM for keeping all your contacts and their detailed information in one place. Hubspot allows you to track customer data and record every change your team makes. And since it's one of the most known and oldest tools on the market, the number of third-party integrations is unbelievable.
Moreover, Hubspot distributes their CRM software for free with the ability to add as many users as you wish.
Final words on customer engagement software
The process of customer communication and engagement is a complex and multicomponent process requiring several platforms and tools at once.
Choose an omnichannel customer communication tool that will allow you to consolidate your engagements with customers under one roof. This will help your team manage every marketing process more effectively and provide a seamless omnichannel experience to your users.