Chatbot vs Live Chat: Can They Work Together in Harmony?
Time to pin down the chatbot vs live chat struggle once and forever! Can they work in harmony?Here we explain the key concept as well as the main difference between these two.

Picture your most turbulent day. You're bogged down with this totally nonsense issue, customer requests keep stocking up in the live chat, and there's no sign of the ending.
I don't know about you, but I just got the chills!
Anyway, let's get back to the situation. Sure thing, you set everything up according to the Most Successful and Productive Customer Service Agent's Playbook (yeah, I made this up, though, you caught the idea) – pre-written responses, chat routing, etc., to help you not go gaga. However, your shift is almost finished. Here's when the age-old dilemma enters the game: leave all those chats unanswered or…
Let a chatbot do the talking. This is what we're speaking of today. Chatbots vs live chat: can they go hand in hand and how exactly? So, make yourself comfortable and be ready to choose the best of two worlds.
Chatbots vs live chat: figuring out the central concept
Before we plunge into this chatbot vs live chat face-off, let's establish who is who.
A chatbot, on the one hand, is a virtual assistant that answers customer queries 24/7 automatically without human interaction. It can be either AI-fueled or ruled-based and perform such tasks as engaging with customers, lead nurturing, and collecting clients' data, to name a few. But it doesn't mean a chatbot can substitute human support entirely.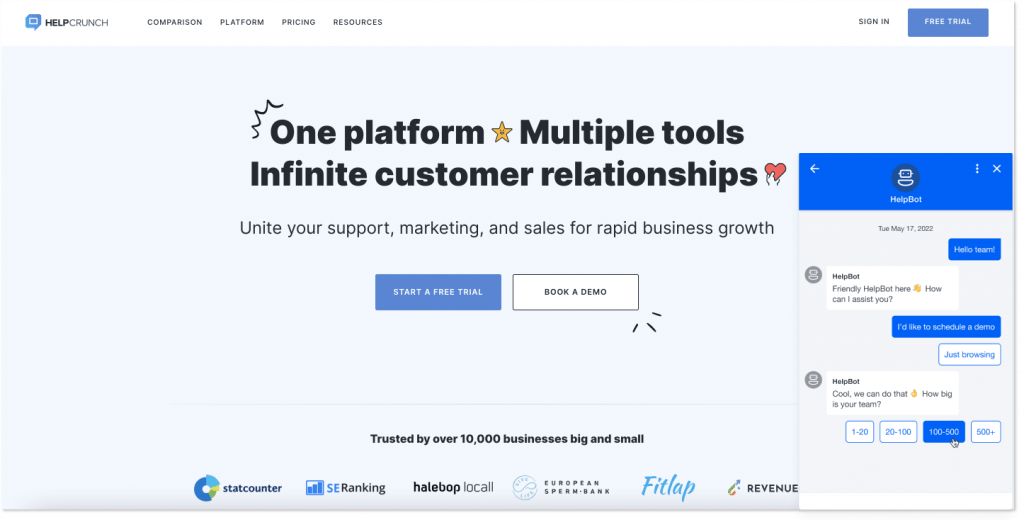 On the other hand, a live chat is based on a human-to-human principle. It represents a program that can be easily installed on your website, where all the communication is happening in real-time. Contrary to a chatbot, live chat wins with its emotional aspect. If a customer comes over blazing with fury, will the machine put them at ease? I doubt it.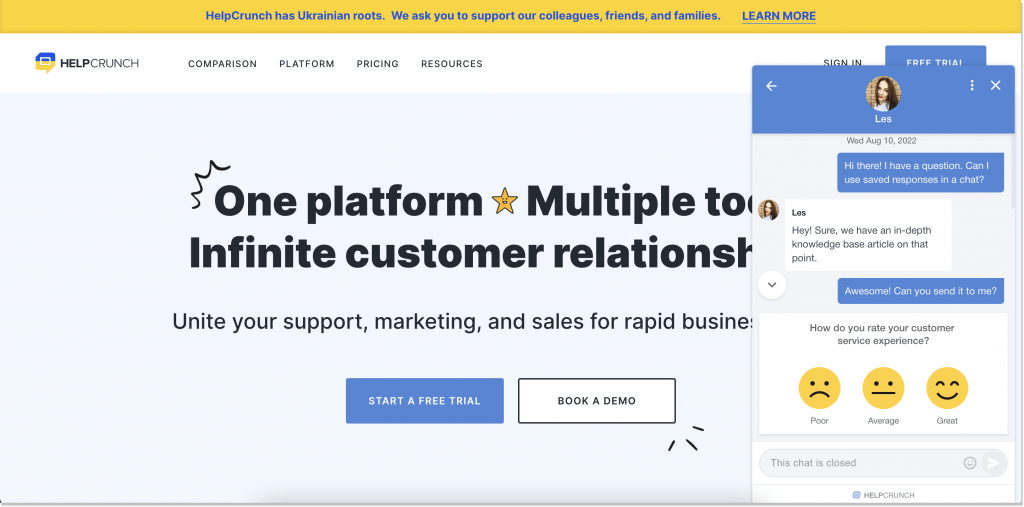 Quick note! As you may know, HelpCrunch houses both live chat and chatbot under the same roof (actually, you can enliven your live chat with a chatbot flow). It's, though, an all-embracing customer communication platform with other lucrative functions (a knowledge base, a unified helpdesk, an email feature). By the way, our chatbot is in beta for now and available for everyone. Later on, it'll become available only in one tariff. So you still have time to play around with it and the rest of the tools. Signing up for a free 14-day trial is all it takes. Alright, keep reading! 🤓
Live chat vs chatbot: granular comparison
| Live chat | Chatbot |
| --- | --- |
| Mostly available during business hours | Available round-the-clock |
| Human agents can answer intricate questions that require additional knowledge | Chatbot can automate your workflow and deal with routine questions |
| Higher response time but shorter resolution time | Faster response time but higher resolution time |
| Human support goes the extra mile for customers, showing their dedication | The machine is tailored to typical responses, no human touch |
Some might say "potahto, potayto" when bumping their heads together. Both help customers in their own way, both can solve their issues just fine. However, there is a world of difference between live chat and chatbot. For you to have a helicopter view, there is a feature-by-feature comparison. Off we go! 🚀
1. Office hours vs 24/7/365 availability
Well, the first one is definitely about a live chat. If you're to use a human customer support team on your website, the rule of thumb is they won't be online all day long.
Of course, there are night shifts. However, have you ever heard of customer service burnout? Numerous stats claim that 74% of employees with client-facing jobs are more prone to it. Do I need to mention nervous breakdowns, customer churn, and overall dissatisfaction? Here is when a chatbot enters the game.
This little assistant can be available for the audience round-the-clock. It doesn't take days-off, vacation, or maternity/paternity leave – it works for the sake of your customers. Think of the ultimate advantages it brings along!
Leads are qualified in real-time (a chatbot can seal the deal, ask for the contact info, show additional content, point in the right direction, schedule a demo, etc.);
Customers get relevant answers without waiting for the sun to shine;
Your team receives a reduced amount of tickets when they make it to work.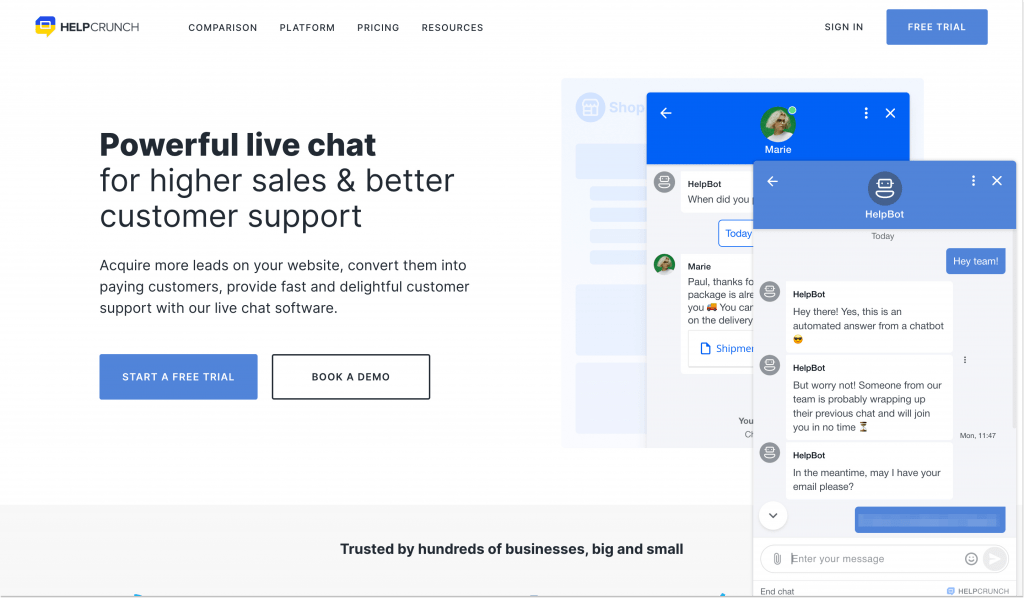 2. Manual work vs automation
This paragraph gradually stems from the previous one. I am not saying that the world revolves solely around chatbots and their ability to automate processes.
The thing is that with live chat, you're more likely to perform tasks manually, which is time-consuming and clunky at times. On the bright side, this leads to a better perspective of a customer issue because it all comes down to the emotional aspect.
But let's get back to automation. Both live chat and chatbot can speed up your customer service when working in tandem. Here are the tasks they can perform:
Engaging with customers proactively – set up pre-made chat or bot messages to greet website visitors and ask them relevant questions. If done right, your "companions" can even nudge customers to a sale and awaken inactive prospects;
Sending canned responses – these are pre-written messages you can use anytime to welcome a person, finish the chat, admit your mistake, ask for further details, and so on. By the way, check the canned responses examples for inspiration;
Automating routine tasks – if you're to use a chatbot, it can do the same job a person would, for instance, booking tickets, ordering food, and scheduling appointments, to name a few;
Pre-qualifying leads – even before a customer walks down their journey, a chatbot can gather their contact data or expected goals;
Encouraging self-service – for that, you just need to integrate a knowledge base into a chat widget (spoiler alert: HelpCrunch allows you to do that!). Several scenarios unfold from here: 1) clients find the sought-after info in no time without leaving the widget, 2) a chatbot sends them relevant content, and 3) a customer service agent shares articles right from the chat widget.
That's just scratching the surface. The bottom line is that both an online chat and a chatbot can contribute to customer service automation. But everything will depend on your business specifics and resources. What do you think, who hogs the blanket in the chatbot vs live chat battle?
3. Slow vs quick response time
One might think, "It doesn't matter how fast I reply to a customer query – at least I am doing it! Who cares?" Hmm, let's see the numbers. 74% of users under the age of 24 think that a fast reply will improve their customer experience. At the same time, 33% of customers say they will recommend a brand that offers a quick but ineffective response. So I guess speed does prevail.
When we talk about live chat vs chatbots, both could be either quick or slow. Which is the weakest link, though? Well, with an online chat, a client can wait hours until they receive an answer from a service agent. Whether you like it or not, it's not possible to cater to all the customer needs immediately. If it takes you too long, get ready to wave your audience goodbye.
A chatbot has a rather different situation. It replies instantaneously, which sets the pace for the whole conversation. Thanks to such speed, it can reduce response time by up to 30%. And that, as a result, heightens customer trust in your brand.
However, if I were to choose, I would use them as a combination in my workflow. Once a client starts a chat, introduce them to a chatbot with its blazing-fast response. When there's a need to dive deeper into the issue, it can transfer the dialogue to a customer service rep. Easy!
4. Full involvement vs general communication approach
Let me tell you a little story first. When I was searching for a beauty parlor abroad, I scoured an ocean of options. Of course, I stumbled across different websites with both chatbots and live chats. The greatest difference was their conversational concept:
Almost every live chat agent asked me guiding questions, e.g. how I want my haircut, what my hair type is, how often I dye it, what products my hairdresser usually uses, etc.
With chatbots, it was mainly generic questions, such as what service I wanted (nails, hair, face) and time slots available. No surprises here. Well, pretty much a standard chatbot conversation flow. You know the drill.
So yeah, after having a superb chat with a human service rep, I visited that salon, and it was cool.
As the matter stands, there's always an exception to the rule. Imagine you're about to buy a house. Yikes! Such an adventure can be a pain in the neck, to say the least. The Mortgage Genie – a British online mortgage broker – has this nice chatbot on its website.
Its flow is built in a way you'll only enjoy: open-ended questions, personal info check (name), offering in-depth assistance, etc. This is how the chatbot mimics a human being (but does not replace them).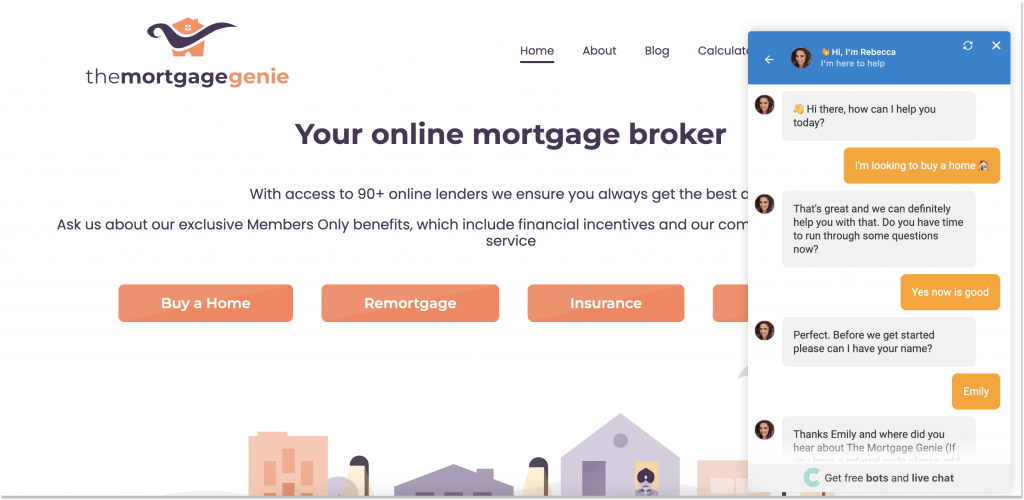 To cut a long story short, the fact remains: people who work in customer service allow every little detail to pass through themselves. They can be empathetic (and sympathetic), friendly, or relate to your issue. Besides, a human support team can serve as a therapist sometimes because people just want to be heard. So my vote is for live chat at this point.
5. Less vs more cost-beneficial
It might seem a no-brainer, but let me elaborate. Have you ever thought about how many resources, especially financial, it takes to find a perfect hire for a live chat job? 🧐
First, you have to host numerous interviews. Second, the person you go for needs to go through probation. Third, it can take months till a new team member starts demonstrating the results. And last but not least, you'll have to pay them a salary.
With a chatbot, the situation is much more attractive. The most important step would be the first one – where you choose the right software. Then, it's smooth sailing. You push some buttons and install your chatbot, build flows according to your business goals, and help customers on autopilot. And do I have to mention that chatbots can reduce company's operational costs by 30%? So, I guess the choice is self-evident here.
6. Common thread: customer and employee sentiment
Why did I name this paragraph as a "common thread"? Simple: it's a live chat vs chatbot stand-off 🤝
Both these technologies can be a win-win for a modern customer. And both of them can make it or break it for your business. It all depends on how you manage each of the channels.
If you set up your live chat the right way (with proactive chat messages, canned responses, integrated knowledge base, or chat snooze, if need be), your team's productivity can skyrocket. They'll react fast to clients' queries and that, as a result, can bring about customer satisfaction – 75%, to be precise.
Chatbot beats that number with a whopping 87% – the number of people pleased with chatbot interactions. So what's new here: this tiny machine can support customers round-the-clock. As for the employees, 64% of them claim they can focus on the bigger picture thanks to a chatbot, meaning they can handle more complex issues and don't get distracted by trifles.
Chatbot vs live chat: covering the use cases
We're about to uncover 3 major use cases in the chatbot vs live chat battle – support, marketing, and sales. Where's the catch, and do these look alike? Let's find out.
Support use case
Traditionally, live chat is associated with customer support. Thanks to the numerous functionalities we've mentioned above, you can provide your clients with timely and contextual help. This is successfully proved by Invisible, which increased their number of support chats by 32% with HelpCrunch.
A chatbot doesn't trail behind either. As you know, there's an option to design chatbot flows, and customer support is on the front burner. Healthcare, HoReCa, banking – you name the industry where this assistant could help, and it probably gets your back.
For instance, here is HOAS – The Foundation for Student Housing in the Helsinki Region – a remote self-employed "worker" that is available 24/7 and helps students settle in the area. Thanks to it, students can find out how to apply for the program, see options available, or ask for a transfer to a human live chat agent. An awesome combo!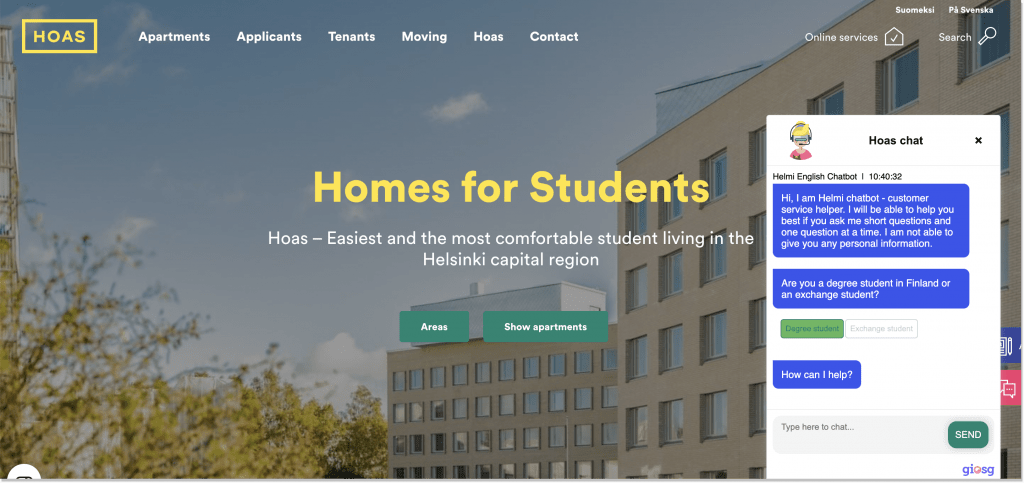 Marketing use case
Both chatbots and live chat are parts of the great marketing machine. Lead generation, loyalty programs, reviews&feedback, content distribution, etc. – they can help you touch the heights in each of these spheres.
Here is the Krisp blog and their chat widget. They use it to 1) define initial user goals, 2) distribute explanatory content about the product (as part of pre-onboarding), and 3) a sign-up CTA! Think of it as a little nudge to adopt the product.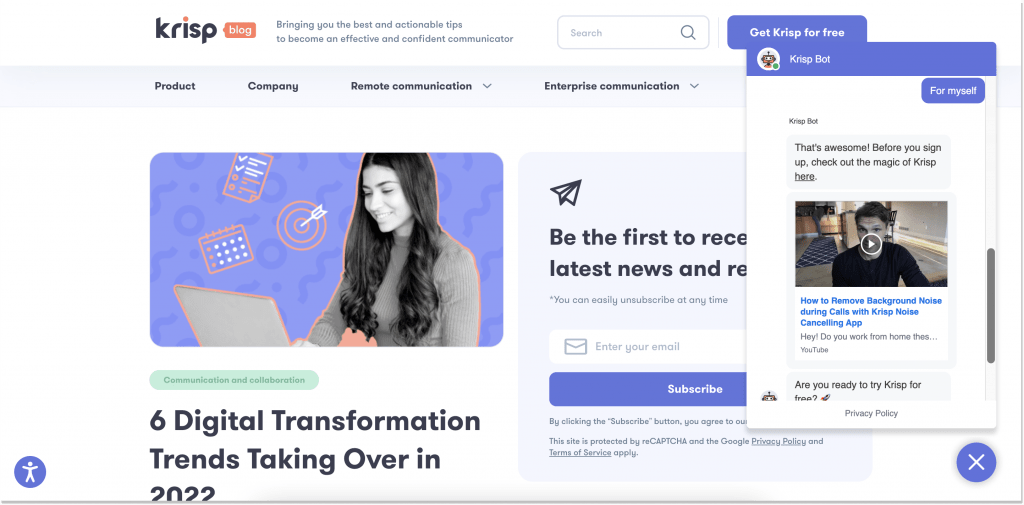 This is not the end. Look at the chatbot marketing example from Victoria's Secret. Their digital assistant Simone helps you check current offers or promotions and choose the one you like to get a discount: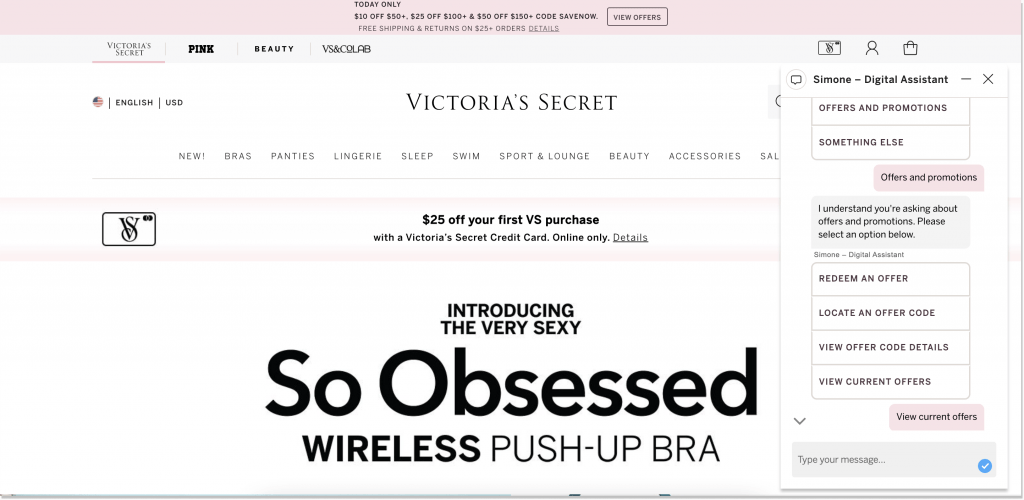 Sales use case
If you have a live chat and a chatbot on your website as sales assistants, the odds are you've taken the cake. Judge by yourself: if set up right, they could help you with generating prospects, demo requests, up- and cross-selling, pre-qualifying prospects with chat forms, and more.
For instance, this is how pre-qualifying leads works. If your software allows it, you can add a form before the chat so that a user fills in their name, email, phone number, or pet's name to proceed with a conversation. You can then build your future sales (and then some) activities: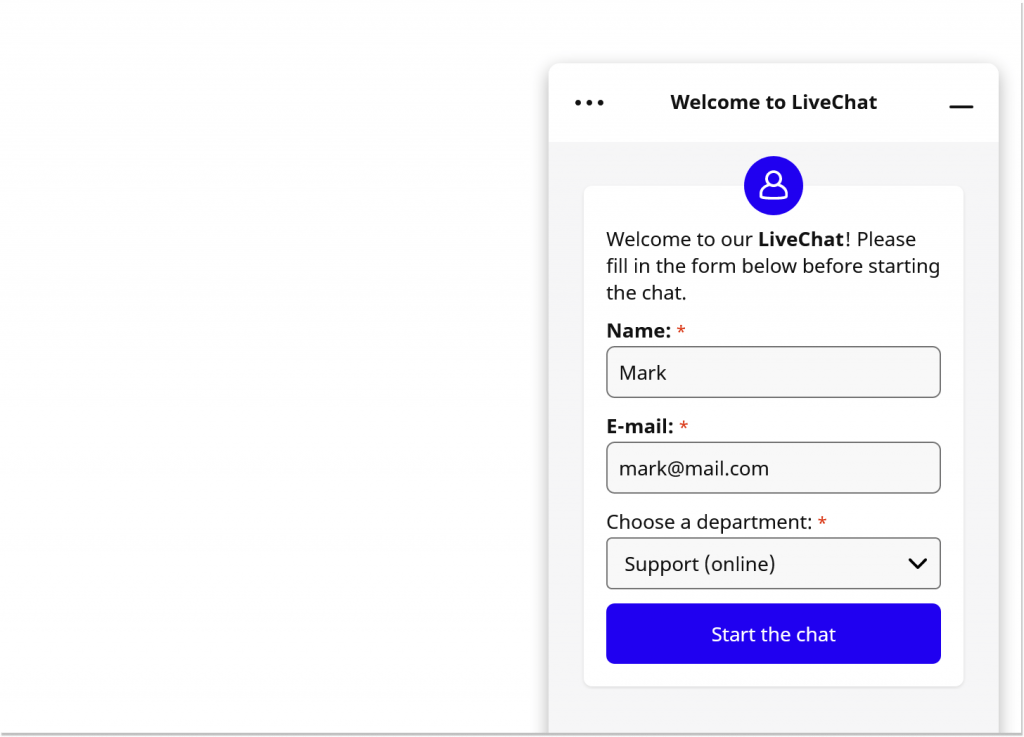 Chatbots possess a huge sales potential as well. Here, we have a cool example from PandaDoc — SaaS specializing in document management and processing. I would call this case canonical: after you touch base with their chatbot, you can see the pricing and schedule a demo call without even contacting a human being: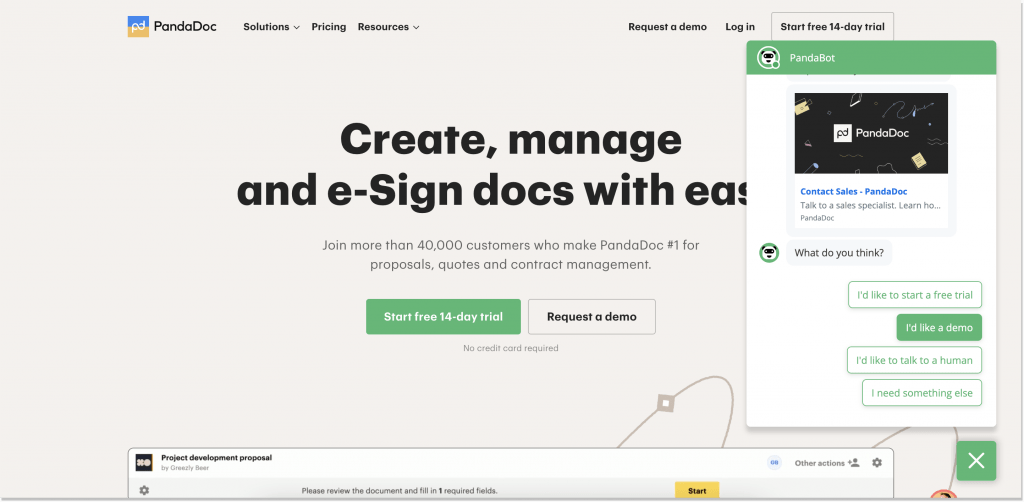 Which one wins for your business?
When all's said and done, what's your idea on it? Will it be a live chat or chatbot?
I'll tell you what: at HelpCrunch, we turn thumbs up for walking a line and harmony in everything (obviously, this text is called this way for a reason).
You can throw a chatbot under the bus to deal with some routine, low-tech tasks and do that quickly. However, think of it as your spear hand. With live chat, you can focus more on prospects and deliver individual customer service, having a dedicated team of pros behind the curtain.
If you're up for a combo, so be it! Should these two technologies work together, they can give your business a powerful boost on all fronts – sales, support, and marketing. Well, I take it you already know where to look for them 🙂