Chatbot vs Live Chat: What Solution to Choose for Five-Star Customer Service?
Time to pin down the chatbot vs live chat struggle once and forever! Can they work in harmony?Here we explain the key concept as well as the main difference between these two.

In 2022, UJET, Inc., a cloud contact center platform, released a study showing that 80% of customers felt more frustrated after talking to a chatbot. The increased frustration level is the last thing we want customers to experience.
At the same time, live chat delivers an 83.1% satisfaction rate for users.
Based on this data, it seems obvious that live chat wins the battle. But here is the thing, it turns out that the satisfaction level is not everything…
This is what we're speaking of today. Chatbots vs live chat: which solution is the best for your business? So, make yourself comfortable, and let's bounce!
Is the "chatbot vs live chat" battle still relevant?
So, what other factors are important, and why can't we just finish the article right now, summing up that live chat, operated by a human made of flesh, blood, and emotions is the best solution for customer service? Especially if it satisfies customers just great…
Well, while a live agent can contribute much better to how a user feels, it still can never respond to questions in a blink of an eye, or handle 10 chats simultaneously.
Live chat support agents can't constantly monitor when visitors are the most engaged and send them texts, but chatbots can spark the conversation with proactive messages based on specific triggers.
Moreover, chatbots can help to increase sales by 67%, which is a significant benefit every business owner dreams of.
Another variable that should not be neglected is the ChatGPT introduction. While many scientists, journalists, and CEOs argue about its security threats, no one doubts the impact the technology has on every industry including customer service. It sparked users' interest in chatbots tremendously.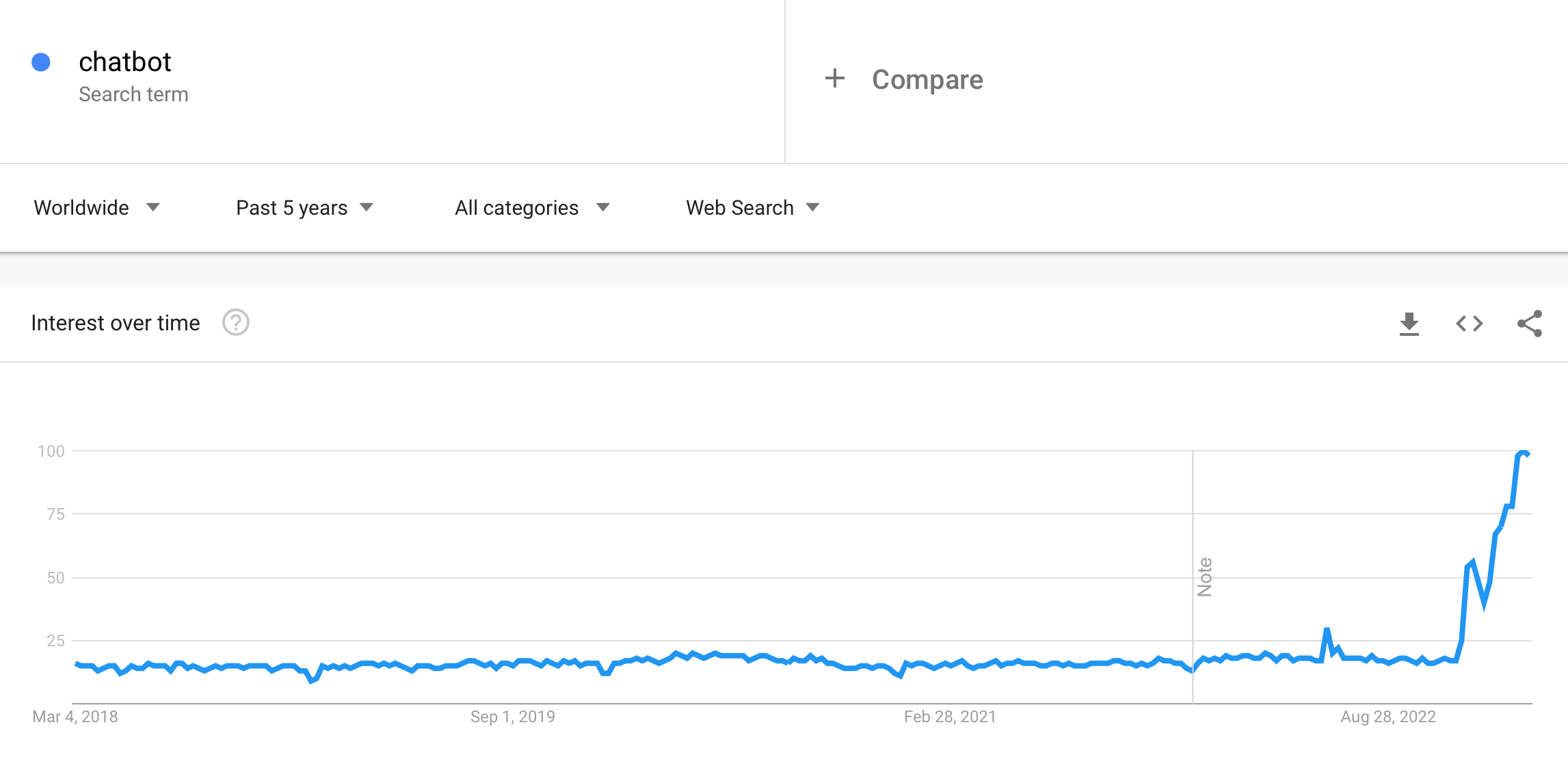 Just think about it, within the first 5 days of its launch, OpenAI product had over 1 million users, and within two months – over 100 billion. So no matter how frustrated customers may have felt about chatbots, they are definitely ready to give them a second chance.
You don't necessarily have to adopt ChatGPT to make your customers happy, but you definitely need to review your chatbot scripts and make them more sophisticated and profound. Next time when a user chats with your bot, they just might have a positive comprehension because, like it or not, bots do become an inseparable part of our routine.
The global chatbot market size is growing rapidly and is projected to be worth around $4.9 billion by 2032 from valued at $0.84 billion in 2022. It's just another proof that this technology is developing, and it's here to stay. In other words, if you don't adopt it now, you will most probably have to do it in the near future anyway.
So, is the battle chatbot vs live chat still relevant? For me, it's no longer a question if you should go with a chatbot OR live chat, but rather what is the perfect combination of these two products to deliver the best customer experience for users?
Chatbots vs live chat: key differences + a comparison table
Before we plunge into this chatbot vs live chat face-off, let's establish who is who.
A chatbot, on the one hand, is a virtual assistant that answers customer queries 24/7 automatically without human interaction. It can be either AI-fueled or ruled-based and perform such tasks as engaging with customers, lead nurturing, and collecting clients' data, to name a few. In this article, we will discover what are the benefits of chatbots. But it doesn't mean a chatbot can substitute human support entirely.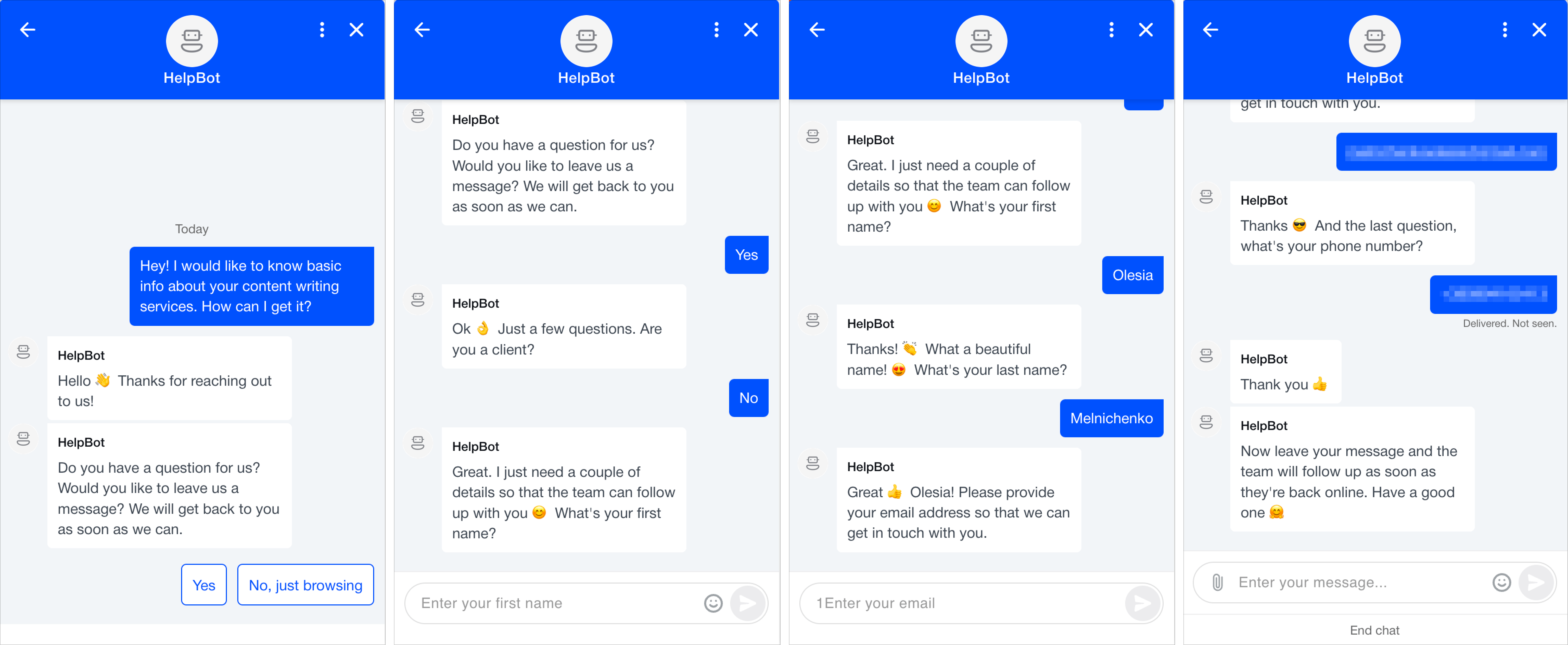 On the other hand, a live chat is based on a human-to-human principle. It represents a program that can be easily installed on your website, where all the communication is happening in real-time. Contrary to a chatbot, live chat wins with its emotional aspect. If a customer comes over blazing with fury, will the machine put them at ease? I doubt it.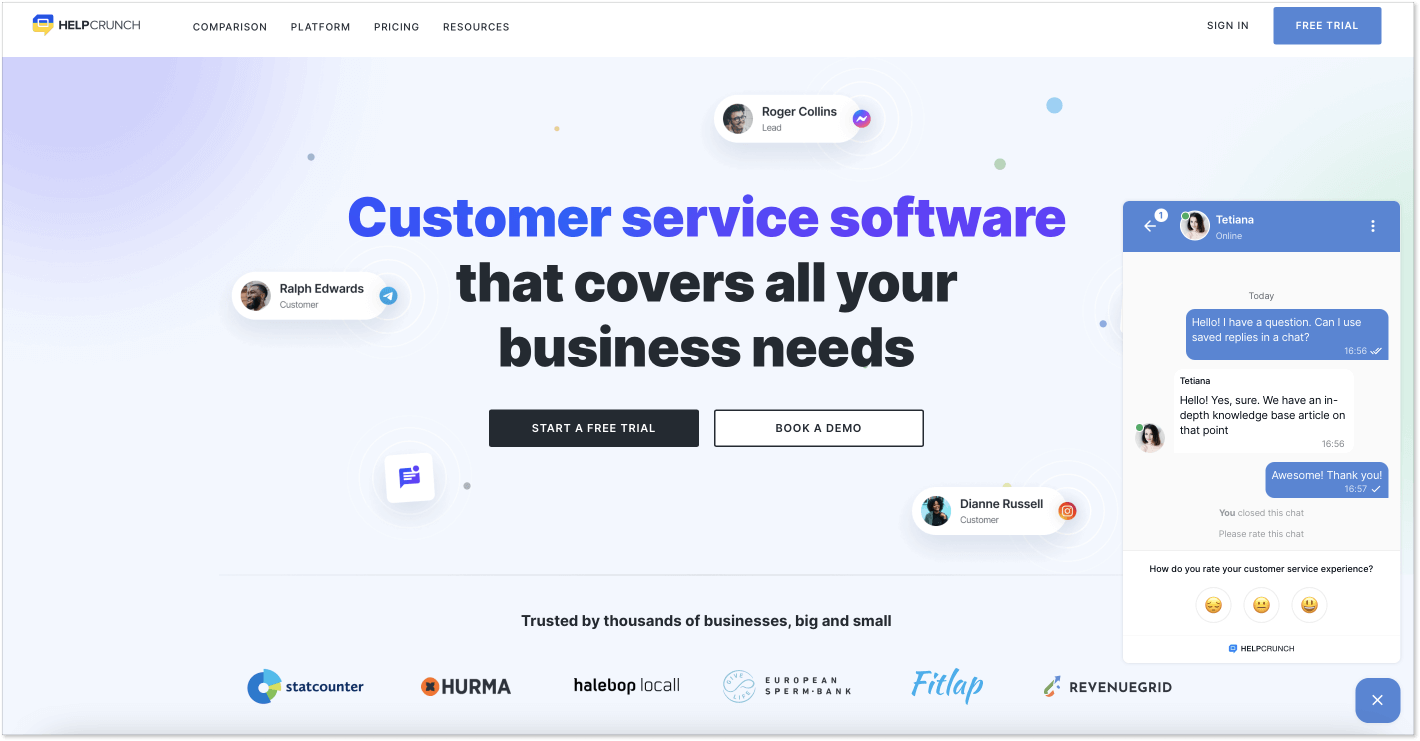 Quick note! As you may know, HelpCrunch houses both live chat and chatbot under the same roof (actually, you can enliven your live chat with a chatbot flow). It's an all-embracing customer communication platform with other lucrative functions (a knowledge base and a shared inbox for multichannel communication). Signing up for a free 14-day trial is all it takes to give it a try. Alright, keep reading! 🤓
No better way to realize the difference between these two notions than to look at a granular comparison table. Here we go:
| | |
| --- | --- |
| Live chat | Chatbot |
| Interaction carried by a human | Interaction carried by a machine |
| Available during working hours | Available 24/7 every day of the week |
| Handling a limited number of chats at the same time, depending on its difficulty | The software can handle an unlimited number of chats simultaneously |
| First response time depends on the workload of agents at a specific moment | Always responds to messages in a blink of an eye |
| Can offer better resolution time as agents have access to all information in the knowledge base and their colleagues'/supervisors' advice | Can't guarantee quick resolution time as it has access only to information provided in scripts/or the one they are trained on |
| Assistance is provided in a number of languages limited by the agent's knowledge | Some chatbots offer multilingual support and respond in the language of the user |
| Can't monitor visitor behavior and reach out to customers proactively | Chatbot can send proactive messages based on specific rules/triggers which helps to increase engagement |
| Good for solving complex queries | Particularly good for solving simple recurring issues |
| Offers personalized support, as live agents have access to conversation history, private notes, and all the user information | Chatbot can offer a personalized approach limited by CRM software capabilities |
| Provides empathy and emotional support | Provides informational support only |
| High costs of training and retaining support agents | More cost-effective in terms of deploying and scaling the technology |
Some might say "potahto, potayto" when bumping their heads together. Both help customers in their own way, and both can solve their issues just fine. However, there is a world of difference between live chat and chatbot. For you to have a helicopter view, there is a more detailed comparison of some features. Off we go! 🚀
Implementation time
Conclusion: Live chat 🤝 Chatbot
In terms of live chat vs chatbot implementation time, they are more or less equal. Adding a live chat code to your website is just a few seconds, but training a live agent to assist customers effectively will take way more time.
Chatbot is as quick to deploy, but it will also require more time from you to create scripts and train your bot.
It can take months to train your customer support representatives, but in the end, they will be able to solve complex queries and help users on all levels – emotional and technical.
Creating basic chatbot scripts requires less time but its capabilities of handling middle to high-level difficulty questions will be limited. If you want them to be more sophisticated it requires more time and resources. Also, with bots you need to constantly update and improve the scripts to make the user experience better over time.
That's why we conclude that both solutions are equal in terms of implementation time/value you get from it ⚖️.
Cost-effectiveness
Conclusion: Live chat 👎 Chatbot 👍
You've probably heard that chatbots can reduce customer service costs by 30%. Another question is how can they do that?
First, a chatbot is an automation tool which means it can speed up some customer service processes like lead qualification, collection of visitors' contact information, answering repetitive questions, and routing conversations to the right departments or specialists. Some bots allow users to schedule appointments or check delivery status.
Second, by automating processes, the software takes a certain workload off of your customer agents' shoulders. It means you don't need to hire more employees to handle recurring tasks and instead dedicate money to other causes.
And third, it's much more affordable to pay a monthly/annual subscription for a chatbot than a salary to even just one extra support agent. For example, if you want to adopt HelpCrunch chatbot solution, the whole set of features for customer service including shared inbox, live chat, chatbot, and knowledge base will cost you $25/mo per user.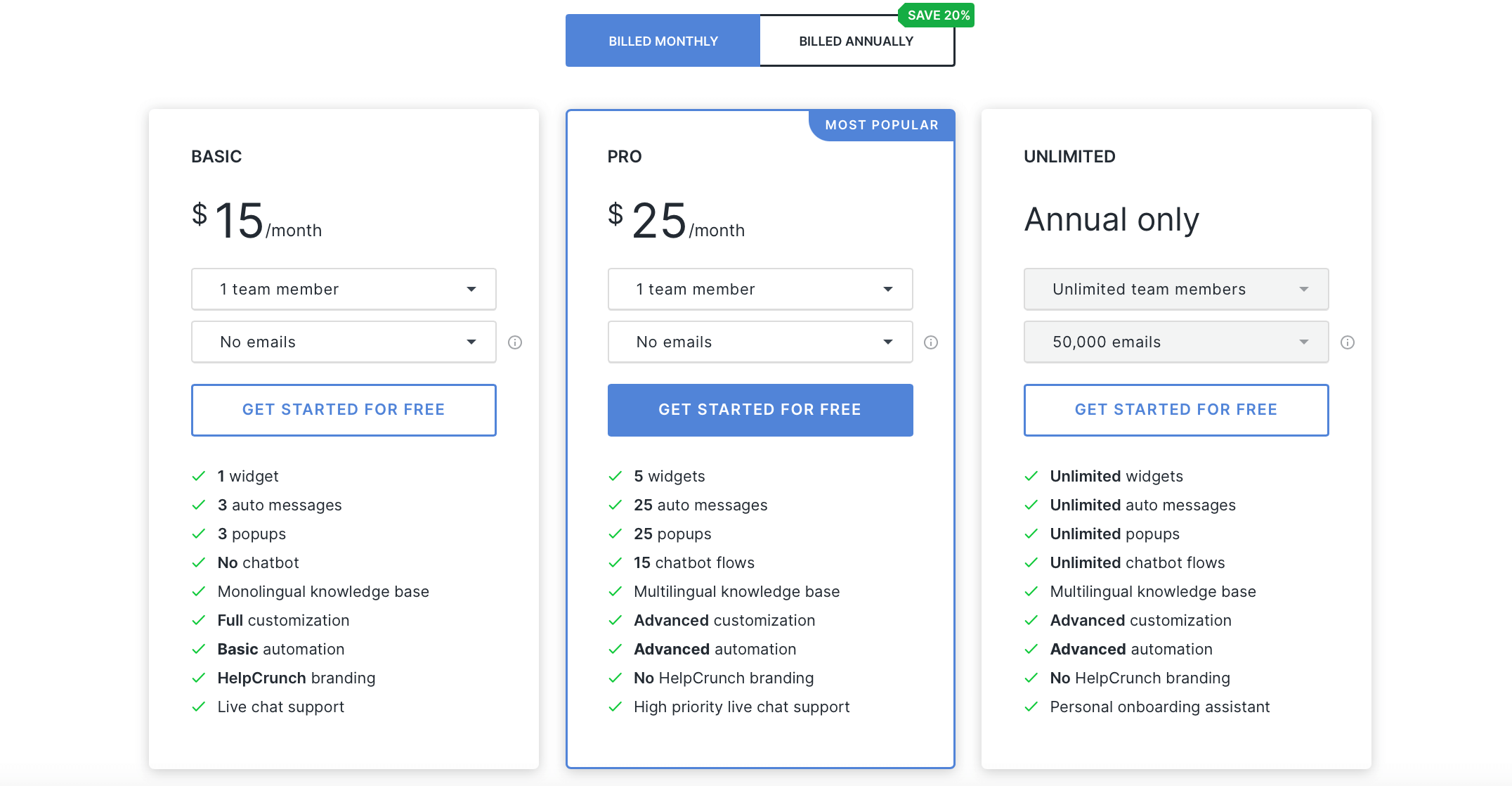 At the same time the average monthly salary for a customer support agent position in London, for instance, is 1,900 GBP. And while we can't compare a bot and a human (at least not at the moment), the chatbot can streamline your customer service and assist a support team greatly.
Customer satisfaction
Conclusion: Live chat 👍 Chatbot 👎
As someone with experience in journalism, I know that information is very easy to manipulate. Depending on the reaction you want to get from readers you can reveal and present different facts. Try to google customer satisfaction statistics for chatbots, you will find studies that prove both cases – it's a tool that users love and a tool that users hate. And the most exciting thing is that both statements are right.
Let me elaborate here, some time ago my friend tried to buy additional mobile data to get access to the internet abroad. The mobile operator company offered a chatbot on their website. My friend spent a few hours trying to reach his goal or connect with a live chat agent. All attempts were unsuccessful. If you ask him how satisfied with the bot he was, he would tell you that they are absolutely useless.
My recent experience with a bot was quite pleasant. I wanted to reschedule the delivery of my parcel. Chatbot allowed me to complete the action with ease in a blink of an eye. I was 100% satisfied.
In short, depending on the case, bots can be both customer-satisfying and customer-irritating tools at the same time. So your best shot is to offer bot assistance for tasks that they can easily perform and always offer to connect with a live agent, just to avoid users' frustration.
As for live chat customer satisfaction, there is no place for manipulation here, all reports show that users prefer live chat communication for customer service over any other channel (like, email or phone). It's quick and always helpful, as long as the agent on the other side of the monitor is a well-trained company representative.
Above all, users appreciate live chat for quick responses and empathy that only a human can offer.
Support 24/7
Conclusion: Live chat 👎 Chatbot 👍
One thing that you can't neglect is the chatbot's prevalence when it comes to availability. People are not machines, and it's our superpower, but it comes at a cost – we can't function non-stop. For 24/7 human support, you would have to hire twice as many customer service agents. If it's not an option then sticking to a chatbot is your best shot.
The software will operate around-the-clock providing assistance to your clients. Even if someone comes up with a question too complex for a bot, the program can always collect details and reassure a user that someone will take care of it first thing in the morning.
First response time
Conclusion: Live chat 👎 Chatbot 👍
Another feature that gives a chatbot first place in this little competition is instant responses. When a user encounters a bot on your website, they might doubt if the program can solve their issue, but they can be sure of getting quick responses.
Some chatbot platforms allow you to set up the response time, but usually, it's no more than a few seconds. Getting help any time of the day and quickly are two things that customers appreciate the most in chatbots. As for live chat, it's also a fast communication and a way to have your problem solved in an instant. According to a Super Office study, the fastest response time in live chat is 7 seconds, while the slowest is 9 min.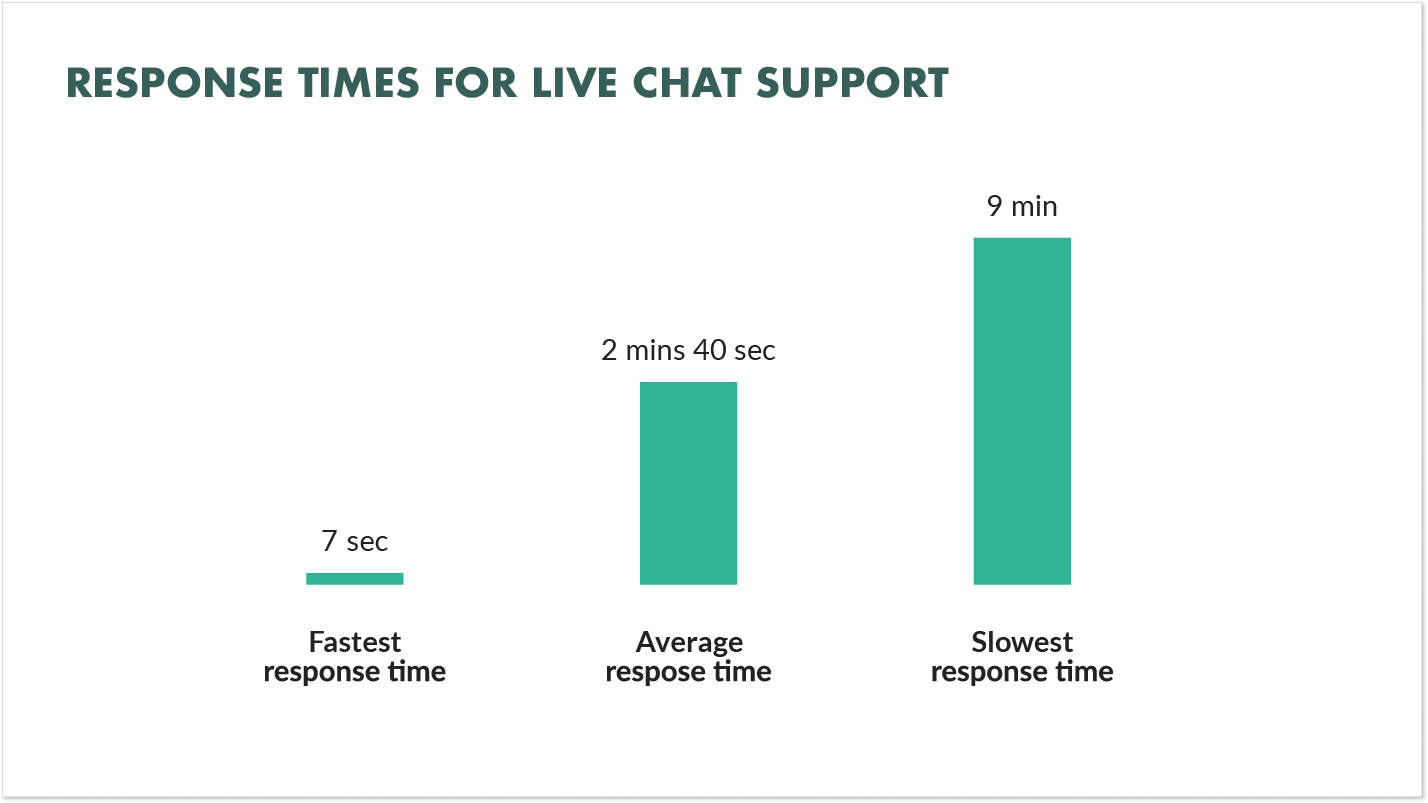 Even though customer support agents are trained and endorsed to be quick with responses, the speed depends on the number of chats they have on their hands at a specific moment. During busy hours, users might have to wait quite a long time to get a reply.
Note that "response time" is different from "resolution time," which means the length of time it takes to resolve a customer's question completely. Live agents might show better results in time for solving complex queries, while chatbot is able to assist much quicker with simple tasks.
Multilingual support
Conclusion: Live chat 👎 Chatbot 👍
One of the things that customers appreciate the most is a personalized approach. According to Slideshare research, 80% of users are more likely to make a purchase if a company provides a tailored experience.
Communicating with a user in their native language is an important part of a personalized experience. And it increases significantly the chances of closing the deal and improving customer loyalty. As a famous quote of Nelson Mandela goes:
If you talk to a man in a language he understands, that goes to his head. If you talk to him in his language, that goes to his heart.
To build strong relationships with customers, it's important to respond in their native language.
With live chat support, you are limited by the number of languages that your agents speak. At the same time, chatbot software can usually support users in many more languages and automatically respond in the language of your clients.
Live chat vs chatbot: covering the use cases
We're about to uncover 3 major use cases in the live chat vs. chatbot battle – support, marketing, and sales. Where's the catch, and do these look alike? Let's find out.
Support use case
Traditionally, live chat is associated with customer support. Thanks to the numerous functionalities we've mentioned above, you can provide your clients with timely and contextual help. This is successfully proved by Invisible, which increased their number of support chats by 32% with HelpCrunch.
A chatbot doesn't trail behind either. As you know, there's an option to design chatbot flows, and customer support is on the front burner. Healthcare, HoReCa, banking – you name the industry where this assistant could help, and it probably gets your back.
For instance, here is HOAS – The Foundation for Student Housing in the Helsinki Region – a remote self-employed "worker" that is available 24/7 and helps students settle in the area. Thanks to it, students can find out how to apply for the program, see options available, or ask for a transfer to a human live chat agent. An awesome combo!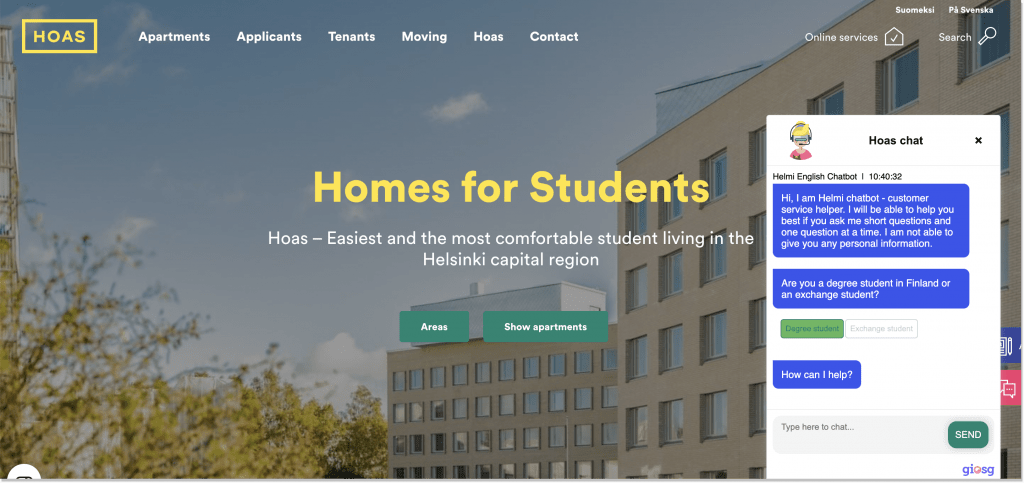 Marketing use case
Both chatbots and live chat are parts of the great marketing machine. Lead generation, loyalty programs, reviews&feedback, content distribution, etc. – they can help you touch the heights in each of these spheres.
Here is the Krisp blog and their chat widget. They use it to 1) define initial user goals, 2) distribute explanatory content about the product (as part of pre-onboarding), and 3) a sign-up CTA! Think of it as a little nudge to adopt the product.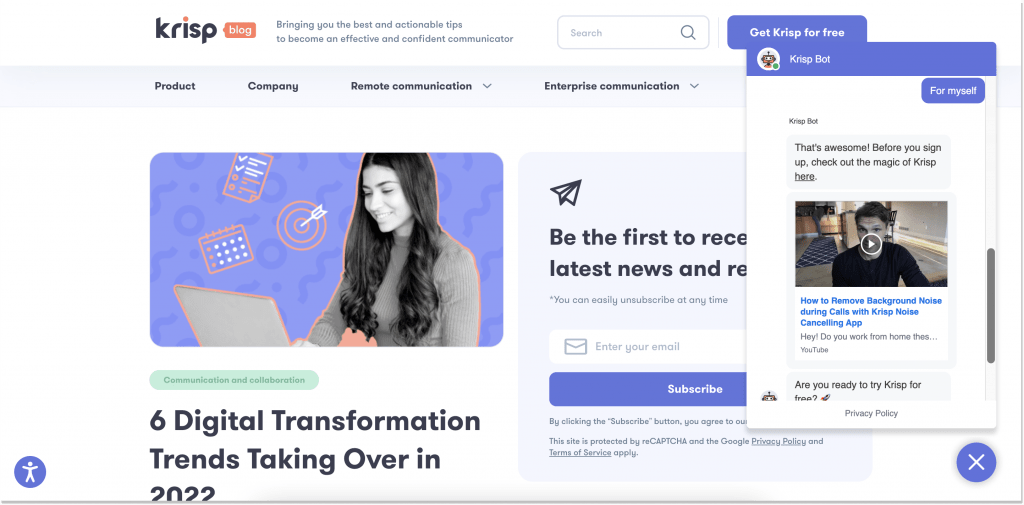 This is not the end. Look at the chatbot marketing example from Victoria's Secret. Their digital assistant Simone helps you check current offers or promotions and choose the one you like to get a discount: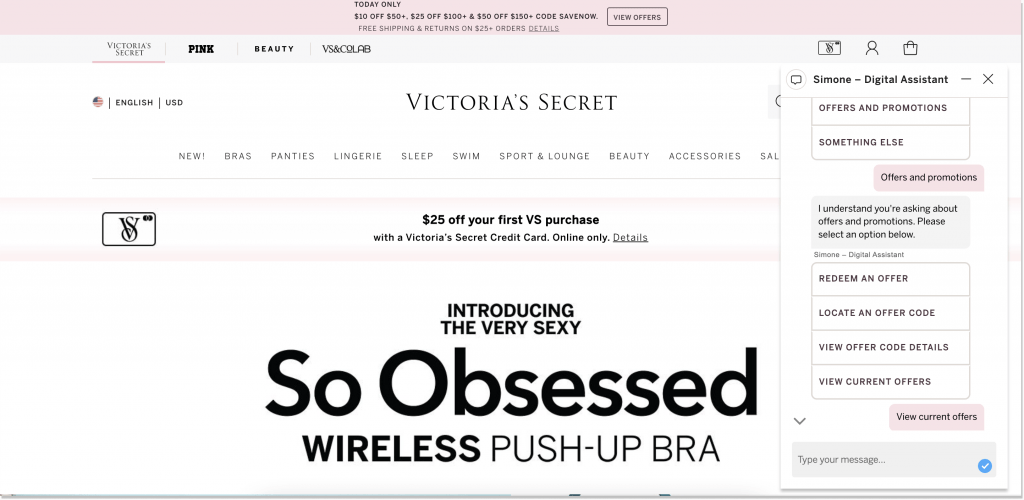 Sales use case
If you have a live chat and a chatbot on your website as sales assistants, the odds are you've taken the cake. Judge by yourself: if set up right, they could help you with generating prospects, demo requests, up- and cross-selling, pre-qualifying prospects with chat forms, and more.
For instance, this is how pre-qualifying leads works. If your software allows it, you can add a form before the chat so that a user fills in their name, email, phone number, or pet's name to proceed with a conversation. You can then build your future sales (and then some) activities: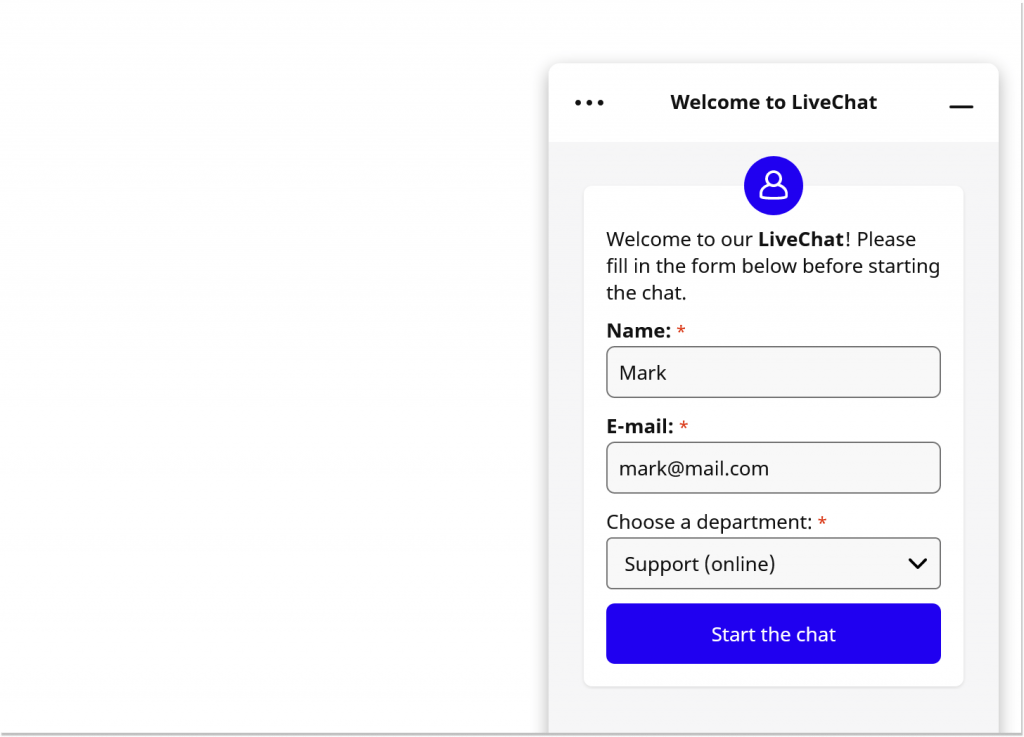 Chatbots possess a huge sales potential as well. Here, we have a cool example from PandaDoc — SaaS specializing in document management and processing. I would call this case canonical: after you touch base with their chatbot, you can see the pricing and schedule a demo call without even contacting a human being: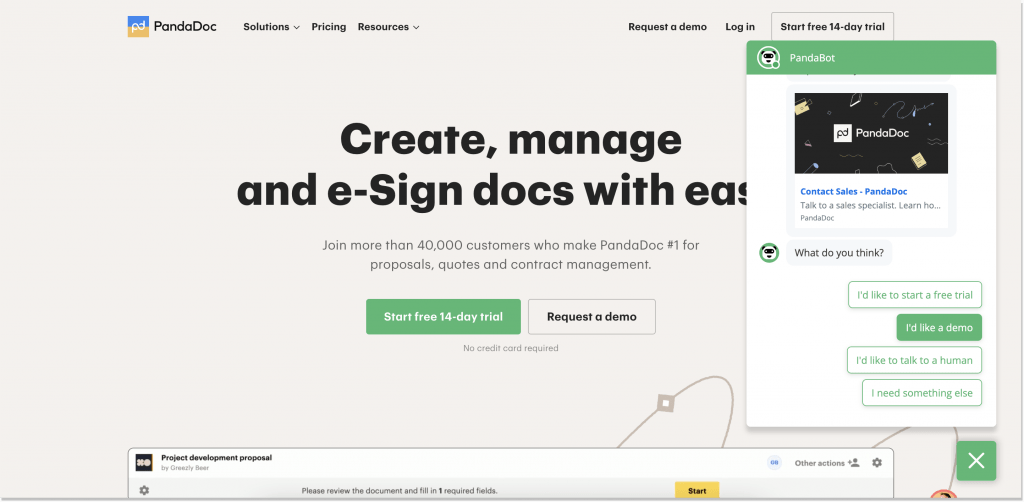 Which one wins for your business?
When all's said and done, what's your idea on it? Will it be a live chat or chatbot?
I'll tell you what: at HelpCrunch, we turn thumbs up for walking a line and harmony in everything.
You can throw a chatbot under the bus to deal with some routine, low-tech tasks and do that quickly. Think of it as your spear hand. With live chat, you can focus more on prospects and deliver individual customer service, having a dedicated team of pros behind the curtain.
If you're up for a combo, so be it! Should these two technologies work together, they can give your business a powerful boost on all fronts – sales, support, and marketing. Well, I take it you already know where to look for them 🙂.