Top 9 Chatbot Features to Make Your Customer Support a Success
Looking for the right chatbot solution for your business and wondering, what are the most essential tool features? We know the answer! Read the article to find a complete list of chatbot features you can't go without. Try to guess the first one...
From beauty salons to software companies, numerous businesses rely now on chatbots. These virtual assistants bring solutions for customer service and boost the level of engagement. No matter what niche you are working in, a chatbot is always a great decision to delight users and improve customer experience throughout the whole buying journey.
Current news and updates around the chatbot notion leave no doubts that this tool has come to stay and find wider application in different areas of our life, including and above all customer service.
We can see how buzz and fuzz around chatbots not only do not subside but grow stronger every day. The global chatbot market size is projected to be worth around USD 4.9 billion by 2032 from valued at USD 0.84 billion in 2022. And while the world is amazed by ChatGPT capabilities, Google tries to counter it with a newly introduced AI chatbot of their own – Bard.
Tech giants do their job and compete in search of a perfect and more sophisticated chatbot tool, business can benefit from long-established reliable technical solutions. But what are the key features of a chatbot? What really can make your bot successful and effective in achieving business goals?
Keep reading to learn the answers 👇
What are the must-have chatbot functions?
You are looking for a perfect automation tool and wondering, what are the key chatbot features? How can it serve your business? The good news, the software can be useful in many aspects of customer service and enhance customer satisfaction quickly.
Let's go through the main chatbot capabilities that any virtual assistant must have:
Being available 24/7
Answering frequent questions
Sharing links to knowledge base articles, or other resources
Providing basic information about a product
Routing the conversation to the right live agent
Collecting user contact details
Qualifying leads
Sharing discounts
Informing about the business working hours
Collecting feedback from users
These are the basic functionalities that any support chatbot must offer, especially if we are talking about rule-based solutions that rely on pre-written scripts. For instance, the HelpCrunch chatbot builder for websites checks all the boxes, providing a whole range of must-have chatbot features.
Some tools with AI solutions can offer wider capabilities. Some of them might include:
Booking visits
Tracking delivery progress
Making payments within the bot
Check-in for flights/hotels
Ordering pizza/taxi, etc.
While sounding posh, smart bots are not always worth the time and money you need to spend to build them. Many routine customer support tasks can be handled by rule-based bots, besides, they are much more predictable and reliable in terms of functionality. Therefore, not every business is up to dealing with AI tools.
Top 9 chatbot features for successful customer service
Now that we know the must-have chatbot functionality, it's time to have a look behind the curtain and see what chatbot features can ensure smooth customer support.
After in-depth research, we've summed it all up in this compelling list of the most essential features. Hopefully, it will help you to choose the best chatbot platform for your business wisely. Off we go!
1. Convenient chatbot builder
When choosing the right website chatbot, pay attention to the tool editor and how easy it is to use it. You will definitely put a lot of effort into building, adjusting, and then improving your chatbots.
And if the constructor is user-friendly, the whole process from start to launch of your virtual assistant won't take more than a few minutes.
Drag-and-drop visual chatbot builders are the most convenient and quick way for creating your bot. The tool allows you to build conversation flows hassle-free and with no coding skills. It's created specifically for businesses that crave automatization and want to adapt quick and effective solutions.
You just build steps, add text messages, emojis/GIFs/images, reply options to choose from, or maybe information that has to be requested like username/email address, and launch your bot.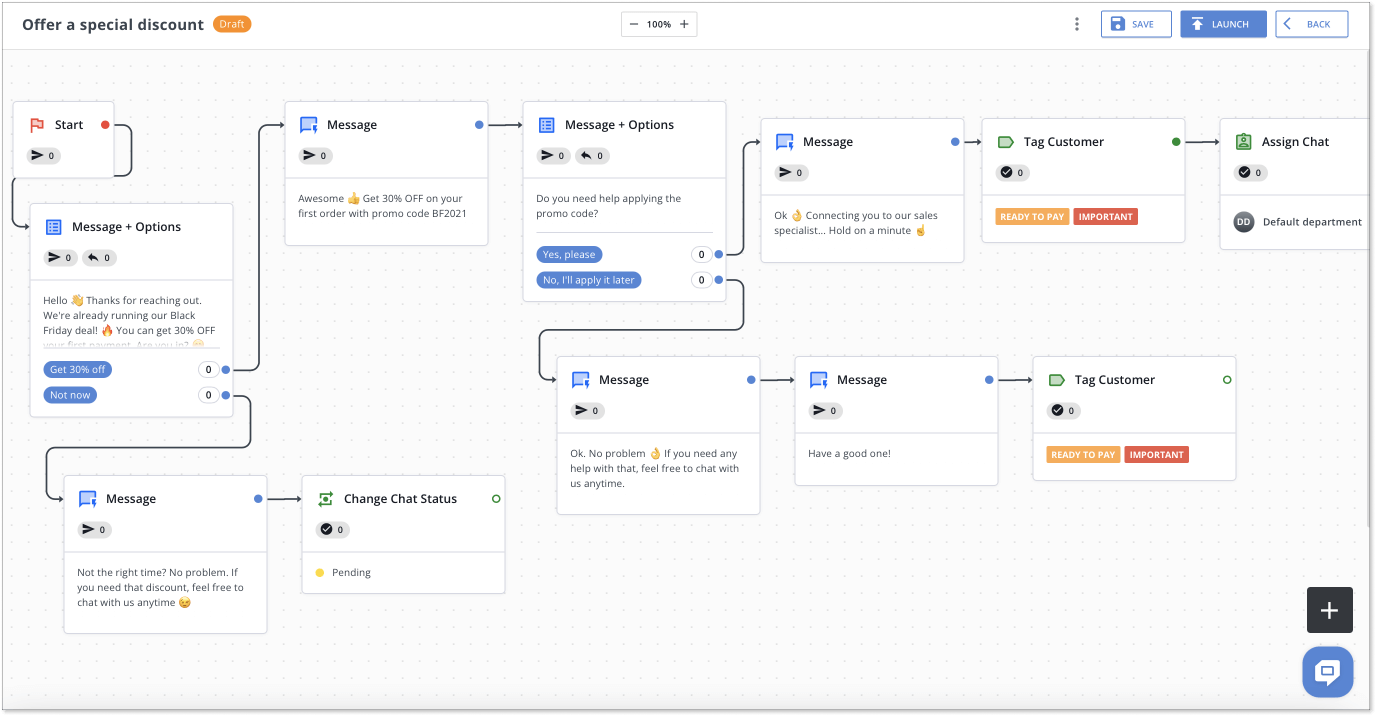 There is only one way you can check if the bot editor is convenient for you, and it's by signing up for the trial period. Usually, trial periods are free and allow you to test the bot. For instance, the HelpCrunch platform offers a 14-day free trial, you can start it right away by following the link.
2. Customization opportunities
Every business is different, and it's important that you can easily adapt your website chatbot to the needs of your company. In short, what parts of the chatbots have to be customizable? Basically, all of it.
The widget itself. Make sure that you can design the live chat button the way it matches your website outlook.
Chatbot avatar/name. We recommend clearly stating from the start that users are talking to a bot, not a real person. That's why naming your bot James and adding a picture of a real person might be a wrong decision. (False hopes lead to no good). However, you should be able to name the bot so that it matches your company identity, and maybe even change the avatar of the bot.
Chatbot flows. Usually, chatbot platforms offer you a number of templates that you can adjust to your personal needs or create your own script from scratch.
Chatbot display settings. Another thing that has to be customizable is the settings and conditions that regulate when, how often, and to whom your chatbot will launch corresponding conversation flows.
In terms of display settings, there is a whole range of different triggers and conditions that you can adjust. Here is a quick example of how it looks on the HelpCrunch platform: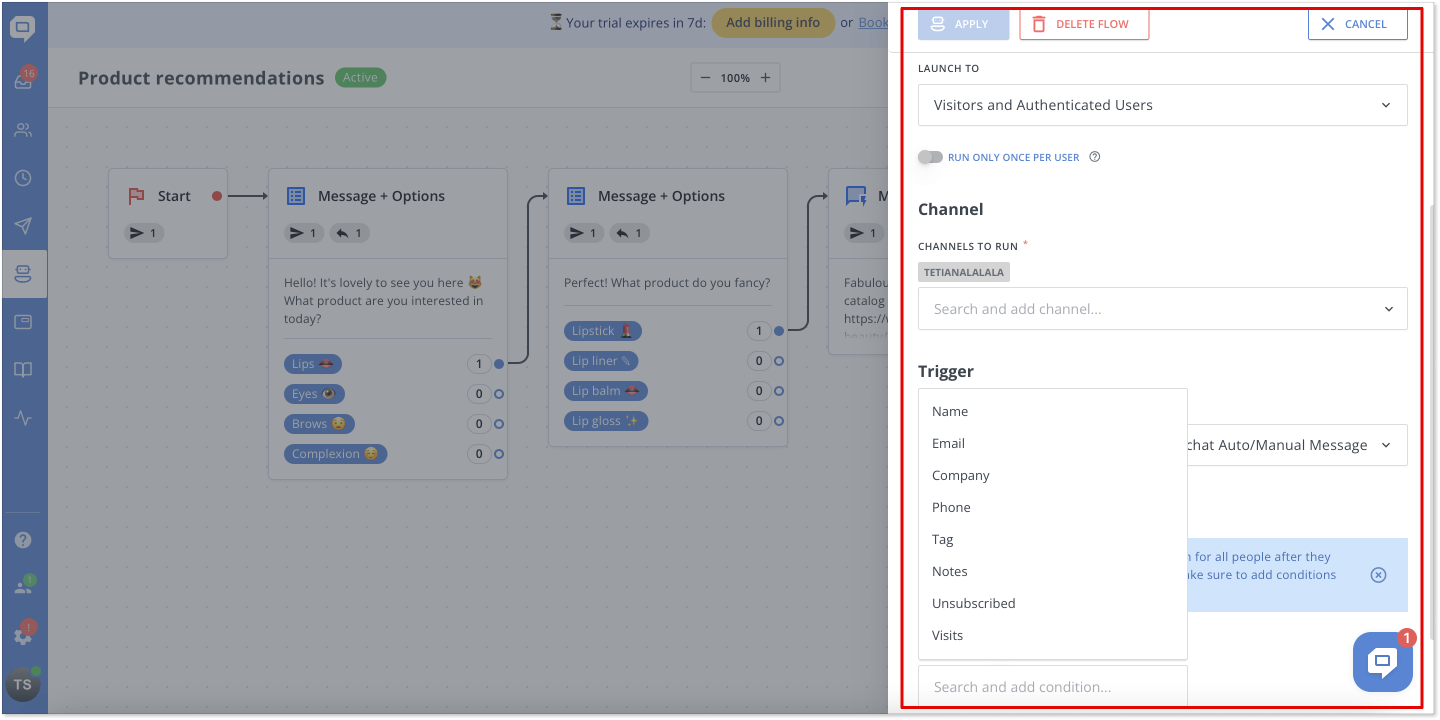 3. Eye-pleasing widget user interface
On the list of top chatbot features, this is the most visual one. Let me stress the importance of chatbot UI design once again. When a customer chats with your bot, the communication process should be easy and smooth. But also, the outlook of the widget window has to be inviting and appealing to a user. Most importantly, it has to correspond with your landing page design.
Look at this example. The widget looks like an integral part of the website, not a standalone awkward add-on.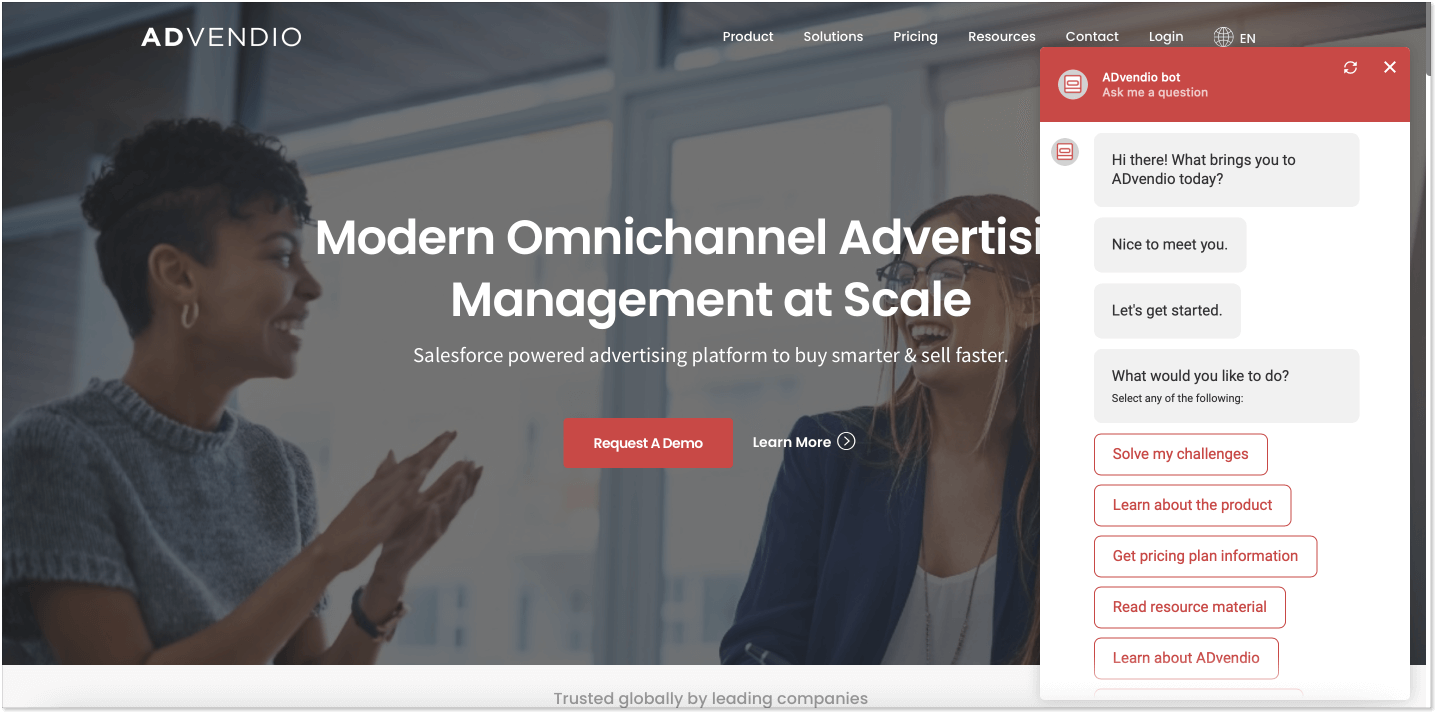 While we speak a lot about design, it doesn't mean it has to be complicated or massive. Quite the contrary, light colors, unobtrusive shape, and an effective bot that can actually assist customers – this is all you need to improve your productivity and make clients happy.
4. Easy precise targeting
Another must-have feature is a targeted chatbot display setting. We've already mentioned it briefly before, now let's talk about these settings more precisely. What do they embrace?
Launch conditions
In other words, the chatbot software should allow you to adjust the conditions according to which the bot is launched. And here I could list conditions in eternity. So let me name the most essential ones:
Team is online/offline/always
User ID/name/email/company
Tag
Notes
Visits
Country
Unsubscribed
Browser language, etc.
Target audience
This setting tells the tool who should be able to communicate with the bot. And in this case, I would name only three main options: visitors, authenticated users, or both.
Channels
Well, this one is obvious and simple. This feature regulates which channels the bot should be launched on. Usually, it includes websites, Facebook, Instagram, Messenger, WhatsApp, and other platforms.
Triggers
This setting will let the software know when the bot flow should be activated. As a rule of thumb, the bot can work as an automated message (text your users first as long as they land on any or one specific page) or be the one who responds to a text message when visitors start a conversation first.
To be honest, I prefer the second option much better, as it's less intrusive and serves more like an assistant, not an annoying seller.
5. Button options menu
Another important feature of chatbots, especially for a rule-based bot (but not just for them) is a button-based menu, where a user can choose any of the reply options offered by a bot. It simplifies the process for visitors as they can clearly see what the tool is capable of. No false expectations.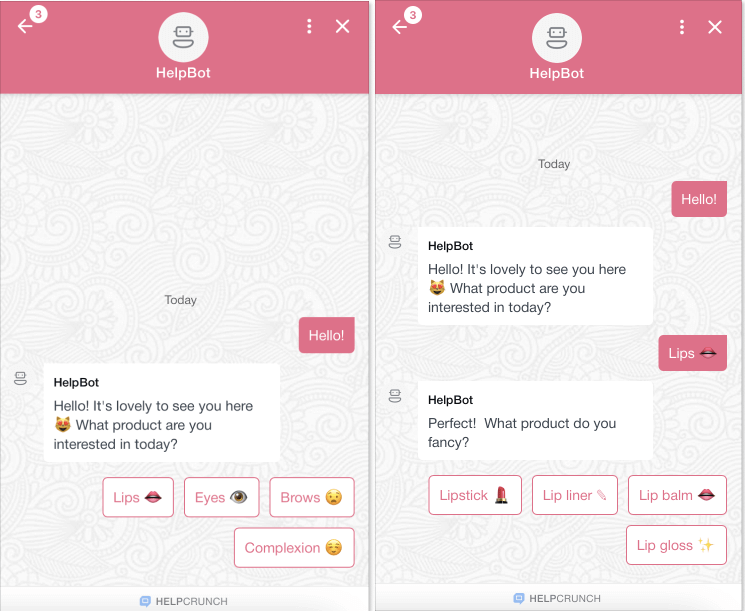 And it's much easier for you as a company to build and set up those bots. They don't require much time to create or any programming skills, but more importantly, they allow better control over the flow of the conversation.
Another benefit, they are way more affordable to create. So if you are a young business that wants to optimize its expenses, this is definitely the best solution.
6. Live chat takeover
Chatbots are good but sometimes for a user, there is nothing better than a live agent on the other side of the monitor. So no chatbot software can be good without the feature that routes the conversation to the support representative.
While the chatbot market share is increasing year by year, an article in Forbes magazine from 2019 suggests that 86% of consumers prefer humans to chatbots. Change is never easy, and bots at this point in tech development are far from being compassionate listeners and universal problem solvers.
What's the solution then? I see ways how to speed up customer service while keeping your users happy even though they are being contacted by a bot.
First, clearly state that your virtual assistant is a chatbot and not a real human. More than 54% of users want bots to make it clear that they are chatbots! (Not so much to ask for< I must say).
Second, provide a speak-to-a-live-agent option to keep your customers satisfied in case they are too emotional right now, or the case is too complex to solve it with a bot.
7. Omnichannel experience
This is my favorite chatbot feature that businesses nowadays can't go without. This setting allows you to launch a bot not only on your website but also on other platforms (read, messengers). But omnichannel also means that all the conversations that a bot holds on various platforms will land at the same place called Shared inbox.
You can improve the customer support speed across other platforms and be even more productive when assisting clients. In the long run, it leads to a better user experience.
In turn, the shared inbox tool allows your agents to manage the conversations from the same place, check out the history, and recognize clients no matter what platform they used this time to communicate with you.
8. Integration with messengers
Now, let's talk more precisely about the chatbot feature that implies integration with social media messengers. What kind of messengers are the must-have? When answering this question, it's better to rely on your users' preferences and ensure integration with the channels they love a lot.
But there are also common statistics that tell what kind of messengers are the most popular in different regions of the world. Let's have a quick look at these findings:
Depending on the country, different messaging apps are preferred the most. But there's no doubt that WhatsApp and Facebook Messenger have definitely taken over the market. That's why launching your chatbots on those platforms will definitely be the right move wherever you grow your brand.
Have a look at the infographic below to learn about the social media platforms' shares globally by user gender and age.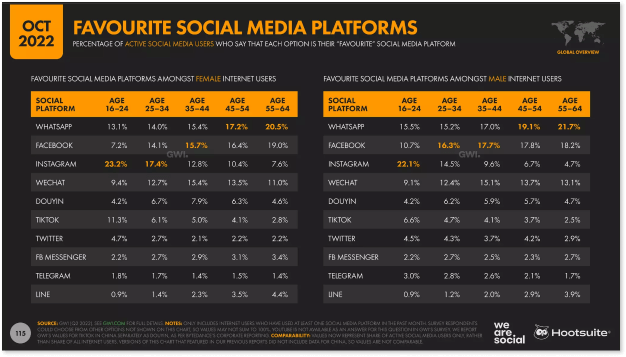 9. Measuring chatbot effectiveness/performance
This is the last but not least chatbot feature that you must have when working on customer service improvement. Tracking the tool's performance is crucial to ensure the best effect possible. This way you will always be on top of things, improving your bot script/conditions/triggers when necessary.
Let's have a look at the most essential chatbot metrics to track:
The number of users engaged in a conversation with a bot. It will show how interested visitors are to talk with a bot.
The number of conversations handled by the chatbot from start to end. This is a clear indicator of how well the bot is doing its job.
The percentage of unrecognized customer inputs that fall outside your chatbot's prescribed workflow.
Customer satisfaction. Send users a request to share their satisfaction level with the interaction that they just had with your bot.
The number of leads generated/qualified by the chatbot. The more, the better!
You will be able to check some of this data on the HelpCrunch platform. The picture below can give you a feeling of how it may look (it's an example screenshot, don't pay attention to low numbers).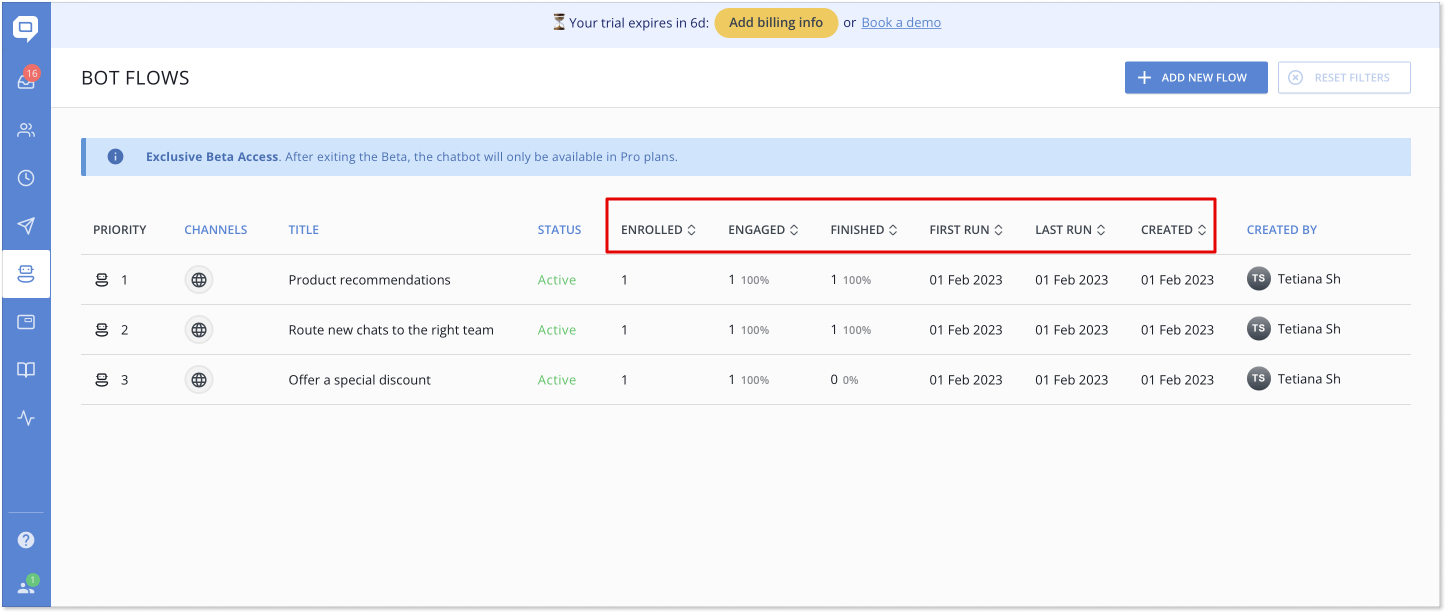 Upgrade your customer service with the best chatbot platform
Now that you know the most essential chatbot features your tool should possess, you can finally pick up the best tool and start improving your customer support right away. Finding the best solution among dozens of options can be incredibly tiring and even stressful. Therefore, it's better to approach the search in two stages.
First, select the top 3 tools that meet your business requirements and then take them for a spin. Most of the best chatbot software offers free trial periods. Second, after testing your three favorite software, sign up for the one you liked the most!
From my side, I can full-heartedly recommend the HelpCrunch platform, the best business tool for customer service.