You won't feel bad because of Black Friday consumerism if you don't buy any goods. And buy software instead!
Black Friday can be a tricky thing. For some, it means they can buy stuff at much lower prices. However, many companies don't do the whole Black Friday thing at all because it increases the epidemic of consumerism and overproduction.
But that is not the case if you invest in software. If you spend your money on business tools, not only do you care about environmental issues, but you can also grow your business drastically at a much lower cost.
Take a look at these great Black Friday and Cyber Monday deals and pick the best ones for you:
1. HelpCrunch — 20% off any subscription plan
HelpCrunch is an all-in-one customer communication platform for Support, Marketing & Sales, which offers:
Live chat and email follow-ups for communicating with customers in real time and closing more deals.
Chat automations and popups for converting website visitors into leads and paying customers.
Targeted and automated emails for improving user engagement.
Knowledge base for providing customer self-service
Help desk for all-around customer support.
HelpCrunch is rated 4.9/5 based on 300+ user reviews on Capterra, G2, Product Hunt.
Black Friday & Cyber Monday offer
You can get 20% OFF any monthly or annual HelpCrunch subscription plan. Contact our team via chat to request your discount.
The offer is valid from Nov 29th to Dec 2nd only for new users.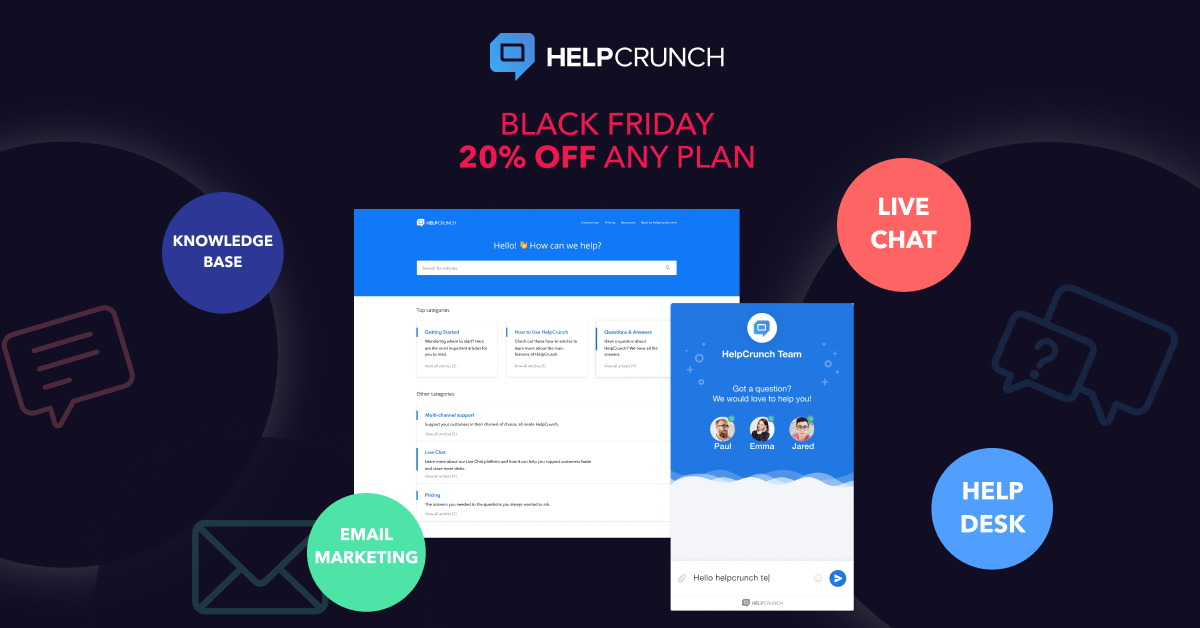 2. SE Ranking — 30% off any subscription plan
SE Ranking is an all-in-one cloud-based SEO and digital marketing solution for business owners, SEO pros, and digital agencies.
The platform offers a complete set of tools that enables small and midsize businesses to run a comprehensive on and off-page website audit, analyze competitors, track rankings, collect and group keywords, monitor backlinks, get automated SEO reports, and do so much more.
Besides standard SEO tools, SE Ranking offers a set of additional features such as White Label and Marketing Plan aimed at bringing your professional digital services to a whole new level. Forget about switching apps. Do it all through a single user-friendly interface!
Black Friday & Cyber Monday offer
SE Ranking is offering a 30% discount on any subscription plan. Just enter the promo code BLACKFRIDAY2019 at checkout once you've signed up for the free trial.

3. Awario — 50% off any subscription plan
Awario is a powerful social listening and analytics tool. You can use the tool to monitor mentions of your brand, competitors, industry, or even set up complex Boolean queries for the less obvious use cases.
For instance, Awario lets you find industry influencers, detect plagiarized copies of your content, find linkless brand mentions that you can turn into links, and more.
Cyber Monday offer
For Cyber Monday, Awario is offering a 50% discount on both monthly and yearly plans.
With pricing starting at just $44.50/month, you'll get access to Enterprise-level capabilities like Boolean search, Sentiment Analysis, social listening reports, data export, and more.
The Cyber Monday sale is on for two days: December 2-3.
You won't need any coupon code to enjoy the deal. Just pick a plan here.
4. Chanty — 75% off the annual 'Business' subscription plan
Chanty is a team chat app that lets you communicate and collaborate with your team with ease.
This tool allows you to:
Chat with your team members
Communicate using audio and video calls and share your screen
Manage your tasks by turning messages into tasks with one click
Integrate messaging with a variety of apps such as Google Drive, Dropbox, Trello, GitHub and many others
Have quick access to all your chats, tasks and files through Teambook
Black Friday & Cyber Monday offer
For this Black Friday and Cyber Monday, you can get 75% OFF the annual Chanty Business Plan.
To get this deal, just sign in to your Chanty team space as owner or admin and hit 'Upgrade'. Your discount will apply automatically.
The offer is valid from November 28 to December 2, 2019.
5. GanttPRO — 30% off any subscription plan
GanttPRO is a project management tool based on Gantt charts with a short learning curve.
The most affordable in its category, GanttPRO offers a variety of cool features such as baseline, critical path, timelog, reports, and virtual resources.
Black Friday & Cyber Monday offer
You can get 30% off any GanttPRO plan. Just follow the link and use the coupon masterofprojectblackfriday.
The offer is valid from November 28 till December 3.
6. Stripo — 50% off the annual Agency subscription
Stripo, a drag-and-drop (WYSIWYG) and HTML email template builder, is there to help you create high-quality interactive emails twice faster.
The vast majority of the Stripo's features are meant to automate email production: personal content library for storing the most frequently used email elements; 300 sophisticated ready-to-use templates that serve as the base for future campaigns; banner generator for designing multi-layered banners
Black Friday & Cyber Monday offer
If you're a new user, you can get 50% off any Annual Agency Subscription with the promo code BFSO9E3XeS.
The deal is valid starting from November 11 up until December 31.
7. ONE by TemplateMonster — 30% off the annual subscription
TemplateMonster offers 30% off their ONE Membership. ONE is your ultimate web development kit that includes:
WordPress and CMS Themes
E-commerce Themes
Powerful Plugins
Presentation Templates
Diverse Graphics
Unlimited Installations
24/7 Technical Support
1 Year of Free Hosting
Black Friday & Cyber Monday offer
As per TemplatMonster's Black Friday & Cyber Monday offer, you can get 30% OFF the Annual Subscription to the ONE kit.
The offer is valid from Nov 21th to Dec 3nd.
8. Lemlist — 30% off the first 3 months
Lemlist is a cold email tool that helps agencies, sales teams and B2B businesses personalize and automate outreach campaigns. There are three unique features that lemlist provides you with.
Number one is the ability to insert & overlay custom screenshots, images or logos onto images within your emails. That way, you're adding a much-needed personal touch without sacrificing the ability to send emails at scale.
Number two is auto email address warm-up. By leveraging this feature, you will significantly boost your email deliverability without breaking a sweat.
Finally, you're able to launch all kinds of sequences and put them on autopilot, without losing their personalization at scale feature.
Black Friday & Cyber Monday offer
You can get 30% off Lemlist for the first 3 months — just use the promo code LEMLISTLOVEFRIDAY.
Please note that the offer is valid only for new customers and available from November 29 to December 13.

9. StoryChief — 50% Black Friday & Cyber Monday deal
StoryChief is a SEO blogging and content marketing software that ranks #1 on Product Hunt. This all-in-one content marketing tool allows you to:
Cut your content process in half
Reach more people with your content with one click
Track your performance in one place
Collaborate with your team
All plans include a user-friendly editor, SEO assistant, collaboration tools, a free blog, publishing to tons of channels, measuring data, etc.
Black Friday & Cyber Monday offer
New users can get 50% OFF any StoryChief plan for 3 months. The offer is valid from November 21 to December 6.
10. NetHunt CRM — 50% Black Friday & Cyber Monday deal
NetHunt is a lightweight & powerful CRM in Gmail for sales teams and small businesses. G-Suite integrations, visualized pipeline, email view tracking, sales insights — all at your fingertips.
Here's what NetHunt offers:
Native-like Gmail & G Suite Integration. NetHunt CRM turns Gmail inbox into a sales tool that helps you manage sales pipeline and deals.
Applicable for Any Industry. From a tech startup to real estate — NetHunt fits your shoes.
Personalized Outreach Campaigns. Filter leads by stage, priority, deal value, and send bulk personalized messages.
Insights into email performance with open and click tracking, link emails with the client's records and see the entire history of communication.
Synchronized Sales & Marketing. Create a unified ecosystem for the whole company to be on the same page.
Black Friday & Cyber Monday offer
Get 50% OFF any monthly or annual NetHunt subscription plan with the special promo code BLACKNH.
This offer is valid from Nov 29th to Dec 1st. More details on our Black Friday page.

11. Adzooma — last chance to buy by the old prices
Adzooma is the only management platform you'll ever need for your Google, Facebook and Microsoft Ads campaigns.
Black Friday & Cyber Monday offer
Adzooma has always broken industry standards and Black Friday is no exception.
This year, instead of lowering their prices, Adzooma are raising theirs after expanding the product to Google, Facebook and Microsoft Ads.
If you want to grab a bargain, get their lower prices before Black Friday.
No coupon required, just sign up before November 29 to secure your spot before price increase.
12. Crowdy.ai — 50% off any annual subscription plan
Сrowdy.ai is a social proof platform that combines several tools to turn your website visitors into customers.
This all-in-one marketing tool allows you to:
Collect and display testimonials from your customers
Collect and display product and service reviews
Show star ratings for your products and services
Show conversion notifications
Show your social media follower count and get new followers with one click
This tool has everything you need to perform every marketing activity there is, without hiring a marketer.
Black Friday & Cyber Monday offer
For Black Friday and Cyber Monday, you can get 50% off any annual plan.
Just sign up using the link below any time between November 29 and December 2 and you will receive your discount immediately.
13. Owox BI — 60% off the first 3 months
OWOX BI is a comprehensive marketing analytics service that helps companies meet their marketing goals on time and grow 22% faster than the market average.
CMOs use OWOX BI as a personal marketing analytics assistant for strategic decision-making; marketers use it to get precise estimates for advertising campaigns and find growth areas; and analysts use it to easily merge data from different sources while minimizing the time-to-value gap.
Black Friday & Cyber Monday offer
Get 60% discount to every subscriber for three months of OWOX BI Pipeline Basic with the promo code BlackFriday2019.
Your promo code is valid through December 3t, 2019. Once activated, you'll have 3 months to purchase any of our Basic plans with a discount.
14. Cloudways — 40% off for the first 3 months
Cloudways is a Managed Cloud Hosting Platform that takes care of your website hosting hassles and lets you focus on what you do best.
The Platform offers users the liberty to deploy their favorite online web applications in just a few clicks on the top five cloud providers (Amazon Web Services, Digital Ocean, Vultr, Google Compute Engine & Linode).
Black Friday & Cyber Monday offer
Get 40% off for 3 months on all hosting plans with the promo code BFCM40. The offer is valid from from November 14 till December 4.
15. Hoppier — 20% off your first order
Looking for office snacks? Drinks? Fresh fruit? Office supplies? Discover the easiest way to order office essentials with the Hoppier ordering app! Hoppier brings all your office needs into one place – with a massive selection of workplace items for great prices.
With thousands of healthy options, automated ordering features and a feedback portal, you and your team will love having Hoppier in your office.
Black Friday & Cyber Monday offer
Get 20% off your first order here. This offer is valid from November 29th to December 3rd.
16. ReferralMagic — 50% off the first 3 months
ReferralMagic is referral tracking software to virally grow your business. Referral Marketing is just the digital version of "Word of Mouth Marketing" with proper tracking and referral incentives involved. And it is the best way for marketing without much investment on advertisements and promotions.
This all-in-one tool allows you to convert more users by word-of-mouth marketing which offer you to:
Lower Investment: In referral marketing, you don't need to invest money in advertisements and branding to get reach to new customers. You only have to give benefits or incentives after getting sales or new customers.
Easy Conversions or Good Conversion Rate: People are much more likely to buy your product if they have been referred by other real people. Through traditional advertising, you will need to invest much more effort, money and time to convert the same customers.
More Brand Loyalty: When customers are referred by someone about your brand, they already feel good about it and are more likely to stay long with you and refer other customers also. Ultimately you will get much more loyal customers through it.
Black Friday & Cyber Monday offer
Get 50% OFF in December for the next 3 months on any monthly or annual subscription plan. The discount code is SAASBUNDLE.
Just let the team know in chat which one you want to get and they'll take care of the rest. The offer is valid from Nov 29th to Dec 2nd.
17. Weblium — 25% off the Pro subscription
Weblium is the most convenient website builder, powered by AI Design Supervisor and trusted by more than 35,000 creators around the world.
In the Weblium editor, you can choose from 168+ pre-designed templates that are completely customizable and based on the best niche sites. AI Design Supervisor will adjust the visual look of your site during editing, while our helpful support will assist you along the way.
Your website will be hosted on Google Cloud, secured by SSL certificate, and automatically optimized for all devices. Weblium has all the necessary SEO settings so your site will be indexed really fast and ranked high by Google.
Building a unique site with Weblium is free, efficient, and attainable for everyone. You don't need to be a tech-savvy web designer—the only thing required is a clear vision of why you need a site!
Black Friday offer
Create a site that you'll love at absolutely no cost. When you're ready to bring it to light, upgrade your website to PRO with an amazing 25% discount.
Make sure you activate your Black Friday promo code BLACK-FRIDAY-25 before it expires on November 30.
Bottom line
Investing is software is always a good idea. Having modern and powerful tools allow you to grow business faster and advance more effectively.
So, liked anything in particular? Grab the deal right away before it expires.
HelpCrunch articles delivered straight to your inbox 🚀
All the latests posts. One email per month.
No strings attached.
Read also
News
Today, we're happy to announce that HelpCrunch is starting a long-term financial and technological partnership with UniSender. This is the beginning of some great deeds!
News
We're glad to announce that HelpCrunch has been featured in the Top 10 of the Customer Service Software category on GetApp.
News
As always, we have lots of updates and improvements for you. Check them out!