What is Lead Generation in Digital Marketing and How to Make the Most of It?
In this post, we decided to finally make it clear what lead generation in digital marketing is. We also offer a few killer strategies on how to increase the number of leads. Have a look and keep growing 🚀

I don't know how it is in your company, but we in the marketing department are constantly talking about traffic boosts and lead capturing. And every activity that we are organizing whether it's a newsletter, a social media post, or a new popup – all aims to get more prospects and increase sales, obviously.
By the way, this article is yet another way for us to grasp your attention, introduce our offer, and try to move you forward in the sales funnel, my dear reader. But don't worry, no pressure. We provide you with valuable information, and you decide what to do next.
Before the ink is dry on the page, let's move on to the next part of our article where you can learn what lead generation in digital marketing is, what the types are, and, finally, how to generate more leads right now.
What is lead generation in digital marketing?
Lead generation in digital marketing is a process of turning internet users into paying customers of a certain business. So the main task here is to spot the most suitable mass among billions of online surfers and target them with the right pieces of content.
This is not a one-step process as it consists of finding, attracting, and capturing leads with the purpose to close the deal.
Here is a quick picture, demonstrating the lead generation process.
What are the types of lead generation?
Typically, lead generation falls into two main sections:
Outbound lead generation, including email automation and lead nurturing.
Inbound lead generation refers to blogging, knowledge base, SEO, social media, and PPC.
Before we move any further, I'd like to show you a full lead generation scheme that presents the variety of channels through which you can capture prospects. This graph includes online and offline avenues.
In this post, we will focus on lead-generation channels in digital marketing. Without further ado, let's have a look at major online sources that can bring you more prospects:
Organic search traffic. That's the most reliable source of leads, but it takes time and patience to build that up. In general, you can generate organic traffic to your website by sharing blog articles, knowledge base posts, product updates, case studies, etc. But the main part is to optimize content for SEO to drive traffic.
Paid advertising. Contrary to the previous tactic, there is another method where you pay money to be displayed on top of Google search, on different websites and platforms. It's the fastest way to quickly increase website traffic, but if those visitors can actually become your customers depends on many factors (like proper targeting).
Affiliate marketing. This tactic allows you to outsource part of your sales process to affiliates. In turn, affiliate marketers will help market your service or product on their website and bring more potential customers.
Email marketing. It's one of the greatest sources of leads as users love receiving useful information and special deals via email. You can launch an email campaign targeting potential prospects who shared their contact information with you.
Referrals. If you already have a loyal customer base, offer the clients to refer your product to their circle. In return, give them a special discount, or a free sample.
Social media platforms. Being active on social media pays off as users learn about your offer and might use it when there is a need. It's also a great tool for raising brand awareness that at some point might result in more quality leads and customers.
How to generate more leads with the help of digital marketing?
1. Create content for lead generation
As a content marketing manager, I am delighted to say that it's one of the main ways to boost lead generation. Every part of digital marketing thrives due to quality content. Think about it, your blog, knowledge base articles, social media posts, eBooks, white papers, and videos – these hooks attract clients to your brand.
Producing quality content can help you capture more leads and improve its conversion rate. And the reason is simple, people want to get valuable information, and if you are able to provide it, they start to trust your product automatically.
Trust is the keyword here. It's the first condition required to generate leads. First, they appreciate your content, next, they take your product for a spin, and finally, give their money to you.
So, let me be more specific here and elaborate on how you can generate leads with quality content:
Offer gated content such as free downloadable eBooks, guides, white papers, research and statistic reports, etc. Make sure to clearly state the value of these materials, so that users can't help but share their email addresses to get a free guide.
Produce informative unique articles for your blog. This is the content prospects will probably encounter when googling their topic of interest, so your blog posts have to be extremely useful and memorable. Make everything to help them shine through!
Write knowledge base articles to help the sales team to highlight the benefits of your offer. When talking to potential prospects, it might be challenging to explain the pros of your product. Use knowledge base content to prove your excellence. Also, if optimized for SEO, helpful articles can bring more leads to you organically.
Create videos on high-volume topics to attract customers via organic search. It's an engaging type of content that can be both informative and funny.
Optimize your content for SEO. High-quality materials seasoned with search engine optimization will help you get your articles to the top of any search platform.
2. Take advantage of paid advertising
While organic channels can take some time to pay off, paid advertising is the fastest way to generate more leads. Considering the growing competition, businesses are kind of forced to buy ads to get to Google's top search results or appear on social media as sponsored stories/posts.
Paid advertising is basically a model where advertisers pay money to show their ads within platforms. It is also often called PPC (Pay-Per-Click) advertising, which makes total sense as you usually pay every time someone clicks on your ads.
There are many online advertising channels, let's have a look at the most popular ones.
Google Ads is the best-known online advertising platform that allows you to advertise on Google search, YouTube, and numerous websites or apps which are a part of its network. So basically Google matches keyword inputs in the search bar with your ads.
Facebook Ads encompasses advertising on Facebook, Messenger, and Instagram. The tool might look overwhelming at first, but it does offer wide capabilities, reporting, and targeting based on a lot of criteria (users' interests, the pages they like, and even characteristics about their friends).
Twitter Ads is another lead generation channel that allows targeting people based on keywords, their interests, the conversations they take part in, and the fact if the users were engaged with your tweets in the past.
LinkedIn Ads channel is focused on professionals specifically. It enables you to target users based on their company, industry, or job title as well as geographic and demographic data.
It's for you to choose the target audience, but you can show the ads to your potential customers when they search relating to your topics, products, brands, or services.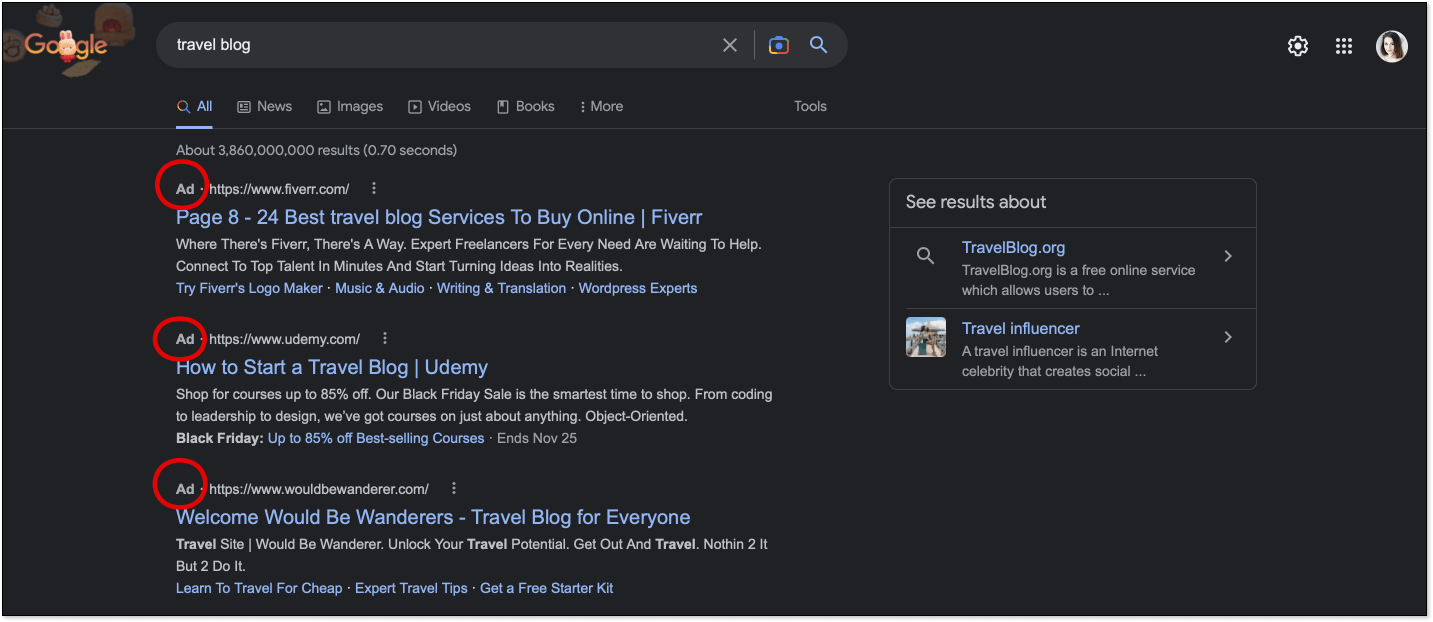 3. Use social media for lead generation
"Hey, folks! Don't forget to like, comment, and subscribe to my channel to get more content like this", you can hear/read a lot of these encouraging lines on social media. And they got that right. Social media is a strong lead-generating resource that almost half of marketers still try to cope with.
Nevertheless, it offers immense opportunities to businesses worldwide to attract and convert more customers. And the first thing to do is to come up with a strategy for social media marketing. Even though it seems simple, you can not enjoy a growing number of leads while you share posts chaotically without a proper plan of action.
But once you have your master plan, you can capture leads through posts, stories, videos, comments, and much more.
Time to have a quick look at tips for lead generation with social media.
In your bio, clearly indicate who you are and what your business is about.
Regularly post useful yet entertaining content to improve brand awareness and increase website traffic.
Always reply to comments and texts from your customers on social media.
Make social media platforms the stage for your most experimental and engaging content.
Make sure the information you are sharing is useful among other things and can really solve your users' pain points.
Don't neglect hashtags. Yep, it's still a thing!
By being active on social media, you attract the attention of new followers. And they can turn into potential leads if the content you share is relevant to your users.
4. Add email lead generation to your strategy
It's another common technique that marketers around the world use to capture more prospects and turn them into customers. To be exact, 89% of respondents claim that email is their primary channel for generating leads. So, make sure to learn more about the magic of email marketing and how to apply it at your company.
In short, email lead generation is a process of collecting email leads using an opt-in form. It includes gathering names and email addresses of potential customers. How? Through variation of different activities, some of which imply offering freebies in exchange for their contact details.
The next step of the email lead generation tactic is nurturing the collected leads and eventually turning them into paying clients. When done right, this strategy brings about enhanced customer engagement and raised sales.
Let's talk about methods for email lead generation:
Create an irresistible offer that serves as a lead magnet, making users fill in the opt-in form and add their name and email address to your database. Remember, not each user who shared their email for a freebie is your potential customer, that's why lead qualification and nurturing are important.
Design catchy emails that users find attractive and engaging. For lead generation, it's crucial what your subject line is and how you design your letter. The email should be engaging and speak to your target audience. We vote for clean and concise emails.
Make sure your CTA is click-worthy for users. Lead-generating emails usually include a call-to-action button that invites users to buy a product or sign up for your platform. The most effective CTA buttons incorporate an element of urgency, excitement, and mystery. As a rule of thumb, this kind of call-to-actions is hard to ignore and get users to take the desired action.
Use the benefits of automated campaigns. Add email automation to your list of lead generation techniques to better nurture your leads. It allows you to schedule emails based on your prospects' behavior and interaction with your brand. Set up specific triggers (signed up to your newsletter, opt-in to your email list, stayed inactive for 3 days, etc.), and send the right emails to the right subscribers at the right time.
Businesses use email marketing not only for lead generation and customer nurturing, but also to increase user engagement, update clients on any changes, or up-sell their products.
5. Optimize your website and all landing pages
Website optimization is an ongoing process that includes the improvement of each element on your landing pages with the goal to accelerate conversions. Of course, you shouldn't do that based solely on your instinct or a hunch, instead, use data and hard facts about customer behavior on your website.
Why is it an ongoing process? Trends change and so do user preferences. Thus, it's important to update and redesign your landing pages once in a while.
If you haven't created your website/landing pages yet, you can obviously survey your target audience first to get to know what they expect from a website. But I suggest having a look at your competitors' landing pages and building yours based on your findings. Chances are your prospects would prefer a similar layout.
However, no matter how hard you try, you won't be able to create the perfect landing page from the start. But no worries, just push the page live, analyze user behavior data (hello, heatmaps 👋), monitor conversions, and then provide changes to optimize the website.
Here are a few approaches to how you can optimize your landing pages and website:
Make your offer clear to users on your homepage
Keep the whole content simple and to the point
Create a straightforward CTA button
Add live chat for instant communication with your customers
Include testimonials to convert indecisive customers and show another social proof to build brand trust
Optimize your landing pages for SEO
Shorten the loading time to decrease the bounce rate
Leverage popups to engage customers on your website more effectively
How to use HelpCrunch for lead generation in digital marketing?
HelpCrunch is a customer communication platform for support, marketing, and sales. Our team and I offer you a number of handy features for lead generation in digital marketing, such as live chat, popup builder, knowledge base, email automation, and much more.
Let me be more precise here and quickly describe to you how HelpCrunch can be of use for lead generation.
Live chat/chatbot
When landing on your website, users might come up with a question regarding your product. That's when they start looking for a Contact or Help Center button. But nothing would make them happier than a live chat widget placed on your homepage, as it's the fastest way to get the information they need.
The HelpCrunch platform offers a smooth live chat experience for your clients plus a chatbot for FAQs and lead qualification. We also suggest setting up auto messages in a live chat to greet your visitors and encourage them to start a conversation.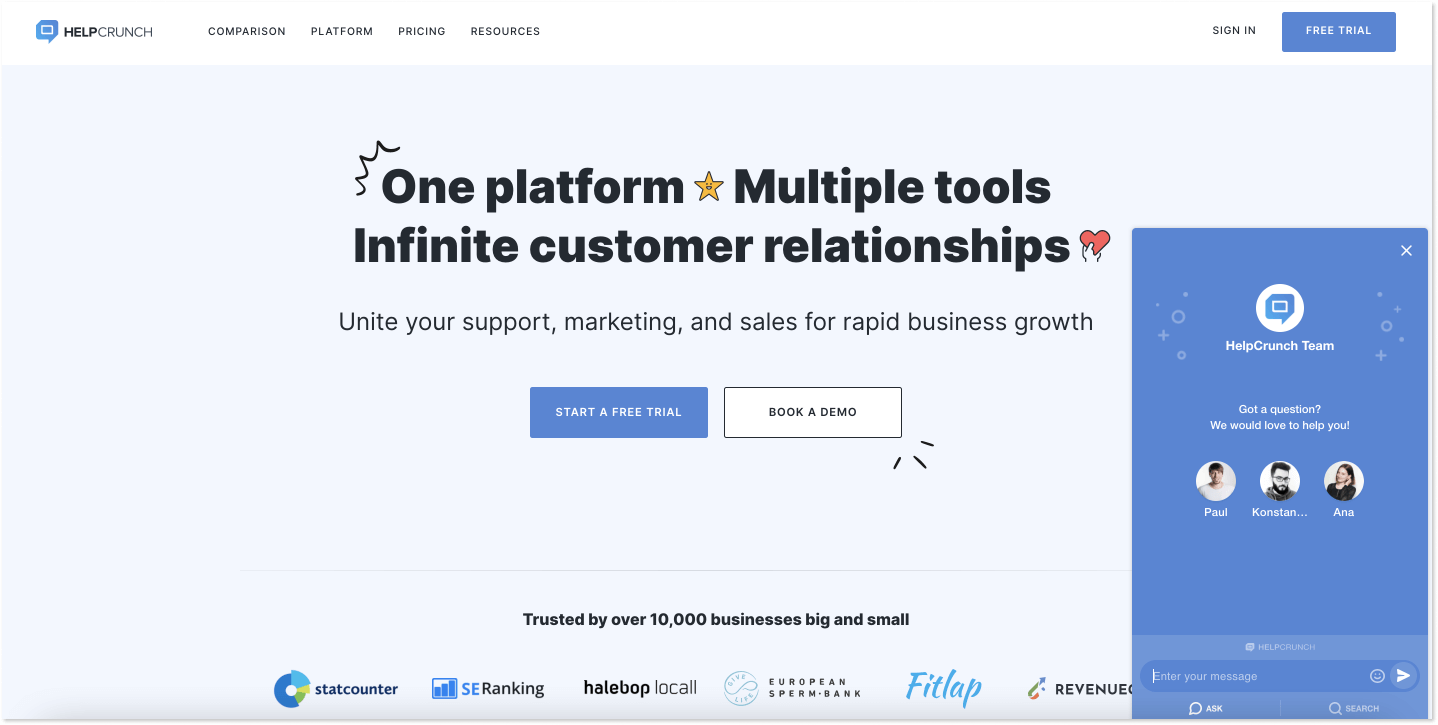 Popup
With HelpCrunch, you can easily create and launch a popup on any page of your website to capture more leads. The good part, we offer a few templates, so you don't have to spend hours, squeezing some creative solution out of an empty banner.
There are 20 display rules, so you can adjust triggers for your popup any way you like. For instance, in a popup window, you can invite users to download gated content or subscribe to your newsletter. Another effective way of capturing leads is an exit intent popup that offers, say, a huge discount for first-time buyers.
Knowledge base
Without undue modesty, I can say that our knowledge base tool is a well-oiled machine for customer education and lead generation.
It's easy to create, add, and categorize articles in the help center. In terms of lead generation, you can optimize your content for SEO right in our tool, providing titles, meta descriptions, and keywords.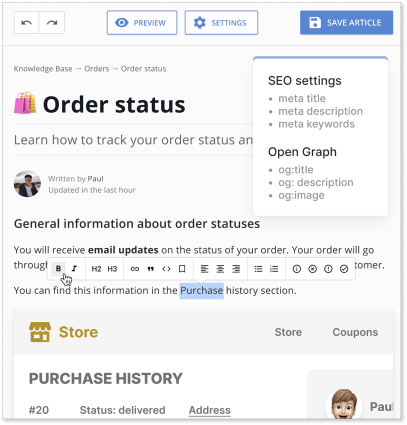 Email automation
Among other opportunities, HelpCrunch has an email marketing tool that allows sending email campaigns and catchy newsletters.
Pick a template you like, adjust it to your business needs and send a letter to your email leads to nurture them. With the right approach, you can actually get more prospects and customers.
Conclusion
Whatever you do online to attract customers – social media posting, emails, live chat auto messages, blogging – you are already generating leads. But if you dive deeper into all the sources and strategies that digital marketing nowadays has to offer, you may find yourself rolling in leads and new clients very soon.
In this article, we introduced a few proven strategies to increase lead generation. But what is a plan without the ability to carry it out? If you are looking for the right tool to send emails, set up a live chat, and create a knowledge base, our HelpCrunch platform is at your service. Feel free to sign up for a 14-day free trial and see if it's the right fit for you.