Technological and Financial Partnership: UniSender Invests in HelpCrunch ?
Today, we're happy to announce that HelpCrunch is starting a long-term financial and technological partnership with UniSender. This is the beginning of some great deeds!

Today, we're happy to announce a long-term financial and technological partnership between HelpCrunch and UniSender.
2020 has been a pivotal year for all businesses. The partnership with UniSender allows us to continue growing and building our products during this hectic time, making HelpCrunch even better for our users.
Founded in 2008, UniSender has established itself as a leading provider of marketing automation services. As a strategic investor, the company cooperates with emerging SaaS companies like HelpCrunch, providing the necessary expertise and resources.
UniSender is a strategic investor, so I want it to be a top-notch industry partner for young and promising teams in the field. By partnering with these teams, we will become a game-changing resource for them.

Dmitry Soloviev, Chairman @ Unisender
In March 2020, we've finalized all the negotiations between HelpCrunch and UniSender which resulted in a major seed investment and some important long-term collaboration plans.
Our road to this seed investment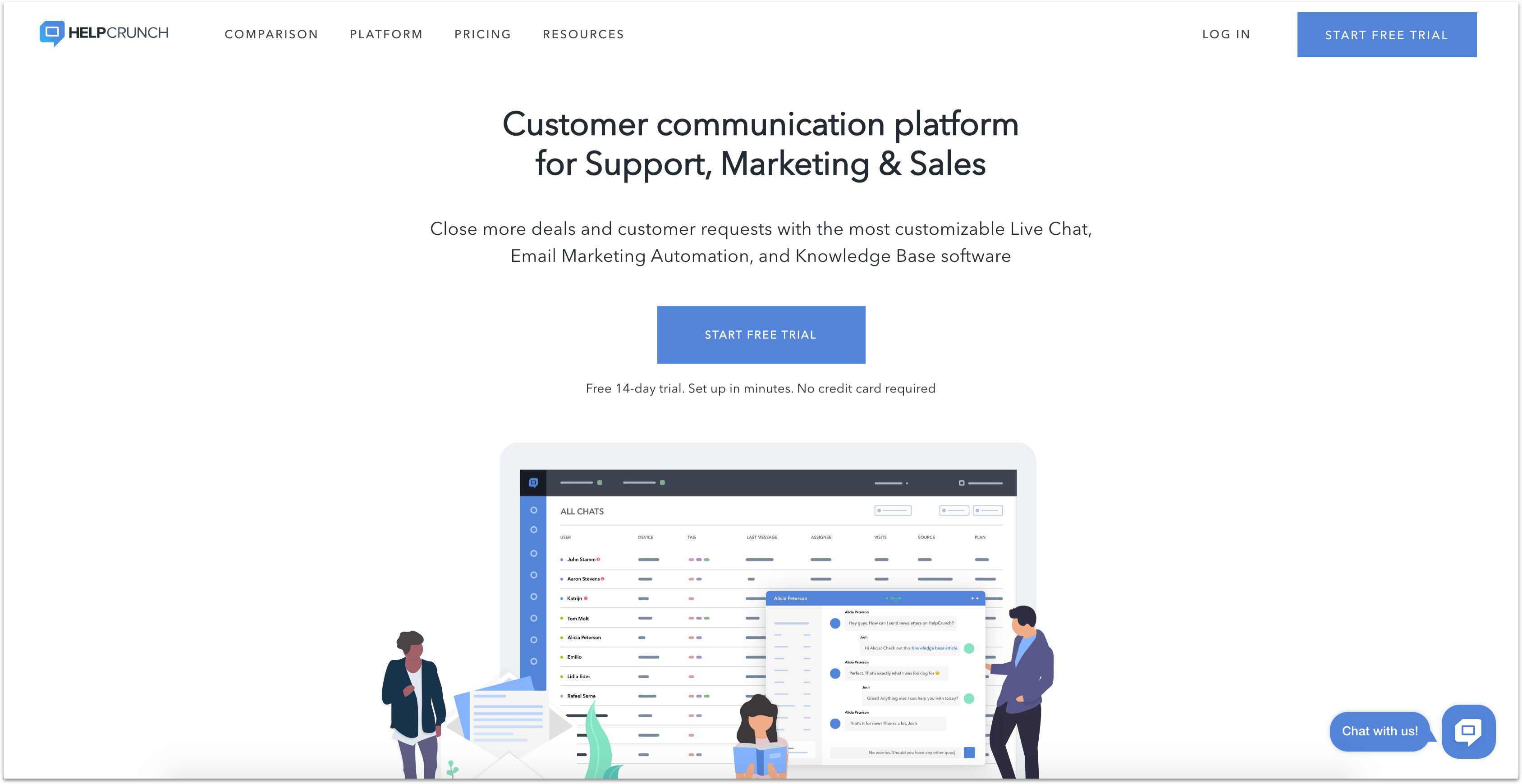 HelpCrunch is a relatively young project that was founded in September 2016. The idea came to us from the long-standing pain of communications between businesses and customers. Until recently, it was really painful to try and contact a customer support team of any business. All we could get were "we accepted your appeal and will contact you within 72 hours" and "you are 10th in line, stay tuned". Remember that?
Given the growth of the online presence of any business, it became clear for HelpCrunch founders that businesses need to communicate with their customers in exactly the same way — through live chat tools. At the same time, it was necessary to seamlessly integrate and automate old communication channels so that businesses have the opportunity to build customer service at scale.
After having spent 5 months on creating and launching our first Minimal Viable Product (MVP), we just needed to prove our theory. It was back in 2016 when the entire platform consisted of a chat and some email automation.
The idea was simple. With the help of our product, businesses should have a chat to communicate with customers in real time and then switch to email right in the middle of the conversation to continue communication there. Clients would return to your website at any time and see their entire chat history including email messages.
Thus, the problem of multi-channel communication with customers was solved. The chat itself was easily automated to increase conversions from a visitor to a chat with the help of in-app notifications (e.g. onboarding, training, announcements, company news).
We got our first customers immediately after the launch in 2017. However, there was a lot of work to do on the product, so we hadn't launched any massive marketing campaigns until 2018.
Fast forward two years, thousands of live chat operators around the world and hundreds of marketers use our product, and the first MVP has turned into a full-fledged platform for full-cycle support, marketing, and sales. The platform offers the following tools:
Live chat for a website, mobile apps, or web products
Email marketing automation
Knowledge base for self-service
Automatic chat messages for increasing conversions across all stages of the funnel
Help desk for quick customer requests processing
Popups for engaging even more leads and customers
In the near future, we plan to add most of the popular messenger integrations to HelpCrunch for additional communication channels as well as chatbots and other third-party integrations. Our mission is to provide a simple interface for any interaction with customers, without the need to configure and integrate different customer service tools.
I want to believe that we've built a reliable solid platform as it is, so now we want to ensure further financial and technological growth of the project. That's when we met UniSender.
So, where does UniSender come in?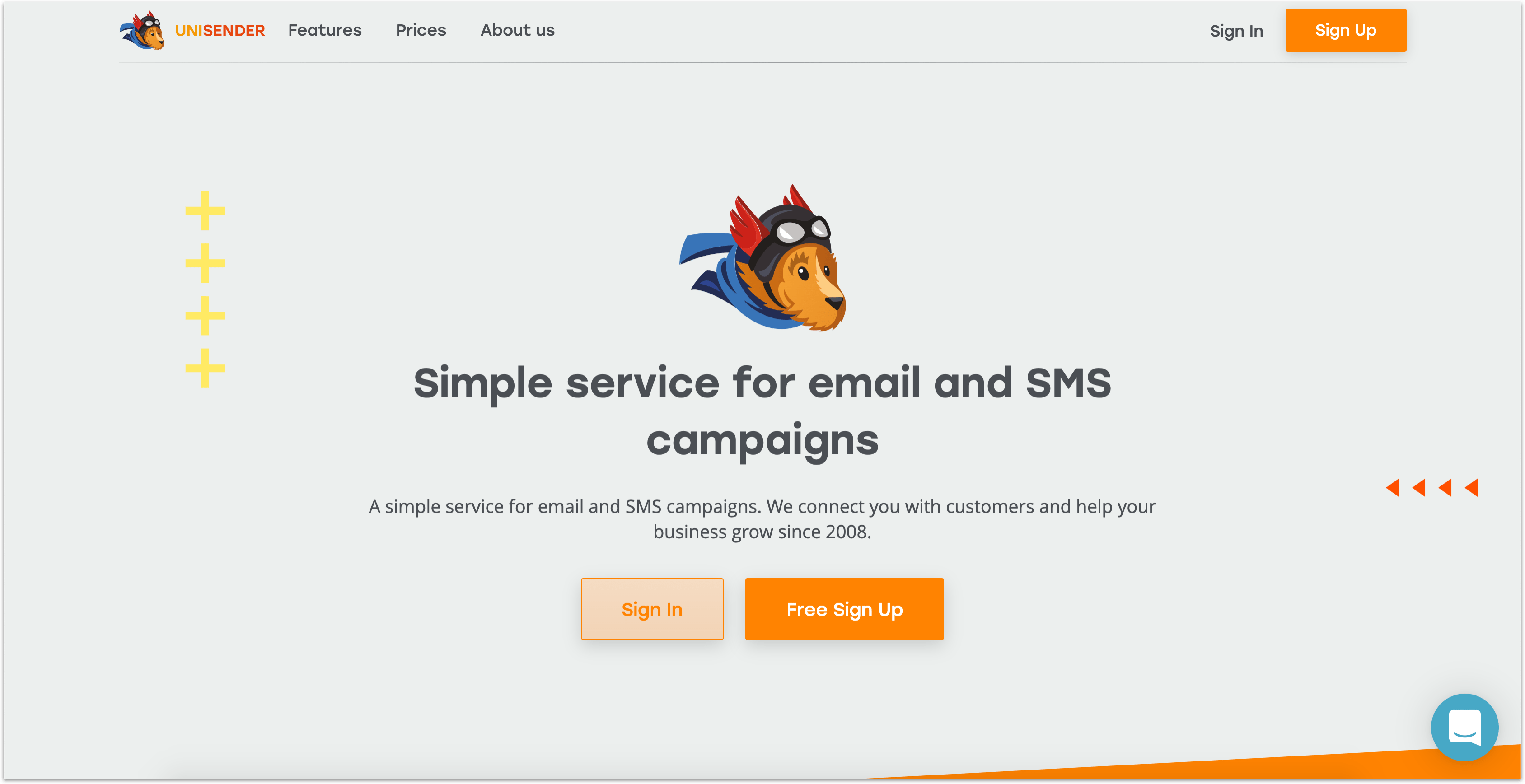 Since 2008, UniSender has been offering a streamlined SMS and email marketing platform for SMBs. Unlike the HelpCrunch all-in-one customer communication solution, it's a mono product with a sole focus on email automation and SMS marketing.
We are a team of 100+ people. We created UniSender to help our clients in doing profitable email and SMS marketing. It has a user-friendly interface that allows you to create an email campaign in 15 minutes from scratch. With the help of UniSender a small floristic studio can send discounts for bouquets to their customers. A big retail company can send their transactional and triggered mailings.

About UniSender
Financial cooperation between UniSender and HelpCrunch
The timing was no mere coincidence. After Intercom increased their prices again this year, UniSender started looking for better and more affordable Intercom alternatives for their customer service. Little did they know that they would also find a long-term partner.
HelpCrunch immediately caught their attention as a powerful all-in-one customer communication tool and gave them the idea of investing in our product as well. Then it turned out that our functionalities also intersect to some extent.
All in all, the situation presented some huge potential for a fruitful collaboration.
After a couple of months of negotiations, HelpCrunch has closed a seed round of funding. UniSender has become our major strategic investor and technological partner, combining their technological expertise and financial resources with our vision for a better business communications platform.
Technological partnership between UniSender and HelpCrunch
Users of both platforms will notice some overlap in our functionality. Both UniSender and HelpCrunch offer their customers access to email marketing automation features, creating a perfect opportunity for collaboration.
In 2016, we chose Mailgun as our email API partner. Even though we are very happy with this decision, Mailgun has some limitations that don't align with where we want to take the product next.
At the same time, UniSender offers a proven API solution with similar powerful capabilities called UniOne. The technological partnership with UniOne will allow us to overhaul our email marketing platform. For instance, we're planning to launch our brand new drip campaigns platform in Q4 of 2020, which will now be fueled by their powerful email API.
For our users, this means a drastically improved email marketing experience. You'll see better deliverability rates for your email campaigns, expanded targeting opportunities, and a more in-depth reports functionality.
Looking forward to what's coming our way
We're excited to work together with UniSender on building a business communications platform of the future. Combining their email marketing expertise with our technology will result in a better, faster and more powerful HelpCrunch for you — our user ?
As you know, these are unprecedented times. Nobody knows how this industry will change in a year. But no matter the challenge, UniSender and HelpCrunch will tackle it together.
Personally, I think this is the beginning of a beautiful friendship.