7 Shared Mailbox Best Practices: Keep Your Team on the Same Page
Does your team work in unison? If your answer is no (which is not good, obviously), we present here 7 shared mailbox best practices so that you can unify with colleagues towards a mutual goal.

You've got a new message – this phrase triggers many customer service reps' emotions, from a sigh of relief to eye twitching. Why does the second scenario happen? Well, let's see…
I would say that there are four reasons:
1) Customer support agents don't know their duties and competencies,
2) The email inbox is crammed to the gills,
3) There's no route plan when a new query lands in the inbox,
4) Lack of an appropriate tool to help deal with incoming correspondence fast.
The result is pretty obvious: complete pell-mell in the inbox.
If you relate to this situation at least a tad, we won't let you skip a beat (as we always do!). Because there's an ideal way out – a unified inbox. Read on to find out what this thing is as well as some shared mailbox best practices so that your team runs like a charm.
A shared mailbox (aka inbox) stands for a special folder where all the incoming correspondence lands and teams can process it working in tandem. They can send emails back using one common group email address, for instance, info@, hello@, sales@, support@, etc. Basically, this is what Gmail or Outlook accounts are all about.
If you hear about such a mailbox for the first time (which I doubt, of course), there are some of its major use cases that your company might embrace:
Customer support – let's say, your support team has this shared inbox: supportheroes@company.com (or any other name you pick, this is the catch!). Each time a client shows up with an email support request, it'll land in this very inbox. Prioritize or move queries automatically and manually, escalate more complex issues, and infuse knowledge base to search related articles immediately. So you don't have to ask Lucy from the sales dep or Mike from the devs team to forward you that email.
Sales department – I guess this inbox tends to be the most jammed one in a company. When a prospect or a new lead contacts you over email, the sales reps open the ball right away. You can round-robin customer requests in the inbox so that each team member gets the same workload, set reminders to follow up, etc. No mishmash, lost opportunities, and killed deals.
Marketing team – each time you have an interested partner scouring your website for contacts, they see marketing@company.com, so that's half the work. The next step is when they actually contact you. And the whole beauty is that you won't be looking for their email for ages as everything will come to one inbox. That's time-saving and helps you always stay in the context.
Now that we've talked the talk, time we discussed the key agenda – the best practices for managing a shared mailbox. Get ready as these recommendations are worth the salt.
1. Gather all communication under one roof
Remember the times when your dialogues were scattered across the desktop and tabs? You never knew who wanted what, where this or that info was, and why on earth Tim from your department asked you to loop in the discussion with a client. This dumpster fire ate up your time and nerves.
With a shared inbox, you'll be free of such a pain in the neck. Duh, this is what the whole concept is about! Live chat, email, Instagram, WhatsApp, Telegram, and Facebook Messenger conversations will float into the same place.
❗️Just a casual mention: being a customer communication platform your team will thank you for, HelpCrunch provides a shared mailbox as well. So it doesn't matter what messenger your customer uses to write you, no message will fall through the cracks. To test-drive it, create a free account (14 days, no strings attached).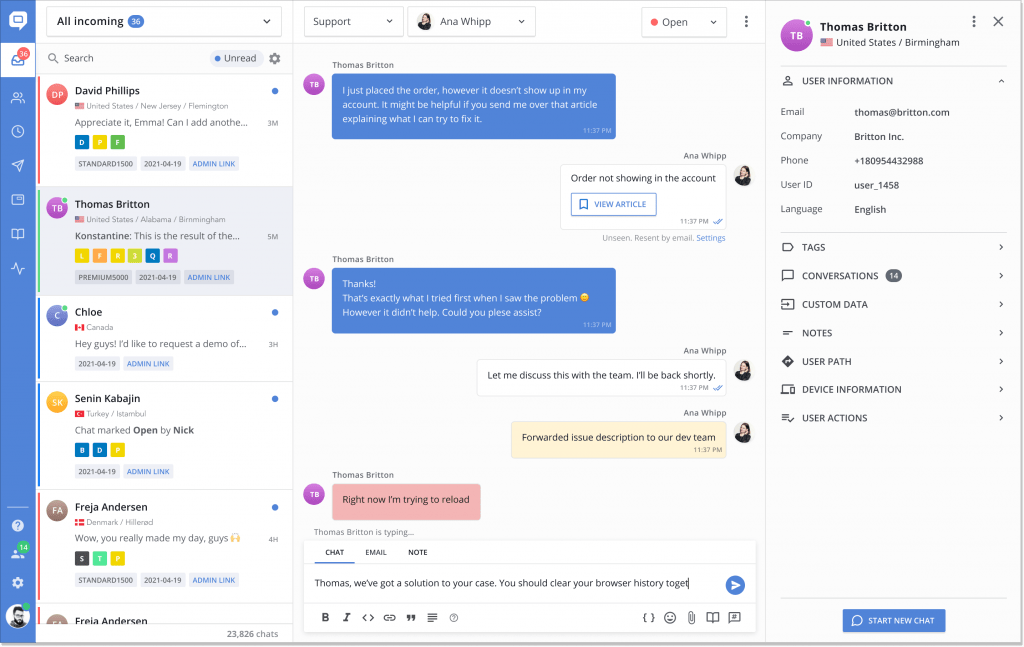 2. Orchestrate emails the right way
Have you ever calculated the number of emails you receive every day? I guess you'll get more than 100. They're all different, and that's why each of them requires its own organizational game plan.
For instance, you get an email where a customer asks about your pricing policy. This is clearly a sales team case. Or here is a technical issue that needs to be escalated quickly. A devs team would be of help the most. If your software allows it, use labels or tags to organize everything logically. This would be the easiest way.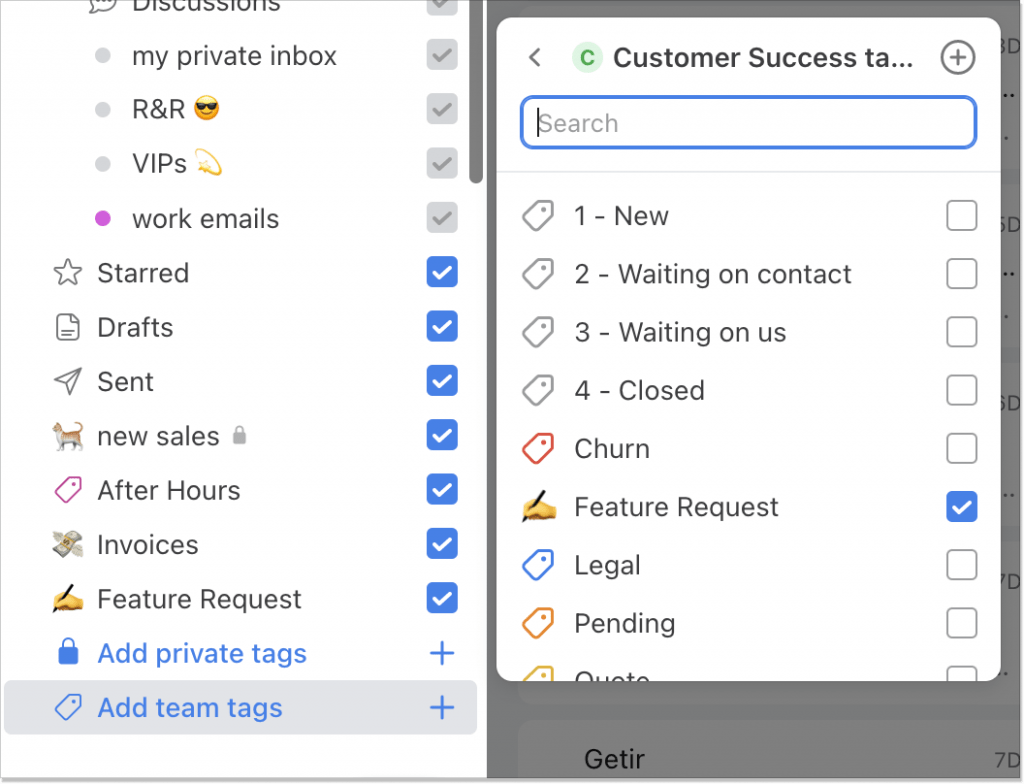 To make all this a coherent picture, there is one more hack. We at HelpCrunch have already forgotten what a cluttered inbox looks like thanks to custom inboxes. Oh, this feature is a blessing! Judge by yourself:
Prioritizing the correspondence and reacting to clients' requests in the nick of time;
No limitation with default HelpCrunch inboxes (On-hold, Open, All incoming, New, Departments) – you can shape everything according to your rules;
Using filters to achieve an immaculate chat hierarchy – for instance, you can use the Status, Assignee, Agents, Tags, to name a few, and the chats with these filters will automatically be shown in your custom inbox.
Interested? Just click Add new inbox once you're logged in to your HelpCrunch account, and you're all set:

3. Set up an automation system
The best practices for managing a shared mailbox are impossible to imagine without automated customer service. It can move the needle in so many ways! But on one condition: if your software is brave enough to pull it off:
A trained chatbot can study customers' behavior, welcome them proactively, initiate the dialogue, automate routine tasks (bookings, reservations, food orders, etc.), up- or cross-sell, and pre-qualify leads by asking for their contact info. What's more important, you won't have to search for these conversations – they will all appear in your shared inbox.
While in a chat, a customer service agent can leverage an integrated knowledge base and send articles without leaving the inbox. Should another teammate tune in, they'll stick to the context and see what the conversation was about.
When in a hurry, typing a message and staying professional might be a tough call. For that, you can use canned responses to handle several dialogues and stop being repetitive. If you're a HelpCrunch user, you know that a canned response is triggered with the # and a keyword of the message you want to shoot. Easy!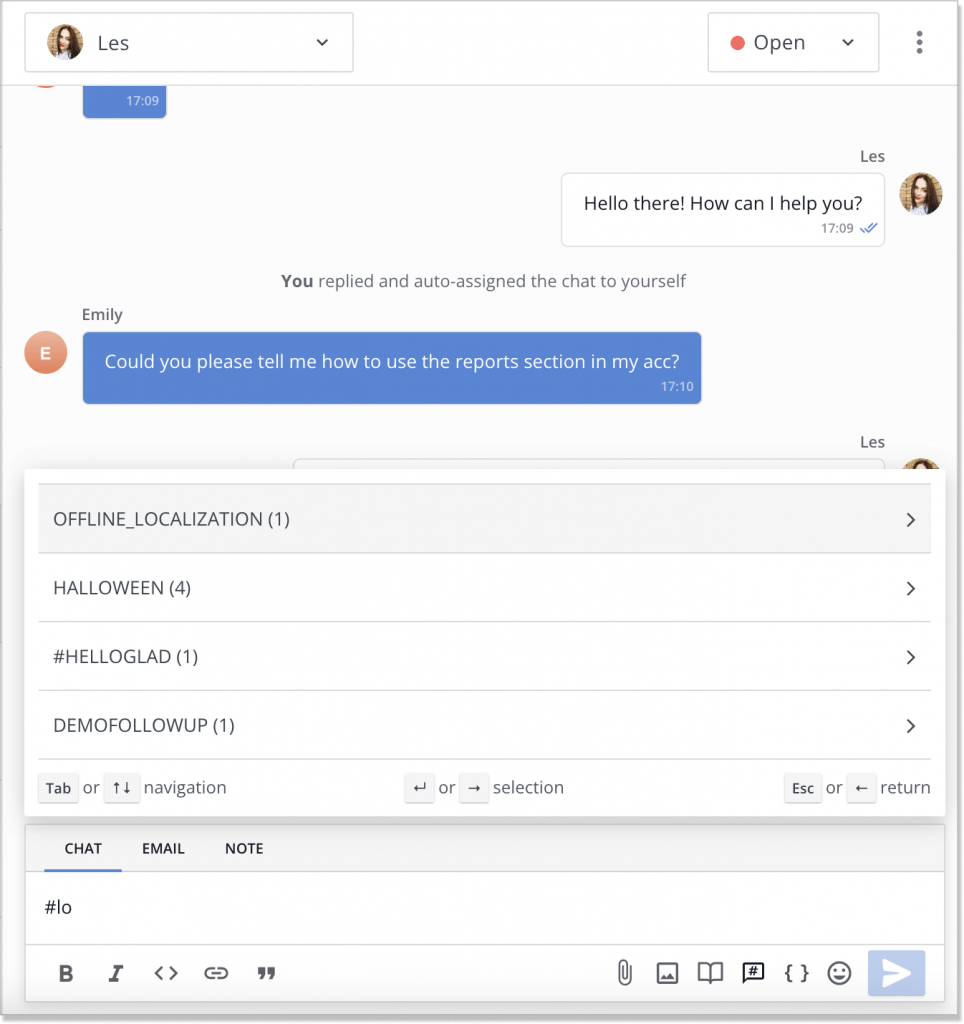 Dealing with piles of requests is daunting (this is our customer service squad talks from first-hand experience!). How about automated ticket routing? If done smartly, it can help you decide whether the query should be transferred to another dep, what details should be considered first thing, or there's a need for further escalation. To avoid dozens of messages massing up in your inbox, let, for instance, a chatbot and its routing functionalities do all the work.
What if you need to take a new look at a chat you've had with a customer? Or do they ask you to clarify some details? No worries, there are chat transcripts that can be sent automatically.
4. Discover notes and collision detection
Gone are the days when you manually conveyed the information you gathered after communicating with a customer. Or sent yet another email that only drove a customer mad.
Now, shared mailbox users can sigh with relief – there are certain collaboration features that the majority of modern software offers. So this could be crossed out of our shared mailbox best practices list. Mind if we take a look at a good few?
Internal notes – you can leave private comments to your colleagues right in the chat window (customers won't see them). This will provide a better context for them when they first enter the conversation. This is how this works in HelpCrunch: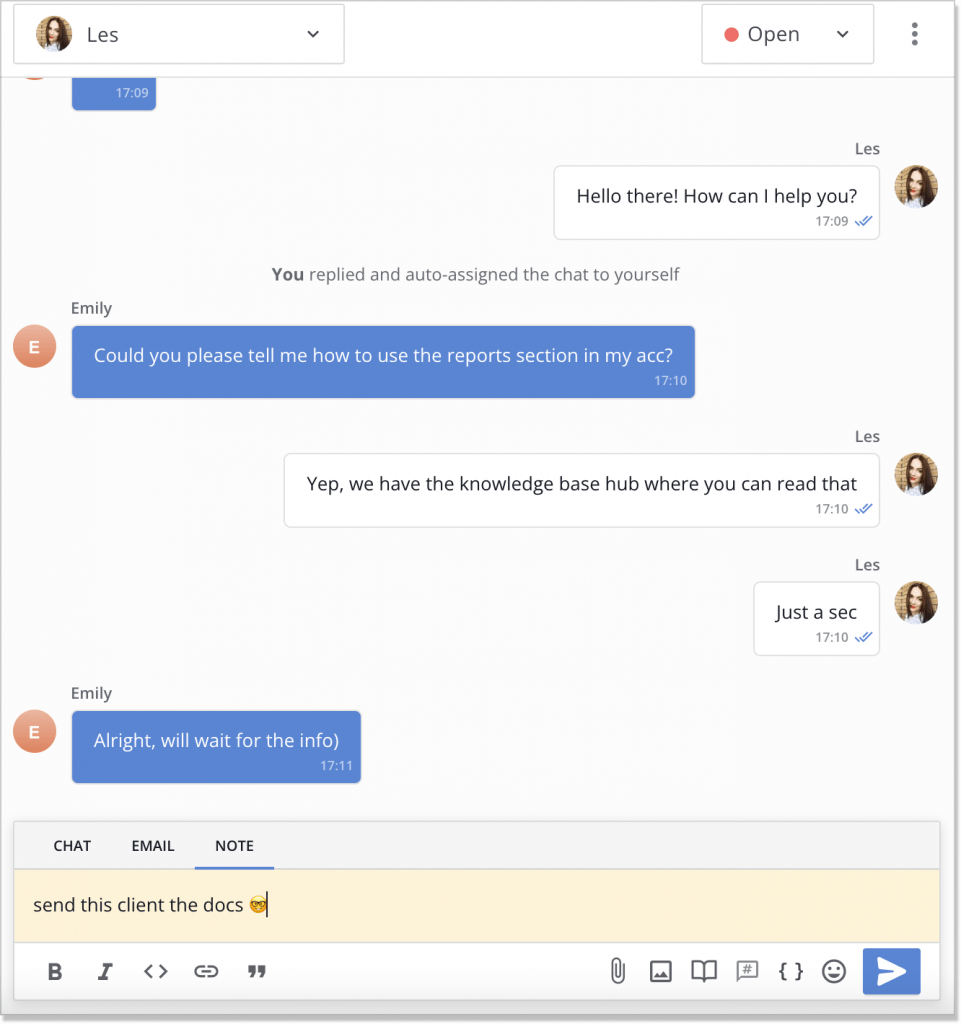 Collision detection – shows you that there are other colleagues reviewing the email, so you won't send duplicates and break the system.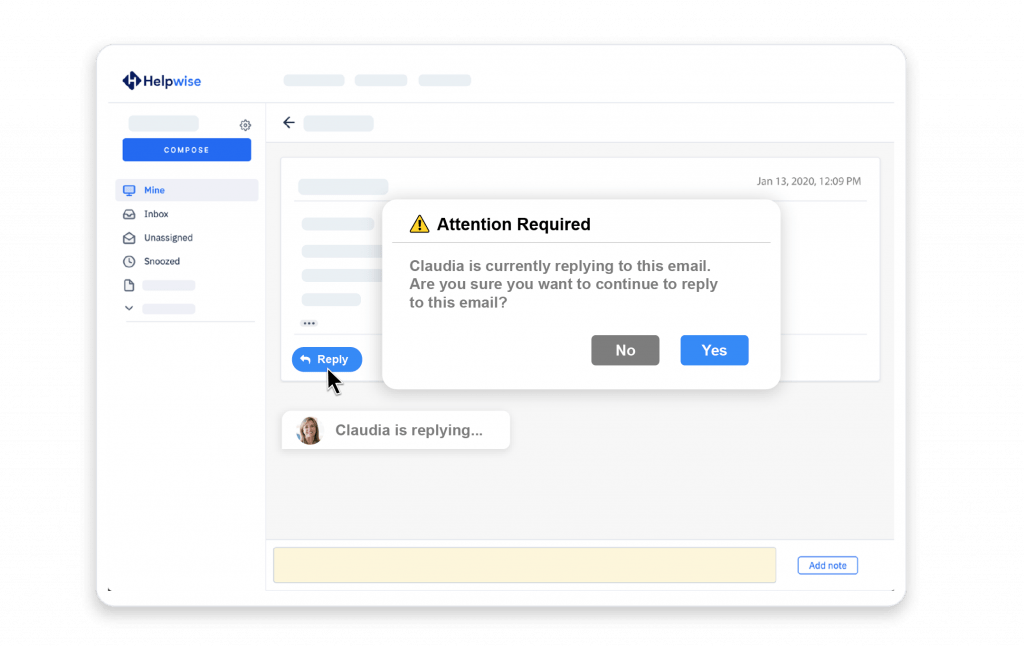 5. Stop being a loner
Otherwise, what is this whole idea for?
What I am saying is that a shared mailbox is not an individual routine. Keep in mind that your crew is around the corner, always ready to back you up. If you're in a hurry and won't make it to answer a customer, tag your mate for that. Or if you're snowed under with emails, just forward a bunch to another colleague or a department that could also get their heads around it.
In fact, go beyond these or other best practices for a shared mailbox. Broaden the horizon and have your team attend workshops, professional discussions, or even watch YouTube to charge up. For instance, here is a great example of a video where teamwork is explained as a tool we shouldn't underestimate:
6. Keep close tabs on performance reports
Telling you about the shared inbox best practices and blundering away the metrics would be an awful crime. With that in mind, we suggest you look at several ultimate criteria you would monitor in order to level up your team collaboration:
First response time (FRT) – how long it takes a customer service rep to answer an issue before searching for a solution. In fact, this is the same with the amount of time a client has to wait until the first contact.
Satisfaction report – this is the easiest way to see if users are pleased with the service you provide. Set up a chat rating after the conversation and have them rate it with Poor, Average, or Great.
Total number of chats – here, everything is obvious. To pick up on possible fluctuations in your team's productivity, consider checking out the overall number of conversations each team member had over a certain period of time (e.g. a day/week/month/quarter).
Closed chats – thanks to this metric, you can track how many dialogues were closed successfully, either by a support rep or a client.
7. Empty your inbox like you mean it
It comes as no surprise that there is a proper name for that — zero inbox. It is a serendipitous experience and stands for the onslaught of all emails (or at least the majority of them) on a daily basis. Just imagine how awesome it would be to empty your inbox by the end of the shift!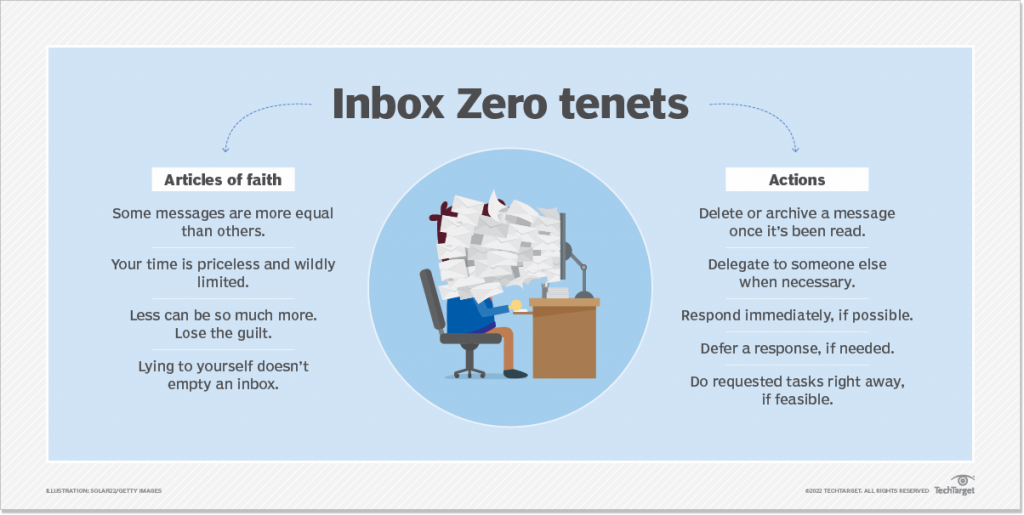 Without the shared mailbox, the odds are you'll have something left for the next day. But everything is changing once you introduce your team to it. If they use such a mailbox, they work cooperatively, handling each customer case swiftly and without delays. That is why you should move towards the zero inbox.
Sure thing, it won't happen overnight. You need a pinpoint strategy:
Delegate if you see that this very message could be within your colleague's expertise (instead of beating your brains out and reinventing the wheel);
Unsubscribe to any unnecessary newsletter you think will only clutter your inbox;
Schedule specific time frames for checking the correspondence and make sure your team sticks to it, too;
Encourage your team with special awards they could receive after reaching the milestone, for example, free gym classes, earlier clock off on Friday, or whatever your imagination will coin;
Celebrate their achievements together–they SHARE the inbox, don't they? So make the "zero point" their mutual victory.
Let's wind it all up
I do hope these best practices for a shared mailbox will get your team to sail in the same boat. Be ready to meet some hiccups along the way, though. You and your team will have to understand that assisting customers and communicating with them is a unified goal. These endeavors are worth the shot.
Oh, and one last thing. Remember this simple tenet: adopting a decent tool that will help you work like clockwork is key to success. We've given you the key—use it!