You know your website is built to help you sell your product or service to customers, but how can you do that in the most effective way?
The first things that come to mind include offering some discounts, adding catchy CTAs, and maybe including a few endorsements for social proof. All are great, but you know what's even better? Creating a dedicated sales page, the sole purpose of which is to convert a visitor into a happy customer.
All in all, a dedicated sales page can boost conversions, sales, revenue and do wonders for your website profits
This article will tell you exactly what a sales page is and how to build an effective sales page that reaps all the benefits for your website.
Sales page vs. Landing page
Many people aren't aware of the difference between a sales page and a landing page.
There's a good reason for the confusion — they both focus on converting visitors for a specific reason.
You use a sales page to sell a product. Landing pages, though, can be geared toward other types of conversions, like getting visitors to subscribe to an email list or download an ebook or another resource. Landing pages don't have to focus on sales exclusively.
Both a sales page and a landing page are standalone parts of your website designed to target a specific use case or audience, highlight an important feature, or support an ongoing sale or marketing campaign.
Take a look at this sales page example from Casper. It's from an email marketing campaign for its Memorial Day sale.
This page is both a landing page and a sales page. It's the first place customers "land" when they click on an email or social media ad about the Memorial Day offer.
But since Casper's page provides detailed product information and clear calls-to-action that entice visitors to buy, it's also a sales page.
Sales pages provide way more detail than you'll typically find on a landing page. Often called longform sales pages, they include a lot of written content meant to persuade users to purchase.
Longform sales pages are best for products or services that are more expensive or complicated. For instance, most ecommerce websites won't need long form sales pages, but a web design or real estate agency might find them more effective.
A well-written and well-optimized sales page helps consumers in the research phase of the sales cycle access the information they need to feel comfortable making a major purchase. You can address key pain points for different segments of your audience by designing personalized landing pages too.
7 steps to create the perfect sales page
Now that you understand how a sales page should be used, let's break down the step-by-step process for building one.
Each of these steps will talk about different sales page elements and how to bring them all together to increase conversions on your website.
1. Define your target audience
The first and most important step in building an effective sales page is understanding who you're selling to.
If you've been running marketing campaigns and sales initiatives for a while, you probably have a good idea of who your main audience is. For more targeted campaigns, though, you'll need to narrow that down to a certain segment of your customers.
For instance, if you run a shoe or clothing company, you'll build different sales pages for men, women, and kids. Or, you could create a series of sales pages based on different price ranges.
When you know exactly what customer pain points you're addressing, you can use the right language and layout to make your sales page as effective as possible.
2. Create a value proposition for your product or service
Next, you'll need to clearly state how your product or service addresses your customers' pain points. This is often called your unique value proposition or unique selling proposition.
An easy way to think about your unique value proposition is what your company does differently than competitors. Are your products cheaper? Easier to use? Available in more options?
For instance, Mizzen+Main is a menswear brand that sells fashionable, professional clothing. What's unique about it? They claim to be more comfortable than other dress shirts on the market.
Of course, if you offer a product or feature that no one else in your industry does, that's highly valuable and should be the focal point of your page.
Slack has a great example of a truly unique claim: they're the messaging tool used by NASA. By using this on its landing page, Slack demonstrates that some of the smartest and most accomplished people in the world trust their product. That's a pretty unique endorsement.
What do you do with your value proposition once you've defined it? You'll want to communicate your brand's unique value on a sales page through the headline and other on-page content.
3. Establish a clear and concise offer
To create a highly effective sales page, you need to tell your customers exactly what they'll get from you when they make a purchase.
There should be no confusion about what your customers will receive in exchange for their money.
You can convey your offer in a few different ways. One option is to highlight the details in your sales page headline. This is a really effective strategy because it grabs the reader's attention right away.
You can also highlight the features and benefits of your offer throughout the copy on your sales page. It's important to make these benefits easy to read through bullet points, images, and subheadings.
For instance, this long form sales page about credit repair companies uses bullet points throughout its copy to highlight the benefits of an offer.
The offer itself — a free consultation — is also really clear.
Keep in mind that there are many different ways to organize the information on your sales page to yield lots of conversions. That's why knowing what will resonate with your target audience is a critical first step.
4. Set up your pricing
Your pricing needs to be obvious on your sales page in the same way that your offer and value proposition should be.
If you're running a deal or promotion, your pricing will likely be taken care of as you craft your offer.
If you sell products or services with lots of add-ons or a complex pricing structure, it's especially important that your pricing is easy to understand. Try creating a table or interactive tool to help your customers compare prices.
5. Build and optimize your conversion funnel
To make your sales page as effective as possible, you need to understand exactly where it will appear in your conversion funnel.
For instance, will you direct visitors to your sales page from your homepage? Will you use it in an email marketing or social media campaign?
Outlining ing each touchpoint along the customer journey is critical for any sales effort, from designing a high-converting sales page to building an SDR process. By understanding what your customers are experiencing, along with their needs and pain points, you'll be able to gain their trust.
6. Keep your sales page simple but engaging
When visitors land on your sales page, you want them to do one thing: make a purchase.
To help as many customers as possible take that action, your entire sales page needs to build toward that goal. Don't include any unnecessary information or design elements like contact forms or newsletter subscriptions.
At the same time, your sales page needs to keep visitors interested and engaged long enough to make the sale. You can use visual hierarchy in your design, build interactive elements, or include videos to keep things interesting.
7. Write a compelling CTA
Everything on your sales page should make a case for why customers need to purchase your product or service. Then, you need to close the deal with an excellent call-to-action or CTA.
CTAs should be action-oriented and related to what you're asking visitors to do.
Online presentation software Prezi offers users a free trial prior to asking for the sale, so its CTA encourages visitors to "try Prezi for free."
You should never leave your CTA button with default "Click Here" written it on it, but you don't have to overcomplicate it either. Here are a few simple CTAs you can adapt for your sales page:
Buy Now
Learn More
Speak to a Sales Rep
Get the Offer
Your CTA should be clearly marked with a compelling color, so it stands out among the rest of your content.
5 Elements of High-Conversion Sales Pages
Following the steps above will build an effective sales page framework, but there are a few other elements you need to include to maximize conversions.
Here are five things your sales page should have to achieve the best results.
1. Customer reviews, testimonials, and case studies: Social proof and customer reviews go a long way in convincing users to make a purchase. Incorporate customer success stories through video, images, and aggregate reviews.
Or, you can create an interactive carousel like Semrush does:
2. Stories your audience can relate to: Customers engage more easily with stories than with corporate jargon, so include storytelling elements wherever possible. For example, you can create common hypotheticals, adapt customer stories, or use other story methods that relate to your audience.
3. Add photos, videos, and illustrations: Few things make visitors bounce faster than a wall of text. Break up your sales page copy with images, video, and other graphical elements. Leverage the principles of visual hierarchy to highlight the most important information throughout your design.
4. Customer support and live chat availability: Provide an easy way for customers to ask questions or get help when they need it. Live chat options are the easiest way to do this, but you can also include a customer support number or direct users to your knowledge base too.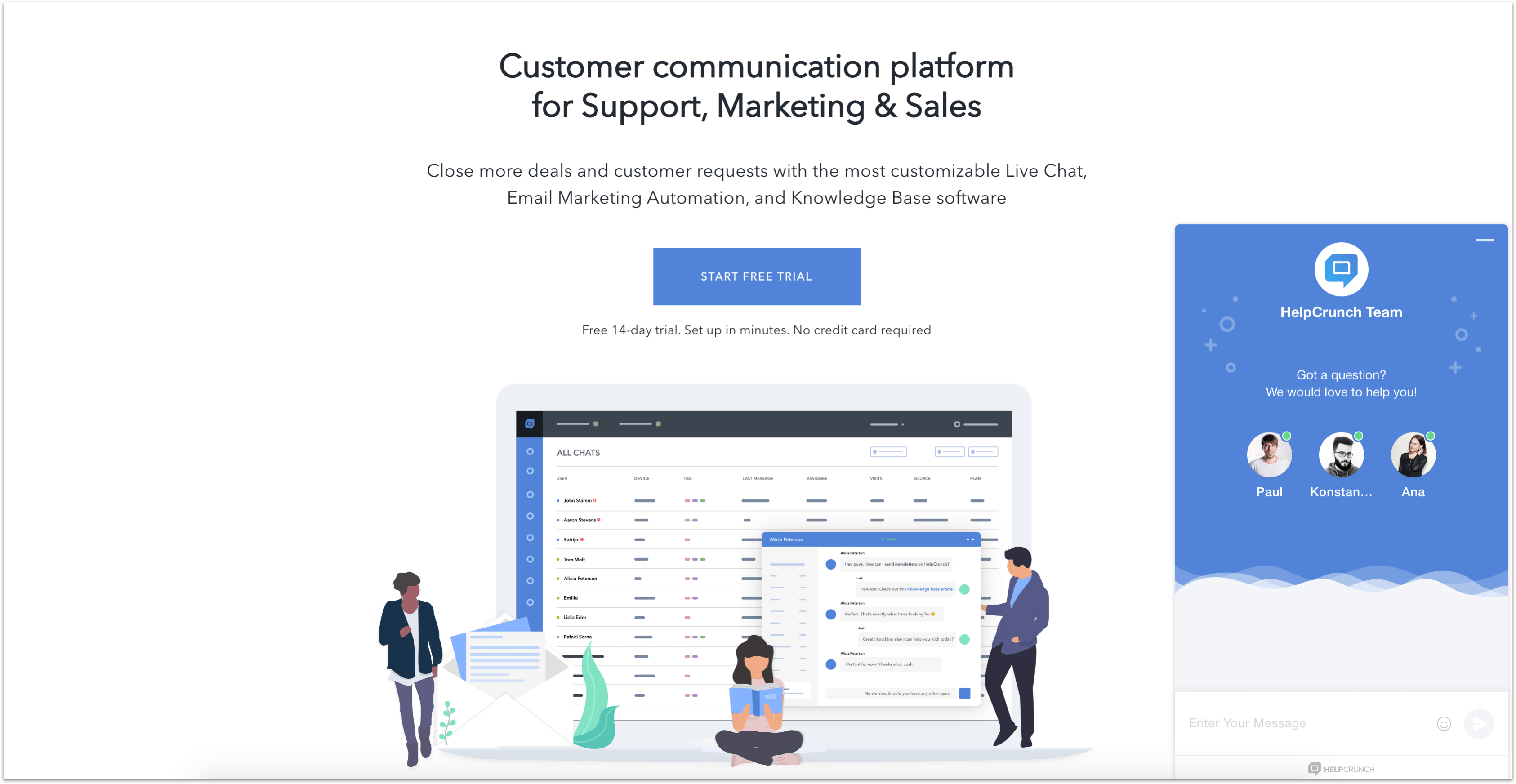 5. Risk-free options: Your conversion rate will be even higher if you can remove risk from the buying process. Consider offering a long return period or developing a generous refund policy for unsatisfied customers. Feature this prominently on your sales page.
Build an effective sales page today
By following these steps for building an effective sales page, you'll be well on your way to boosting conversions across your marketing and sales campaigns.
Remember to keep your customers' needs at the forefront of your sales page strategy and include all of the key elements of a high-converting sales page to yield the best results for your business.
HelpCrunch articles delivered straight to your inbox 🚀
All the latests posts. One email per month
No strings attached
Read Also
Sales & Marketing
If you want to enhance your online marketing efforts, you will definitely need great tools for it. No need to search for them, just grab this list of go-to digital marketing tools and do the job.
Sales & Marketing
Sales notifications are a great tool to drive more conversions by evoking the fear of missing out among your customers. Learn how to incorporate them on your website.
Sales & Marketing
There are dozens of different types of emails around the internet. But we don't want you to get confused. Read the article and concentrate on the main netmails customers eagerly await from you. No time to waste!