Breaking Down Real-Time Support: Its True Value and the Gist
Have you ever thought of real-time support and what impact it had on us over the last few years? We put our mind to it and connected the dots here. Read on!

The last thing you want is for a frustrated customer to leave your website and abandon their purchase because you couldn't get to them in time. The adage used to be "time is money", in today's impatient world, "real-time is money.

Christopher Moore, CMO of Quite Light
A "business ↔ customer" interaction is nothing like it was just a couple of years ago. The modern age has blessed us with commodities like messengers, phones, video calls, emails, and other means of communication. Now, you can easily reach out to a customer support rep and clarify all the info in a zip. And what they provide you with is real-time support.
Our lives are changing as we speak, new trends emerging, and society dictates its own rules. Who would have thought we would be excited about a service agent answering our questions lightning-fast, without delays? But do we really cotton on to the gist of the real-time help? This is on the table for today, as well as the experts' opinions on the topic. Read on!
What is real-time customer support, after all?
As the name suggests, real-time support is assistance you deliver to customers live, anticipating their pain points and meeting their needs at your best. In fact, this is a face-to-face interaction between you – a customer support rep, and a customer, and it's nearly the only opportunity to talk tête-à-tête with a client over the Internet.
Such a phenomenon, if you will, is a win-win for both parties – clients and businesses. The former keep their nerve cells safe, while the latter satisfy all the customers' demands. The intrinsic value of real-time customer support lies in reacting to clients' requests fast and handling them at the top level.
As Kathy Bennett, Founder and CEO of Bennett Packaging, puts it: 'according to Tech Jury, more than half (51%) of the customers they surveyed want businesses to be available 24/7. And who can blame them?
We live in a time when we expect instant gratification for just about everything. Be it ordering food, hailing a cab, or even finding a date, we want it now. So why should customer service be any different?
That's why real-time support is definitely the future of customer service. It's the only way to keep up with customer demands and provide the instant gratification they've come to expect.'
The ultimate benefits of real-time support you can't deny
It may seem unequivocal, but the advantages you are going to take from real-time customer service are profound:
Quicker troubleshooting. While waiting for any help for a customer in a brick-and-mortar store is quite time-robbing, real-time support on your website can be precious for them. You can nudge them to make the right decision, and be able to cultivate that fast reaction.
Reduced service costs. As long as your customer service team deals with requests in real time and gets rid of recurring questions, they can save some energy for the queries requiring higher attention.
More thorough customer feedback. When you assist clients in real time, the chances are, their honest reviews won't be slow in coming. No wonder – your help and willingness to be there for them will be fresh in their minds. So seize the moment and find out what they think.
Lower churn rates. Cart abandonment is the biggest nightmare of all e-commerce brands. But by helping customers in real time, you can momentarily dispel any customers' doubts and win sales in the blink of an eye.
5 must-have tools to deliver support in real time like a pro
Now that you got the basics, let's talk real stuff. My point is that real-time customer service isn't to be afraid of. Of course, under one condition – if you implement it right. Comb through the list of tools you should adopt for providing your customers with flawless service in real time.
1. Live chat
Live chat needs no introduction. It's the ultimate way to communicate with customers in an online mode and have their questions answered quickly. Besides, setting it up on a website is not rocket science. Watch the video on our YouTube channel and judge for yourself!
Thanks to the live chat functionalities, you have a sterling opportunity to be there for your customers at the most suitable moment:
Integrate your knowledge base into the chat widget. This way, you can promote customer self-service and unburden your service agents, as they will be able to send FAQ articles right from the chat and on the go.
Leverage customer information to alleviate future general (often unnecessary) questions and streamline the whole helping process.
Send canned responses (aka pre-made messages) to save precious time and nerve cells when needed.
Put live chat on snooze if need be to win yourself some time when handling a more intricate issue. You know, real-time customer support doesn't always have to be "real-time".
By the way, HelpCrunch can do more than that. While live is its flagship functionality, there are also a unified help desk, a knowledge base, email marketing features, and a lot more. Sign up for a free 14-day trial with HelpCrunch and propel your real-time support to a completely new level.
2. Customer self-service
We live in an era when consumers are more decisive, tech-savvy, and demanding than ever. Therefore, customer self-service is gaining popularity. And those are not just mere words!
One of the latest researches proves that 89% of US consumers expect companies to have an online self-service support portal, while similar research shows self-service tools are preferred by 86% of today's B2B executives over dealing with a salesperson.
Modern technologies made self-service convenient and trouble-free. It will just suffice to mention such handy tools like:
A well-oiled knowledge base packed with in-depth articles that will be just the thing for big and mid-sized businesses. If your software allows it, have it integrated into the chat widget to get the most out of web self-service.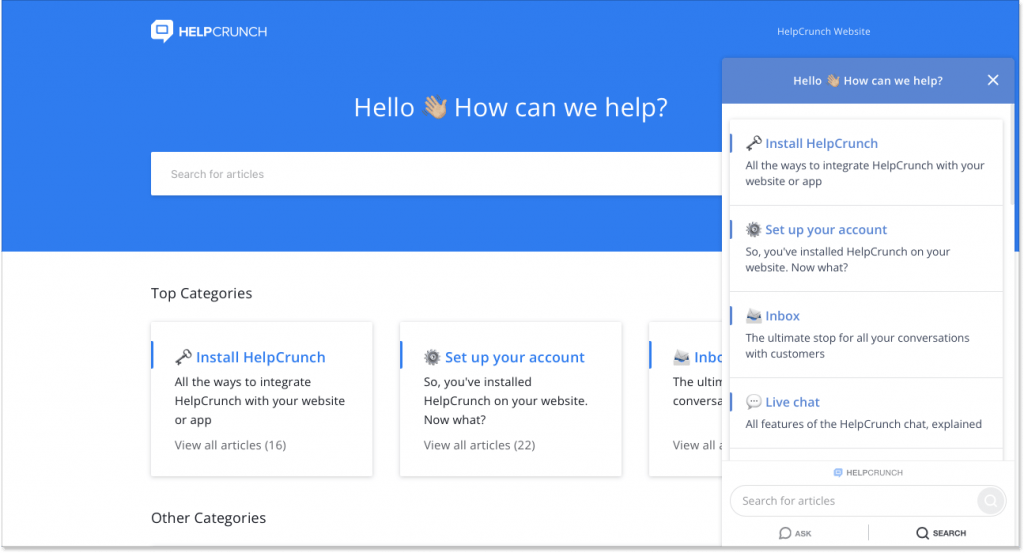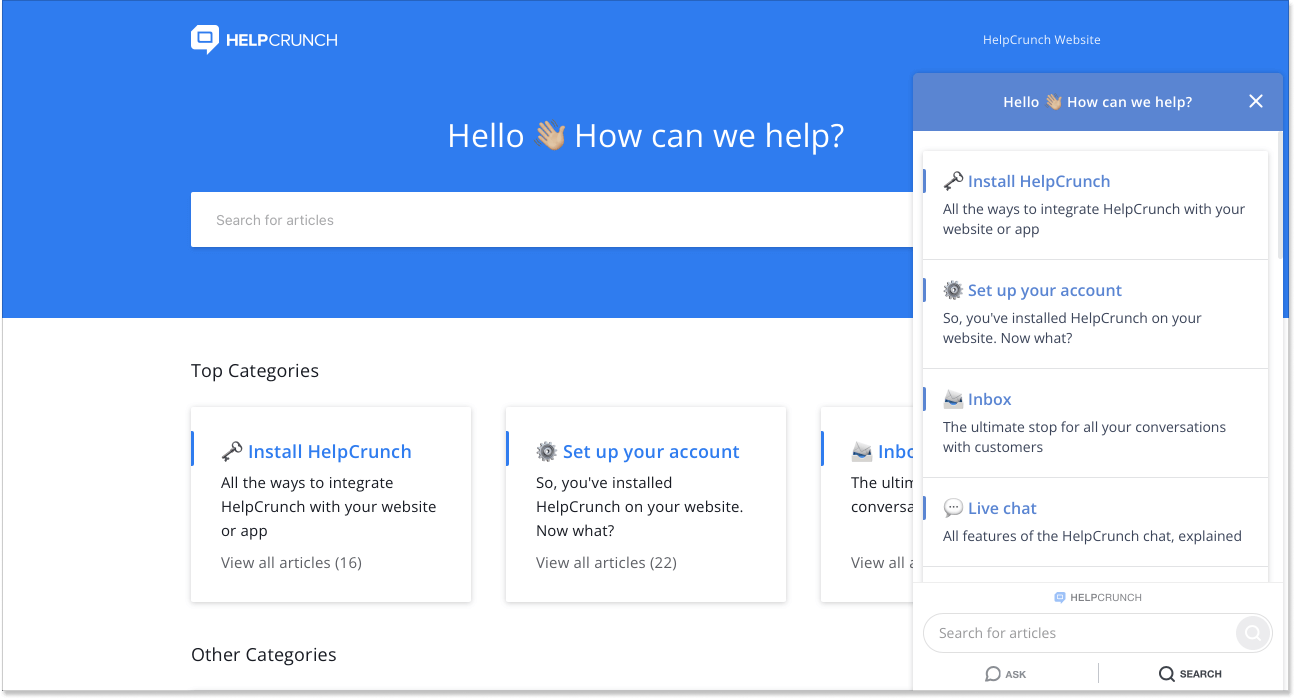 An FAQ page (for a newbie startup or a small company) where you can include some common high-priority questions and let customers find them on their own.
A community forum, if you are already an old whale in your industry with your own brand fan base.
A user-friendly chatbot that can point customers in the right direction. However, don't shrug off the human help! Have the chatbot answer only basic customers' queries, such as scheduling a demo meeting or clarifying your pricing plans.
3. Well-arranged customer database
Providing real-time support means staying always up-to-date with customer data. Only then you can take action immediately and omit possible escalations.
To succeed in this endeavor and be on alert, use either a reliable CRM tool (customer relationship management) or have a unified help desk where you can see what's happening on the fly.
Picture this. You have this customer your colleague has helped the other day complaining about some faulty product they bought from you or client service as is (maybe they called 10 times for the past few months already?). Messages keep landing in your inbox, and here you have two possible scenarios:
1) Shed tears because you have absolutely no idea what this customer wants and what the previous conversations were about, or
2) Leverage a help desk where you can easily grab context and support in real time with no sweat
Do I have to point out I am voting for the second option?
4. Seasoned support staff
If you have customer service ninjas who have been to the rodeo, consider you're lucky. A qualified team is a true asset to the real-time customer service strategy:
They don't think too long and snap out the solution
They are able to dig deeper into the issue and find the best suitable answer
They can handle several queries in a short period of time
To train your real-time support team, consider hosting online or offline workshops, panel discussions, role plays, or even scheduling a day or two a week when you can investigate the most complex customer cases together.
5. Video conferencing tools
Let's face it: over the past couple of years, we've known first-hand how videos could be useful. The pandemic made thousands of businesses go online. I won't pretend – at first, I thought all those video chitchats wouldn't bring any good. Now, I see that our lives (both personal and business) will never be the same.
James Crawford, co-founder and CEO of DealDrop, has a similar idea: 'Going forward, technology will allow us to provide an even more intimate interaction. We expect that in addition to the traditional phone call and chat support, video will play an ever-increasing role. Customers will be able to see the agent they are dealing with and, with the permission of the customer, the agent will also be able to have a face-to-face conversation with the client.'
And I couldn't agree more! You can't imagine real-time customer support without a visual component. So to check all the boxes, use video software to communicate with clients virtually online. There is an ocean of decent options here, from Google Meet and Zoom to Hangouts, GoToMeeting, and Skype.
Are you in for assisting your customers in real time?
Being always visible and within touching distance, so to say, is paramount for real-time support. Even at night. If you don't want to bid your clients farewell, make sure you have enough agents to assist them when everybody is sound asleep.
So it's your turn to make a decision. But check your way first: is there a vetted technical ground that will help you interact with customers like clockwork?