How to Provide Online Customer Service: 8 Real-Life Examples
Looking for how to provide excellent online customer service? Apply solutions deployed by the top industry leaders to stay competitive. Here are the 8 real-life examples that will inspire you. Have a look!

They say that customer service technology began with letters and post-pigeon, but in fact, it started long before that. In 1750 BC, a customer demanded a refund for the delivery of the wrong grade of copper (old times, same problems). He inscribed his accusations on a clay tablet commonly known as the first-ever customer service complaint and sent it to the seller.
Man, and rumor has it that "holding on the line" is exhausting.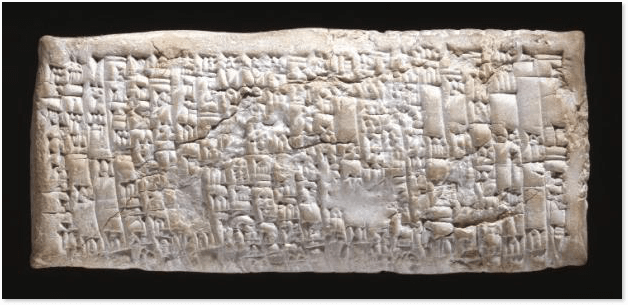 The first breakthrough in customer service technology happened with the invention of paper in China around 100 BC. No more clay bricks, people could actually pour their thoughts out on paper and hand it over to the vendor.
But that channel of customer communication has also been buried eons ago once call centers and email communication emerged around the 1970s. It was a revolution that completely changed the way people communicate with brands.
Yet enough with the history, let's see where we stand today. While phone and email assistance are still in place, live chat, self-service tools, and AI-powered chatbots are taking over with confidence.
This brief history lesson proves just one thing – people have always been and will always be choosing the fastest and the easiest way to communicate with one another. Thus, online customer service and its peculiarities are something we should focus on at the moment (until Elon Musk teaches everyone human-to-human mind communication).
For starters, let's begin with building excellent digital customer service within your company!
What is online customer service?
Online customer service is every action that the company makes to provide assistance to customers via digital channels like live chat, email, social media, chatbots, knowledge base, and more.
In other words, digital service means that you need to be connected to the Internet in order to perform any customer service activities. To provide offline customer service, you'll need to go back to using the phone, face-to-face meetings, letters or fax, etc.
But it's just the tip of the iceberg. Are you ready for a deep dive?
Each channel of communication that we choose gives us different opportunities for customer data collection. For example,
phone support allows us to find out the customer's number,
fax – user's name, and fax number,
with an in-store purchase you receive practically no information about a client for further marketing activities.
On the other hand, online customer service gives you a bunch of new opportunities.
Offering digital experience through live chat or self-service channels allows you to get access to user's location, browsers and device info, browsing activity, downloads, sign-ups, purchases, and whatnot. Collected and analyzed data serves as a tool to create a personalized customer experience, increase conversions, and improve satisfaction rates.
Here is a quick table to showcase the main differences between offline and online customer service.
Offline customer service versus online customer service
| | |
| --- | --- |
| 9*5, 5 days a week | 24*7 |
| Company is in control of when and where the interaction takes place (in-store, or by phone during work hours) | Customer is in control of where the interaction happens (social media, mobile, desktop, apps) |
| Customer repeats information every time they get in touch with the brand | Company stores information from every interaction in CRM platforms |
| Customer has to look for a solution when an issue pops up | Brand tries to solve the issue before it arises through helpful articles, newsletters, social media posts, etc. |
| One-size-fits-all approach | Personalized approach |
| Lower customer engagement due to fewer communication channels | Higher customer engagement |
| Hard to scale | Easy to scale |
Having that in mind, these two notions are not enemies but partners that should go hand in hand to deliver a full customer experience.
What makes great online customer service?
In an attempt to solve this puzzle, let's turn to the top customer loyalty leaders list and try to guess the ingredients for their 'secret sauce'. The list includes 100 companies with the largest number of loyal customers in the US. So there is definitely something we can learn from these brands. Just pick a leader in your category and try to inherit from their example by adopting similar approaches at your business.
We have always been shameless in stealing great ideas.

Steve Jobs
In this article, we will talk about the top 4 companies represented on the list and explore their online customer service best practices.
1. Amazon in the Online Retail category
The company has been at the top for customer service for years. Don't be shy to replicate some approaches from Amazon to boost the online customer experience at your firm.
Among the main secret ingredients we've spotted:
customer reviews on product pages that are used for further product development strategy
detailed product description to help users make informed decisions
Amazon messaging service enables easy communication between sellers and their customers
free one-day delivery for Prime users
transparent and convenient return policy, etc.
2. Apple in the Smartphones category
In 2021, Apple got a revenue of $191.9 billion from iPhone sales which is the largest in the brand's history. At the same time, the company managed to maintain an 82% through-the-roof satisfaction rating, matching its score from twelve months ago.
What are our insights?
immediate customer service across different channels (chat, phone, social media)
separate YouTube channel called Apple Support with video tutorials on how to get the most out of your device
well-oiled self-service page
highly trained staff that can help you solve almost any problem with no transferring to another specialist, and more.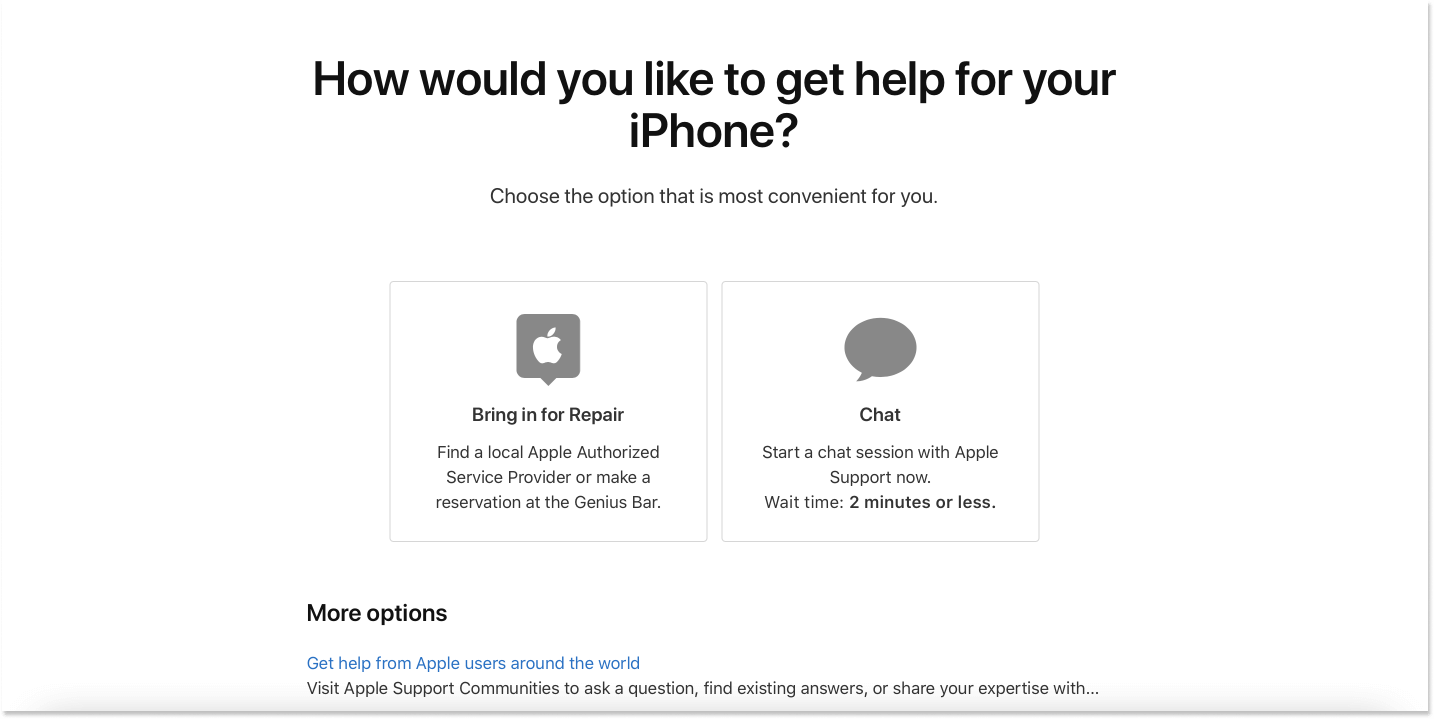 3. Netflix in Video Streaming category
The brand name almost became a synonym of the time that you spend watching TV shows or movies. Former CPO at Netflix has shared their customer service approach in detail in his article. Read and get inspired!
Here are some takeaways from us:
seamless mobile experience that allows users to easily switch between mobile and desktop
simple and easy-to-use interface
constant A/B testing with customers' wants in mind
finding and providing only those types of surveys that work.
4. Domino's in Pizza сategory
Domino's is officially the largest pizza chain in the world by the number of restaurants, overtaking its biggest rival Pizza Hut. The leader chain now has more than 18,000 locations in over 80 countries, and a share price approaching $530. Moreover, it currently receives as many as 75% of all orders digitally.
Quick takeaways of what makes Domino's Pizza online customer service great:
understanding the power of social influence and allowing for every kind of review on their social media accounts (uncensored comments),
the Pizza Tracker App shows every stage of the cooking process and ​​a GPS feature to track the driver's location,
zero-click ordering option enables users of the Domino's app to save a favorite pizza, which will then be automatically ordered after 10 seconds of opening the app,
providing no less than 15 different ways to order pizza, ranging from voice command on home assistant devices like Google Home to sending an emoji over social media,
adopting new technology (like robotic pizza delivery) to make the customer experience unique.
Types of online customer service you can apply today
When you read about 15 communication channels Domino's uses these days to allow customers to order pizza, you suddenly get it. It's not about choosing one way of communication and sticking to it anymore. It's about as many online customer service channels as you can adopt at the moment. Because if you plan to grow, at some point you will need to apply all the types of online customer support listed below.
Email support
Email is usually the first form of online customer service that brands offer. Why? It's classic, common, and widespread. In 2021, the number of email users reached the 4.1 billion mark, which is over 50% of the world's population. Simply put, every other person on the Earth has an email account and it's the easiest online way to reach out to your customers
Social media support
If you are an aspiring brand, most likely you already have a social media account on Facebook, Twitter, Instagram, or other social media. This is exactly the communication channel where customers will definitely contact you with their questions. And it doesn't depend on the industry but rather on the age of your target audience.
Live chat support
Live chat is the best customer communication channel today in terms of price, effectiveness, and customer satisfaction. Over 74% of people prefer live chat over any other way of communication. With the average response time of 45 seconds, there is no surprise why it's the most preferred channel.
Self-service support
Speaking of self-service support, people usually mean knowledge base articles and FAQ pages. For tech-savvy users, it's much more convenient to search for a solution on the web independently, skipping the live customer service interaction. Moreover, 67% of respondents prefer self-service over speaking to a company representative. So, prepare helpful articles about your product or service and share them on your help page to increase customer satisfaction rate.
Automated support
Automated customer service is the most novice way to communicate with clients. It allows you to support users with automated technology such as AI-powered chatbots instead of humans. This approach works best when customers seek solutions for recurring straightforward questions, status updates, or other dinguses. Some bots are also capable of suggesting the right knowledge base article in a response to customer issues.
But panic not! You can kill two birds with one stone and apply almost all of these online customer support tools today by signing up for just one platform, HelpCrunch. It's a customer communication software that offers live chat, email marketing, a knowledge base, and even a soon-to-be chatbot feature. Pay from $15/mo per user and manage all your communication with clients in one place.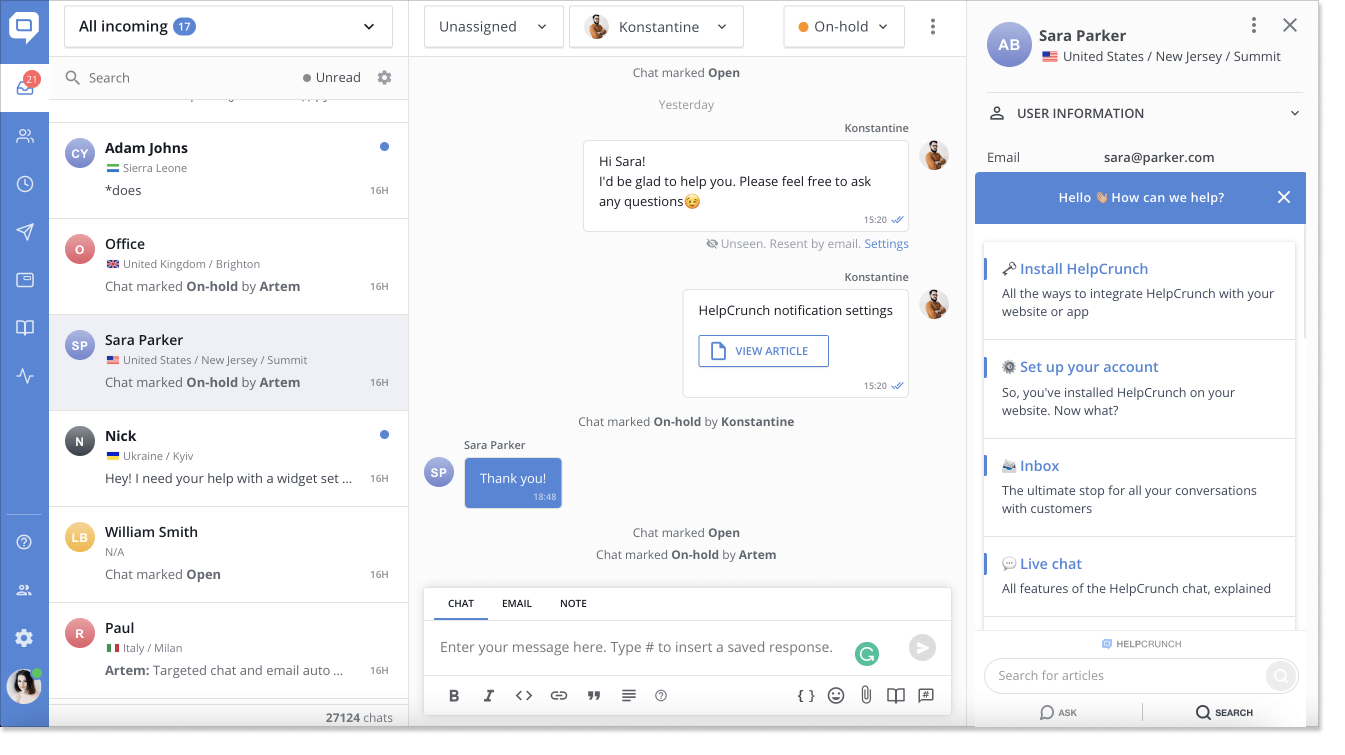 8 online customer service tips with examples
1. Salesforce vs Reserved – in any incomprehensible situation, offer multiple support channels
B2B or B2C, nowadays it's important that you are available to your customers everywhere. Some people prefer email support, others use live chat for instant replies, and the third group sticks to social media communication. I am sure you don't want to lose a single customer.
To those who might think that B2B and B2C brands deploy different customer communication channels, I've prepared this quick table. It illustrates what channels Salesforce, a customer relationship management service, and Reserved, a Polish clothing store chain, leverage to reach out to customers.
Salesforce versus Reserved
| | |
| --- | --- |
| Email | Email |
| Live Chat | Live Chat |
| Knowledge base | Knowledge base |
| Facebook | Facebook |
| Instagram | Instagram |
| Twitter | Twitter |
| YouTube | YouTube |
| LinkedIn | Pinterest |
There is a slight difference in communication channels these two brands rely on. Salesforce has a big community on LinkedIn, while Reserved builds its image on Pinterest. Another dissimilarity lies in the location of the live chat. Salesforce placed it on each page of their website, while Reserved – just on their contact page.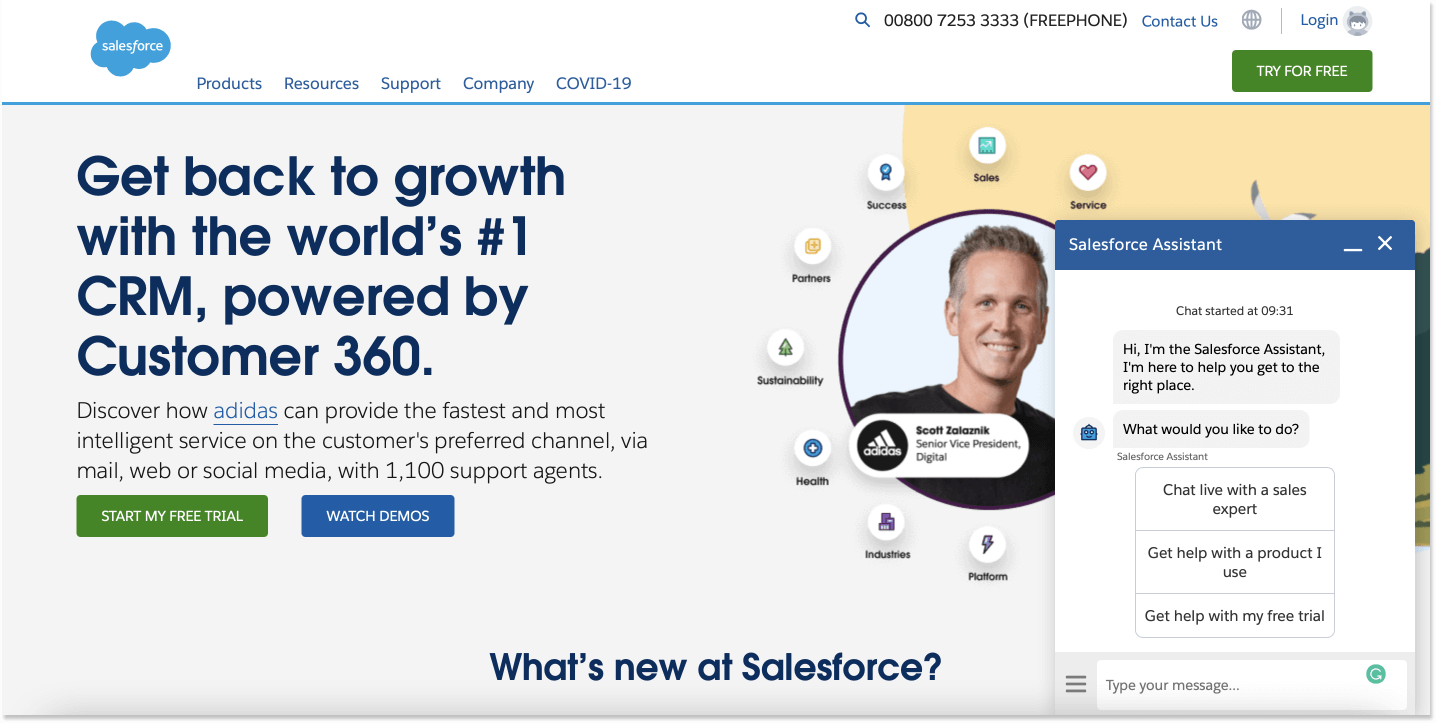 Takeaway: Adapting multiple customer communication channels is essential for each business that tends to grow. When we take a look at the data, we see that companies with multiple ways of customer engagement retain on average 89% of their users, compared to 33% for companies with little engagement opportunities. So don't think about which channel of online customer service to choose; instead, think about which channel you want to start with.
2. Dropbox – skip talking and let customers find the answers by themselves
There is hardly anything that customers appreciate more than quick problem-solving. No one wants to spend hours on fixing the issue. And if you manage to help customers without them even asking you the question, you might gain some extra points!
Dropbox, a file hosting service, offers two self-help options: a knowledge base and a community forum. When searching for a quick answer, a knowledge base can be the best and most convenient option for users.
The service provides a clean stylish Help Center. You see a toolbar for a quick search right away. Below there are three boxes with the most common questions people ask: resetting a password, charging a credit card, downloading the app. On the right side, the company represents top articles split up into sections.
The overall success of the knowledge base depends on how well you can organize the whole set of information about your product and how easy it is for users to find it.
At the end of each article, Dropbox gives customers an opportunity to assess the post. Was it helpful or not? With the right knowledge base tool that provides reports, you can later spot crappy articles and then work on their improvement.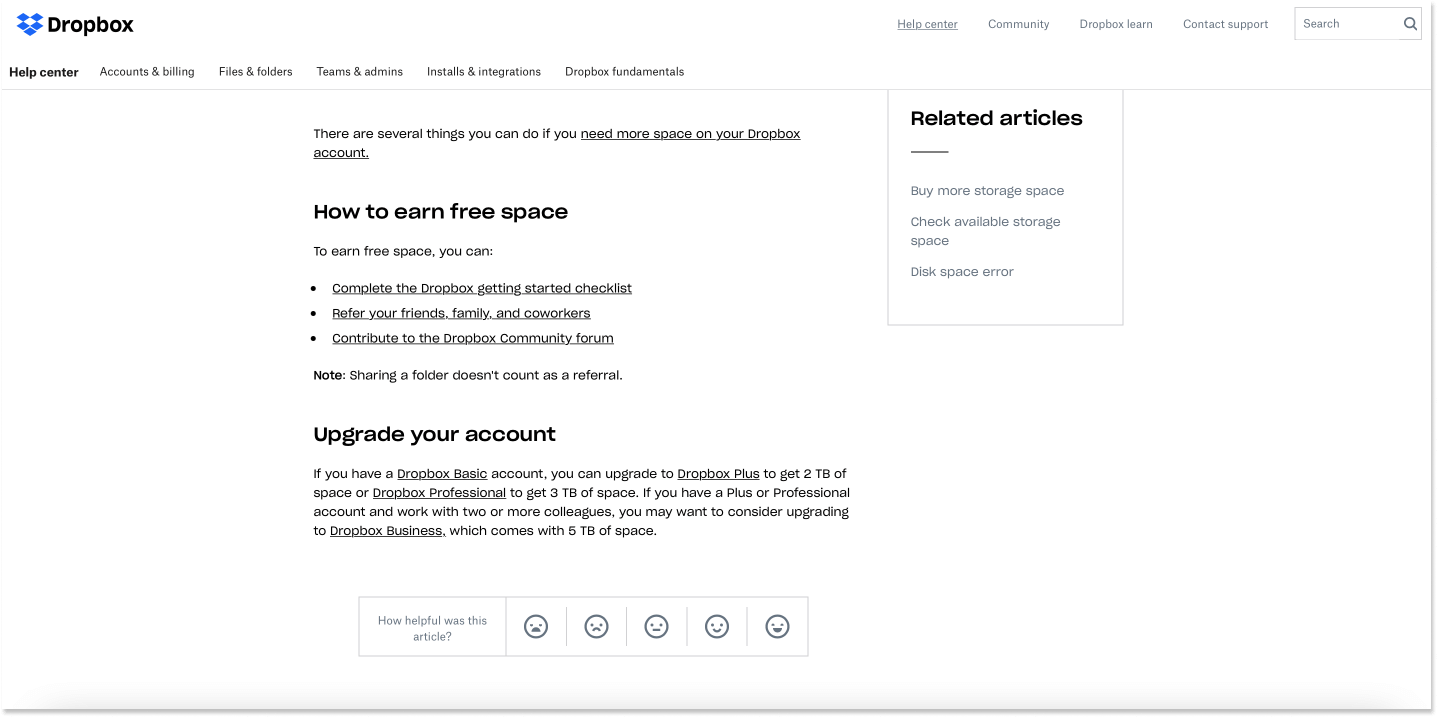 Don't stop here, and learn how to create an effective knowledge base in 10 simple steps.
Takeaway: Adopting a self-service solution on your website has two main benefits for your customers and employees. First, customers can quickly find the information they search for without dealing with a live person. And that's exactly what they want, as 88% of consumers expect companies to have an online self-service support portal. Second, you will see a decrease in emails and live chat messages that come to your agents. It will allow your support team to focus on more important and unique cases.
3. HelpCrunch – be generous and go an extra mile for your customers
Great online customer service is defined by the degree to which you are ready to go out of your way to help a customer. Just ask yourself, what are you willing to do for the sake of the client?
At HelpCrunch, we believe that putting your client first is the only right way to provide great online customer service. In the majority of cases, in controversial situations, we will take the client's side and do what leads to ultimate customer satisfaction. This strategy is suitable for those who came to stay on the market for long, not one-time players.
For example, a year ago a new client signed up for our customer communication platform. But there was a small concern. On the one hand, he was looking forward to switching to our knowledge base. On the other hand, he didn't want to lose all the helpful articles his team had already written and published on the previous platform.
It was a great opportunity for us to go that extra mile and assist our customer.
They said: "Sure, just give us access to your helpful materials." And you guys imported all that stuff within like two days or something. That was pretty cool. I super appreciate this. Because there were a lot of articles, pictures, videos. That was probably my number one turning point. The help that you guys provided by doing that for me was a lot.

Mony Gueorguiev, Maidily CEO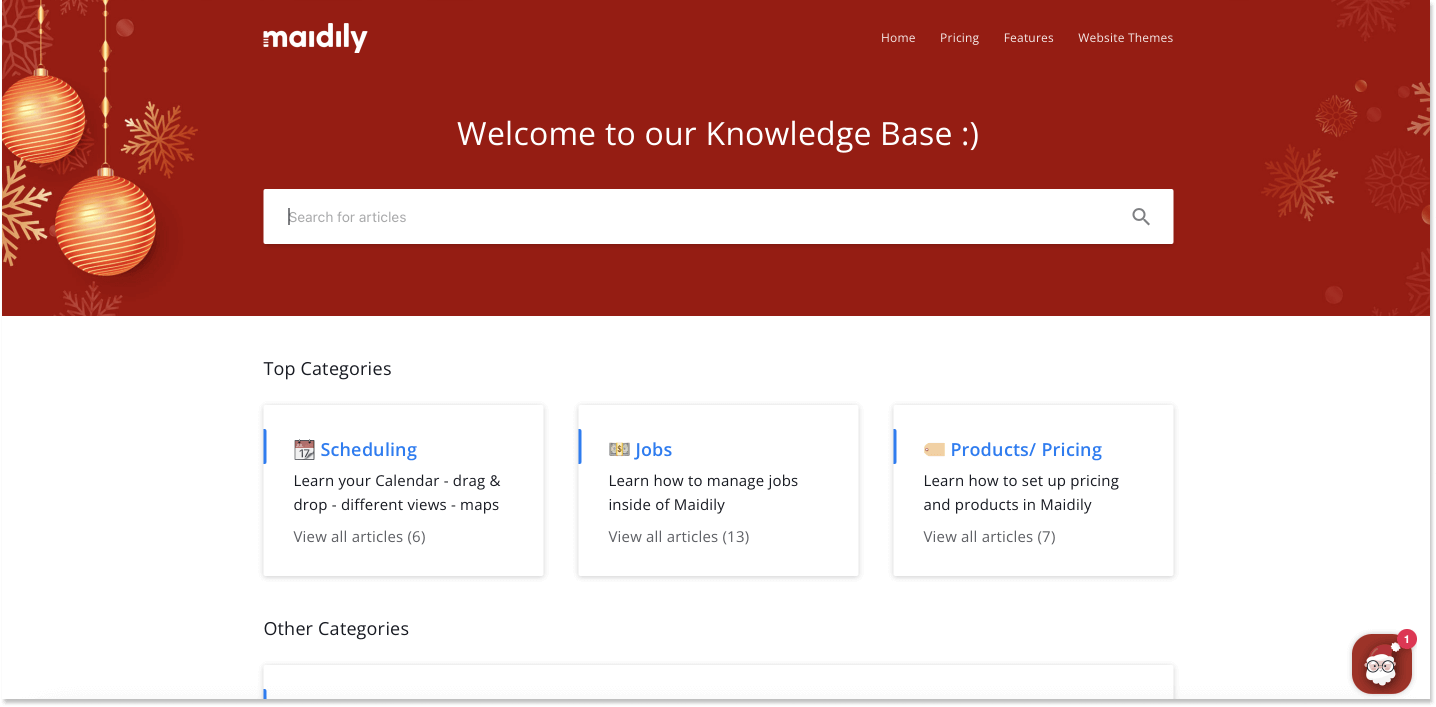 Takeaway: If you want to improve online customer service, you have to be ready to commit to your customers' needs every step of the way. That's something that helps you build strong customer relations and grow the user base. I bet you know that satisfied clients will share their positive experiences with 11 different people! Take advantage of it every time you have a chance.
4. Adobe – apologize for technical issues before they happen
Imagine two scenarios. In the first one, a customer opens your app and suddenly discovers that it's not working. They call you, send angry emails or messages in the chat, they are irritated and want to know what the hell happened!?
In the second scenario, being aware of a new huge feature release, you expect some technical mishaps that might occur to your app. So, you take a moment to drop a message on social media to alert users about problems that may arise from 11 am to 6 pm on a particular day.
Now, you might say that sometimes technical issues can't be predicted! And you are right. In this case, just inform your customers that you are on it BEFORE they bury you under tons of complaints. Basically, it's what Adobe usually does.
Once, when Adobe experienced a problem and was unable to provide services to their customers, they immediately put their statement on Twitter.
That was a great decision to give their followers a heads up about an issue and that they are working to solve it. It didn't stop there. The company also responded to questions on the tweet, providing additional online customer service.
Another trick they used (and you can do, too) – adding a heart-melting picture that will put users in a better mood despite the situation.
Takeaway: Stay transparent with your customers no matter what and admit your fault or any issue openly. Better if you do it in advance. It also doesn't hurt to add a pinch of humor to the message to smooth out the tense situation (but don't overdo it!). The one who possesses self-irony is invulnerable. When apologizing, try to be imaginative; get inspiration from this bunch of clever ways to say "sorry for the inconvenience".
5. Zappos – train your staff to provide excellent online customer service
Customer service training is about teaching support employees product details, software, scripts, but above all the ideology of the company. The better they understand and follow the firm's values, the higher the level of customer satisfaction will be.
For instance, online shoe and clothing retailer Zappos has built a brand powered by a customer experience and excellent customer service. And they did it so well that in 2009 the company was acquired by Amazon for $1.2 bln.
So what's the secret of a shoe-selling brand? One definitely lies in the way Zappos provides customer service.
The company's ideology says "Deliver WOW through service". So practically every interaction with a client should end up with them saying "Wow, it's amazing!"
Zappos positions itself as a service company that just happens to sell all the nifty shoes. They are maniacally obsessed with making sure their customers are happy no matter what it takes – a 10-hour customer service call or a large bouquet of flowers to a sick customer.
But it's one thing to claim that we are customer-oriented and another – to make your support team act accordingly. That's where the training comes into place.
We focus on making sure we have a great service-focused culture. If you get the culture right, then a lot of really amazing things happen on their own.

Tony Hsieh, former CEO at Zappos
There are a few ways Zappos is making sure that all employees understand the importance of great customer service. Here are some of them:
1. They release a culture book every year to emphasize the core values. Each employee writes what Zappos culture means to them in a few paragraphs. It gives everyone a pulse of where the company's culture and core values stand and highlight their importance.
2. Zappos designed a 4-week Bootcamp for newbies to teach employees about the company's history, core values, WOW customer service, and how to create meaningful bonds with colleagues through games, activities, and projects. At the end of the month, everyone is offered a monthly salary to quit. This helps people understand if they are willing to commit to a company for the long term or they are here just for a paycheck.
3. After being trained, Customer Loyalty Team members are encouraged to make sound decisions on their own by taking ownership of each online customer service experience. This way they can quickly adjust to the needs of their clients as they are given management-level decision-making power.
Takeaway: Great customer service can't happen without a company's culture and engaged employees. That's why it's so crucial to train new staff members, help them understand and apply the company values and culture in their day-to-day job. It goes even further because old staff also need regular reminders of why they are here and what they are doing it for.
6. L'Oréal – go digital on each level to meet customer expectations
Today 'digital' is the talk of a town. Digital media, digital marketing, digital customer service. Okay, you build a website, install live chat software, create email and social media accounts – isn't it enough? If in your industry customers expect more, then no, it's not enough. If you ignore your customers, soon they will ignore you.
Life of an entrepreneur is full of challenges, and the biggest challenge is to address and adapt to rapid changes.

Colin Thompson, Managing Partner Cavendish
Here is a quick example from L'Oréal Group, a personal care company, that represented three main innovations in online customer service amid Covid. They knew customers needed new digital solutions, so they provided them. Here are a few examples:
Virtual make-up try-on. The brand has teamed up with Facebook to integrate its ModiFace augmented-reality technology and enable AR-powered virtual try-on. Their patented technology uses a face-tracking algorithm that can detect 63 key landmarks on a user's face. Simply select one of the products you would like to try, click Tap & Try and see your new look live. The software enables users to flick through the shades to find the product that best suits them.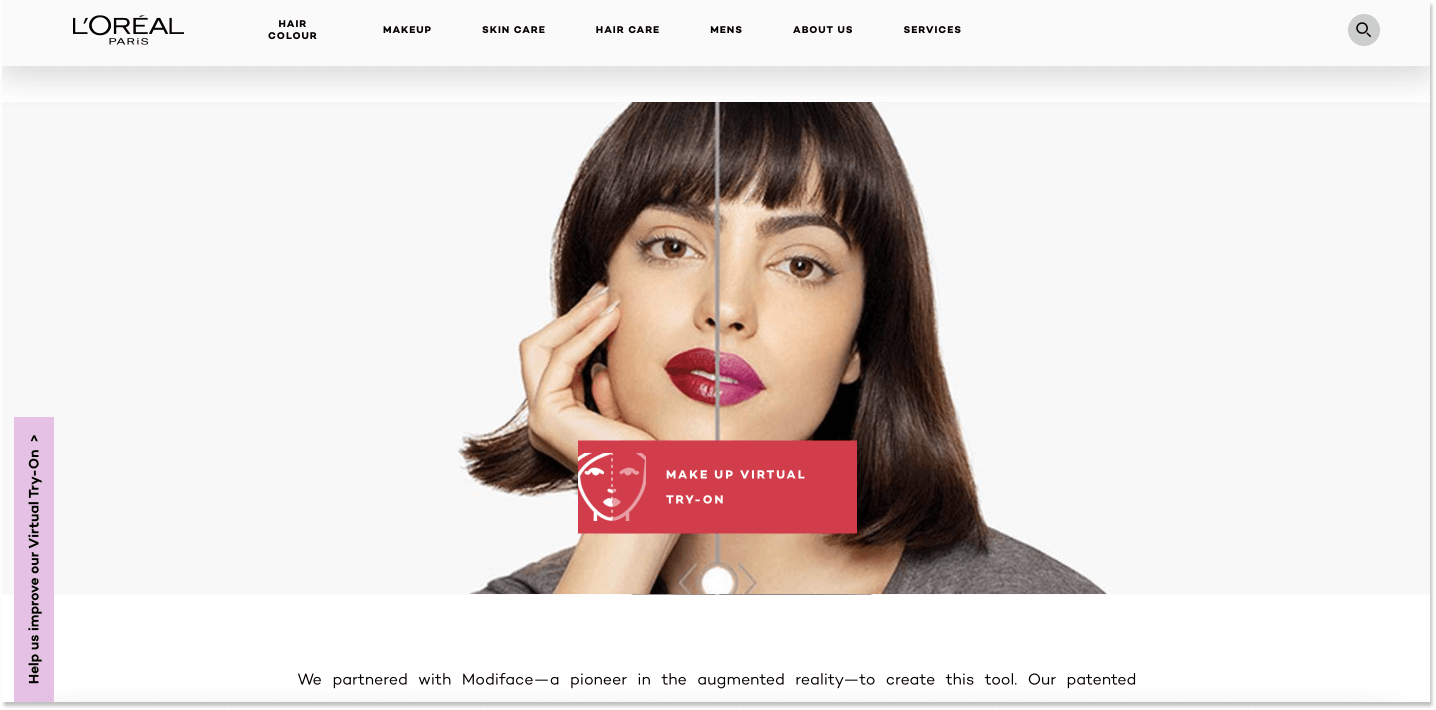 2. Skin Genius. It's a skin analysis tool that gives users personalized skincare recommendations based on just one selfie. The program scans your skins' condition and builds a tailored routine of how to take care of it with the right products. L'Oréal points out that Skin Genius is based on 30 years of data and backed by dermatologists.
3. Live 1:1 skin consultation. The brand now offers a complimentary online consultation. You just choose the time slot, book a meeting, get an email confirmation, and join the consultation through a link. However, the company insists that the consultant only makes recommendations, and it should not replace the advice of a Healthcare Professional.
Takeaway: Both you and your customers are interested in the best possible experiences and opportunities. And as a brand, you have no other choice but to be on the lookout and continuously improve your solution online and offline. Strive for innovation and greatness now in order to stay competitive.
7. Pipedrive and Casper – come up with the best welcome message
The success of your customer onboarding flow relies heavily on the first few touches, and it starts with your welcome message. It has to be clear, actionable, but above all catchy.
We perfectly understand that writing a catchy welcome greeting, which is unique, crisp, and makes the newbie feel warm and fuzzy, is no piece of banana cream cake. Looking for the right words can take hours. But don't worry, we got you covered!
In this paragraph, I will show you two great welcome message examples: one for B2B and another for B2C. Obviously, two might not be enough to wake up your muse, so feel free to explore 21 more welcome message examples to salute your customers.
Pipedrive, a sales customer relationship management tool, bets on social proof, emphasizing that they are #1 CRM software, with 80,000 customers in 100+ industries. The company also includes an explainer video that shows everything customers should know to start with the product.
Subject line: Get Started With Pipedrive
Casper, an e-commerce company that sells sleep products, welcomes customers with a beautifully designed email. These night colors and sleepy language create a relaxing atmosphere around the message and the brand in general.
The company also mentions its award to prove quality and goes straight to the customer's main pain point – returns. A hundred-night trial period sounds extremely tempting.
Their CTA message "let's get sleepy" or title "we are bed serious" are very memorable. I already want to try one of their amazing mattresses! Don't you?
Subject line: Welcome to Casper!

Takeaway: You have only one chance to make a great first impression, so make it brilliant. Start a journey with a new customer on the right foot by picking up the right words. It will definitely help you make better connections and move users through your onboarding process more effectively. Remember that a welcome message can increase the chances of customer engagement by 33 percent.
8. YouTube – collect real-time feedback to improve online customer service
If you're growing a business, you can't go without customer feedback. By collecting and managing it right, you can improve not only your service but the product as well. One of the ways to collect it is in real-time.
Real-time customer feedback is collected at the moment or right after users experienced some aspect of your product or service. Websites use various methods to collect this data, including live on-site chats, chatbots, or NPS scores.
YouTube has also been providing real-time surveys for a while now. The company is eagerly looking for new ways to improve its customer experience. And they can't make it without users' feedback.
What you are looking at is a targeted customer satisfaction survey (CSAT), invented by YouTube itself. By pairing a particular CSAT question (rate the best video, brand, product, etc.), with an incentive (the ability to skip the ad), the company uplifts response rates amongst users.
If you are not yet ready for in-depth surveys, start with a live chat rating. With the right customer communication software, you can collect users' opinions in the chat immediately after they receive help from your support team. It will help you spot the gaps and improve online customer service if needed.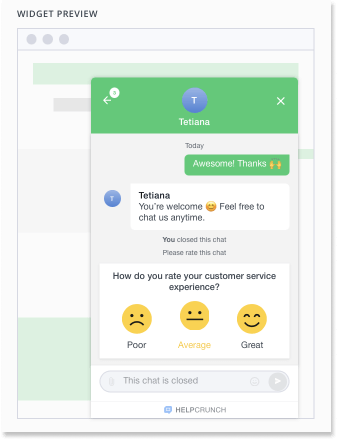 Takeaway: If you run your own business, it's crucial to collect customers' feedback to be sure that your efforts bring desired results. Users' opinions about service can guide your product or service development.
There are plenty of ways you can collect users' feedback – via live chat, social media, app, website, or more. Don't rush into all things immediately, instead, pick one method to start with that perfectly matches your industry, target audience, and product.
Sum up
Digital customer service accompanies every business everywhere. It brings new opportunities and new challenges to those who are just about to go digital. With proper commitment and consistency, there is no denying what you can do!
What's more, your road to great online customer service doesn't have to be bumpy at all. Pick an all-in-one customer communication tool like HelpCrunch, sign up for a 14-day free trial, and offer digital support for your customers today! No strings attached.