Categories: SaaS
It's been a year since Maidily became a customer of HelpCrunch. During this time the company has been constantly evolving and gaining new сlients. We decided to reach out to Maidily CEO Mony Gueorguiev and ask him about his experience with the HelpCrunch platform and how it helps him grow his business.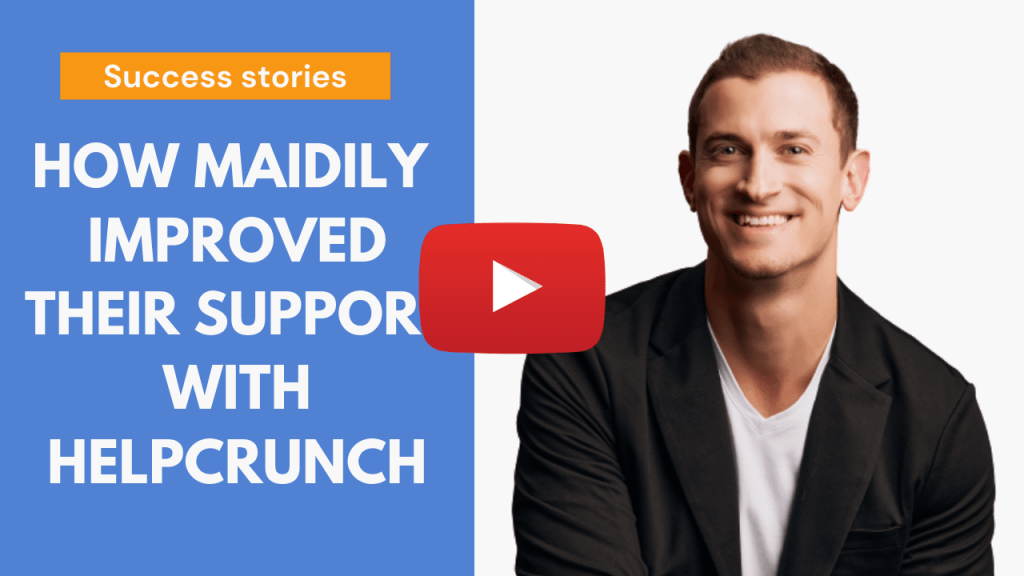 Based in Atlanta, Maidily is a scheduling software company built specifically for cleaning businesses and maid services. Their product allows entrepreneurs to track customers and jobs, schedule visits, and basically manage their businesses from the platform.
We offer a scheduling function plus everything else a normal business owner would probably need to run and grow their cleaning business. So everything from online checkout processes and online booking forms to payment processing, taking credit cards, sending up reminders, tasks – we cover all of it.
Launched on a full scale about a year ago, the company is just building its way up to the top and has over 300 monthly active users at the moment.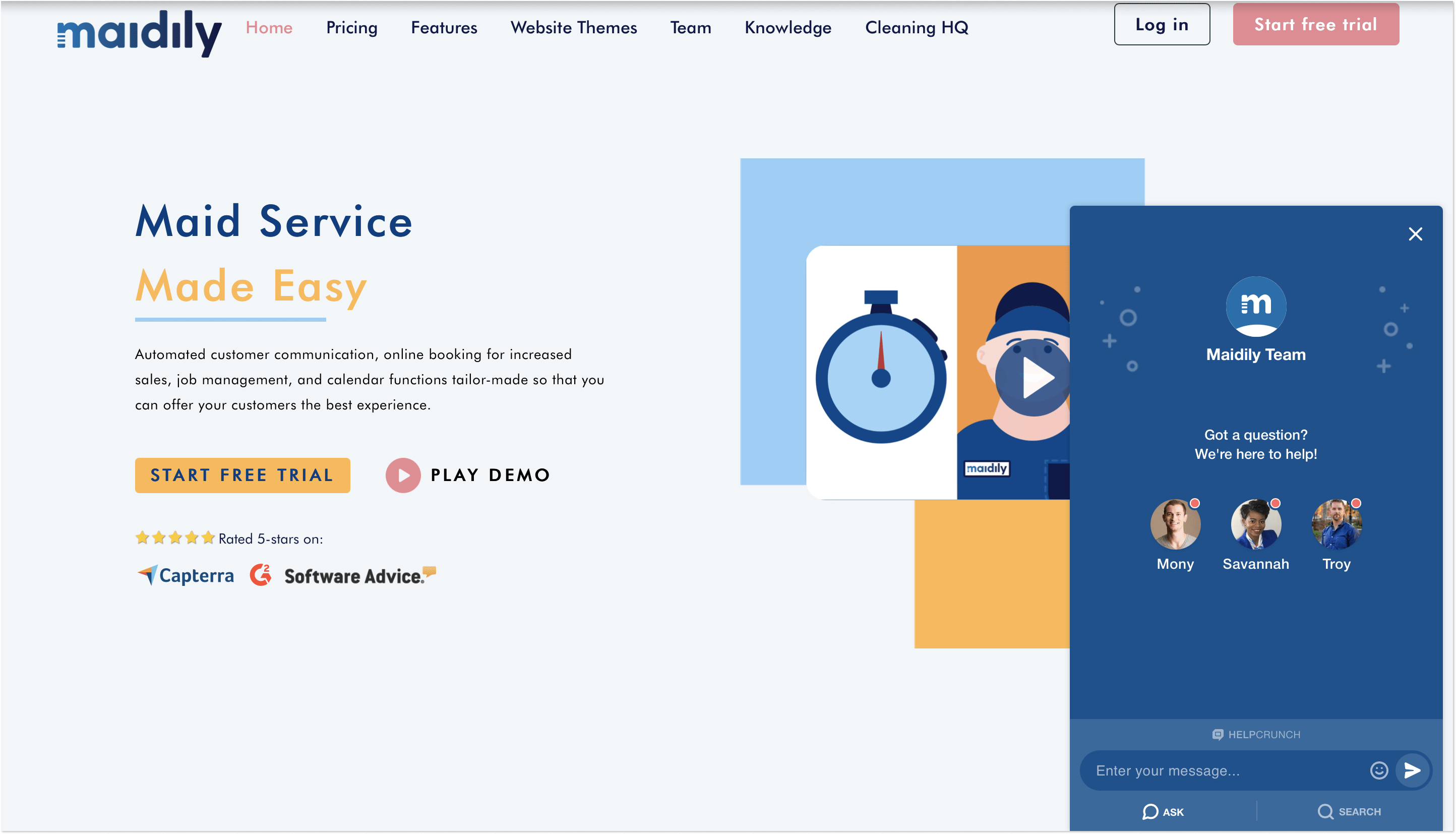 The beginning wasn't an easy one
We are pretty new at this point. We were supposed to launch in March 2020 but the Coronavirus significantly damaged our industry as it's a hands-on business when people come into your house to clean. It was terrible. We've launched the company and nothing happened obviously. We weren't sure what to do – whether we should continue doing this or shut it down.
Maidily didn't give up and instead focused on improving the product while they had time. In 2021, when the restrictions had been gradually removed, and people had almost returned to their ordinary lives, Mony's business got a second wind.
Now Maidily has hundreds of customers and counting. And where there are clients, there should be a trustable well-oiled customer communication platform.
The challenges
Initially, the company decided to go with the HubSpot solution but their experience wasn't that great.
Something was happening to their live chat. It was glitchy. It led to contacts being duplicated in the dashboard over and over again each time customers signed in. For a software company like ours, chat is extremely important. You don't get as many calls as you get chats. People stop by the website, ask "Hey, I am interested in this…" and then they leave. It's a small but very important function, and we couldn't keep going with such severities.
The HubSpot customer service wasn't there to help solve this technical issue.
It was crazy because support has never even acknowledged it as a problem. Never even wanted to help. I reached their support multiple times over the course of a month, and they never acknowledged it as a real issue. They often left me without a response. And it was probably a very big important factor that made us switch.
Another challenge of Maidily was adjusting the knowledge center. They were looking for a reliable knowledge base feature to provide customer self-service. And HubSpot offered this function within their package but it looked confusing and, considering the other issues with the platform, Mony decided to refrain from this offer of HubSpot.
The solution
Being disappointed with the previous tool, the Maidily CEO was searching for other chat software out there, and that's how he came across HelpCrunch. First, he literally wanted to make sure that the customer service of the new tool is responsive and, in case of any issues, he will be heard.
I was also looking for a reliable glitch-free live chat and a smooth knowledge base. And so when I found HelpCrunch, I really liked its user interface – very clean and simplistic. This simplicity is not about the lack of features, it's just very easy to navigate the platform. The setup process is also straightforward with no confusion.
So, what were the turning points for Maidily to stay with HelpCrunch?
A customer-facing chat
Now, with no technical issues, it became much easier for support agents to manage chats with leads and customers. Besides, Maidily offers 24/7 chat assistance for their Plus users.
Mony also marks the importance of the Auto messages feature of HelpCrunch that allows you to display different proactive messages on different pages of the website.
For example, I wanted to offer a discount for people that visit the pricing page only one time though. And it's not the message that appears on every other page, but only on the pricing page at a certain time with a little "Get a quick discount code" info to invite users to sign up. It's a pretty cool and useful function.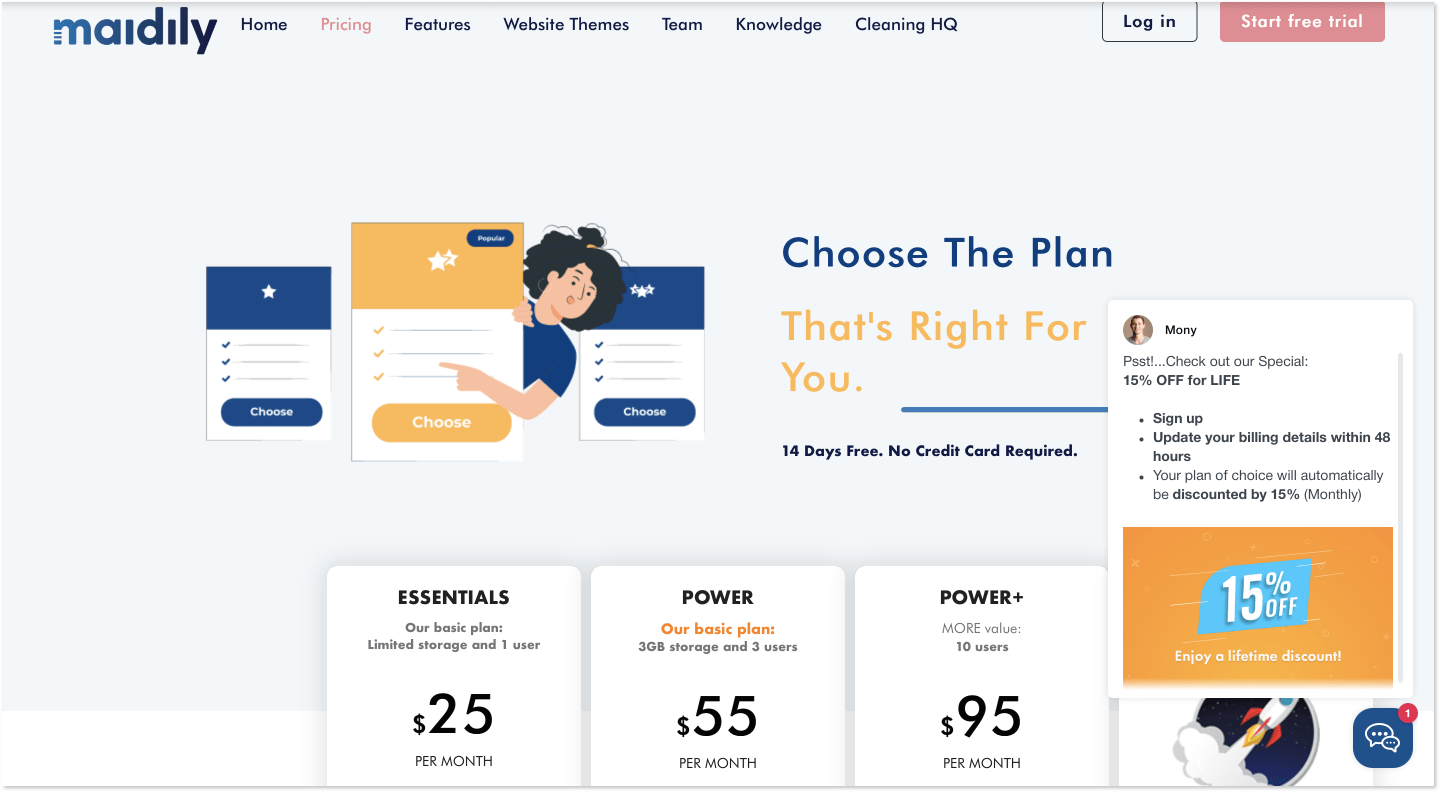 A smooth knowledge base
Before switching to HelpCrunch, Maidily was using their internal knowledge base which Mony didn't really like. They had a problem with making a wall of text not seem like a wall of text by embedding videos, adding graphics, bullet points structure, and so on.
When Mony came across the HelpCrunch knowledge base he liked the way it's set up with a search bar, three icons on the top, and everything else below. It's very straightforward.
I appreciate how easy it is to set up the knowledge base, update content and manage it in general. The customize ability is great and I like that I can change it the way I want. We made it look like our own.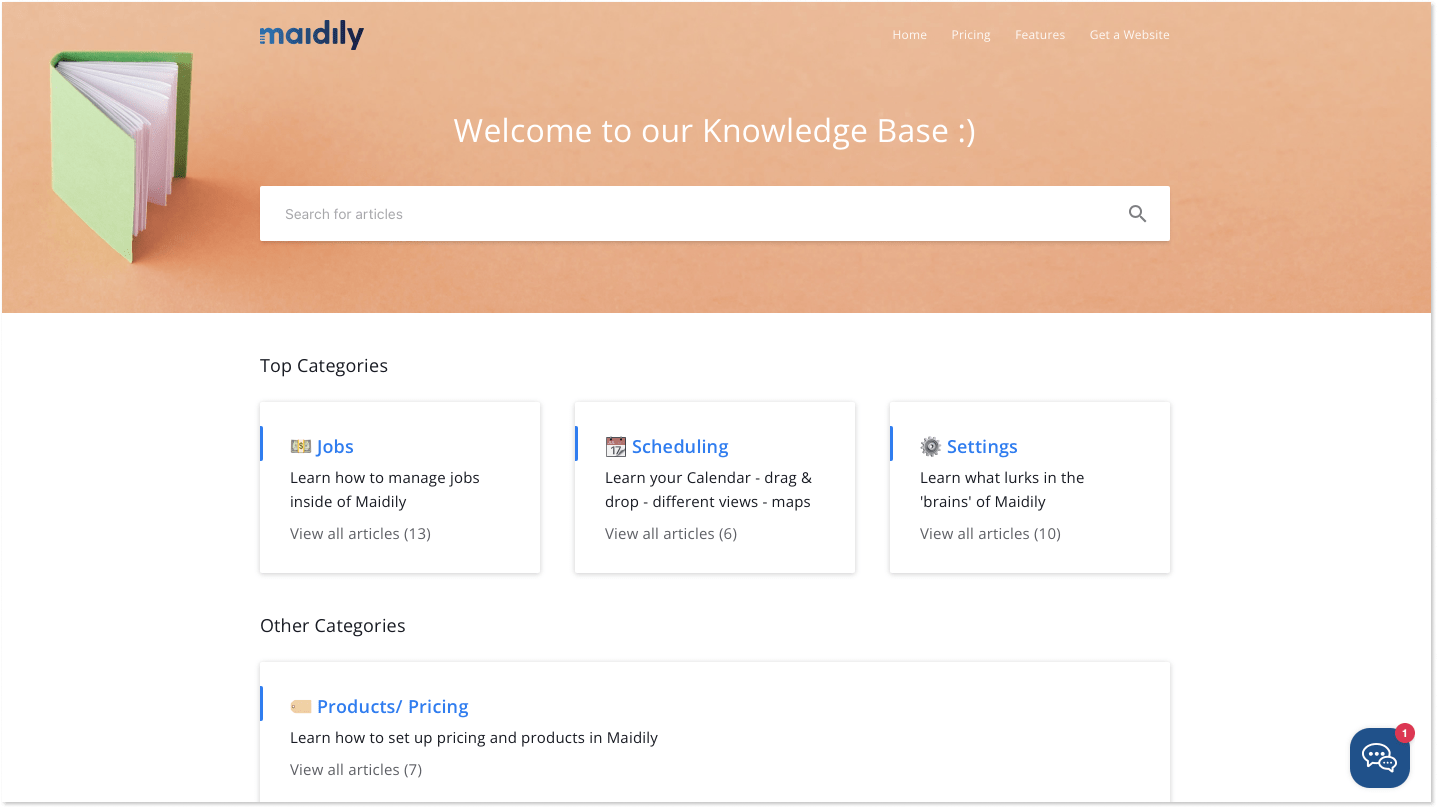 Caring customer support was a turning point
When switching to HelpCrunch, the Maidily CEO was confused about what he should do with all the helpful materials they've already created and posted on their internal help center. How to import them to the HelpCrunch knowledge base painlessly and quickly?
I asked someone from the HelpCrunch team if they can help… And they said: "Sure, just give us access to your helpful materials." And you guys imported all that stuff within like two days or something. That was pretty cool. I super appreciate this. Because there were a lot of articles, pictures, videos. That was probably my number one turning point. The help that you guys provided by doing that for me was a lot.
The result
The knowledge base feature was the most responsive in terms of customer reactions. Applying a customer self-service option caused a direct decrease in emails to Mony and the company's support team. Just because it's a lot easier for someone to go to the knowledge base and search for any topic they want.
The help center functionality that allows people to leave reactions at the end of each article was also supremely helpful. That's how the Maidily team spotted a couple of poorly-written articles and was able to improve them.
Thanks to a reliable live chat, the company continues to support clients around the clock without interruptions and grow its customer base.
The overall feedback is that HelpCrunch has been amazing. The support from HelpCrunch has been great ever since the beginning. And the fact that HelpCrunch is constantly rolling out new features is super important for me as well. I'd totally recommend your platform.
Maidily is a SaaS solution for cleaning businesses. It includes automated customer communication, online booking, job management, and calendar functions.
Industry
Cleaning and maid services
Use case
Customer support Customer engagement
Key features used
Live chat Knowledge base Auto messages