7 Multichannel Customer Support Software to Avoid Incoherent Communication  
Going multichannel? Make sure your tool ticks the box. Look at our compilation of the 7 multichannel customer support software and choose your winner.

Meet a typical customer of an online shop 💁‍♀️They made an order and reached out to customer support to fill in the dots. "Oh, the shop has an Instagram account, I'll contact them there" – thought our customer and dropped a line.

A shop's support rep got the message. But they were unable to cater to the customers' needs at that very moment. So our client was kindly asked to use the website's live chat.
What's my angle on that? It's plain and simple – this is multichannel customer support in all its glory. The shop in this story had at least two separate communication channels available. What about you? Can your software boast about the same?
Even if you're negative, fear not, we've got your back. Here's a little clue to give you a taste of what's ahead: the pool of choice will make you dizzy, and you won't know what option to go for 😁You don't believe me? Then enjoy the read!
7 multichannel customer support software
Jumping ahead of your questions, there's a clear omnichannel vs multichannel difference.
On the one hand, the former deals with several interconnected communication channels for a seamless customer experience.
On the other hand, the latter's strategy means that there are various channels that do not correlate with each other. We stick to the multichannel. Here it goes!
G2 Rating: ⭐️⭐️⭐️⭐️⭐️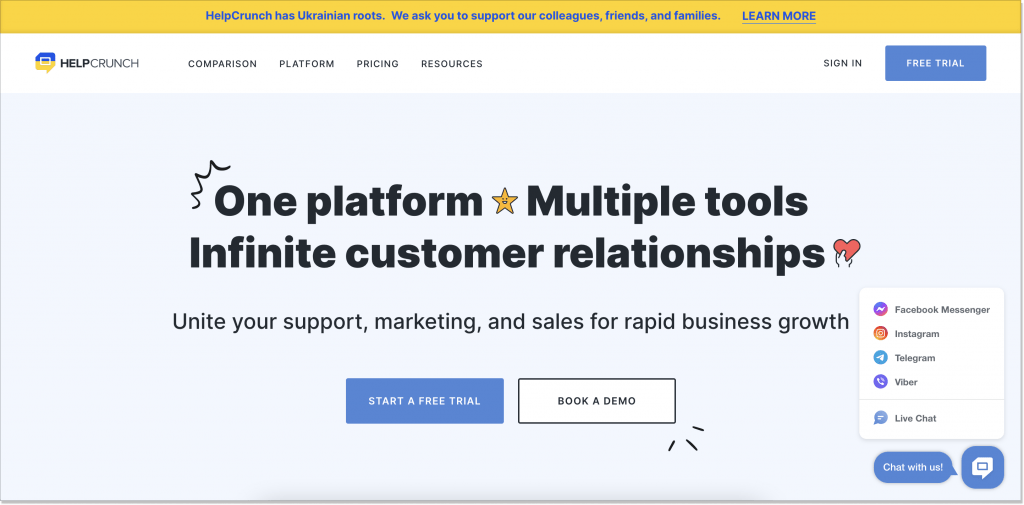 Today, we have a bunch of multichannel customer support software at our fingertips. There's one, though, that will steal your heart away sooner than you think – HelpCrunch!
This all-in-one platform is designed with consistent customer communication in mind and brings the comfort of messages. Here, you will explore all the modern channels to chat with your clients without tab-jumping:
Live chat – I could talk about our frontrunner for days on end! Dive into fast customer support, shoot proactive messages, send pre-chat forms to skyrocket lead generation, and do so much more with it. Try it!
Chatbot – even though this feature is currently in a beta version, you still have time to test it and create your first chatbot flow! It can be available 24/7, catch leads, and offer contextual self-service with knowledge base articles.
And guess what? All your correspondence will stream down in the same place – a shared inbox. To put it another way, you can boost agent productivity and welcome less frustrated customers with such a toolset.
On top of that, thanks to the auto message feature, you can set up and launch a website welcome message for new users.
But that's only the tip of it. What makes HelpCrunch truly multichannel is Instagram, Telegram, Facebook Messenger, Viber, and WhatsApp integrations (the last one is coming! We'll let you know when this feature sees the light of day. Stay tuned!)
Suppose you have already signed up for HelpCrunch to take it for a 14-day spin or are already a client. How to make your widget shine with multiple channels? Here are a few heads-up:
Make sure you integrate all the necessary channels for your brand with HelpCrunch in the Settings → Channels;
Find the Website Widgets → Widget Customization → Messenger Apps and switch the toggle so that the channels are shown in the widget.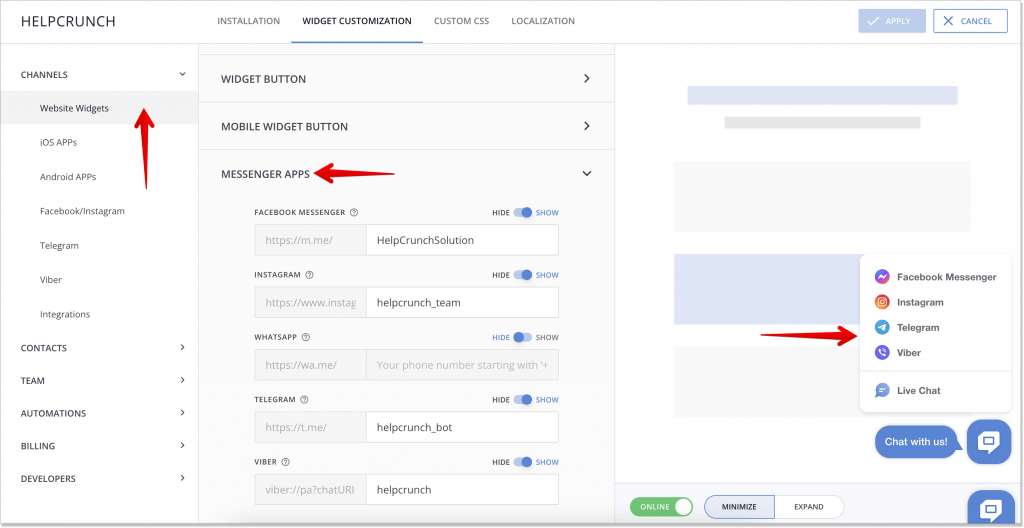 Another good news is that an integrated knowledge base, email marketing functionalities, and a popup builder come in the package as well. So I can assure you that your business support, sales, and marketing are bound to be a win-win.
Pricing
If you're looking for budget-friendly multichannel customer service software, your search finishes here (but do read this article till the end as there are other options worth your attention 😅). The pricing in HelpCrunch starts only from $15/mo/team member (if billed monthly).
2. Tidio
G2 Rating: ⭐️⭐️⭐️⭐️⭐️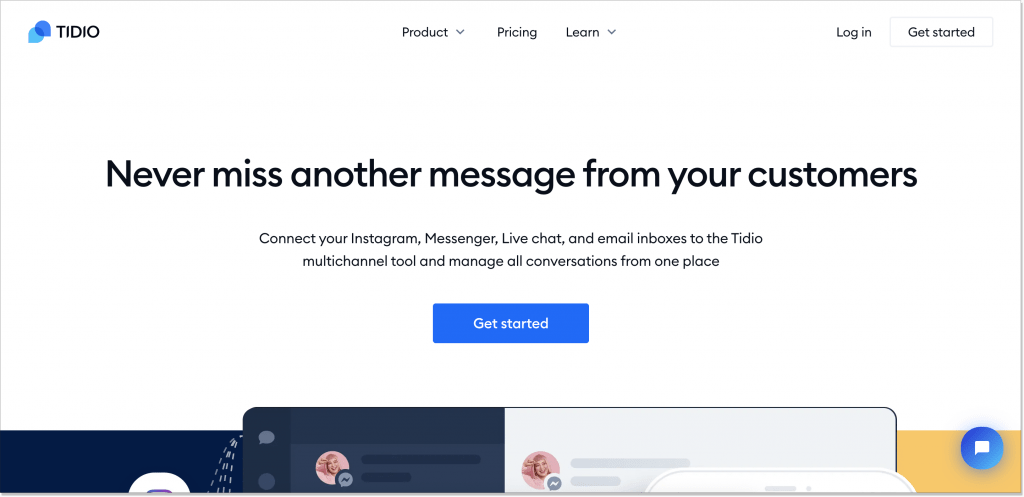 Our next hero, Tidio, also goes multichannel. Just like HelpCrunch, this platform is full-house with the following channels going hand-in-hand:
Live chat – provide instant and personalized customer support on your own or leverage automation to pawn off manual tasks;
Email inboxes – welcome email letters that pop up in one window so that you have a unified view of what's happening and always stay in the context;
Instagram – upgrade sales and answer your clients right in the DMs;
Facebook Messenger – set up a trained Messenger bot that can recognize customer queries and answer questions of all sorts.
Pricing
Together with a free plan, Tidio offers 3 other pricing plans: Communicator – $19/mo (billed per operator), Chatbots – $39/mo, and Tidio+ – from $289/mo. All prices are shown if billed monthly.
3. Userlike
G2 Rating: ⭐️⭐️​​⭐️⭐️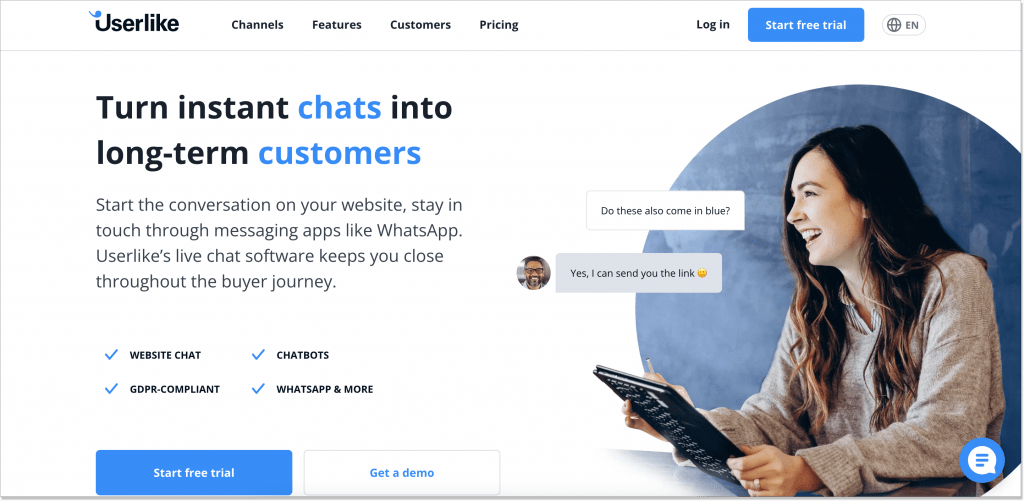 Userlike has been around for a while (since 2011, to be precise) and claims to be a customer messaging platform with flawless communication at the top. Let's look at the features that make Userlike multichannel:
Threema – I would call it a star turn as no other Userlike competitor suggests it. If you're out of the picture, Threema is a secure way to communicate with customers: all the data is fully encrypted. 
Website chat – this is an ordinary live chat you see each time you land on a website. It can help you guide users, raise conversion rate, and build bridges with customers;
Telegram 
WhatsApp – this is not a frequent feature in the world of multichannel communication. Though, Userlike provides it and integrates it with the WhatsApp Business API;  
SMS – yeah, people are still texting out there. So this solution offers a platform-independent SMS customer service program for messaging that doesn't require an Internet connection;
Facebook Messenger – the good old Messenger appears in this list as well. So no surprises here, you know what to do; 
All messages will show up in your Userlike Message Center (think of it as a shared inbox). What struck me the most, however, is that Userlike doesn't provide Instagram. At least yet. However, they added a promising "Coming soon!" phrase to their website. Well, we'll see about that.
Pricing
For multichannel customer service software with Userlike, you will have to cough up from $100/mo if billed monthly. Sure thing, the team has also a free plan. Should you want to upgrade to a Business package, be ready to pay $800/mo (if billed monthly).
4. Freshdesk
G2 Rating: ⭐️⭐️​​⭐️⭐️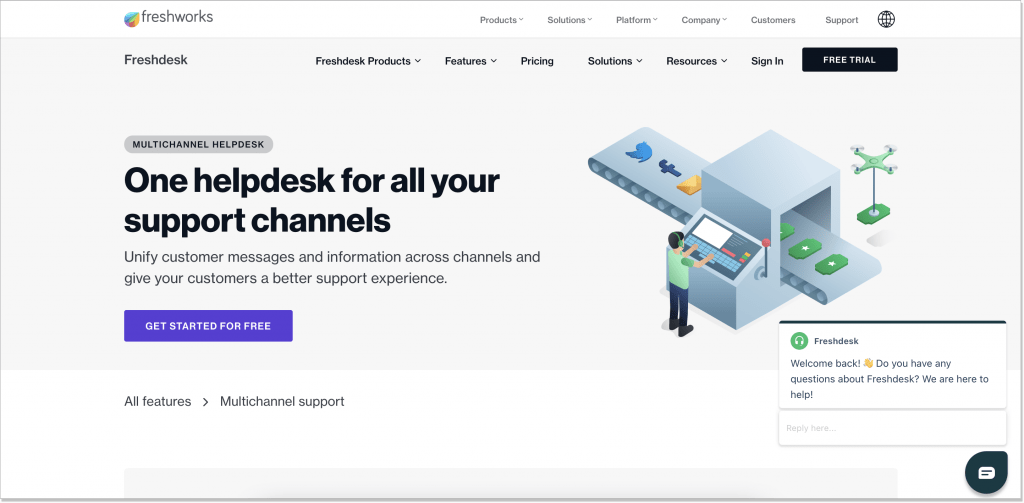 Who doesn't know Freshdesk? It represents multichannel customer service software with a helpdesk at the wheel. In case you're wondering how you can achieve a unified customer experience, Freshdesk can come in handy. There are its functionalities:
Email support – once a customer sends an email, it appears in a single interface where you can create trackable tickets, manage, categorize, and assign them to your colleagues hands down;
Phone support – being a rare case in our today's compilation, phone support from Freshdesk stands for a fully functional cloud call center. Answer your calls without leaving your helpdesk, record them for a more in-depth context, or attach them to tickets;
Live chat – this one is a fixture when we talk about multichannel. Engage with your website visitors, offer in-app support, transfer chats to specific team members or departments, and do so much more;
Facebook support – you can connect your Facebook account with Freshdesk and process customer comments, reviews, or whatever right from the helpdesk;
Twitter support – reach out to customers where they are by integrating your Twitter account with Freshdesk. Besides, you can set up automations for a smoother workflow.
When looking for the best solution, compare Freshdesk vs Zendesk, and explore their feature sets and pricing plans. (Spoiler alert! I'd personally go with Freshdesk 😉
Pricing
Freshdesk's pricing isn't the most affordable on the market. To go multichannel with this solution, you will have to splash out $35/agent/mo and $119/agent/mo for upgrading (if billed monthly).
5. Crisp
G2 Rating: ⭐️⭐️​​⭐️⭐️⭐️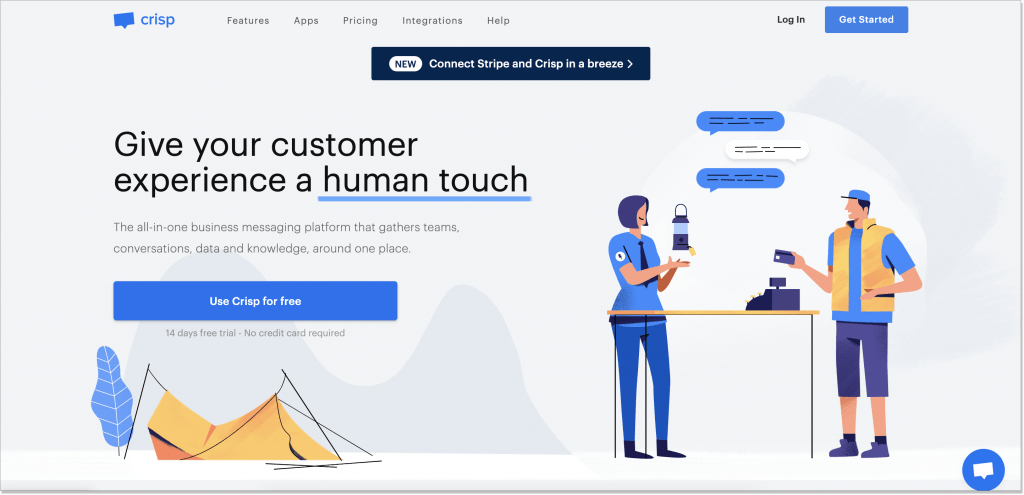 Crisp is thought to be an all-in-one multichannel customer communication platform that can help you generate more qualified leads, provide better assistance, and enhance customer satisfaction.
What channels does Crisp offer? Pretty much the same as their competitors do:
Live chat – as the team puts it, you can enjoy richer conversations. True, you can set up chatbot flows, share files of all sorts, and play around with CrispBird (a witty game to keep website visitors engaged when a support agent is offline);
Chatbot – aside from the flows that any modern chatbot provides, Crisp allows you to send multilingual messages, build a bot for a website, Facebook, Line, or WhatsApp, and book meetings automatically;
Knowledge base – just like HelpCrunch, Crisp's knowledge base is integrated into the live chat widget which makes web self-service a cakewalk.
Pricing
Simple and transparent pricing, – states the Crisp page. Well, that's true enough. They offer a free Basic package, Pro – €25/mo/workspace, and Unlimited – €95/mo/workspace. Sure thing, you can take advantage of a 14-day trial and see if this solution fits the bill.
6. HelpDesk
G2 Rating: ⭐️⭐️⭐️⭐️⭐️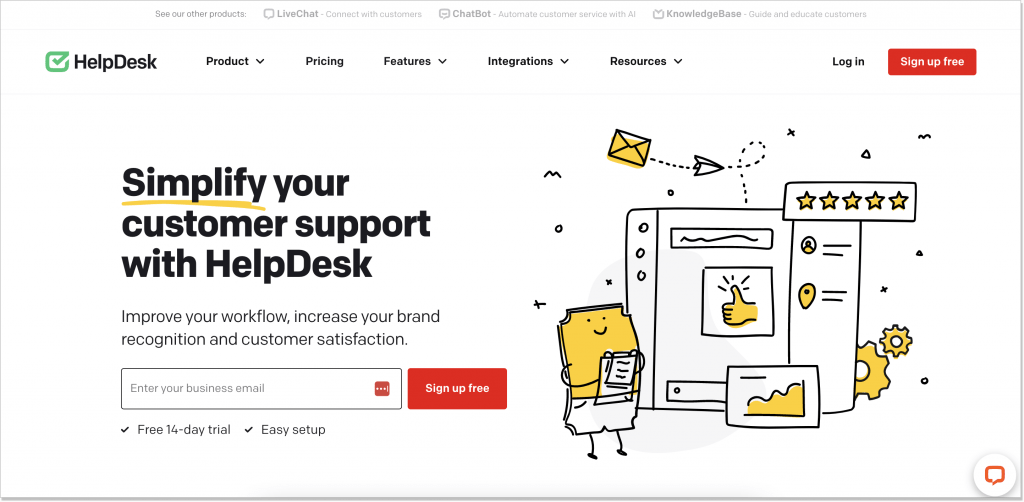 Do you crave simplicity and nothing extra? Then pay heed to HelpDesk – an online ticketing system. Thanks to a collaborative workspace, your team members can back each other up being knee-deep in customer requests. Let's have a closer look at the HelpDesk's arsenal (do I need to mention that every message will stock up in the same place?):
Live chat – you can easily integrate a live chat with your unified helpdesk to manage all the correspondence from there.
Chatbot – with it, automation will be a snap. Choose from a variety of ready-made flow templates, greet website visitors, lead clients to a successful sale, and convert them in the nick of time.
Pricing
Surprisingly enough, HelpDesk has only one plan – Team plan ($34/agent if billed monthly) where you can leverage all the features needed for quick customer communication.
7. Superchat
Capterra Rating: ⭐️⭐️⭐️⭐️⭐️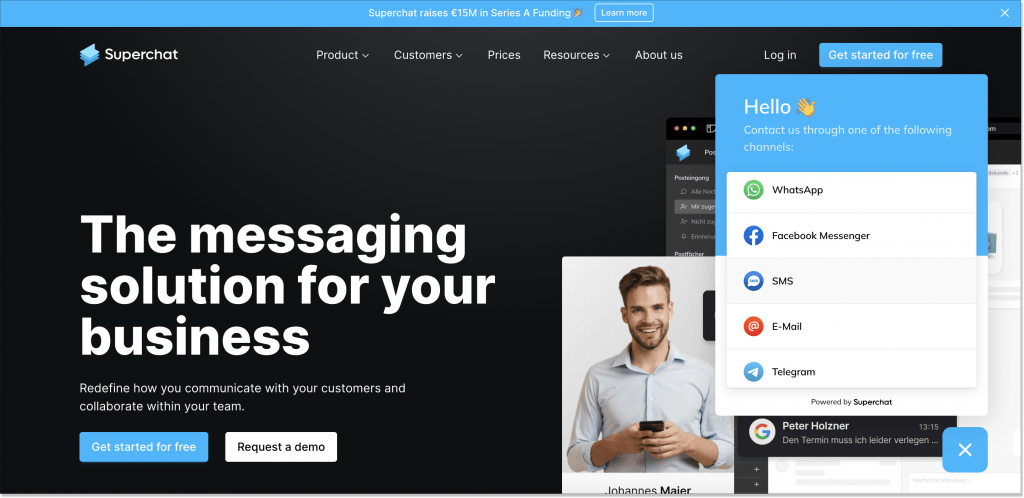 Being a relatively new solution in the multichannel customer support environment (since 2020), Superchat fits in almost perfectly.
Superchat's hallmark is a website chat. Round-the-clock availability, proactive hacks, and cart abandonment: these are only a few things you can do with it. These are the channels that hide in their online chat:
WhatsApp
Facebook Messenger
SMS
Email
Telegram
Instagram
By the way, a cool thing about WhatsApp is that Superchat provides special WhatsApp newsletters that you won't experience in any other competitor. Design a letter without switching to your email to make as many customers as possible purchase from you.
Pricing
Even though Superchat is just barely starting the journey, its pricing can't be called the most affordable. For a Basic plan, you will have to pay €89/mo, and to go with an Advanced one – €299/mo (if billed monthly). To be honest, there are more lucrative offers on our list but the choice is yours.
Concluding remarks
What a compilation we have presented today! A tool cut from every cloth yet suitable for a shared objective – building client relations and elevating customer engagement. However, don't jump all over just yet. You have to contemplate these solutions weighing the pros and cons for your business. Hopefully, you will find your ideal multichannel customer support software after meeting them in our article!