Did you know that HelpCrunch is super high performer? Well, our happy clients have known this for a while, but now it's official.
According to the G2 Crowd's Fall 2018 report, HelpCrunch has been named a 'High Performer' in the customer success software category. Yep, we're cool 🙂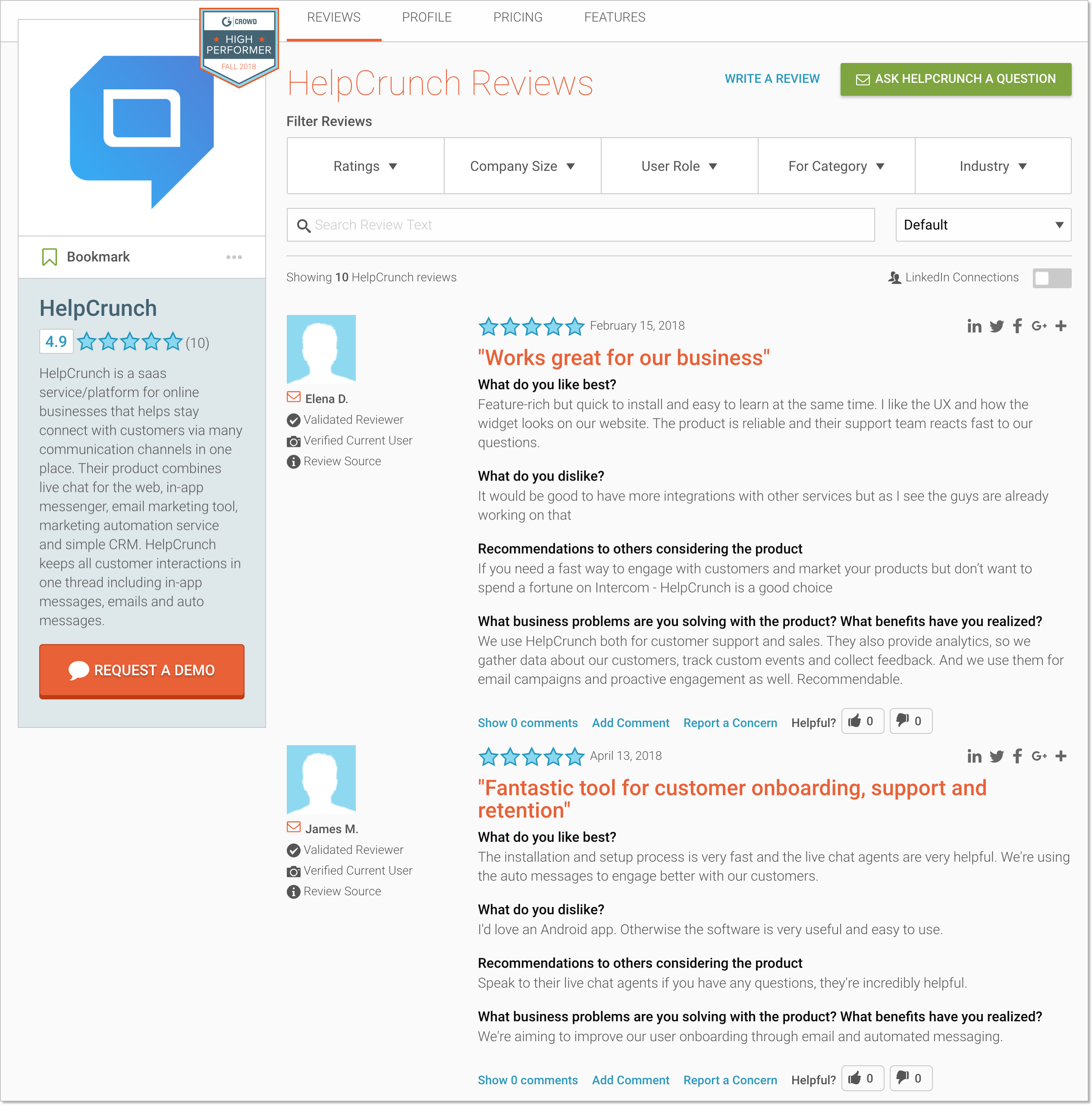 What it means in plain English is that our users have been actively reviewing and recommending us to the world. So we decided to take a moment and thank you all for your positive feedback.
[otw_shortcode_quote border="bordered" border_style="bordered"]Crowd reports are based on data provided to us by real users. We are excited to share the achievements of the products ranked on our site because they represent the voice of the user and offer terrific insights to potential buyers around the world.
Michael Fauscette, chief research officer @ G2 Crowd
[/otw_shortcode_quote]
We've always valued our reputation and your kind words mean a great deal for us. Those who have been using our tool for a while now, know that we pay attention to each of your requests. You're probably familiar with our customer success specialist Konstantin who is always there for you.
You can be sure Konstantin is forwarding all of your requests to the rest of the team (and I mean ALL of your requests) and we discuss them in detail. When possible, we're always trying to find the best possible solution for each of them.
Moreover, it's not that rare when we go and add new tiny features, buttons, and options to our software – by a single request from a client.
That's why we are all the more pleased to see you notice and value our effort.
About G2 Crowd
G2 Crowd, the world's leading business solution review platform, leverages more than 381,000 user reviews to drive better purchasing decisions. Business professionals, buyers, investors, and analysts use the site to compare and select the best software and services based on peer reviews and synthesized social data. Every month, more than one million people visit G2 Crowd's site to gain unique insights.
If you want to check out what our (highly satisfied) clients have to say about us or are willing to leave your own review of HelpCrunch, just visit our review page at G2 Crowd!
HelpCrunch articles delivered straight to your inbox 🚀
All the latests posts. One email per month.
No strings attached.
Read also
News
Today is a big day! We are celebrating the birthday of HelpCrunch. On this occasion, we want to tell you our honest story of the company foundation. To make it more valuable, we share our tips on how to grow in a highly competitive market.
News
HelpCrunch tuned in for the fastest-growing tech conference – Collision! Everything we've learnt about customer centricity is in here. Specially for our readers, the reports that won us from the very start.
News
2020 is almost over, so it's time to review our achievements and make plans for the next year. Read all about our highlights from the last 12 month (we're not crying, there's just some nostalgia in our eyes).