11 Prime Chatbot KPIs to Gauge Its Effectiveness
What chatbot KPIs should a business monitor for its A game? Let's find out.

Recently, the world's been buzzing about chatbots and the miracles these virtual beasts can gin up. They can enchant your website visitors 24/7, fight off their requests, send them knowledge base articles to boost self-service, book doctor's appointments, and do much more. Looks like a perfect fairy tale.
But does this fairy tale have a happy ending?
It does! Only under one condition, though: if this chatbot falls into good hands. By "good" I mean a caring business that monitors its bot's success and performance by tracking chatbot KPIs.
Therefore, I walk you through the main chatbot analytics and metrics you should gauge to tame that "beast" of yours. Besides, we'll talk about obvious reasons why you have to do that in order to thrive. Stick around! 🙌
What are chatbot KPIs?
Chatbot KPIs (Key Performance Indicators) refer to the data that a business gathers, processes, and monitors during its chatbot ↔ customer interaction. These are indicators that are vital for the business's success and directly affect its profitability. Besides, by KPIs, we usually mean certain goals that a business sets and that have to be achieved over a period of time. In our case, these goals are set for a chatbot.
Do not mix a KPI with a metric, though. It is a much broader term and involves everything that a brand can optimize and measure.
If you have never taken this journey before, my hopes are you will after reading this article! By tracking the critical chatbot KPIs, you can gain valuable insights into how your bot operates, make data-driven decisions, and start panicking, if need be…
In HelpCrunch – the place where all the essential tools for customer service collide – we provide the analytics for any chatbot flow you create. Here, you can see how many of them enrolled, how many customers engaged with them, and the number of finished flows.

Do you want me to anticipate your next question? 😉 How to build your own chatbot flow with HelpCrunch! Take my word for it: the whole process is as simple as rolling off a log. First, you sign up for a free 2-week trial (completely free of charge). Second, you go to Chatbot → Add new flow. Try it now!
Why gauging chatbot KPIs is a good idea
Nathan Rothschild, the German banker, once said "The one who owns the information, owns the world". This phrase is applicable to almost any if not all areas – education, entertainment, and publishing. Sure thing, it also resonates with businesses and chatbot KPIs in particular. Here is why you need to check your bot's metrics on a regular basis:
Better customer experience – no one is perfect and your team may not be as well (no hard feelings). Since your chatbot can dig into the client's pain points, you can then build a tailored strategy for this client.
Technical issues detection – error messages, loops, and dead ends in customers' problem troubleshooting can bomb their experience with your chatbot to dust. To stop that from happening, monitoring special analytics is the way out. It lets you identify critical issues and suppress them before they snowball.
Insights into customers' behavior – data can speak! When chatbots collect users' contact information, demographic data, and whatnot, you can peek into it later and better realize their intentions. Plus, chatbots can ask for customer feedback, preferences, and dislikes. Leverage this intel for your targeted campaigns.
11 chatbot KPIs to monitor if you want to slay customer communication
Come to think of it, one negative chatbot experience can drive away 30% of customers. Would you like to face it? I gathered as much.
To prevent you from such a bugger, I share 13 chatbot KPIs with you. They are divided into three groups: conversation indicators, user indicators, and customer sentiment. You track these and the chatbot's ideal performance, as well as satisfied customers, are in the bag 🙌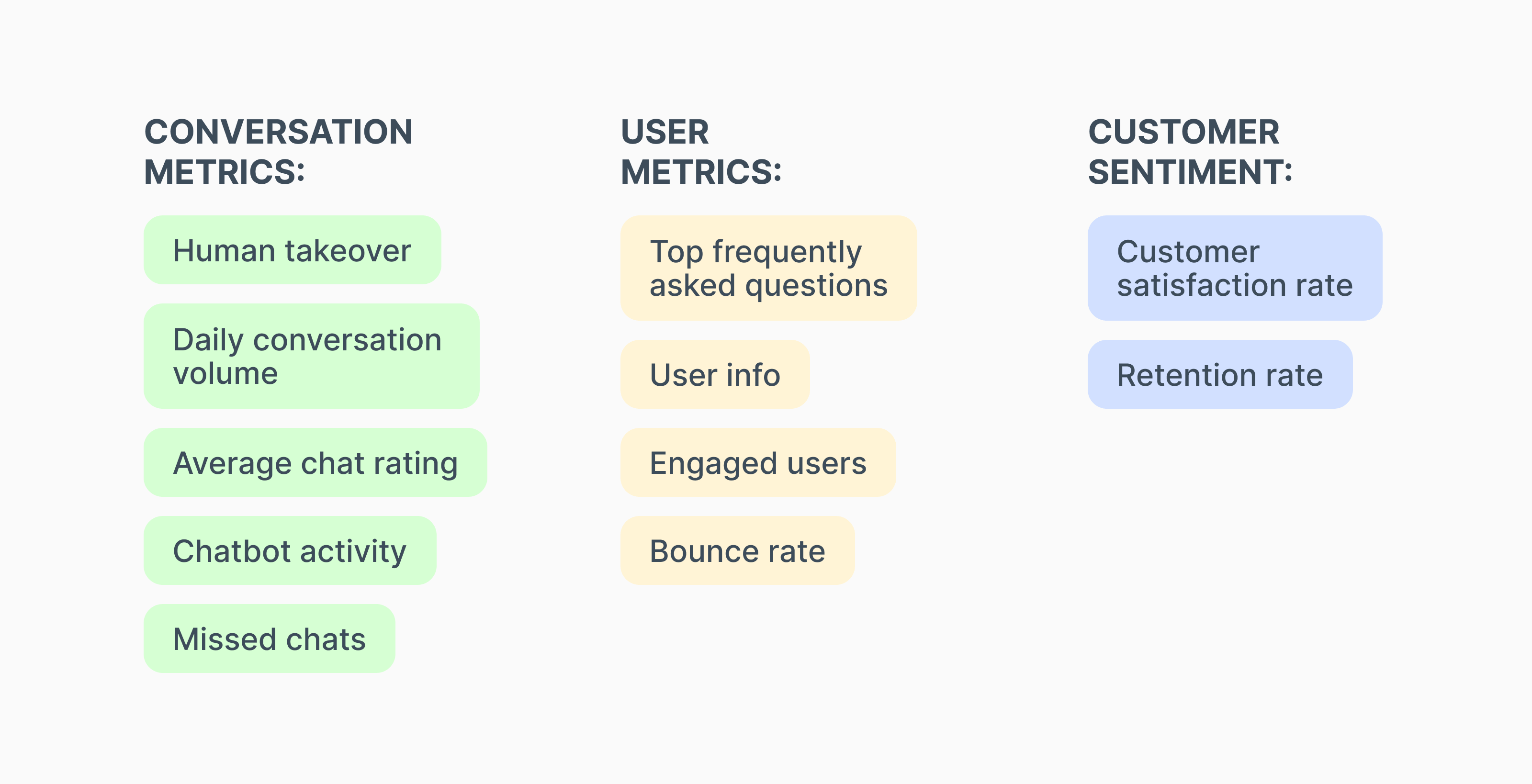 Conversation metrics
1. Human takeover
A flawless chatbot to a human customer representative takeover isn't something to be ashamed of. This only shows that your bot is available to decipher a complex issue or a problem that needs troubleshooting ASAP. In further words, this is the indicator of your chatbot's self-sufficiency.
If you keep close tabs on these analytics, you just have to count the times your chatbot jumps over to the team. To plan a better idea in your head, here are likely scenarios for a human takeover:
A customer comes up with an issue/request/question that is out of the chatbot's scope;
You can make that "Chat with human" button a part of user experience from the get-go (for instance, to take the sting out of a situation before escalation);
A chatbot understands certain keywords that signal something went south. For instance, a customer says "This is a critical bug so I would like you to investigate it!" where the phrase critical bug is the key phrase and is the cue to forward the conversation.

However, it's not that cut and dry. So that a conversation doesn't look patched and interrupted, this transition should be as smooth as possible. For your convenience, I would like to pitch these tried-and-tested rules:
✅ Rule 1. Humanize the dialogue as much as possible. Do not just teach a chatbot to say "Chat with a live agent" but add something like "Would you like me to transfer the conversation to our live agent?".
✅ Rule 2. Acknowledge the transition. Passing a dialogue to another representative would seem dull (and confusing). To perform the process by the numbers, set expectations for a user by showing a special tag "Your queue position is X" or "Waiting time is 2 min".
✅ Rule 3. Manage user expectations while they are waiting for their turn by offering several options: Yes, I would like to file a ticket; No, let a customer service rep chime in; Fine, I'll wait some more time.
✅ Rule 4. Make sure a human agent is already familiar with the context and has background knowledge about the customer's request. This takes all the guesswork out and creates a positive user experience.
2. Daily conversation volume
Of all the key chatbot metrics, this one is the most self-explanatory. The total interactions metric refers to the overall number of conversations your chatbot has in a day. Besides, these analytics tell you how much people are engaged with your business and help you indicate when a customer initiates a dialogue.
When you monitor this KPI and see the numbers hit the roof, congratulations! 🎉 Review the plan and ask yourself the following questions:
When do customers initiate more chats than usual (right after a release, during holidays, when they face bugs, etc.)?
What does my company's sales process look like? Should I rethink the approach and suggest more demos?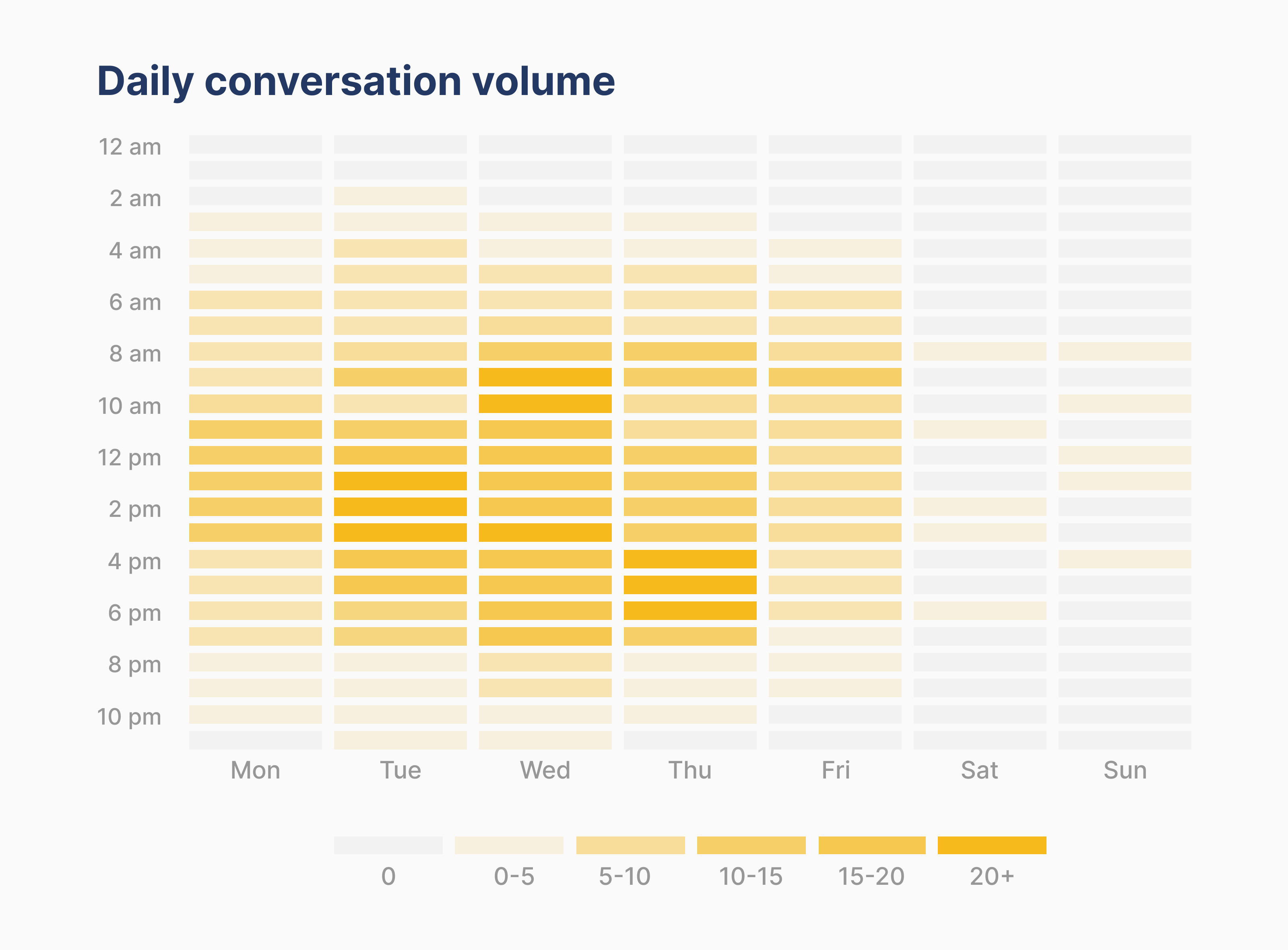 To set the chatbot in full swing, use the perfect combination of canned responses, automated messages, and, of course, your team. Only then you can sigh with relief and balance out the daily conversation volume your chatbot experiences.
3. Average chat rating
Who won't be flattered to receive an excellent mark at the end of a dialogue? I don't know anyone in the industry. To see if a customer is ready to give you an "A" (or an F, for that matter), there is an average chat rating.
This KPI is used to measure instant customer satisfaction and track your chatbot's performance. You may think of it as a post-chat survey because it is usually sent to a website visitor after a chat session (both live chat and chatbot). The average chat rating can be presented by a set of questions and a like/dislike button, to name a few. 
The HelpCrunch website chatbot builder asks a user to rate their experience using a self-explanatory emoji. If you want to process the results of the chat rating over some period of time, you can also check the customer satisfaction report: we'll talk about it in paragraph 12 😏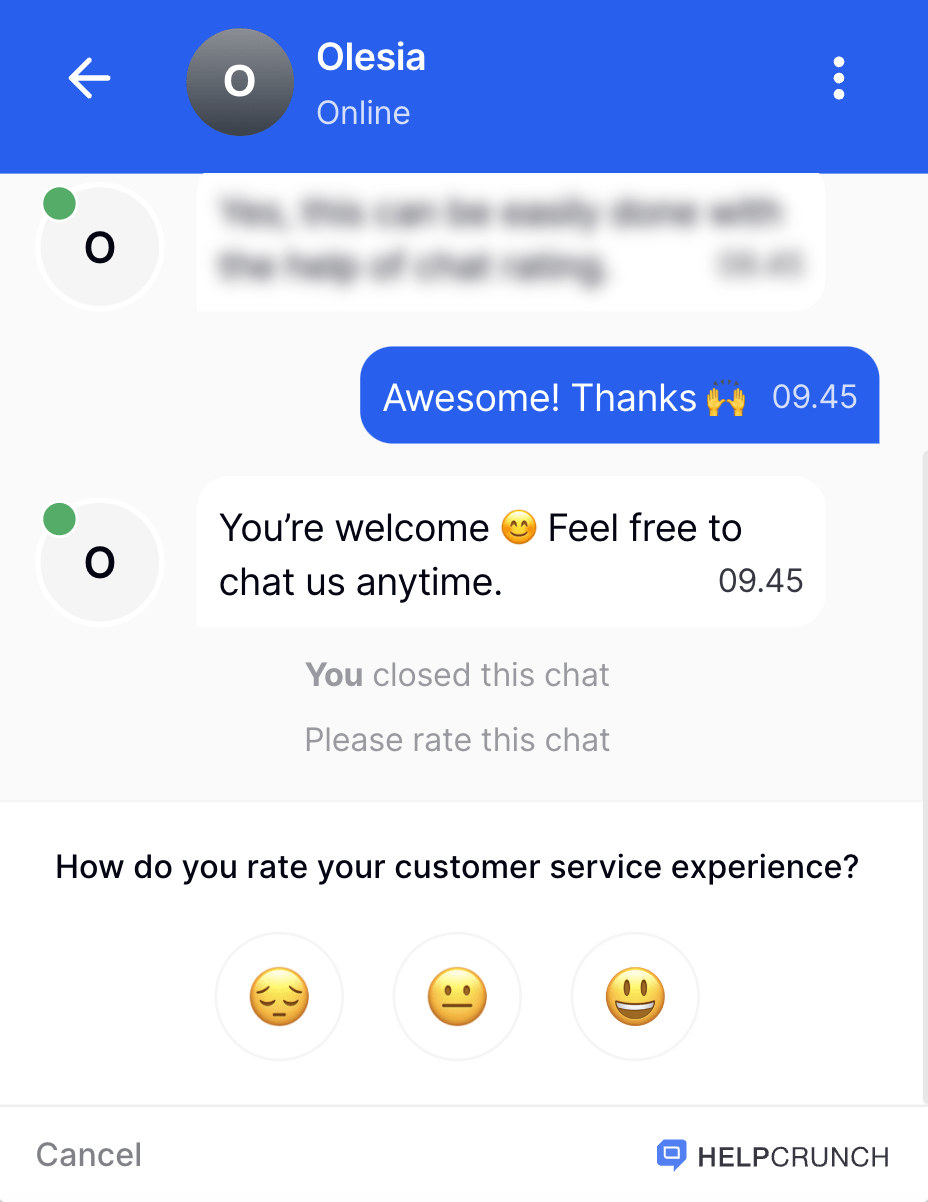 4. Chatbot activity
With rather standard chatbot metrics, here comes the one that most businesses tend to neglect – chatbot activity. It can become a lifesaver when it comes to busy hours and even service agents burnout – you can check the moments of your chatbots' peaks and falls.
Track this KPI when you notice that the chatbot is jammed up with requests during the team's weekdays/holidays or when the company's sales are in full bloom. These conditions are perfect for analyzing your bot's busiest periods and what can be the reason for such high demand.
5. Missed chats
Ignoring a client is always a bummer. From the client's point of view, your brand is reckless, irresponsible, and unprofessional. If you think that such thoughts may provoke only a human support rep, be ready to face a major disappointment – machines can do that too 🤷‍♀️
They can drop a message and leave a customer empty-handed. Missed chats is the KPI that unravels how many conversations DID slip through the cracks.
In a perfect world, your missed chats KPI would be zero. Notwithstanding, if you feel like throwing ONLY chatbot under the bus is next to impossible, consider expanding the range of contact options.
For instance, HelpCrunch has recently launched a messenger-oriented chat widget so that both businesses and customers can interact with each other via their most preferred channel and it would be an ultimate win-win. This way, you can regulate the whole process and your chatbot's workload.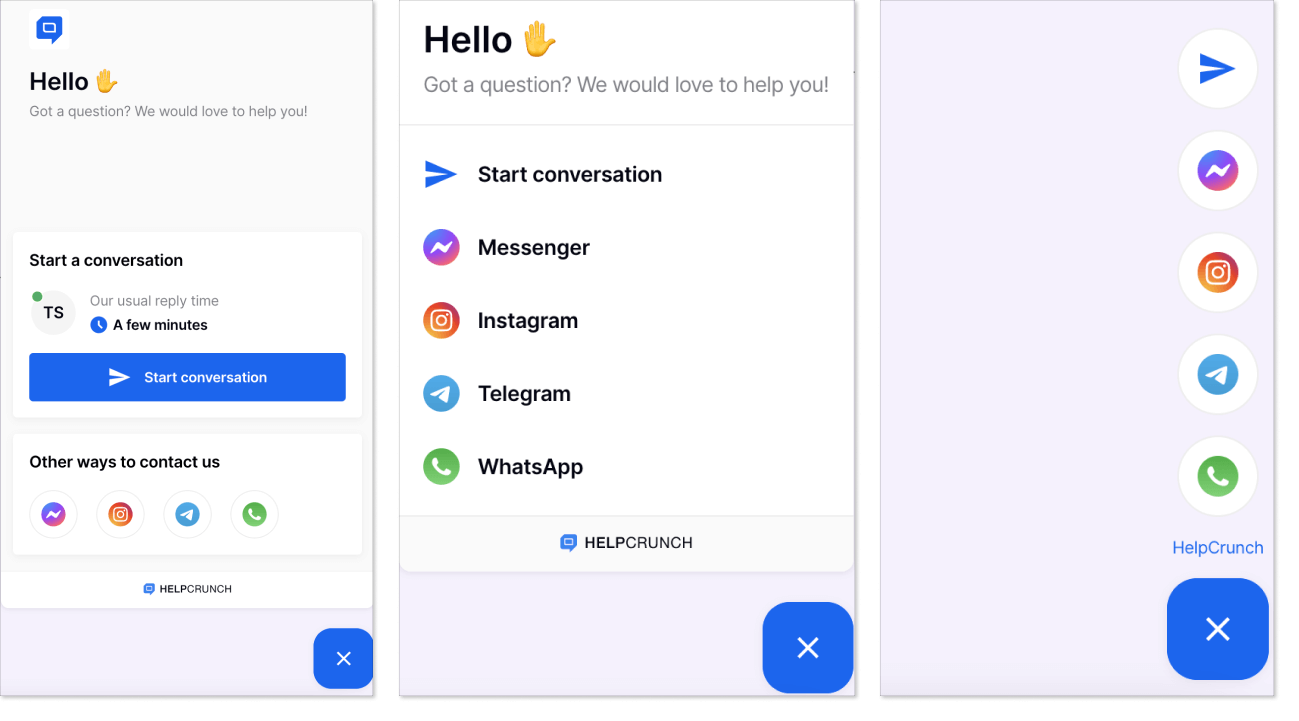 User metrics
6. Top frequently asked questions
The next KPI for chatbots is frequently asked questions. If you have this intel, you can benefit from it differently – update a knowledge base so that customers receive more in-depth info on whatever it is your business does, brush up on your blog articles, and tailor a content strategy, to name a few. The bottom line is that you could address customers' pain points across their journey.
Tracking this metric will also show how effective your chatbot is. Should users ask clarifying questions after the FAQs are sent? Does the machine provide customers with answers in a swift manner?
If the software allows, you can constantly check the list of the top FAQs the chatbot sends – it'll shape automatically. However, no one bans you from manually collecting these questions daily/weekly/monthly/quarterly, and building diagrams: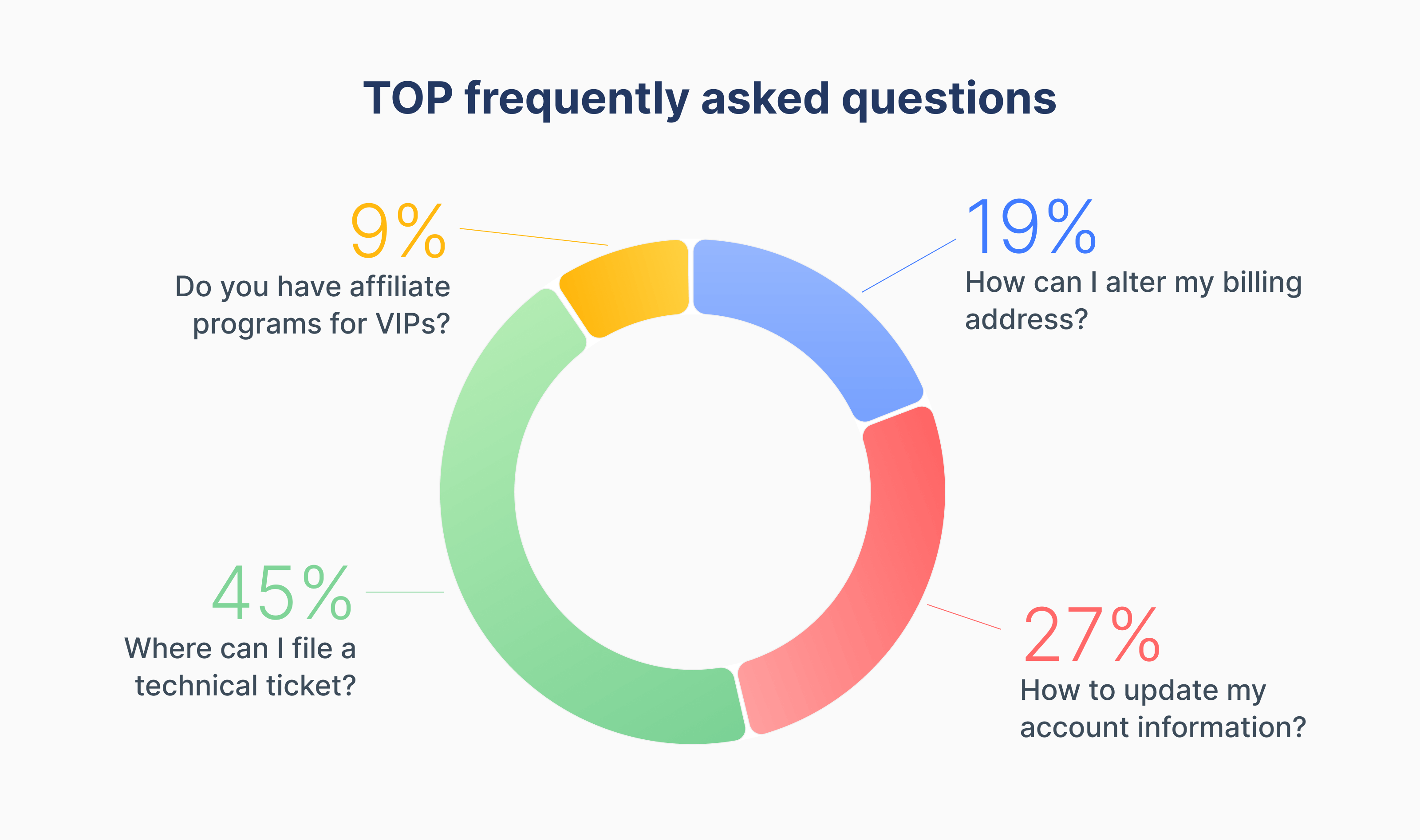 7. User info
How can a business meet customer expectations without having a broad picture of HOW these expectations are formed? Based on what data? This is when the "Lead qualification – Chatbots" team contributes its bit 🤝
If done right, a chatbot can gather all the essential user information that you can leverage down the road: what device a client is using, their contact info, what time zone they are in, what website address they come from, etc. This chatbot KPI is indispensable for getting to know your audience better and adapting your service according to the data retrieved.
Most chatbots can qualify leads both when your team is offline and online. This is how the HelpCrunch chatbot does that: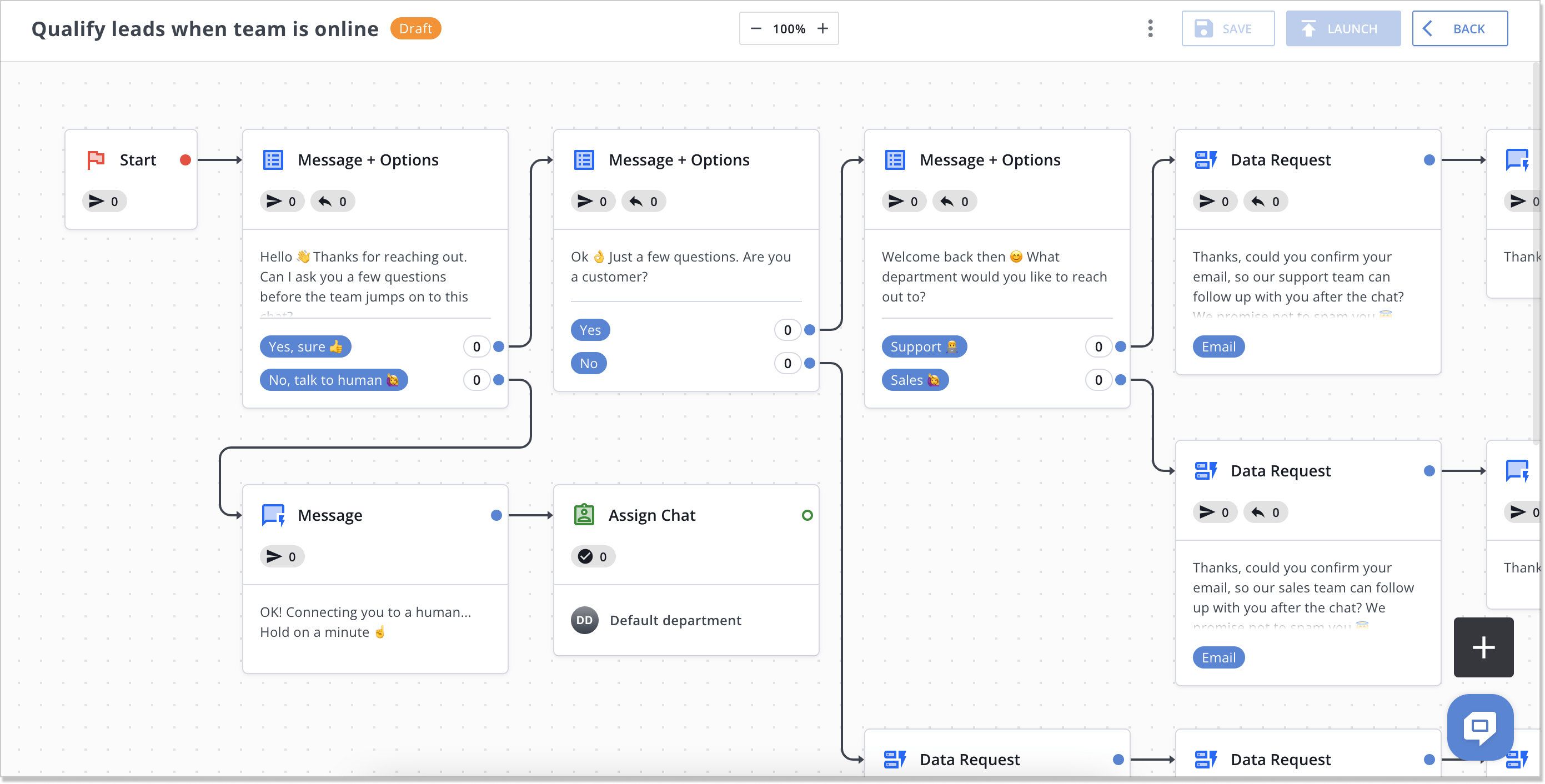 8. Engaged users
This chatbot KPI identifies the number of users that receive messages and send them back to the chatbot once it starts communicating with them. If you measure this metric, you can check how much the audience appreciates your business in general and chatbot in particular.
How to extract user engagement levels? It can't be easier: take the number of customers who have opened your chatbot and divide it by the number of users who have interacted with it at least twice.

9. Bounce rate
Sometimes it happens that a user lands on a website, opens a chat widget, and…drops out without even striking up a conversation. Such a phenomenon is called bounce rate and is related to the percentage of people who didn't talk with your chatbot.
As you already guessed, we want to keep this KPI percentage as low as possible because let's face it: who needs a feature-packed, smart AI chatbot if no one interacts with it? What you should consider, though, is fine-tuning the steps a user is supposed to take BEFORE chatting with the chatbot or any other factors that might influence them:
Think of a different welcome message – a chatbot should pique a customer's interest with the right words from the first seconds;
Provide info on what the bot does exactly – put an explanatory banner inside a chat widget explaining your bot's specifics (e.g. Hey there! My name is Miko the chatbot and I'm pumped to walk through the sales process!);
Add buttons/links with FAQs – giving your customers additional sources for solving their queries will only make them linger on your website more.
Calculating the bounce rate of your chatbot is no sweat. You'll need the number of users who opened the chat but didn't interact with it and divide it by the total number of users who opened the chat:

Customer sentiment
10. Customer Satisfaction Score (CSAT)
Truth be told, this is my favorite metric. It's always amusing to watch your customers get what they desire and how your business invests in their wishes. This is why our next analytics in this selection is Customer Satisfaction Score (CSAT).
This metric tells you how happy your customers are with the services you provide and can be gauged in several different ways. First, you can leverage a numerical scale from 1 to 10 after every dialogue and let users pick the number, 1 is the least satisfied and 10 is the most satisfied.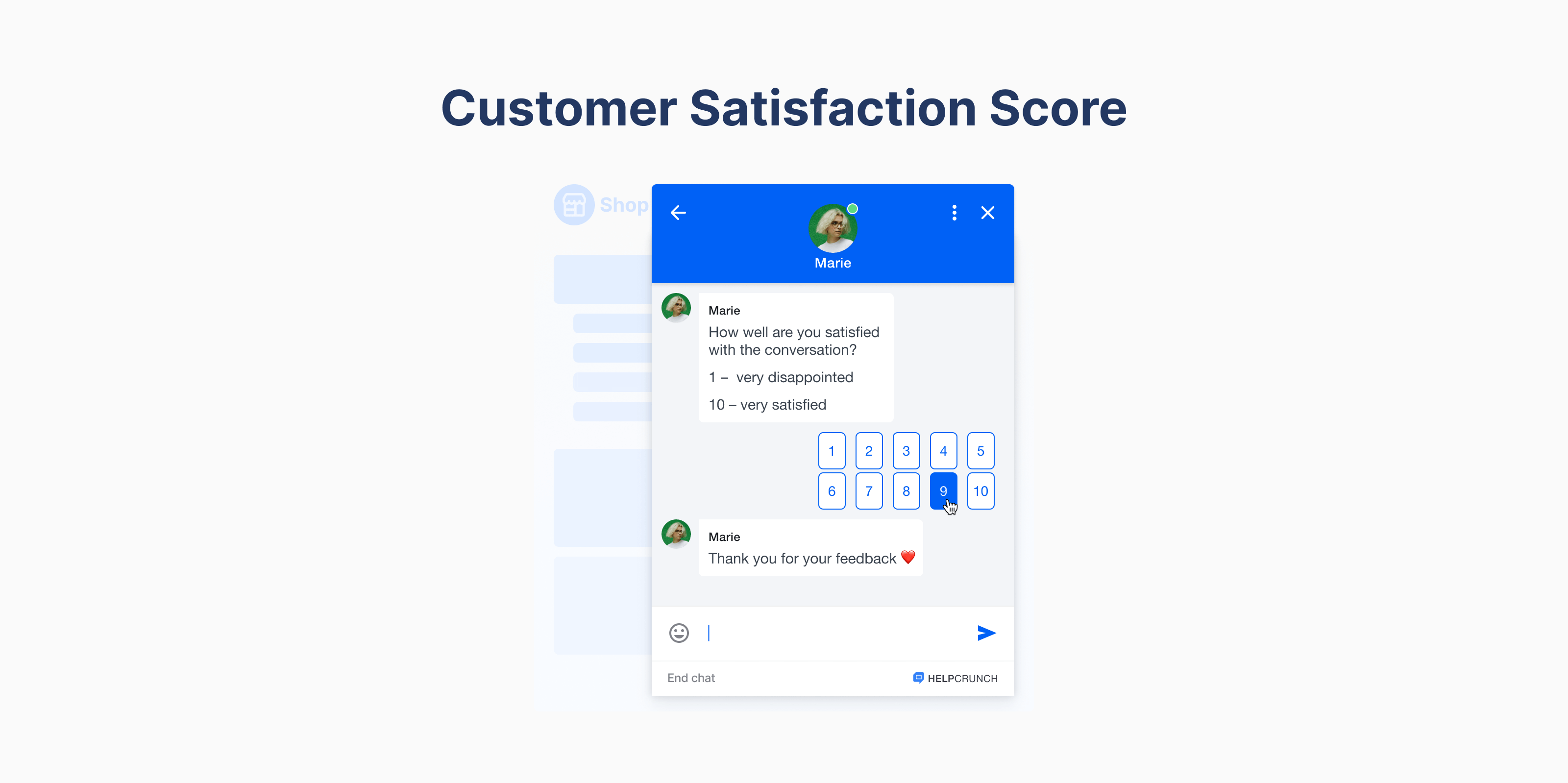 Second, there is a star rating that you can show to users right after they talked to your chatbot accompanied by a question How well are you satisfied with the conversation? 5 stars – very satisfied, and 1 star – very disappointed.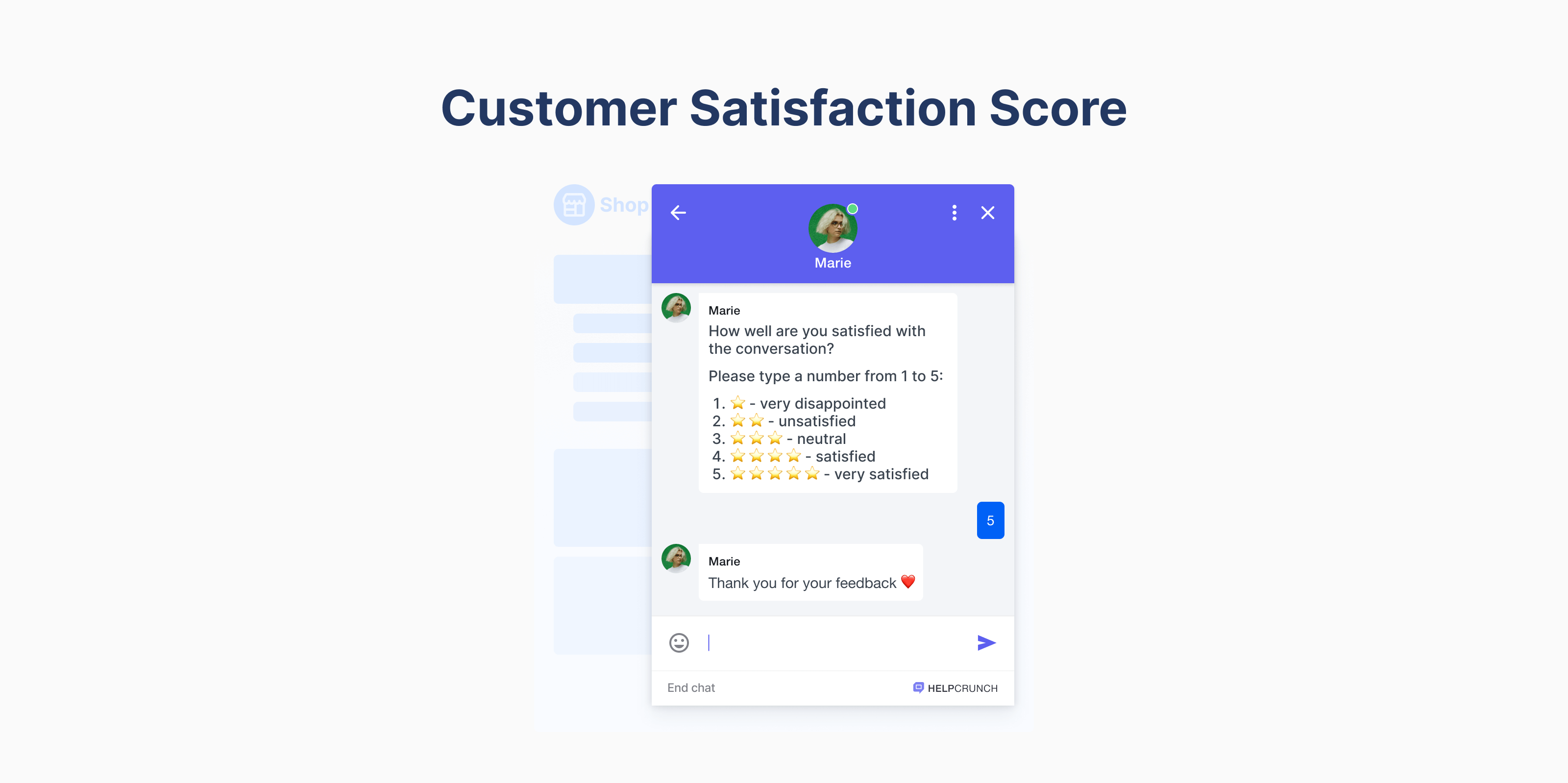 11. Retention rate
Ta-da! 🎉 We approach the last chatbot KPI in the list – retention rate. It shows the number of users who come back to you and remain loyal. In fact, the retention rate measures the customer's satisfaction with your business. So yes, basically this metric and the previous one are interconnected.
It goes without saying that your chatbot's retention rate should be as higher as possible. Otherwise, you have to cook up a resurrection plan and teach your bot better. If you see an influx in your audience, it means your chatbot is working properly.
And yet, this KPI has some hidden pitfalls. Monitoring the retention rate might become impossible or inaccurate if your business changes its products/roadmap frequently or you have services that are supposed to be used once.
Nevertheless, there is an easy formula for gauging your chatbot's retention rate. First, identify the number of users at the end of a time period. Then, add the number of all new customers gained over this time frame, divide it by the number of users at the beginning of a time period, and multiply the result by 100:

Concluding remarks
I am not trying to clip your wings here but all of the above-mentioned metrics aren't the last resort. This list can grow, fluctuate, and thin out.
However, the thing is that chatbot KPIs hinge on how your brand operates, its audience, and the aspirations. That is why you can top our analytics with your own and see how matters will turn out.
The more data you obtain, the better you can enhance the chatbot's effectiveness. Here comes an unveiled hint: HelpCrunch can lend a helping hand in this endeavor 🤝