Omnichannel Support: The What and How Behind It
Omnichannel customer service has always been a conversation starter. What does it REALLY mean and how to implement it? We connect all the dots as well as present 2 prominent use cases you might want to take up. Dive in!

Quite a story occurred to me the other day. I wanted to order a power bank from an online store and went over the whole Internet with a fine-tooth comb. The one that I needed was nowhere to be seen.
And oh, miracle! 💫
I chanced on a solid tech shop that offered multiple means of communication. So I chose an online chat, clarified all the details, and asked if that power bank was really in stock. It took the guys three days to process my request (which was overwhelming enough). Guess what happened next? They said they would handle my question only if I wrote them an email.
"Oh, well", — thought I and dropped them a line with no additional info (because, you know, they're already familiar with my query). After waiting for another couple of days, the shop's service rep got in touch with me with the words: "Sorry, I can't relate you to any of our recent customer requests. Would you mind explaining it in detail?".
This is when it dawned on me: despite the fact that the brand offers many options for customers to approach them, they're NOT interconnected, which makes the customer journey rather chaotic. Omnichannel customer service would change things for the better 👇
What is omnichannel customer service?
The main focus of omnichannel customer service is delivering a smooth experience across all possible channels and devices. Hereby, a client can reach out to a company via a mobile phone, a tablet, or a desktop app using live chat, chatbot, email, social media, etc. Traditionally, their messages stack in one place and customer support agents can get a unified view of what's happening.
Are you still on two minds on this? Don't be! The stats show that companies with omnichannel support will see a 9.5% increase in annual revenue. However, this is just the tip of it. Marketers that use multiple channels (and synchronize them) have seen a whopping 494% higher order rate than those using single-channel campaigns. 
How omnichannel is NOT the same as multichannel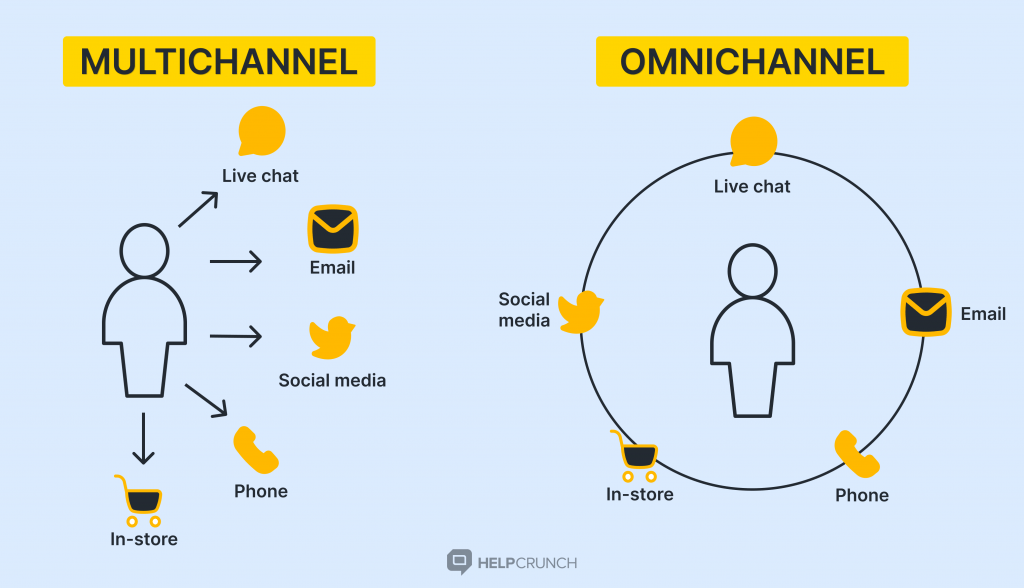 They are definitely not! The omnichannel vs multichannel hassle has always been a brainteaser. For TL;DR, check out the info below. If you feel like reading stuff, go straight to that article. The myth is dispelled! 
Multichannel means a company provides many means of communication, but they are not synchronized. Thus, if you offer live chat, phone support, and a chatbot bundle, you can react and assist a user only if they contact you in each of them separately.
Omnichannel bonds every channel so that a user receives seamless communication no matter their initial contact. So a customer can jump to a live chat, for that matter, if the conversation started in email and vice versa. With multichannel, that's not the case.
4 major plus points you get with omnichannel customer service
Having omnichannel customer service as your strategy, you can greet pleased customers and experience better team performance. Let's comb through the key aspects that make it an ultimate win:
1. Advanced experience for both customers and support teams 
With data gathered from any channel possible, customer service agents can tailor their assistance to the client's needs and wishes. For instance, modern software has customer purchase history, which a service rep can access to understand what a client is searching for and then lead them to their sought-after item.
Plus, the coherence in the concept lets support agents draw any kind of info for their further activities, be it the customer background, location, buying preferences, or their company name/size, to name a few. This is what I like about omnichannel customer service!
2. Consolidated data 
No one likes scattered bits of information. Thanks to omnichannel support, the chances are you won't skip out on a single conversation – everything will stream down to one place. As custom has it, if your customer communication software can do just that, this is a nice tool.
HelpCrunch, for that matter, appears to be as such. 
Our platform has your every chat – be it from live chat, chatbot, email, or social media – in a shared inbox. Furthermore, you have a helicopter view of your customer data – user path, contact details, number of conversations with your brand, private notes, and whatnot. By having this data at your fingertips, you can then tailor your messages and assist clients better.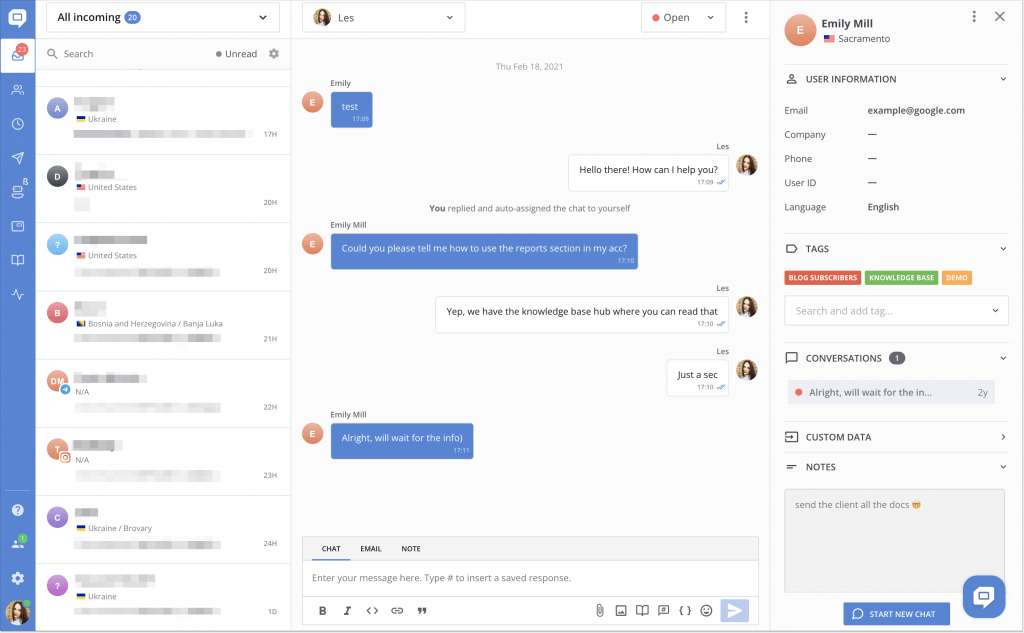 How about dipping your toes in the water and building an omnichannel customer service strategy with HelpCrunch? Live chat, chatbot, email marketing, a self-service knowledge base, and a single dashboard for customer requests – sign up for a free 2-week trial to take them for a spin. Then, it's all about support, marketing, and sales dancing in synchronized beat 💃
3. Spruced-up teamwork
Omnichannel service would be the ultimate solution for your staff and here's why 💁‍♀️
Just imagine customer requests are all taken care of, and the team knows every pain point and the ways to lend a helping hand… This is the reality you would likely obtain if you go omnichannel.
With a unified system, your colleagues can collaborate, share notes, resolve issues in the nick of time, and avoid duplicate efforts. Besides, think of the time saved! Thanks to it, customer service agents could shift their focus to something more complex, infusing more personalization into their interactions.
4. Better customer sentiment 
Do I have to highlight the overall customer satisfaction you could get in the pack? If you provide your audience with multiple options to get in touch with you, you also make them happy. The odds are that word of mouth will reach you, too!
Simplicity and convenience of contact: that's the components of a seamless omnichannel tactic. As a matter of fact, companies with an omnichannel customer service strategy retain 89% of satisfied clients on average. You do the math. 
How to put an omnichannel customer service strategy into effect?
The least said, the soonest mended. That's why I won't beat around the bush and present you these hacks on how to up your omnichannel customer service game. Think of them as a framework and fine-tune them according to your business nature:
1. Take one step at a time
This day has come – you've decided to put omnichannel customer support into action. This doesn't mean you should run like hell and adopt EVERY channel to communicate with your customers. For starters, take a pen and a piece of paper and answer these questions (most of them can be answered by a simple customer survey):
Who are my customers?
How do they like to interact with a business?
Where are they most of the time (social media, communities, company website)?
Do you have enough technology to cover the customer "communication wish list"?
To give you a little nudge, here's a possible action plan 💪
Choose a channel and implement it on your website. Let's take a live chat;
Have a bead on how your clientele reacts to it. If they use and like it, here's your cue to keep it up. If that's not the case, make a smart move towards proactive customer service, that is, reach out to website visitors first and offer assistance;
Monitor the metrics connected to that channel and take steps if things go south. For a live chat, these would be the First Response Time, the total number of chats, time to resolution, and average wait time.
2. Anticipate customer expectations
Amen to the tech world! 🙌 Now that customers won't wait for a service rep to answer when pigs fly, omnichannel customer support may be a great lifeline for businesses out there. With it, you have an ace up your sleeve (you may not realize it just yet).
Let's see the numbers. 40% of consumers stated they used at least three channels to communicate with customer service reps. This proves that clients are now picky enough and if they don't get what they need, they just leave. 
Consider a customer journey map using the client data to establish which channels they use for different needs. For instance, they just look for help on a website, shop for something, or need to read a knowledge base section for self-service. After you do that, make sure you're not only available on those channels, but are also consistent across them (we'll get to that later on). 
3. Unite human support and automation 
As I'm fond of saying, robots and automation per se won't replace a human being. However, you should give them credit. Customer service automation, if done right, can bring fruit:
Always-on support – thanks to FAQ chatbots or a self-service resource center, you can stay (pro-)active for your customers 24/7, making it possible for them to find what they're looking for;
No human error – even though to err is human, it's better to minimize all the likely mishaps in your service. Ticket routing, IVR systems, and others filter out customer requests and encourage faster assistance;
Reduced cost to serve – hiring, onboarding, salaries, office space, these things are pricey enough. If you automate your omnichannel customer service, the chances are you can reduce the costs by 20%-40%. 
I could make a full stop there. Though, there is yet another option – teaming up human resources with automation. For instance, if your company uses a chatbot, create certain flows to gather customer contact data, clarify a bug issue, qualify leads when the team is offline/online, offer discounts, and do so much more.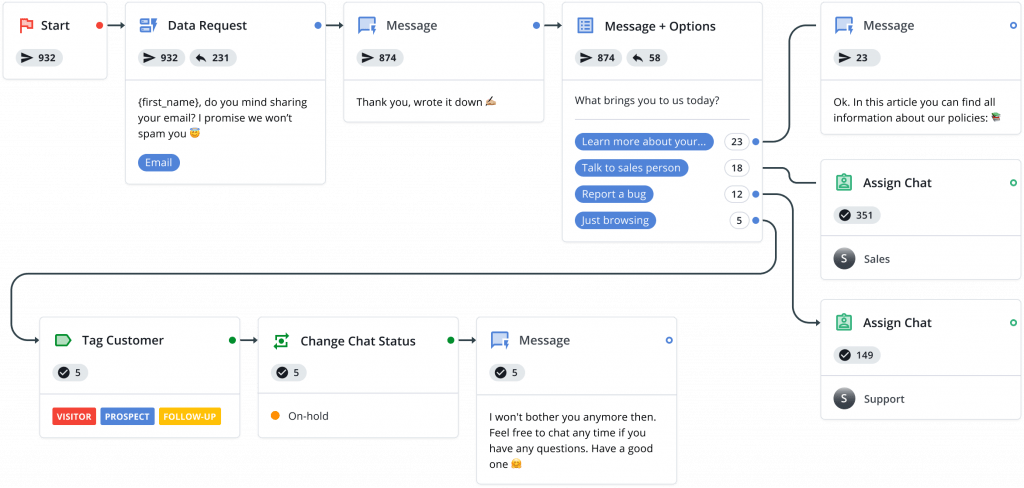 Besides, you can also take advantage of canned responses via live chat. It not only prevents you from being repetitive, but also saves lots of time and effort. The situations when it's OK to use them are miscellaneous:
Greetings
Investigating a bug
Sending holiday-specific promos/deals
Admitting your mistakes
Ending the chat
It may also happen that a customer didn't read your message. This case can be solved via automated follow-ups. Myriads of software, like HelpCrunch, provide the resend 'if unseen' feature. Set the timing – and you're all set.  
4. Remain consistent across all channels
Here we come to the very gist of being omnichannel – remaining consistent across all channels. 75% of today's consumers expect it at all points of communication, be it over the phone or online. Consistency shapes trust in a brand and increases credibility in the eyes of customers. 
Remember my little story at the very beginning of the article? For those of you who skipped it: the shop I wanted to buy the power bank from had rather multichannel than omnichannel customer service and was oblivious to my requests (first via online chat and then email).
Your consistency should be the top-of-mind priority and expressed in:
The timely replies no matter the channel, keeping the previous context;
The customer feedback and leveraging it in your activities (What do they expect from your brand?, How would they like to be contacted? etc.)
Coexistence between all departments, that is, marketing, support, sales, and devs teams should work as one strong unit to omit silos in the process.
5. Make self-service an option
Did you know that 40% of customers prefer using a self-service resource to speaking to a human representative? Such portals have already become steady players in the omnichannel  ​environment. Not only do they serve as an additional source of information, but also help clients resolve their problems on their own.
Sure thing, you can build a simple knowledge base with explanatory materials, videos, tutorials, and manuals both for your employees and users. But I would recommend you go further and integrate the knowledge base into a chat widget. Thus, you can stay calm even when your team is offline – users will be able to discover the answers without waiting. No fighting the fire! 🔥​​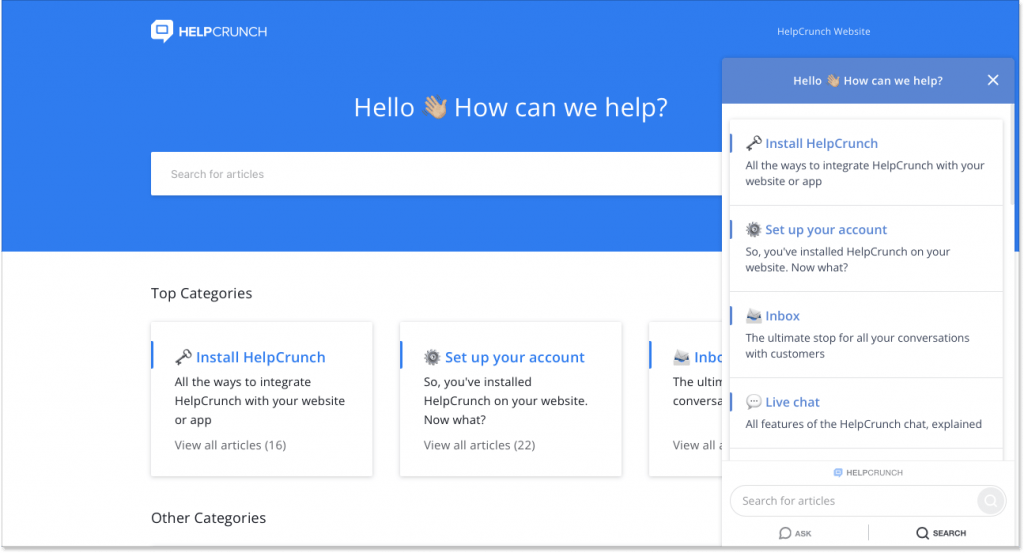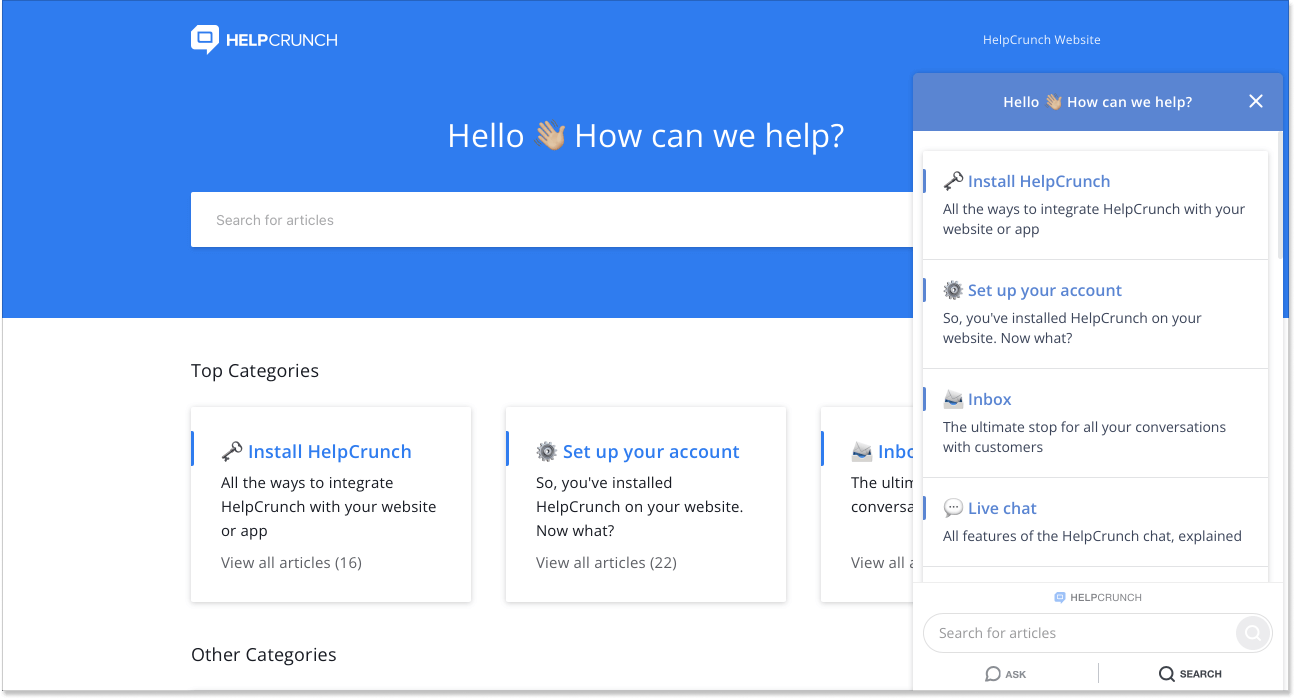 6. Be active on social media 
Omnichannel customer service implies your involvement in every customer interaction. And where do a majority of audiences dwell nowadays? You guessed it right: social media. I have two opposite statistics on the matter.
On the one hand, 42% of consumers claim they would leave a negative review on socials after experiencing bad service. On the other hand, 78% of them say they will purchase from a brand after a positive social media interaction. So, you'd better watch out.
Besides, social media is a platform where you can discover some small yet powerful businesses. At least 54% of customers claim they successfully did just that.
The world knows a dime a dozen of cases when businesses are as active as possible on their social media accounts. Here is one from Spotify and it​​s customer service Twitter account – @SpotifyCares. 
A user is disturbed by constant popups showing up on their Android Spotify app. Be it any other company, this situation would be a dead end. But the customer service team was as quick as a flash and asked for the details to assist. 
2 prominent omnichannel customer service use cases to take up
We couldn't leave you empty-handed 😉 With that in mind, let me share some of the use cases from world-known companies that have already incorporated an omnichannel customer service strategy into their operations:
1. Target 
Who doesn't know Target? It's a giant in the US merchandise retailing that sells everything from kids' toys, home supplies, electronics, and sports goods. Over the past couple of years, it invested $7 billion in omnichannel services. 
Not only you can shop on Target's website/mobile app and contact them via chat, email, or phone, but it's also possible to pay right inside the app and order drive-up services (with pre-ordered parking lots!). What's more, you can easily scan the product range online (no need to rush to the brick-and-mortar shop nearby) or see the item info when in-store. 
2. Wizz Air
A European low-cost airline, Wizz Air, has always been a no stranger to omnichannel customer service. Except from the opportunity to book a ticket, find a booking, check-in for a flight, and, of course, contact the team on their website, they also provide a handy mobile app with all these specs.
Here, your omnichannel dreams could become a reality:
Comb through their self-service knowledge base;
Read the FAQ section;
Chat with Amelia – a Wizz Virtual Assistant;
Schedule a pick-up service via Wizz Ride;
Manage your payment methods;
Provide your feedback on the company's social media.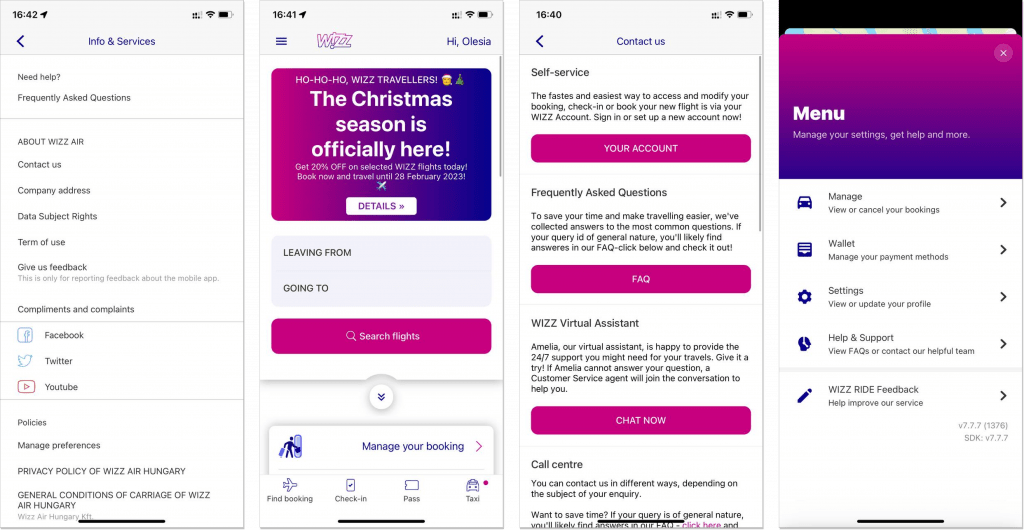 Putting the finishing touches
Should I point out the significance of omnichannel customer service once again? 😌 My last direction would be not going off the deep end: start small, decide what channels your audiences like most, check if you can communicate while maintaining accuracy and consistency, and then it's your golden hour!