Having a live chat tool on your website is a sure-fire way to increase conversions and boost your customer satisfaction rate (up to 73%, actually). It's one of the most powerful inbound marketing tools.
That's why sales representatives and marketing managers are eager to have live chats at their companies' website and ready to pay for the best customer communication solution (such as HelpCrunch) out there.
But sometimes, it's difficult to see the true value of such tools if you're only starting your business and don't really have loads of live chat conversations.
That's why we're thrilled to announce that HelpCrunch is launching its very own free subscription plan today. You can test it for however long you wish to and upgrade it to our paid subscription plan at any point. No pressure (well, almost).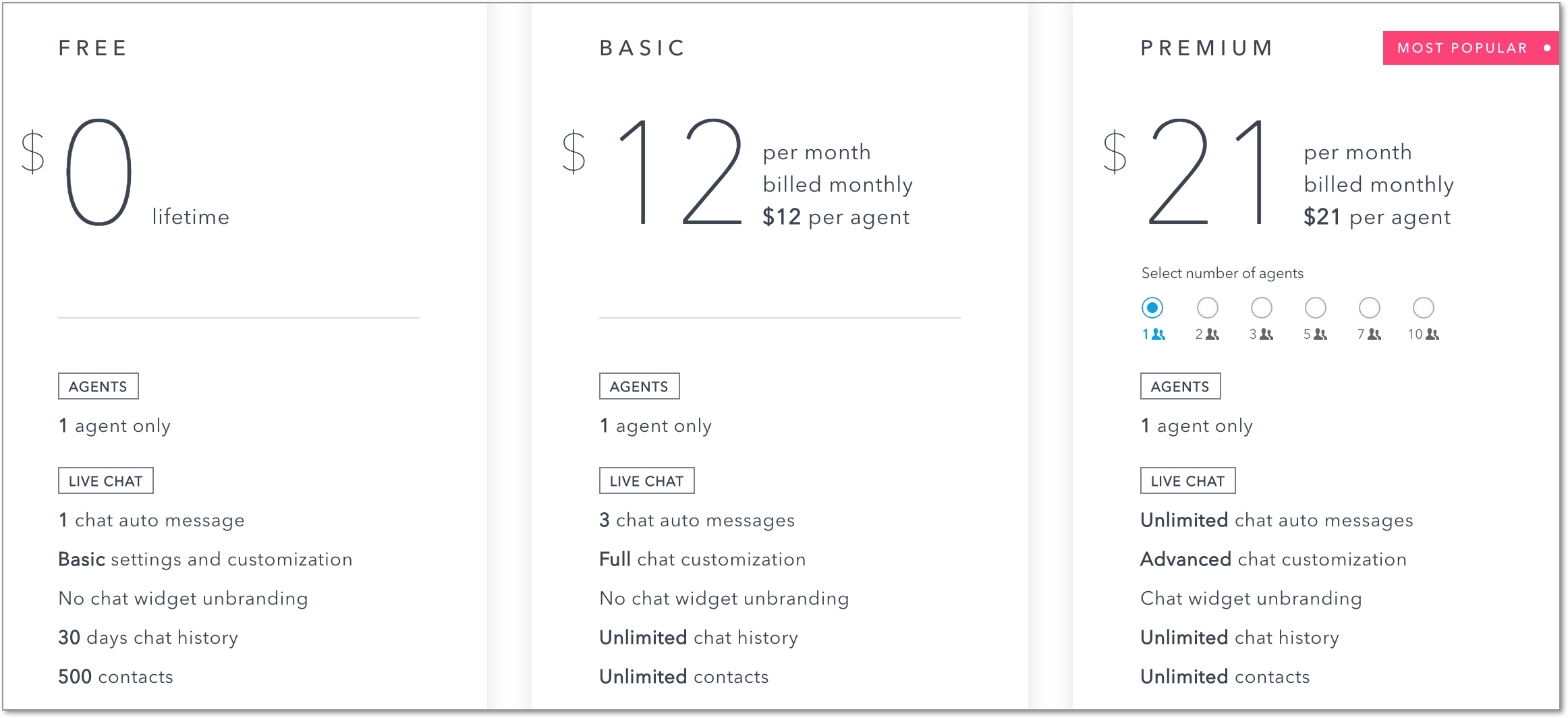 With this step, we want to give our support to small companies that cannot afford to pay for a live chat tool just yet. A free package will be a great fit for their needs, and we really hope that with HelpCrunch live chat they'll be able to take their business to a whole new level. Basically, we'll be growing together.
But don't you worry, you can still try out any of our paid live chat plans as per 14-day trial. It's just that you can also use HelpCrunch at no cost now.
Just a few notes, though!

It's important to understand that there's no way a live chat tool can be 100% free. In order to store and run all the necessary data (like contacts' personal and behavioral data, full chat history, etc), companies pay for their servers' load and capacity. Basically, we pay for certain services in order to provide you with ours.

That's why you won't find an entirely free live chat tool, which will give you an unrestricted access to all of their functionality. It's as simple as that.

Nevertheless, many customer service tools offer their free limited versions. So, where does HelpCrunch stand in all this?
Here's what you get with HelpCrunch free subscription plan:
Long story short, our free plan is a great choice for small or even one-person teams with occasional live chat sessions. In detail, here's what you get with HelpCrunch free subscription plan:
1. One chat admin
You can create a HelpCrunch account for 1 person. As a chat admin, you will get the full functionality like uploading profile photos, editing any info in the 'My account' section and changing subscription or billing details.
And while communicating with customers in a live chat, you can gather chat rating, which is based on rates that customers leave after a conversation is over.
2. One widget for as many domains as you wish
Other than that, you can add our chat widget to as many domains or mobile apps as you wish. It's just that you can only create one widget for all of them, and you won't be able to customize it separately for different domains.
For comparison, our 'Premium' subscription plan allows adding up to 3 different live chat widget. So you can make it look different on different domains or mobile apps. While with an 'Enterprise' plan, you can set up to 1o different live chat widgets.
3. Chat customization
In terms of chat customization, HelpCrunch is really one of the best solutions out there. With our paid subscription, you can change virtually anything and adjust a chat widget according to your own brand and styling.
If you go with our free subscription plan, there's still room for customization, though it's a bit limited. For one thing, you can't 'unbrand' your chat widget – meaning, the 'Powered by HelpCrunch' branding will stay visible at the bottom of your chat window at all time.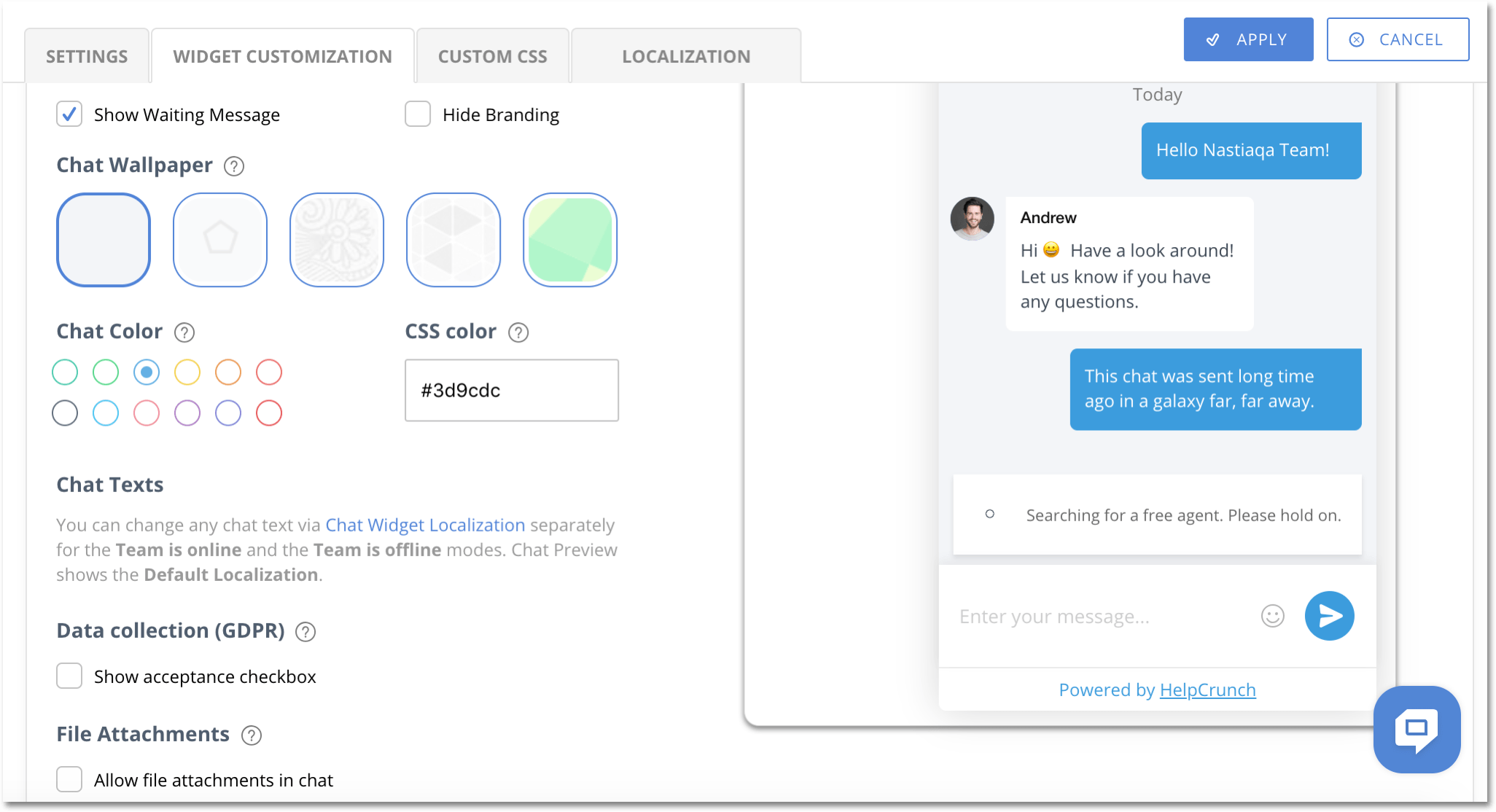 4. 500 contacts in a database
What we mean by contacts are all the visitors who had a live chat conversation on your website. And if you set up, your database will include all users even if they didn't chat with you.
With HelpCrunch free subscription plan, your database is limited to 500 contacts. This means you'll be able to store and manage 500 contacts simultaneously. In case you have more emails, we will suggest you delete unnecessary contacts or upgrade your subscription plan.
The thing is, we're only able to store a limited number of contacts. So once overloaded, the chat widget on your website will get disabled if you fail to clean your database.
5. 30-day chat history
You will be able to see the messages received not earlier than 30 days ago. Older chats will be hidden from your admin panel. The same applies to conversations thread. If all the messages in a particular conversation are older than 30 days, you won't be able to access it.
We will store your chat messages for 30 days and delete them after 90 days. That's if you won't upgrade your subscription plan to see older messages.
6. One concurrent auto message
We also give you an option to set up one auto message on a free subscription plan. Auto messages are great for targeting your contacts with personalized messages triggered by their personal data or behavior.
HelpCrunch free subscription plan gives you an opportunity to set up one active proactive chat message. Please note that you can send it to as many recipients as you want. It's just that you can't run more than one active auto message campaign at a time.
You can choose whatever triggers you want for it and start capturing leads right away.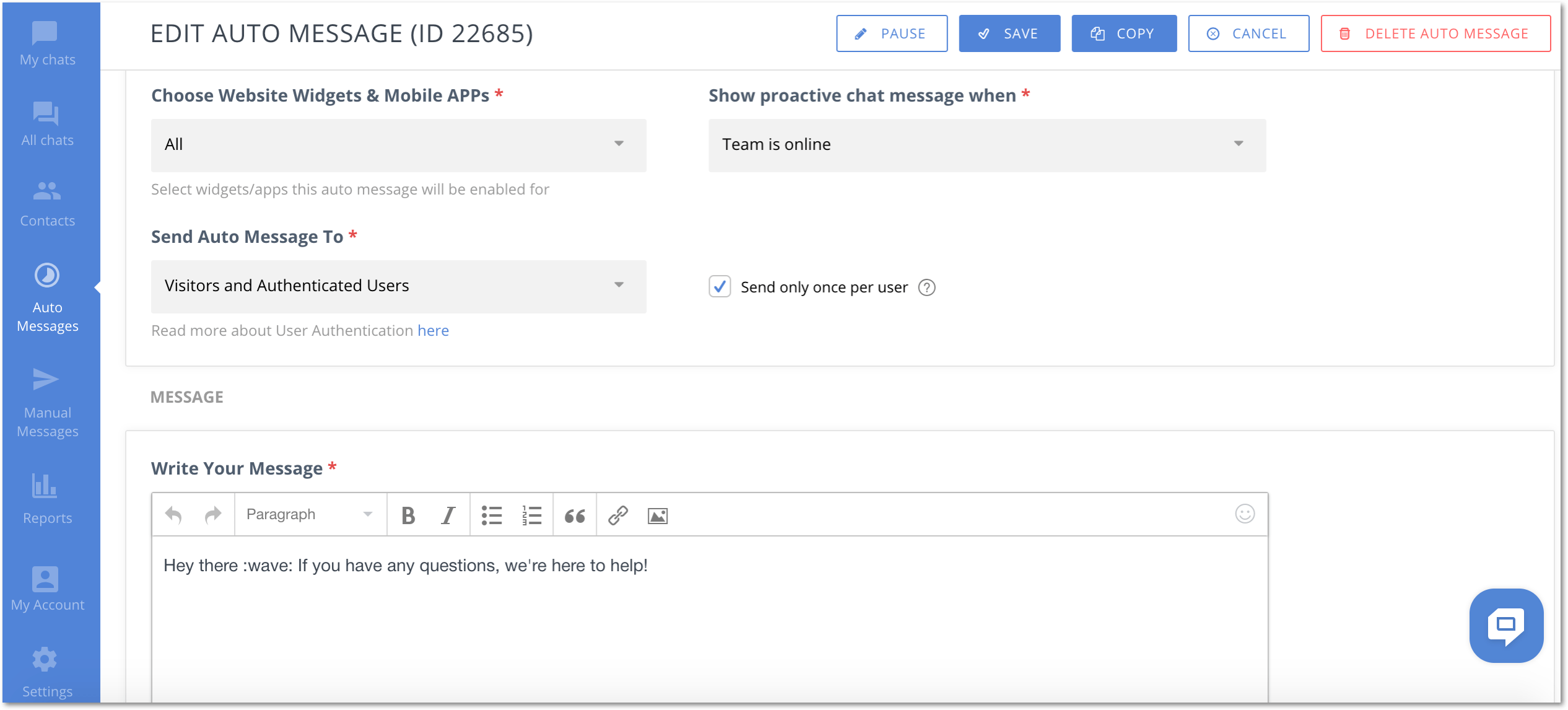 7. Unlimited manual chat messages
In case you didn't know this, HelpCrunch offers a great variety of tools for both automated and manual messages.
Basically, with manual chat messages your live chat becomes a two-way communication tool – meaning you can also use it for getting in touch with your customers.
Manual chat messages are great for communicating with your existing users – like, sending them one-off campaigns about company news or new features, announcing special offers, collecting customer feedback, etc.
Chat messages work like emails in terms of criteria and overall objectives, but are being delivered right in a chat window. It's much better for communication with your most active users that any other channel.
The good news is, you get an unlimited number of chat manual message on a free subscription and can send as many of them as possible.
Here's how such a message can look like inside your service: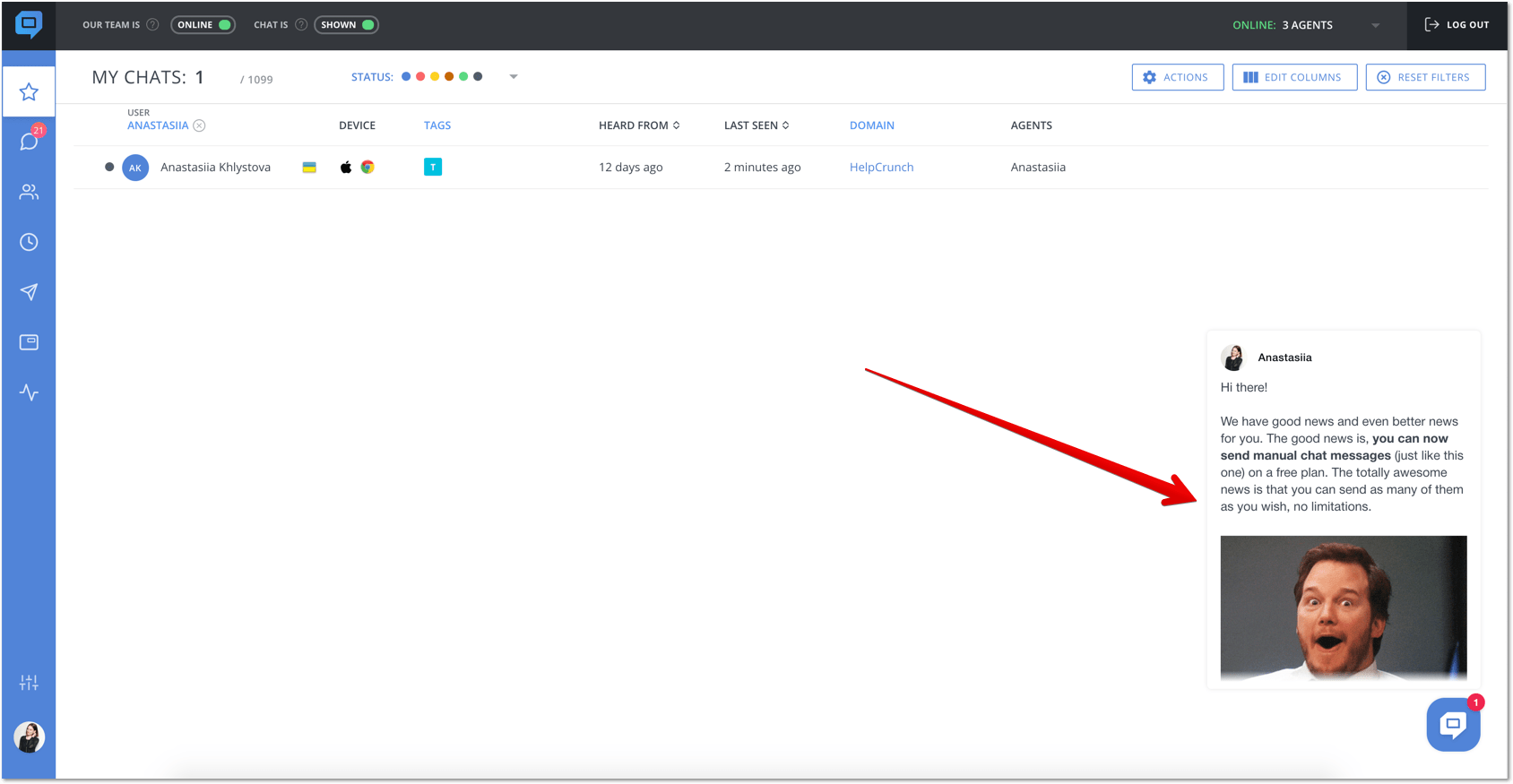 Other free live chat options:
Obviously, HelpCrunch isn't the first live chat tool to adopt a freemium business model. So, you're probably curious where our free version stands among the competition.
To give you a general idea, here's a rough comparison of free versions' of five most popular live chat tools out there (according to our subjective opinion).
I've only chosen those that offer some kind of a free subscription plan. Since tools like Intercom or LiveChat Inc. don't have any, they didn't make it to the list.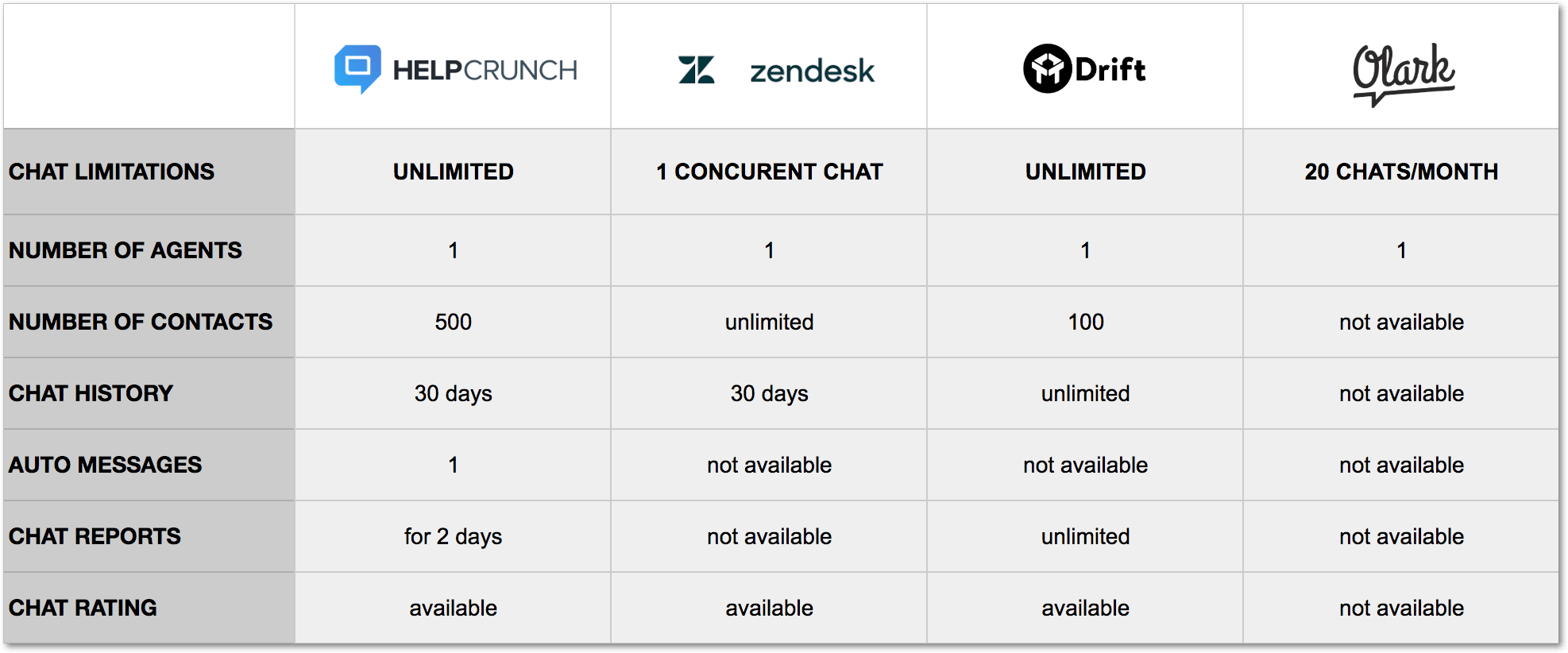 Final thoughts
We've all been using all kinds of freemium tools for a while now. The HelpCrunch team is communicating with each other via Slack, I'm editing the visuals for this article in Canva and (why hide it) listening to my favorite music on Spotify while typing this sentence.
With the launch of our software's free version, we really hope that HelpCrunch will stand proudly among the tools you can't imagine your everyday life without. Want to give us a try? Just register in a few clicks.
Read also
News
We can finally tell you all about HelpCrunch summer features (including our Knowledge Base Beta!)
Live Chat
Installing a live chat button is a must if you want to communicate with website visitors the right way. Discover your options.
News
We've been working on HelpCrunch improvements and updates for 100 days and now we're ready to tell you about tons of good stuff. Just check our winter updates out.