Top 9 Free Live Chat Tools
Looking for a free live chat tool? We've got 10 of them! Just choose what suits your business best.

Startups and small business have got it rough as it is – finding their place in red-ocean industries, trying to market themselves on a budget that can be a hundred times smaller than what their competitors have while also trying to meet customers' expectations. Sadly, only 10% of new startups make it, and the rest indicate money shortage as one of the biggest reasons for their failure .
When it comes to small businesses, every penny counts. That's why there's always a demand for free software. And for any paid software, there's always some free version, so today, we'd like to introduce you to our top 9 completely free live chat tools or those available for a free run for a limited period: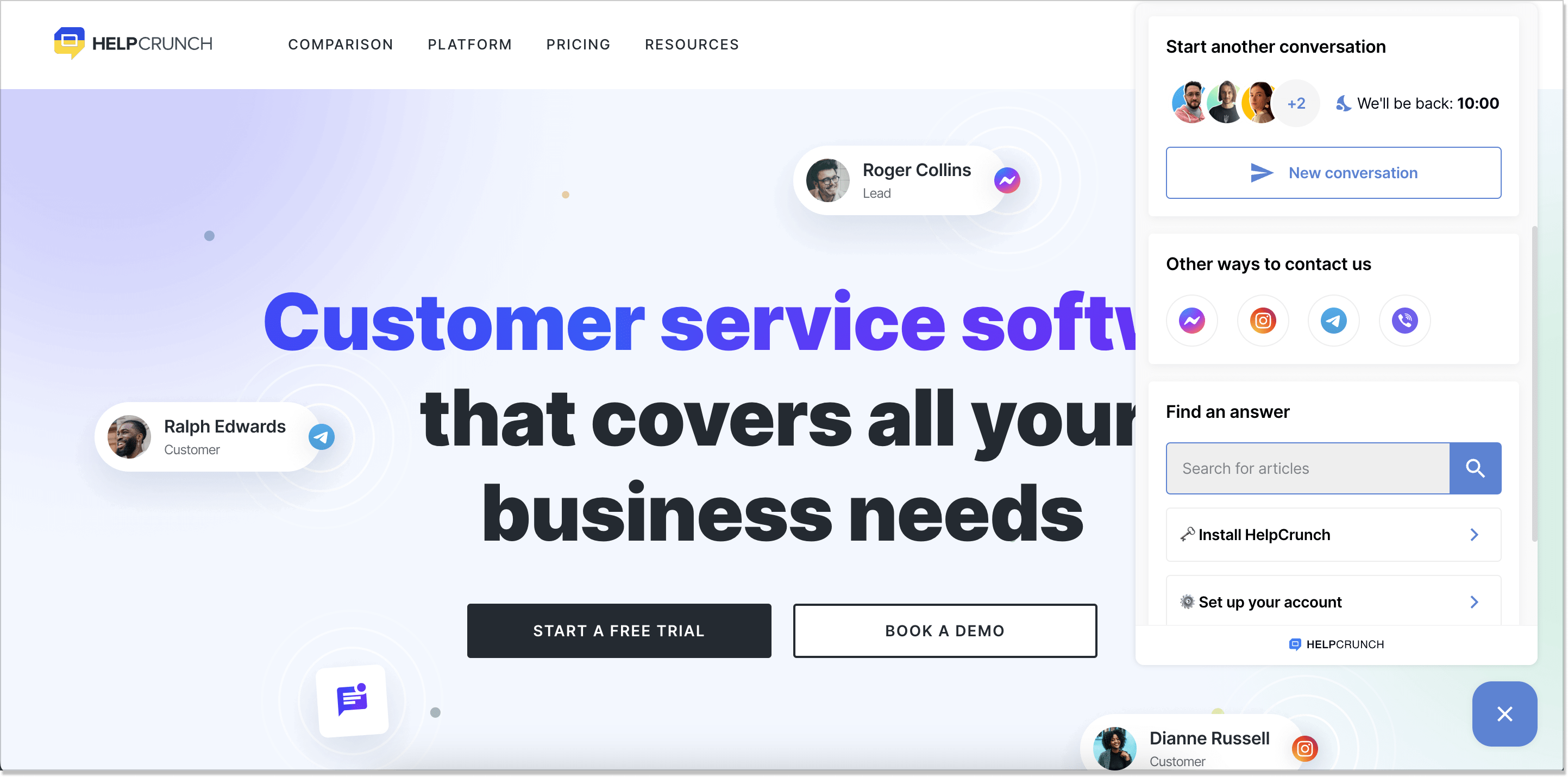 HelpCrunch is available for a free 14-day trial offering its full functionality for a test-drive. During this period, you can use its live chat widget on site and for in app chats, launch a chatbot, activate a knowledge base and integrate it into the widget, and set up lead generation popups on any page of your website.
The live chat features by HelpCrunch include:
Unlimited number of domains you can install a live chat widget on
Unlimited number of chats and chat history
Full chatbot functionality for customer support automation
Proactive chat messages based on users' data and behavior
Chat forms for generating and pre-qualifying website leads
In-app messages via chat for SaaS businesses
Vast widget customization options
If needed, you can also request our email marketing features for a test run and engage with your customers across all channels even more effectively.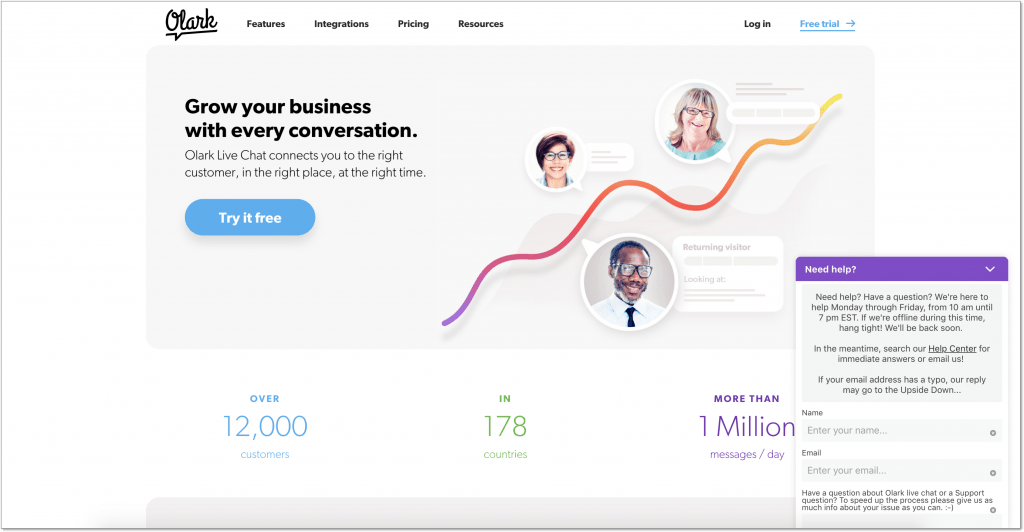 Funny as it may sound, what I personally adore about Olark is their… website. I mean, it's so simple and clean, and not overloaded with tons of landing pages, menu items, and BS terms. It's really refreshing to see something that unspoiled.

Just as their website, their live chat software is that simple and nice. But I'm not sure it's a good thing when it comes to software.

Additionally, their free live chat version is extremely limited. And I mean EXTREMELY.
Even if we don't compare it to other free solutions, with Olark you're only allowed to manage 20 chats per month, not more. So if you're running the kind of business that only has 10-20 chat sessions with their customers each month, Olark is your choice.

Let's see what else is in it for you:

20 chats per month
1 agent seat
no contacts
no chat history
no chat reports
no triggers for auto messages
So, how's that for the limitations of a free live chat tool?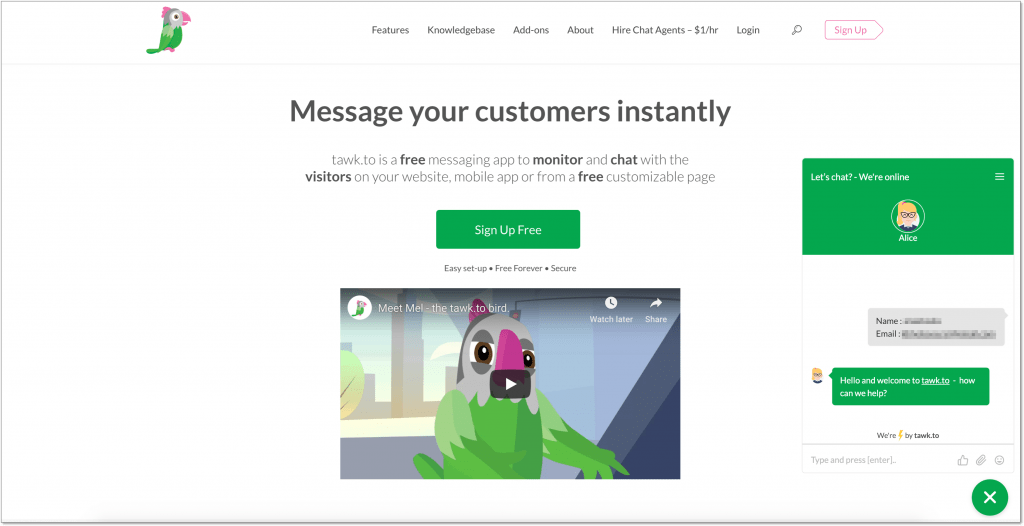 Here's for something completely different.

Tawk is not just a free customer support tool. It's THE customer support tool people choose when they need it for free.

The thing is, it has a completely different business model. Basically, they just give you the full access to their unlimited live chat software for free, while making money on offering live chat agents for hire. So, if outstaffing your customer support is something you consider for your business, Tawk can be the place to go.

Of course, it's completely another issue that their admin panel together with their live chat can feel outdated and work not exactly properly at times. And yes, I'm not the biggest fan of the design choices they made for their chat widget, but hey, there are honestly much worse options even in this list.

So yeah, Tawk's free live chat software includes:

Unlimited agent seats
Unlimited domains
Unlimited chat history
Ticketing features
No unbranding
It's a basic set of live chat features you may need and they are available for free.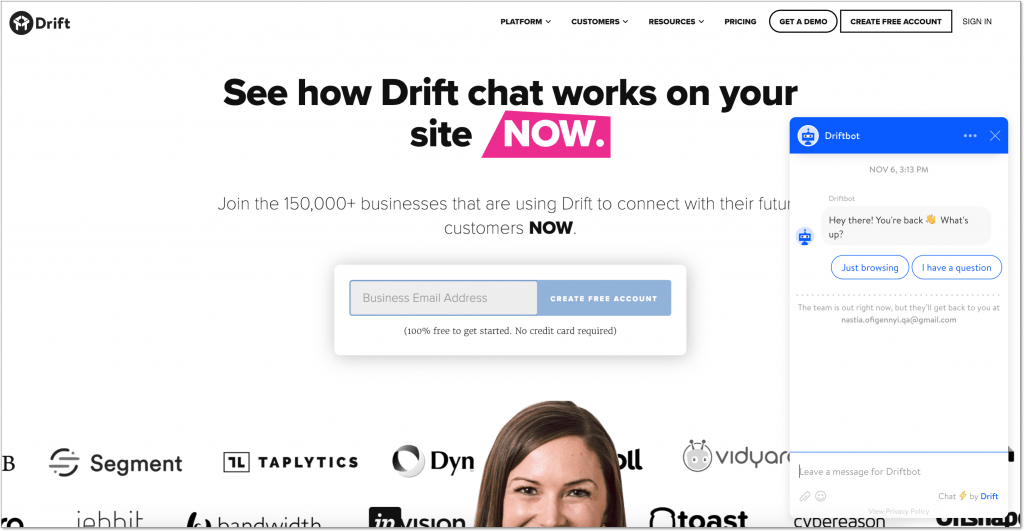 Drift is probably most famous due to 'conversational marketing', which is something they came up with. Long story short, conversational marketing is when you use targeted, real-time messaging and chatbots instead of lead capturing forms and wearisome tunnels. That's the light version.

Unfortunately, Drift doesn't give away their chatbots (which, from what I heard, are not that bad) for free that easily. But they do have a free version of their live chat software, which includes:

1 agent seat;
100 active contacts;
Unlimited chat history;
Unlimited chat reports;
Chat rating;
150 emails/month for sales purposes.
All in all, Drift provides a very decent piece of free live chat software, so it's something you might want to consider.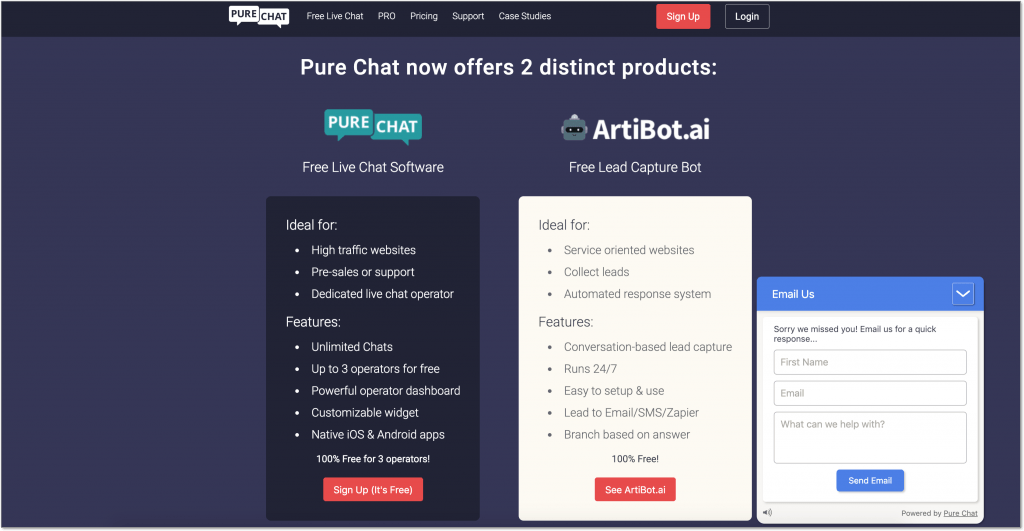 PureChat has only two subscription plans – Free for $0 and Pro for $99/month.
Unlimited chats;
1 domain;
3 agent seats;
Unlimited chat history (transcripts).
PureChat's free version also includes such goodies for live chat as saved responses, advanced widget customization, integrations among other things.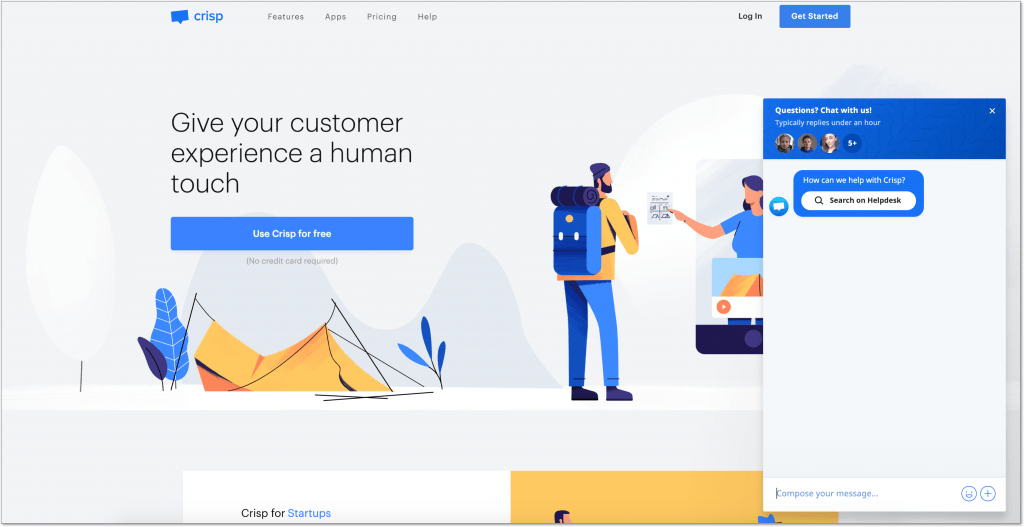 What I like about Crisp is its clean and easy UX/UI. Basically, it's a nice-looking live chat tool with a clear pricing system (which is rather a rarity in the SaaS world, I'd say).

As they state themselves on their website, Crisp free version is perfect 'for personal websites and anyone who wants a basic chat to communicate with visitors'. That's it – you get a nice basic live chat for free, which will include:

2 agent seats
30 day chat history
no triggers
no team inbox
no campaigns
no knowledge base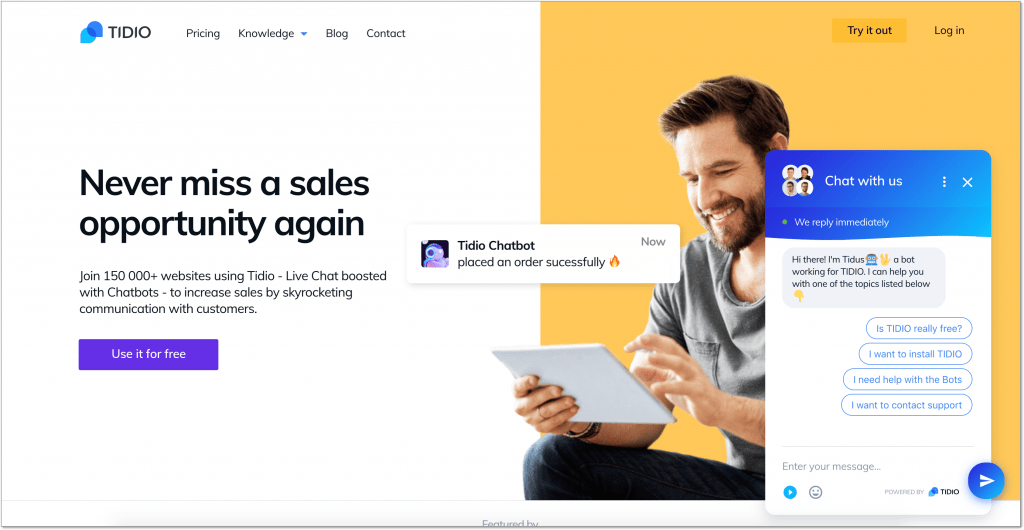 First and foremost, Tidio has an excellent customer support of their own. Yeah, I know they're competition and stuff, but I just need to mention how fast and to the point their live chat agents are.

The thing is, I needed a few clarifications about Tidio's free subscription plan, so I went straight to their live chat (like all sane people do these days). When I opened the live chat window I saw the promise of an immediate reply. And hell, they delivered on it.

Now that I got it off my chest, let's see what their free live chat subscription includes:

up to 3 agent seats
100 automations
unlimited chat history
unlimited number of contacts
no auto replies and auto greetings
If you ask me, that's a very decent package of tools you can get for free.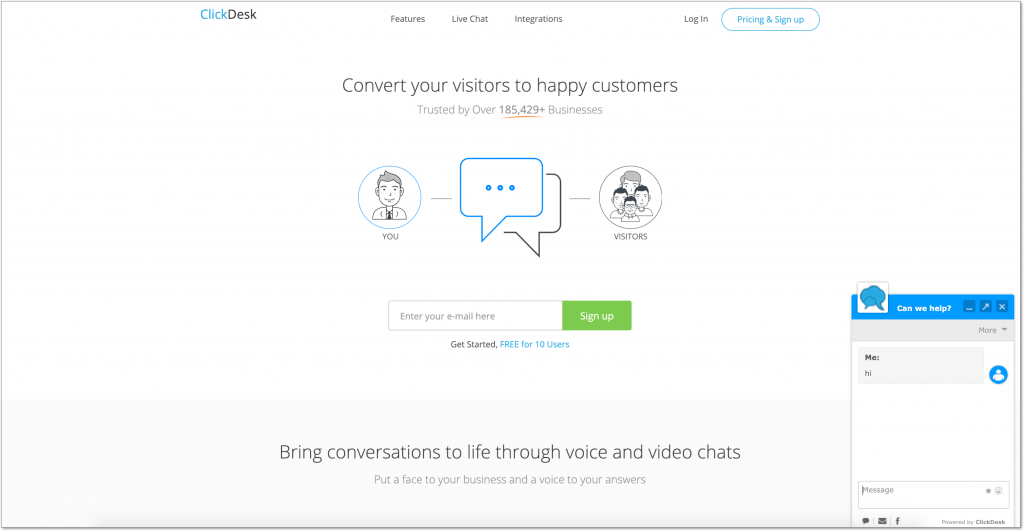 ClickDesk's live chat widget looks like it's been built in 2007 and hasn't been updated ever since (read: I don't like the look of it).

10 agent seats
30 chats per month
no simultaneous chats
25 tickets
audio calling
basic settings
no chat customization
no reports
no unbranding
no unlimited domains
What stroke me most, though, is that you can add up to 10 agents to your ClickDesk's free account, but they can manage no more than 30 chats sessions in a month. Additionally, they won't be able to manage even a couple of chats simultaneously at all.

Once you reach the limitation of 30 chats/month, you'll get locked out so you'll have to wait until next month's renewal.

I think you'll agree there's really no point in having 10 agents on a free subscription here – they will have no work there.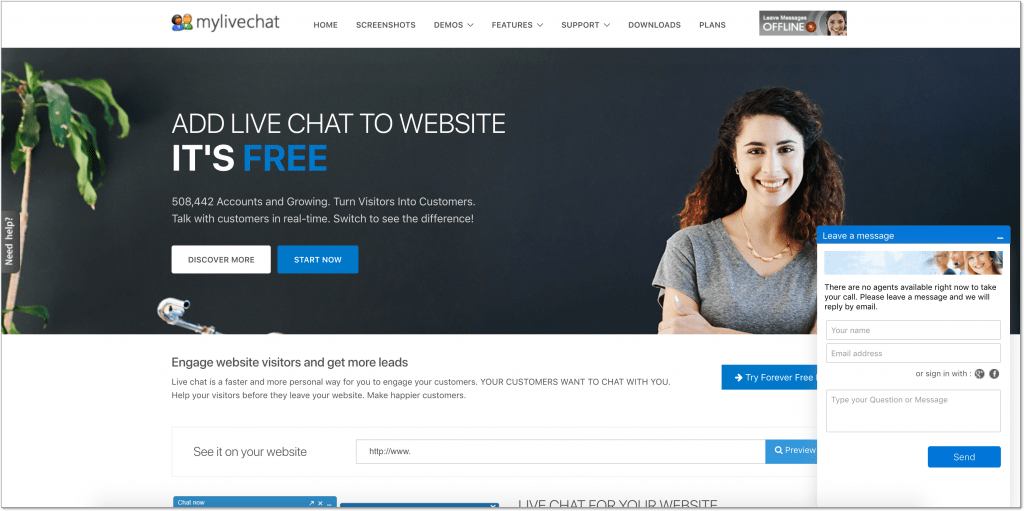 I know I said it a lot today, but hey, what can I do if most of live chat widgets look like they are from my childhood.

So yeah, you guessed it right. Mylivechat's chat widget looks outdated. When you open a live chat window, first thing you see is this annoying message: 'There are no agents available right now to take your call. Please leave a message and we will reply by email.'
(I mean, come on.)

Then you're asked to leave your name and email right away which makes an impression of rather a website contact form than a modern and fast messenger that will allow instant communication. (But to be completely honest, most of live chat tools do the same.)

On the plus side, their free version is rather rich in features. So if you're into old school design, here's what you can get on top of it:
unlimited agents
unlimited departments
unlimited websites
unlimited chats
3-year chat history
no unbranding
Bottom line
Will you trust me if I say you should just grab yourself HelpCrunch free live chat software and search no more? Well, I can't judge you if you think I'm a little biased here. (The tool is great, though.)
So, I'll recommend you the following instead. Choose 2-3 options from the list above, use each of them for a couple of weeks, maybe a month, then make a final call.
I mean they're free tools anyway – what do you have to lose?