Categories: Human resources
Based in Portugal, Tap My Back is an employee engagement software that helps organizations create a continuous feedback culture to improve engagement in the workplace.
With more than 1000 monthly active users on the platform, the team behind Tap My Back assists their clients in establishing a growth mindset for building stronger teams, reinforcing corporate values, and provides tools to empower smarter, proactive leadership.
The Challenge
Tap My Back always strives to deliver stellar support and interact with their clients in a smart way. In the past, they used Intercom but eventually, it got too expensive. The team felt like switching to another more affordable option.
The Tap My Back team also used Gmail for solving clients' queries. But such an approach is time-consuming and hectic. Their paramount challenge was a customer support option that could instantly help them care for their clients, drive website visitor's attention, and be cost-beneficial.
After comparing all the competitors available on the market, they stumbled upon HelpCrunch – a one-stop platform for creating strong customer relations. As you may guess, this cooperation led to unequivocal merits 👍
The Solution
The primary use cases for Tap My Back are customer support, customer success, and sales. The company boosts customer engagement with the solution significantly. HelpCrunch checks Tap My Back's boxes in four most working ways:
Proactive live chat. Tap My Back actively uses proactive chat from HelpCrunch and enjoys its benefits. They set up chat triggers across the website so that the customer support team can catch the website visitor's attention at the right moment. It's also possible to add useful links or buttons to your proactive message to ease the users' lives and make the best out of your engagement strategy.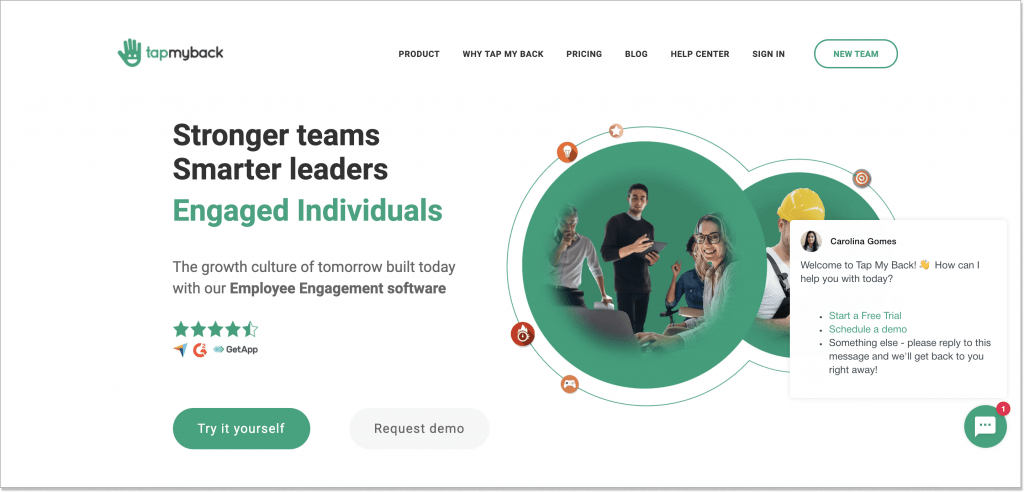 Email marketing. Tap My Back sends well-structured engagement emails to its users with the HelpCrunch email marketing feature. An easy auto and manual message creation makes launching a promo campaign or flashing a fresh newsletter a snap. The HelpCrunch interface lets Tap My Back include various visuals to double down the result. Soon enough, Tap My Back noticed open rates changing drastically.
Thanks to HelpCrunch (email marketing campaigns), we were able to make our customers more engaged with our platform. We had customers who had very low engagement levels and email campaigns powered by HelpCrunch made the usage skyrocket!

— Carolina Gomes, Customer Support Representative @ Tap My Back
Website popups. To strengthen customer engagement and win over valuable leads, the team utilizes the HelpCrunch popup builder. They put eye-catching, informative popups across the website offering to schedule a personal demo on the product. Tap My Back decided on a popup template, a color scheme, and a button shape that let them stick to the company's identity.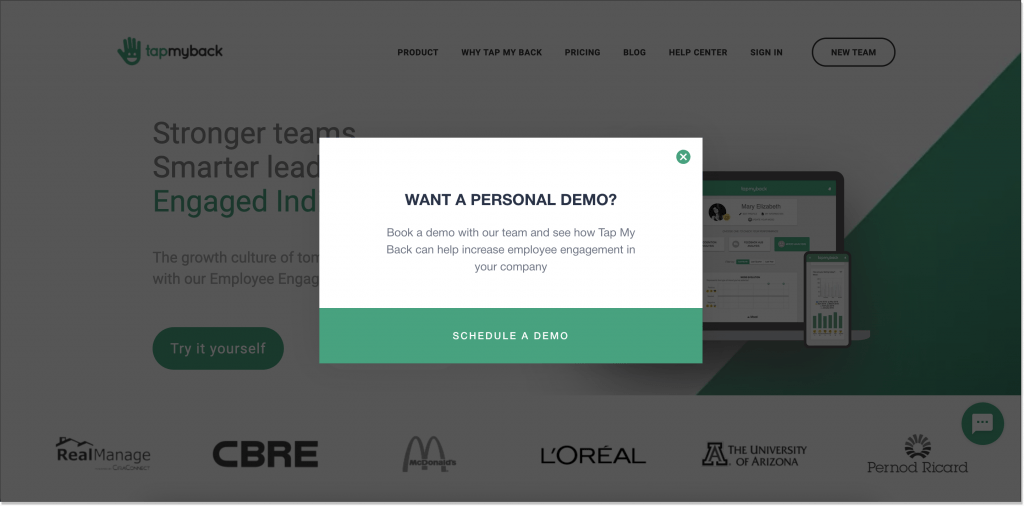 Knowledge base. "The help center is straightforward and easy to use, the integration with the chat widget is also awesome", says Carolina Gomes. And rightly so! Owing to the WYSIWYG knowledge base editor, the team creates helpful SEO-friendly articles and tops them up with visuals of all sorts. Plus, users can find the answers with the integrated FAQ hub without much hassle.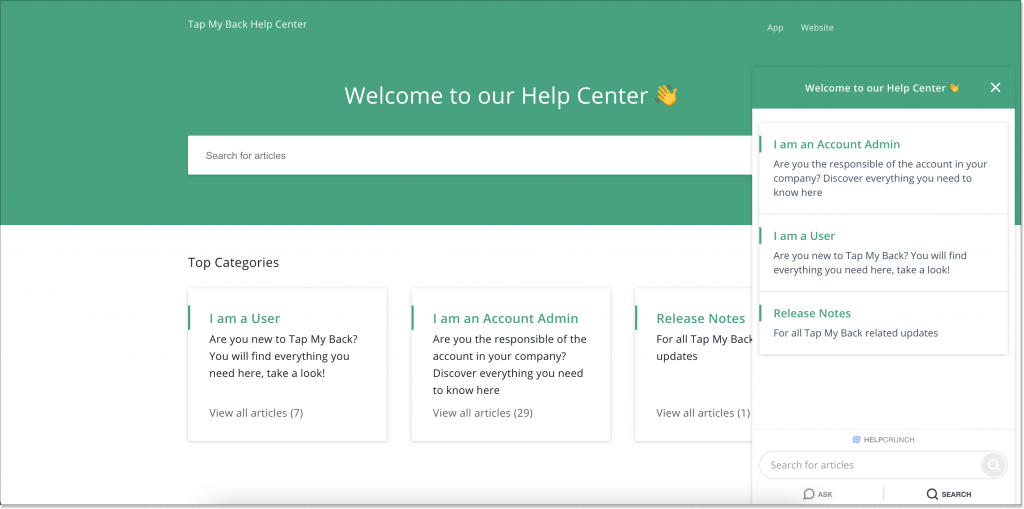 The Result
According to Carolina Gomes, there were heaps of opened unanswered messages from clients at the beginning. The first response time was extra high, too.
Once Tap My Back adopted the HelpCrunch all-round toolset, the users were unanimous: the support is more responsive and faster as compared to competitors which makes customer engagement and satisfaction level increase.
It's a great tool, it's easy, it does pretty much everything I need to do!

Carolina Gomes, Customer Support Representative @ Tap My Back
This case shows how a company can improve client engagement by choosing software that comprises everything under the same roof. Why don't you stop bouncing from one solution to another? Just create a free account with HelpCrunch, test its impressive features, and make the right choice.

Tap My Back offers employee engagement software for building continuous feedback culture in the workplace.
Industry
Employee engagement
Use case
Support Customer Engagement
Key features used
Live chat Knowledge base Website popups Email marketing