Want to Win Clients' Hearts? Consider Personalized Customer Service
There is no question that personalized customer service is a new game-changer in business. But worry not, we crafted a detailed piece on what it is and how you can implement personalized service in your company. Read on!

100% of employees are people. 100% of customers are people. 100% of investors are people. If you don't understand people, you don't understand business.

Simon Sinek
No worries, let's handle the customers first. What they want is personalized customer service which means they seek to be treated as individuals, not groups or masses. As Forbes stated in their article, "Personalized service is more powerful than personalized marketing". Marketing breaks down all customers into groups, or you can call them 'buyer personas', while personalized support treats each individual separately in accordance with their specific needs.
Imagine, you enter a local patisserie somewhere in Southern Italy. A seller is your good friend as you've been a regular guest here for months. He greets you by name and already serves you your favorite cake and cappuccino the way you like because he is well aware of your preferences. You pick up the dialogue right where you left off last time. At this moment you feel special, unique, and heard.
No doubt, you will keep coming back to this bakery even if another candy store across the street puts up a banner to announce a 50% discount on all goods. It is called brand loyalty. It is called business-customer friendship. And that's what users really want from you as a company.
This way of personal approach might come naturally if you are a small business, but for a big online company with higher sales volumes, it might be challenging. And yet you can be one of a kind in personalization by leveraging customer data and omnichannel support.
Let's look closer at what personalized customer service means and how you can deliver it to your customers.
What is personalized customer service?
Personalized customer service is an assistance provided by businesses and tailored to individual customers' needs and wants. It leverages user data and individual profile attributes to customize the experience. In other words, personalized service goes above and beyond to give customers a reason (other than a quality product) to buy from the brand. This approach can make a difference between a one-time user and a loyal life-long customer.
What do customers want you to know about them? I would break it into three main points:
who they are (their name, field of work, relevant topics of interest, important dates like birthdays and anniversaries)
previous conversations they had with your business so you can use them to your mutual benefit
their purchase history within your company.
Once you have all that, it's easy to implement personalization in customer service. You can greet a customer by their name, recommend a relevant product, or offer proactive customer care.

What are the real benefits of personalized customer service?
Even though 80% of customers prefer to buy from companies that offer personalized service, many businesses still fail to provide it.
Shoppers expect brands to remember who they are, whether they're on a digital channel or in-store. However, very few companies can actually deliver on these tailored experiences.

Peter Reinhardt, a former CEO, and co-founder at Segment
Now the benefit of deploying a personalized approach is more evident. If customers are willing to give money for individual treatment, then making an effort is worth every dime.
But wait, there are more to this:
Increased revenue. Personalized service opens a whole new spectrum of other opportunities for upsells and cross-sells. If you know your client's needs well, then you know what to recommend to them. Marketers describe that personalization efforts can boost revenues by up to 15%.
Growing number of loyal clients. Can you believe, 70% of consumers say that the level of individual approach impacts their loyalty. So make sure you have a detailed understanding of your customer's individual needs.
Faster customer service. With the help of behavior analytics, you can keep track of users' preferences and predict their inquiries. Moreover, you can solve issues faster since you already know all the basic details regarding this particular customer.
Greater competitive advantage. As a business, every organization needs a parameter that differentiates it from the crowd, and a good product alone is not a thing anymore. Thus, offering customized solutions like personal chat support, phone or even video calls, proactive assistance can provide a competitive advantage.
Treating each and every client individually is that secret sauce that will distinguish your dish from all others. Here are some more stats that prove the point.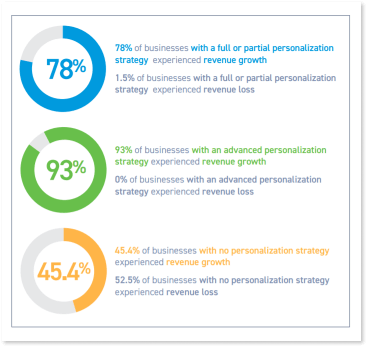 How to deliver personalized service?
To make sure personalization actually brings you the benefits it's supposed to, here are seven tips to help you refine your efforts:
1. Call them by their name
Greeting a customer by name in newsletters, live chats, and phone calls is fundamental for personalized customer service. There are many reasons for that but behavioral scientists mark up the main one: human brains react positively when hearing or reading your own name. Such hormones as dopamine and serotonin are released at that moment.
Do you want to make customers happy? Call them by their name. Besides, it increases the open rate by 26%!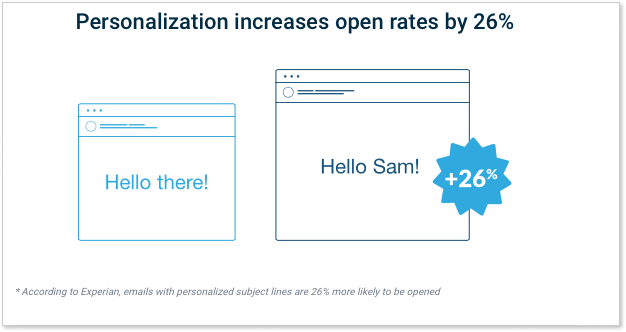 The stats received from customers confirm this point as 72% of consumers say they engage only with personalized marketing messages. So if you skip the name, there is a high probability no one ever pays attention to your letter.
While this seems obvious, many businesses are missing the opportunity to do this. One research shows that only 68% of eCommerce companies and 49% of telcos greet a customer by their first names in emails.
2. Leverage customer data
Another important aspect of delivering personalized customer service is making your users feel like you really know them and their needs. No customer wants to feel like yet another ticket on the list. In fact, customers want to feel like (guess) humans! In each communication message, promotional or not, they need to see that you care about them individually.
In order to accomplish this and help your customers feel appreciated, you must leverage the data you have on your customers like conversation history, age, gender, location, order history, lifetime value, etc. This means deploying customer service tools that can display relevant user data to agents.
Customer communication software like HelpCrunch allows you to see your customers' entire relationship and history with a company. You are able to store email address, phone number, or purchase history within the user's profile and use it to your mutual benefit anytime.
Over and above that, users get frustrated when they are confronted with anything impersonal or irrelevant to them. A study conducted by Microsoft revealed that 72% of respondents expect agents to already know who they are, what they've purchased, and have insight into their previous engagements.
Look at the infographic below to see why customers are willing to share their personal data (and how you can use it).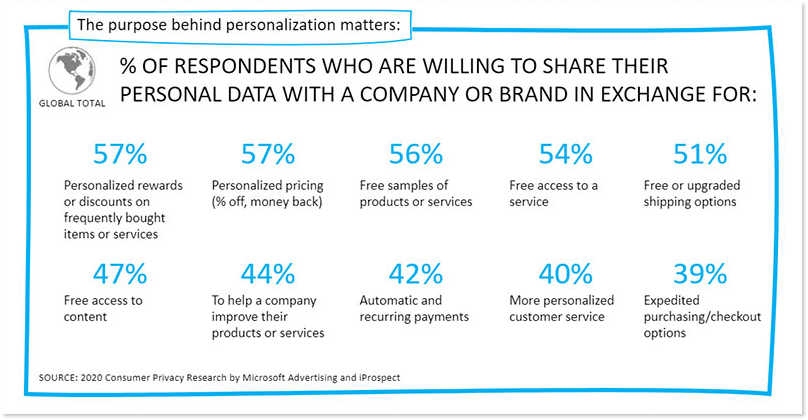 3. Ensure omnichannel customer support
A key component of personalization in customer service is to know your users' interaction history across different communication channels – in other words, to offer omnichannel service.
Understand this, customers don't think in terms of channels. They just want to have a consistent dialogue across a variety of platforms. In this case, your job is to ensure fluidity between channels so that users should never have to restart the conversation or repeat themselves.
There are solutions that can help you with the task. For example, HelpCrunch also serves as a single repository for all your conversations with customers across different channels (live chat, email, Telegram). The entire history of correspondence from all communication channels is stored there. One agent can easily replace another without losing the context.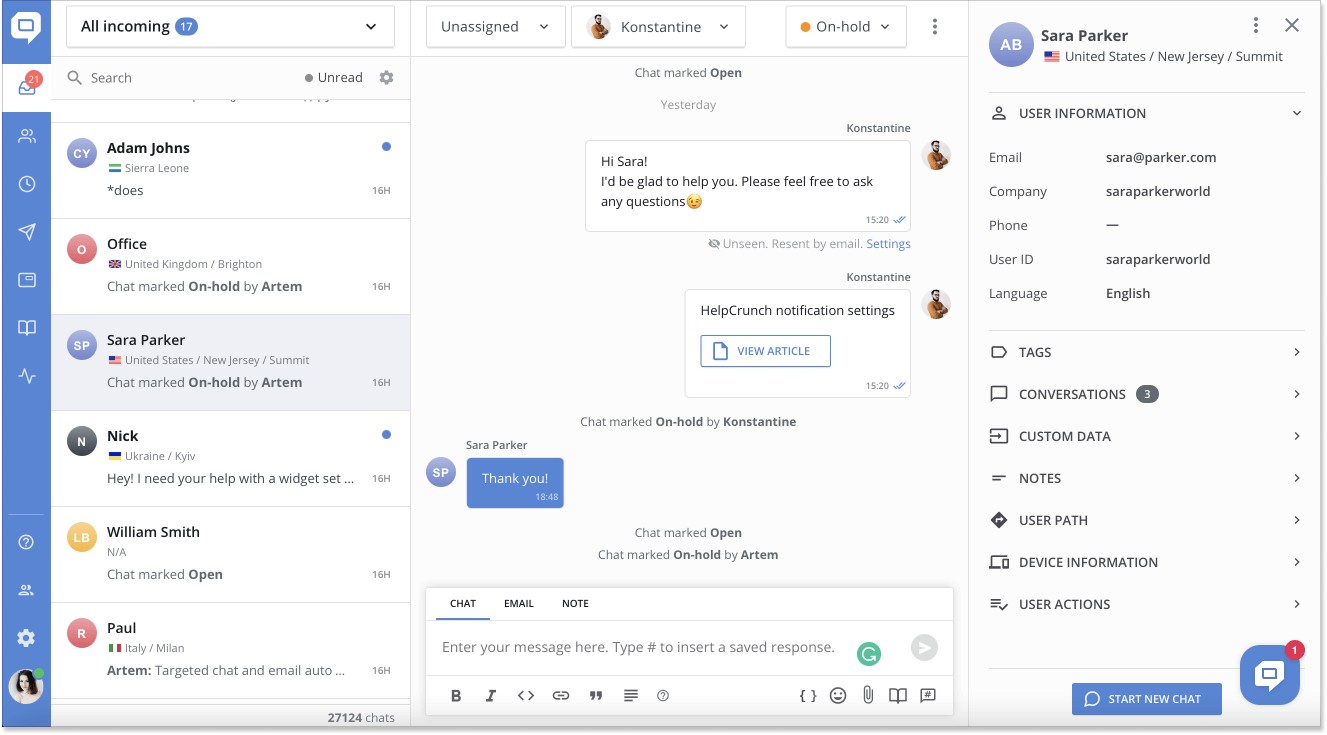 4. Reward loyal customers
Let your loyal customers know they mean a lot to you by thanking and rewarding them for their trust. It can be something simple like sending an occasional thank you email, offering a spontaneous discount, or a complimentary product or service.
If you know when your users celebrate birthdays, don't hesitate to send them a happy birthday card and attach a special discount on such an occasion. It will be a thoughtful and polite way of acknowledging them on a more personal level.
Generally, whatever you're offering, should have a personal touch and communicate that you appreciate users for their loyalty to your brand. On the other hand, if you fail to recognize your clients for their loyalty, it puts your business at risk of losing a part of your customer base due to continuous indifference.
How to make a reward personal? Again, use data from customer profiles, take into account their preferences, habits, conversation history, and demographics, to ensure that the reward and the message resonate with a particular user.
And after they get rewarded, that's what they do…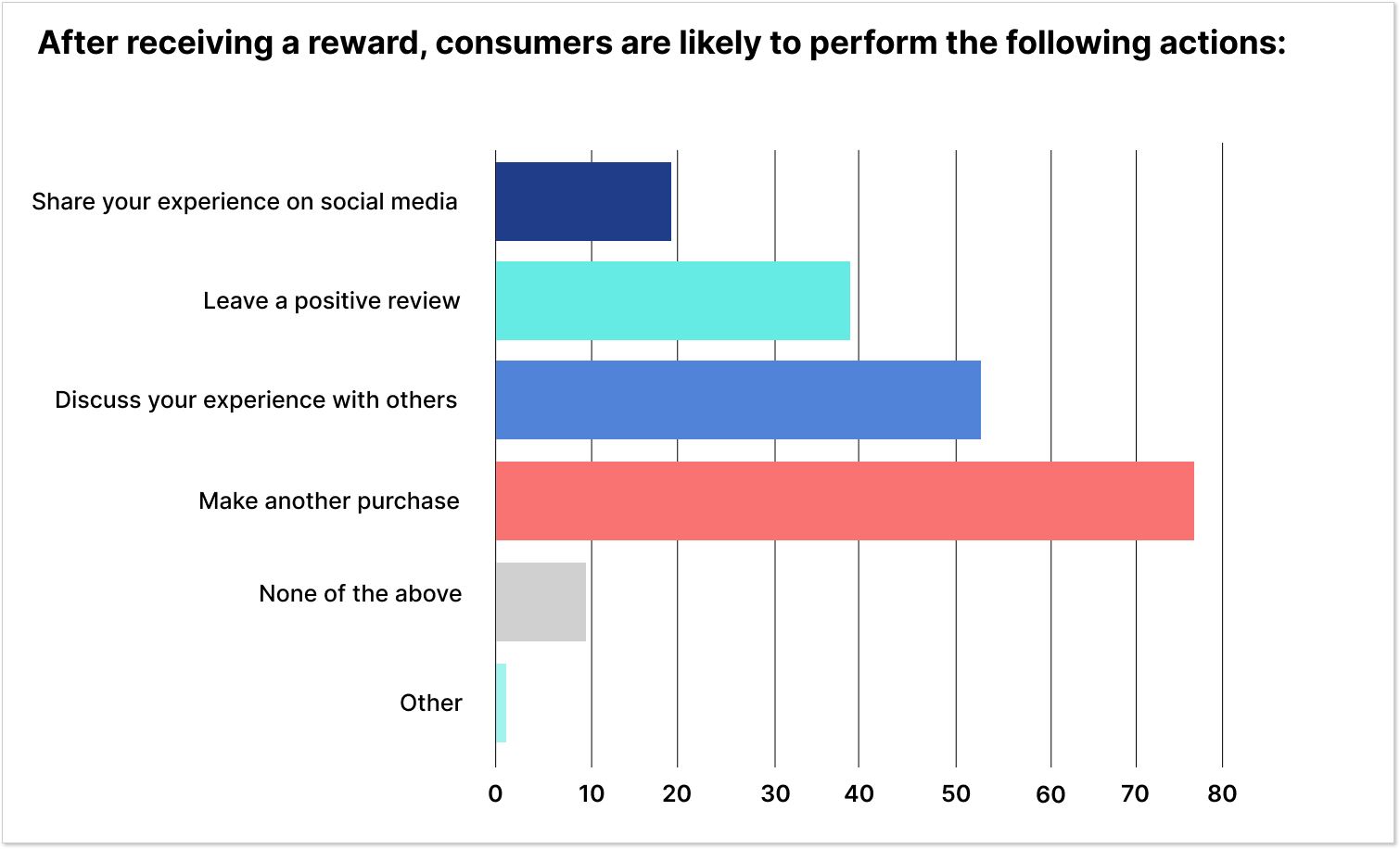 5. Ask for feedback
Personalization also comes from listening to customers' feedback and implementing changes based on what they have to say. Consequently, you might gain more loyal customers as 97% of consumers are more likely to be loyal to a company that implements their feedback.
Collecting reviews will show you how your users engage with your personalized customer service strategy. It will allow you to monitor the effectiveness of your personalization options, scan the results, and implement relevant changes if needed.
You can start with a simple binary survey at the end of each interaction, implement NPS surveys, but also make it possible for users to provide open-ended responses on their experience and what could have been improved.
For example, if you see a low NPS score, take the time to reach out to the user and ask for feedback in more detail. Failing doesn't hurt, being indifferent to what you did wrong can cause much worse damage.
Here is a quick example from HubSpot and their way of harvesting feedback.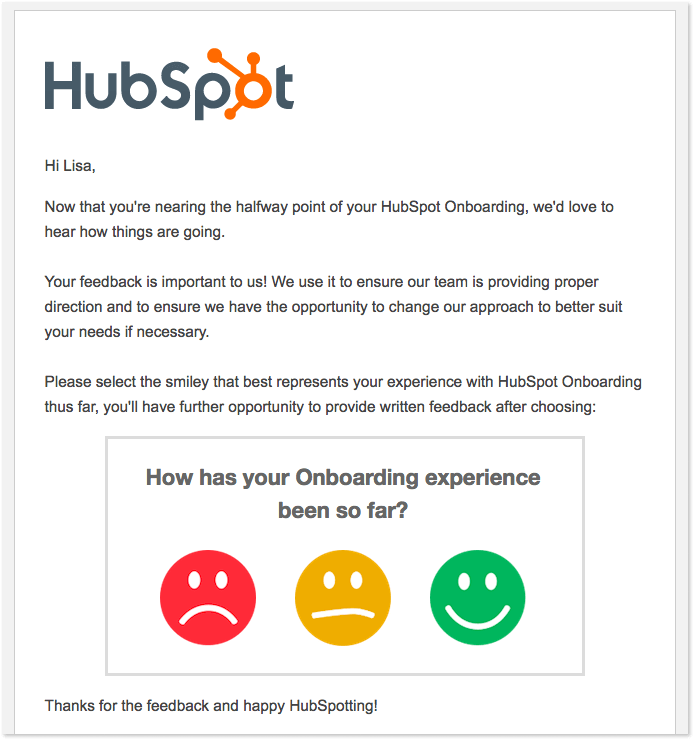 6. Humanize your way of selling
Although the help desk is designed to help people (not to increase sales) agents also have the opportunity to cross-sell and upsell when possible. But in personalized service, it's critically important to put the client's individual needs first, and thirst for money aside. How? By human! Before sending a newsletter or responding in a live chat ask yourself: "Is this message talking to a real person or just trying to sell?"
In the end, personalized service implies the fact that the communication between customers and companies is human interaction above all. We may not have all the answers, we all make mistakes, and we all fail sometimes – but what's important is to treat others as people instead of dollar signs.
In order to show your humanity, try to add a little picture of your agents' faces next to their names in a live chat, email, and messengers. It will help your customer service funnel become more human. Make sure agents use their actual photos (organize a proper photoshoot for everyone after all), not a stock image of a grinning model with a headset.
Encourage agents to be friendly while talking to users. Allow them to go off the script, and improvise if they feel it's right at this particular moment. Something as simple as asking a customer how the weather is where they are or if they have fun plans for the upcoming weekend can help humanize the experience and make it personal.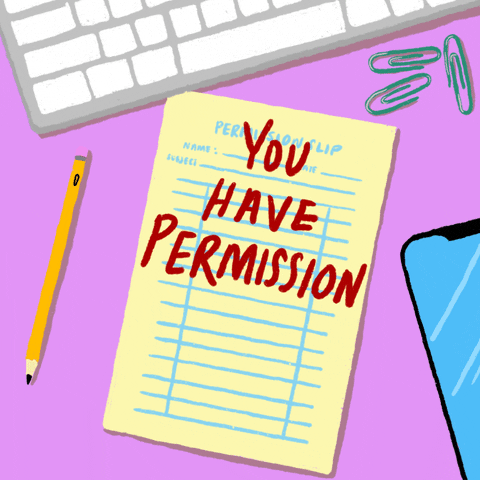 7. Provide personalized self-service
The last element in this chain that I'd like to mention is a bit counterintuitive, but hear me out. Even though chatbots can't replace people, if set up correctly, they can help in catering personalized customer service. 
In the first step, you can create a bot tailored to your users' needs by building flows. These are structured sets of questions and answers that create a decision tree for the user. It's a way that a customer will follow in the conversation thread until they get the information they're looking for.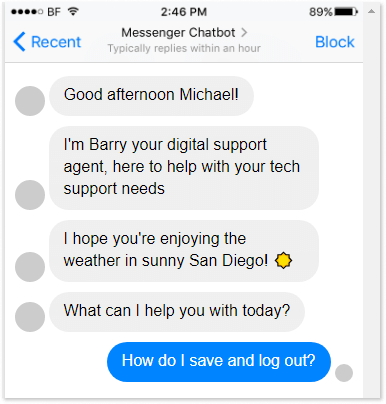 Virtual assistants are also very good at suggesting relevant knowledge base articles based on customers' inquiries. And this will definitely take less time than if the user searched for the answer in the knowledge base by themselves.
Another useful feature of chatbots is their capability of redirecting users' questions to the appropriate support agent instead of being transferred from one department to another infinitely. It's the behavior that irritates 70% of customers.
Generally, chatbots can be a useful instrument in personalized service but don't overdo it. Too much automation is the antithesis of personalization.
Wrap up
Since each of us is a separate person with our own values, feelings, and desires, we want to be treated accordingly. This is especially true for us when we communicate with a business as a client who pays money. In the end, users tend to choose the company where they feel most comfortable. It is in your power to provide such comfort.
One of the key conditions for delivering a personalized service is the ease of communication between the client and the business at any time through any communication channel. It means that all conversations and information about customers should be stored in one place and used to mutual benefit when needed.
Such a tool as Helpcrunch, an omnichannel platform for communication with customers, can help you to do just that. Book a free demo session with an expert to learn if it's the right solution for you.