9 Leading Сhat Widgets to Run on Your Website
Let's choose a perfect chat widget for your business - we share 9 leading solutions!

I don't know if it's an occupational hazard of mine but every time I navigate a website, I try to catch the sight of a chat widget with my eyes. How lucky am I when it shows! And how UNlucky is the business when it doesn't provide such a convenient method of communication (not that I am starting to curse the brand for it!).
Come to think of it, this little window at the corner of a website page has become part and parcel of the modern Internet user's experience. No wonder! It offers a handy way for customers to contact you in real-time, encourages their self-service, and boosts conversions.
But how to decide on the chat box for a website when the market provides them in spades? 🤔
HelpCrunch jumps in to help! Like there could be another option…Anyway, we gathered user-friendly widgets in case you're stretched for time. Take it away! 😉
What is a chat widget?
A chat widget is part of the website's under-the-hood and looks like a small window. Generally, it's used for an instant connection between a potential customer and a business' human representative.
This window usually arises at the bottom right corner of the screen. However, its placement is totally up to the brand. One thing to remember is that it shouldn't interfere with the rest of the page's components. For instance, if it's a checkout page, make sure your widget doesn't block the sections where a client should fill out their contact and billing details.
How does it work? Everything is simple: a website visitor clicks the widget, it gets started, and there are two options from here:
If the widget is proactive, a company reaches out to the visitor and initiates the dialogue;
If the widget is reactive, the visitor is supposed to make the first step.
Is a chat widget the same thing as a chatbot widget?
Before you say that a chat widget and a chatbot widget are like two peas in a pod, I will stop you right here. While they do have a number of similarities, there are differences you would like to go over first. Let's look closely at the state of things in this chart:
| | | |
| --- | --- | --- |
| Chat widget | Common features | Chatbot widget |
| | Part of a website's interface representing a small window at the corner of the screen | |
| Used by a human representative | | Has a robot behind the curtains that mimics human interaction |
| | Can be created without a single string of code (in most cases) | |
| Operates with a human representative who can guide a customer through more complex issues | | Operates with simple keywords and phrases for a customer to choose from |
| | Allows integrations with messengers for better customer communication and experience | |
Technical characteristics of a solid chat widget
Statistics show that almost 8% of users will respond to a popup box that invites them to a conversation. However, only 2% of customers will actually open a widget and type their questions.
All in all, having a chat box widget on your website wouldn't be amiss. What special characteristics should it own? Let's scrutinize the main features and capabilities any good chat widget should obtain.
Automatization. A solid widget should have functionalities for chat routing, setting up canned responses, sending chat rating, and adopting chatbots – in other words, it should do everything possible to encourage a smooth user experience.
Trouble-free setup. Preparation for communicating with clients shouldn't be biting. In fact, a fair share of software offers codeless installation. This approach allows you to embed a website chat widget without having to pull your hair out.
Ease of use. This point should be flawless both on a customer's and business end. The former should be able to 1) find your widget once your website without a hitch and 2) drop you a line there, without having to go through trials. The latter is supposed to 1) tweak the widget so that it matches its bottom line and 2) be able to answer a client in a timely manner.
Full customization. I don't know about you but a really cool widget where I can see friendly customer service faces gladdens my eye. And it's not just me! 57% of consumers prefer talking to a real person in live chat. That is why choose the software that makes it possible to change the company logo, add agents' photos, edit team status texts, etc.
9 best chat widgets to install on your website
1. HelpCrunch
HelpCrunch produces customer service software with seamless communications in mind and the whole nine yards. Plus, we think that users should be able to contact you effortlessly, be it in-app or on the website's page. That is why our chat widget makes it 100% possible: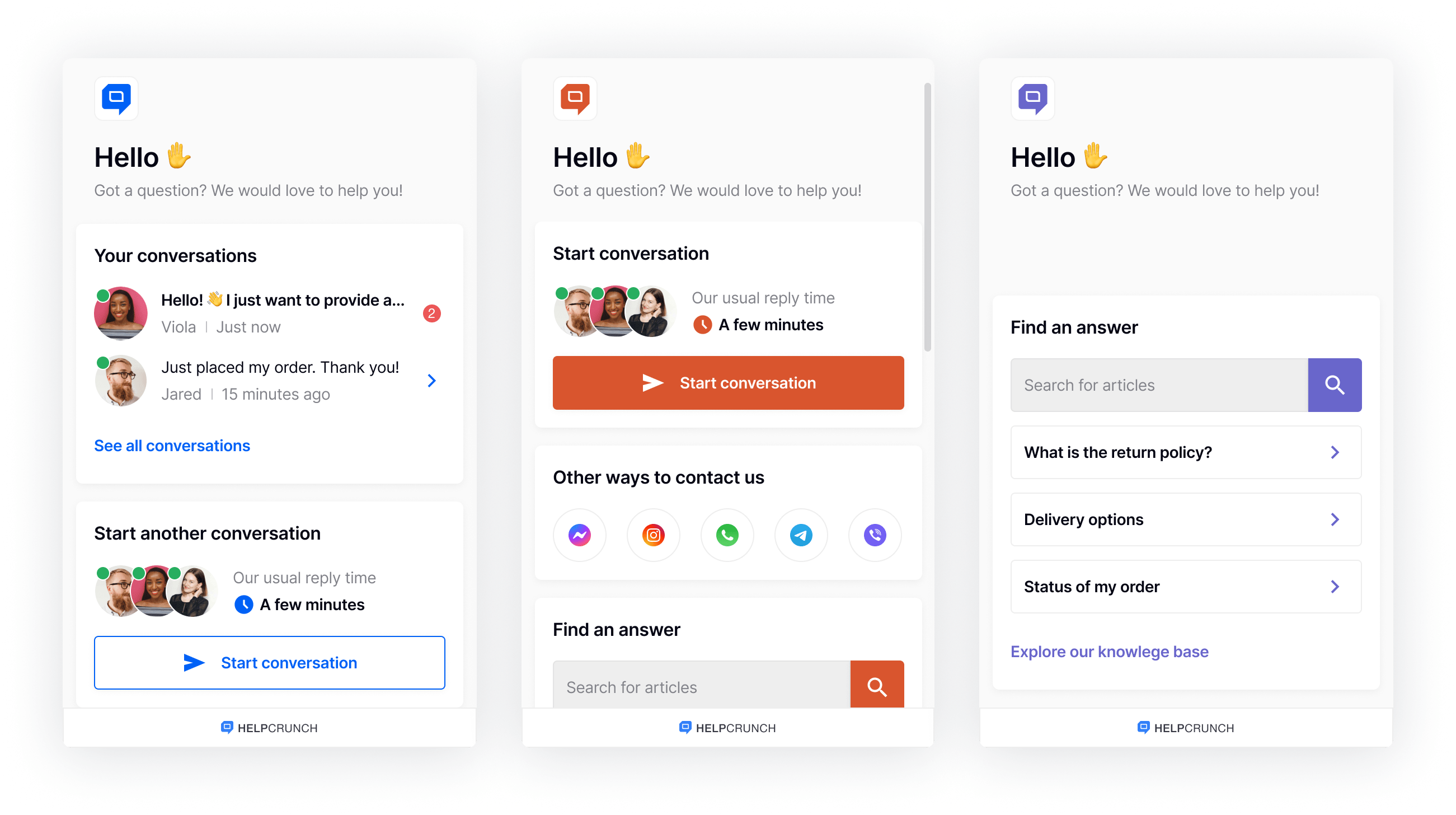 What's so special about it? Everything! No kidding. First, it's all about user-friendliness. Our chat box for websites offers a sleek start screen and comprises all the modules which help a customer interact with it (you can disable the modules at any moment and shuffle them in any order):
Have a helicopter view of all existing conversations;
Start a new conversation;
Choose any messenger to contact the team besides the live chat (Facebook, Instagram, Viber, WhatsApp, and Telegram);
Scour a knowledge base without switching to other devices or tabs and find the answer on the go, before even turning to a customer service rep.
As you can guess, our widget is fully customizable. No doubt it will suit any business thanks to numerous color schemes, chat wallpapers, real agents' photos, and different button shapes. Plus, we made sure that the widget operates at a rare bat.
Second, all your correspondence will drip down to the one and only place – shared inbox. Even if a customer interrogates you on Telegram or writes a long-read email. The HelpCrunch chat widget will endure the challenges.
Third, we designed the HelpCrunch widget following all the key communication principles:
Hide or show the HelpCrunch branding;
Disable the "End chat" functionality;
Choose widget displaying options (to visitors only, authenticated users only, or both groups);
Disable the file attachments;
Turn on/off sound notifications;
Download the chat transcript.
On top of it, you can use our chat widget for lead generation. There are pre-chat forms available both when the team is online and offline. Gather valuable customer data 24/7 such as name, email, company, and phone number. Or integrate our HelpBot the chatbot into the widget so that it does all these tasks!
Pricing
The HelpCrunch pricing is truly the most affordable compared to its opponents. The Basic plan is available for $12/mo, while Pro and Unlimited will cost you $20/mo and $495/mo respectively. Why don't you take a free 14-day trial with HelpCrunch and see the widget in action?
2. User.com
Next in line is User.com. Honestly, it provides all the necessary options for talking to customers. Once you open the box, there are only two modules – chat and integrated knowledge base.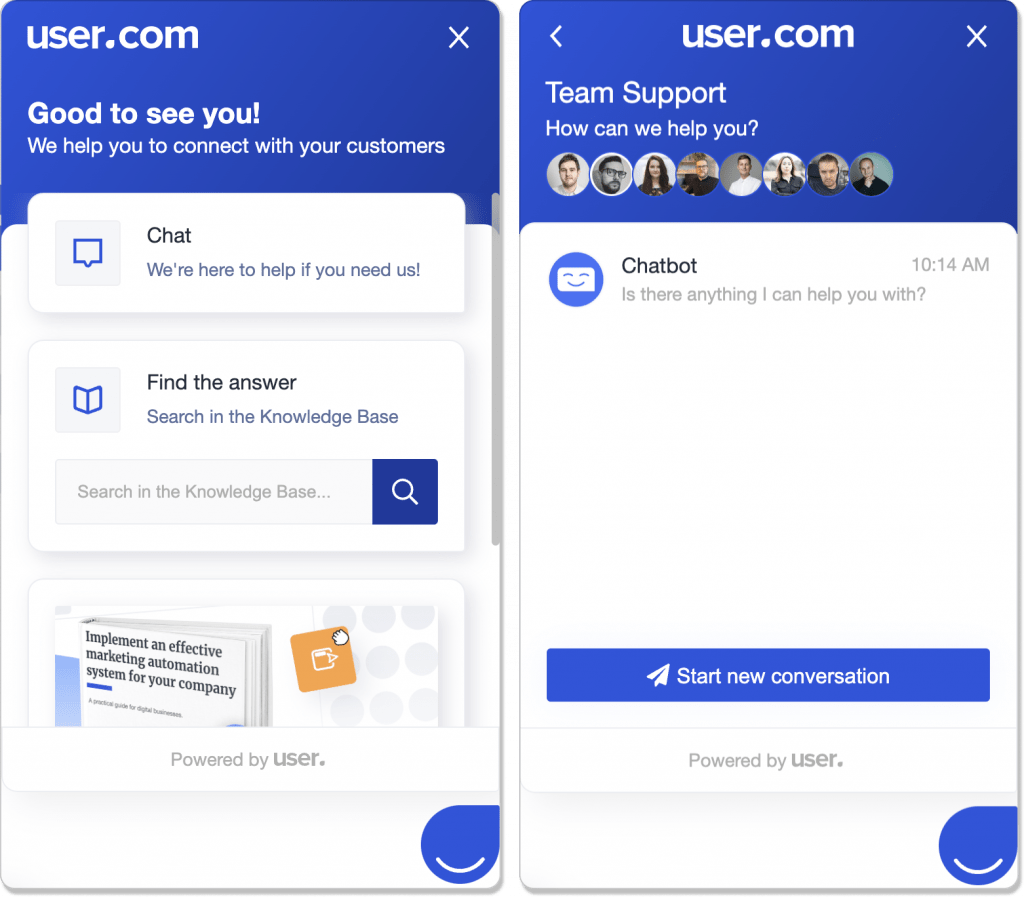 On the face of it, User.com offers everything a business might need for interacting with customers. Its website widget has default replies (aka canned responses) that you can use to streamline the process, an integrated chatbot for catching the leads any time of the day, a lead generation form, and a fully customizable design.
Besides, User.com makes it possible to convert the conversation to human agents automatically which, as we already know, is one of the prime features of a chat widget. And, of course, the widget does support multiple languages so that you can strike the right chord with any audience.
I could enumerate the features further but isn't it more compelling to find out what it is that singles the platform out? Thus, User.com has multiple message modes – you can send a message in 3 different styles and check what's best for the use case.
Pricing
User.com doesn't reveal its pricing plans. To get started with it, you need to schedule a call with sales.
3. Tidio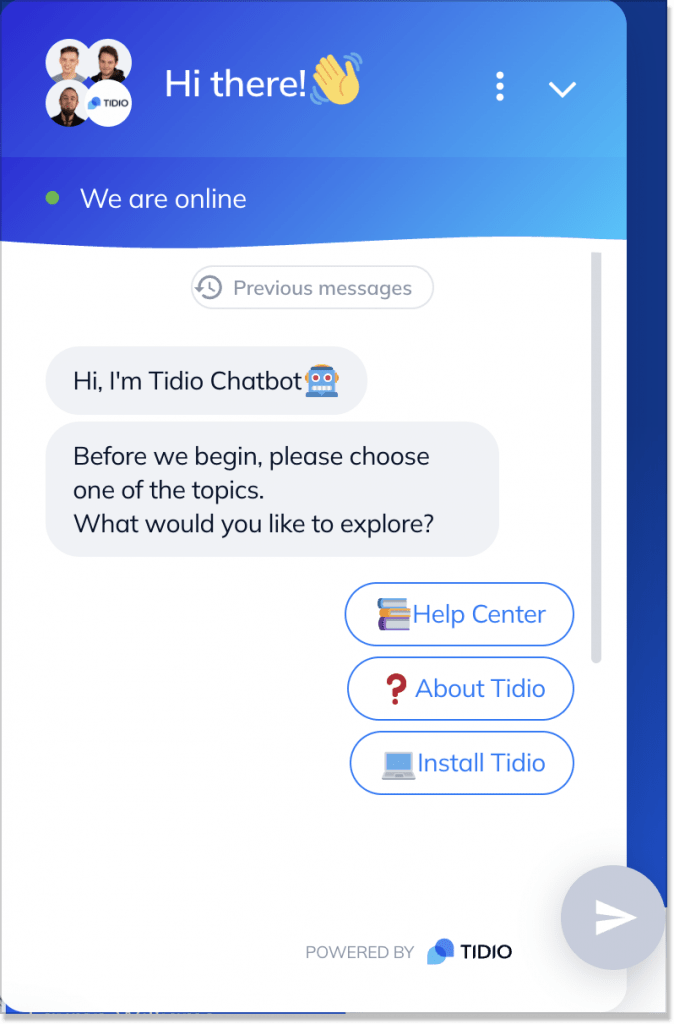 Tidio is a customer service platform generally used by small and mid-sized businesses. Just like HelpCrunch, Tidio has this one place for all your correspondence – a shared inbox. Where does it come from? Via the chat widget in particular.
Their website widget has all the relevant specs, such as:
Easy installation;
Editable chat status and message for inviting website visitors to a conversation;
Background picture;
Separate Chat page with a widget only;
Website preview options (how the box will look like when you're online/offline, the widget is closed or a pre-chat survey is shown);
Live typing and visitors list so that you can reach out to them at the right moment;
Searchable transcripts.
Speaking of the last point on the list, Tidio offers one distinguishing feature – a sidebar. As they explain it, this is a static widget displayed on the right or left side of the page. You can change its color and label just like you do with an ordinary widget.
What Tidio lacks is the self-service knowledge base integrated into the web widget. Are visitors supposed to wait for an answer or communicate with a robot while waiting?
Pricing
With a free plan, Tidio also suggests three other packages – Communicator ($19/mo), Chatbots ($39/mo), and Tidio+ ($289/mo).
4. Help Scout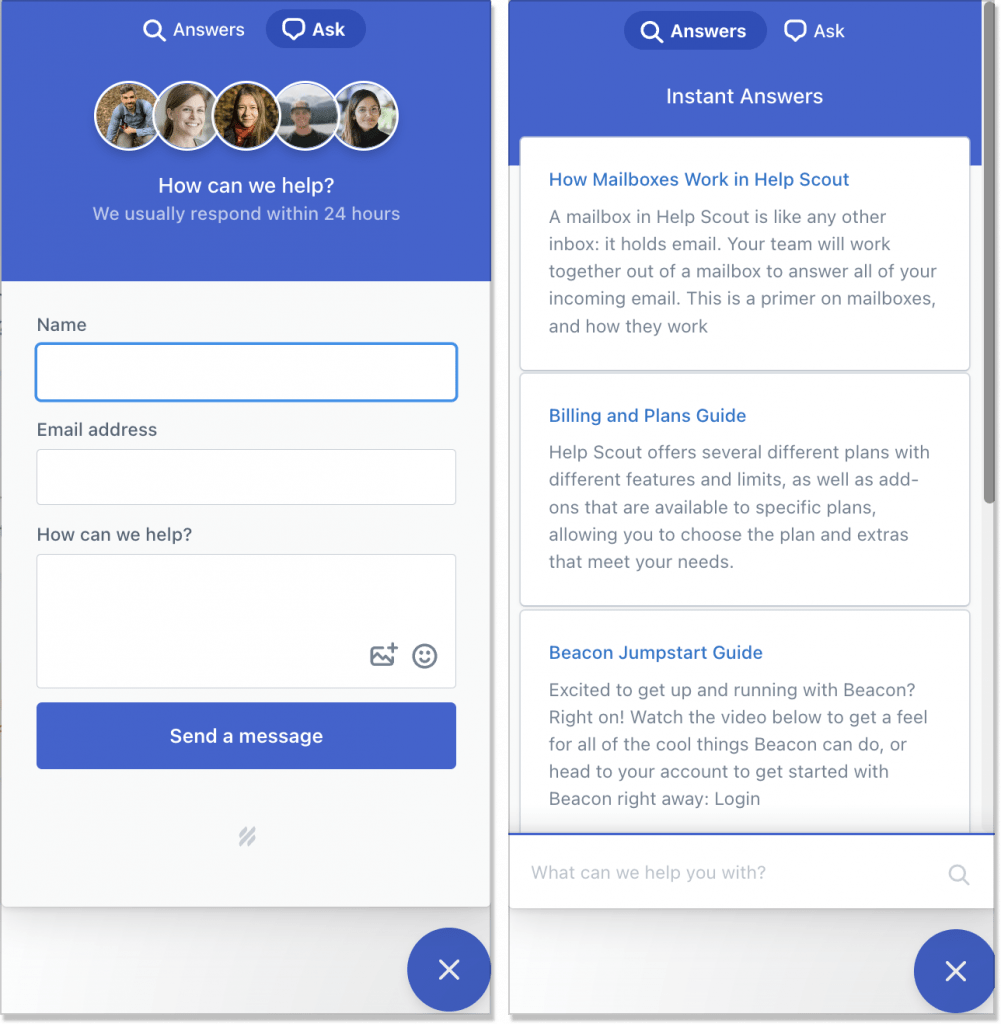 If you glance over the Help Scout chat widget, you will most likely notice one detail – it's super democratic. No redundant info and minimalistic design.
The overall chat functionality is called Beacon. The defining features lie in the style of the widget. It can be tailored to meet the users' needs and is presented with three options:
Ask First: once a visitor lands on the website, they see contact options (email or chat) in the widget, prioritized over the knowledge base content;
Neutral: this one depicts both contact options and a help center module side-by-side;
Self Service: this mode shows only the Docs field in the widget and there is no Ask option. The users can still comb through the knowledge base without switching the tabs, however, they would have to switch to another channel to reach out to you if need be.
Pricing
Help Scout's pricing packages start at $20/mo with Standard and proceed with $40/mo with Plus, and $65/mo with Pro.
5. Gladly
If you're looking for a straightforward chat box widget, pay heed to Gladly. Its "natively built-in chat support" will come in handy for those wanting to provide self-service only to their customers. All dialogues you have with clients are kept in a single, lifetime thread.
This widget has everything in place a user might need for getting in touch with a business. Its dominant part is a self-service help center but a user has also an opportunity to talk to a real representative.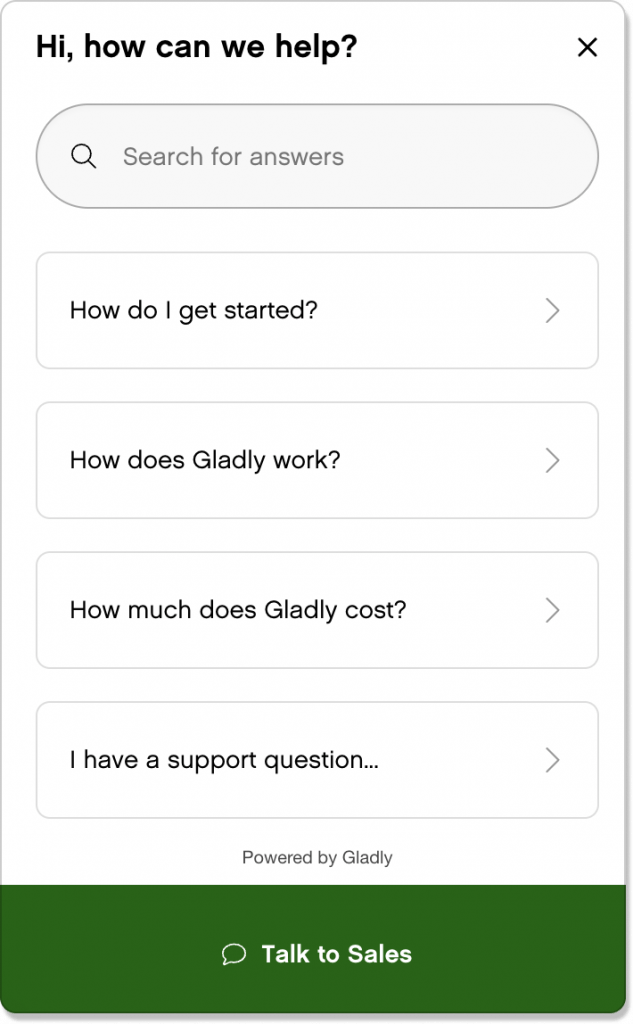 A really useful functionality Gladly suggests is chat throttling. This means you can turn the chat off when the user's estimated wait time exceeds the threshold. Chat throttling is available for auto or manual setup. With the latter, you can specify the percentage of conversations for agents.
On top of it, the Gladly chat box allows you to request credit card payments within one widget. All a customer needs to do is securely fill out the credit card details and seal the deal.
Pricing
Gladly provides two simple pricing plans – Hero and Super Hero – for $150/mo and $180/mo respectively.
6. Podium Webchat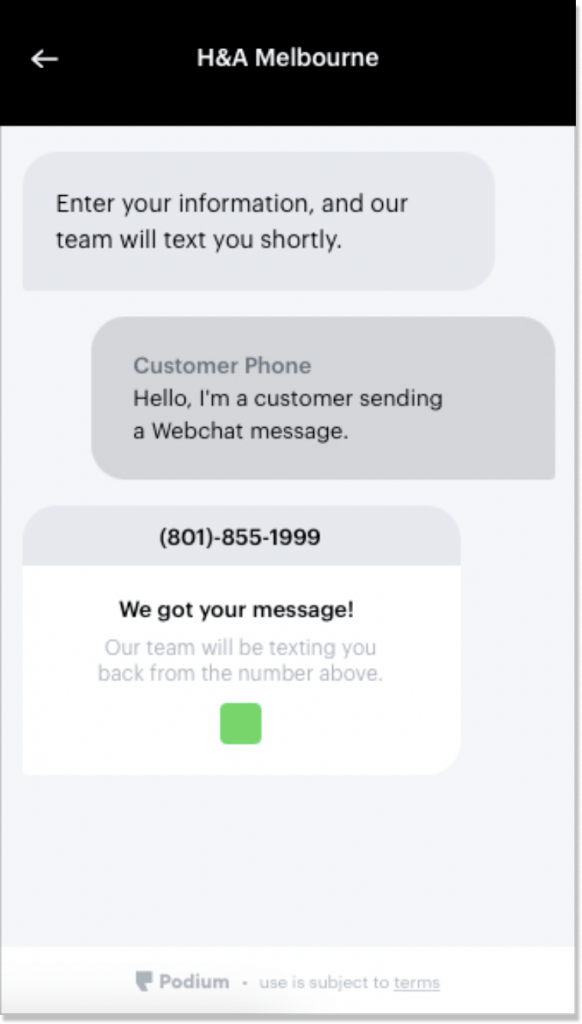 If we talk about something offbeat, Podium Webchat should lead the charge. As they specify, their website chat box is text-based and meant for local businesses. So when a visitor initiates a dialogue, the whole discussion is converted into a text thread and can last even after they navigate the website away.
So to start a dialogue with a customer service rep, you just have to fill in your name, mobile phone, and the request in the widget. The rep will text you back ASAP.
Podium Webchat allows you to schedule appointments, answer various customer questions, and close deals at the earliest. Among other things that Podium suggests are:
Response automation to engage with prospective leads even after hours;
Intelligent lead routing makes it possible to assign the chat to the right agent or department, keeping the context;
Reporting dashboards where you can clearly monitor the team's progress, check agent response times, and how many inbound leads are generated per month.
Pricing
"Simple plans", though, are too pricey: Essentials, Standard, and Professional will cost you $249/mo, $409/mo, and $599/mo respectively.
7. Tawk.to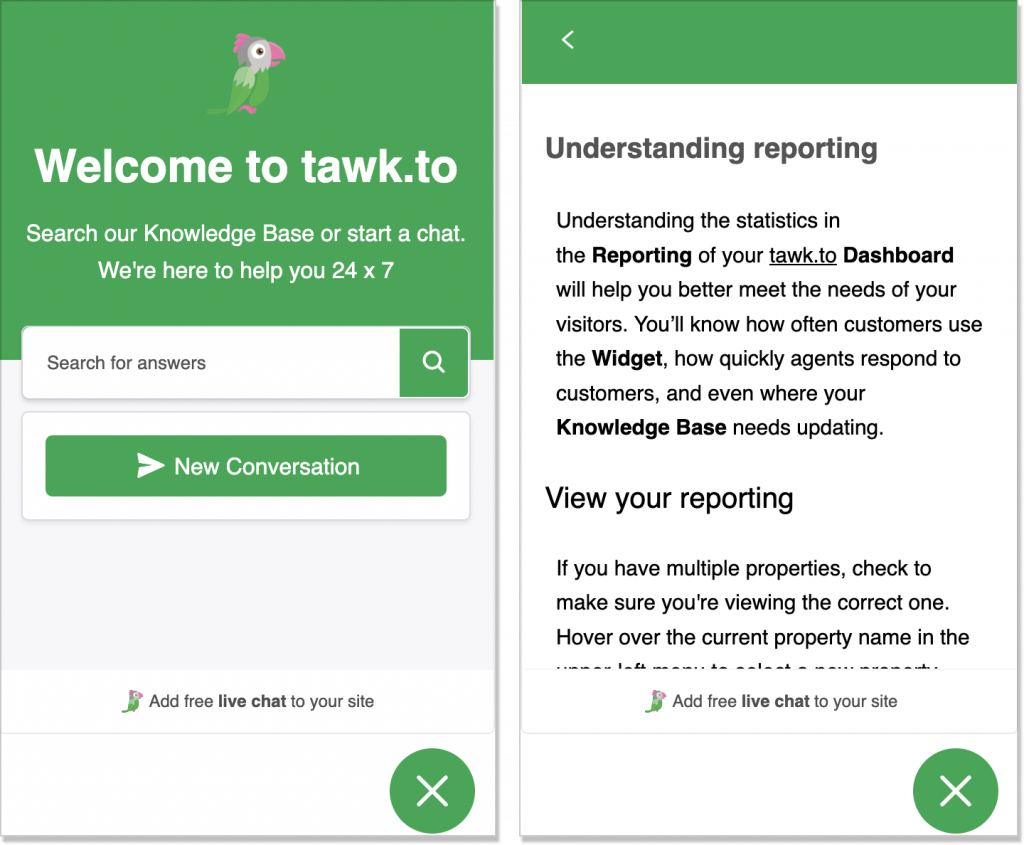 This solution would be a blessing for small businesses and startups that haven't got an opportunity to splurge. Tawk.to provides a free chat widget for a website that you can leverage for communicating with visitors in real time. Once you open it, you have to fill in a pre-chat form with your name and email – a smart lead gen move.
Tawk.to has the whole set of features a novice company would want:
Proactive chat – the functionality a modern widget can't be imagined without.
Full customization – this point won't anyone these days and Tawk.to suggests it, sure thing. Change the widget's appearance, texts, and whatnot.
Multilingual support – Tawk.to has translations for over 45 languages which makes it easier to get closer to the audience;
Canned responses – as many other widgets we described here, this one has also pre-saved replies you can leverage for better and faster workflow.
Pricing
Tawk.to provides a free chat box for a website.
8. Giosg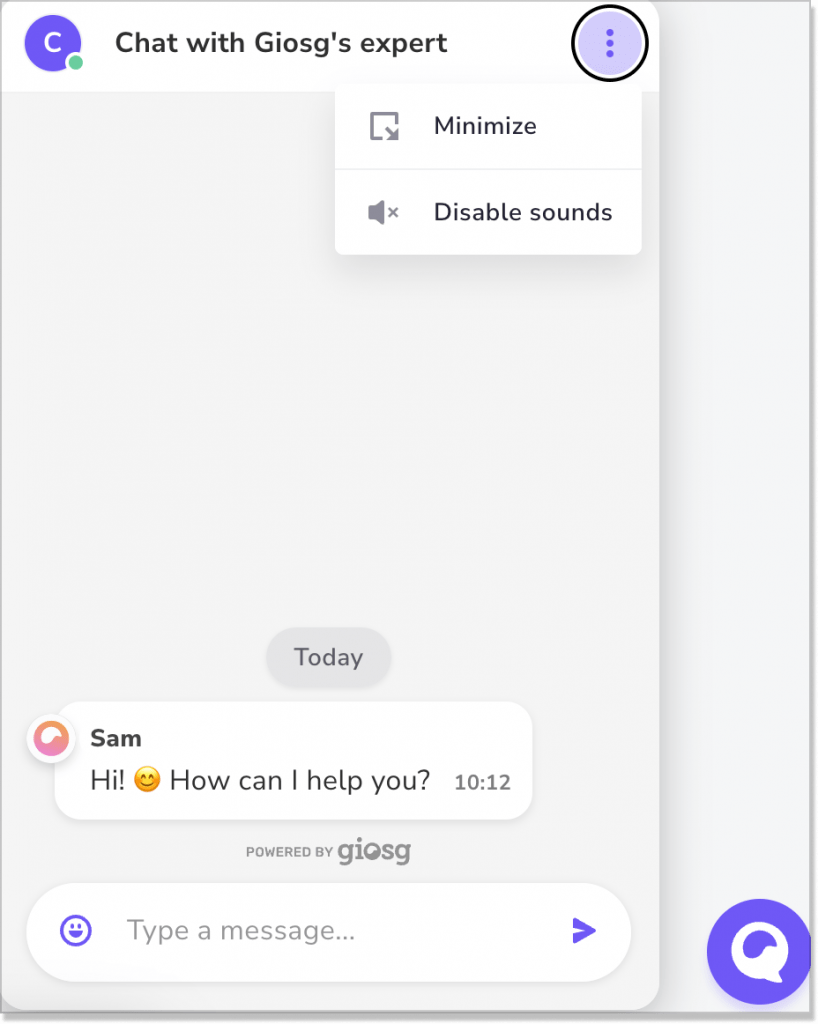 Giosg positions itself as an engagement platform with all the tools needed. Is it really the case? Let's crack that down.
Their chat widget for a website comes packed with a multi-chatting UI, a routing system, qualification tools for boosted lead generation, visitor information view, canned responses (which is not a surprise these days), and focus mode.
But Giosg does present something not many chat widgets provide – voice and video support embedded into the product. Thus, you can literally go the extra mile for your customers, feel, and stay in the context in case an issue can't be resolved in a text form.
Pricing
You have to suss out the Giosg's prices – they don't show them on their website. For that, schedule a demo call with the team.
9. Chaskiq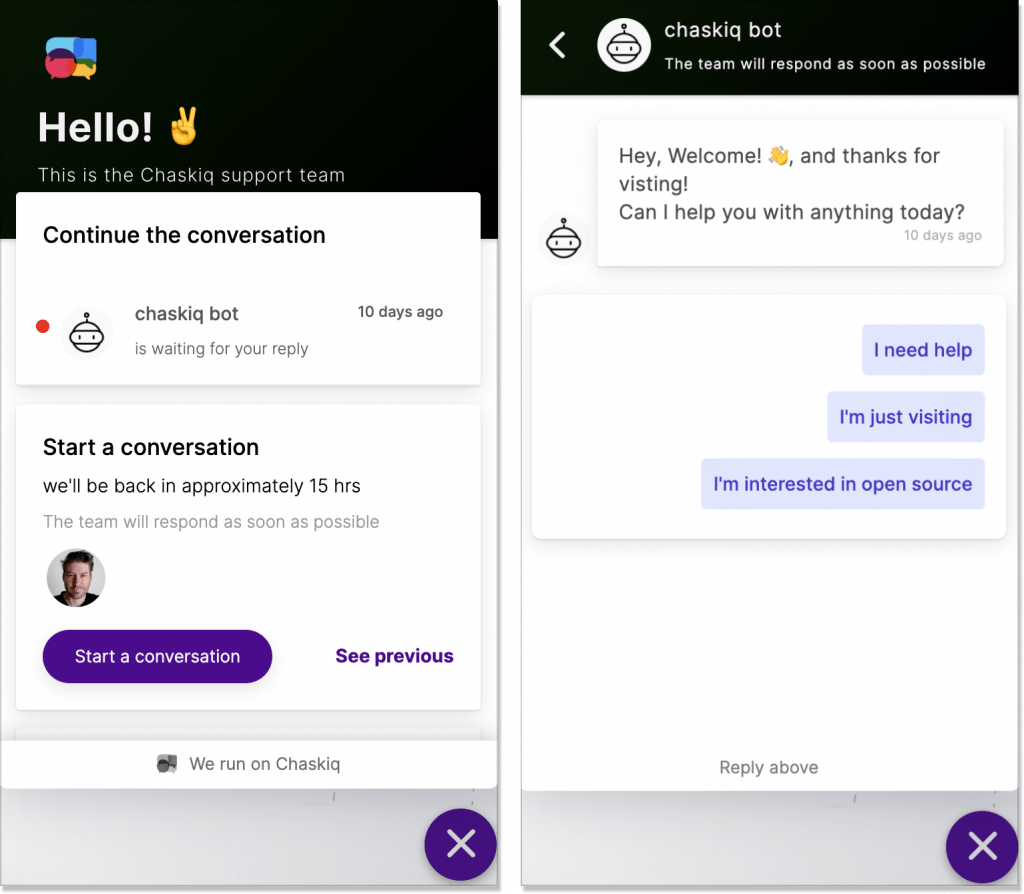 In our list of chat widgets for websites, the one from Chaskiq suggests a variety of in-built plugins for integration. For instance, if you're swamped with demo calls and don't know how to plan it all out, you can set up Calendly within Chaskiq and schedule appointments in a canter.
This webchat also allows you to send payment details for enhanced customer experience, initiate Zoom video calls, and target the right audience. And what about self-service? Chaskiq makes it possible from its support widget as well. Once you open it, you can either speak to a real human rep or scour the company's knowledge base.
What struck me the most while testing this chat window is the blog module. I have an eye for such things! Chaskiq entices website visitors to check out their blog which is also an additional hack for engagement and lead gen.
Pricing
If you want to self-host Chaskiq, splurge $150/mo for Standard support or $599/mo for Premium.
Final thoughts
Since you already know the basics, the list of the best chat widgets, and their key features, it's only right to knuckle it down. If need be, browse through this article once again, weigh the pros and cons for each solution, and take your best pick. Let me give a quick hint, though: your ideal widget is closer than you think 😉