Categories: SaaS
The common knowledge is that live chat is a great customer service channel that helps businesses answer clients' questions in real time. However, businesses small and large often overlook its other use cases.
Tribal Habits, a SaaS platform for online training, saw the immense effect live chat had on their customers early on. Prompt timely answers and qualified assistance helped them build strong and meaningful relationships with their customers – something they've never thought of when first integrating live chat into their software.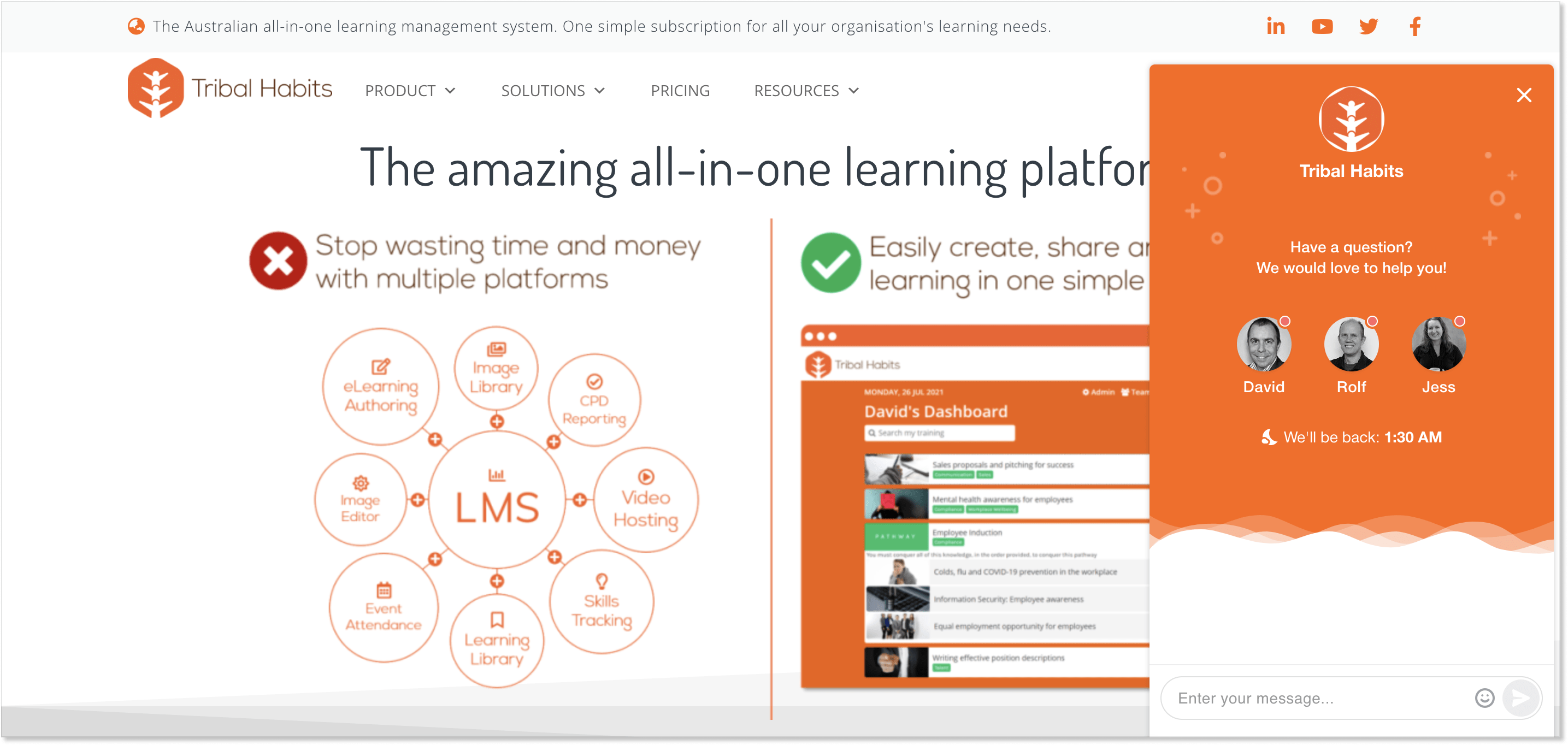 The challenge
Every business claims to be customer-driven, but only a few deliver on the promise. The team behind Tribal Habits has been paying close attention to customer feedback right from the start. Every question, feature request, and general comment had to be not only carefully addressed but also analyzed and put into a larger perspective. Their business has been built on the principles of customer-centricity, and they haven't deflected ever since.
That's how Tribal Habits manages to develop a product that users actually enjoy and understand at first glance.
The platform is always evolving, always changing. It's important that we have close relationships with the people who use our tool. Not only because they're really valuable to us from a financial point of view, but because they're so important at the moment in helping guide where our product is gonna go.
However, being nice and customer-driven doesn't guarantee you instant success if you're in a highly competitive niche running against huge corporations with millions of dollars of investments. Tribal Habits soon found out that being reactive in live chat also helps set their product apart from competitors.
Big corporations, with their clunky hierarchies and numerous support departments, are usually bad at engaging with customers. People who've chatted with Tribal Habits are always surprised at how responsive and personal they are.
That feedback can be addressed quickly, which our clients really like because we're responsive to what they're asking for. 
The solution
So, how can a small Australia-based startup put its business on the map and stand out from the crowd? By staying as close to their customers as possible. That's where HelpCrunch, with its numerous tools for customer communication, fits in.
Live chat + knowledge base
Once the team behind Tribal Habits has incorporated the HelpCrunch live chat into their platform, people have immediately started sending valuable feedback and insights their way. Around 80% of chats come from existing customers and usually concern issues with onboarding or advanced features.
We use the information we get through your tool to help us understand where we may have issues with our UX. If we have a lot of people saying "Hey, I can't find this report", that means that we're doing a bad job of surfacing that report in our tool and we should make it more clear.
Moreover, the team manages to keep their first response time under 5 minutes which is also an impressive figure. Customers are not eager to wait on hold or to be transferred between departments. That's why even something as simple as a swift first reaction can make all the difference when it comes to customer relationships.
Adding a knowledge base to the process helps the team answer questions even faster and more efficiently. Support agents send a helpful guide in a few clicks while customers can also find all the relevant information on their own in a unified help center.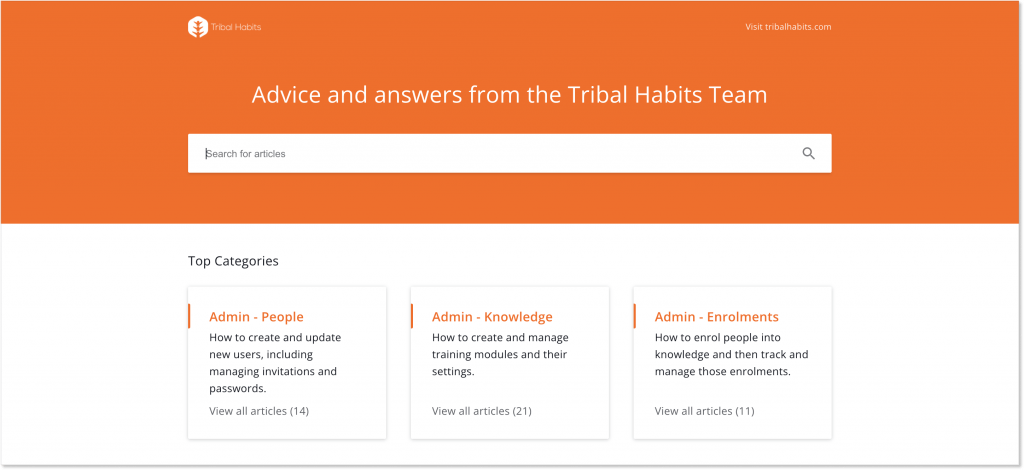 In-app messages
Reactive support takes up only half of the work when it comes to customer relationships. Proactive engagement is crucial for increasing customer satisfaction and fostering loyalty. That's why Tribal Habit's marketers use HelpCrunch for communicating important updates and company news to their clientele. And what better way to announce them to your active users than via a live chat widget built into your software? 
We use proactive messages on certain pages that are relevant to those pages. We're sending platform updates to our current clients: if we're changing things, we communicate that through the tool. 
Of course, live chat is just a tool, but it opens a whole new world of possibilities.
The result
Responsiveness and personalization became the cornerstones of meaningful customer relationships for Tribal Habits. And HelpCrunch with its live chat and knowledge base features allowed them to achieve great results in this area.
The team keeps their first response time under 5 minutes to lend a helping hand tight on time when assistance is needed the most. After having integrated HelpCrunch with Slack, internal discussions became even simpler. The entire team can see user feedback instantly without even logging into HelpCrunch.
Customers are always impressed by how quickly the company reacts to their inquiries which shows in product reviews on Capterra: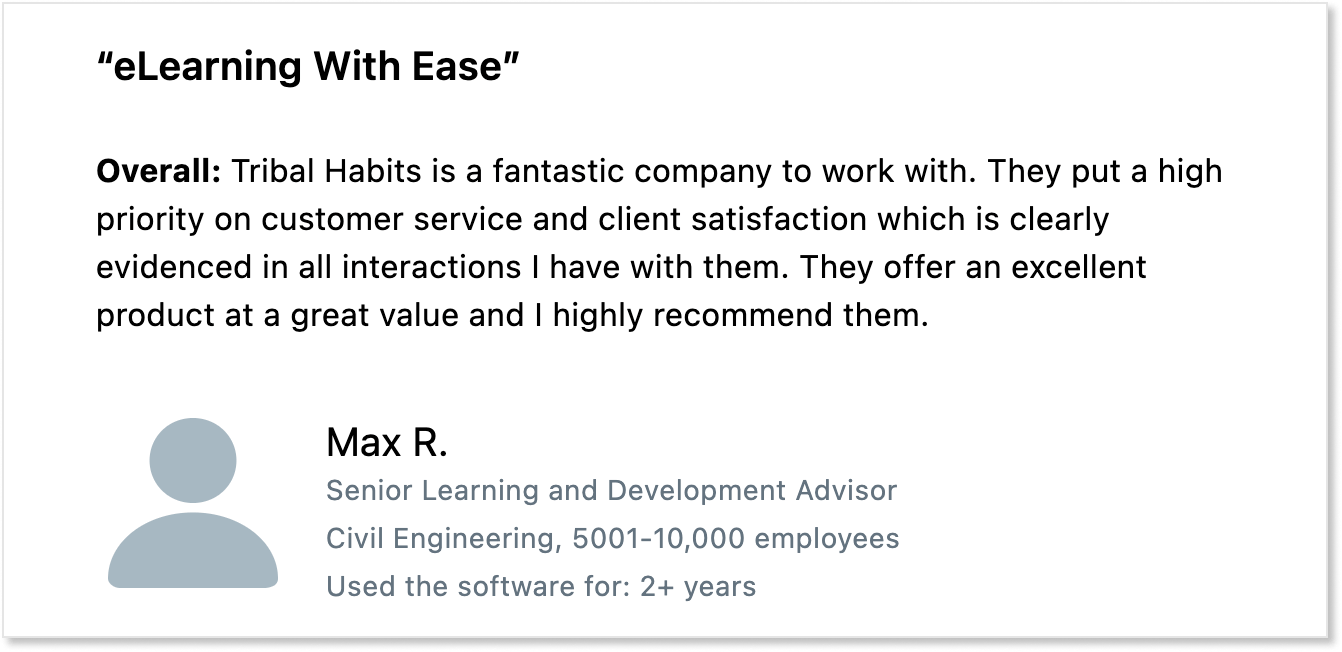 A proactive approach only adds to the overall great impression.
The most important thing is that HelpCrunch allows us to be responsive to our clients. It's so important to us as a business at the moment. And it is what sets us apart from our competitors. 
Tribal Habits is a simple SaaS platform for online training. The tool combines features for both creating and understanding online courses and focuses on non-tech savvy users.
Use case
Customer service Customer engagement
Key features used
Live chat Knowledge base In-app messaging