Categories: Public relations
The product is great and your enthusiasm and personal attention to customers makes a big difference.

Jeroen Borgesius, CEO @ PR-Dashboard
The Intro
In plain English, if you're a PR manager in the Netherlands, you can use PR-Dashboard for finding relevant journalists for your press releases. You can send them emails, monitor their opens and replies together with media outlets updates — all in one tool.
And as any self-respecting company, they wanted to have a live chat on their website for customer communication. Live chat gives their customers an opportunity to quickly ask a question or leave their feedback. That's what companies do this day — communicate with clients in real time via live chat. And that's what PR-Dashboard has been doing for a long time, too.
The Challenge
From the very start, PR-Dashboard needed a simple and intuitive live chat tool that would look integral within their product, but still attract people's attention and encourage them to start a conversation.
So they chose Zopim (which is now a part of Zendesk toolset). Back then, it was a simple live chat tool with nothing fancy on top of that. Maybe even too simple.
There were two fundamental problems with Zopim:
Though they used this tool for quite some time, PR-Dashboard weren't satisfied with Zopim's very limited customization options. They didn't like their live chat widget layout and the fact they couldn't place it freely on their website. Also, it looked kind of terrible on mobile devices.

On top of that, their team worked from outside their office quite often, so having their live chat software as a mobile app would be of a great help. Zopim didn't offer that, too.
The last straw emerged during Zopim's integration with Zendesk. Back then, Zendesk was just a cloud-based helpdesk company, but at some point they decided to add a live chat tool to their toolset. So they acquired Zopim live chat for this purpose.
Naturally, during the integration process, things have become too confusing for their users. So PR-Dashboard started looking for alternatives.
The Solution
That's when PR-Dashboard stumbled upon HelpCrunch. It was a pure chance as they accidentally saw a nice chat widget on some third party website and liked the way it looked. Just like that.
After a small research, they found out it was HelpCrunch.
There are three fundamental things they appreciated in it right from the beginning — live chat widget design, mobile app, and instantaneous high-quality customer support.
Mobile app
The first huge surprise after signing up for HelpCrunch was our mobile app. It was exactly what they needed — the ability to answer clients' requests from wherever they want in a fast and simple way.
Chat widget customization
Then they saw all the customization features to the HelpCrunch live chat widget. They were able to place it on their website according to their needs so that it won't stand out as a third party solution.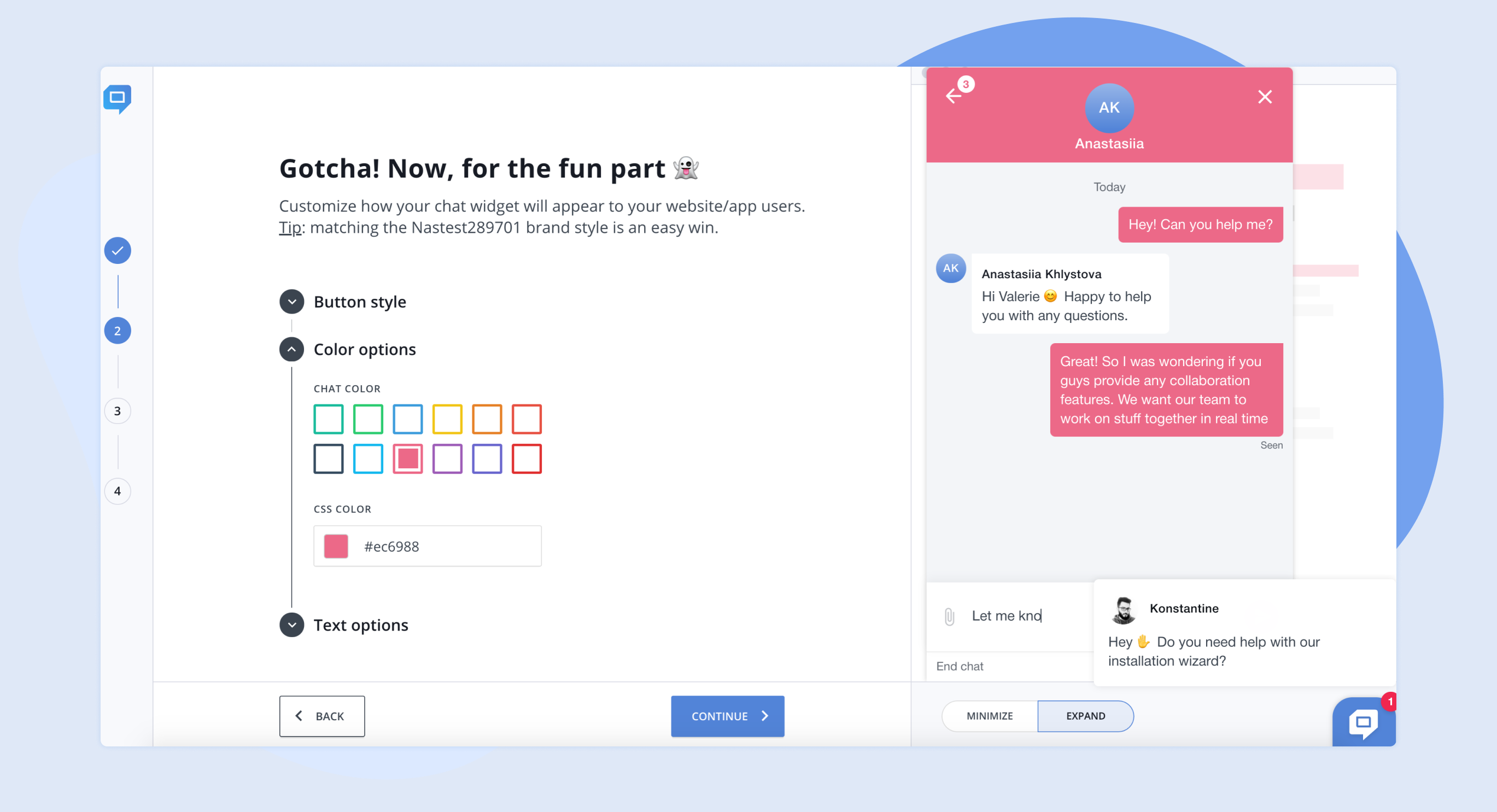 Great customer support experience
HelpCrunch also provides one of the best customer support experience out there! At least that's what Jeroen Borgesius, CEO at PR-Dashboard, keeps saying to his personal onboarding assistant Konstantine.
Another nice little thing they appreciated was the 'operating hours' feature. Not that big of a feature, but they really liked this particular setting. After setting their work schedule, their team went online during the specified operating hours and offline during the rest of the time.
Overall, HelpCrunch live chat worked amazing for PR-Dashboard. It had everything they needed — from file sharing to saved responses to even helpdesk functionality. And it worked wonders.
The Result
If something is right for you, you can instantly see positive outcomes. After switching to HelpCrunch, PR-Dashboard saw a huge boost to their live chat key figures:
91% more high-quality conversations. For some reason, customers found a new live chat more appealing and started using it twice as often as before.
The quality of chat conversations improved, too. The new live chat became a great source of invaluable feedback from customers.
Longer conversation time (in a good way). Chat conversations became more meaningful and essential, which translated into how long they are.
Overall, the customer satisfaction rate improved dramatically.
Summing things up, there wasn't one specific huge feature that did the trick, but rather a thought-through set of different features. All the functionality by HelpCrunch makes the work as efficient and fast as possible, which leads to stunning results right away.
The problem with Zendesk+Zopim is that they're trying to squeeze different products into a single solution, but more often than not it makes things difficult and inefficient. In HelpCrunch, all solutions are custom-made and united in one dashboard, no overcomplicated settings and integrations.
The funny thing is, even HelpCrunch pricing turned out to be more pleasant compared to what they had to pay for Zendesk.
But their CEO emphasized that money wasn't a question as they were willing to pay for whatever tool they found reliable and easy to use. HelpCrunch was just the tool.
If software is cheaper but doesn't do the job, there's no point in it. HelpCrunch is reliable, quick, easy — and that's what we love about it for.

Jeroen Borgesius, CEO @ PR-Dashboard

PR-Dashboard is a Netherland based company helping PR managers and reporters get in touch with each other. The tool has one of the biggest email databases for PR companies in the Netherlands backed by email automation, stats, and media monitoring tools.
Key features used
Live chat Shared inbox Mobile app