Categories: SaaS
So, I'm in the middle of interviewing a candidate for our position of a content marketer. Naturally, I'm asking all kinds of questions about her previous experience. Her last job was at some company named HelpCrunch.
"So, what exactly is this HelpCrunch doing, anyway?" I asked.
She responded, "Basically, it's something like Intercom, but way more affordable."
Wait a minute. At this very moment, our team has been testing Intercom for 3 weeks. And they weren't quite satisfied with it.
So HelpCrunch, huh? Let's give it a try, why not.
Fast forward five months – and we're all swimming in money that we could save after switching to HelpCrunch.
The Intro
Without any exaggeration, that's exactly how one of our clients, a company with 16 live chat agents (8 sales representatives and 8 customer success managers) and numerous monthly chats, closed in on us.
The company's name is Invisible.io and the person doing the interview is their CMO Max Bondarenko.
The company needed a live chat for their side product SmartCloud Connect for better and more effective customer communication.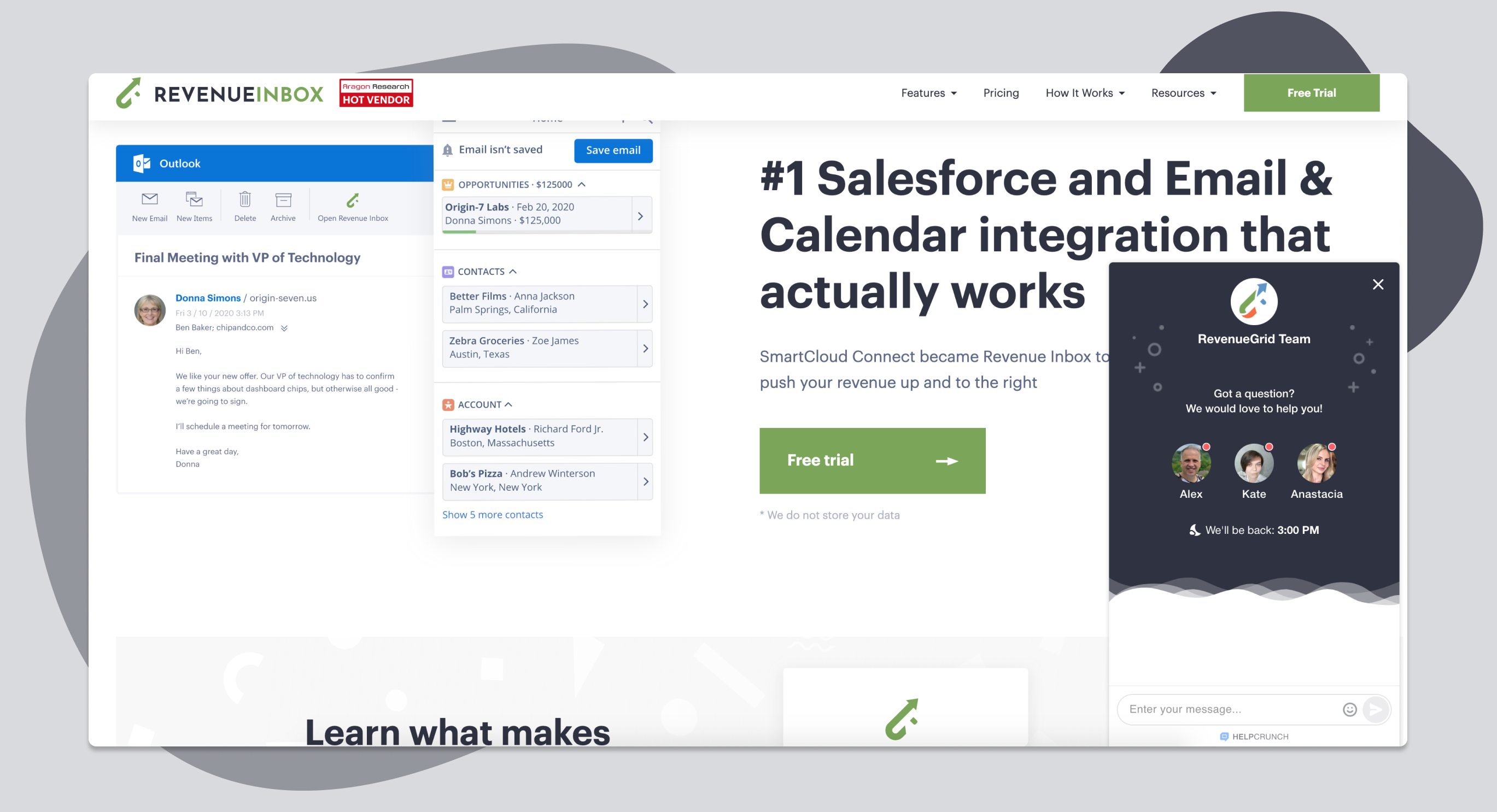 More than 60% of visitors that come to their live chat are existing customers (and pretty important ones, for that matter). The remaining 30% of live chat communications were with the new leads and were handled by their sales team.
The only thing is, their live chat team is quite big counting 16 agents. And they all want to be able to answer their clients' requests effectively without a slightest delay.
The Challenge
For a long time, they had been using Tawk.to for a live chat.
It was okay for one reason only – they had desktop notifications. In all other matters, it wasn't quite a modern tool for our business.




Max Bondarenko, CMO @ Invisible
So, they started looking for alternatives.
They gave Olark and SnapEngage a try, but these tools weren't quite what Invisible needed.
Then they stumbled upon Intercom, which turned out to be too complicated, according to their team members' feedback.
Broadly speaking, Invisible wanted themselves a live chat tool – something customizable and easy to use. That was all they wanted. Or was it?
Come to think of it, Invisible also needed:
An advanced system for sending auto messages based on various behavioral triggers;
A highly customizable tool that can be adjusted to every particular web page separately;
A system that will instantly alarm their chat agents about new messages (like, immediately);
A tool that will automatically resend their unread chat messages via emails;
A GDPR-ready solution.
Nobody's doing the GDPR preparations the right way. We wanted to make sure we're ready for it, so it was crucial for us to choose a compliant tool and not to worry about legal complications afterward.




Max Bondarenko, CMO @ Invisible
The Solution
So, they (accidentally) discovered HelpCrunch, which was 100% GDPR-ready. That's was the first pleasant surprise.
They started testing it and it turned out HelpCrunch ticked all the boxes for them.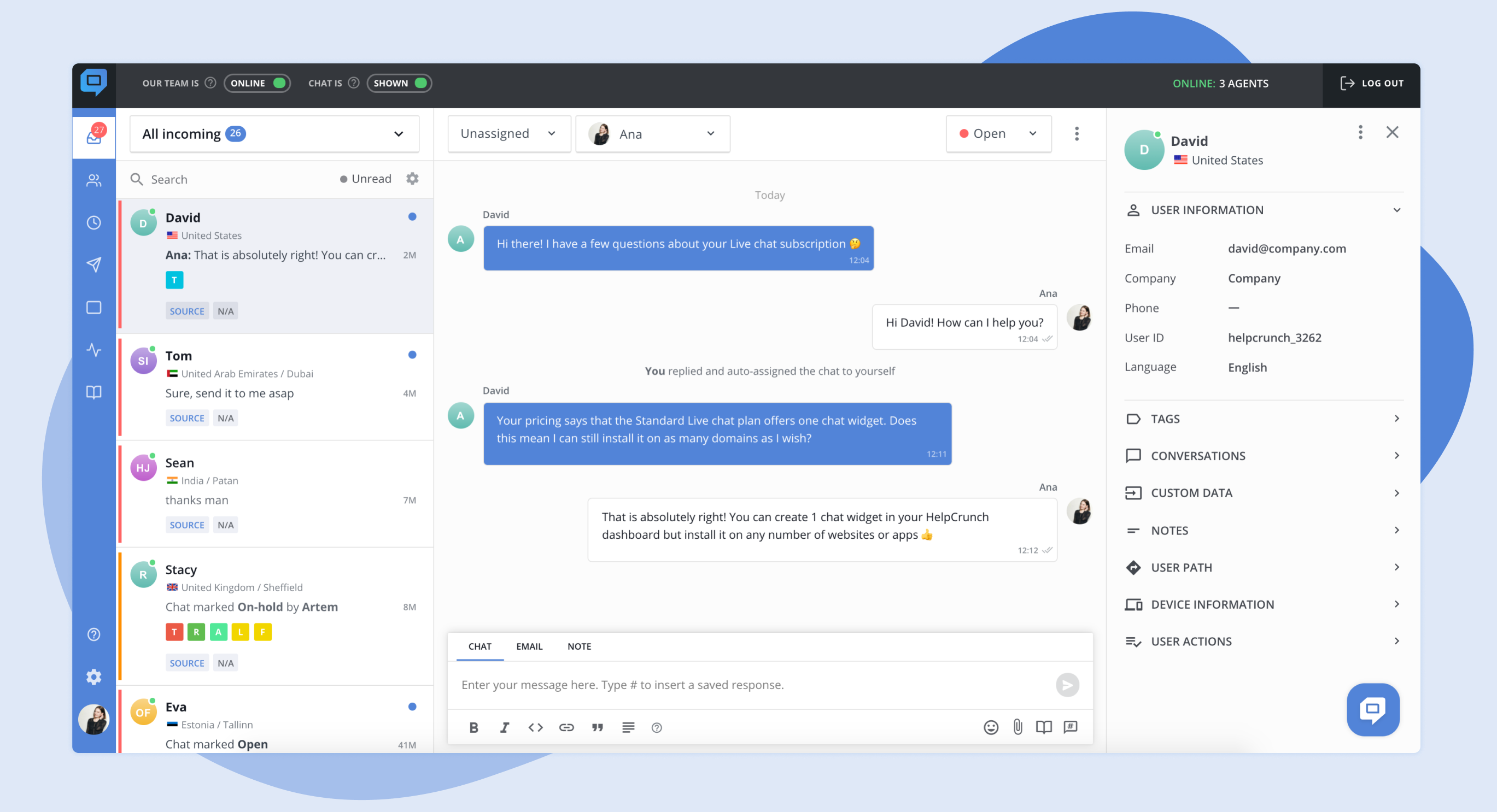 Live chat customization. When it comes to a live chat customization, HelpCrunch has no peers. With HelpCrunch you can easily set up your chat look differently on every page if that's something you need.
Auto messages' features. On the other hand, Invisible's marketing team was pleasantly surprised when they started testing auto messages. Turns out, HelpCrunch allows the most precise targeting there is thanks to a great number of behavior-based triggers available. Which was just what they were looking for.
Overall user-friendliness. Customer support team also acknowledges that it's one of the most user-friendly tools they've used – every feature is rather intuitive. For a big team with as many live chat agents as they have, this is crucial.
Bonus:
Not without vanity, we at HelpCrunch really take pride in our own customer support. But for corporate clients, we take it to the next level. It's become common for HelpCrunch C-suite to chat with our corporate clients, because we want to meet their needs and solve whatever problems they have immediately.
The Result
After switching to HelpCrunch software, Invisible instantly saw the increase of incoming chats by 32%, while overall chat response time has been decreasing ever since.
This was due to extended HelpCrunch features allowing their team to react as fast as it gets and reach out to clients proactively.
They've immediately bought the HelpCrunch annual subscription. What else can be a better vote of confidence?

Invisible is a technology provider of tools engineered to increase user adoption and ROI of enterprise applications by seamlessly integrating them into the way businesspeople work every day.
Key features used
Live chat Shared inbox Auto messages Mobile app