AI-powered
Shared inbox
for faster & more efficient communication
Deliver a multichannel experience to your clients, collaborate with your teammates, and manage conversations promptly in an AI-powered shared inbox.
Trusted by thousands of businesses, big and small
Unite all communication channels in one team inbox
You can forward all messages from your team email address to the HelpCrunch inbox and collaborate on them more effectively with your team.

Communicate with your customers via email or chat. Unite your corporate messengers and social media accounts to provide an omnichannel experience.

Every detail about a customer and their previous interactions with your brand are at your fingertips. From a time zone to a user path to custom attributes — you got it.

Your team can prioritize and distribute emails and chats more effectively by creating as many shared inboxes as they need based on any relevant data.
Maximize productivity with an AI Editor for Inbox
With our AI editor, you can turn your brief drafts into polished messages or emails that are clear, concise, and professional.

Compose the messages in your preferred language and translate them automatically to engage with global customer base without worrying about grammar.

Change the tone of your messages to match the situation, so you always come across as professional, even when you're feeling weary to craft a response.

Our AI editor can help you shorten long texts into brief and friendly messages, so customers can get to the point quickly.
AI-powered
Fast and powerful shared inbox for your team
Emails are just the beginning. Manage all communications in one place and stay in the context with real-time user info.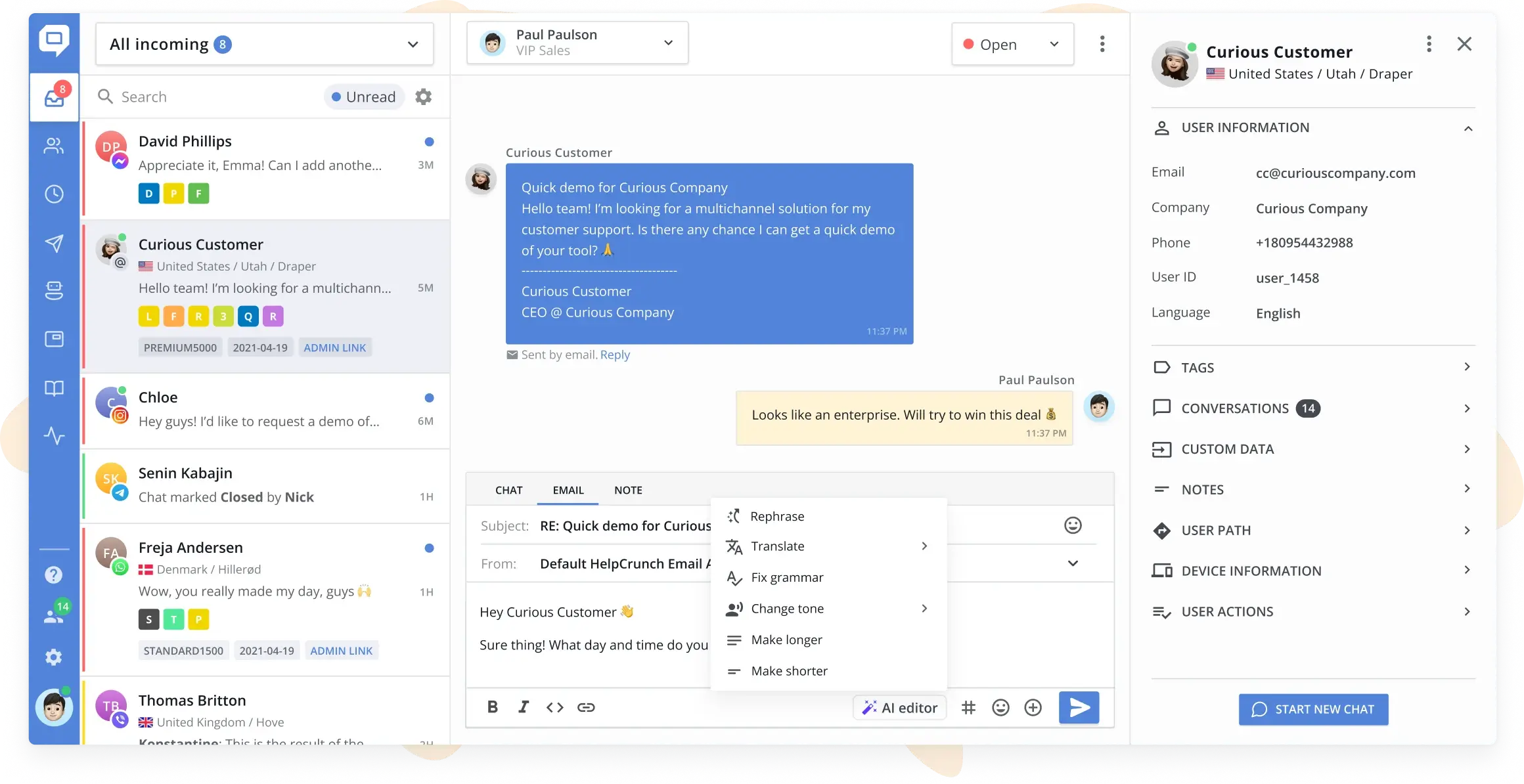 Collaborate with your team on the go
Assign conversations to your teammates or entire departments manually. Set up smart routing rules to automate this process and distribute them fair and square.

Leave private notes to indicate complex issues. These notes are only visible to other team members and will help them get the gist of a conversation in seconds.

Need more time to сlarify some details and follow up on the issue later? Just snooze conversations to get convenient reminders when the time is right.

Knowledge is power. Track your team's performance, workload, and customer satisfaction to be aware of your current state of affairs at all times.
Additional shared inbox features
Customize your dashboard, automate routine tasks, join forces with your team on complex issues and turn your shared inbox into a potent command center.
Saved replies

Knowledge base integration

Chat routing

Notifications

Inbox customization

Integrations
Excellent platform for customer interaction with great support
We like the easy-to-use interface, the features that allow us to efficiently handle all customer interaction (chat & email) as well as proactive chats and emails for our onboarding process. We have managed to integrate all the communication in one place. Connecting and engaging customers has been a lot easier since we switched to HelpCrunch. A great plus is that their support is great, having extensive documentation and a very responsive and knowledgeable team.
Adina Mihaita
Customer Success Engineer @ Pentest-Tools.com
Great tool to generate more website leads and provide
multi-channel support
Its multi-channel coverage (email, live chat, messengers, and social media) and automated behaviour-based campaigns that result in increasing conversions and getting more qualified leads from our website and blog. It takes couple of minutes to set it up. This platform helps us to be in touch with our customers anytime and deliver them a great support in the channel of their choice. It also helps us to handle incoming inquiries much faster. We managed to increase customer satisfaction and also improve our team performance.
Katarzyna Kowalczyk
Small business
Best option for small businesses
Easy to use for anyone. My newly hired inexperienced customer support agent just turned it on and understood all the features immediately. I have been using and testing numerous apps so far, and Helpcrunch is truly a winner. User-friendly admin panel, great price, very helpful support, best-written knowledge base. The best alternative to Intercom.
Hellena
General manager @ Fantasmagoria.shop
Incredibly useful site for customer experience
First and foremost, it's a very easy to use. Furthermore, you can easily adjust the settings to make them fit your needs perfectly. At Candeno we offer a live chat and we use HelpCrunch for this. Earlier we used Intercom, but Helpcrunch is way easier to use and set up, and the variety of options helps you a lot, but aren't overwhelming.
Gustav Tornby
Communications Manager @ Candeno.com
Everything you need for your business
Get all the tools you need for your customer service, marketing, and sales
Start using HelpCrunch now
Free trial. Set up in minutes. No credit card required.