Email is the oldest and one of the most effective ways to attract online users. According to the Ultimate List of Email Marketing Stats for 2019 by Hubspot:
99% of consumers check their emails every day
80% of business professionals believe their email marketing boosts customer retention
59% of people claim that marketing emails affect their purchase decisions
And what could be more effective than sending emails? Sending automated emails, of course! Today, automation is the backbone of any successful email marketing strategy.
According to Social Media Today, 75% of marketers consider email marketing the second most suitable technique for automation after social media post scheduling.
What Are Automated Email Campaigns?
An automated email marketing campaign is a series of personalized email messages sent automatically by a business to a group of customers at a certain period of time for a certain purpose.
Generally, there are two types of automated emails: triggers and drips.
Behavior-Based Triggered Emails
Automated email triggers (or triggered emails) are "soulless" messages received by users after they somehow engaged with a business. For example, if they registered an account.
Automated triggers are based on customer behavior and specific events.
Email marketers set up triggers to automatically notify users in response to the conditional actions made in their journey. There are a few types of triggered emails:
No-reply triggers. Introduction and onboarding emails, subscription emails, account confirmation emails.
E-commerce triggers. Order confirmation emails, shipping confirmation emails, abandoned cart emails.
Special promotion triggers. Event emails dedicated to sales days, customers' birthdays, and other special occasions.
A trigger email is always sent one time per action.
Automated Drip Email Campaigns
Automated drip emails are used by businesses for building and maintaining better relationships with their target audiences. They're sent many times as a part of a long-term email campaign.
Automated drip emails are based on a time schedule planned by a company in advance.
Launching drip emails requires lots of planning and preparation, especially if you want to do this automatically. Automated drip email campaigns are aimed at educating, training, and advertising.
Why Automate Your Email Marketing Strategy?
Let's be honest. To be successful, email marketing needs to be automated. Not convincing?
Here are ten reasons why you should automate your email marketing strategy:
Send a personal email to each recipient.
Deliver the right content to the right customers at the right time.
Save a lot of time and effort on optimizing your email marketing strategy as a whole.
Simplify an email marketer's everyday workflow.
Get important data and use it for planning future email strategies.
Increase sales and revenue.
Generate more leads and maintain personal contact with them.
Boost brand awareness.
Learn the habits and preferences of your target audiences.
Find new email marketing methods to improve results.
Everyone wins from email automation: business, email marketers, and customers.
If you're ready to use email marketing automation for your business, it means that it has reached a totally new level where the stakes are higher.
Automation lets email marketers, who sometimes may be busy as hell, not to blow their minds and get a holistic view of their entire activity by optimizing all the important processes.
As for customers, they receive a better level of experience. Automation helps businesses send emails with more relevant offers and content to the audience.
How to Succeed in Email Marketing Automation
That's simple. You need to come up with a plan, find an email marketing automation platform, and build on the results you get.
Stage 1. Choose the Right Email Automation Platform
When looking for an email automation platform, you should ask yourself the following questions.
Does It Really Automate?
There are lots of different email automation platforms. All of them offer pretty the same functionality, but their automation features may be different.
When looking at a platform's feature list, learn how exactly the platform can automate your email marketing processes.
What Does It Have Along with Automation?
One of the ways how email marketing automation platforms compete with each other is by offering lots of great features, sometimes unique.
Even if these features don't automate workflow, they can still significantly simplify it. That's why you shouldn't rely solely on the automation features when picking your software.
If you want to find the best platform for your business, find the golden middle between the entire functionality and automation features.
Is It Worth It?
When buying a platform, you're more likely to choose among several paid plans. These plans are different due to different features or the level of availability of these features.
Every feature is important. However, there are two features you need to pay special attention to when choosing a plan for your company.
The first is the number of emails you can send to your customers.
The second is the number of people you can send your emails to.

Typically, email software developers provide their clients either with an unlimited number of contacts or with an unlimited number of emails. Before picking a platform, make sure you know your email marketing priorities.
Does It Offer a Helping Hand?
No matter what software you use, troubles happen sometimes. Any emergency can cost too high. That's why the faster you deal with it, the better. Note that you risk a lot if a software company doesn't offer 24/7 customer support.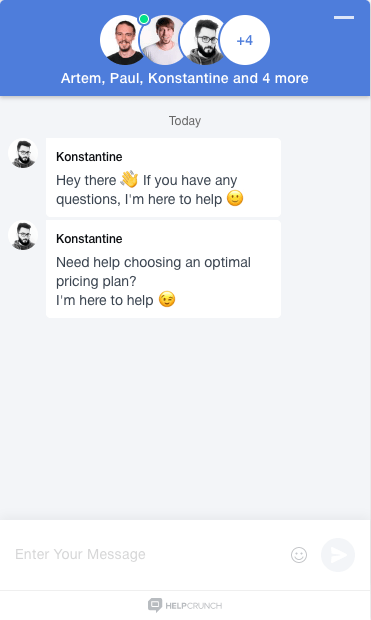 Is It User-Friendly?
Email marketing automation has a lot of aspects that may confuse you. To make your campaign work, you need to know lots of things. For instance, how to use a WYSIWYG editor to create an attractive email or how to code in HTML to edit this email.
Luckily, almost any email marketing platform offers a trial period. Test your platform first to find out whether it's user-friendly enough for you or not and then make the final decision about it.
Stage 2. Plan Your Automated Email Marketing Strategy in Advance
When it comes to automated emailing, planning is everything for reaching success.
Creating a plan is much like creating an algorithm.
In fact, you'll probably need a few different algorithms for a few different audiences. You need to think over every algorithm to the detail by connecting every step from the beginning till the end.
Ideally, you should draw your blueprint up on a board on a flipchart to see the full picture at once and easily recall it at any moment inside your mind.
And you're more likely to take a photo of your plan on your smartphone, aren't you? Instead of taking your gadget out of your pocket every time you need to check or update your plan, try to remember it.
Visualizing your plan in your head sometimes evokes great ideas.
Segment Your Audience
The first thing to do when planning your automated email marketing is creating groups of customers you'll target on behalf of your business.
Segmentation is a pretty individual thing. However, segmenting any kind of audience is based on two common elements: goals and data.
Do you know your marketing objectives? Do you keep emails of your customers and records of your previous email marketing activities? Then you're halfway to segmenting your audience.
Here is one pro tip: you can make a quiz to capture leads and use the answers you collect to segment and better understand your audience. Tools like this can help you grow your business and capture up to 500% more leads.
The email marketing platform you choose (see Stage 2) will help you do the rest. The majority of such software is user-friendly and full of multiple recommendations.
Some platforms even have advanced segmentation options that allow you to segment your audience not only by your advertising goals but by customers' location, products or services they use, and many other factors.
Create an Email Sequence for Every Segment of Your Audience
After segmenting your audience, you need to create automated email scenarios for different groups of your customers.
Let's take an onboarding email sequence for new customers as an example:
Email 1. Don't be intrusive. Just introduce your company. Demonstrate the value of your products or services.
Email 2. Send an email to show that your company can actually help recipients solve their problems.
Email 3. Give away a gift, discount, or something else to encourage the recipients.
Email 4. Remind about the value. Make your message more personal and relevant.
You should do the same with every segment of your target audience.
Set a Schedule for Every Sequence of Emails
Timing is another important factor that determines the success of your email marketing plan.
Knowing the right intervals between emails in a sequence takes time and practice.
If you don't know when to send emails, imagine yourself your own customer and find the golden middle between not being too inattentive and not being too annoying.
Communicating with a marketing email recipient on the context of scheduling is like chatting with a person you want to befriend: Just don't push it hard and you'll get a response.
Stage 3. Collect the Results and Analyze Them
After you launch your campaign, the first thing to do after its end is to measure its results. There are a few metrics that help email marketers understand the outcomes of their strategies.
Click-Through Rate
Click-through rate (CTR) is probably the most important metric because it shows the percentage of people who click on the link in your email.
Open Rate
Open rate is the percentage of people who opened your email.
Bounce Rate
Bounce rate is the percentage of people who didn't receive your email.
Conversion Rate
Conversion rate is the percentage of people who converted into customers thanks to your email.
Additionally, it'd be great if your email marketing platform provides you with cross-device reports. Because if you know what type of devices your customers use to open your emails, you know a lot.
For example, if the majority of your audience is mobile users, you'll need to create emails that are mobile-friendly and vice versa: If the desktop users dominate the smartphone owners, you should focus on creating a better email version for desktops.
Best Practices for Your Email Automation Campaign
Now it's time to read a few recommendations to make your automated email campaign more effective.
Automate Emails with Dynamic Product Recommendations
You can not only automate your email marketing. You can also automate emails!
Dynamic product recommendations in emails are blocks that adjust in real time based on the preferences of the recipients.
An online store's engine follows the trails of all customers, collects information about their actions, and shows relevant recommendations in the emails they receive afterward.
Email marketers use dynamic blocks to retarget different groups of customers by upselling and cross selling them products or services they may be interested in.
You can add dynamic product recommendations to automated emails of both types. For example, you start an experiment with sending an order confirmation trigger, then you send a drip sales email, and after that, you compare the results.
Awake Passive Customers
Are your email lists old enough to include customers who someday bought your product or service and then just disappear from your radar? Even if you have no such contacts yet, they will appear in the future.
That's why you should try to retarget this segment of your audience by offering them a special discount, freebie, or any other goodie.
A/B Test Your Emails
Testing is vital for email marketing for two reasons.
First, testing gives you insights about how to maintain good results. You may find pitfalls in your planning, discover more customer behavior patterns, or any other cause to change your marketing tactics.
Second, performing tests sometimes gives new ideas for making your results even better.
Your tests can be different. You can check the performance of:
Content. Buttons, call to actions, headlines, subject lines, texts, images, video, etc.
Layouts. Grid emails, single-column emails, several column emails, etc.
Not to mention that you can re-segment your audiences by size, interests, intentions, and other factors and compare their response.
Take Advantage of Artificial Intelligence
Artificial intelligence is one more great way to automate your email marketing.
According to a survey by Statista, 41.29% of marketers increased revenue, 13.44% boosted click-through rates, 7.64% improved open rates, and 1.13% enhanced email delivery process.
Artificial intelligence help email marketers save time doing lots of things. For example, you can calibrate timing for campaigns, generate email templates and subject lines, create video content for emails, and more.
You Need to Automate Your Email Marketing
Automation is the best optimization technique for your email marketing. It's the fastest way to create a strong connection between your business and your audience, meet the needs of your audience, and increase the return on investment (ROI).
If you're only getting started, remember that you need to make a plan, buy a platform, and learn the main metrics inside that platform to properly measure the outcomes of your email campaigns.
Also, try to reach your old and passive customers, to add dynamic product recommendation blocks to your emails, and to automate your emails and the content inside them using artificial intelligence.
Finally, test everything you do after a while to make sure that you're on the right path. Good luck!
HelpCrunch articles delivered straight to your inbox 🚀
All the latests posts. One email per month.
No strings attached.
Read also
Sales & Marketing
One of the most crucial milestones of a brand journey is understanding consumers' needs, detecting their pain points, and finding the most efficient strategies to eliminate them.
Sales & Marketing
Asking for forgiveness is not easy that's why I decided to collect for you the top 8 apology email examples from real life. Inside you will find a few templates, so check it out!
Sales & Marketing
People often think that sales and landing pages are quite similar. The truth is, their purposes and key elements quite differ. Learn all about the importance of sales pages and how to build one for your business.