Running a company blog is a powerful form of inbound marketing – when businesses provide customers with the resources and information they need to make a decision instead of plying them with ads, calls, and emails.
To gain the best results and convert, you have to blog strategically. Since it's such an ample field, we divided it into three parts:
How to choose the right topics
How to create compelling content
How to turn readers into paying customers
So, let's go with order.
Part 1. How to choose the right topics
Define your target audience
Don't fall into the trap of writing about topics that interest you, people from your company or your business sector – write about stuff that matters to your customers.
For this, you need to collect audience data and draft a profile of your typical customer. Take into account such criteria:
age
gender
business type
business size
geographic location
All this will determine the topics, style, tone, and formatting of your blog content.
---
For example, as a live chat software provider, we at HelpCrunch have this B2B blog directed to all online and offline business worldwide that need to communicate with customers online for support and sales purposes: SaaS companies, e-commerce site owners, bloggers, and other businesses with an online presence.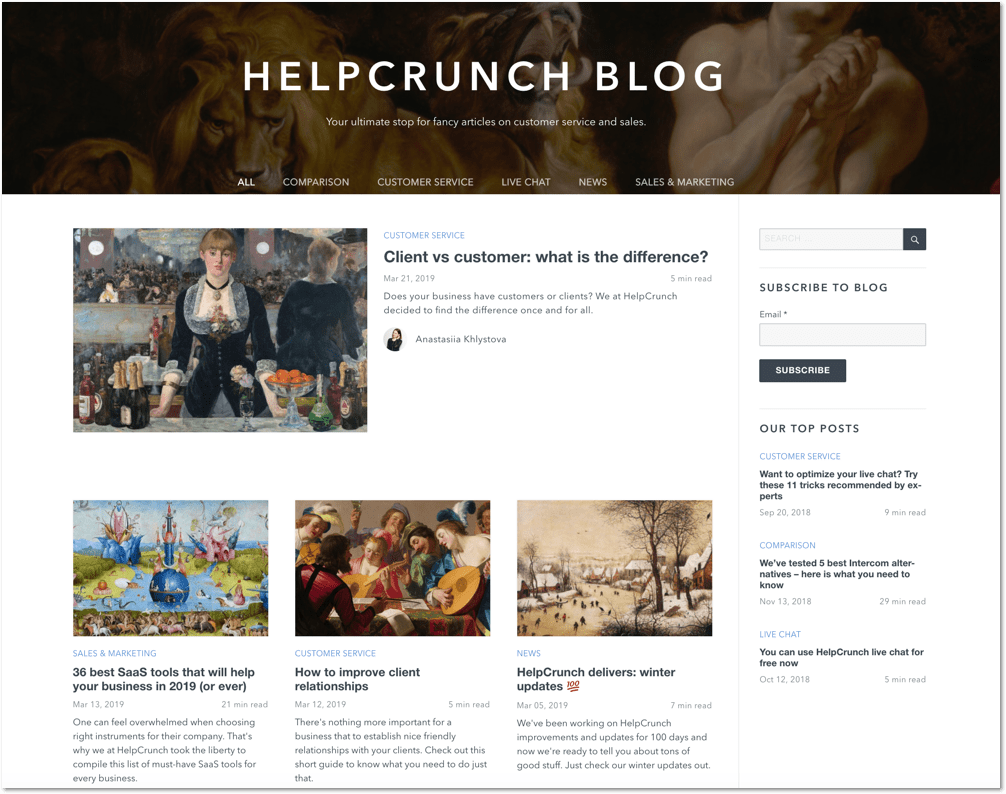 ---
Decide on the types of content to publish
Product news (updates, new features, improvements, plans for the future etc). These should be always introduced from the customer's perspective – focus on the benefits your new features can deliver to customers. Such posts shouldn't take up more than 30% of your overall content.
Company news (participation at conferences, awards, anniversaries, events, people in your team) must contribute to building your company's  reputation and credibility.
Trending topics in your industry. Research what's hot in your industry –  this is likely to be interesting for your customers. Browse your competitors' blogs and check which of their posts performed well. Go to Google Trends, Google News, Buzzsumo and quality magazines in your industry to see what's been trending recently. For example, we monitor what Forbes, Entrepreneur, CustomerThink, Smashing Magazine, Business2Community have to say about customer success and sales.
Blog posts that provide value and resolve customer pain points – this is an extremely important content category that wins your customers' trust by giving them the answers that they're looking for – and eventually converts them.
Choose the right topics for your value blog posts
This is where your audience profile is very important. To hit the target, ask yourself:
What common problems and challenges are your customers frequently faced with?
What might be their business goals and ambitions?
What are their areas of interests, fears, risks?
In your blog post, don't wander around and present mere information.  You should provide a framework for solving a problem.
Also, don't dive too far into the areas of business that you don't cover. The information you give needs at least to some extent be related to the products or services you provide.
To convert readers into paying customers with content, you must understand why people decide to buy a product.
Write according to customers' buying decisions
People's decisions to reach for their wallets are based on 3 questions they ask themselves:
1. What's in it FOR ME? Illustrate how your product will help them:
earn more and spend less
learn something new
achieve business growth
avoid mistakes
resolve problems
simplify workflow
2. Why should I buy it from YOU? Your writing must instill confidence in your target audience. Be clear about:
what differentiates you from competitors, why you're better
why your company is trustworthy and reliable
how you guarantee that you'll live up to your promises and won't rip them off.
That's why blog content created for conversion tends to be long-form – it gives you more time to engage readers, earn their trust, and demonstrate that you have the product or service that meets their needs.
3. Why should I buy it NOW? Building a sense of urgency is the trickiest task. Illustrate why it is imperative to deal with the problem as soon as possible.
---
For example, after analyzing our customers' needs and paint points we, at Help Crunch, focus on creating blog posts about
enhancing customer support and customer success

startups (a lot of our customers are SMBs and startups)

boosting online sales

recruiting perfect live chat staff

improving customer engagement and retention

converting free trials into paying customers,

building an effective online store.
---
Don't be overly promotional
Yes, the overall goal of blogging is to sell.  But does this mean that every single blog post should be aimed at immediately turning a reader into a customer? Not necessarily.
It can be a brick in the foundation of trust between you and them and contribute to winning the customer in the long term. Trust is the second step in the buying process described earlier and it's earned gradually.
Anyway, avoid hard sell in your copy. An ideal sales text should be largely based upon advice and selling should be only its natural outcome.
Don't give all the answers
Providing value is crucial but don't give away everything. After reading your post, customers should be happy they've gained useful information but should want to learn more or get further assistance by completing a certain action, like subscribing to your blog newsletter, downloading a demo, signing up for a free trial, or buying your product.
Be consistent
If you want to grow your blog audience, you need to post on a consistent basis and maintain fresh content. That's why once you've got the hang of writing on a regular basis, start timing your blog posts.
As for the day when a day to publish a blog post, Hubspot analyzed 170,000 blogs and found out that Mondays and Thursdays are the best days for publishing.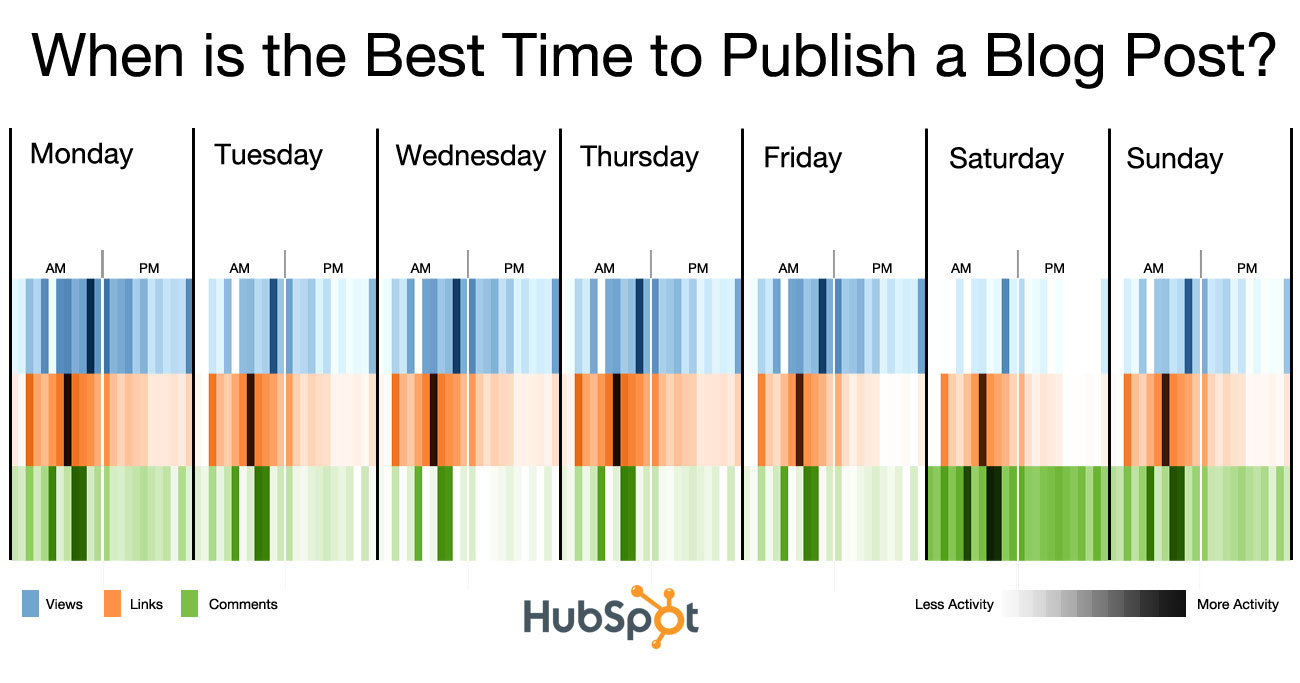 That's all for now on planning your content. Let's move to the second part of our blog post.
Part 2. How to create compelling content
It's time to start writing your draft, right?
Nope! First, you need to give a structure to your ideas and create an outline. Planning is a vital step to avoid scattered content that leads to nowhere.
Create an outline
 Jot down your points and ideas and then place them in a logical flow. This will make creating your first draft times faster and easier.
Make your blog easy to consume.
Again, defining target readership is critical. Choose a style that fits your audience. Some useful tips would be:
Don't be simplistic but don't overload the text with jargon.

If you run a B2B blog and write for a specific audience, you may use technical or business terms if you're sure that your

typical customer

understands them.
The current trend is to adopt a

conversational, informal style

. This immediately transfers you on friendly terms with the reader. Don't use archaic, literary or rare words because business-oriented people will lose interest.
Avoid impersonal tone.

Who wants to read a third-person, robotic, emotionless article? Write like a human, use

the first person

from time to time, include examples from your or your team's experience, tell your own stories.
Use the word "you"

. This way, you make your readers feel like it's just you and them as if you were sitting down having a chat over a cup of coffee.
Create a conversation with your readers by asking questions

throughout your post. Invite them to think about and respond to what you are saying. Encourage to share thoughts and opinions in comments – it will help you gain higher

engagement

.
Create a compelling text
1. Focus on benefits your target customer can get from reading your copy.
What business value does your article provide to the audience?

Does it sound like an advertising piece or like an expert piece?

Is your post 

purely theoretical

or practically

applicable?
2. Write longer detailed texts.
Thoroughly answer the question. Superficial, generic content will be ditched at the beginning – people don't have interest in obvious things. Dive deeper, explore the topic but avoid fluff at the same time.
Consider writing an ultimate guide. I'd recommend, though, not to give away everything, though – the readers should always be willing for more.
---
As you've probably noticed, we've been creating an ultimate guide on content marketing and we've broken this big topic up into several pieces so readers gain valuable tips post after post.
---
3. Write how-to posts.
It's good to organize your content in the form of step-by-step instructions, checklists and how-to posts  – people like texts that teach them something.
---
That's how we usually approach content at HelpCrunch – we publish a lot of how-to articles on startups, customer engagement, customer service, retention and online sales on our blog.
---
4. Hook your readers with a compelling headline.
Every day about 2.7 million blog posts are published. The headline is the first thing of your post that people see. Make sure it's not the last one 🙂  To stand out in the flood of content and engage the reader, your headline should be catchy and indicate:
for whom the article will be helpful

what it is about

what goal it'll help them achieve
Providing numbers and stats in your headline is also a great way to hook readers. Another good strategy is to use power words.  Wordplay also helps catch the eye of the reader. 
If you need some inspiration, you can find a lot of handy headline formulas here.
5. Write a killer lead.
If readers don't get past the first sentence or two, you can be sure they won't convert.
In your lead, you can provide important information, eye-opening statistics or a striking fact, or ask direct questions that resonate with the reader.
Avoid  generic stuff like: "It's widely known fast and effective customer support is very important for business success".
Better make it like this: Wanna boost your blog or website conversion by 20% at almost no cost? The AMA study confirms the effect of offering live help on your site.
Tip. You can first write the body of your post and the introduction when it's finished. You'll have clear ideas for a better and will not have to rework it.
Think of the readability of your text
However genial and helpful is your copy,  people won't read if it's an utter wall of text. For instance, use Grammarly to find possible misspellings and also overall readability of your text: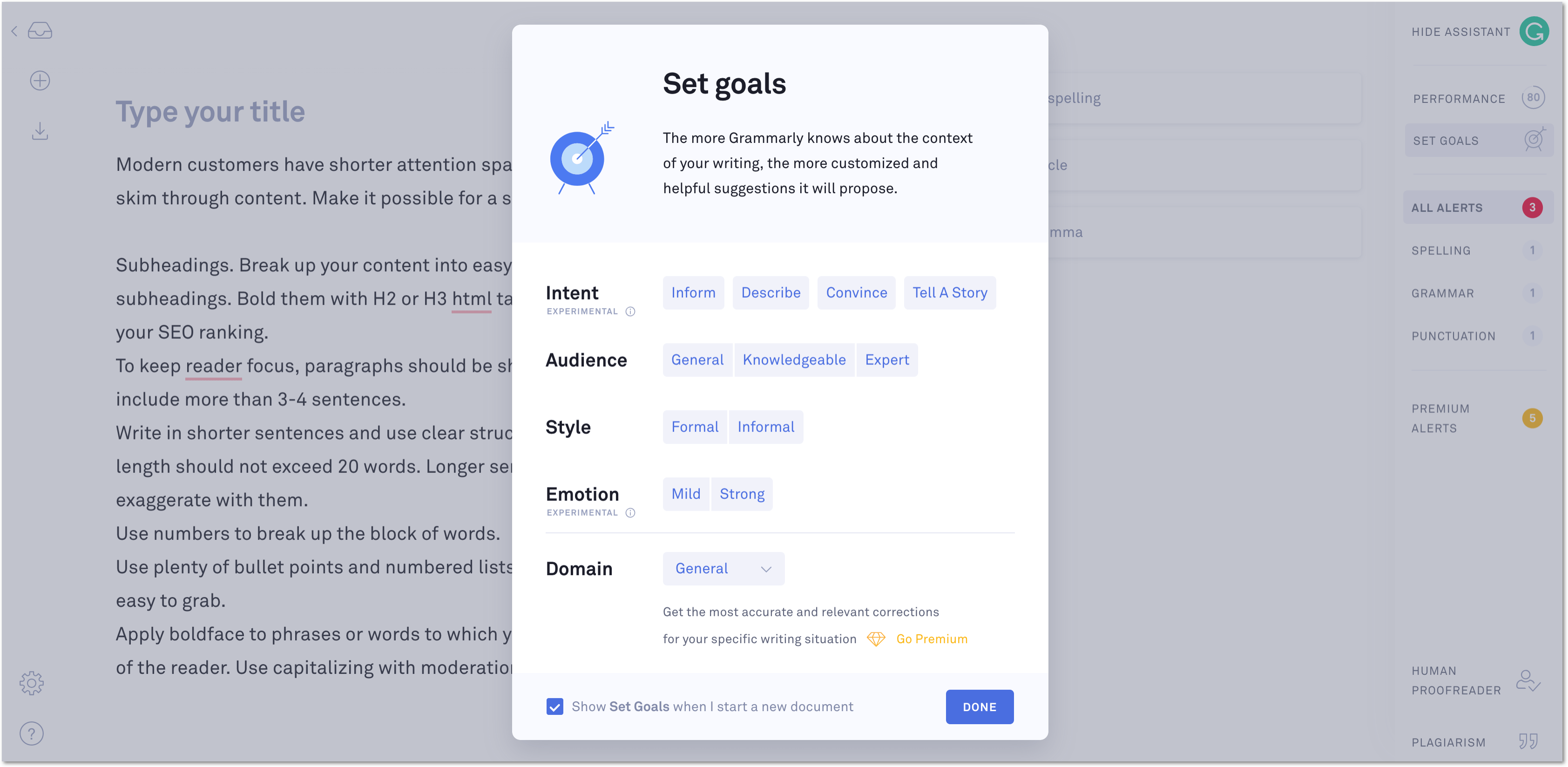 Modern customers have shorter attention spans so many of them will just skim through content. Make it possible for a skimmer to get the message.
Subheadings.

Break up your content into easy-to-manage sections and use subheadings. Bold them with H2 or H3 html tags. This will also reinforce your SEO ranking.

To keep reader focus, paragraphs should

be short.

The general tip is not to include more than

3-4 sentences

.

Write in

shorter sentences

and use clear structures. The ideal sentence length should not exceed

20 words.

Longer sentences are also ok, but don't exaggerate with them.

Use numbers

to break up the block of words.

Use plenty of

bullet points and numbered lists

.  This will make your text easy to grab.

Apply boldface

to phrases or words to which you want to draw the attention of the reader. Use

capitalizing with moderation

 – it may be pretty annoying.

Choose a font and size that's clearly legible.
Insert images

to break up the text and illustrate your key points. The human brain

processes visuals a lot faster

than textual content. Adding captivating images or screenshot will certainly boost readability and engagement

.
You can use this resource to check your readability score.
Back up everything you declare
Which blog are you going to return to? I guess the one that is data-driven and trustworthy, true? To build credibility, weave outside sources and proof into your post.
Create infographics, charts, graphs. Marketing studies have shown that infographics are more often shared and easily understood than other forms of media, and greatly boost conversion.
An example from Business2Community:
Fill your post with

quantifiable statistics. Cite research and survey findings from well-established and reputable organizations that use exact statistics and numerical values, rather than providing generalizations or vague claims.

Provide

case studies.

Case studies are

3rd most influencing content type

in the B2B purchasing process

.

According to Content Marketing Institute, 75% of B2B marketers consider them a high-converting marketing strategy. People see that your solution works for others and that instills confidence that it'll work for them too.

Deliver social proof.

Did you know that

written testimonials increase conversions

by 25%

? More people will use your offer after they see that others are doing the same with success.
Other forms of social proof include logos showcasing important clients that you've collaborated with, number of customers, subscribers, and social media followers.
Okay, now your readers are immersed in your article and nothing gonna distract them from reading it until the end. But you don't need only your faithful readers – you need paying customers.
In the next part, we'll explore how to make your content work and actually convert your audience. 
Part 3. How to convert your readers into paying customers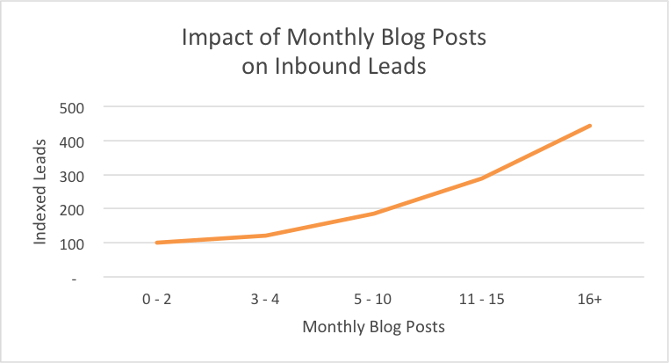 Source: Neil Patel
1. Partner with influencers in your niche
Opinion makers can recommend products to their followers and help increase sales.
Do your research and find influencers who have a similar audience to yours.  Get them notice you by linking to them in your article, mentioning them at your posts, thanking for valuable content, commenting on their posts, publishing their content review or including them in your best content weekly/monthly round-ups, etc. 
Then write a great article, email it to them and ask for feedback. If they truly like it, they may decide to share it on their social pages and even include in their newsletter.
Tip. Put a lot of effort into your content, 'cause influencers will unlikely publish beginner staff – take your time to write a killer article.
2. Share your content wisely
That's pretty obvious but must be done rightly:
Don't make finding your social sharing buttons a headache. Be sure it's very

well visible

on your blog page.  Some bloggers use

social sharing plugins

that make social buttons to scroll up and down the post as people read through it:

Directly ask

your readers to share your content in your text, don't assume they'll do it by default

Involve

friends and colleagues

to launch the sharing process

After you've built a good relationship with an influencer, every now and then, send them your best content and ask to share it

Run a

contest

, making sharing your post or blog a condition for entering

Launch a referral marketing campaign

When your content starts getting really popular, include the

number of social shares

for each post on your blog to emphasize how popular it is.
3.Cross-post with other bloggers or companies
Team up with other companies who are not your competitors but whose products, services, or content are related to yours – and exchange your blog posts.
You may agree to introduce some adjustments to the ready- to make it more suitable for the other blog's audience or you may opt for writing an article from the ground.
Cross-sharing lets you expand your audience immediately without any additional effort and investment.
4. Incorporate urgency in your content
Has it ever happened that you bought something on sale because the price was good and it was the last item available? I think it actually happened to all of us. The "fear of missing out" (FOMO) is an effective sales tool.
So use the idea that something useful and attractive is only available for a limited time or will cost more later. This might mean offering:
a free e-book to your first 100 subscribers

 

offering  a time-sensitive discount

 

availability only of a limited number of products

links to coupons or deals that will soon expire
Apply the language that produces feelings of immediacy, accelerate the reading speed making content your text more dynamic.  
Begin the post normally but as you get closer to the end, use shorter paragraphs and sentences. This makes us read faster. And boosts urgency.
Deliver evidence or statistics why it's important to buy your stuff now.
Let's say you offer a product that helps SaaS businesses reduce churn. Use figures and research to demonstrate how many clients and how much money they could lose in a day, or a week or month etc if they don't start using your product.
5. Engage your readers with a live chat
Live chat allows turning a passive reading activity into an active interaction.
This simple tool that can capture leads and boost your conversion rate by 20% (American Marketing Association report)
You'll be able to answer people's questions, discuss your points of view, ask for their opinions, or even promote your product and services. The live chat gives you a chance to talk live just like you would do in WhatsApp or Viber in a friendly and engaging way.
You will be also able to capture people's contact data (emails!) via a pre-chat form that users may be required to fill in. Moreover, you can start talking to your readers first by firing proactive chat messages establishing a connection and converting them into active prospects.
You can find a good live chat almost at no cost ($15/month).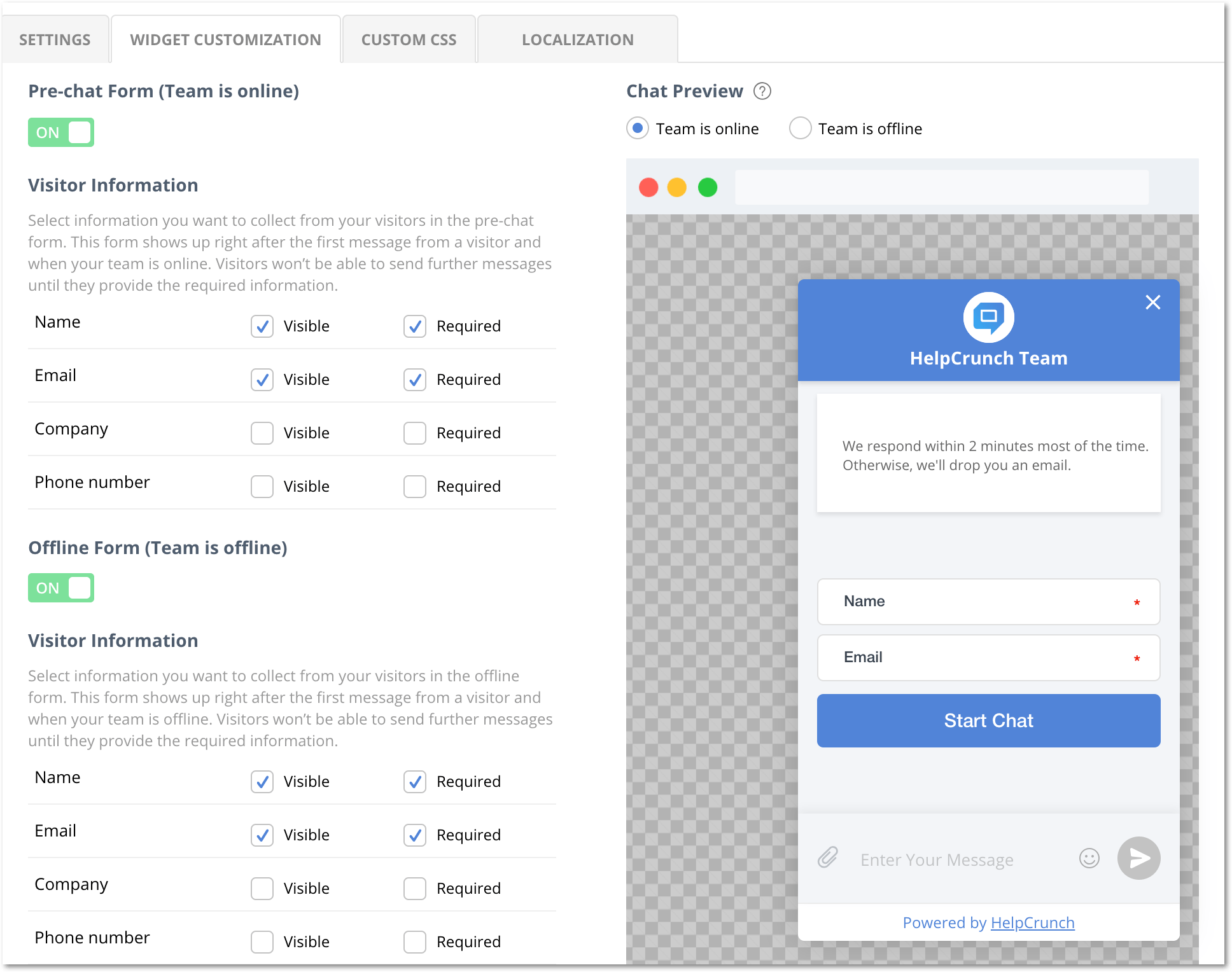 As you see, we use our own live chat on our blog page and you can try it for free for 14 days.
6. Make emotional appeals
"People don't buy for logical reasons. They buy for emotional reasons." – Zig Ziglar
We already mentioned the fear of missing out but you may also use excitement, high and low moods, suspense, anger, humor, anticipation – they increase engagement and the probability of conversion.
Include your personal point of view, vary the tone and language, use power words, sparse your content with emojis and gifs where appropriate.
7.  Include special  offers and exclusive deals
We already mentioned time-limited offers calling for urgent action but you may also include non-time-sensitive discounts and deals . Adding these deals will also encourage customers to regularly check out on your posts and build loyalty.
---
By the way, did you know that we offer a 30% discount for startups on our customer communication software? (Including live chat, in-app messenger, email automation and a simple help desk.)
---
8. Collect email addresses
You can make your blog convert indirectly – through emails. Once you have the emails, you can create an email drip system and not only send them a newsletter but also product updates, special deals, time-limited offers etc.
You can automate the process with services like MailChimp, Aweber, or HelpCrunch Email Automation and create a sequence of effective time-based or event-triggered email campaigns.
Research shows that wisely composed personalized emails still convert better than social media.
Some ways to collect emails:
Offer

regular high-quality, value-loaded content 

and encourage readers to

subscribe to blog's newsletter

. You will collect a solid base of prospects. Analyze what they've read in order to learn which product or service they might be most interested in.
Use a very actionable technique known as

content upgrade.

These are

long-form guides

that elaborate on the topic you discuss on your blog.
Сontent upgrades are only available to download once a reader signs up to your email list. For example, you may offer an ebook, an ultimate guide, or participation in a free webinar.
Tip. To make ebooks longer, some authors load them with fluff and the readers have to go through hundreds of pages to get just a couple of workable tips. Always prioritize business value over text volume when creating an e-book.
Another tip.  Don't include long sign up forms – just an email field is enough. At most, you may ask for a name if you want to send highly personalized emails.  
9. Include links to related content
Weave internal and external links throughout your content. If you mention your product and services, you give readers an opportunity to read about them on your website in detail without being intrusive and promotional.
Also, cross-link to your other related blog-posts and include links to useful and relevant external resources.
Tip. Make sure that the links will open in a new tab, otherwise, your readers will likely lose your article. Use links sparingly not to distract people too often.
10. Clear CTA buttons
Many bloggers write great content and never ask their readers to do anything about it or have confusing CTAs. Give the reader something to act on and create a clear and compelling CTA banner, bar or button.

Summing up, what could you ask for?
Sign up for the email list.

Sign up for a free trial

Register for a demo

Register for a webinar

Get a discount

Download an e-book.

Join an online course.

Take a survey.

Share a specific link or tweet on social media.

Buy your product or service etc
Final words
Hope these tips will help you turn your blog into an effective marketing asset and drive conversions  If you find the post interesting, feel free to share it on your FB, Twitter or LinkedIn or whatever social network you use.  
If you agree or disagree at some point, give us a shout through the live chat or leave a comment under the post.
Remember to blog strategically!
Read also
Sales & Marketing
High-quality inbound leads might be one of the best things for any business. Learn how to attract inbound leads that are just doomed to convert.
Sales & Marketing
Learn why your emails may end up in the spam folder and how to avoid such a disappointing turn of events.
Sales & Marketing
Wondering what exactly are Targeted Messages? Take a look at these 4 messages examples: from targeted ads and cold emails to live chat messages.